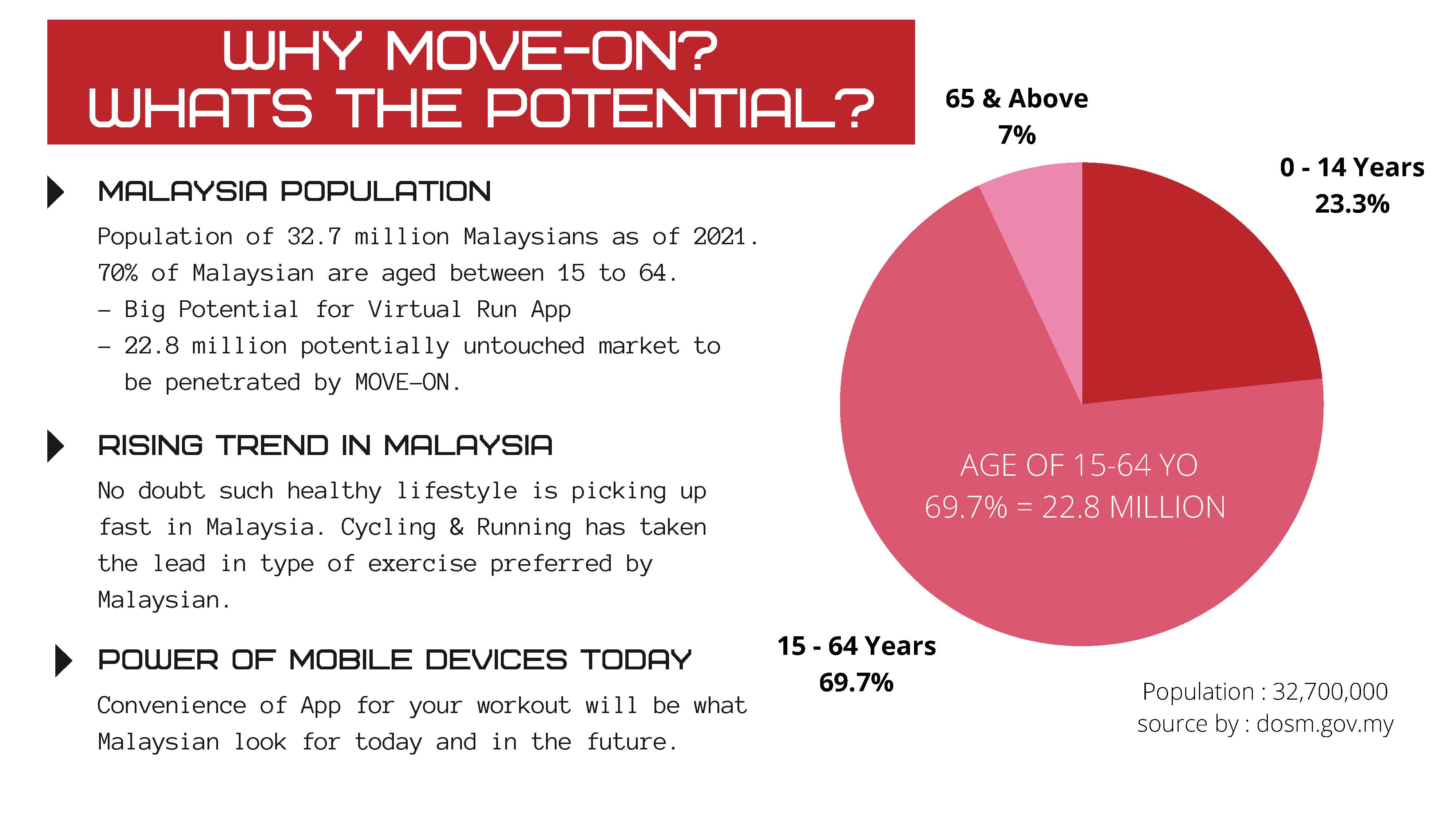 There is huge market potential in this industry. In Malaysia alone, there is an untapped market of 22.8 million audiences. MOVE-ON plans to launch various projects, including e-commerce platforms. The company is currently growing at a multiplier value. We are expanding into other countries in Southeast Asia in the next three years and list an IPO within five years, and reach a market value of RM100 million in 2025.
Public Awareness on Health
As society progresses, more people are adapting to a healthy lifestyle. We want to do more than just promoting the idea of health awareness. We want to provide a platform that gets people to "start" and "MOVE-ON". Typically, in an actual race, participants will have to complete it in one go.
This has been a challenge for busy working adults who have always wanted to complete a marathon event on their wish list. We help them to achieve their goal by breaking down the race into one session or multiple sessions per user preference. Our application can track and accumulate the total distance and time of their running or cycling. Users only need to plan their activity and ensure that they complete the distance required within the time window of the event.
Even better, users can now initiate their racing events with the application. They can invite their friends, co-workers, and family members to join the event with them. MOVE-ON provides services for them to plan and launch private or open virtual race events, and most importantly, ensure a great seamless experience for both organiser and their participants.
For MOVE-ON, it is not only about users starting the apps and clock in and out of their runs. Many applications in the market have been doing that, and users demand more than that. They need some boost that keeps them motivated. We want to provide them with a thrill of competition. This is where MOVE-ON comes in with a solution – a virtual 'leader board' in real-time. Our leader board does not just feature on specific runs, but every single run has a leader board to beat. This gives the users more choices on which run they would like to participate in and conquer the run!
MOVE-ON's Solution
The app keeps track of your progress by updating real-time personal race data such as the time and distance completed. This is a real seamless process when you compete virtually using this app. After each event, the results will be updated into the app's virtual leader board immediately. This creates a competitive and engaging environment for the racers. The ranking system serves as a fuel that motivates them to run with or without support from friends and family who share the same interest.
Advantage: A Unique Virtual Event Management Platform in the Market
Hence, what makes us different from other platforms is that we offer a comprehensive solution to both users and event organisers, connecting their businesses to their customers. Our salient features are:
A platform for both cyclist and runner to compete in several events at once, be it recreationally or professionally.

A seamless experience for users as they can browse through the lists of virtual races available,
> Share the events with their friends,
> Register and make payment,
> Track the results of their race.
We also offer an analysis of users' race to improve their performance for the next event. It has been shown that performance measures are incredibly helpful to users as it is motivating. People want more than just results.
Figure: Market demand vs MOVE-ON's advantages and solutions
The Market Potential for Virtual Event Is Huge
During the Movement Control Order (MCO) period under the pandemic, all sports and recreational activities are not allowed except for jogging and non-contact personal sports. Hence, the popularity of non-contact sports such as running, and cycling has risen sharply. Virtual sports have become the new normal in people's lives.
Figure: Doubled their numbers of users in past days
We are not talking only about the small-scale event, there are major marathons such as London, Boston, and Tokyo marathon that went virtual for 2020 due to the new normal. There are more organisers like Standard Chartered Bank and OCBC are planning the same for 2021 and years after. Recently, the OCBC Cycle annual event that we held had gained huge success where all 4,700 tickets got snapped up in a short period.
The Benefits of Virtual Sports Competitions
The participation rate in virtual sports competitions has increased by more than 100% over the past two years. One of the key benefits of virtual sports competition is that it resolves the concerns that some participants have about traditional competitions.
There are a lot of advantages for races going virtual. The participation rate for a virtual event is higher because participants can be certain that the virtual races will not be postponed or canceled last minute.
Virtual events are also more environmentally friendly as it creates less waste from physical events and no car pollution from traveling from your house to the event place. Busy bees do not have to miss pushing back their checklist of completing a marathon run or cycling event just because they could not afford to schedule long hours to complete a full marathon.
Our events have been a success over the past 3 years. The successes are not only from our public events on running or cycling. We have various organisations from Corporate Companies, NGOs, and Government Agencies approached and engaged us in organising virtual races for them.
Collaboration with Trusty Partners
We have worked with International Islamic University Malaysia (IIUM) where they used the MOVE-ON app platform to organise a virtual run called the "IIUM Twenty Virtual Run and Ride". We have also worked with numerous corporate companies such as WIPRO Malaysia to organise virtual race events for their employees which aims to keep their employees on the move to stay physically and mentally healthy.
Another highlight is Vegan Run M0.07 Virtual Run which is one of the first vegan-theme virtual runs held in Malaysia that has to gain huge supports from renowned businessmen, artists, and influencers. A portion of the run revenues was then donated to charity organizations. We wanted to play a part in raising awareness of the benefits of a vegan diet for your health and the environment.
Marketing Strategy with A Strong Social Media Portfolio
A good marketing strategy is extremely important to growing our profit and we have our robust marketing strategy. Our companies own three well-known media in Malaysia, namely Running Malaysia Magazine, Cycling Malaysia, and The Entrepreneur Magazine. These strong marketing arms combined with our social media efforts have consistently generated great exposure to our brand nationwide and boost the success of our campaigns.
MOVE-ON (FACEBOOK) – 10K Followers

Running Malaysia Magazine (Facebook) – 58k Followers

Cycling Malaysia Magazine (Facebook) – 142k Followers

The Entrepreneur Magazine (Facebook) – 36 K Followers
MOVE-ON's Target Market, Launching an E-Commerce Platform, Yearning for Diversified Development
Virtual and on-site competitions are the main source of income for MOVE-ON. The target market comes from the general public, government ministries, non-government organizations, business circles, and academics. Secondly, there are advertisements revenue from the corporate companies and the sports brands, and then there are merchandise/peripheral goods.
In terms of revenue, contest registrations accounted for 55%, project fees were 30%, and 15% came from advertising and peripheral products. The MOVE-ON platform also provides users with a large number of exclusive sports-related merchandise. Users can easily purchase limited edition costumes for competitions through the platform.
Future Planning, Three-Year Plan
MOVE-ON plans to launch various projects one after another to increase the company's revenue channels, including increasing the number of APP users, cooperating with the government, corporate companies, and education institutions, and increasing virtual and on-site activities to increase profitability. We also plan to launch e-commerce platforms in Cycling Malaysia and Running Malaysia. The goal is to expand into other countries in Southeast Asia within 3 years and to list the IPO within 5 years.
Currently, we have an existing base of over 11,000 registered users in the application and monthly active users of 3,000. We have a strong team in-house that develops and improves on the software, coupled with a dedicated support team that facilitates the technical glitches. We expect that MOVE-ON will grow to 297,000 users at least in the next three years, also we are expecting this market to grow exponentially, especially now that the public is adapting to virtual events and even liking virtual events more than physical events.
Figure: Estimated user growth in the next 3 years
Figure: Valuation projection of the company in the next 5 years
Equity Crowdfunding Target RM4,000,000
To implement the expansion plan, we organize equity crowdfunding to be able to find like-minded investors.
The allocation of the funds will be mainly used for Branding, Marketing, and Advertising, which takes up 45% of the fund. This additional fund will help MOVE-ON in our effort to be the largest virtual running and cycling APP in Malaysia.

Another 20% of the fund will be allocated to the Research and Development of technology, to progressively update and improve the application for an enhanced user experience.

We will allocate another 20% to team expansion, specifically increase the headcount for Development and Marketing department.

The remaining 15% of the fund will help in the project collaboration fund in which we can increase our involvement with NGOs, Universities, and Government projects to further promote MOVE-ON.
We are very happy to have a first-mover advantage in this market. To expand our business territory, serve more people, and promote healthy lifestyles, we need you.
We invite you to join this journey of unlimited potential development and become the premier virtual event management platform in Southeast Asia and even the world. You deserve the best!