---
欲知更多详情, 请联系我们
---
吉品肉吧 – 让人足不出户,就能享有好肉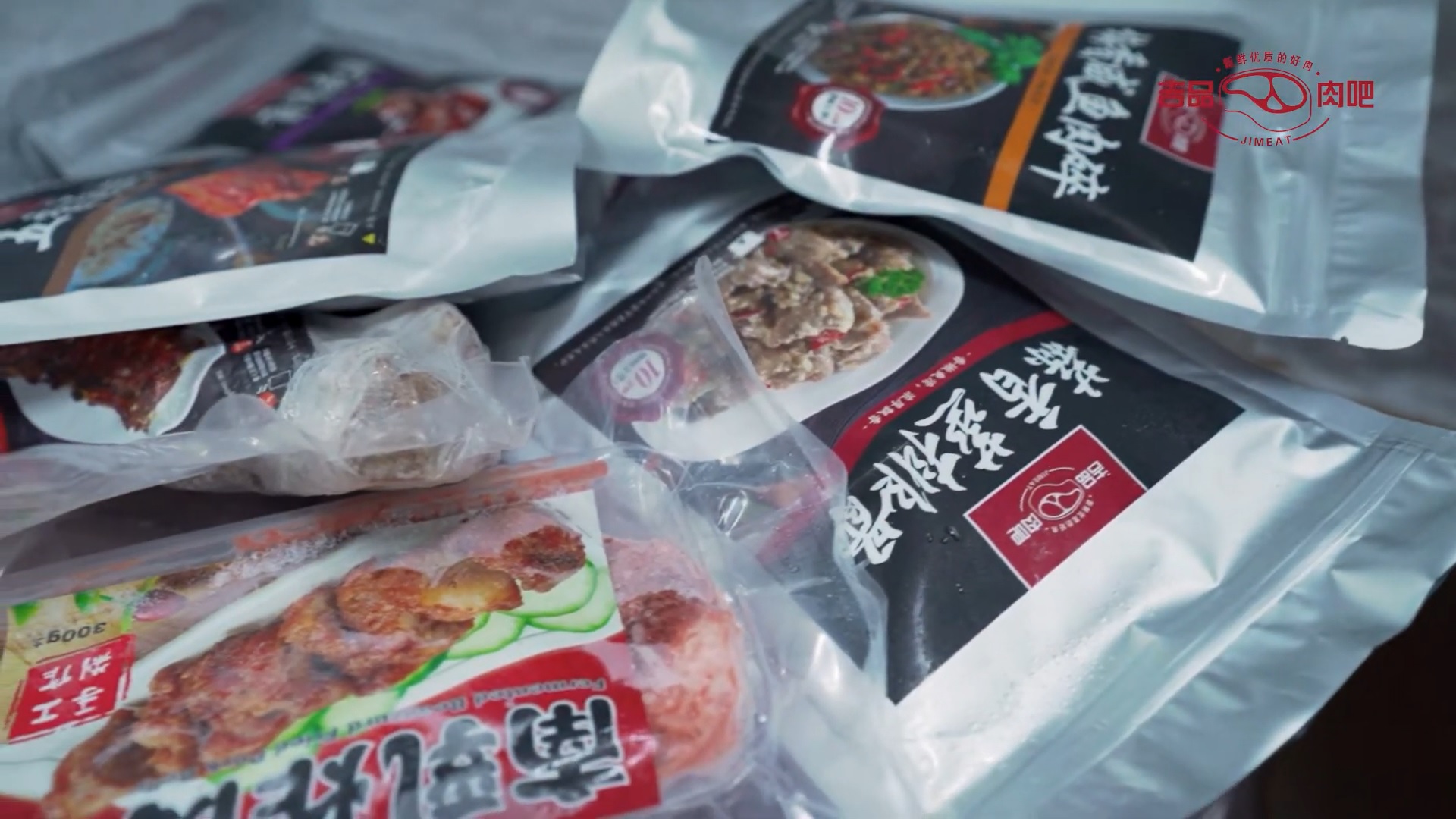 我的创业故事
我是 Zech,今年28岁。在台湾留学的2年里,见识了形形色色的餐饮模式,也学习到很多不同的文化。心里一直觉得马来西亚是个很棒的地方,有很多发展空间,所以就萌生了回马创业的念头。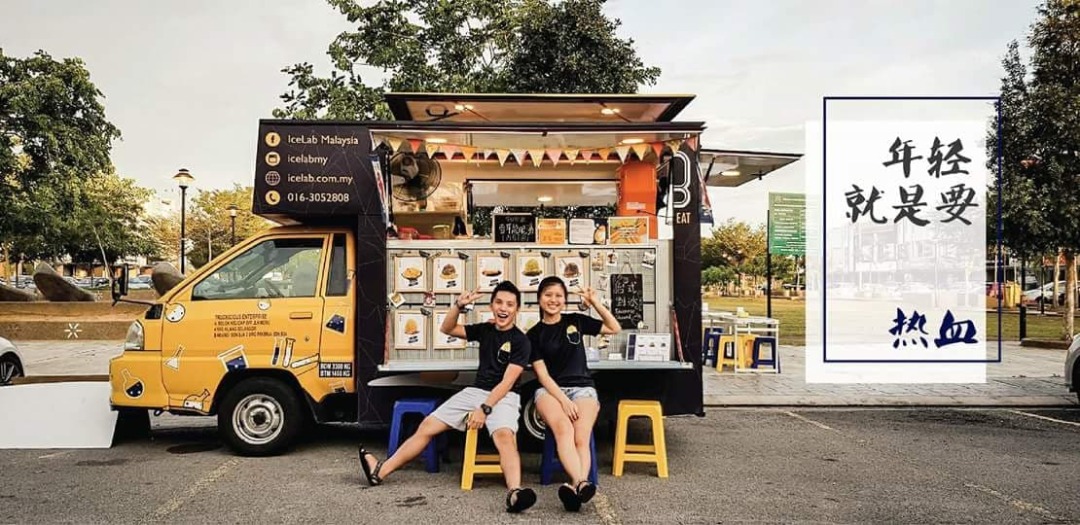 24岁那年从台湾留学回来后,就立马和伙伴Hong 胆粗粗地创业了。当时,我们打造了一辆台湾甜品餐车到处跑,体验了创业的感觉,经历了无数的挫败和经验,也开拓了我们对于做生意的视野。兜兜转转了2年多,我们决定停下了餐车的生意。但是,还是阻止不了我创业的决心。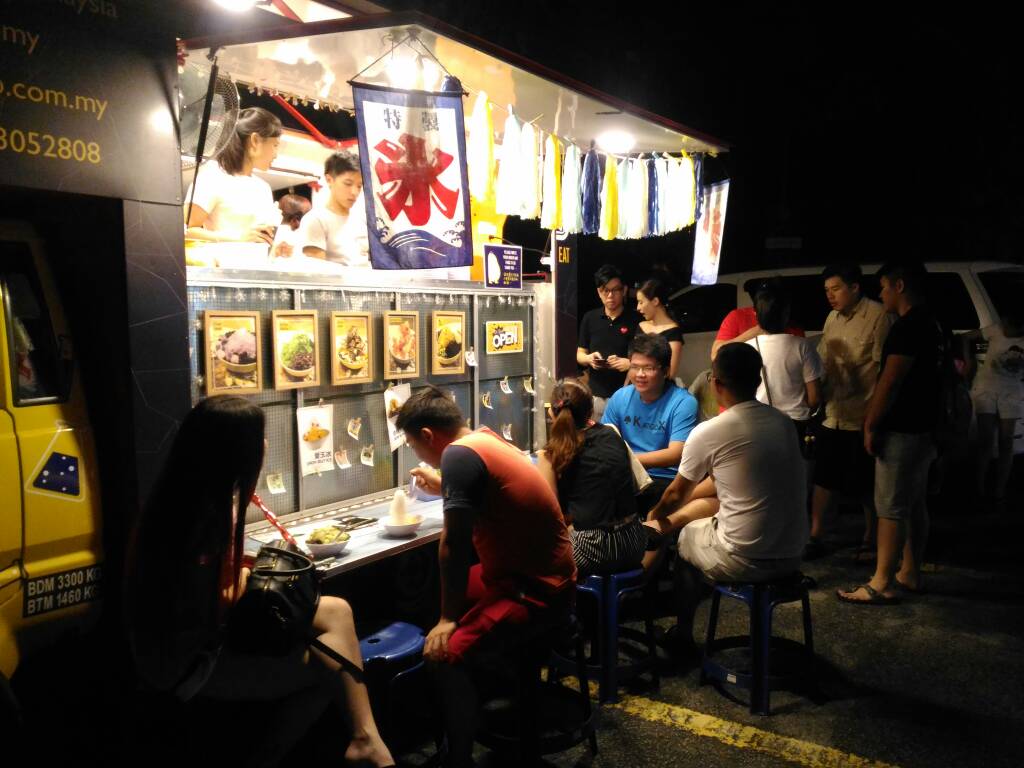 直到2019年9月份,我再次开了一间小店,从事甜品生意。由于积攒了过往的经验,这一次的准备显得更充足。于是我更加果敢,决定往规模化和连锁模式的方向去发展。结果没想到的是,原本是充满期待的一年,却因为一场疫情的到来,让甜品生意再次受挫。
化危机为转机
我们非常果断地把生意停了下来,也觉得是时候从长计议了。在锁国期间,我们从来不敢停下脚步,无时无刻都在寻找各种商机。
我的姐姐 Agnes Lim也因疫情的关系,被迫暂停所有演艺工作。她在疫情期间发布了很多有关烹饪的影片,让她的主页增粉不少。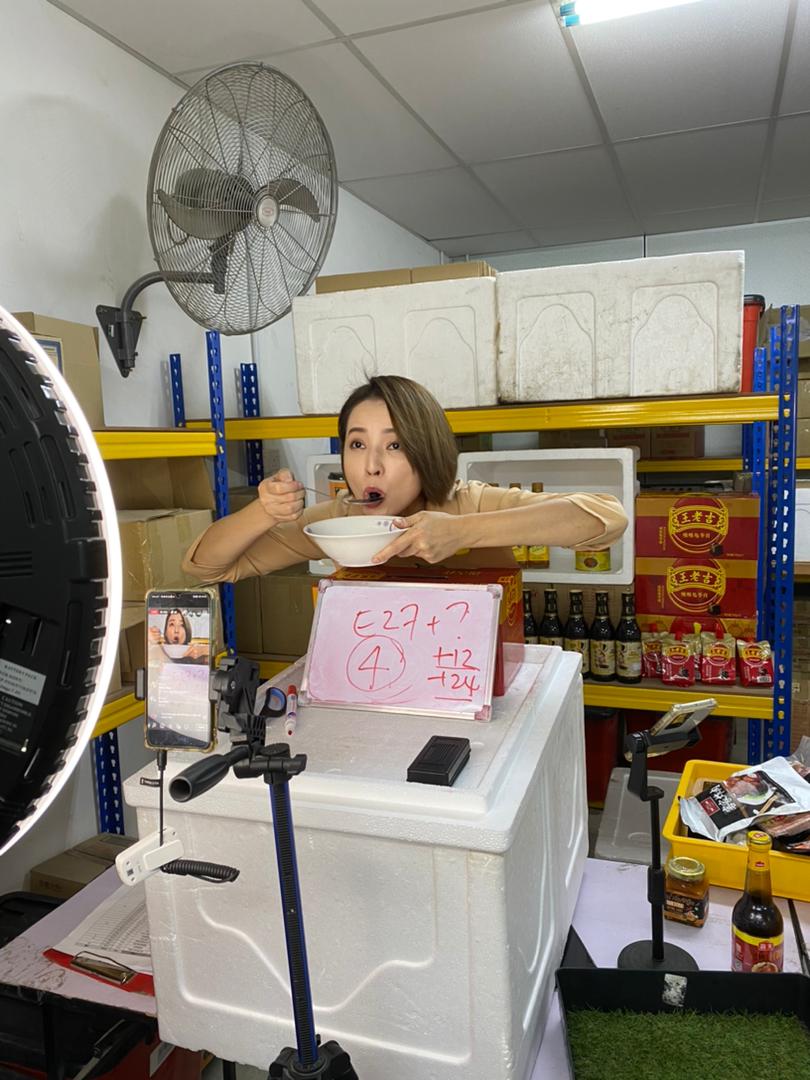 就是在那时候,我认识到 FB直播台的强大,发现通过它来进行电子商务是可行的。它让我看见了一丝丝的曙光,加上我和女友本身一直都对这方面有兴趣,所以就开始投入计划,并召集到了大学同学 Mei,专业的活动主持人来协助我。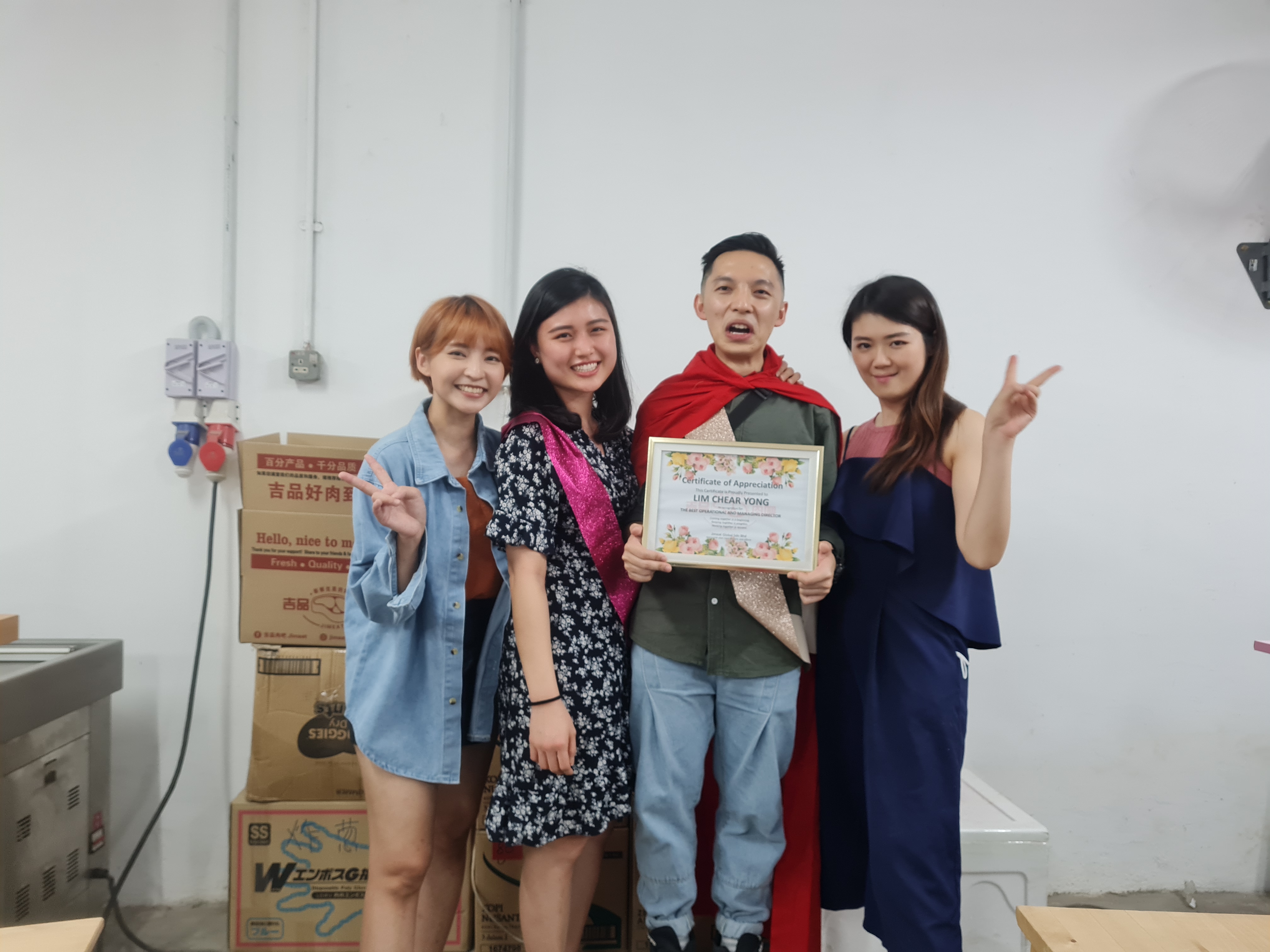 这期间很感激遇到了我的中学同学兼贵人 Paul,不只愿意与我们分享他在直播电商上的经验,还乐于与我们分享资源,给了我无限的信心。
就这样,一群被疫情影响的人并没有失去希望,也没有坚持等待疫情结束,而是快速做出改变,进行转型!吉品肉吧就是这样诞生了!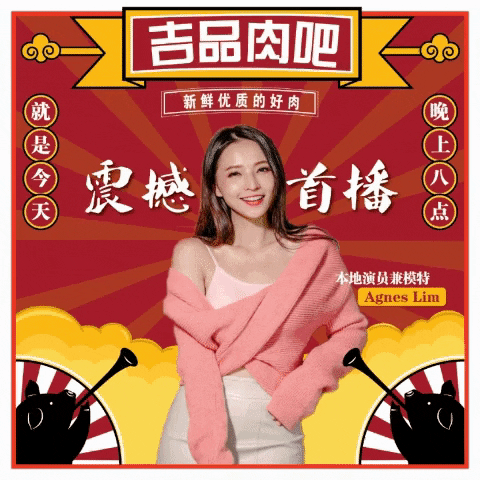 我们的愿景、使命和核心价值
目前我们的团队总共有10人,平均年龄24岁,主要是90和00后。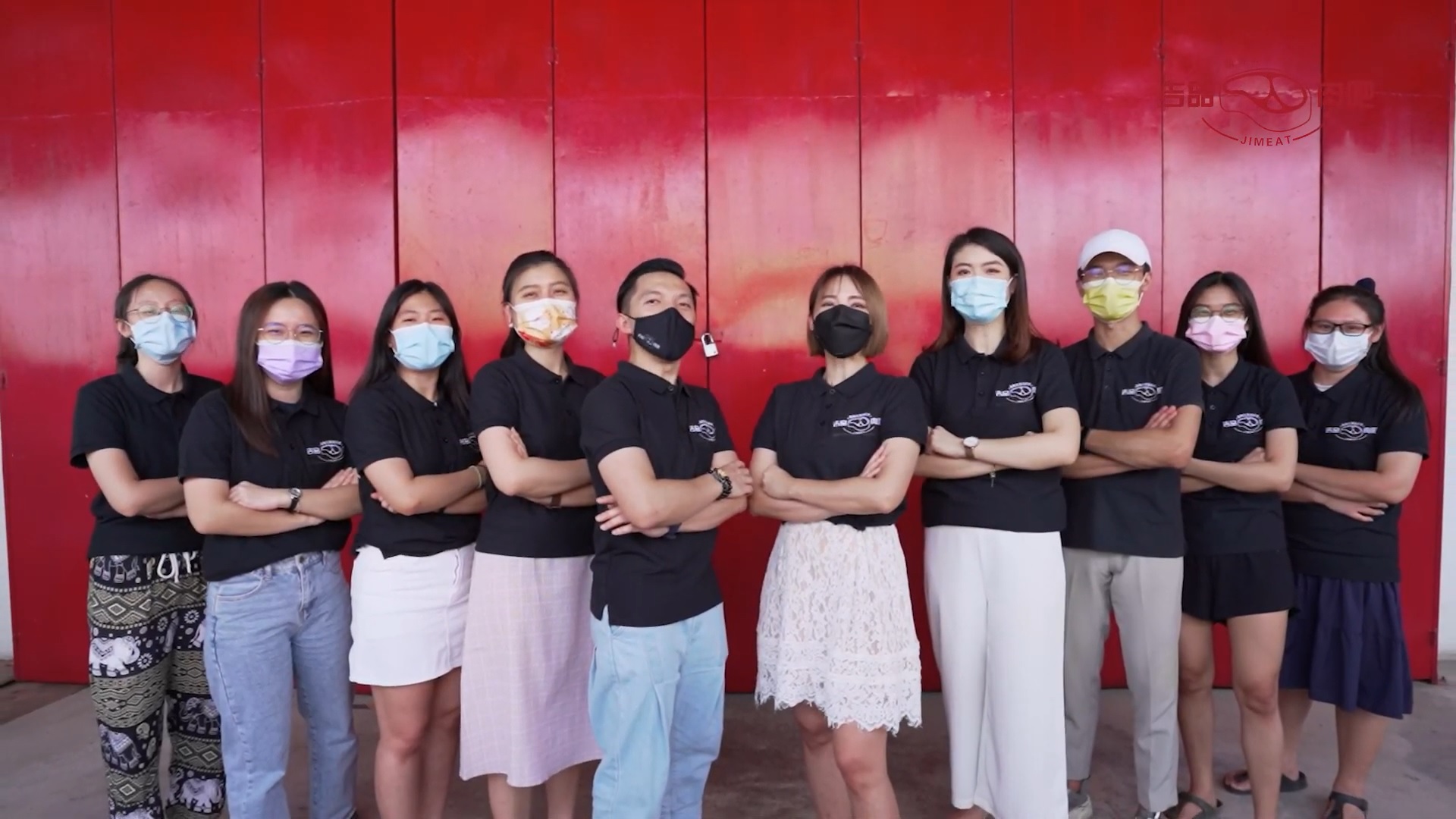 一场疫情让我们了解到了网购的重要性和可塑性。很多顾客都是因为认识了吉品肉吧,才开始改成线上购买生鲜产品。
我们的愿景,是成为马来西亚 NO.1 线上生鲜平台。
我们的使命,是改变人们的日常采购习惯,即从线下转为线上,足不出户都能享有丰富好肉。
即使直播的风潮退了,我们还是一样有多元的销售管道让用户继续使用我们的服务。像是 Lazada和Shopee等电商平台带起的网购风潮, 用户一旦习惯了,也一样会依赖我们的平台进行日常生鲜采购。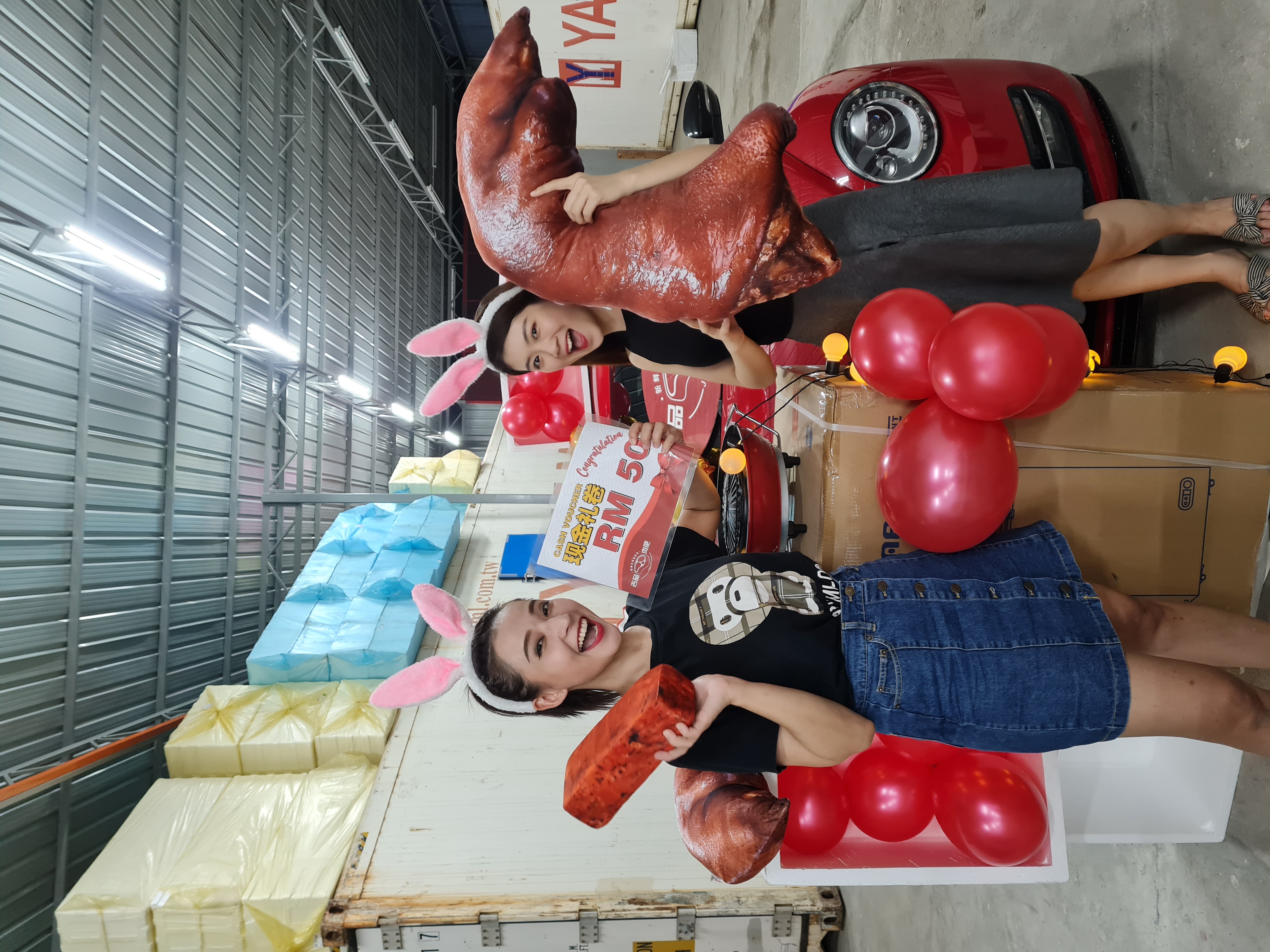 我们的核心价值,则有:
秉持用心服务、用户至上的态度

吉品团队共享共赢,互惠互利

诚信和责任,以人为本

勇于创新并拥抱改变
只要心态对,多大挑战都不怕
营业额突破 170 万,获得98%的好评率
由于我们卖的是生鲜食品,所以要解除客户的困惑、获得他们的信任,并愿意持续回头购买,是最大的挑战。
另外,由于网络的流量扩展性非常高,所以时常会遇到爆单的情况。我们需要后台的人力和资源的配合,才能让整个用户体验更加顺畅和方便。记得有一次,我们遇上厂商供货不足的状况,导致无法按时发货给用户。我们全公司上下都一起拿起电话一个个联络,连声道歉安抚客人,直到所有订单被处理完为止。在电话里得到的所有批评和责备,我们都要接受,并且想尽办法安抚他们的心情。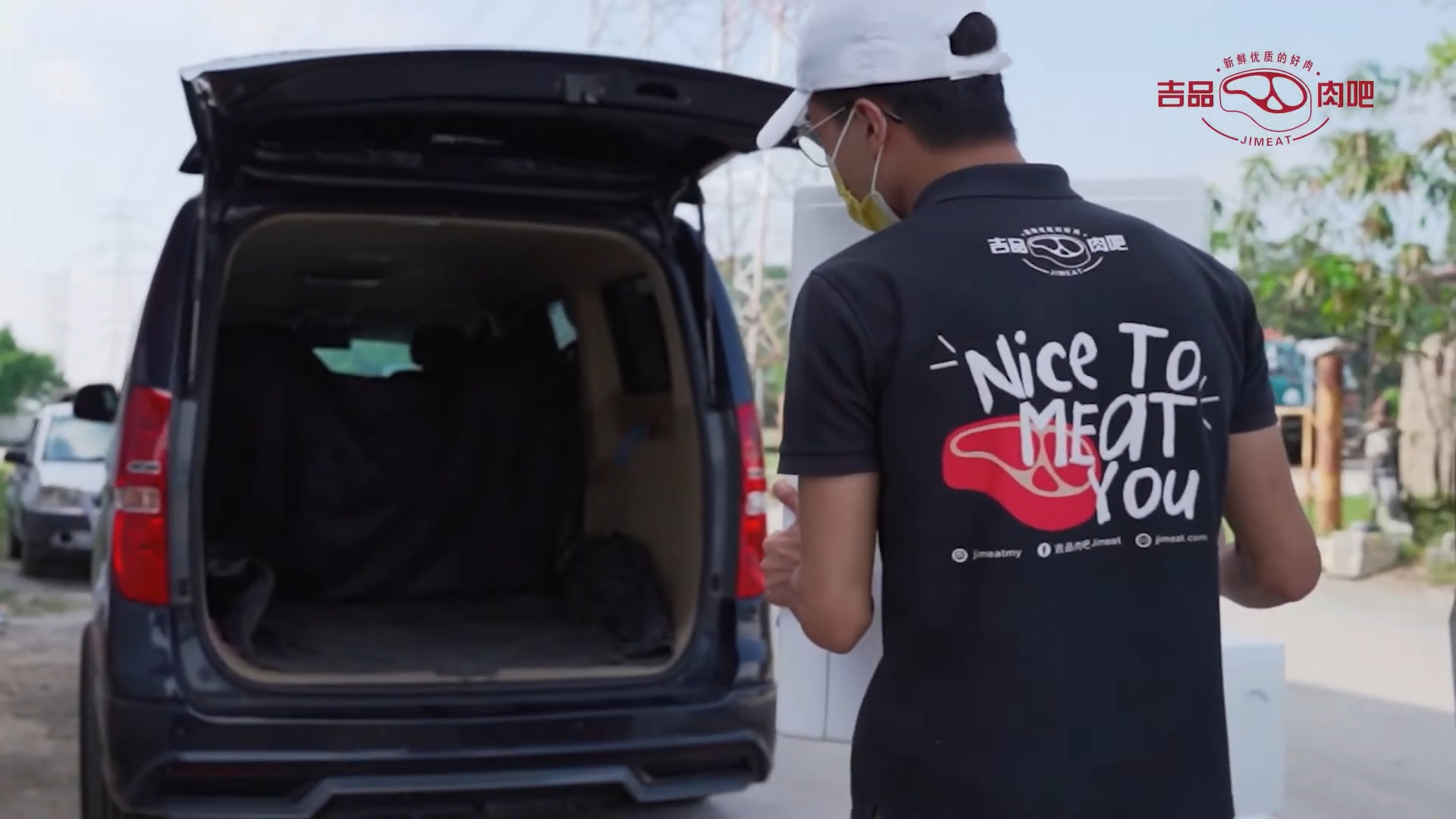 此后,每次遇到爆单的情况,我们都会先确认库存的数量,确保足够让我们发货,再来就是我们的团队可以在最快的时间内处理用户的订单,加上包货的效率、出货的速度也必须跟上用户的期待值才行。
除了人力资源,我们也不断地往科技这方面下功夫,利用系统的便利去提高效率。
在这段不停督促自己、改进自己的过程中,我们的付出渐渐有了收获,经历了从一天10个包裹,到100个包裹,再到最疯狂的1000个包裹。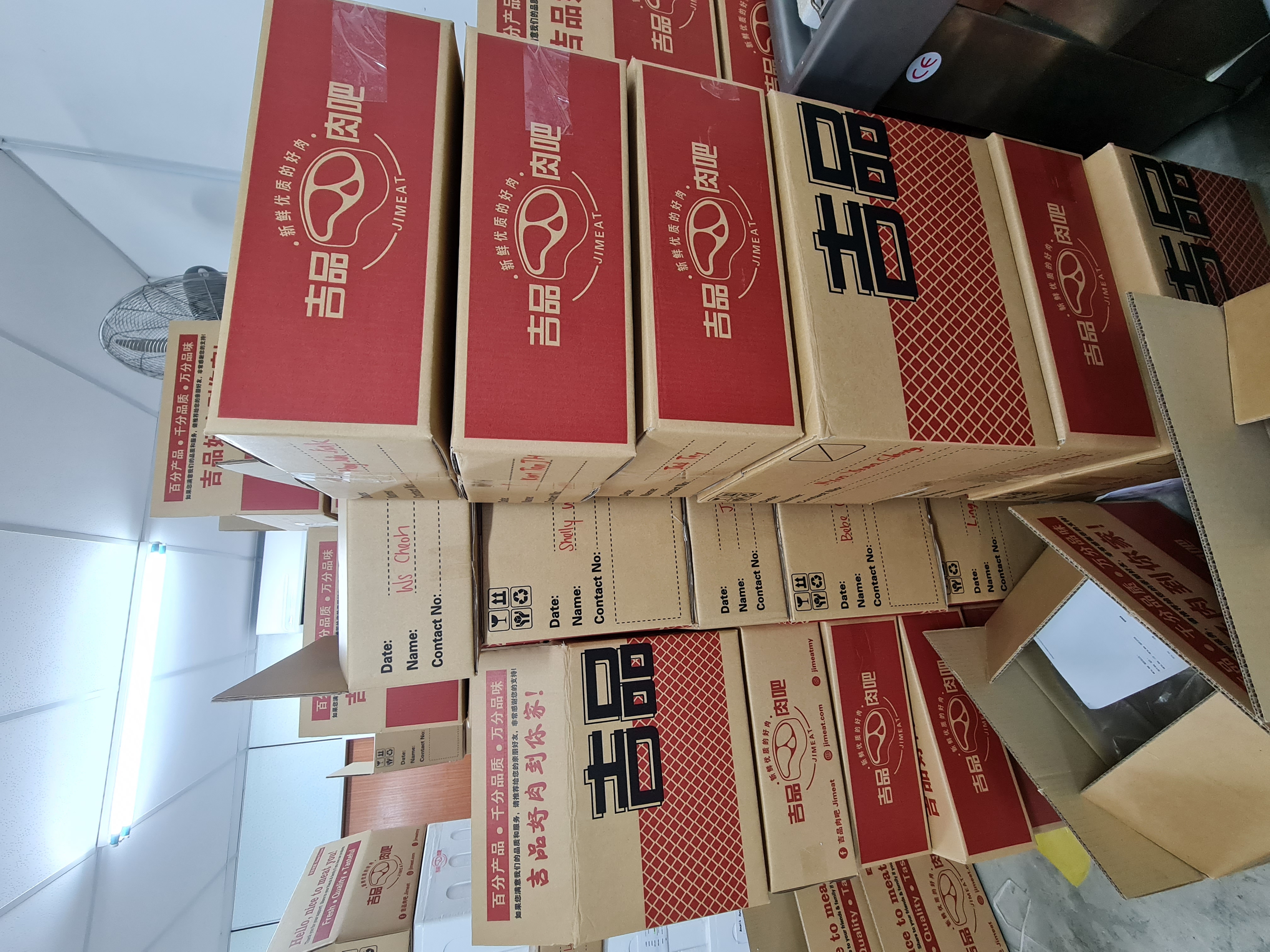 我们成功在半年里把销售额推向百万令吉,一年内营业额突破了 170万,毛利率达到了 30% !迄今为止,我们服务了约 5000 名用户,并获得高达98% 的好评!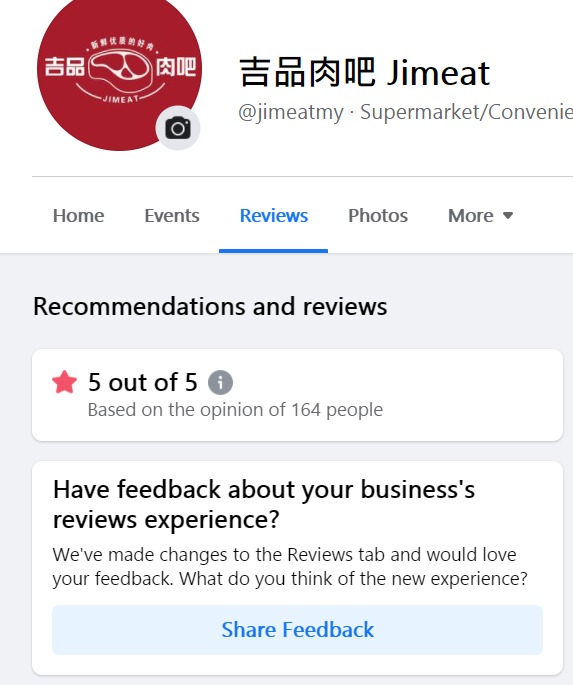 在克服种种困难的路上,我认为最重要的就是【心态】和【态度】。只要你的观念正确,并用心去做,一定会有让你发光发热的机会!
从客户利益出发
主打方便、好吃、健康餐
目前,整体市场偏向主打简单易用、懒人包类的肉类产品,让一般的上班族可以轻松简单处理一餐。除了要方便和快速之外,在味道的调整和健康之间的平衡也非常重要。也就是说,方便、好吃又健康,这三种要素缺一不可。
因此,我们会根据市场的趋势,不定时调整产品的方向。除了主要会站在用户的角度去思考和做采购,也会尽量确保产品的口味和风格符合马来西亚人的喜好。
在我们的直播或短视频中,我们也会做大量示范和教学,让大家可以透过视频学习产品的知识,也了解烹饪的流程,让他们更加有信心购买。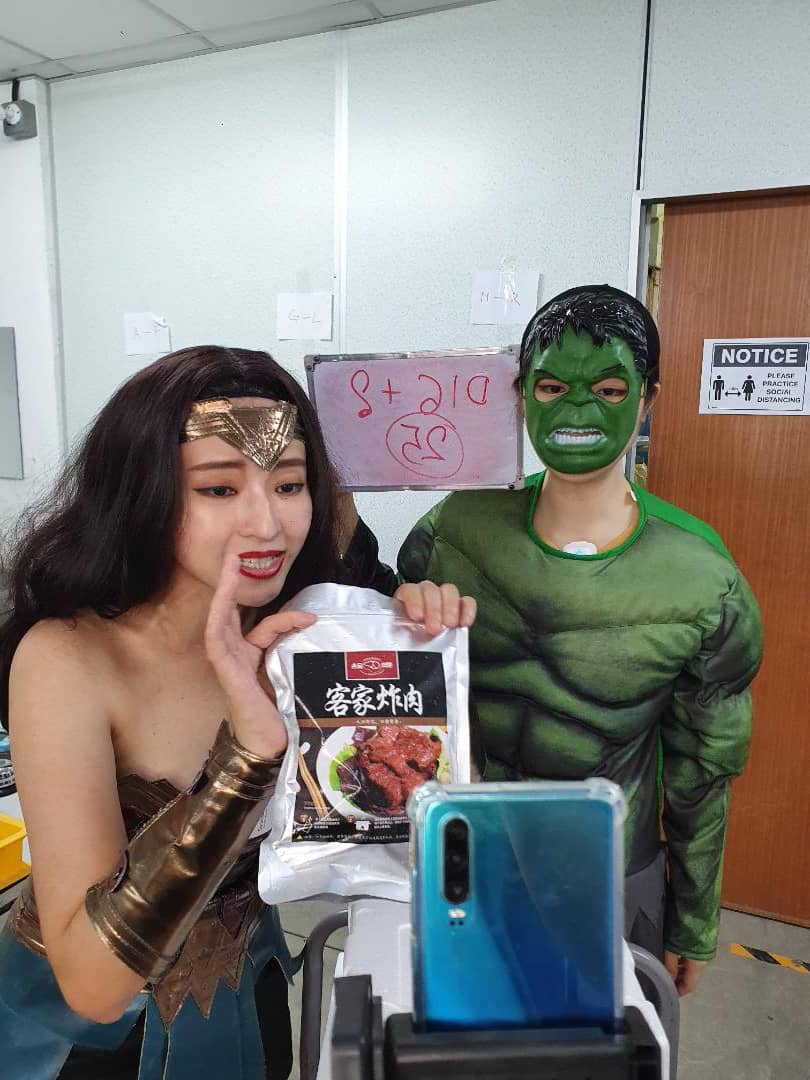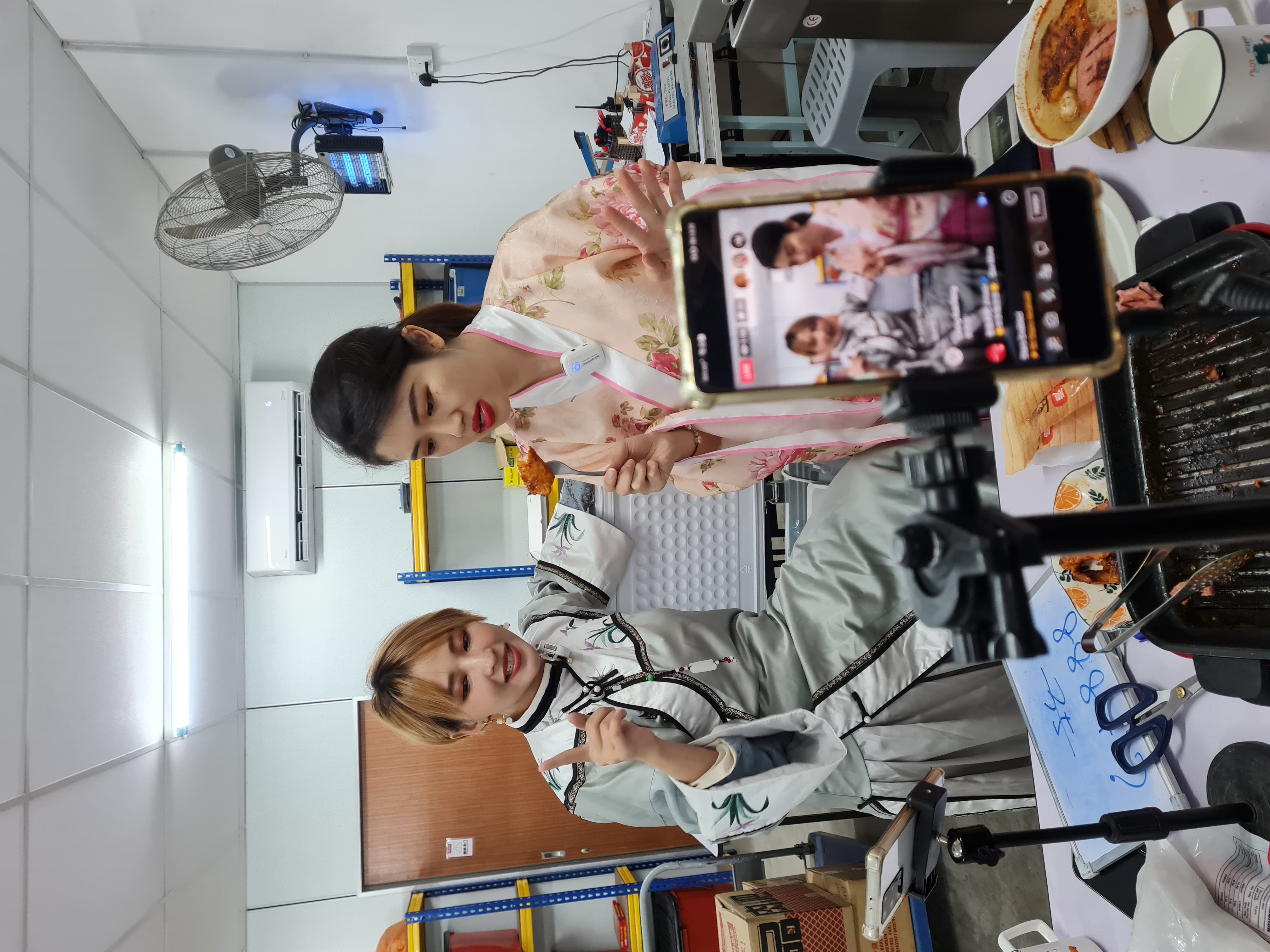 品质藏在细节里
最严谨的审核,最高效率的服务
我们拥有固定的本地合法猪农提供的肉类产品,也有合作的餐厅厨师独家制作的即食冷冻料理。
为了方便大家处理肉类产品,我们特别和厂家商讨,安排了分散真空包装。
产品从厂家那里送到我们这里后,我们会先检查产品的质量和状况,才收进冷冻室内。接收订单后会由客服部处理,确认订单后便开始进行包裹的处理,隔天就直接安排出货。在这过程中,客服部需要与客人确认订单和收货资料,包货人员必须检查货物的状况和点算,包裹打包后必须交给指定的司机和路线,进行送货的流程。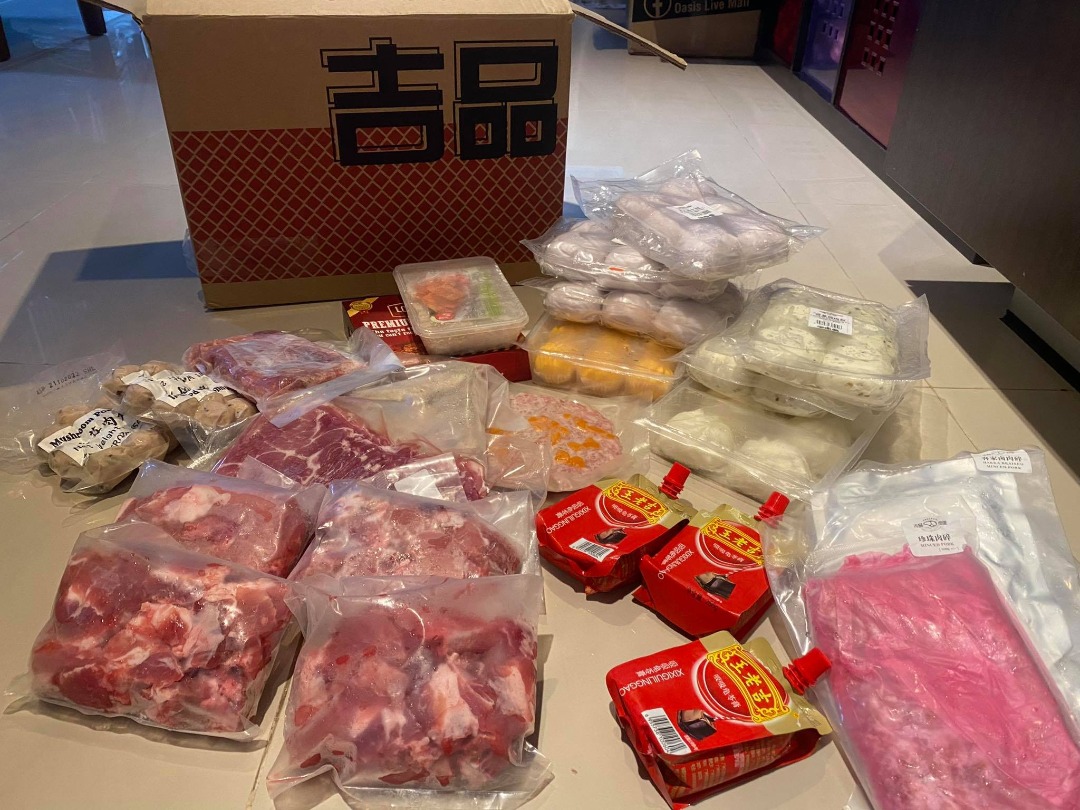 如有遇到质量不佳的情况,我们都会在第一时间告知厂商,并退还该产品。若收到顾客欠佳的反馈,我们也会马上进行调查,并回收该产品。
从发货到送货,我们保证所有过程都万无一失,绝对能带给客户最高品质的服务。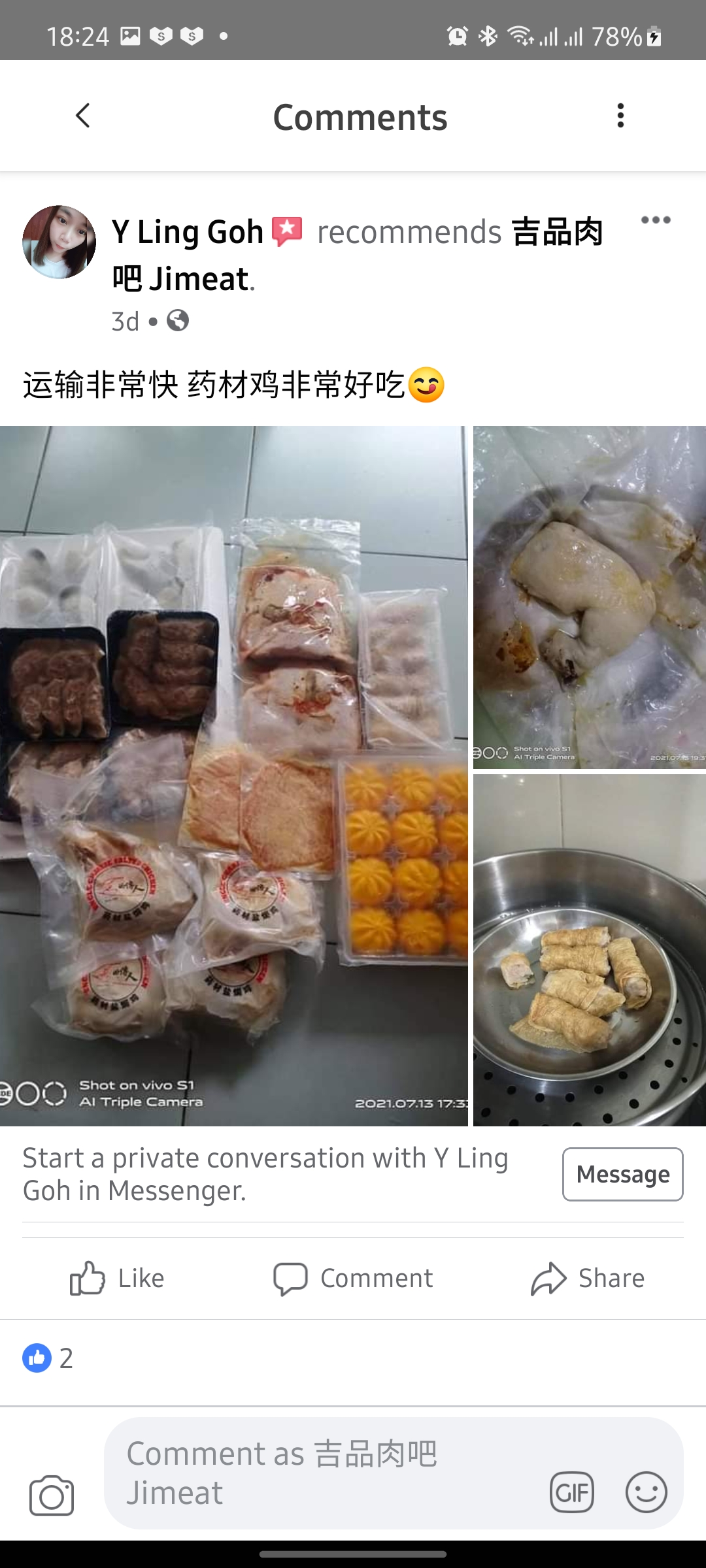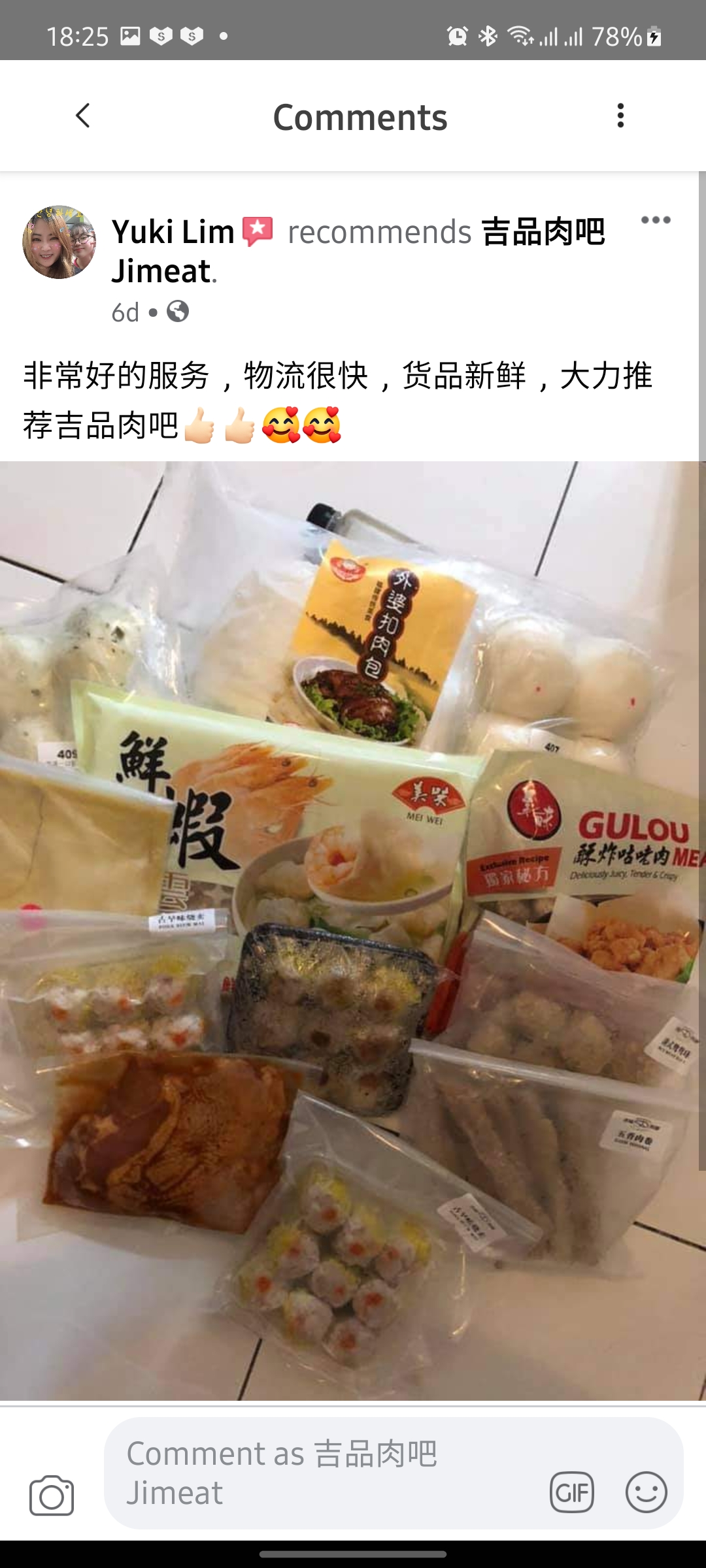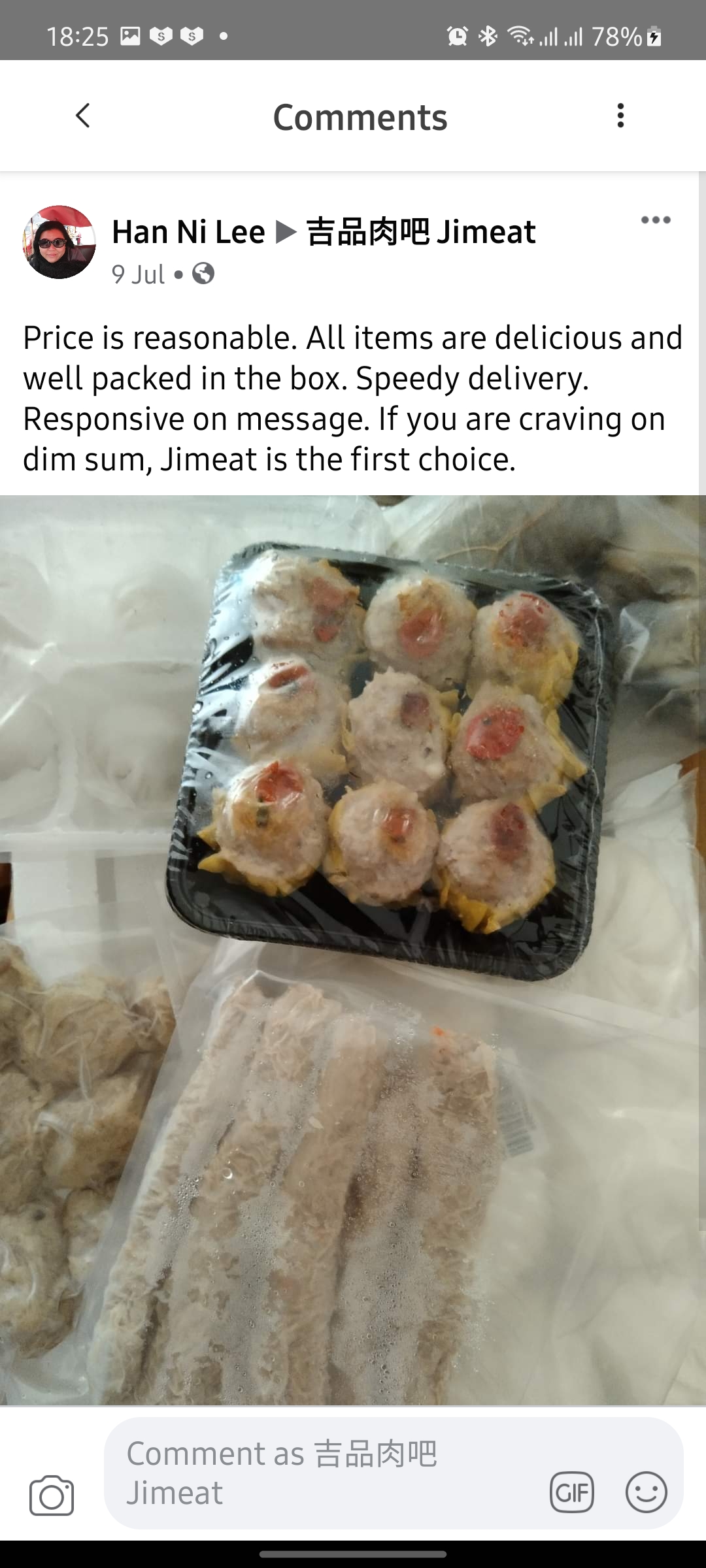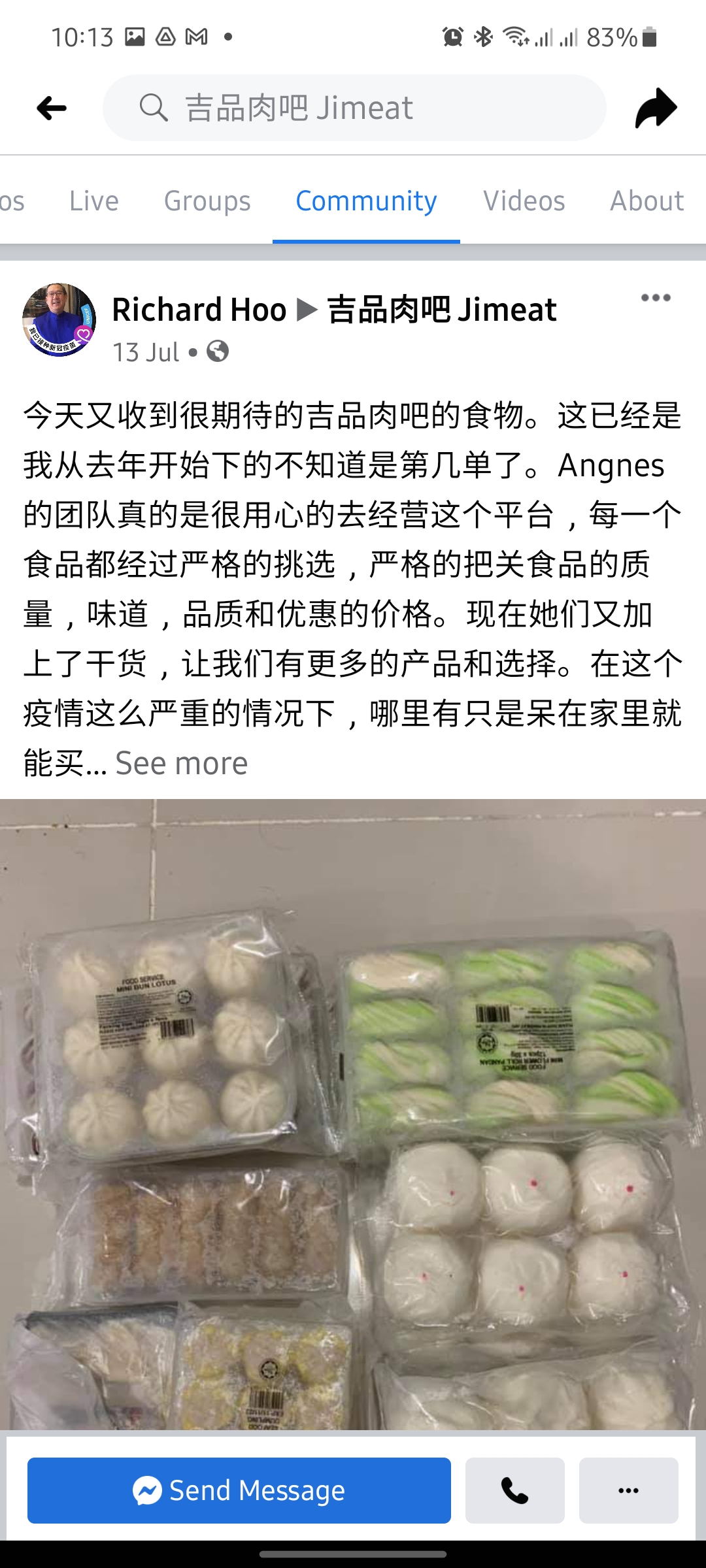 产品口味繁多,味道大众化
马来西亚是个美食王国,所以普遍上,大众对口味的接受度较为广泛。
为了确保推荐给大家的食品都是最好的,我们都会站在用户的角度去体验食物,经过一轮精心挑选后,才会将产品推出市场。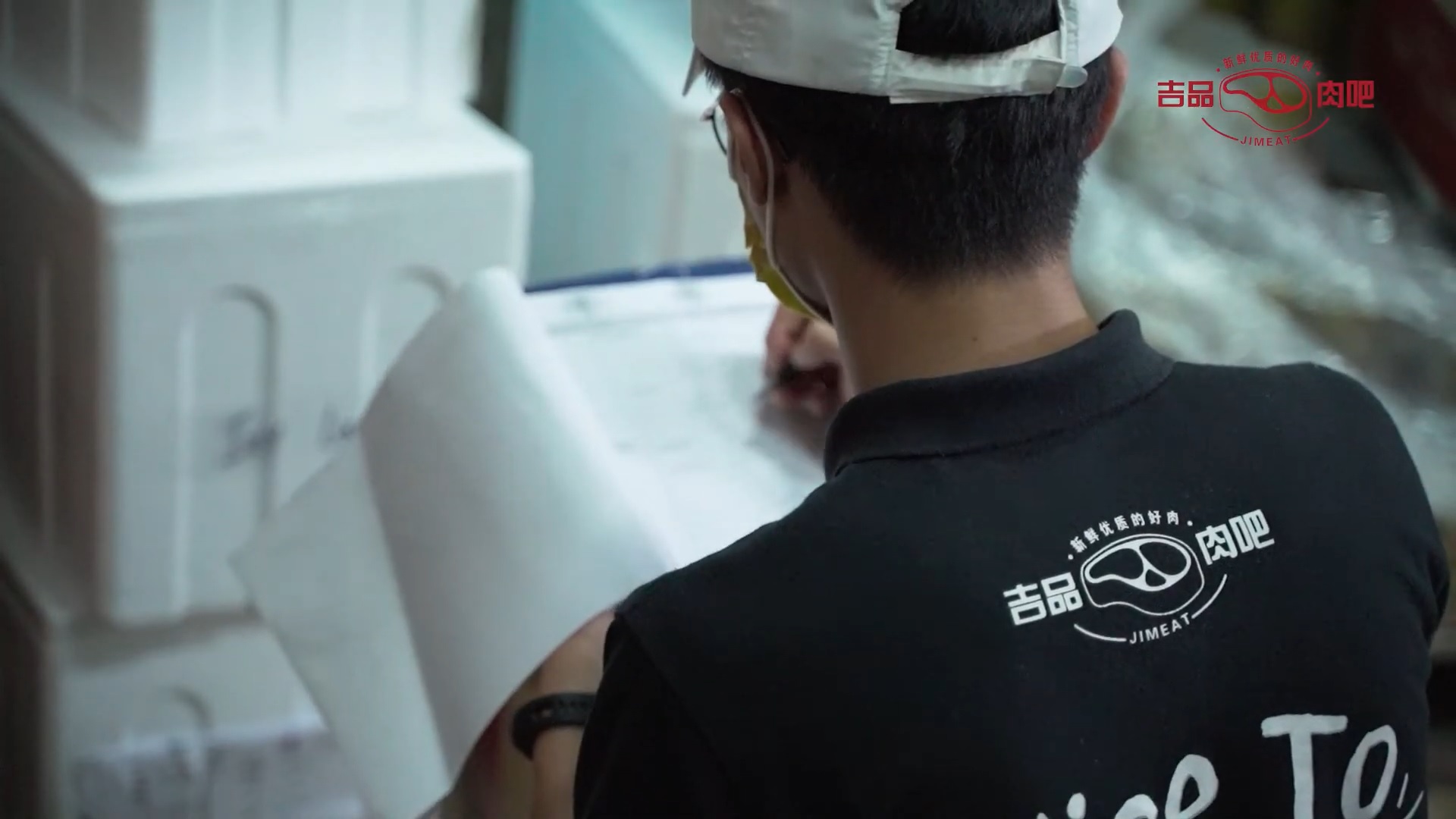 与餐厅厨师合作精心炮制的即食冷冻料理主打简单方便,也以消费者口味为导向,不断推出新产品,让每个人不用下锅煮菜也能吃到家里的味道。
目前,我们的产品有: 生鲜肉类、点心系列、包点系列、小吃系列、异国美食、罐头食品、调味料酱包、甜品和饮料。当中最受欢迎的食品有大里脊猪扒,猪肉碎,泰式烤肉串,烧卖,叉烧包,爆浆猪肉丸和刷肉片。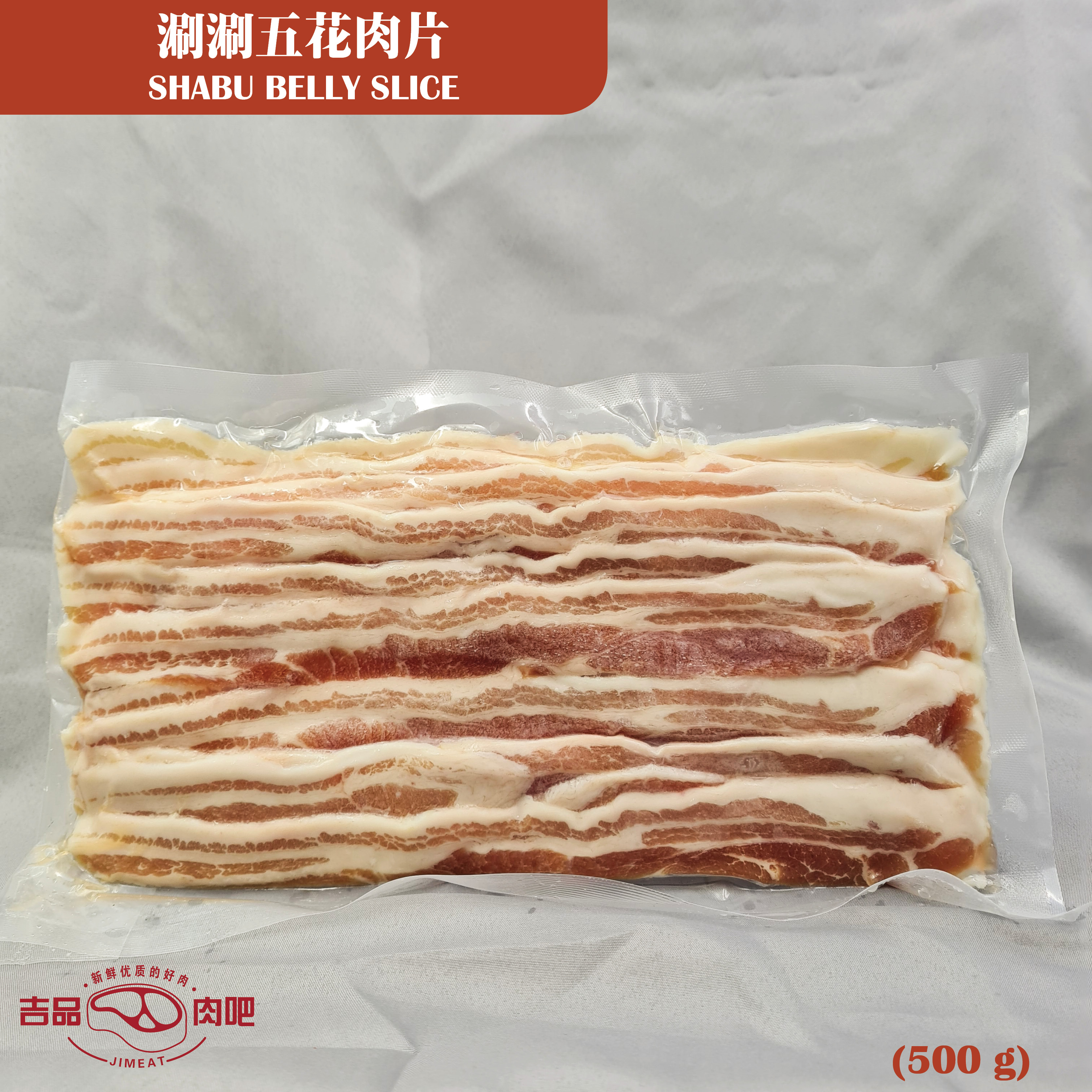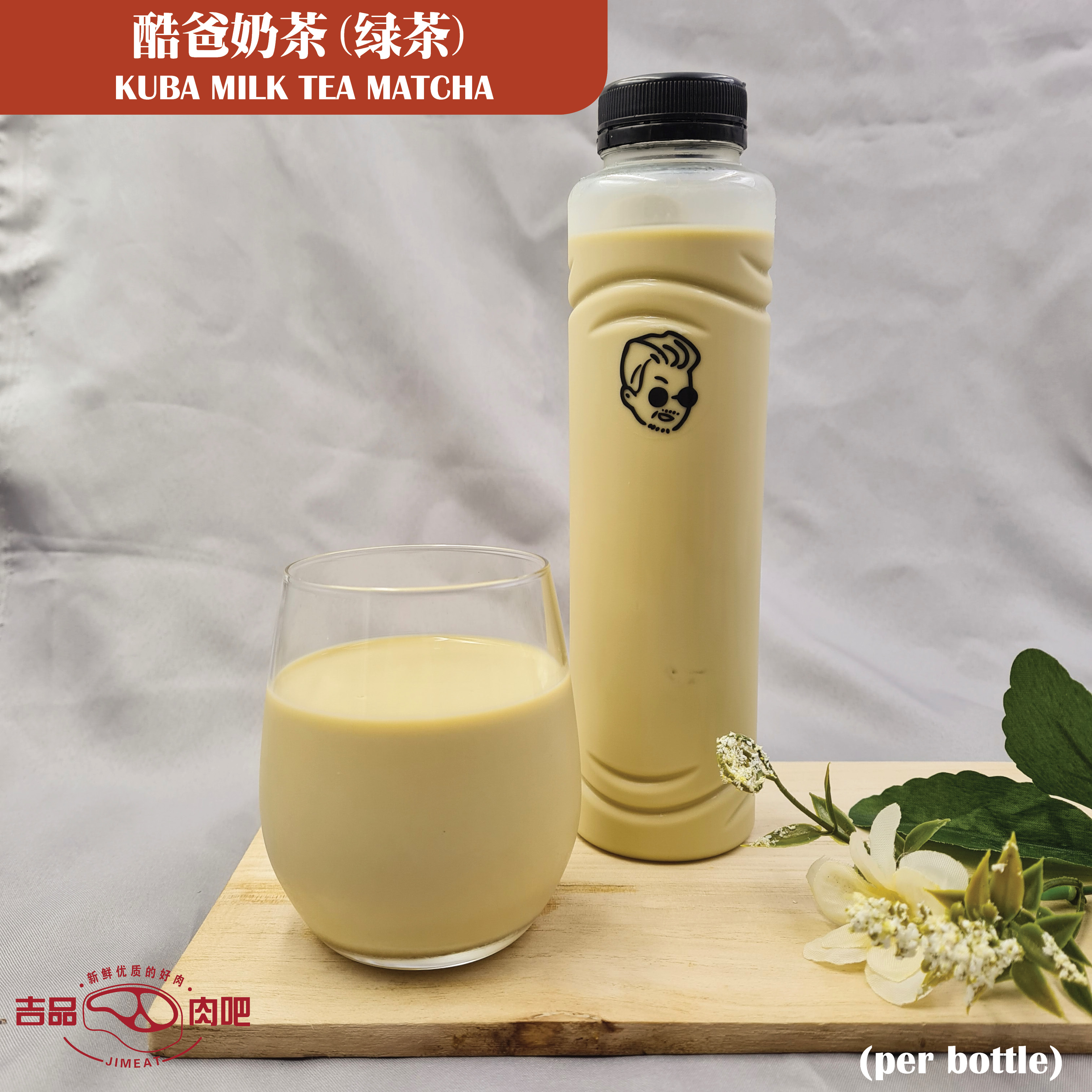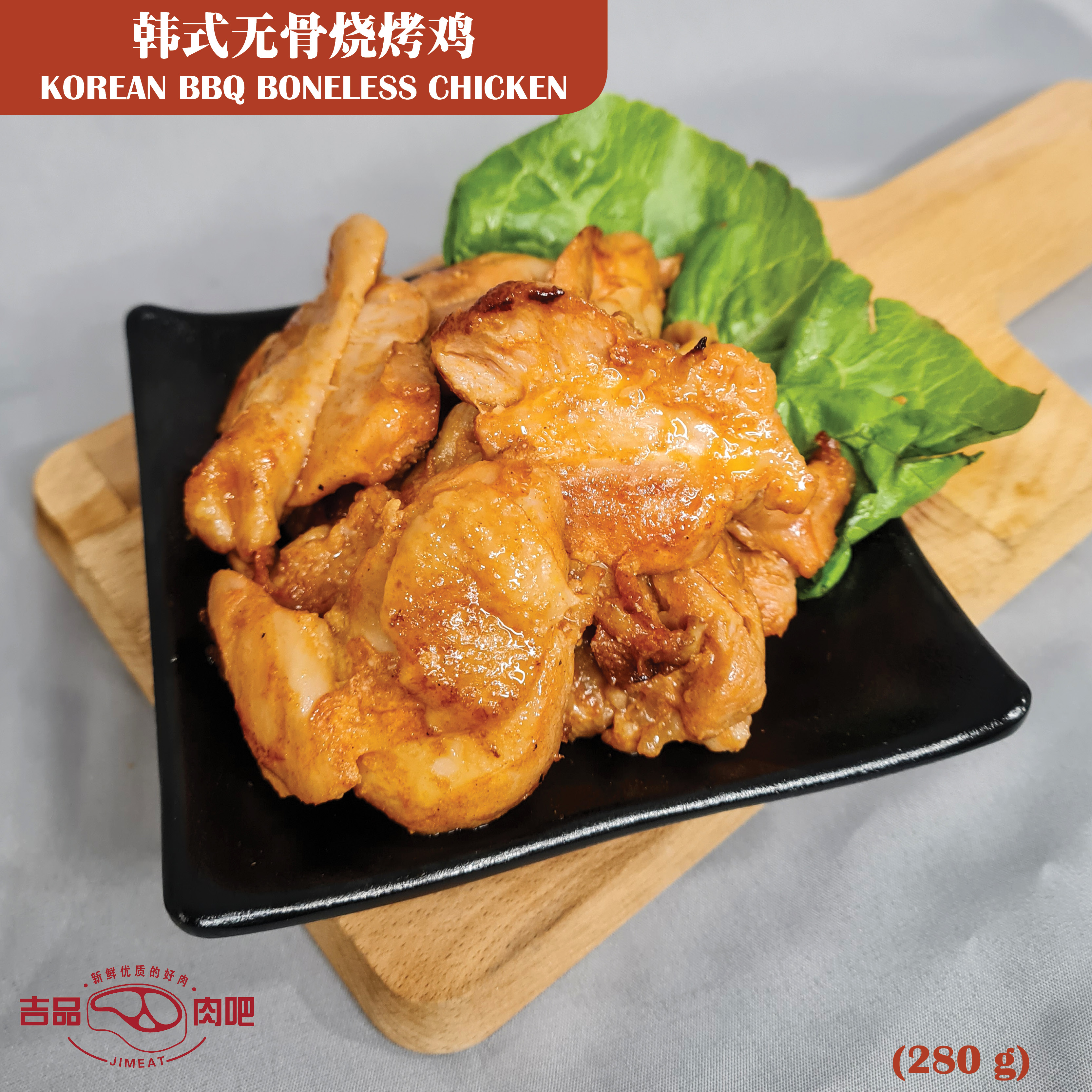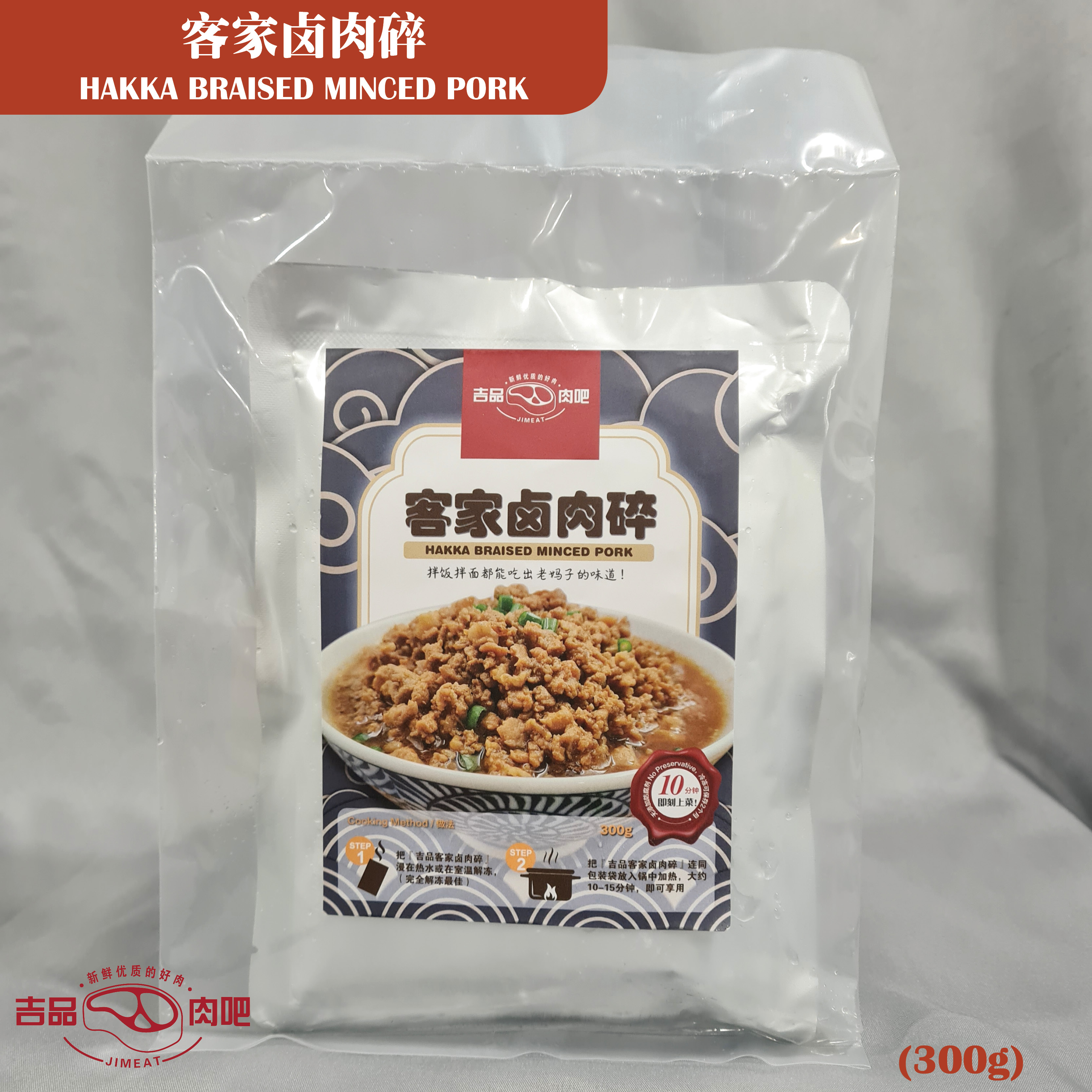 突破竞争的战略
我们是属于垂直型生鲜电商,主攻肉类市场,相较之下会更加专业,能提供用户更大的信心。
为了掌握市场,我们善用科技和大数据了解用户的习性,以便策划及进行各种有效的营销。我们也特地邀请了专业艺人和著名网红主播来进行直播,让我们的知名度和可靠度在短时间内一下子提升。
众筹成功后,我们也将开发并发展食品生产链,以提高产品和价格的竞争力。
股权众筹目的及目标
我们的目的,是让我们的企业推往融资的领域,并且扩大我们的生意模式,可以整合人力、资金和资源。
我们的股权众筹目标为250 万令吉,分配如下: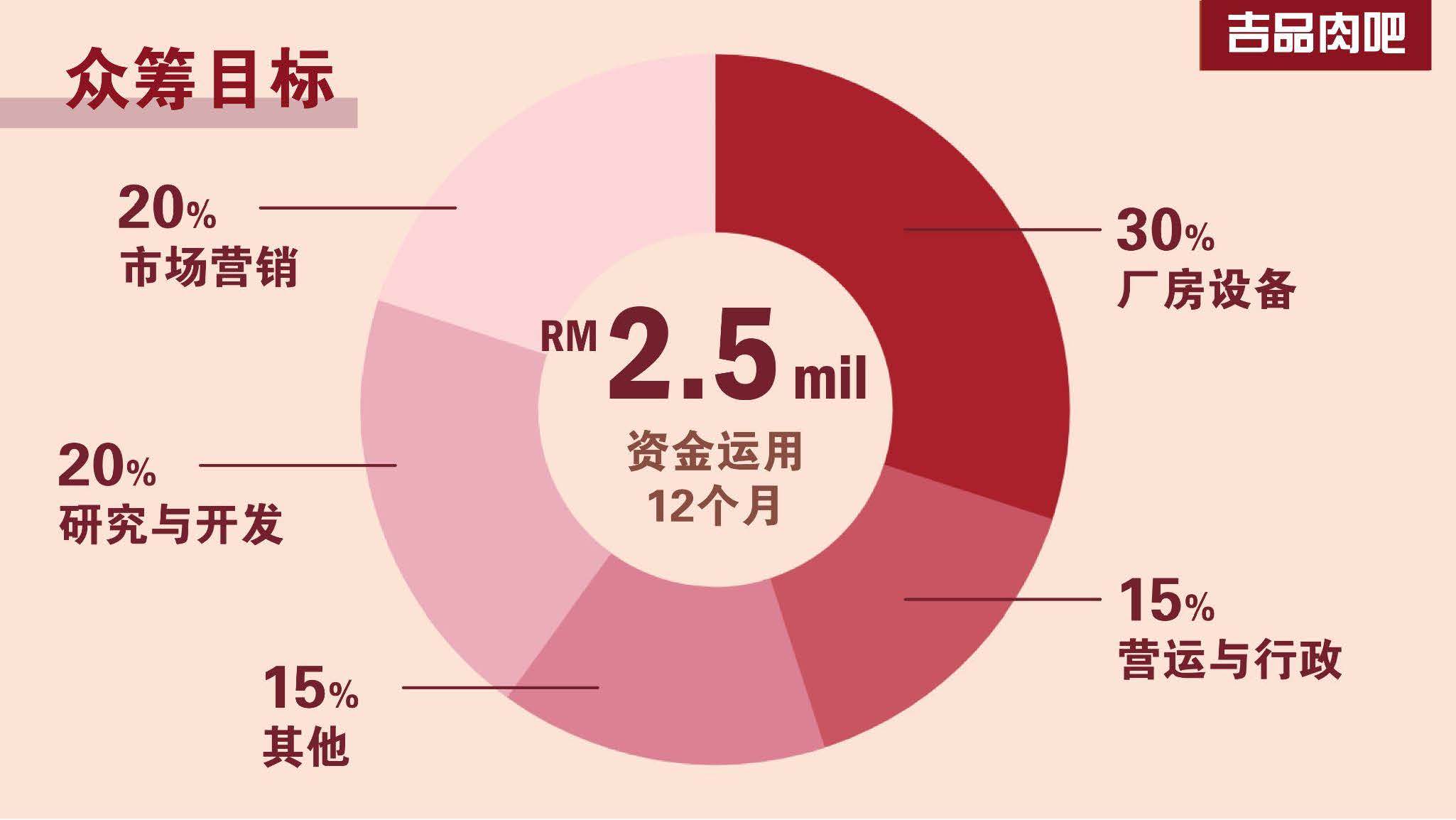 30%

用作厂房设备提升

20%

用作市场营销

20%

用作研究开发

15%

用作营运与行政

15%

用作其他费用
未来的目标
吉品肉吧是一个注重品味、看重品质、有温度、有故事的品牌。
我们放眼成为马来西亚No.1的生鲜平台,让大家想到买肉,就会想到吉品肉吧!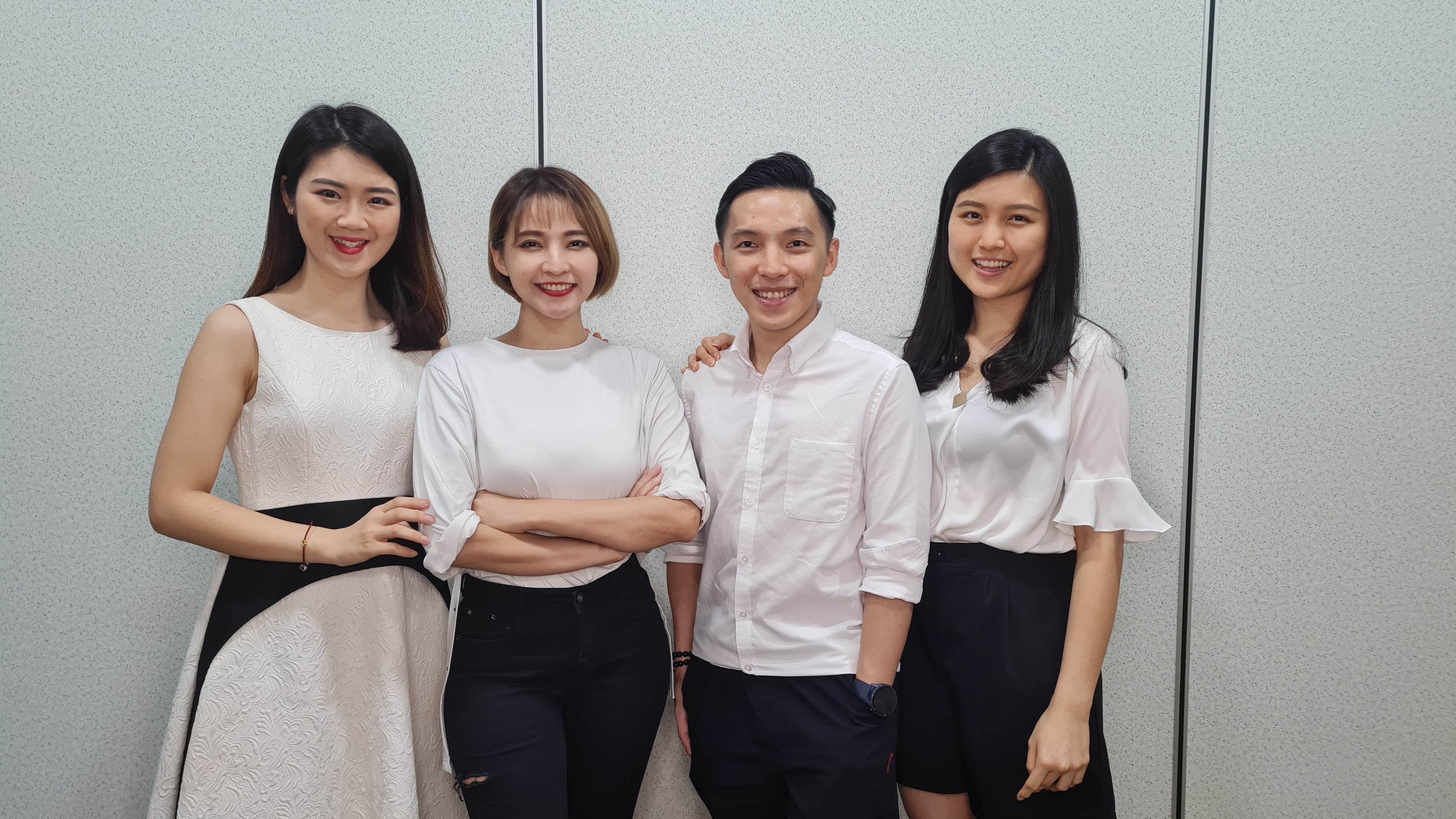 我们的短期目标,就是提高平台的知名度,利用网络和科技的力量去扩大我们的品牌知名度,并通过各种优惠活动来吸引更多人在我们平台下单,提高我们的市占率。
我们希望成为生鲜平台的先驱,把吉品肉吧的品牌推出海外,也要把马来西亚的食品推向国际!
---
Website: jimeat.com
Facebook: facebook.com/jimeatmy
Instagram: instagram.com/jimeatmy
Whatsapp: Contact Us
---
投资框架协议(Term Sheet)& 投资配套 (Investment Packages)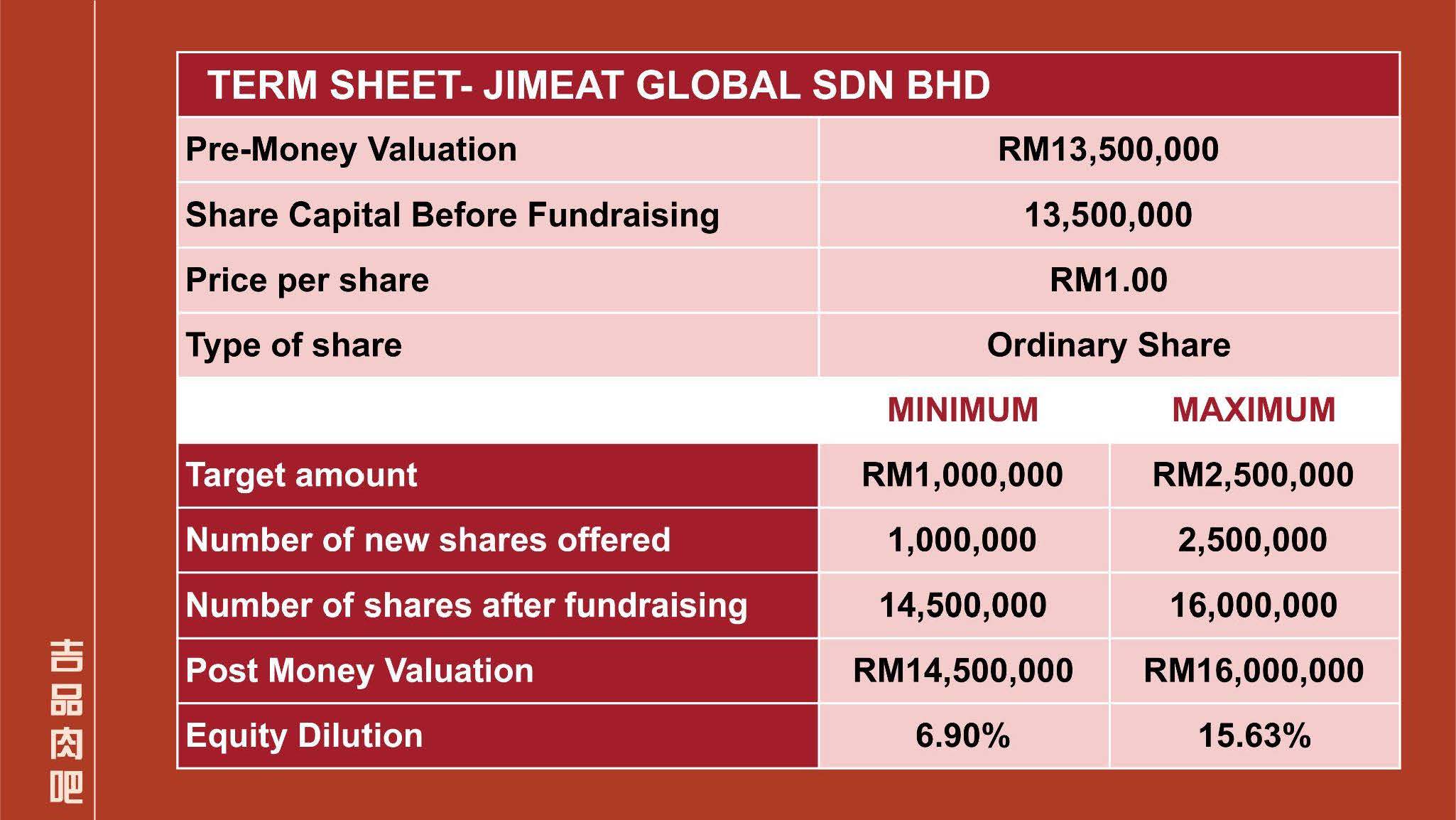 ---
---
团队("Core Team")
---
创办人募资简报(Founder's Pitch Deck)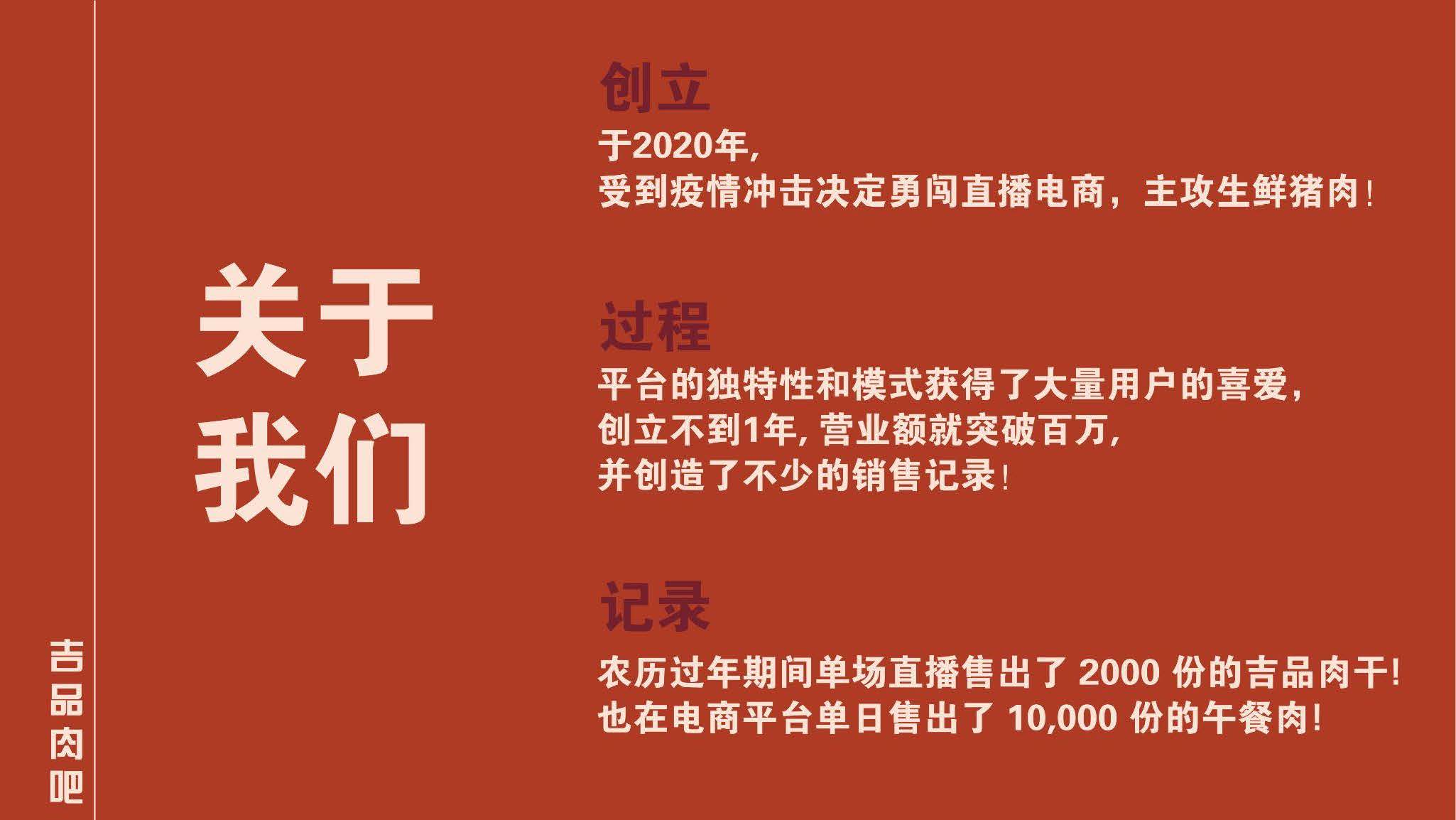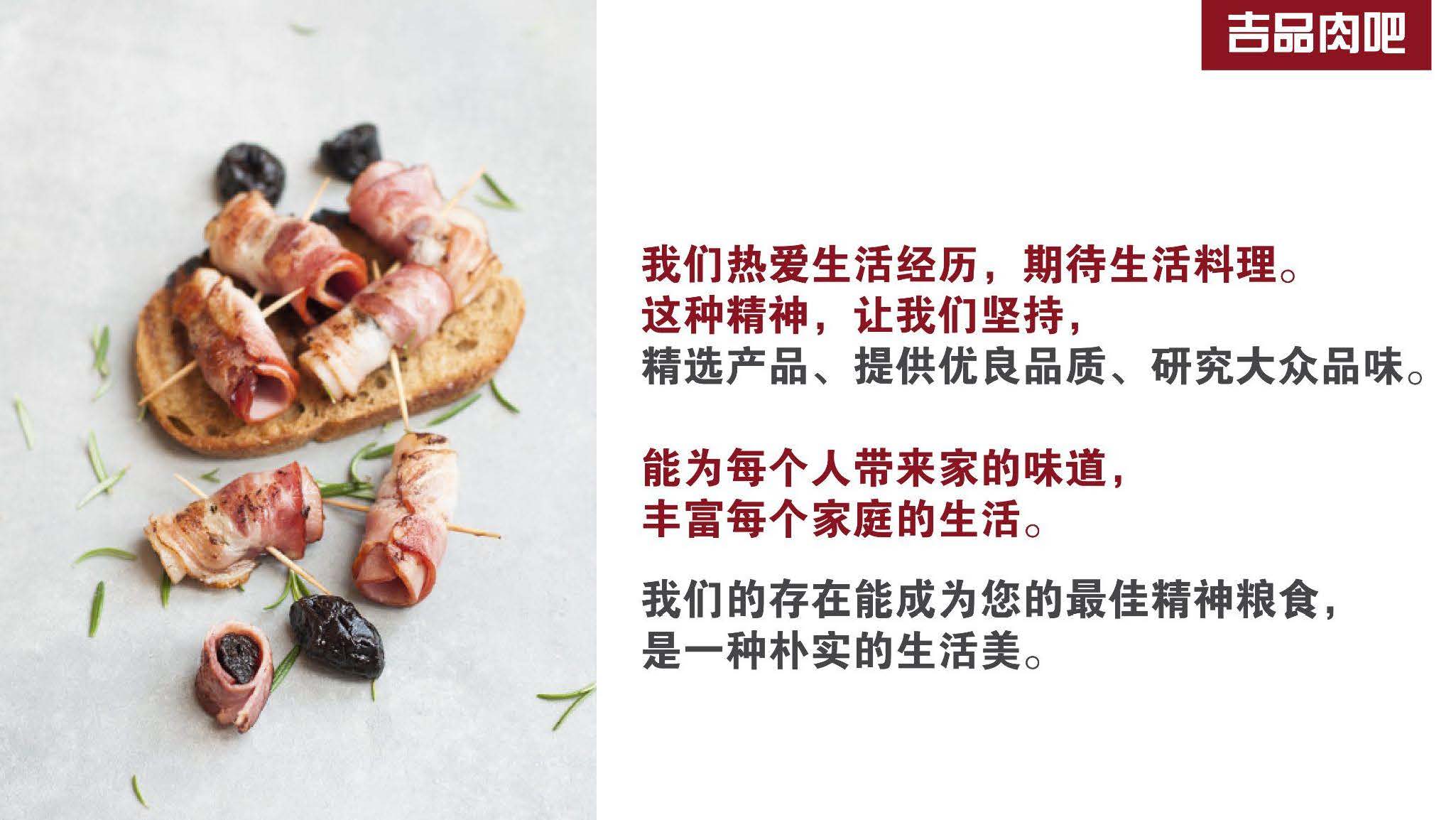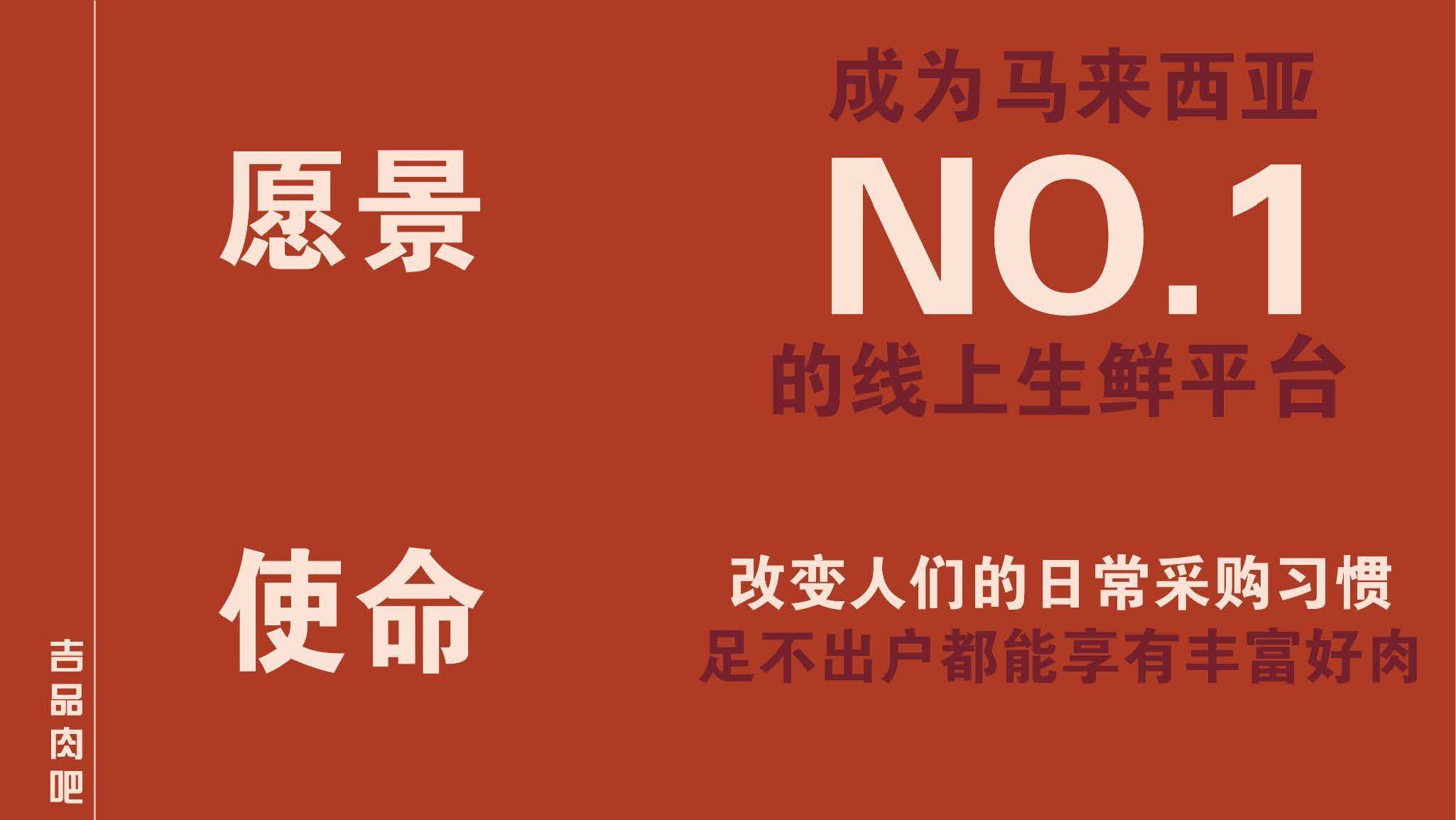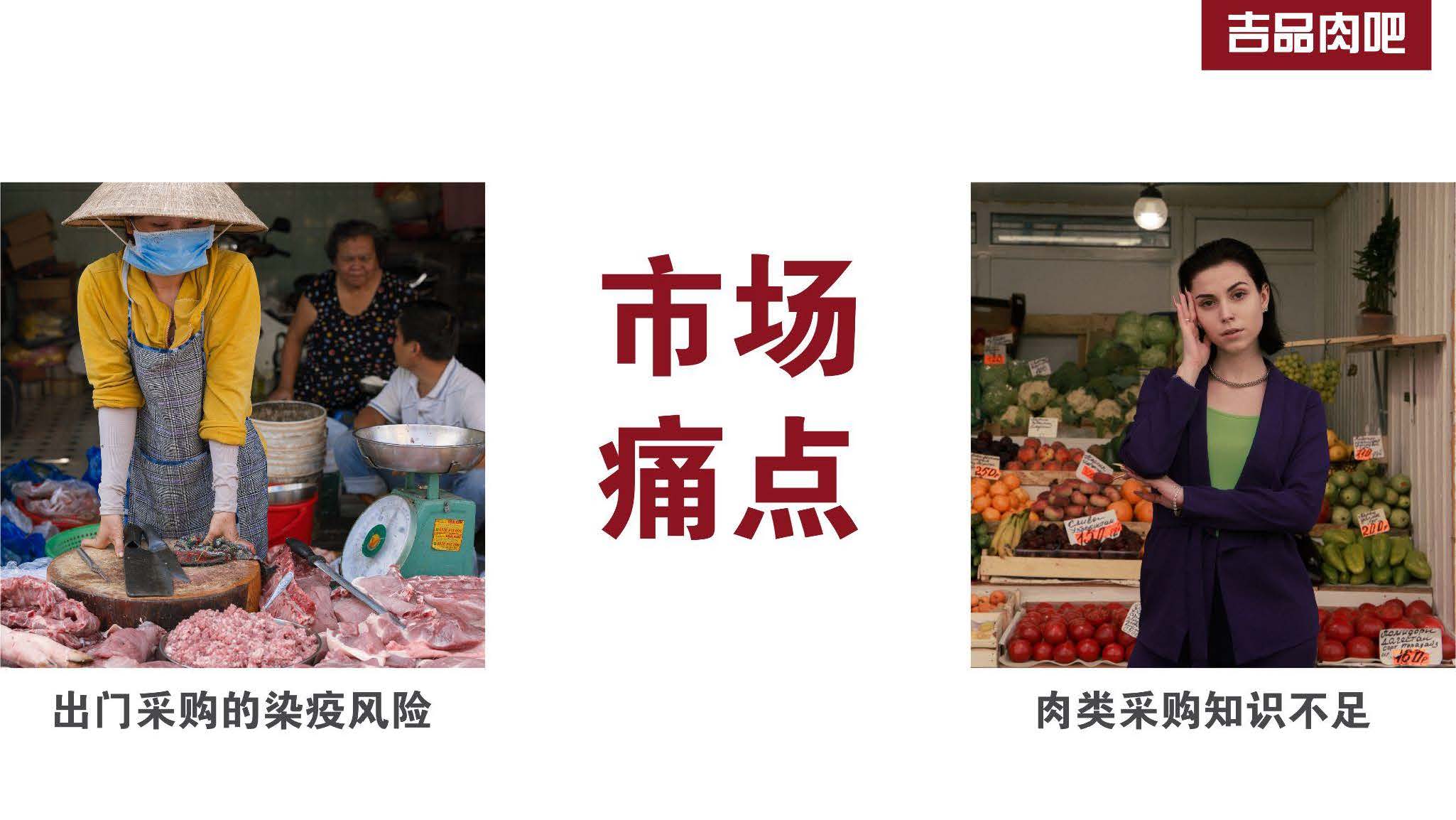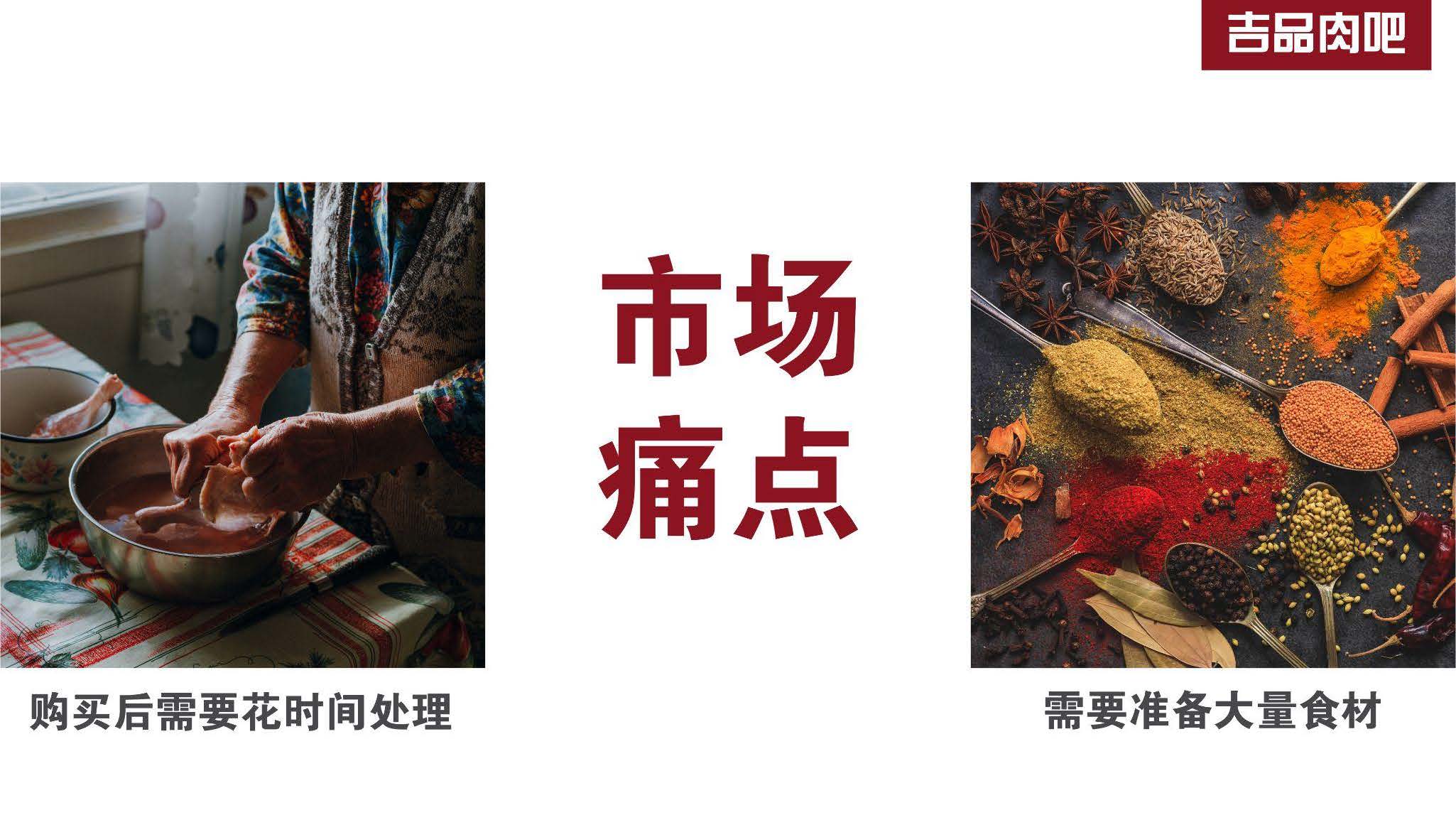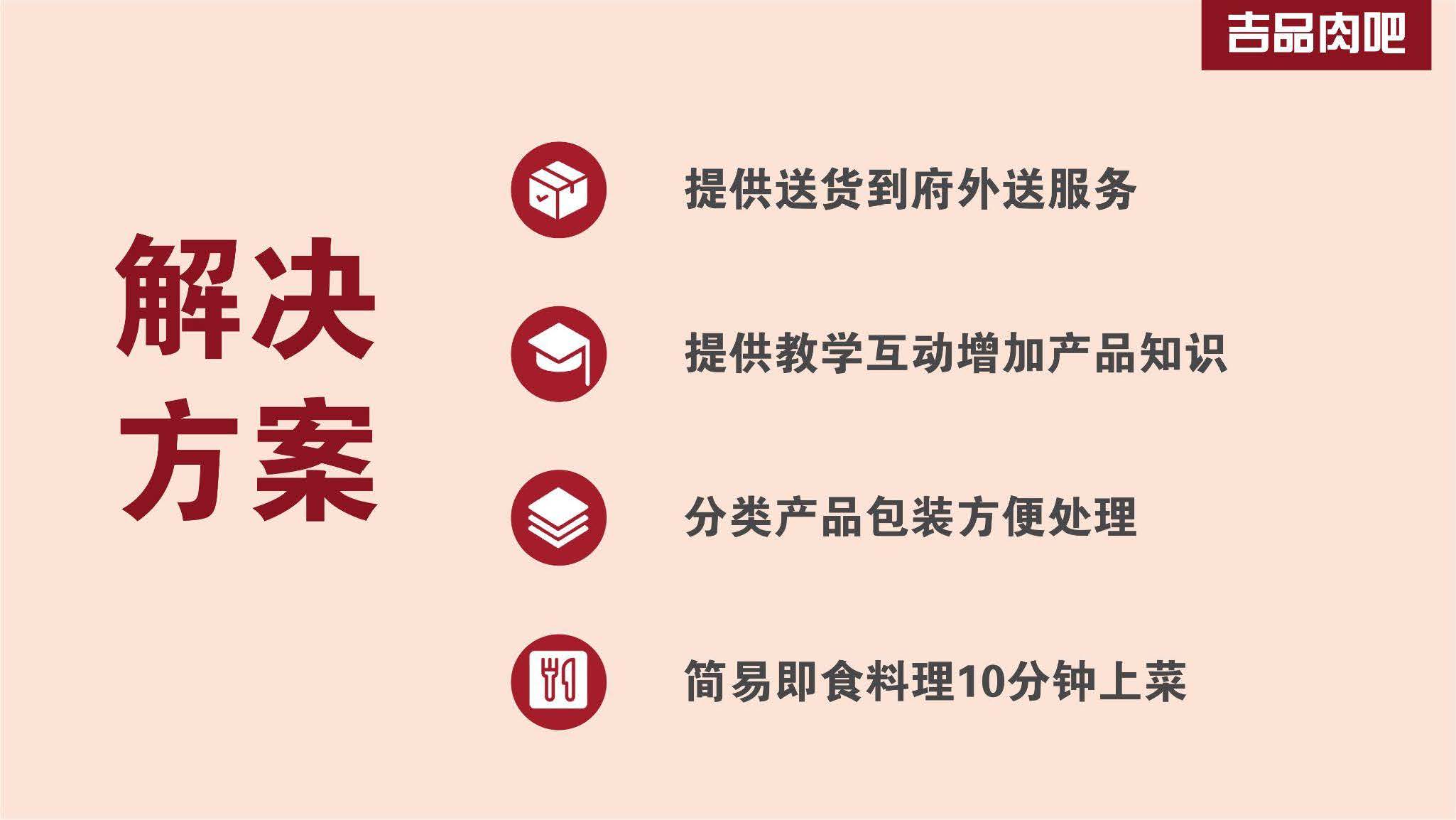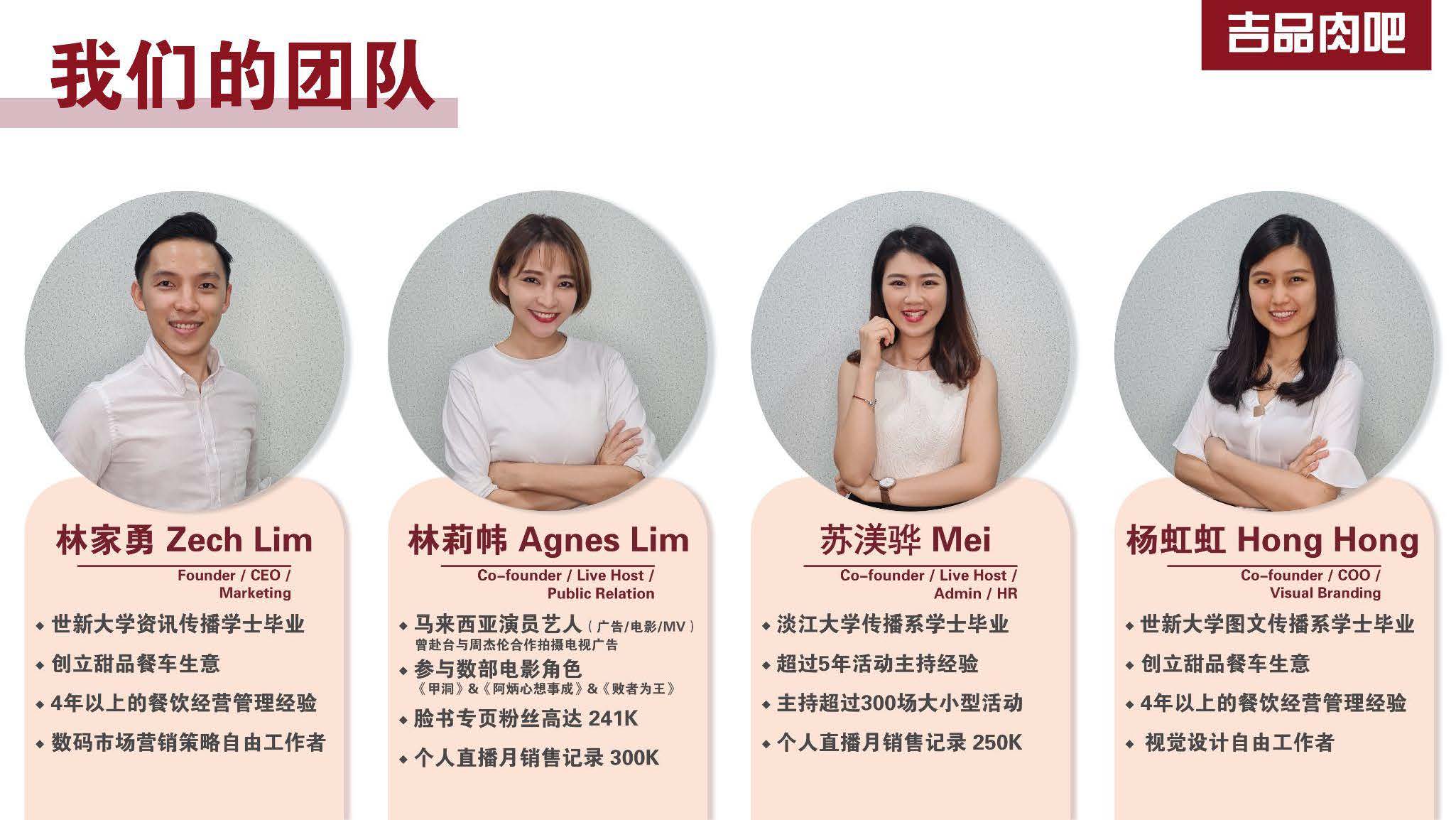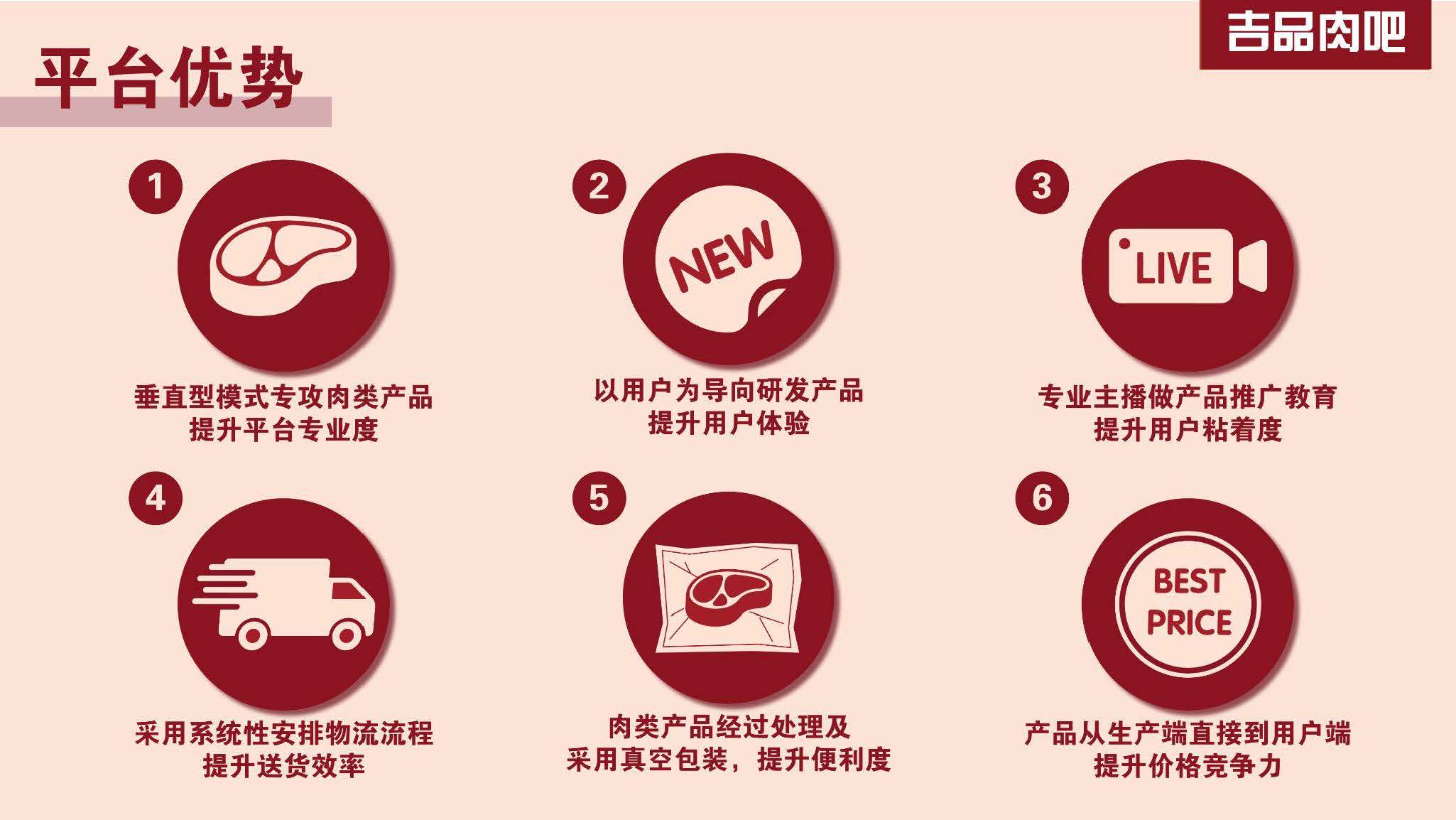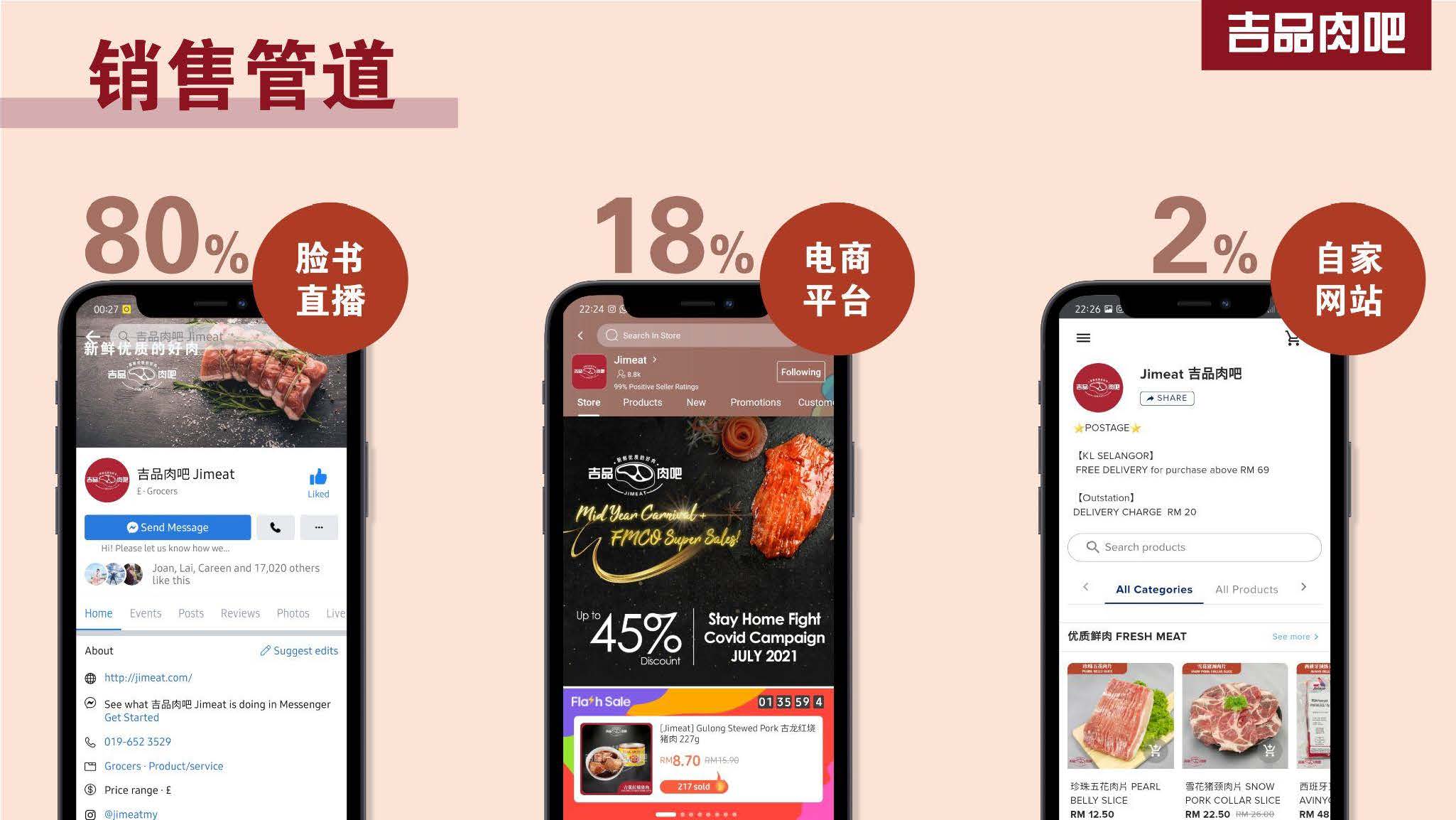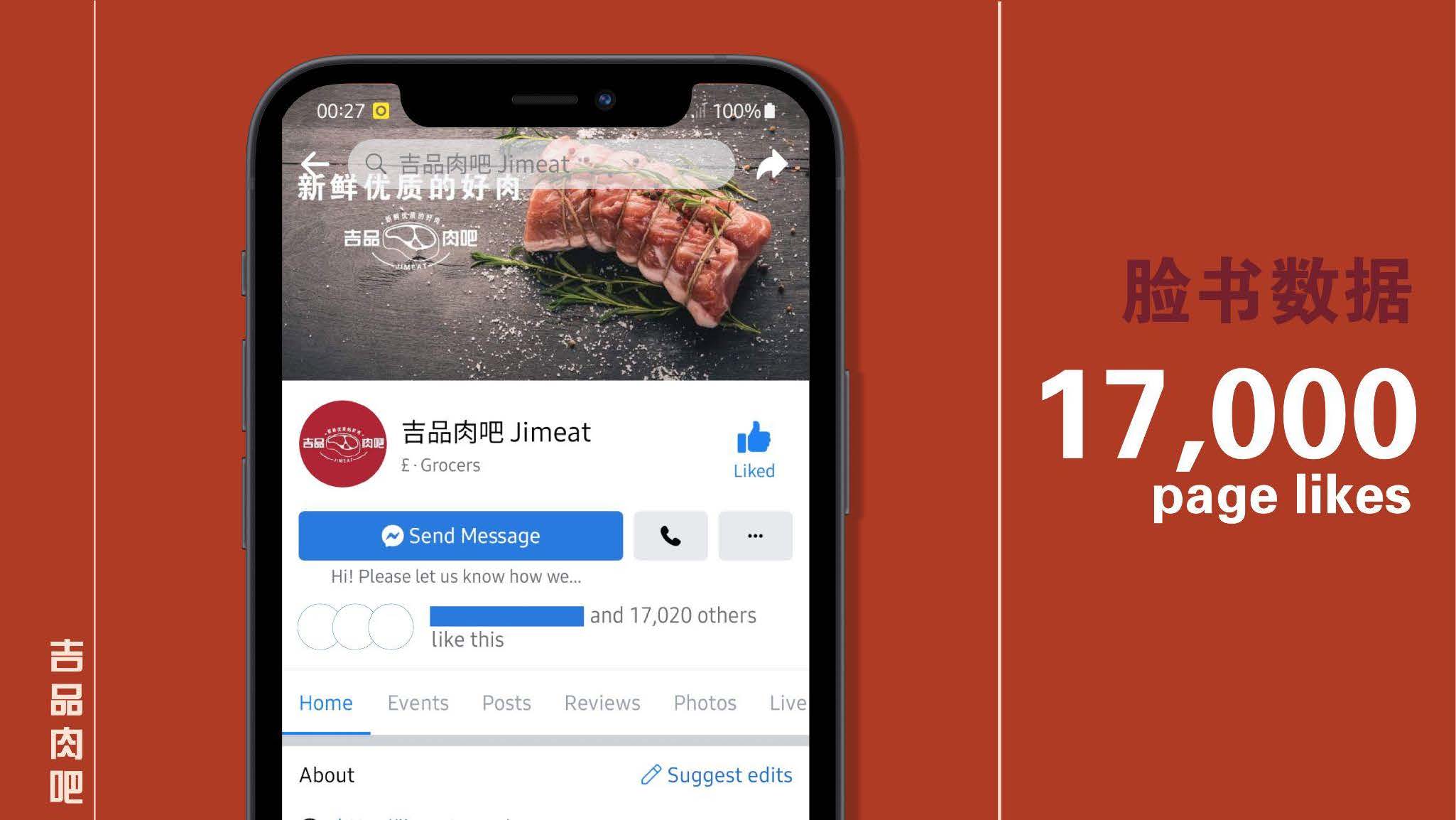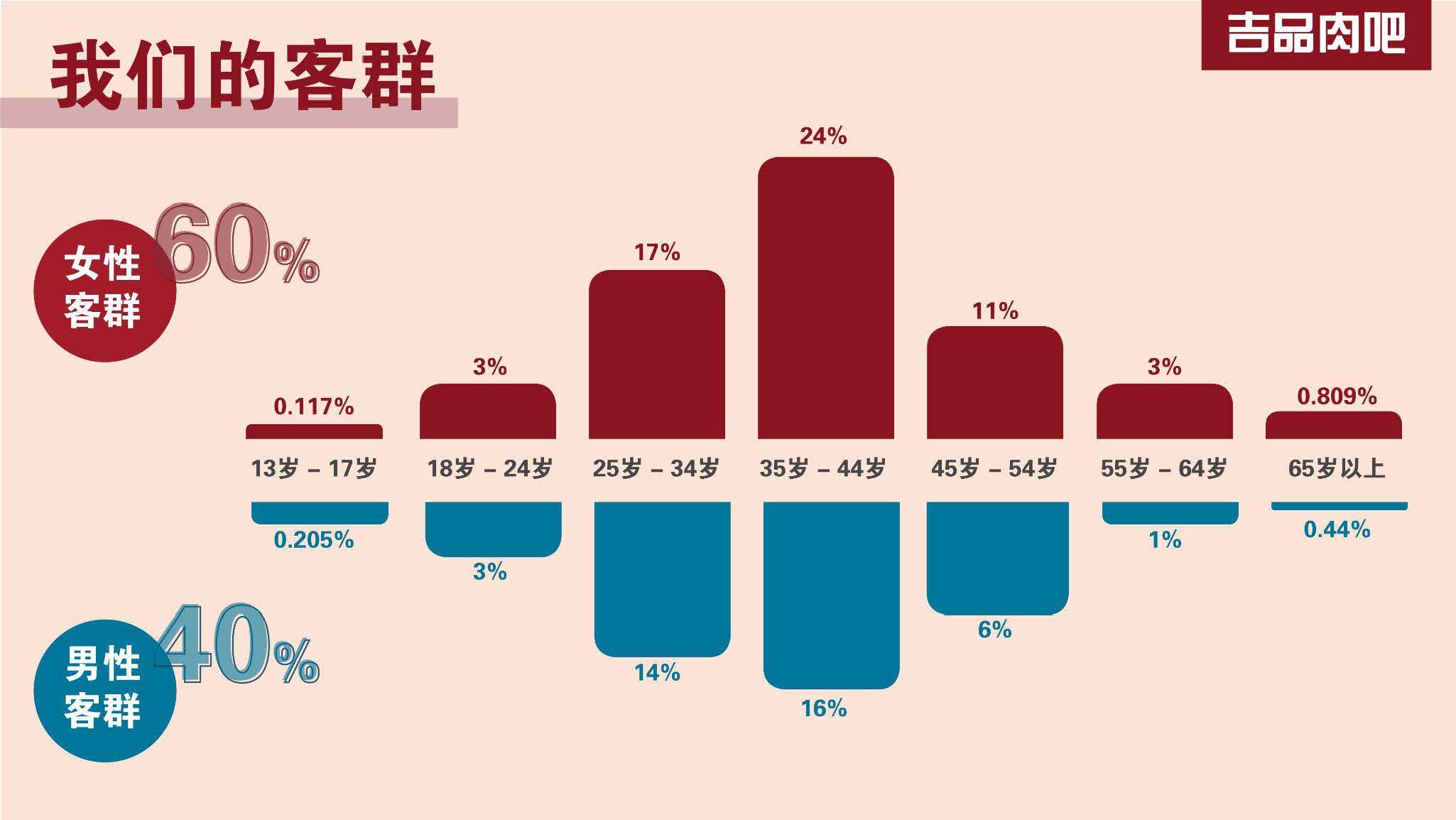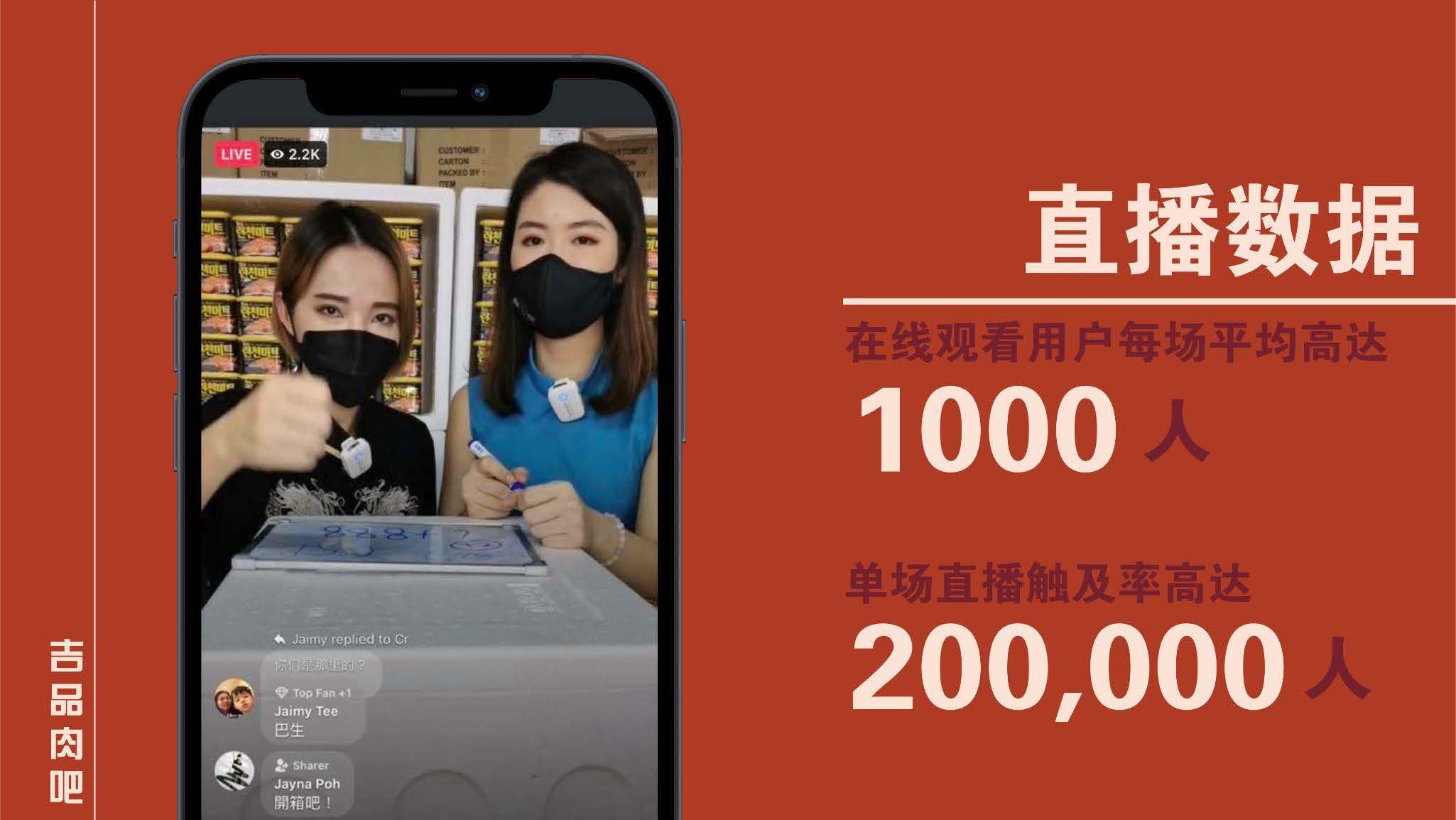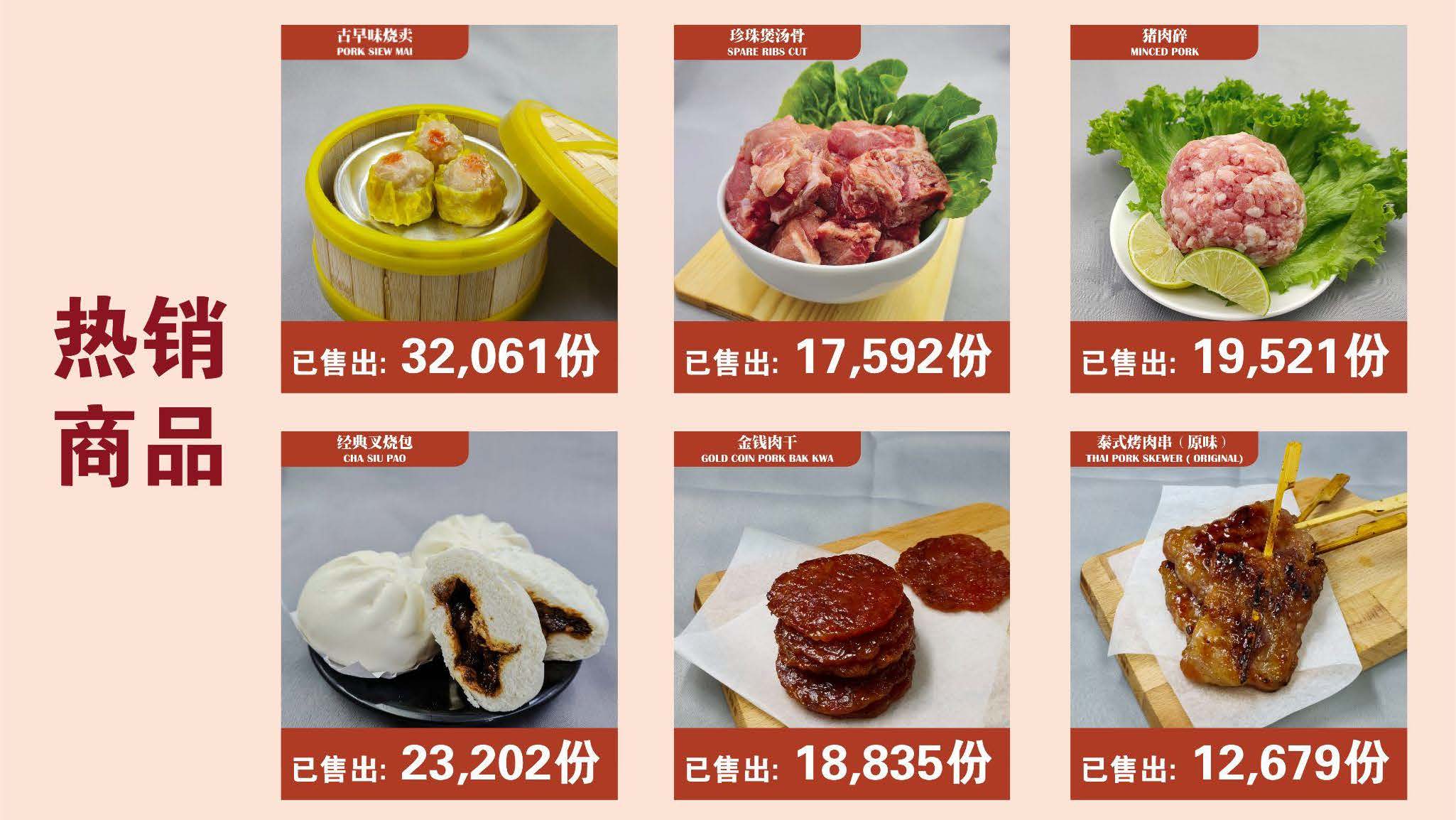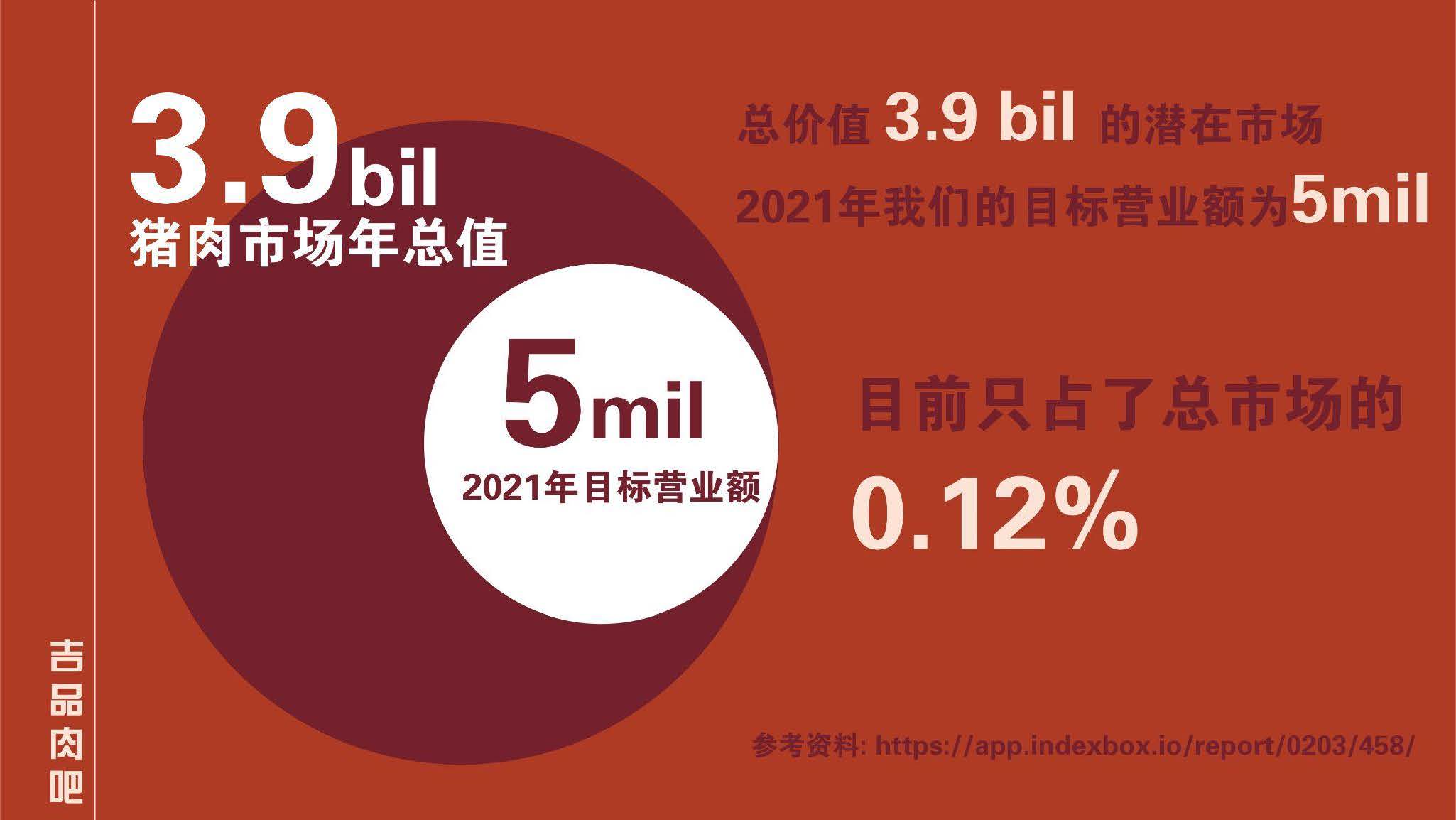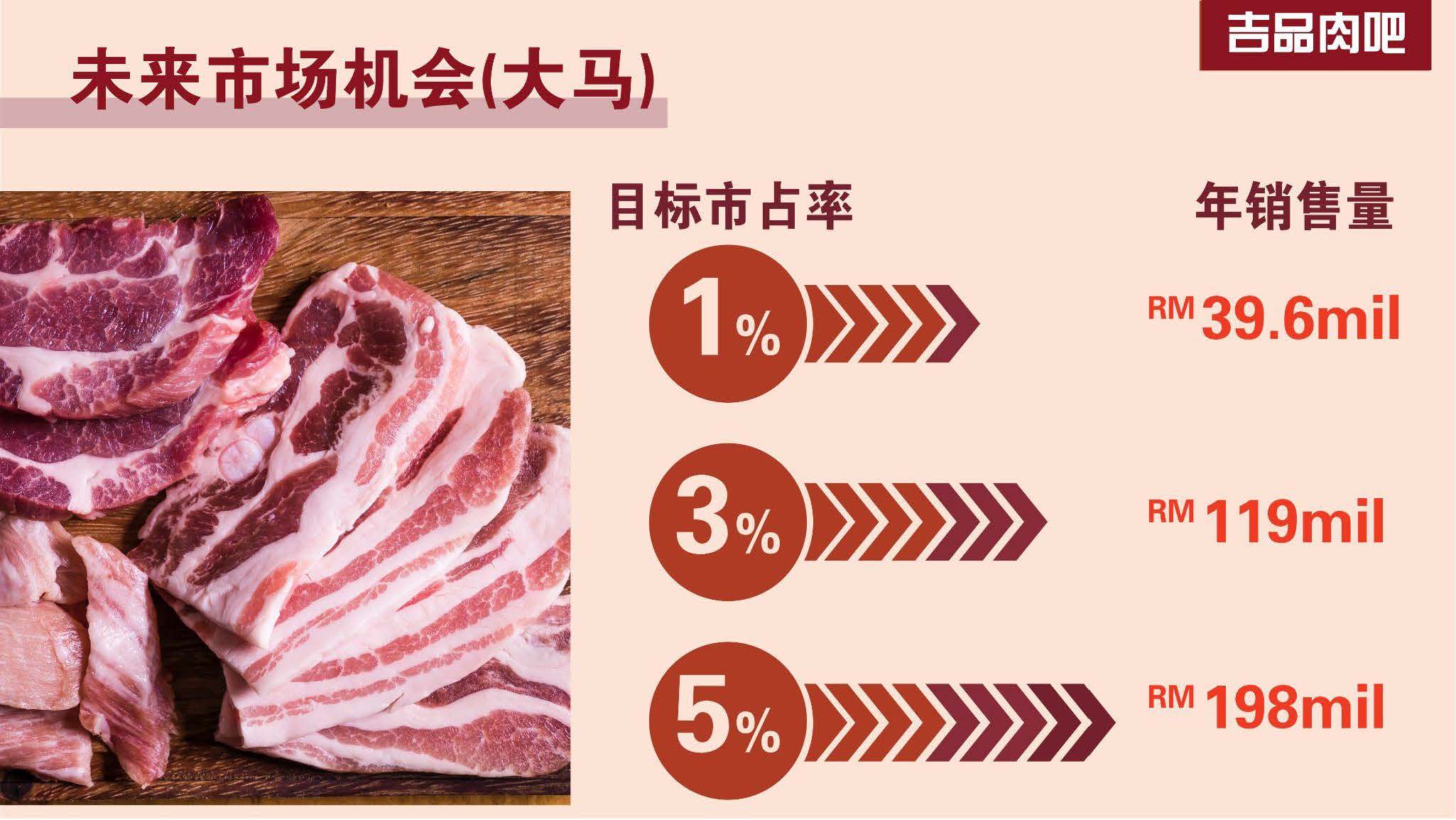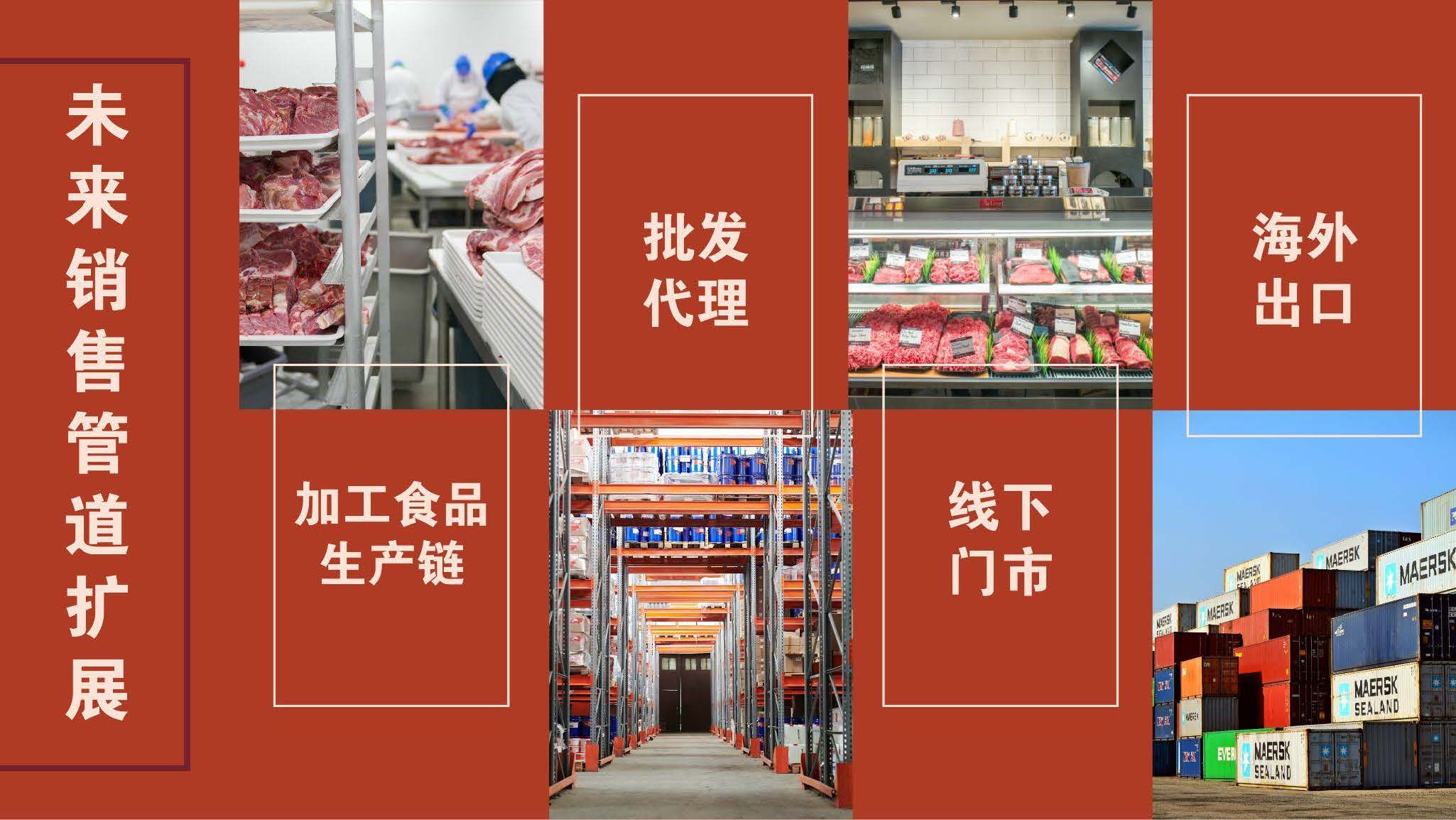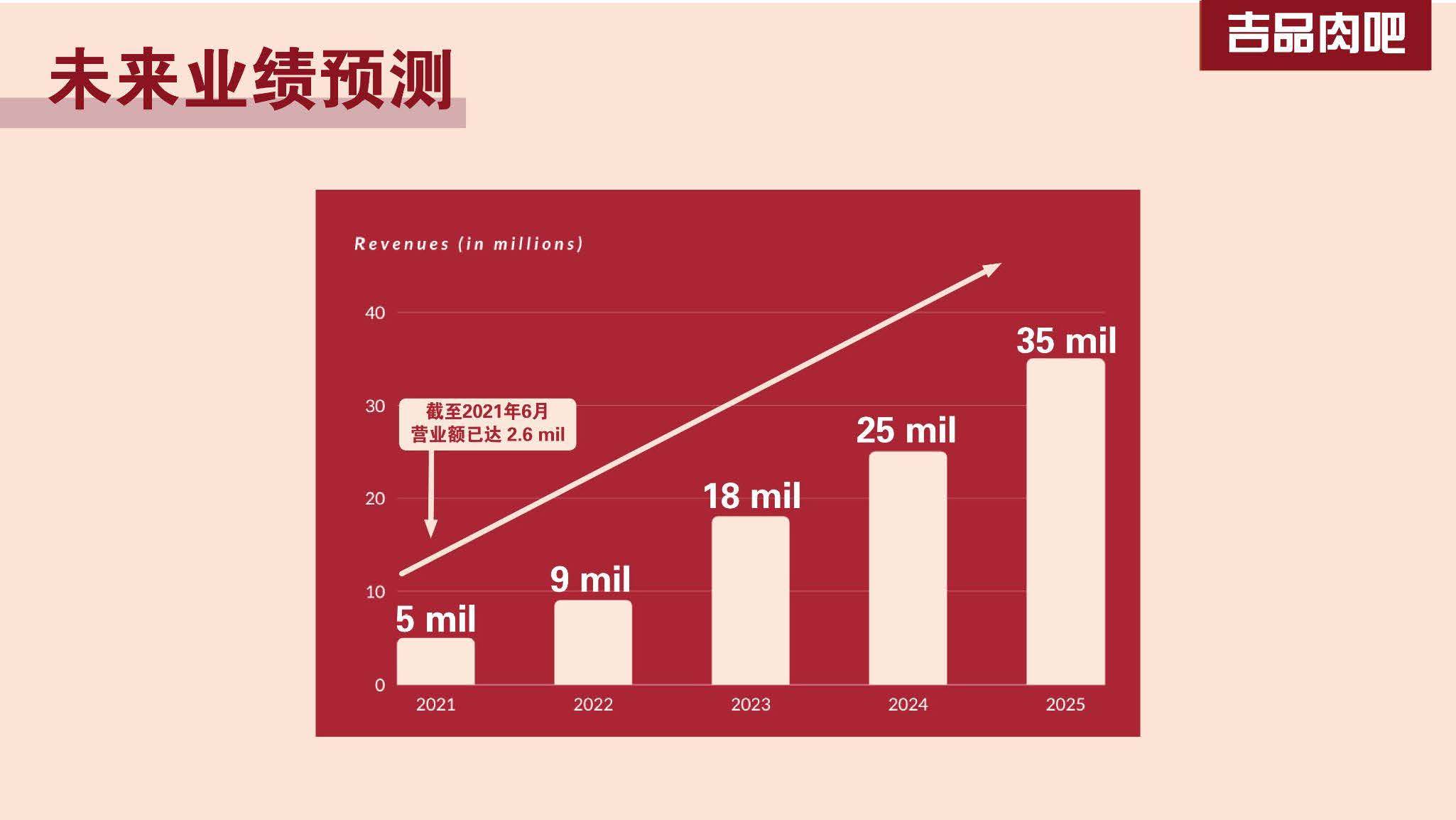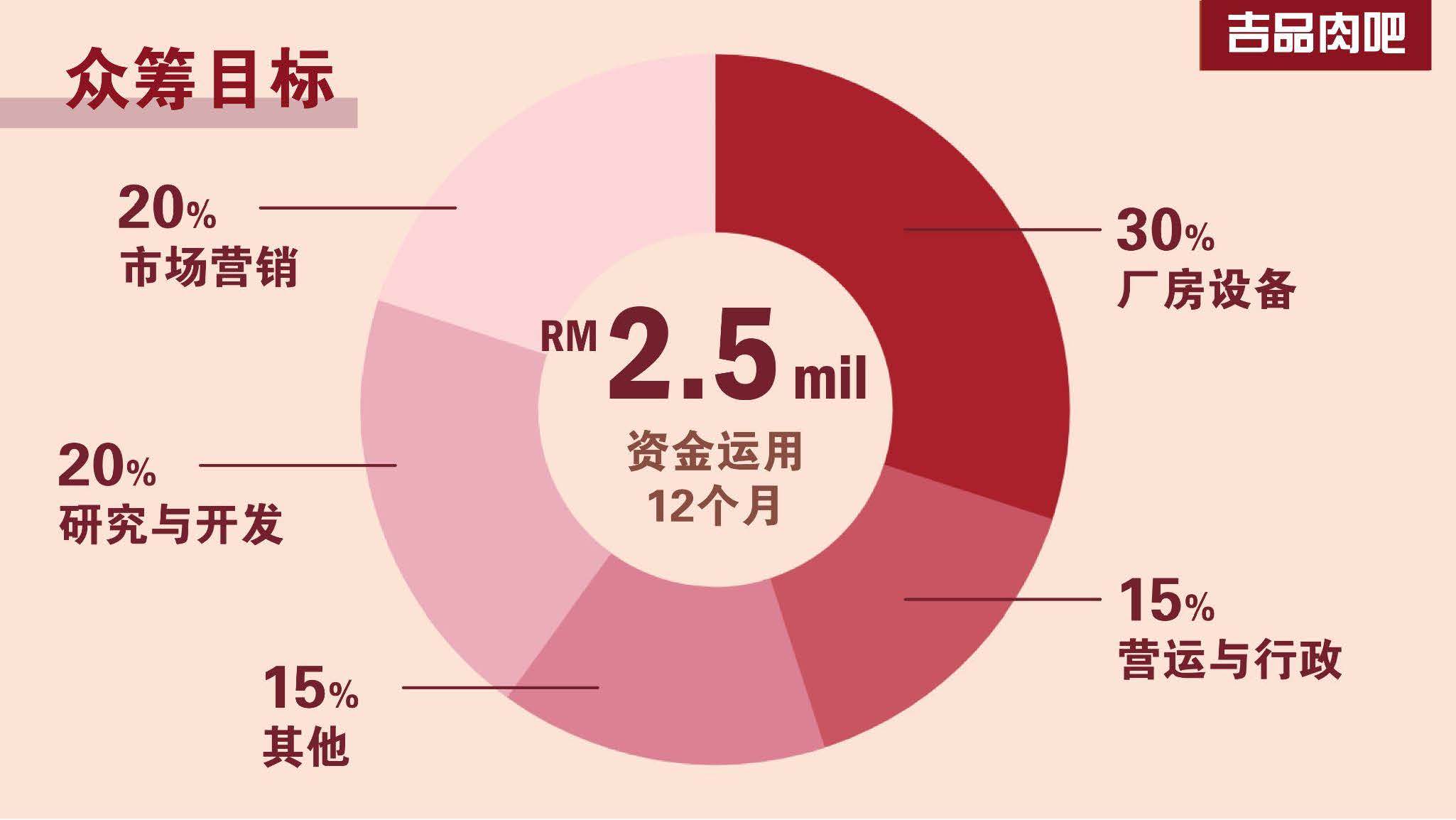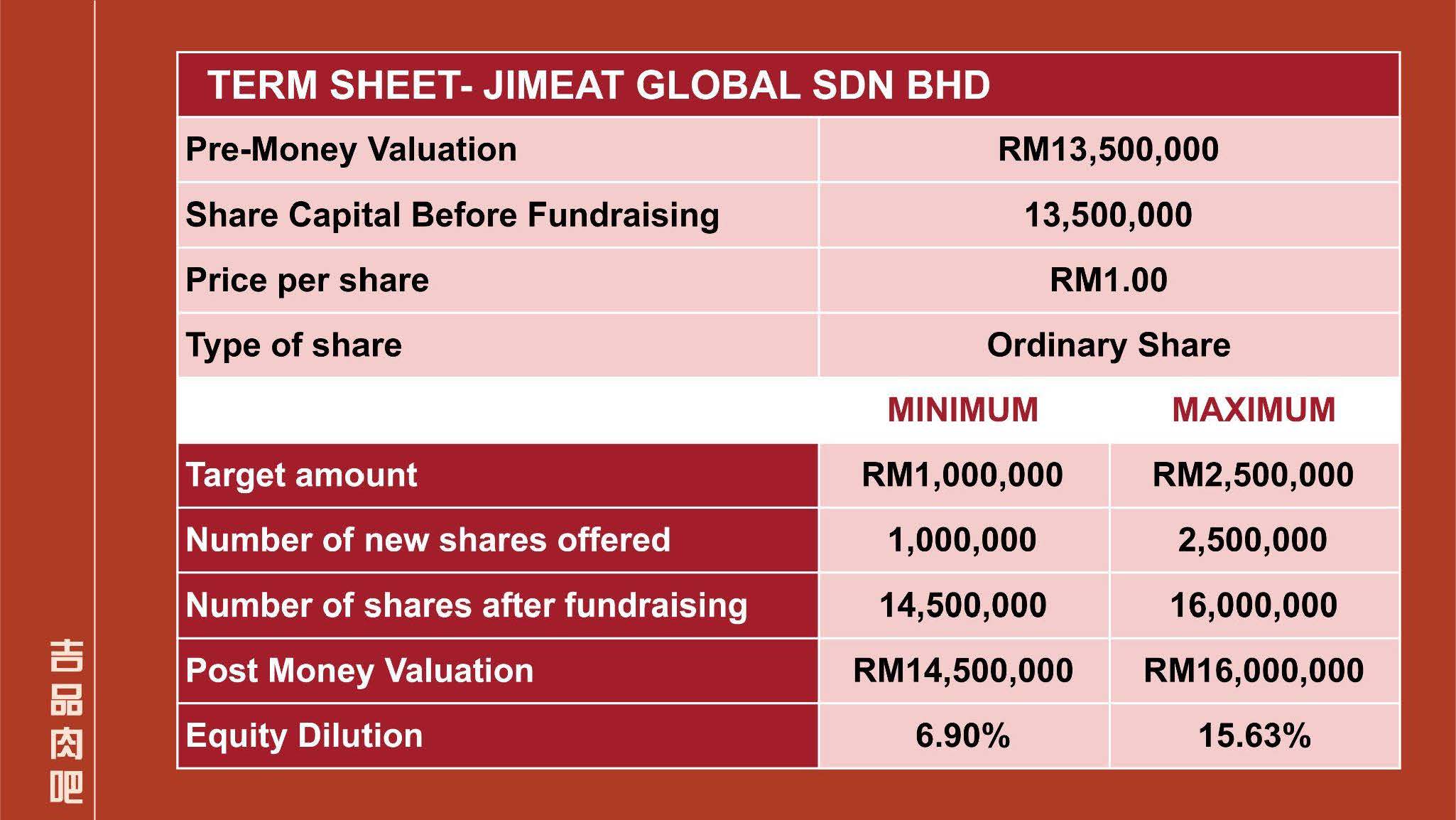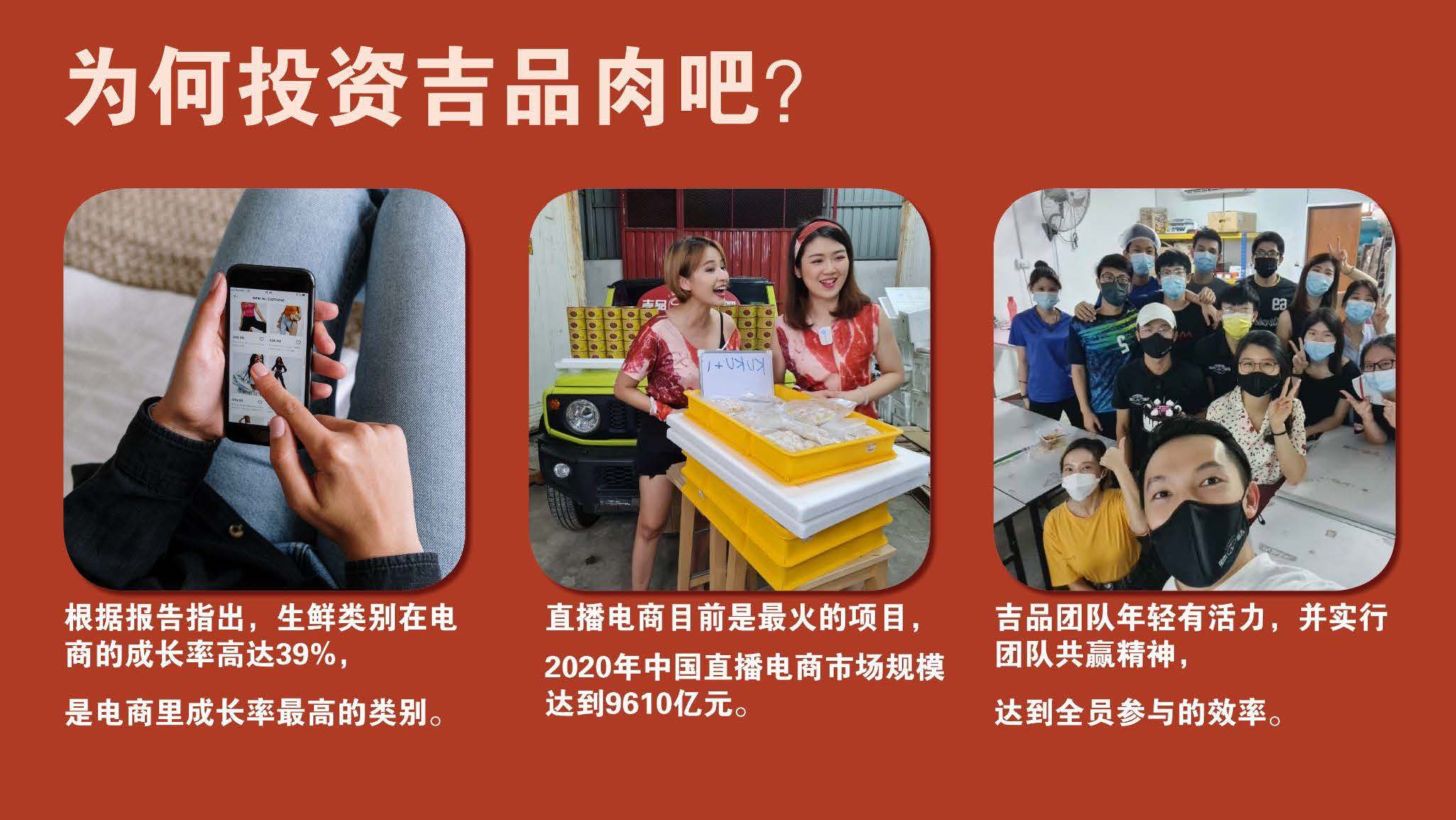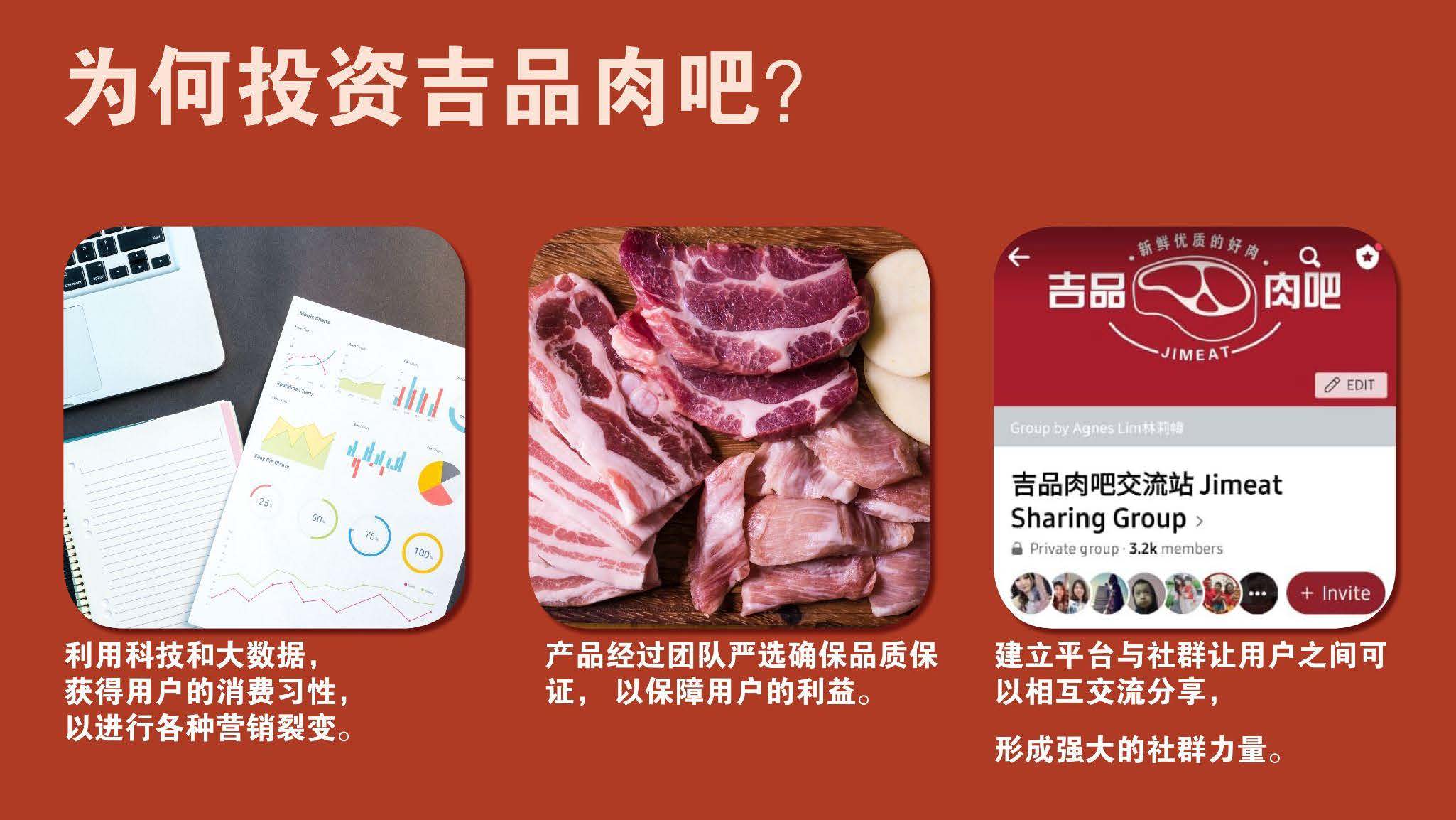 ---
欲知更多详情, 请联系我们
---
---
For further enquiry
Please Contact Us
---
Jimeat - The Combination of People and Technology for the Best Meat Delivery Service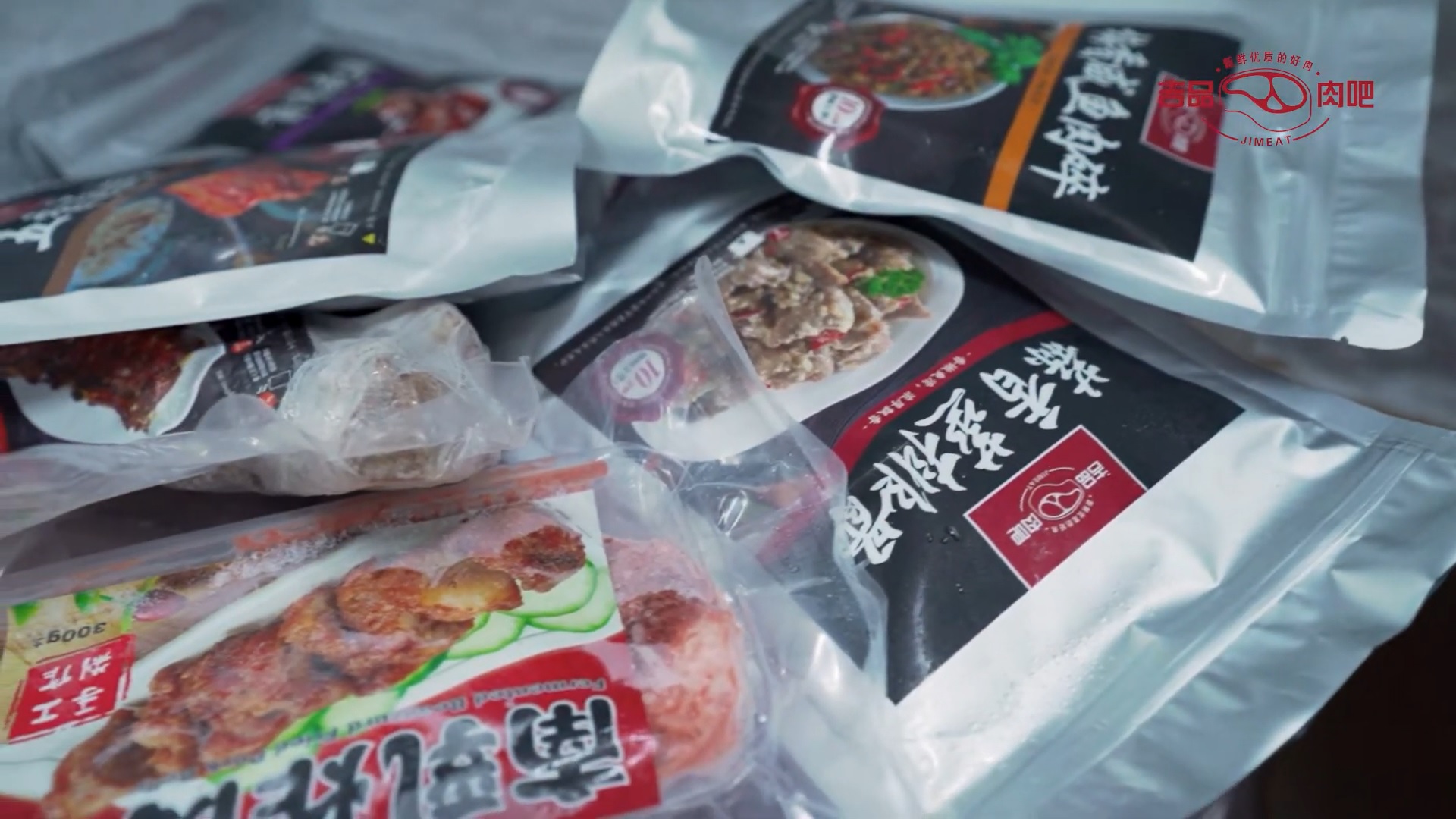 My Entrepreneurial Story
I am Zech and I am 28 years old. During the two years of studying in Taiwan, I have had the opportunities to see all kinds of catering services and learn different cultures. I always felt that Malaysia has considerable potential to thrive in the future. Eventually, the idea of returning to Malaysia and starting a business here began to take shape in my mind.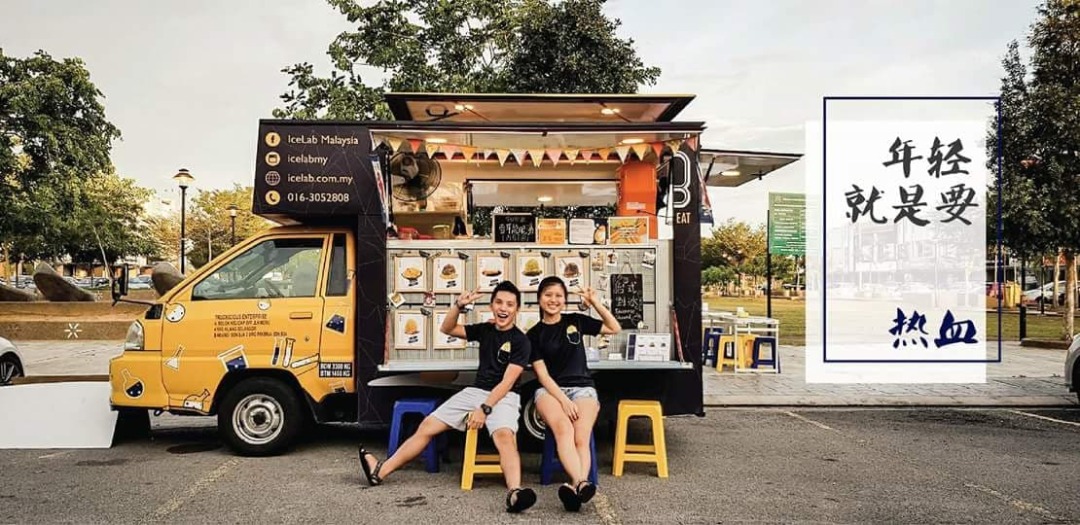 I returned at the age of 24 years old and established a start-up with my partner, Hong, shortly afterwards. At that time, we would run around, selling Taiwanese desserts in a food truck. We encountered multiple setbacks and stumbled from failure to failure. All these were like an eye-opener for us and eventually became the cornerstone of our business. After 2 years, we decided to stop running the food truck business. However, it did not stop my determination to start my own business.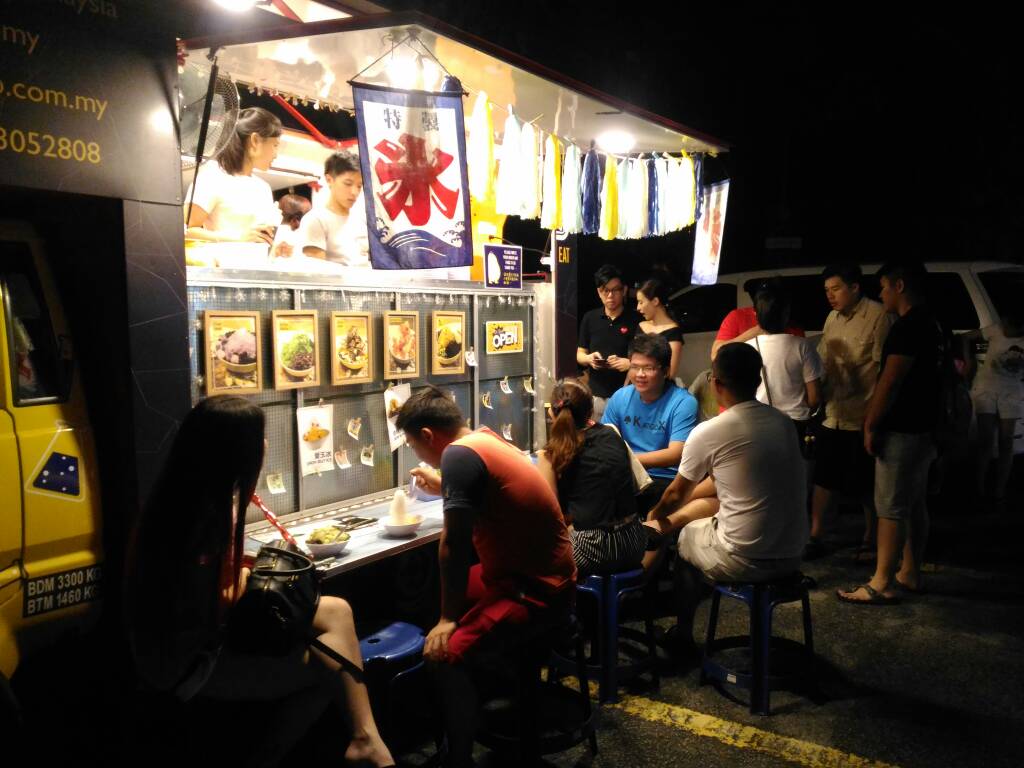 In September 2019, I opened a new dessert restaurant. Our preparations were more strategic and well-thought-out thanks to the accumulation of past experiences. Hence, I was bold enough to scale up and develop it in a chain business direction. What we did not expect is, the pandemic had once again dealt a striking blow to our business.
Turning Crisis into Opportunity
We stopped the business very decisively and took some time to envision the future through long-term plans. During the lockdown period, we never dared to stop and kept looking into the possibility of starting a new business.
My sister, Agnes Lim, was also forced to suspend her acting work due to the pandemic. She started to upload a lot of videos about cooking on her Facebook, and this led to a boost of likes and followers to her page.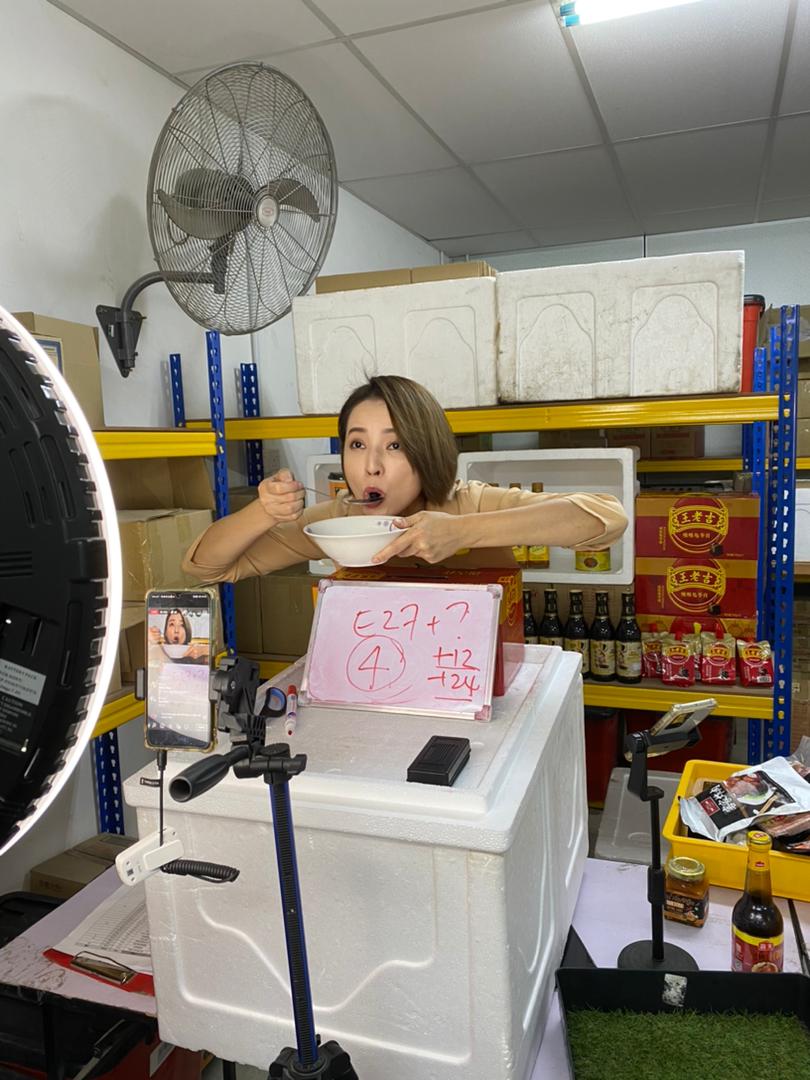 It was at that time, I realized the power of Facebook Live. It gave me a ray of hope that it is feasible to conduct e-commerce through it. In addition, my partner and I have always been interested in this aspect, so we began to invest in the plan. We were lucky enough to have my college classmate who is a professional host, Mei, to assist me in the live streams.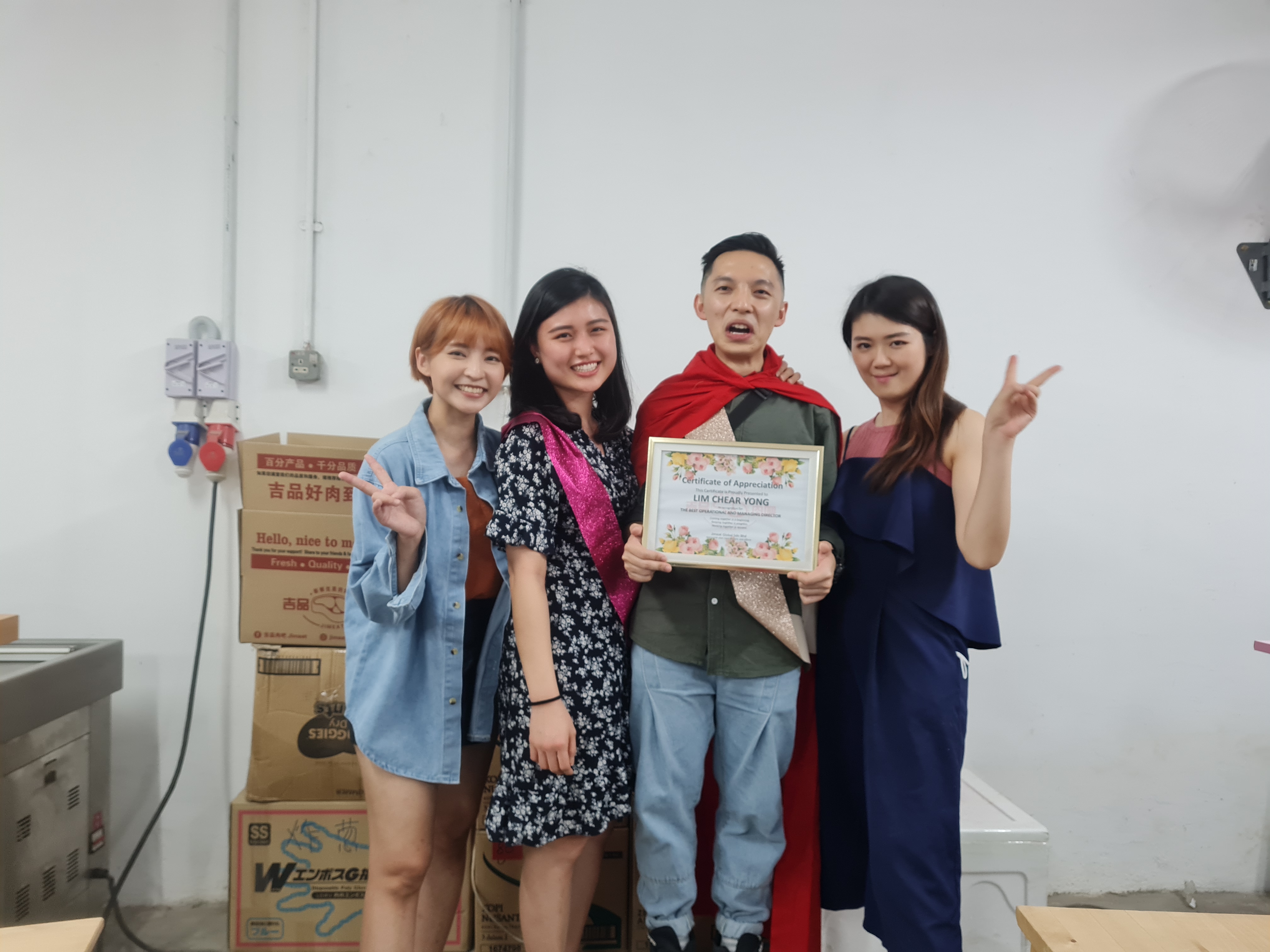 I am also very grateful for my high school classmate, Paul. He was lavish in sharing his valuable experiences in FB Live and resources with us, which had boosted my confidence along the way.
We did not lose hope, nor did we wait until the pandemic was over. Instead, we made rapid changes and transformations in time. This is how Jimeat was born!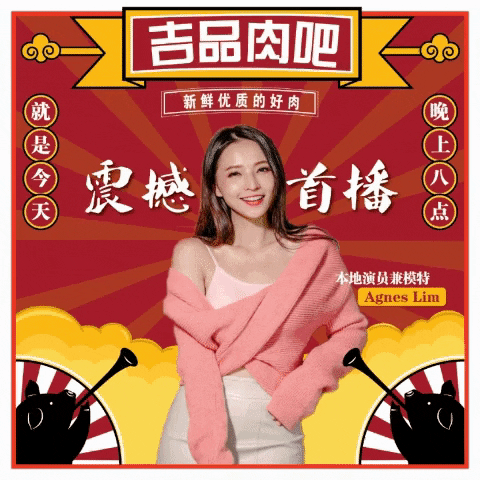 Our Vision, Mission and Core Values
Our team is made up of 10 members with an average age of 24. Most of them were born in the 90s and 00s.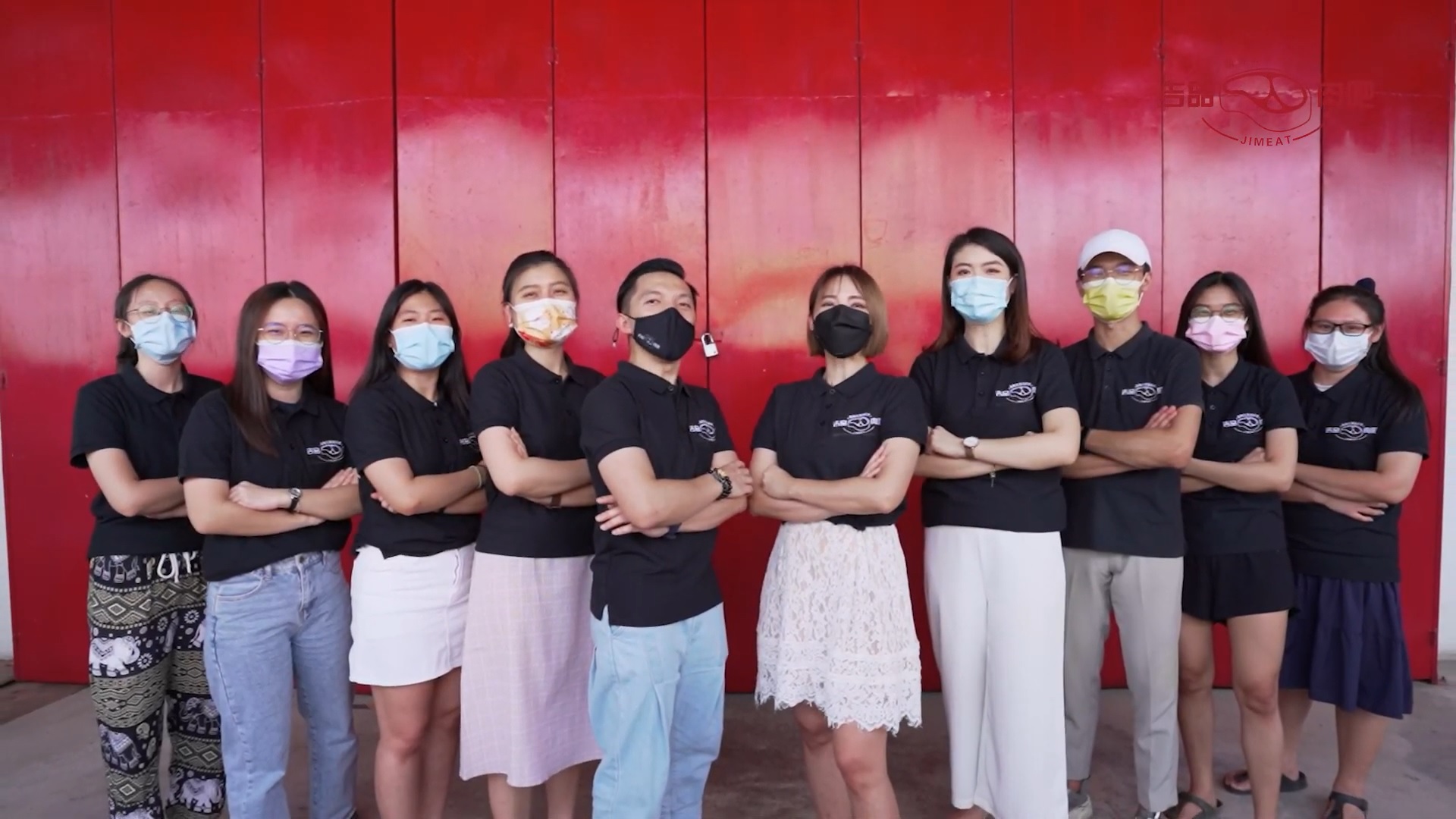 The pandemic has taught us the importance of online shopping. Lots of customers started to purchase fresh food products online after learning about Jimeat.
Our vision is to be the No.1 online fresh food platform in Malaysia.
Our mission is to change people's daily purchasing habits, that is, switch from offline to online. In other words, we hope that everyone can enjoy high quality meat without going out. Even if the norm of live streams will fade one day, we still have various sales channels to cater to our users' needs. Just like how Lazada and Shopee have normalized online shopping nowadays, we believe that our users would also rely on us in fresh food purchasing once they get used to our platform.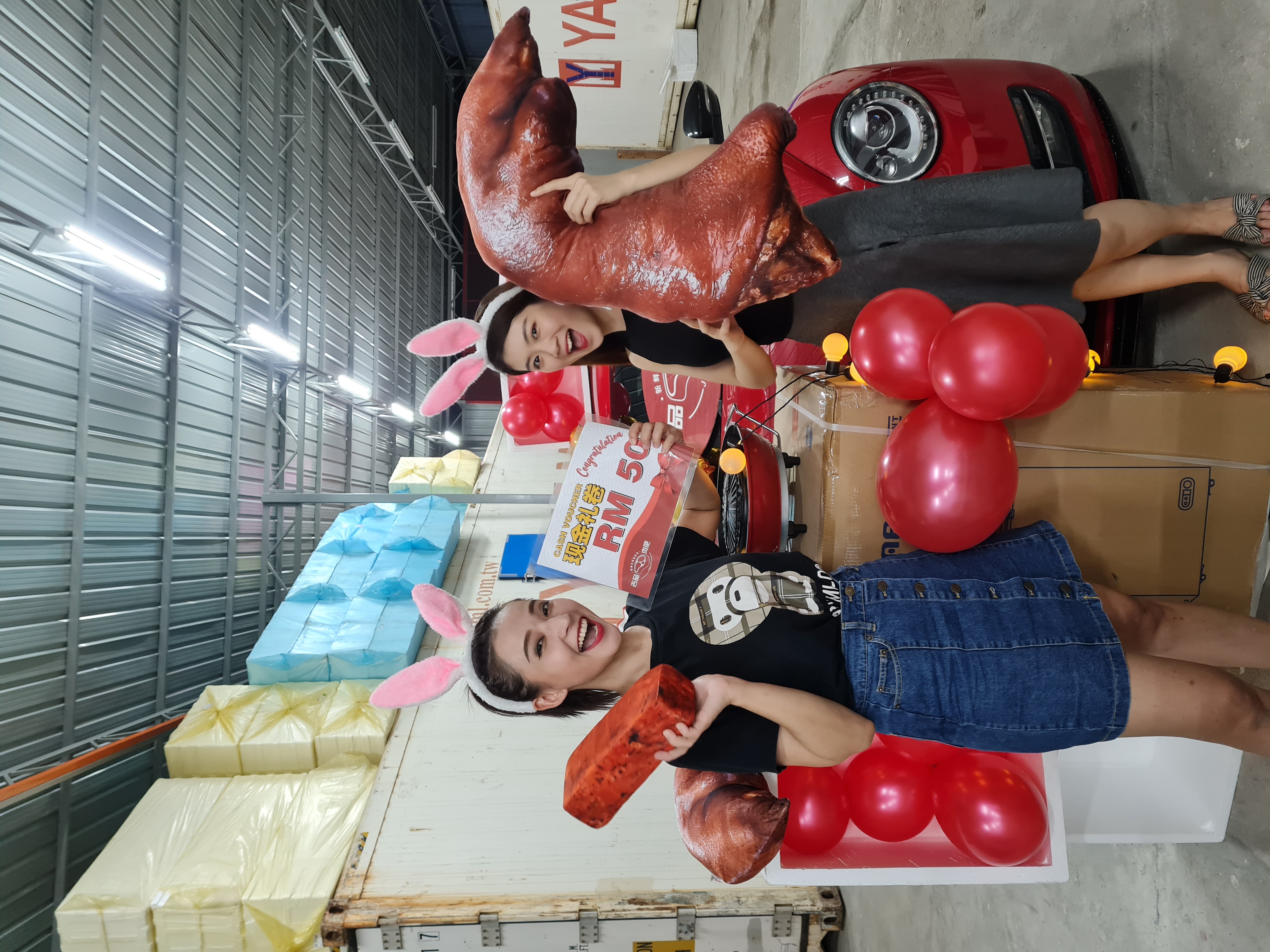 Our core values consist of:
Prioritizing customers with thoughtful services.

Work for mutual benefits and win-win situations.

Integrity, responsibility and people-oriented.

Be creative, innovative and embrace changes.
Challenges Are Not Threats with the Right Mindset.
Turnover Exceeded RM 1.7 Million with a Repurchase Rate of 98%
Since we are selling fresh food, it is the biggest challenge to clear customers' doubts, gain their trust and keep them coming back to us.
Furthermore, the high scalability of the network's traffic has always prompted a huge surge in demand. This requires the high cooperation of manpower and resources to make the whole process smooth and convenient. There was one time we faced a shortage from the manufacturer's supply, causing us not being able to deliver the products on time. To solve the problem, all of our members contacted and apologized to our customers one by one by phone. We had received criticisms from them, but we accepted all of them humbly and calmly. We tried our best to mitigate the situation and comfort our customers.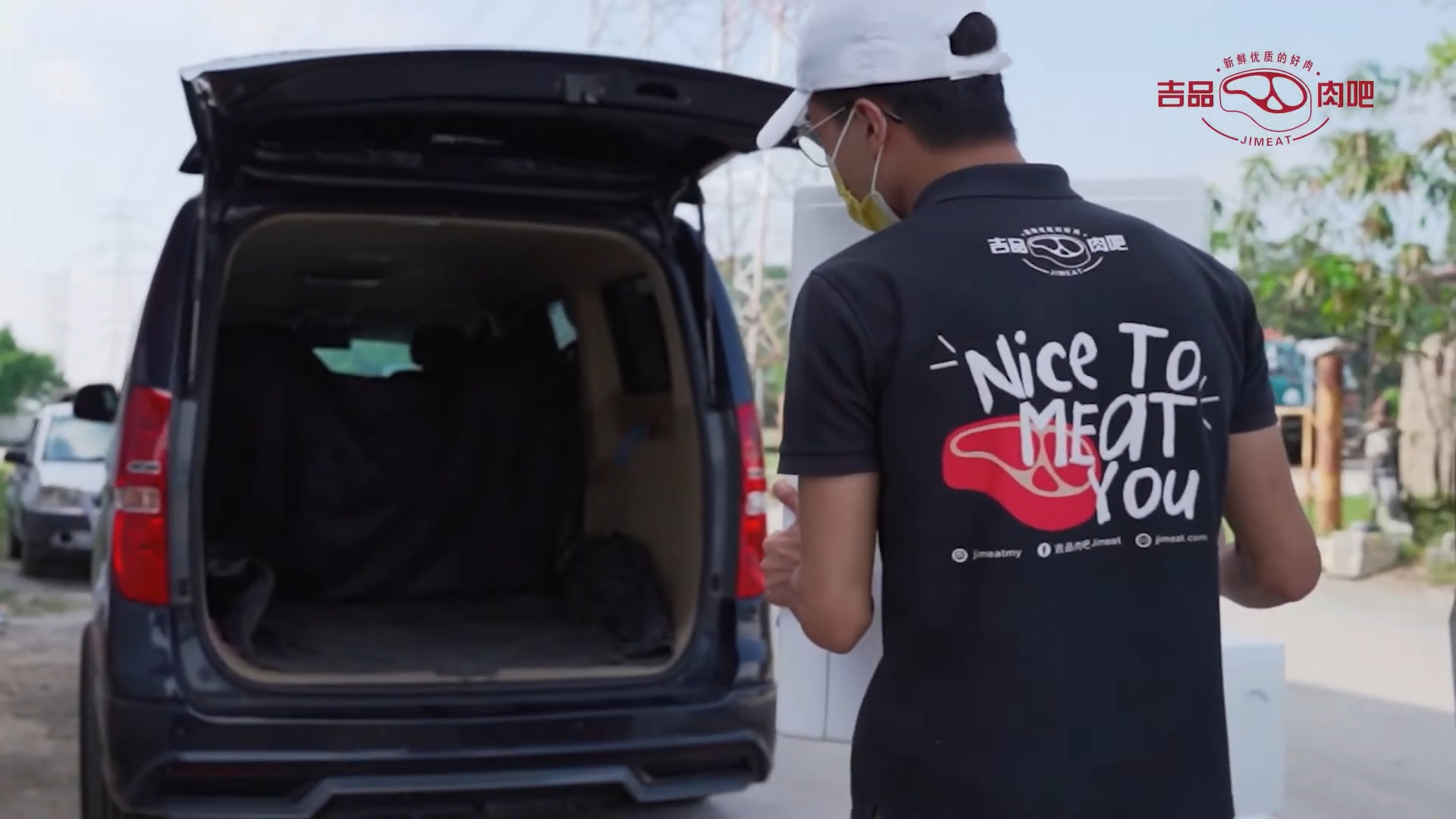 After that incident, whenever there is a surge in order, we will first confirm the quantity of the inventory is sufficient. Then, we will process the orders in the shortest time. Lastly, we will make sure that our efficiency and the speed of shipment can come up to our customers' expectations.
In addition to human resources, we continue to work hard on technology and make use of the system to improve our efficiency.
In the process of constantly monitoring and improving ourselves, our efforts have gradually reaped rewards. We took a big leap in our business - from 10 parcels per day, to 100 parcels per day, then to 1000 parcels per day!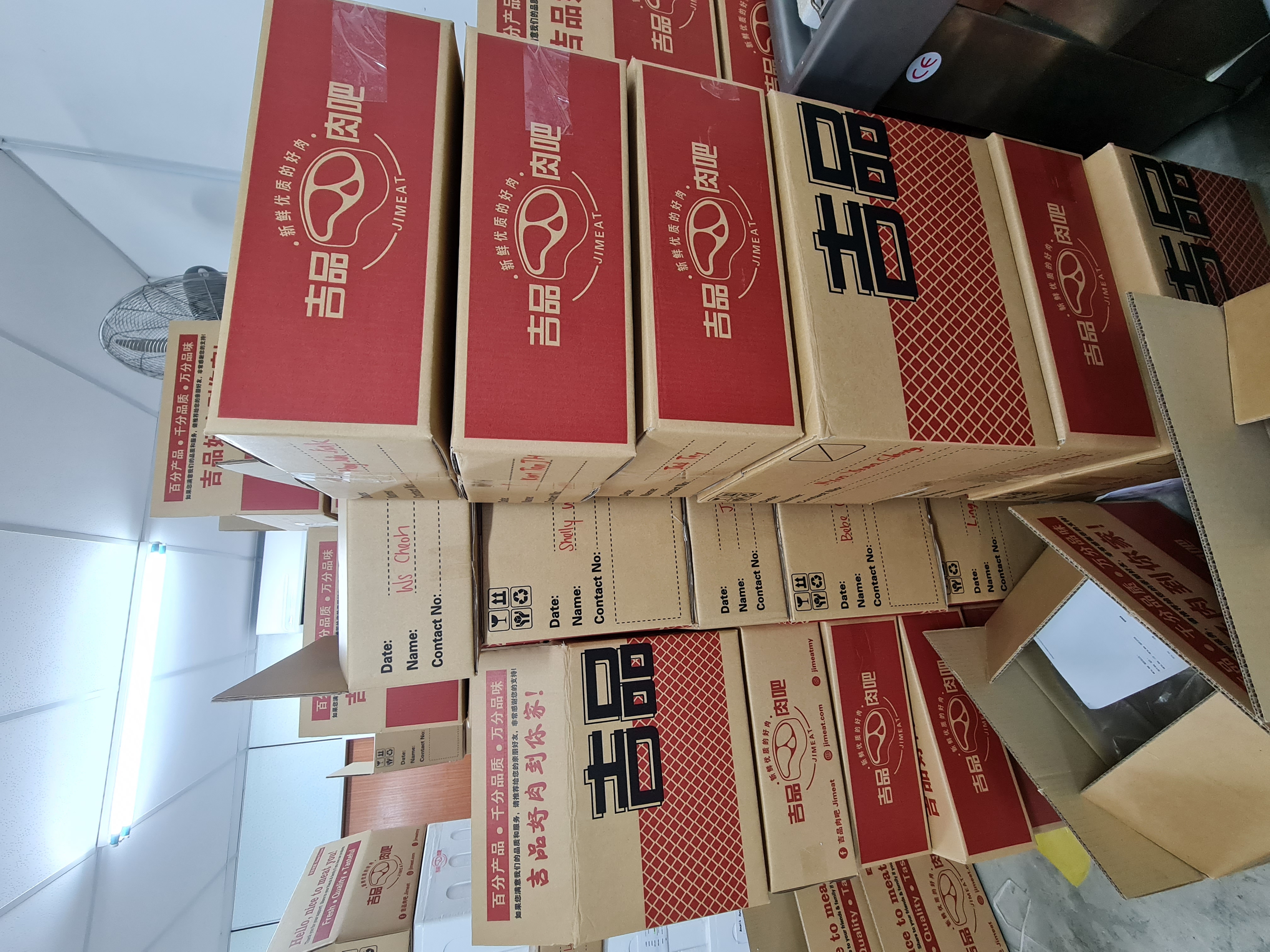 We managed to meet our first milestone - A revenue of RM 1.7 million and a gross margin as much as 30% within one year! Up to date, we have served more than 5000 customers. And, we have received 98% of positive feedback!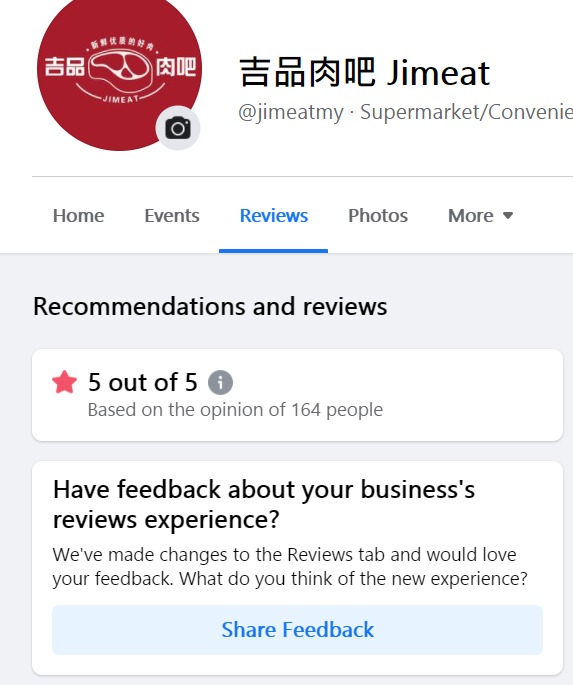 I think the most important qualities that support me to come this far are "Mentality" and "Attitude". I believe that as long as you are upholding the right attitude and doing what you want wholeheartedly, you are going to shine your brightest light!
Think From Customer's Perspective
Focus on Convenience, Good Taste and Health
At present, the overall market shows a greater tendency on meat products that are convenient and easy to use. This is especially popular among white-collar workers, who have no or less time in cooking. Other than being convenient and fast, it is also of utmost importance in seeking the right balance between taste adjustment and health promotion. In other words, convenience, deliciousness, and health are three inseparable factors in making a quality meal.
Therefore, it is in our best interest to adjust our products' direction from time to time according to the market trends. To ensure the taste and style of our products are in line with Malaysians' preferences, we would always think and understand their needs from their perspective.
We always engage with our customers by doing a lot of demonstrations and teaching in our live streams and short videos. They can learn about the selling points of our products through different menus. It also serves as a marketing tool for us to boost their confidence in buying our meat products.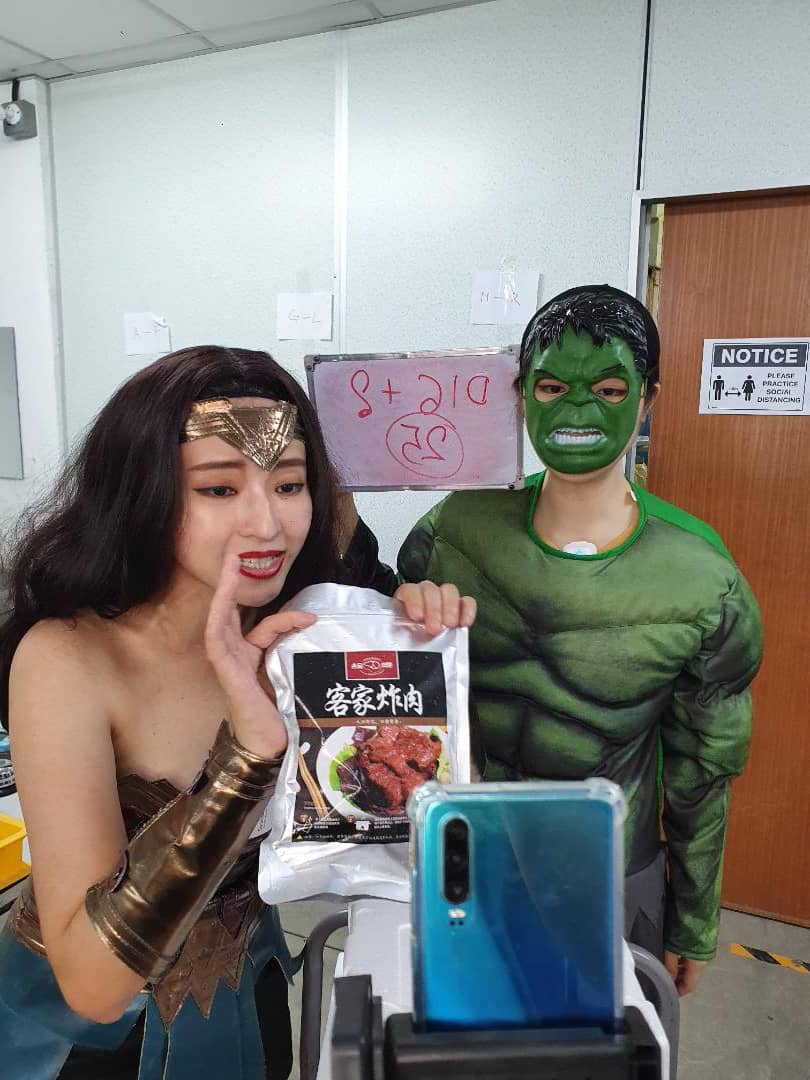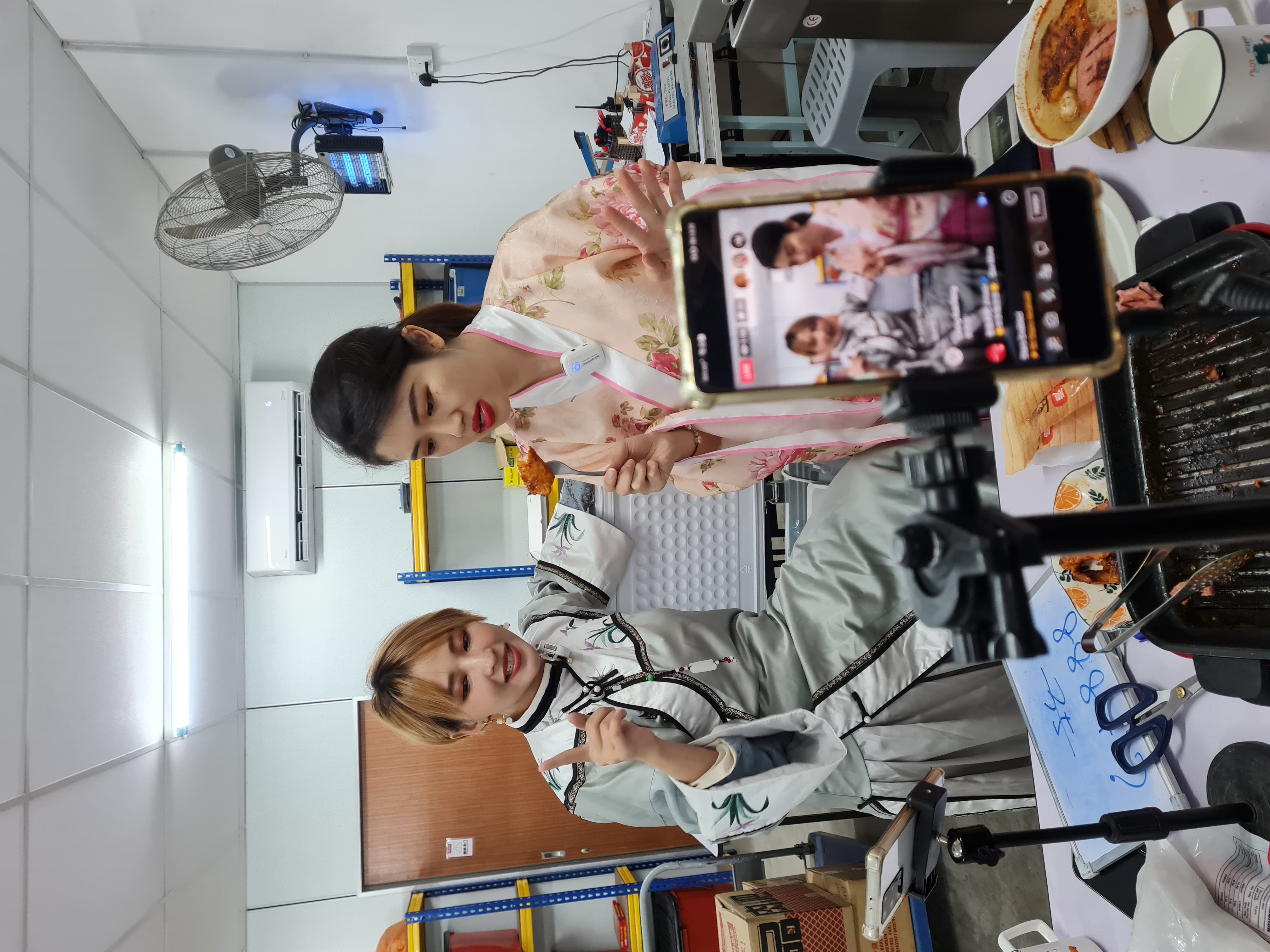 Quality Is Seen Through Details.
The Strictest Monitoring, the Most Efficient Service.
We obtain our meat products from a local legal pork supplier regularly. Besides, we also have joined hands with restaurant chefs for exclusive frozen dishes.
In order to ease the handling of meat products, we have specially requested the manufacturer to preserve the meats separately in vacuum packaging.
After the products have been delivered from the manufacturer, we will check the quality and condition of the products before storing them in freezers. The customer service department will start to process the packaging after receiving the orders. The shipment will be arranged the next day.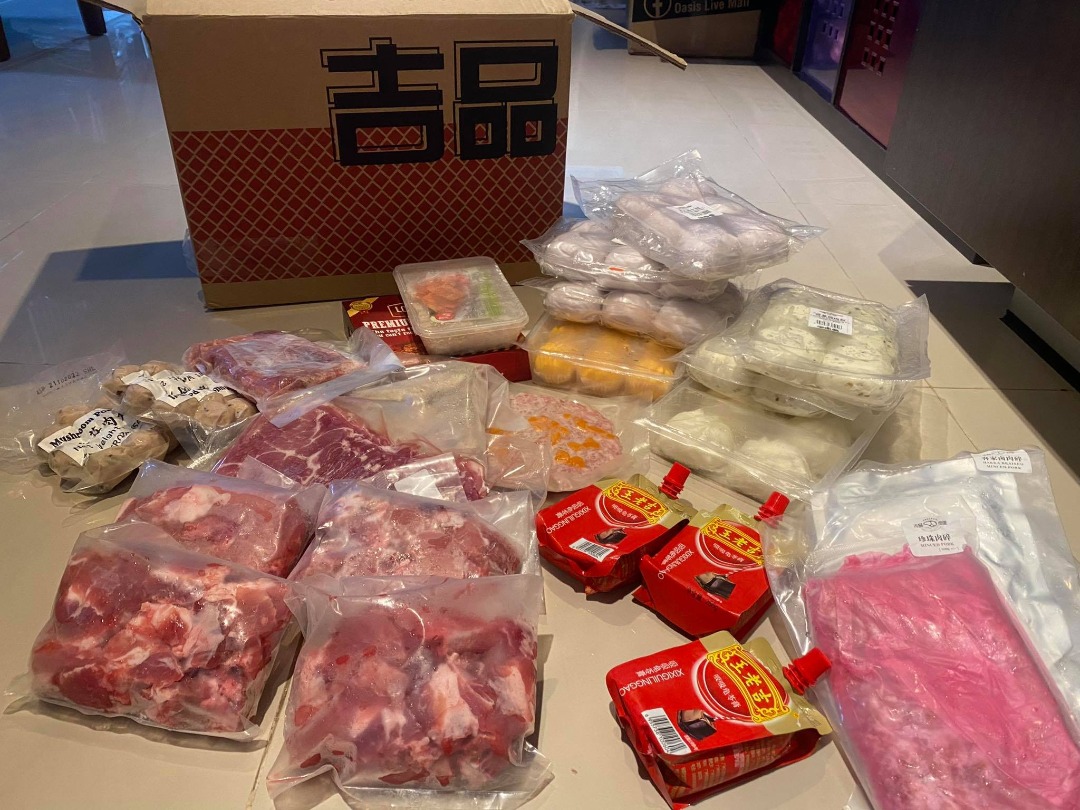 In this process, the customer service department will confirm the order and receipt information with the customers, whereas the packaging managers will be in-charge of the condition and the counts of the goods. After packaging, the product will be handed over to the designated driver and route for delivery.
In case of poor product quality, we will inform the manufacturer and return the products as soon as possible. If we receive any negative feedback from customers, we will also look into it and recall the product immediately.
We guarantee that all controls and processes are managed through the strictest adherence to compliance measures, and absolutely can bring every customer the top-notch service.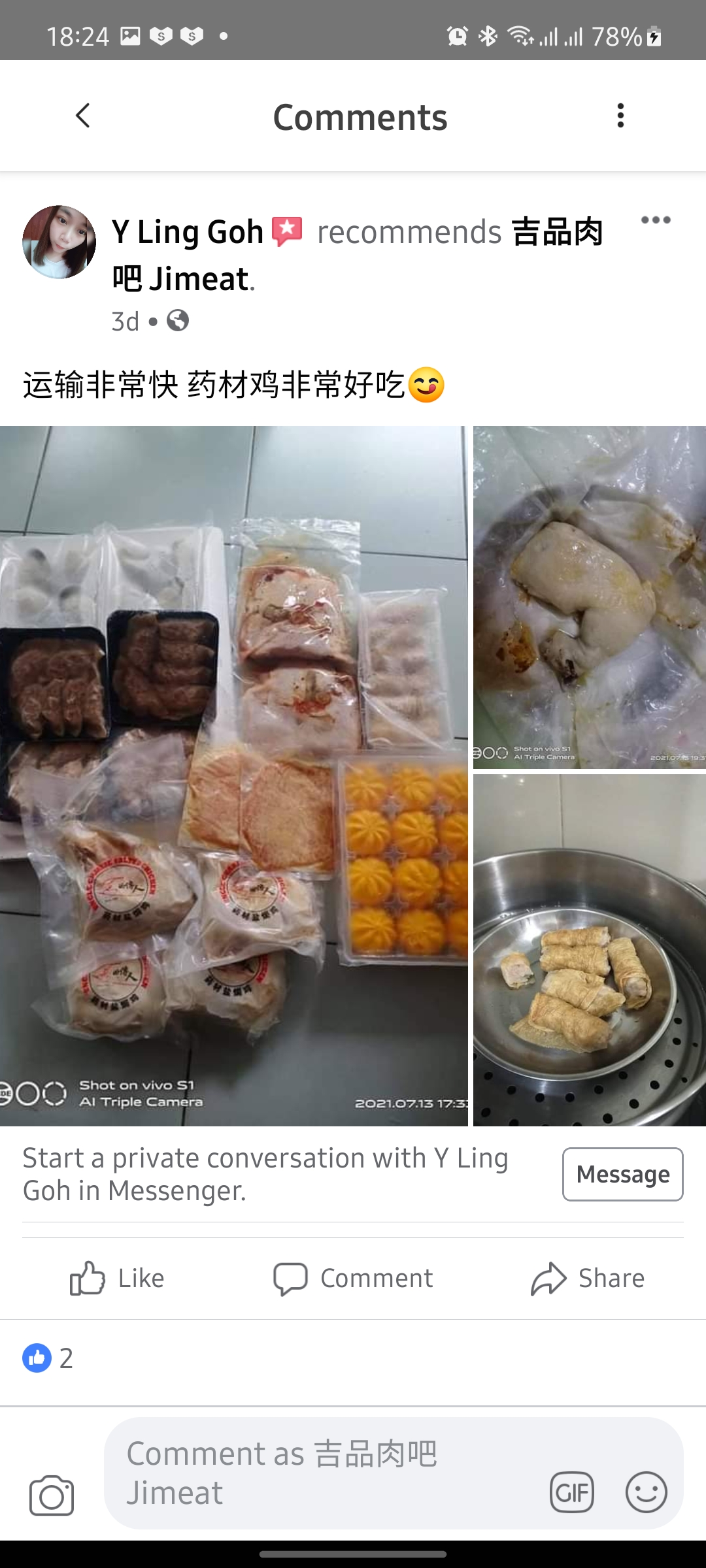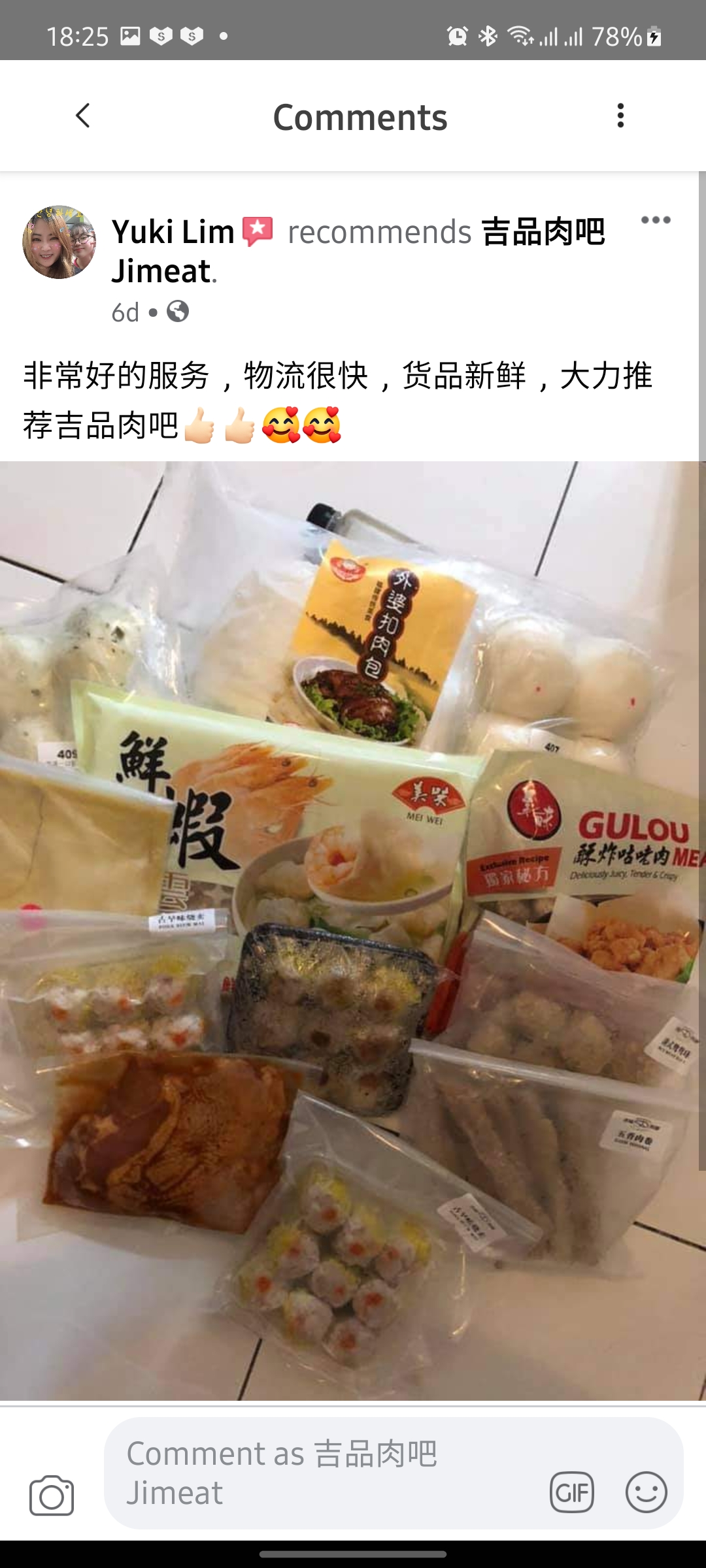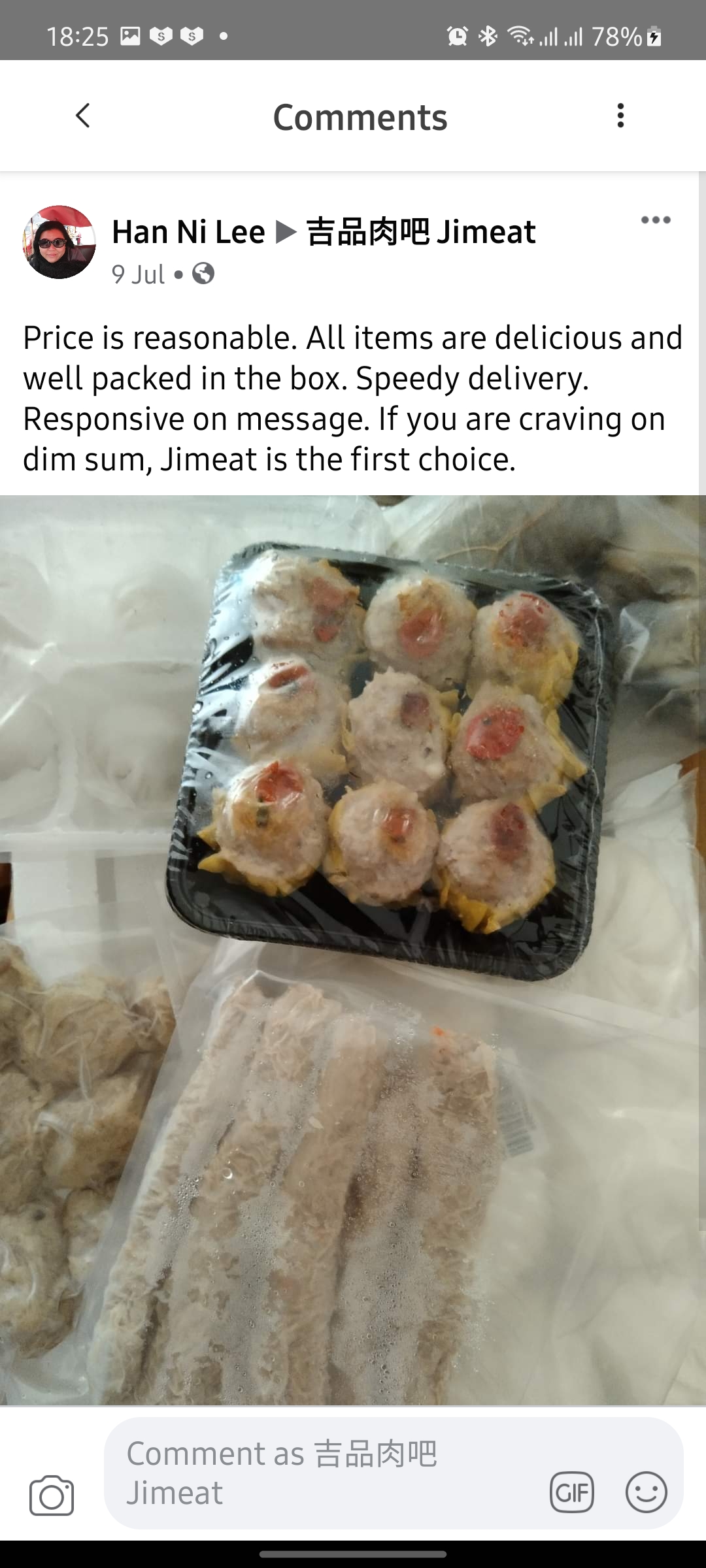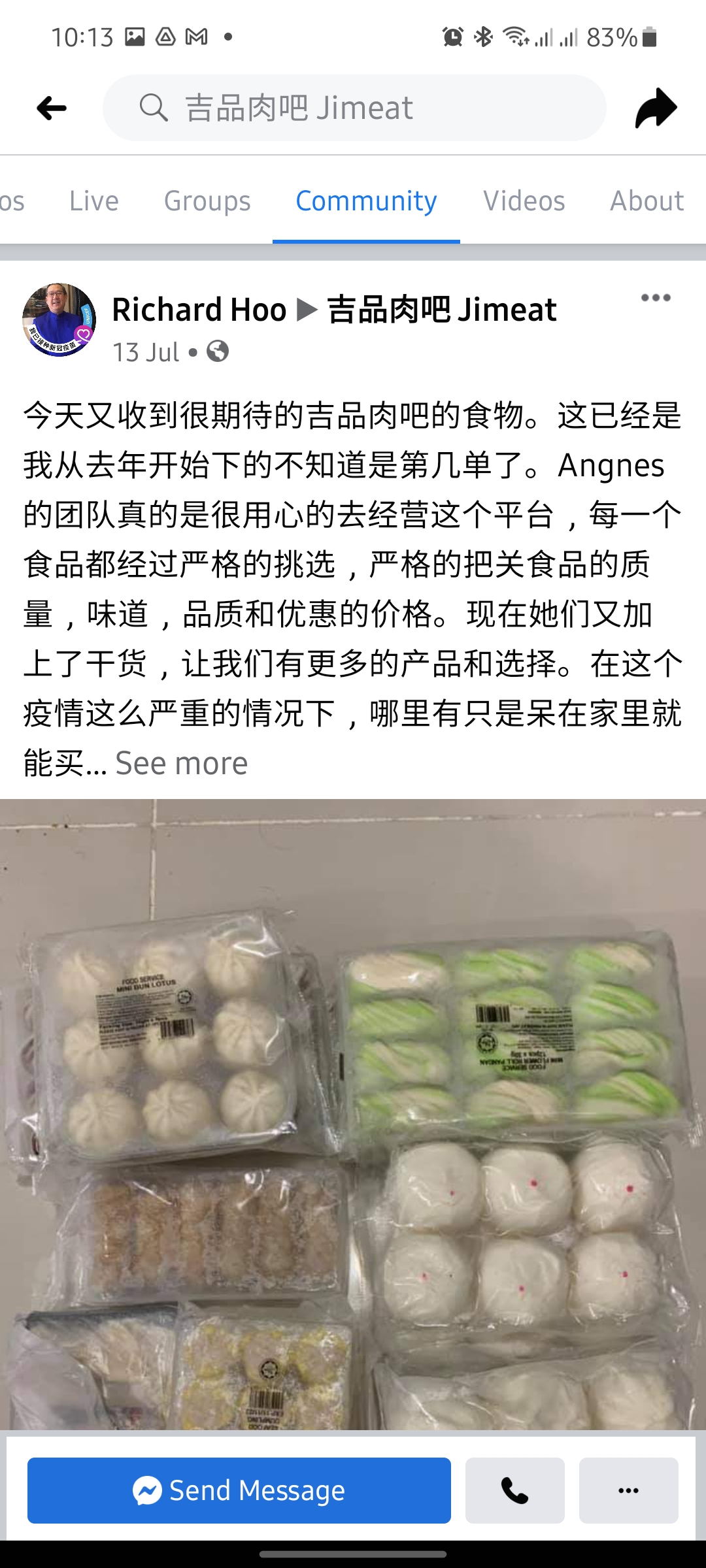 Wide Range of Products and Appeal to Popular Taste
Malaysia is a food kingdom, so in general, the public has a wider acceptance of tastes. In order to make sure that our recommended products can satisfy everyone's expectations, we will always put ourselves in customer's shoes before launching them. In other words, we will only put the products on market after rounds of careful selections.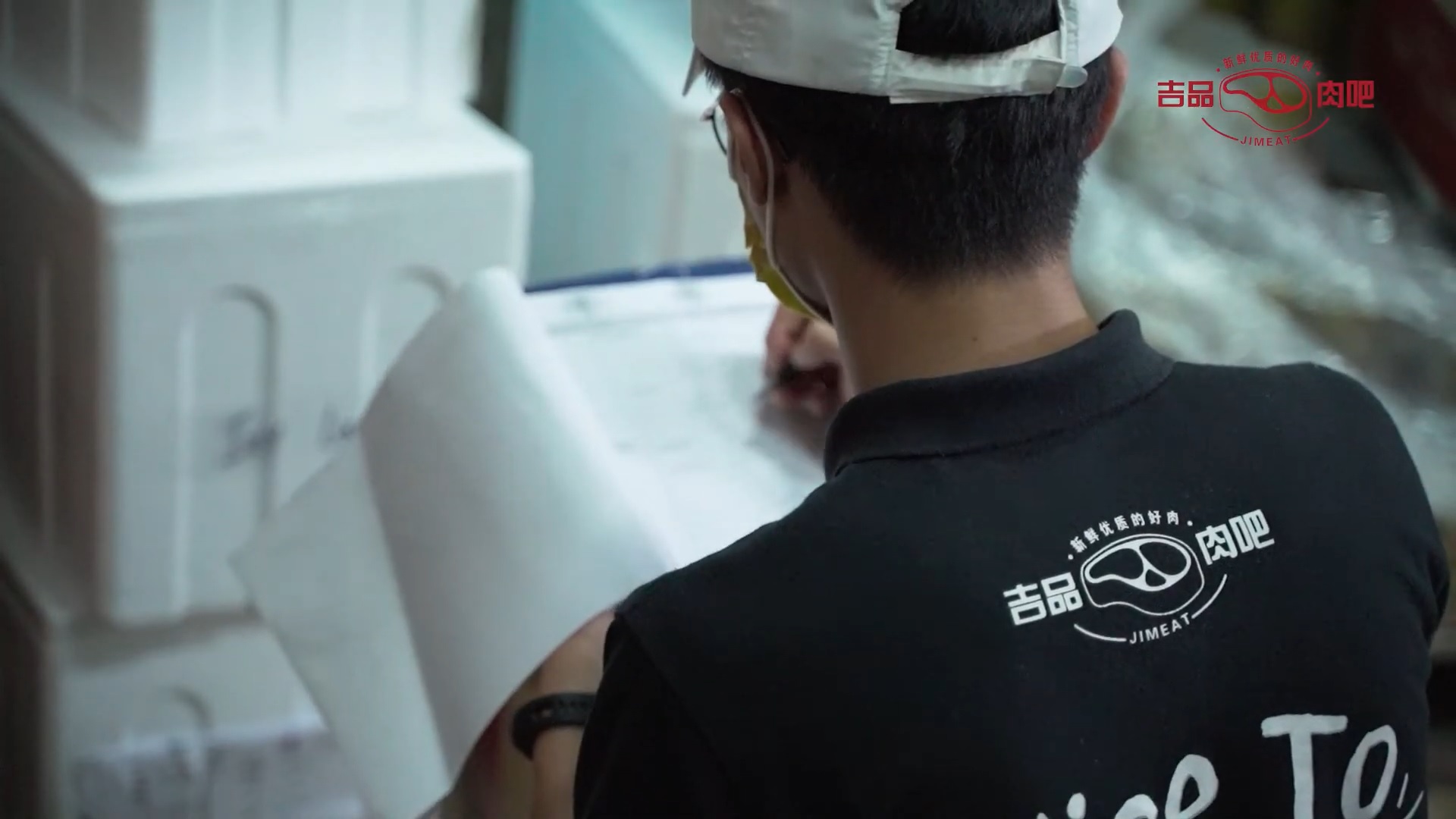 The ready-to-eat dishes are exclusively developed through the concept of simplicity and convenience by the restaurant chefs. We launch new products based on the public's taste and needs. Everyone can make their three meals worry-free with our hassle-free meat products. Most importantly, we hope our products can evoke a sense of belonging, enabling people to enjoy a taste of home without having to cook.
So far, our product range consists of fresh meats, dim sums, baos, snacks, exotic cuisines, canned food, seasoning sauces, desserts and beverages. The most sought-after products are Pork Loin Chop, Minced Pork, Thai-style Grilled Pork Skewers, Siu Mai, Char Siu Bao, Bursting Pork Meatball, and Shabu Belly Slices.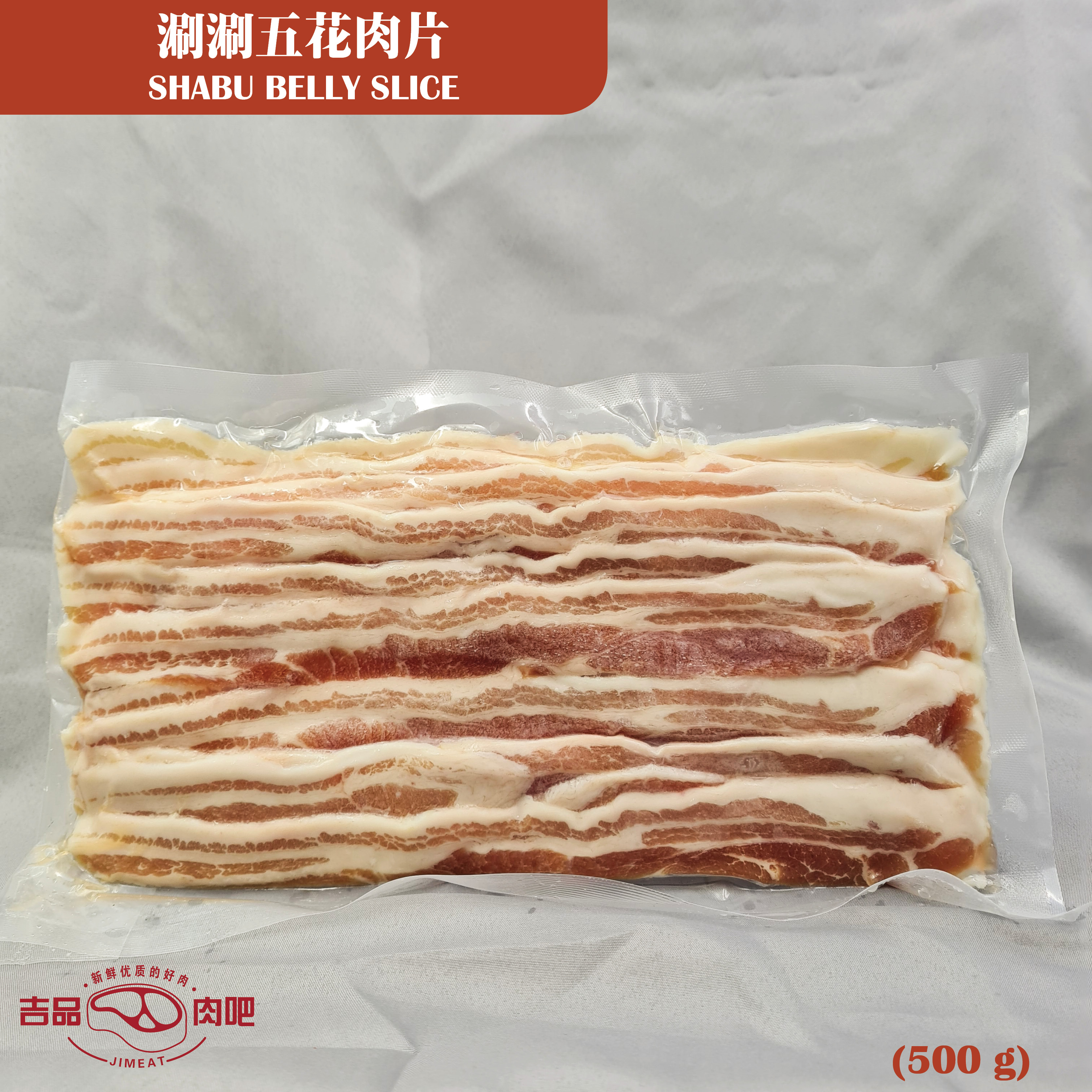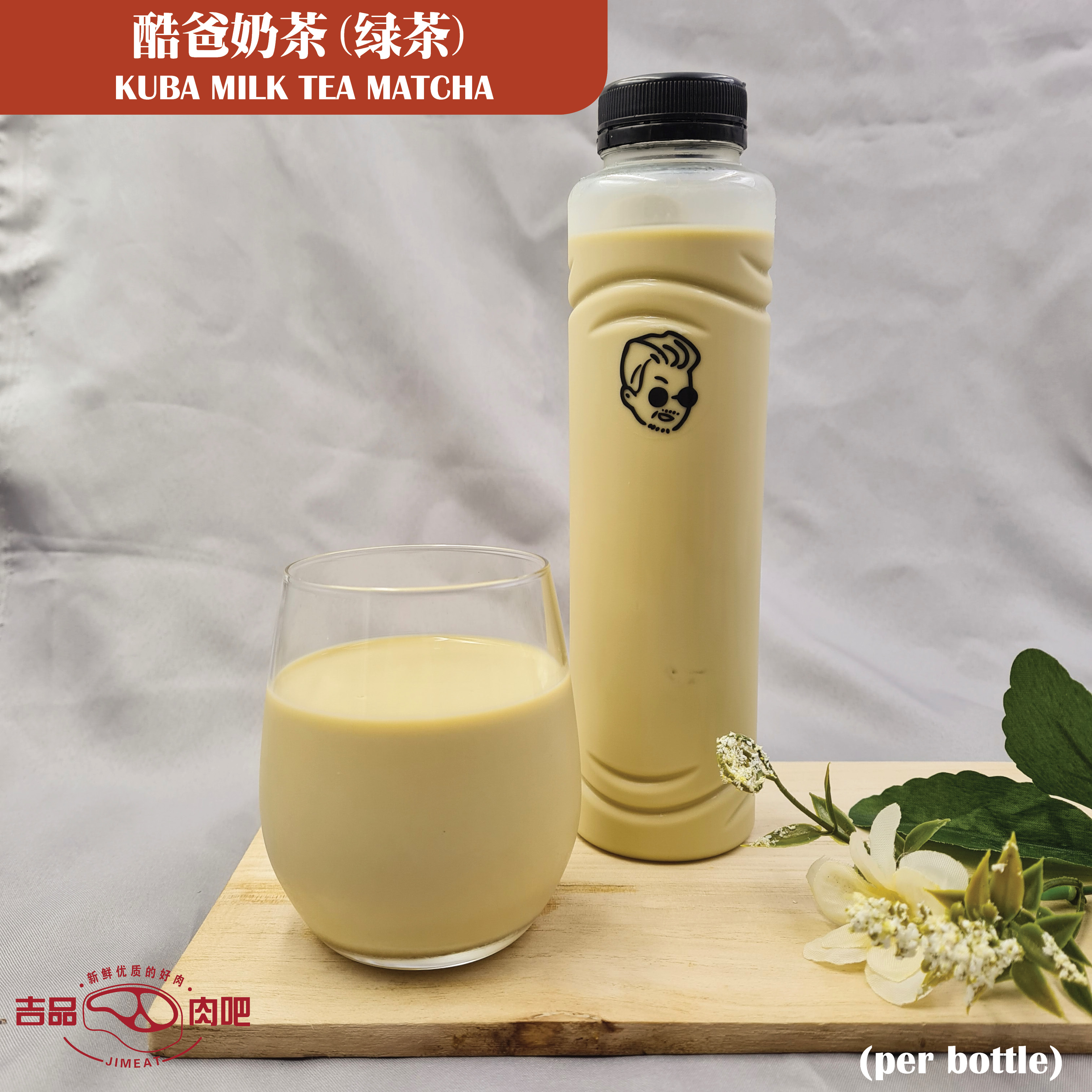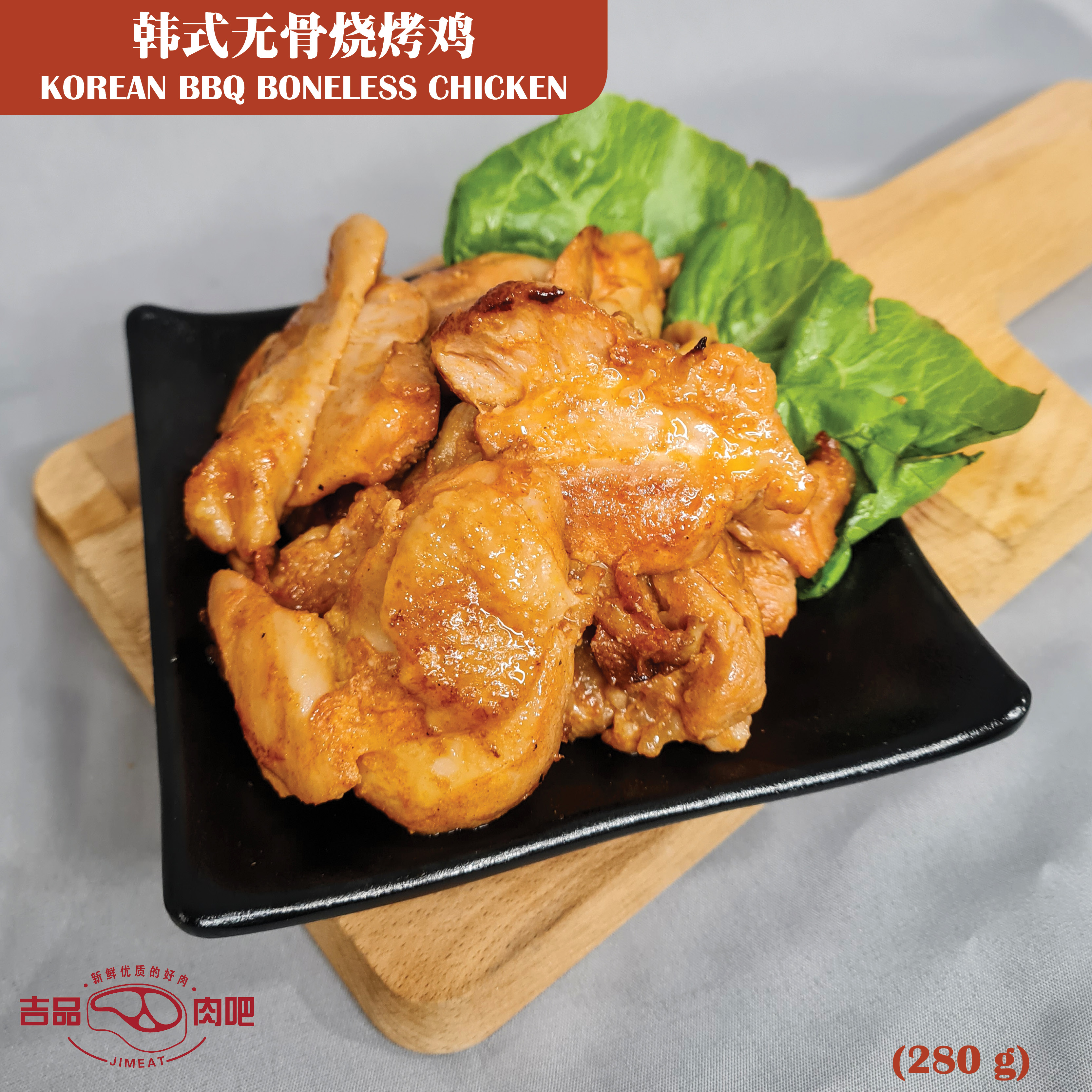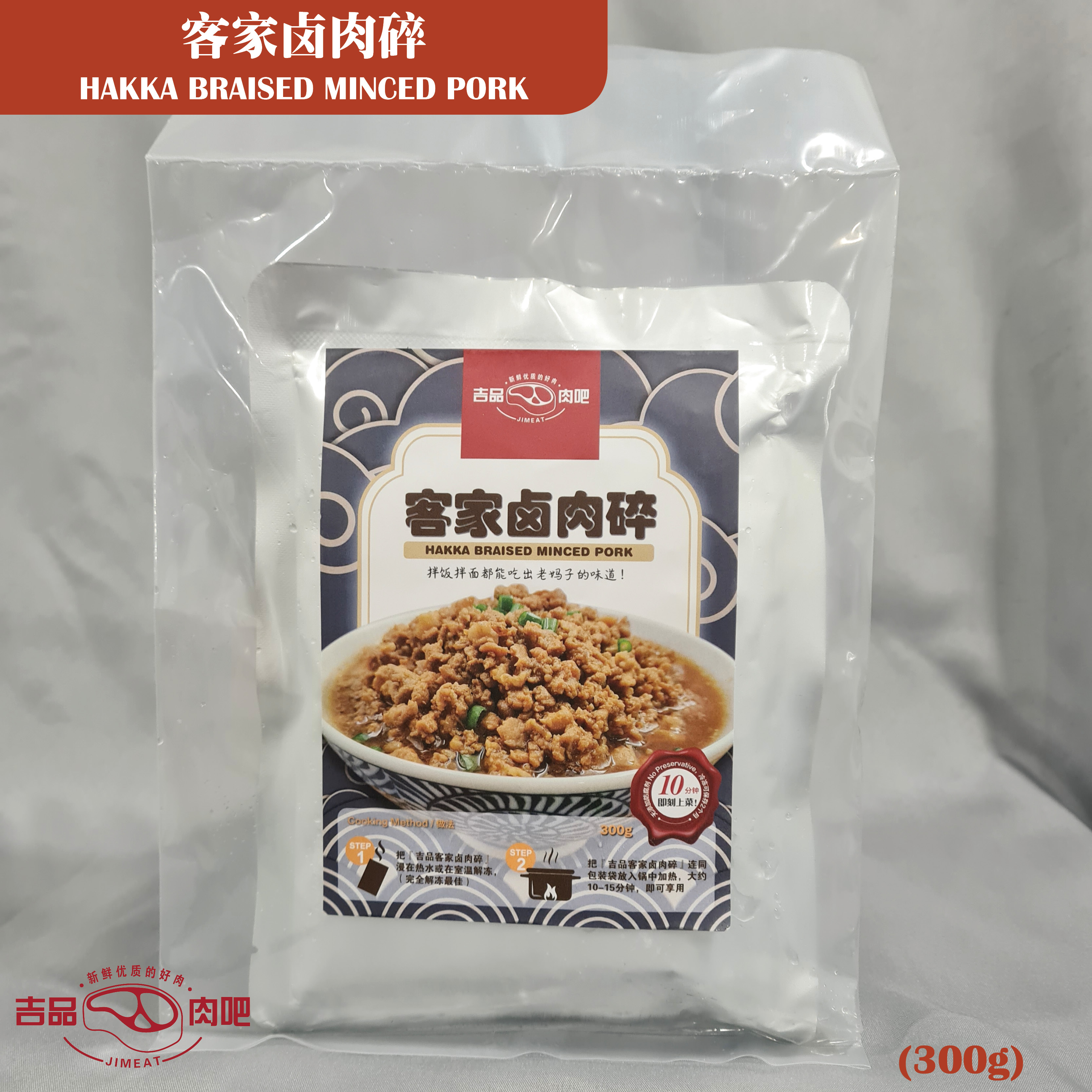 Ways to Outperform Competitors
We are a vertical fresh food e-commerce company that focuses on the meat market. Therefore, we believe that we are more professional and can provide customers with greater confidence.
To strengthen our position in the market, we put technology to good use and understand the customers' purchase habits through big data before bringing any marketing plans forward. We also invite professional artists and well-known influencers in live stream collaborations to boost our popularity and reliability in a short time.
After the crowdfunding, we will be developing our own food production chain to increase the competitiveness of pricing and products.
Our Purpose and Target for Equity Crowdfunding
Our purpose is to venture our company into the area of corporate finance and expand our business model that effectively integrates manpower, capital and resources.
Our target is RM 2.5 million, the allocation is as follows: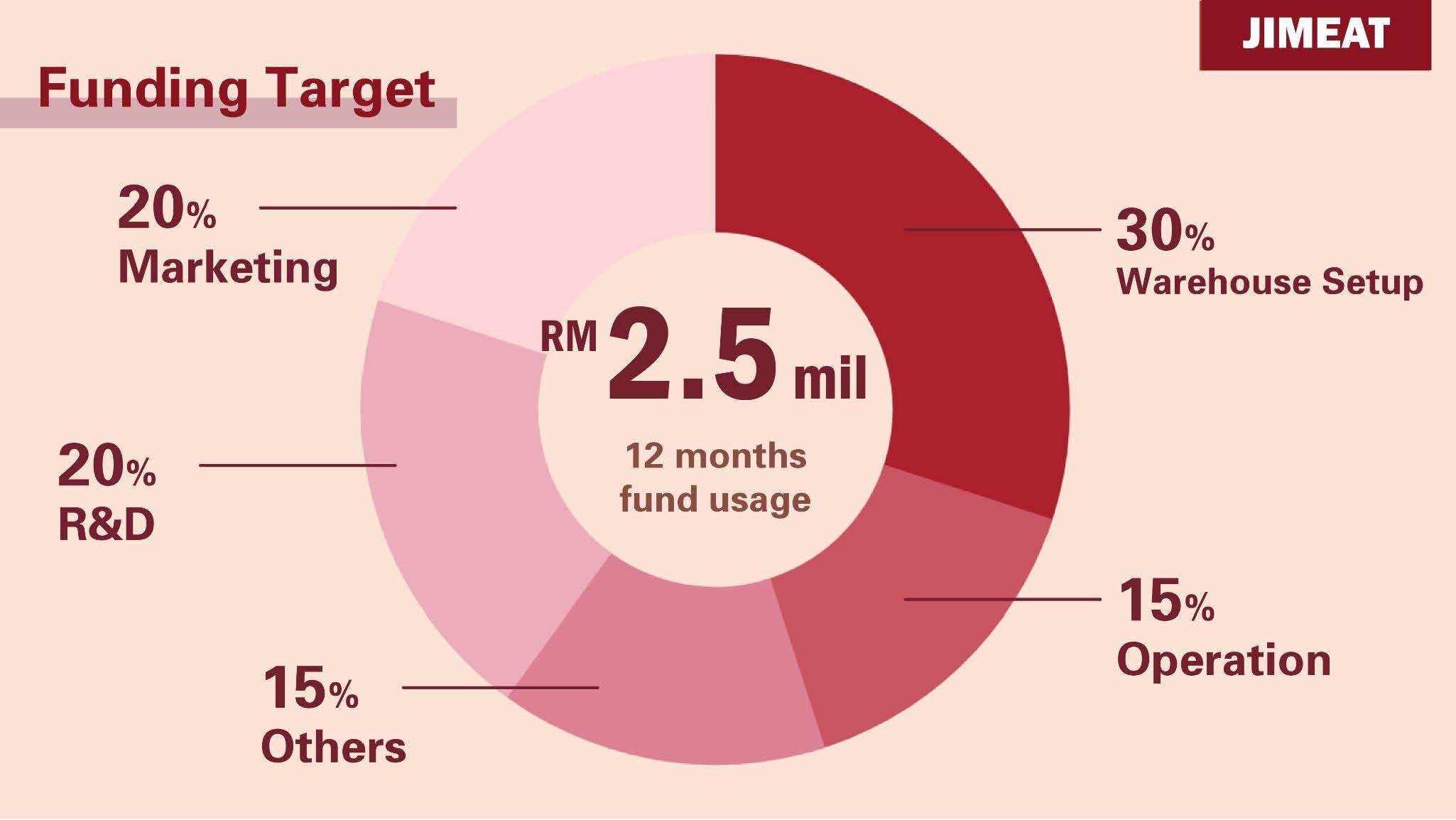 30% for plant and equipment upgrading

20% for promotion and marketing

20% for research and development

15% for operation and administration

15% for others
Future Goals
Jimeat is a brand that emphasizes taste, quality, warmth and story.
We look forward to becoming the No.1 fresh food platform in Malaysia. We hope that the name of 'Jimeat' will be the first thing that comes to everyone's mind when it comes to meat products.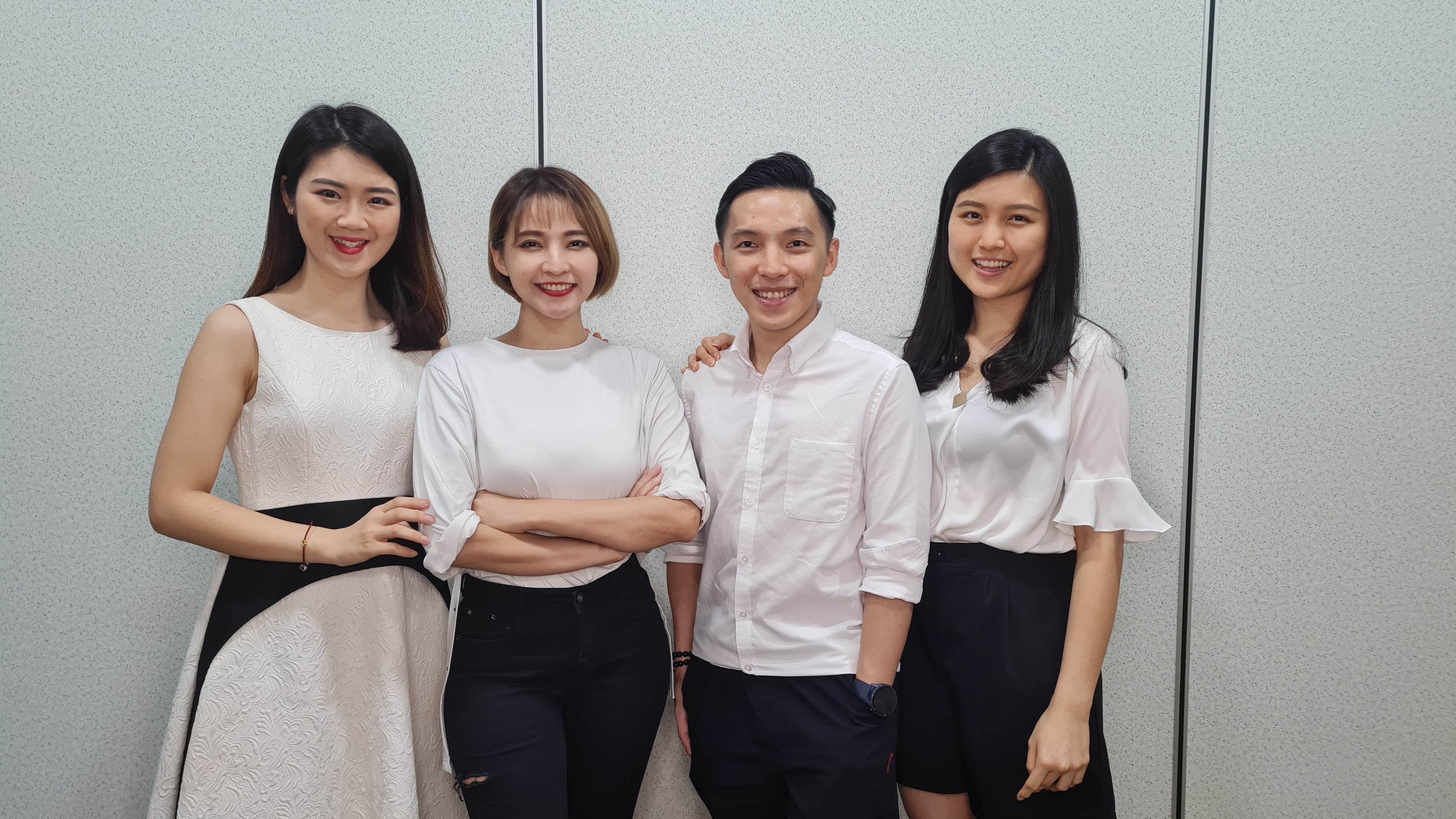 Our short-term goal is to raise the visibility and popularity of our platform. We are going to expand our brand awareness with the aid of the internet and technology. In addition, we will be holding various promotional activities to attract customers and increase our market share.
We strive to become the pioneer of the fresh food industry with the purpose of taking Jimeat overseas, and Malaysian food to the world!
---
Website: jimeat.com
Facebook: facebook.com/jimeatmy
Instagram: instagram.com/jimeatmy
Whatsapp: Contact Us
---
Term Sheet & Investment Packages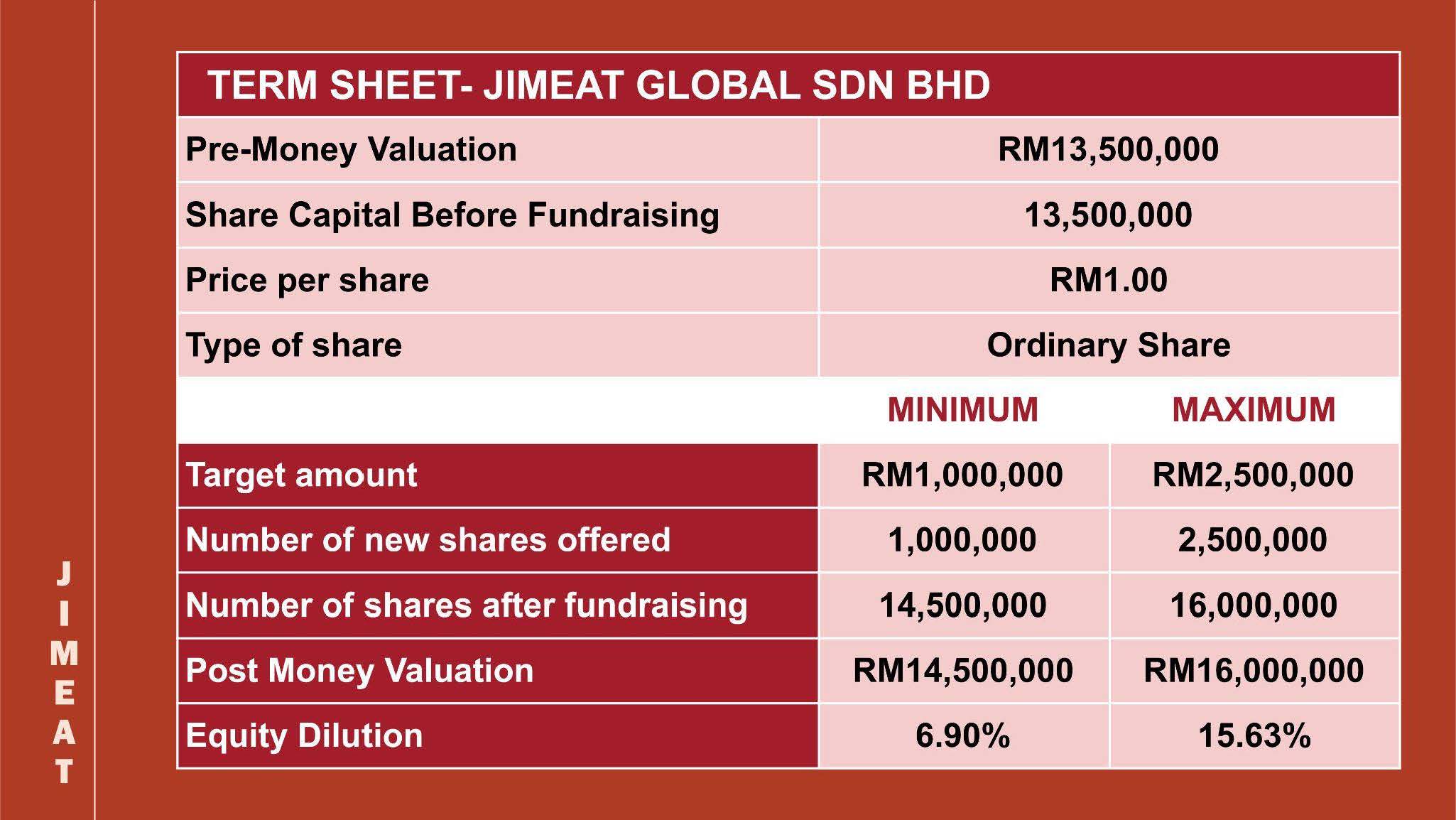 ---
---
Core Team
---
Founder's Pitch Deck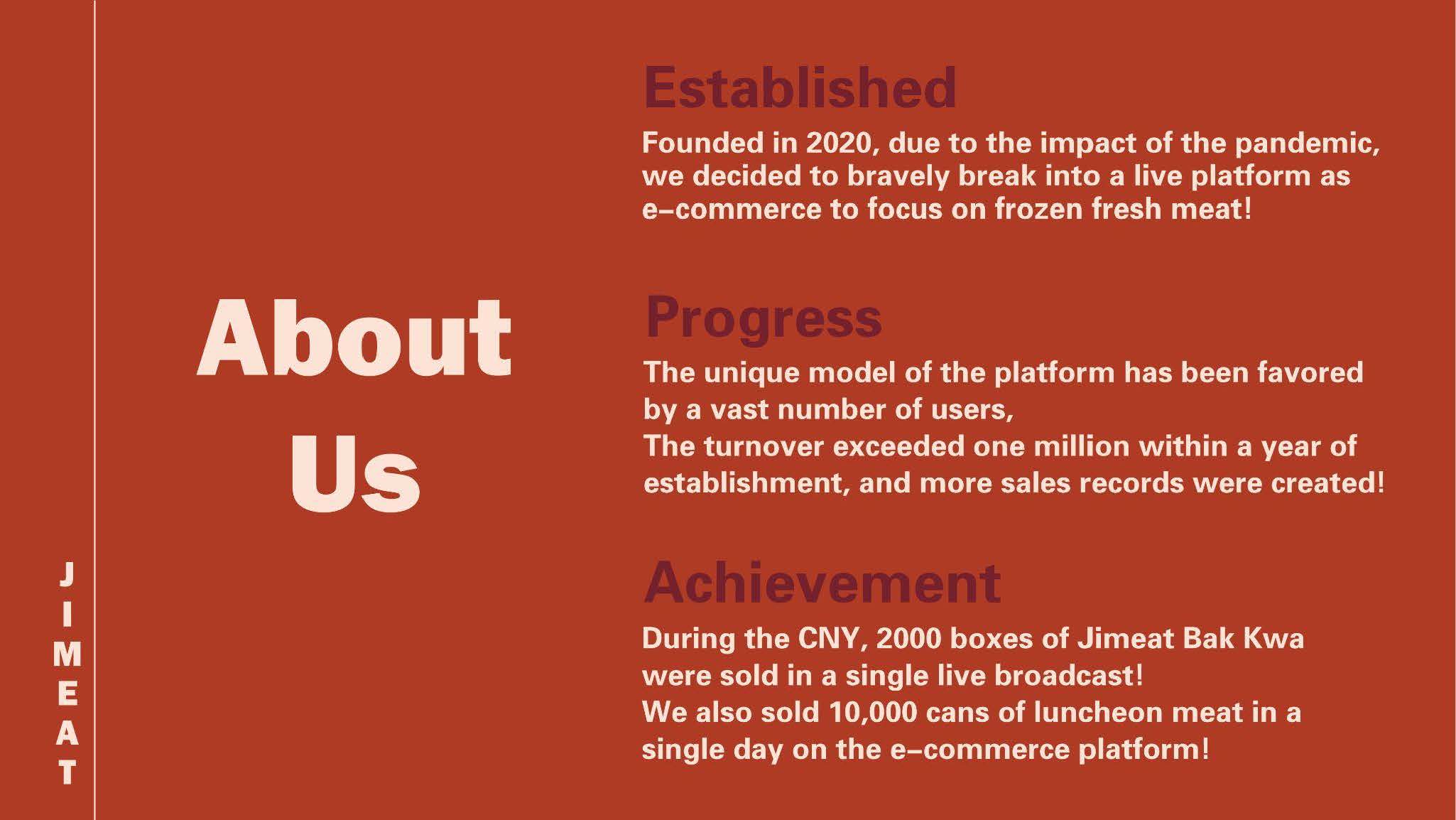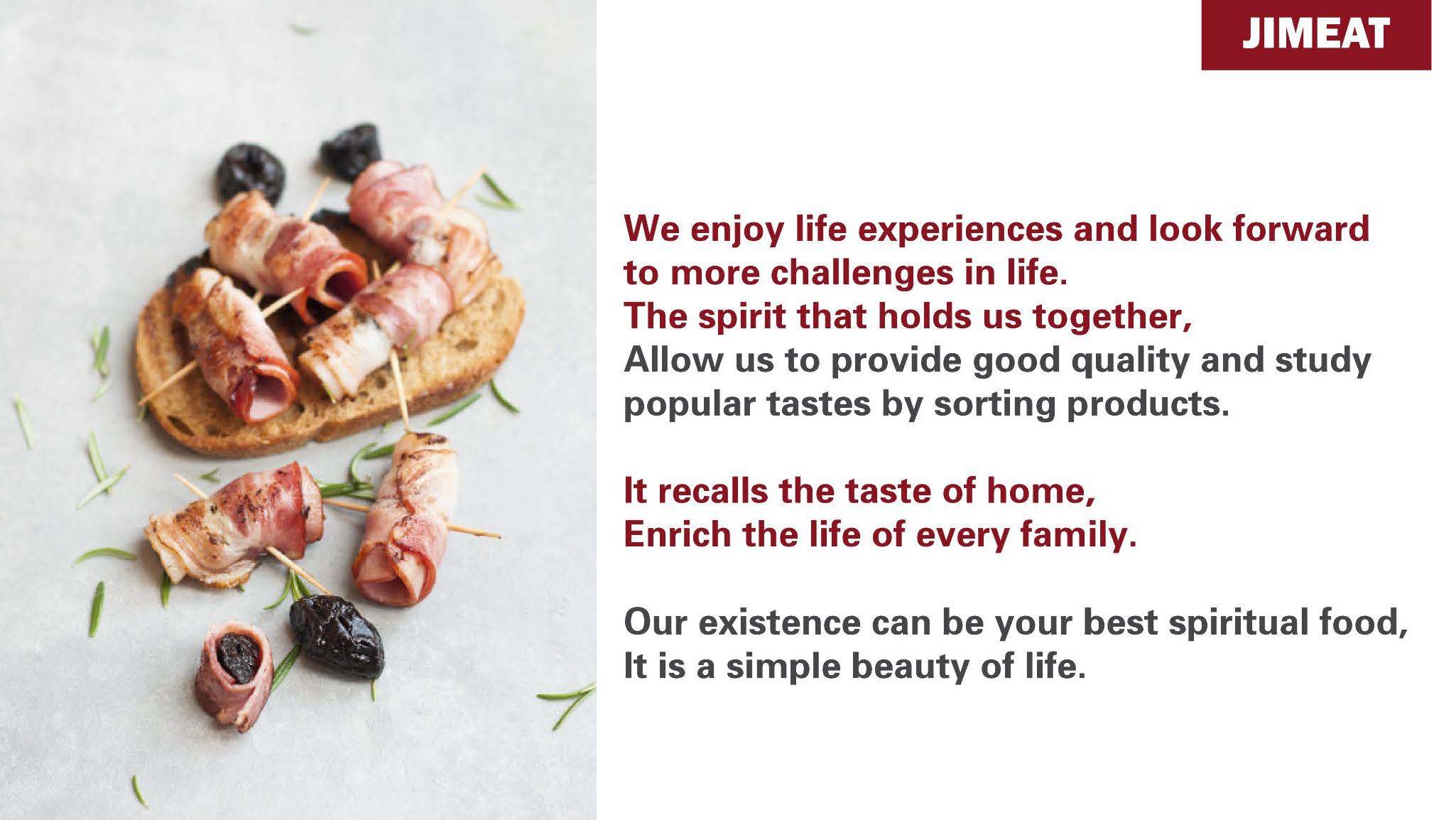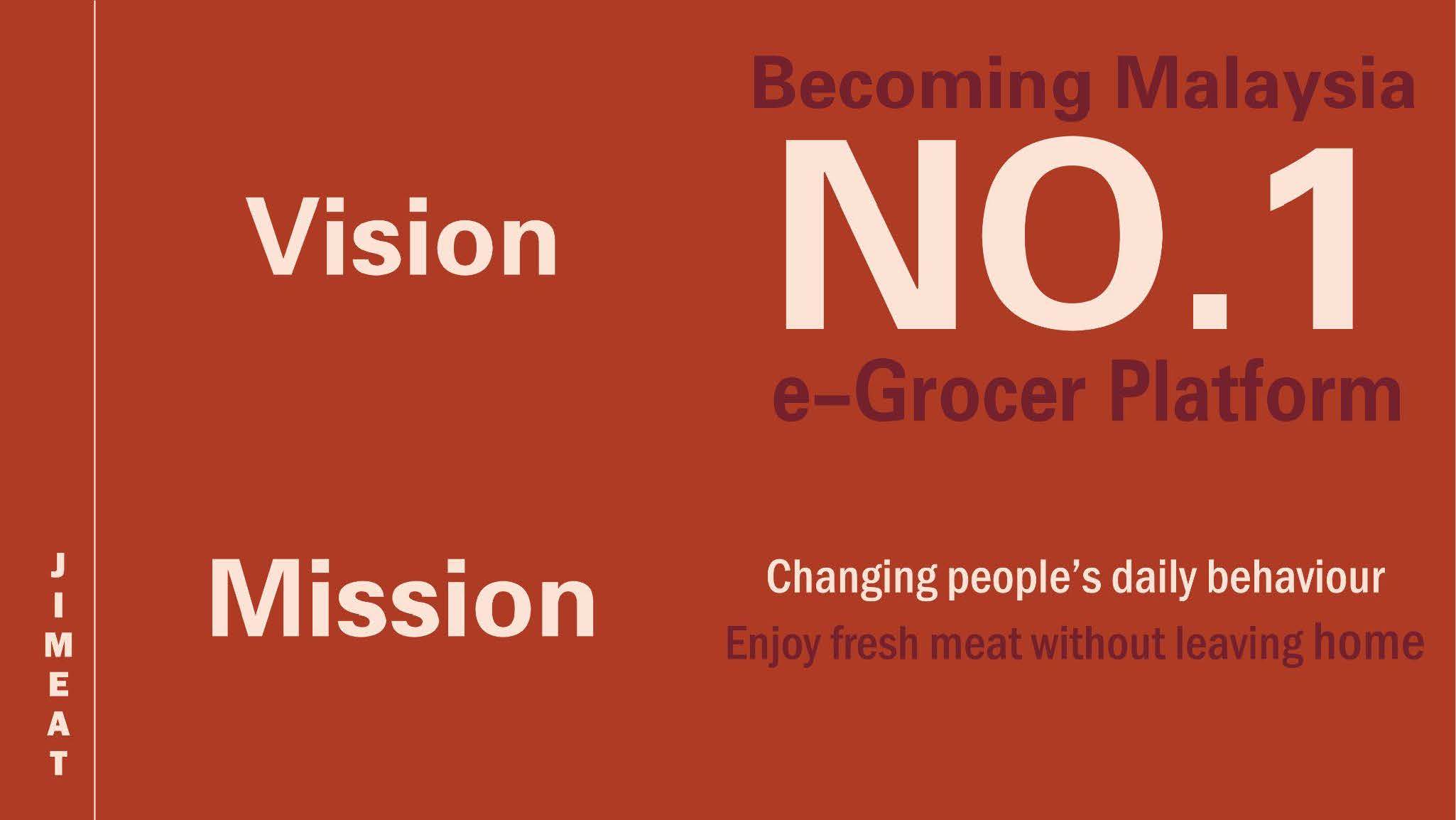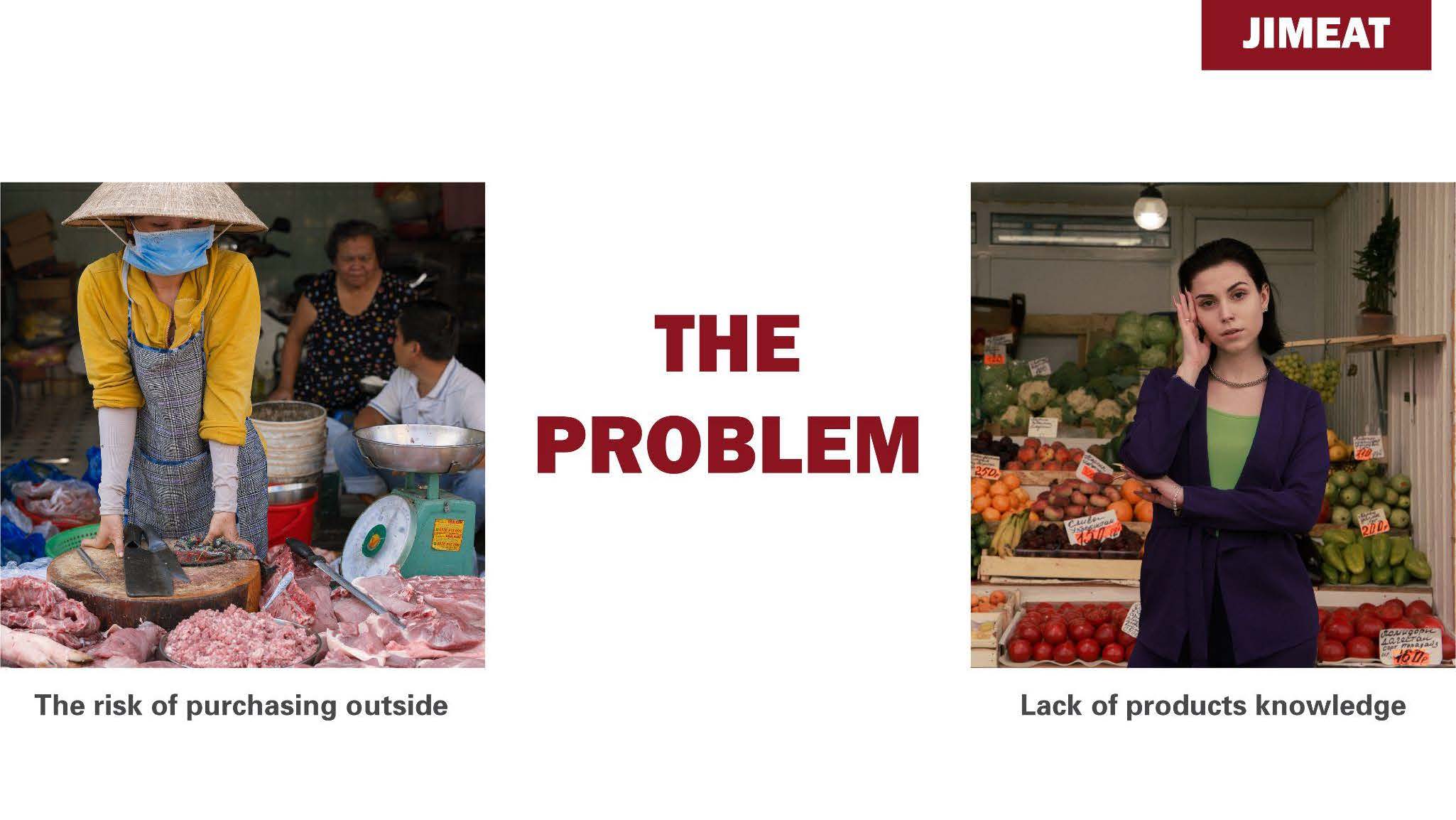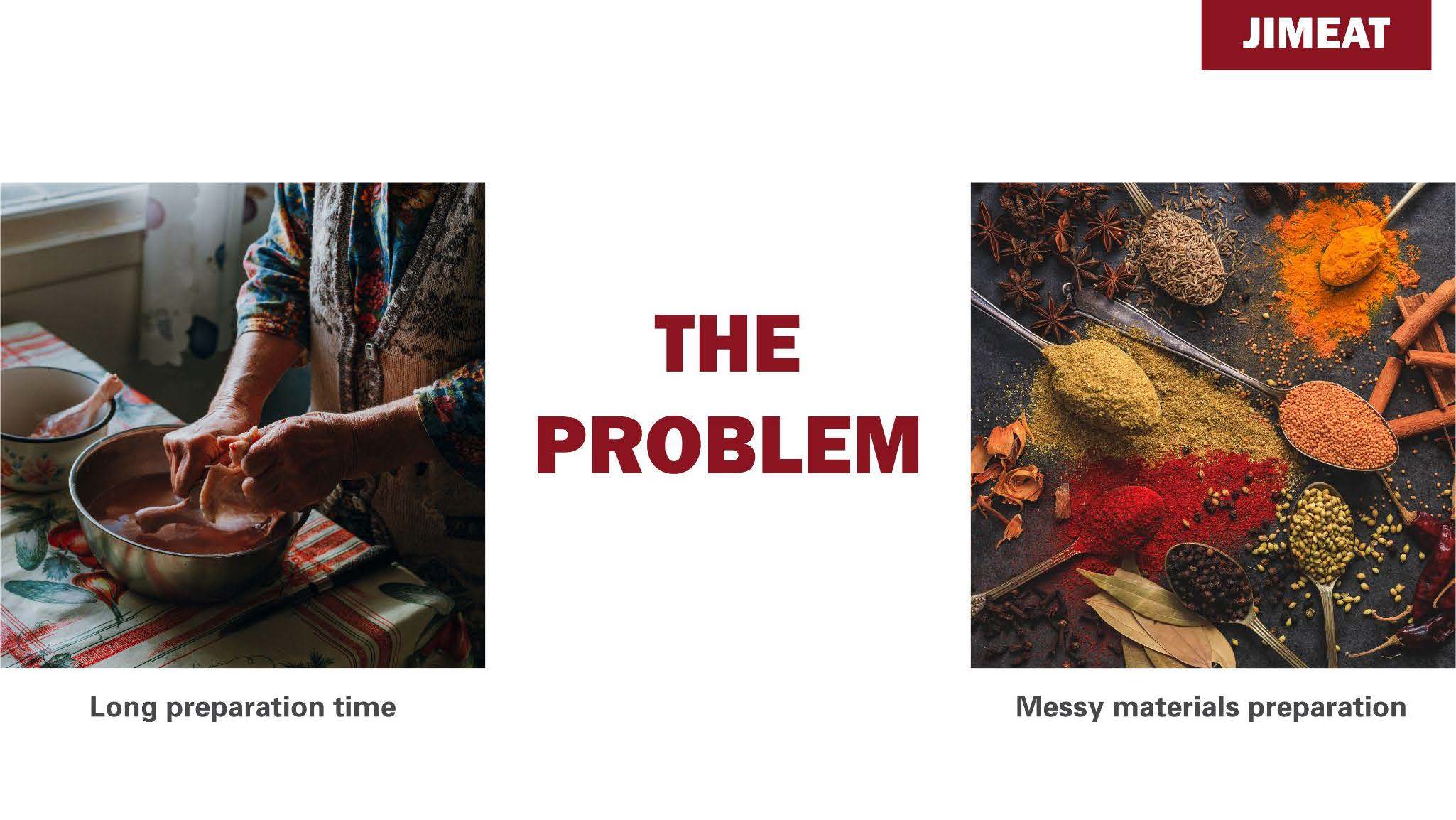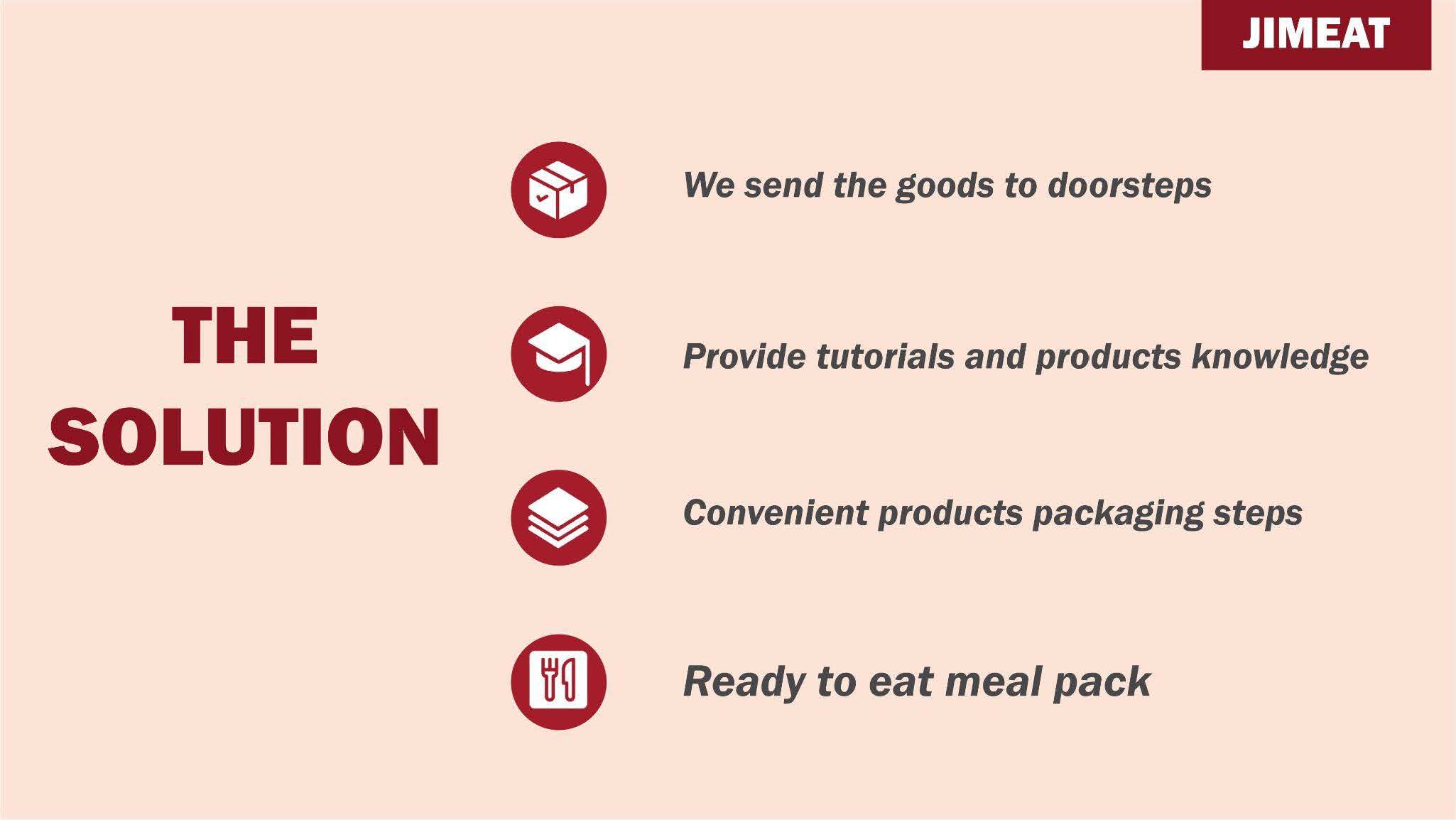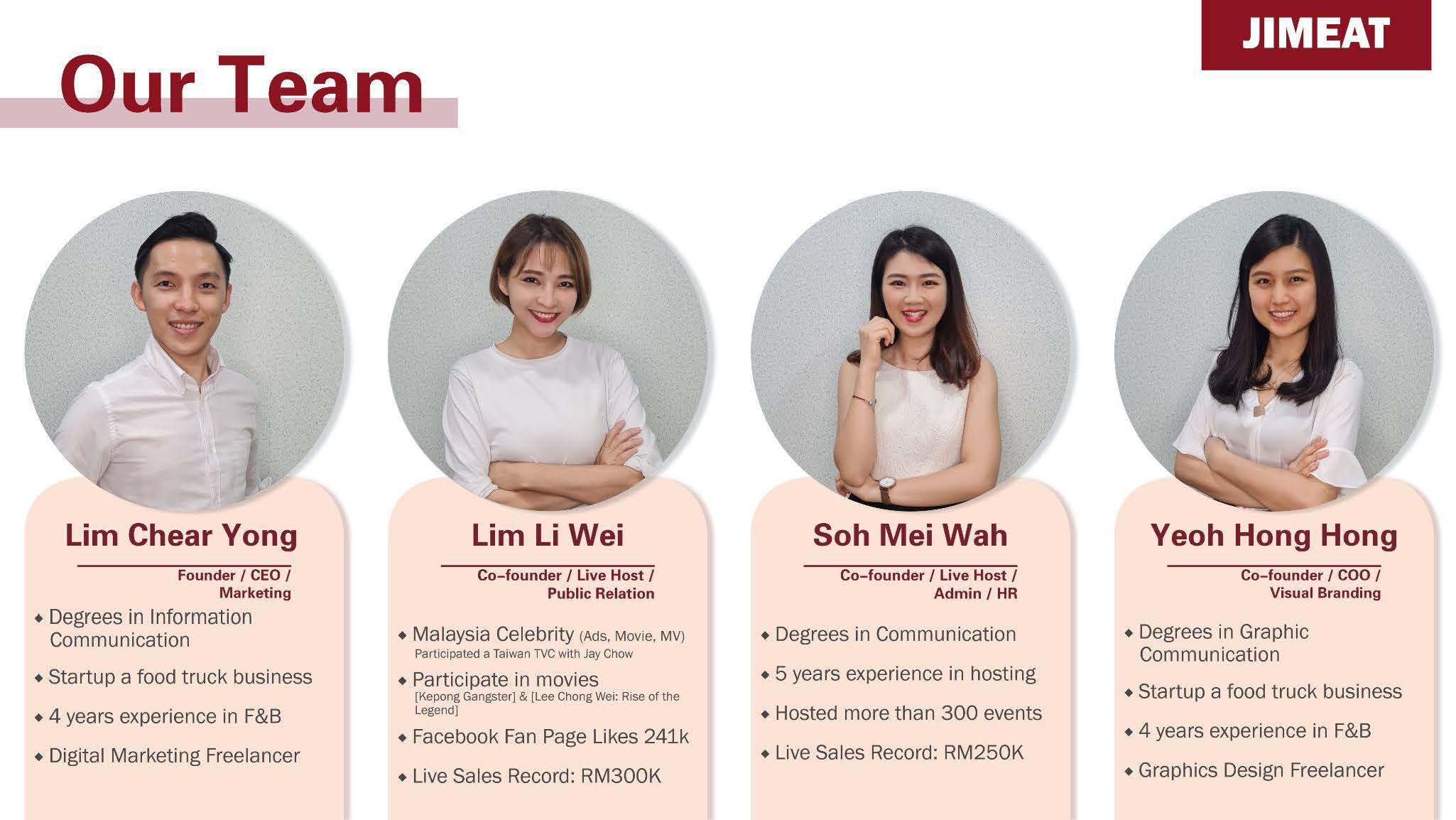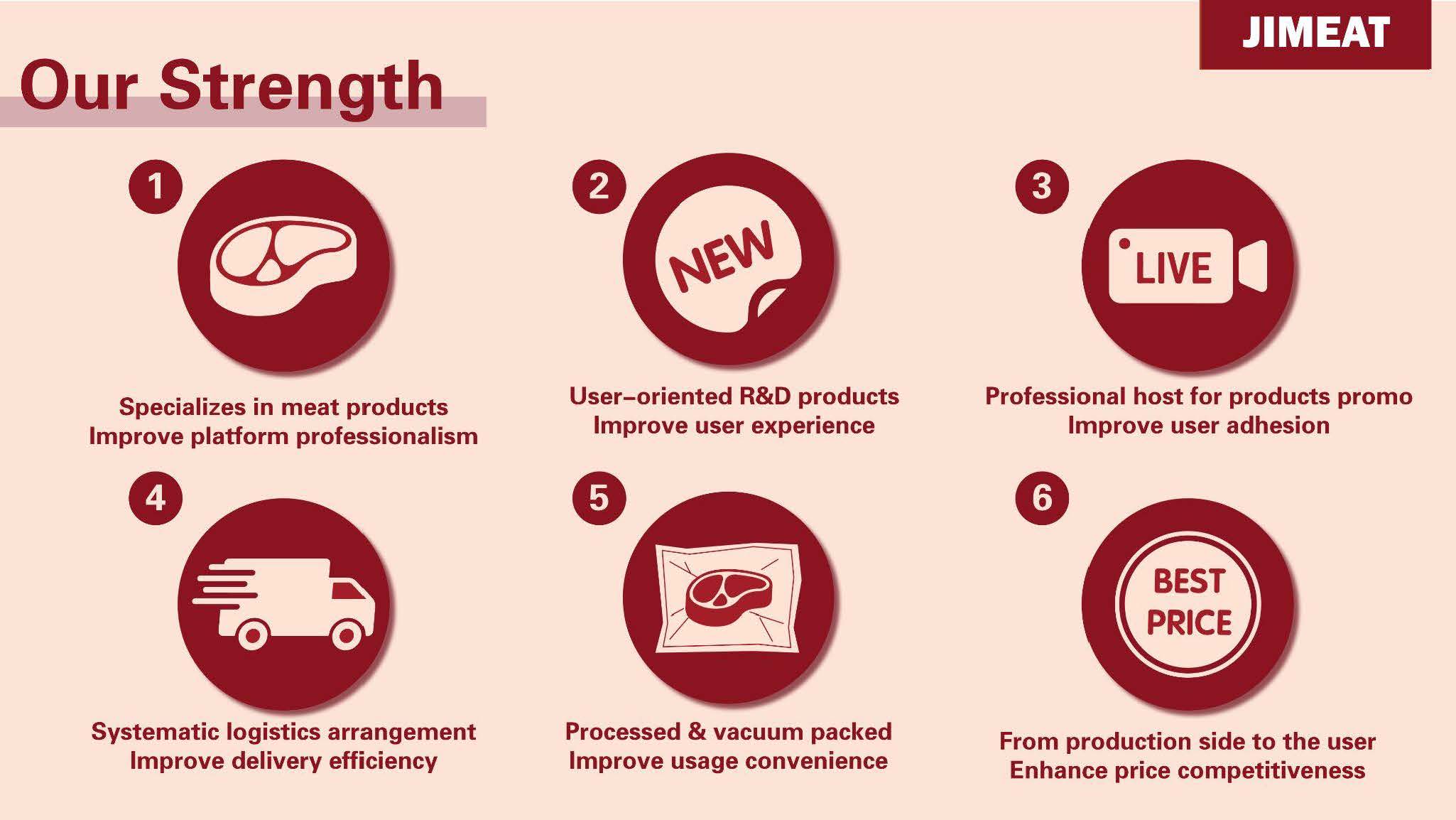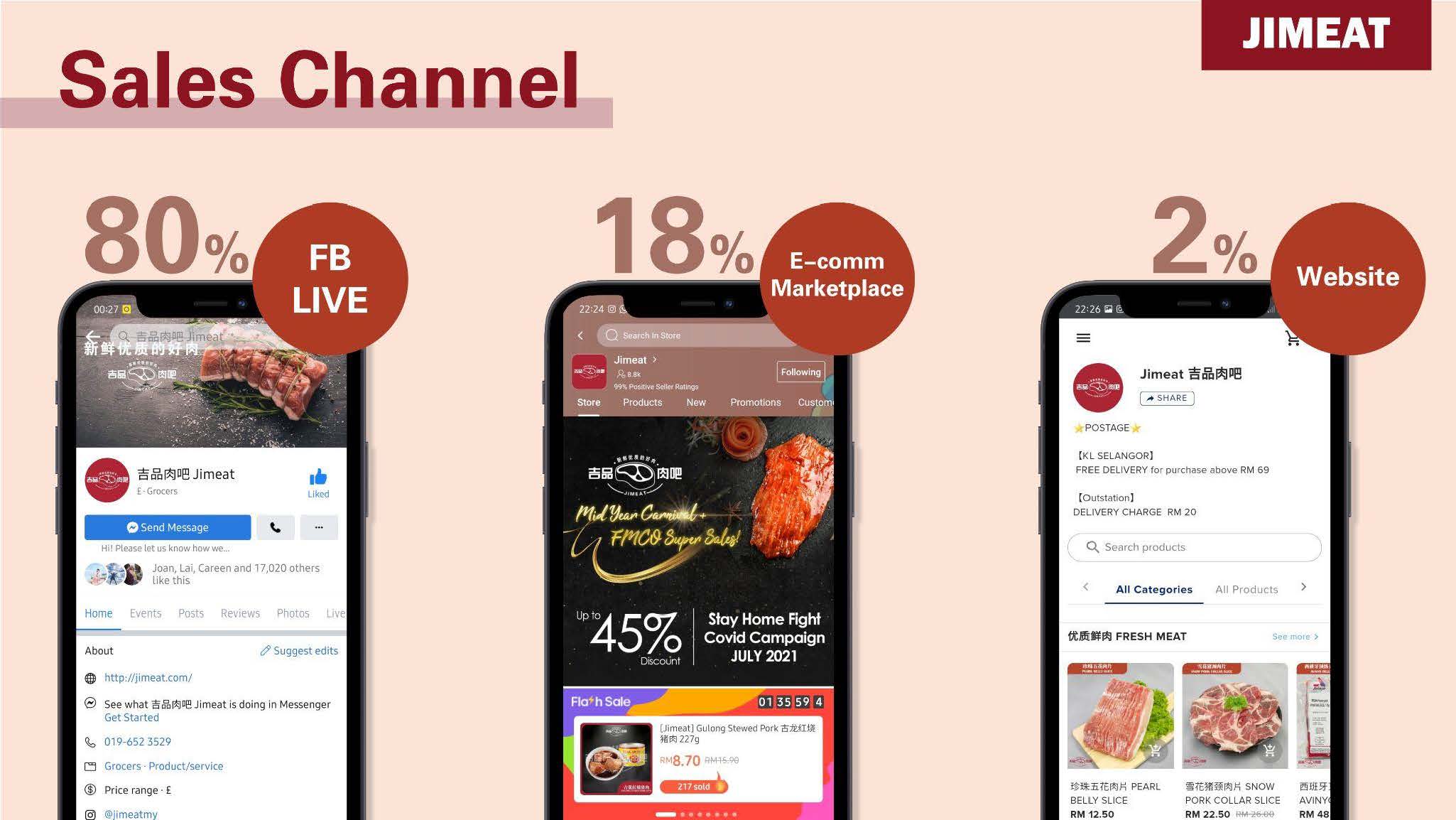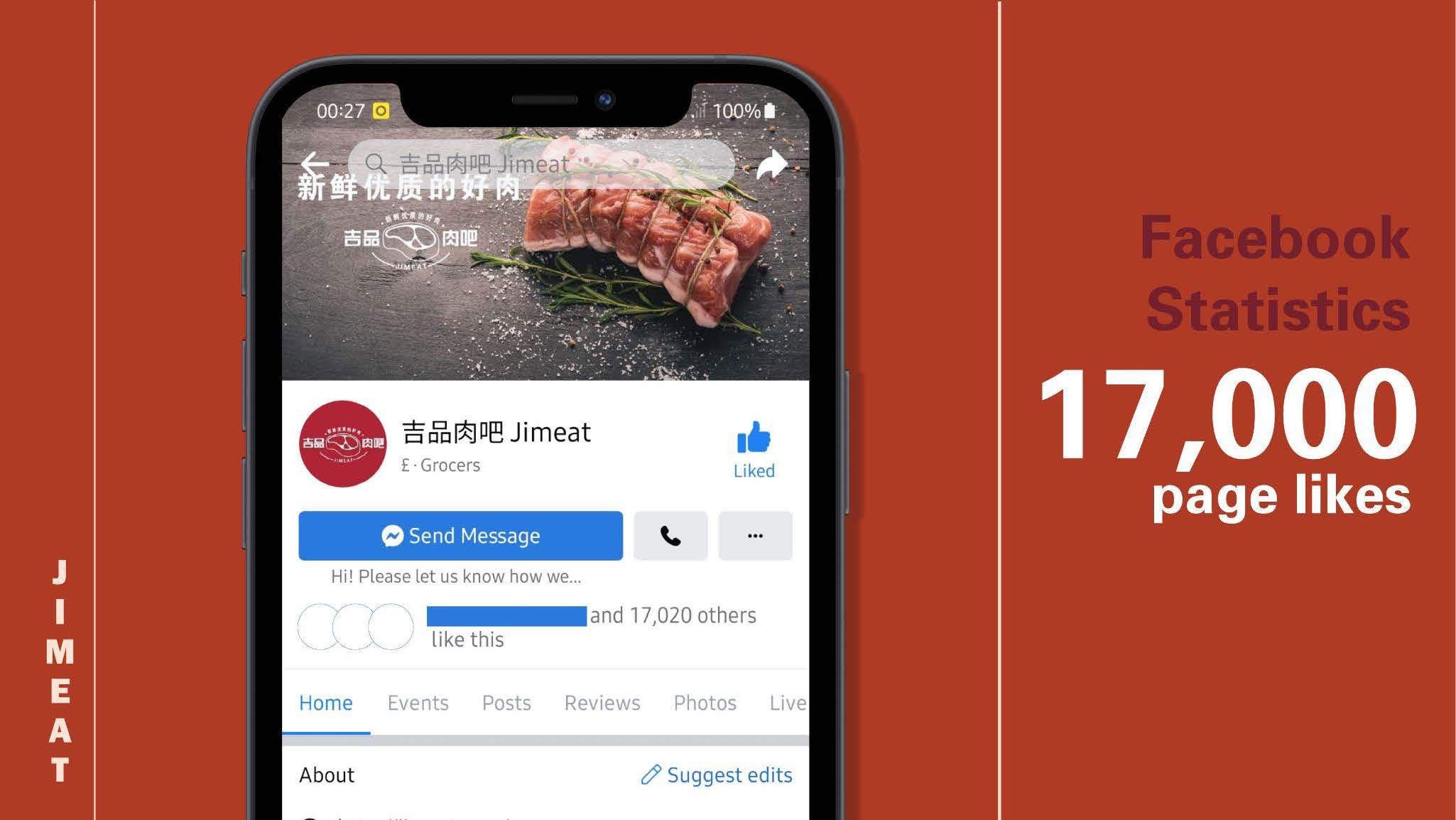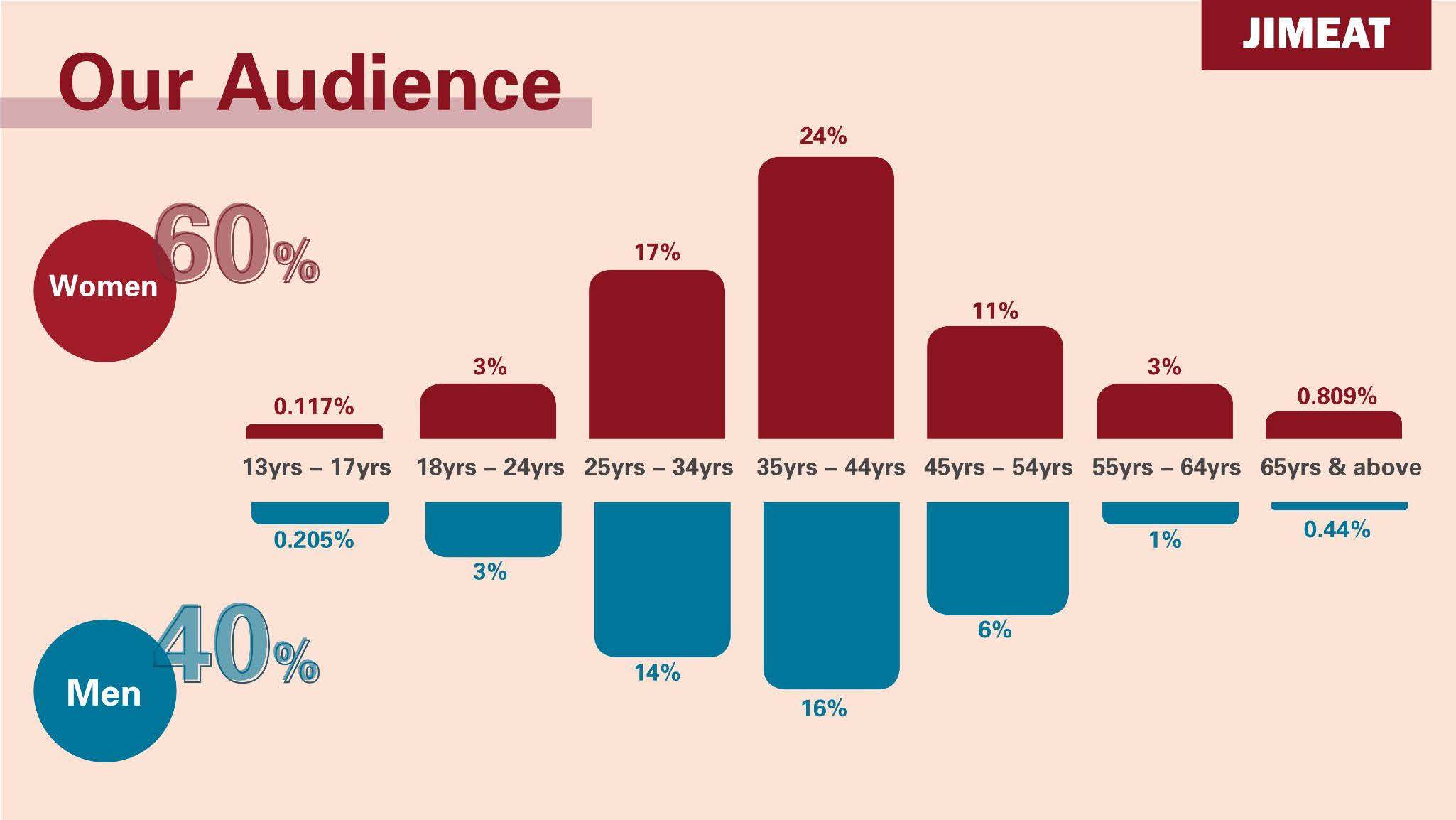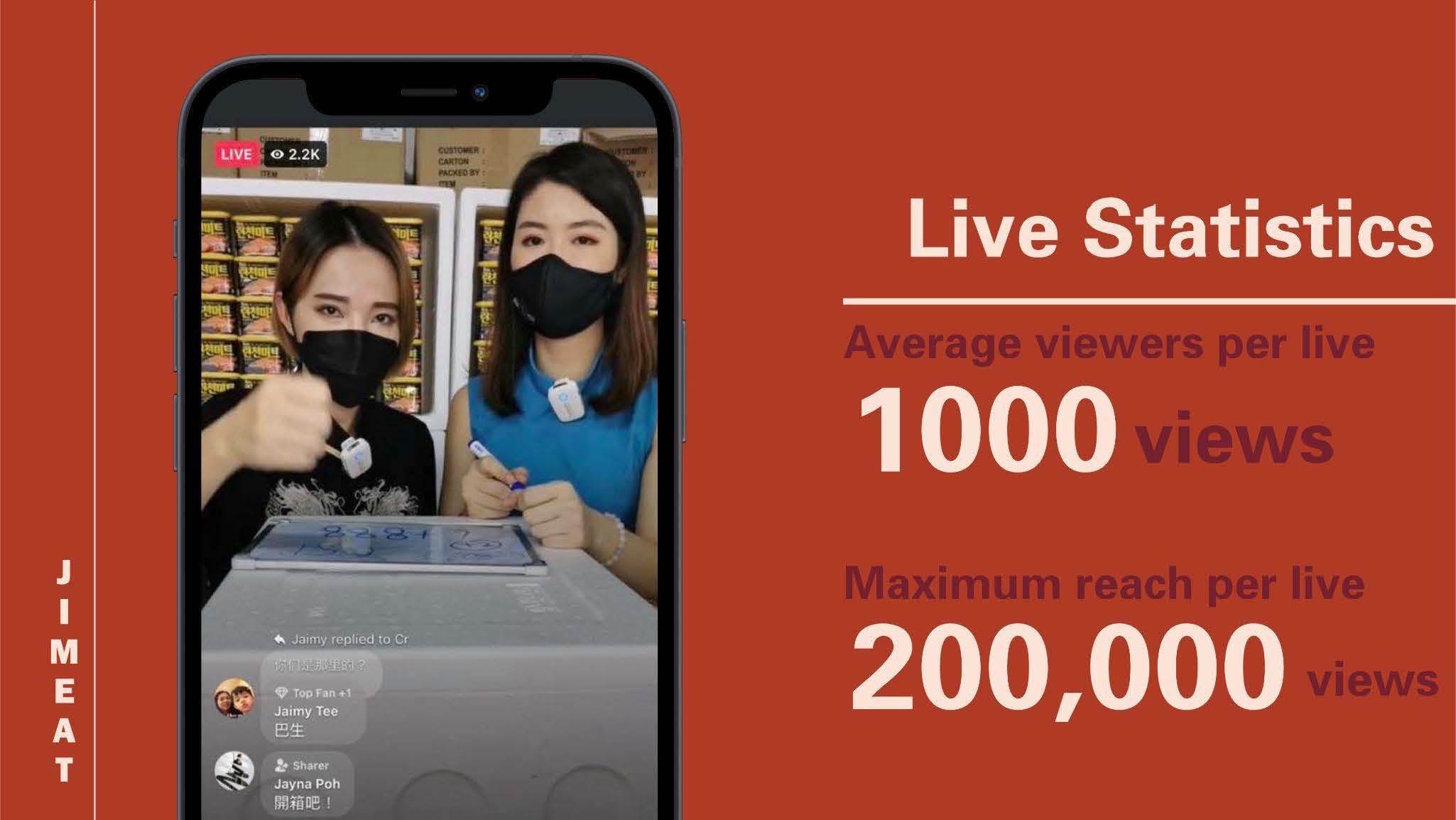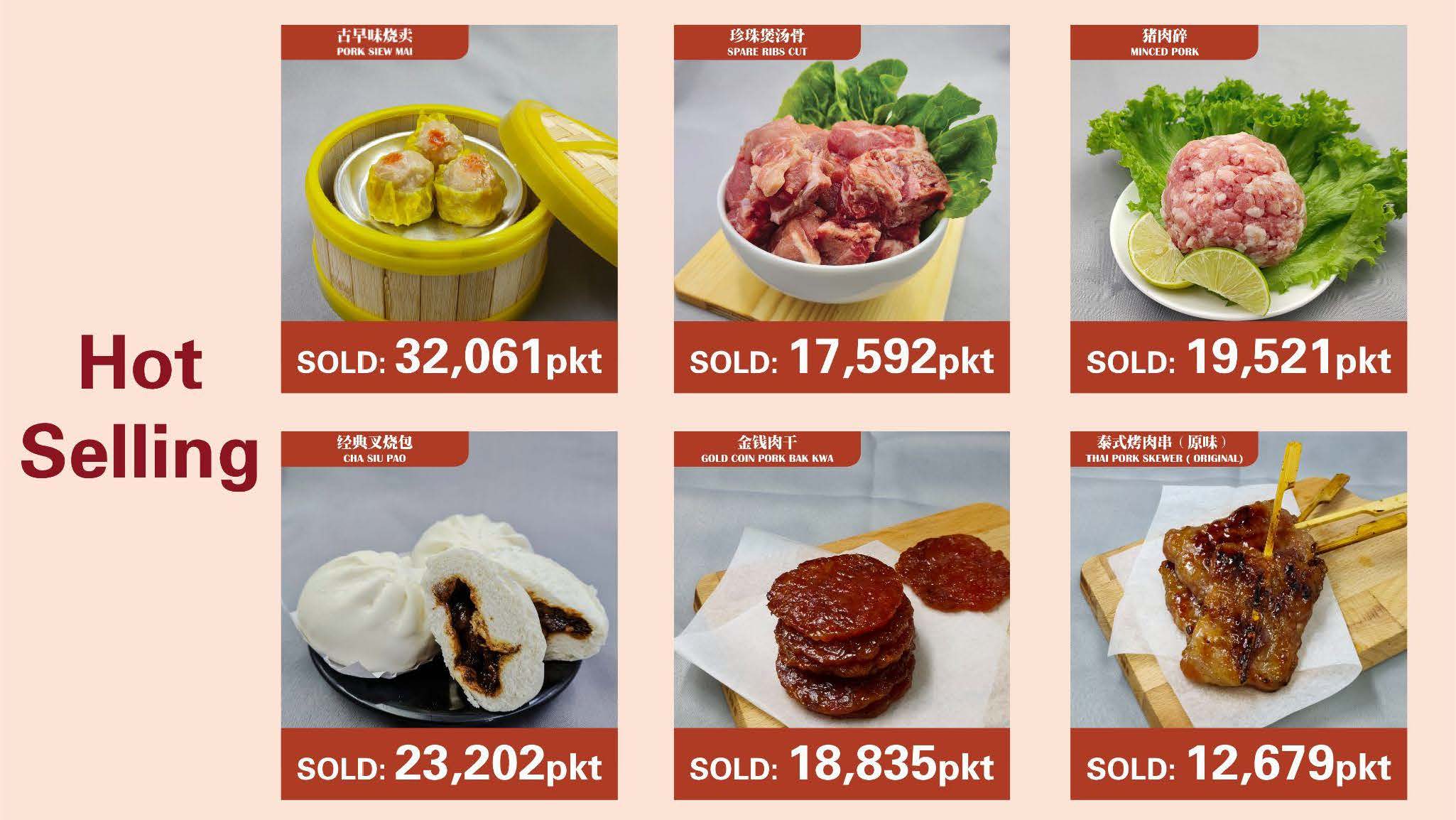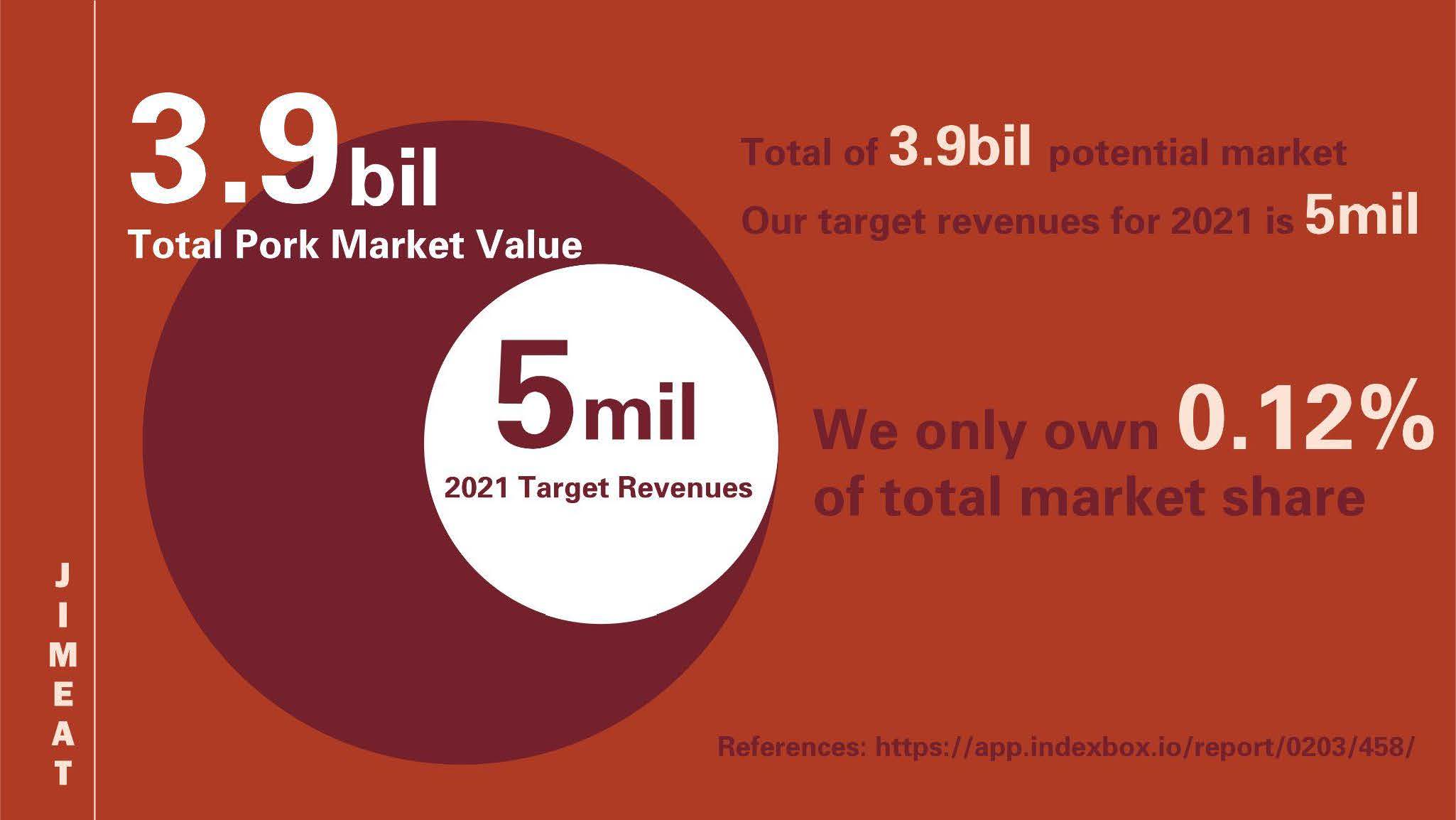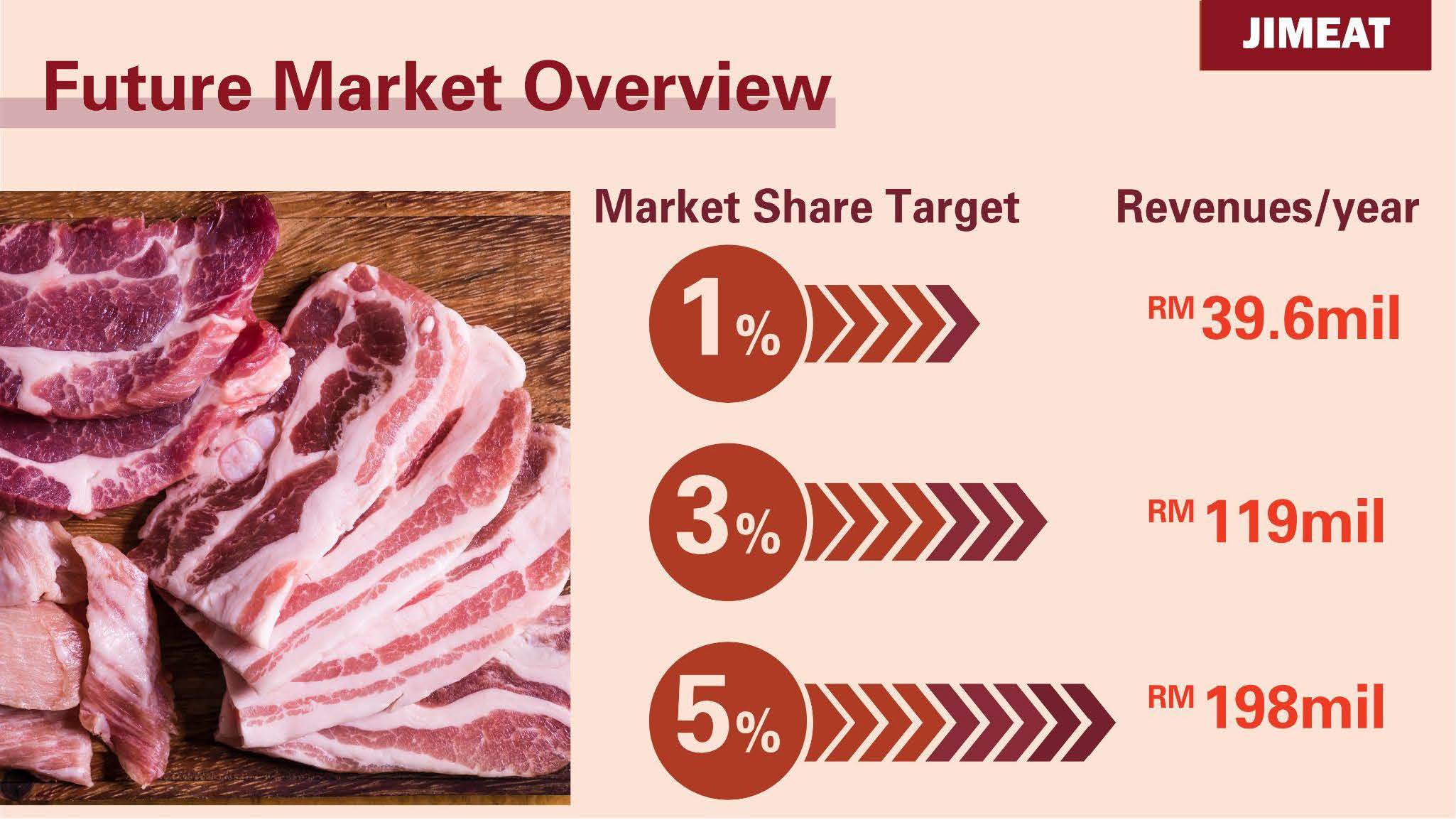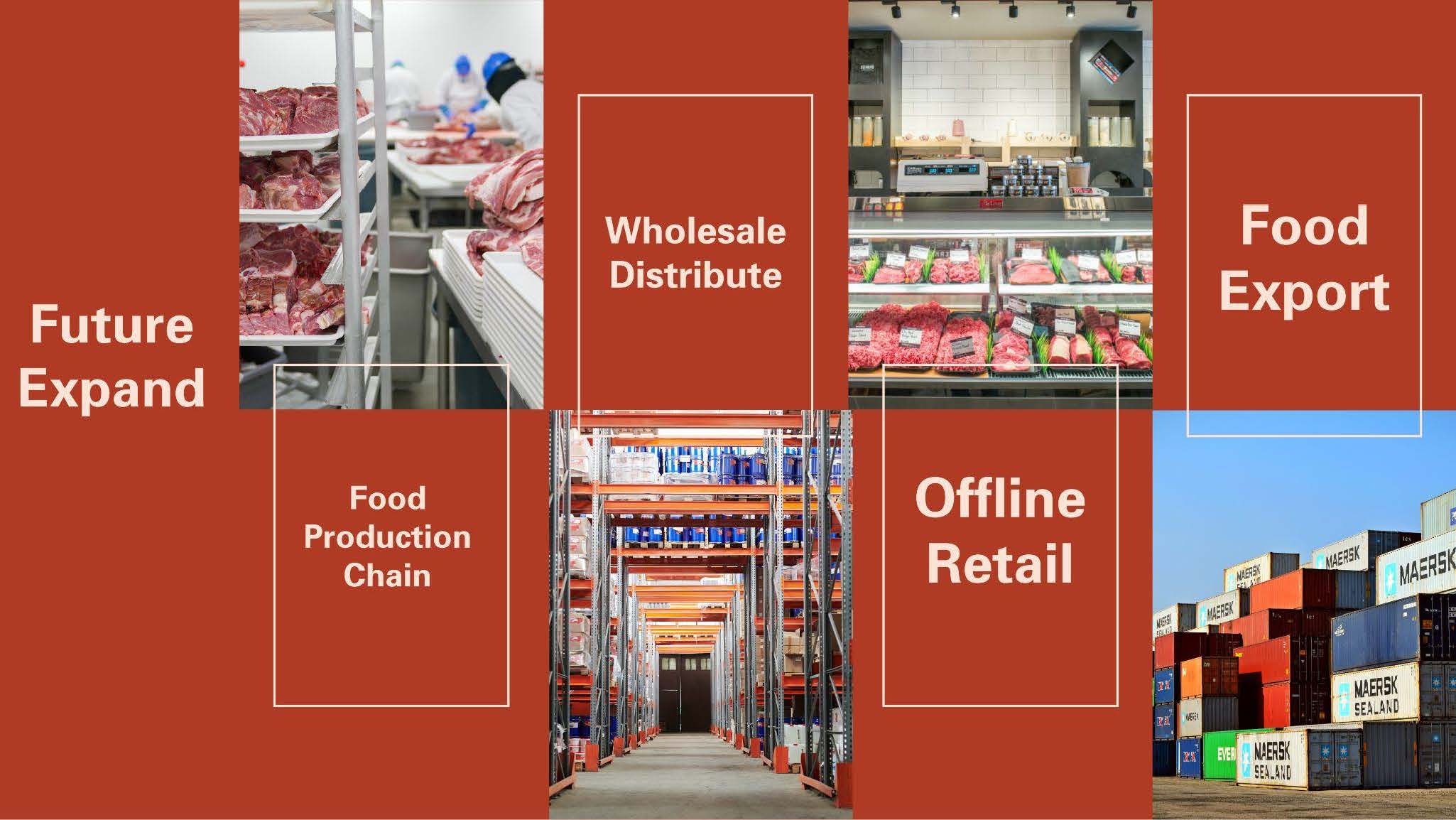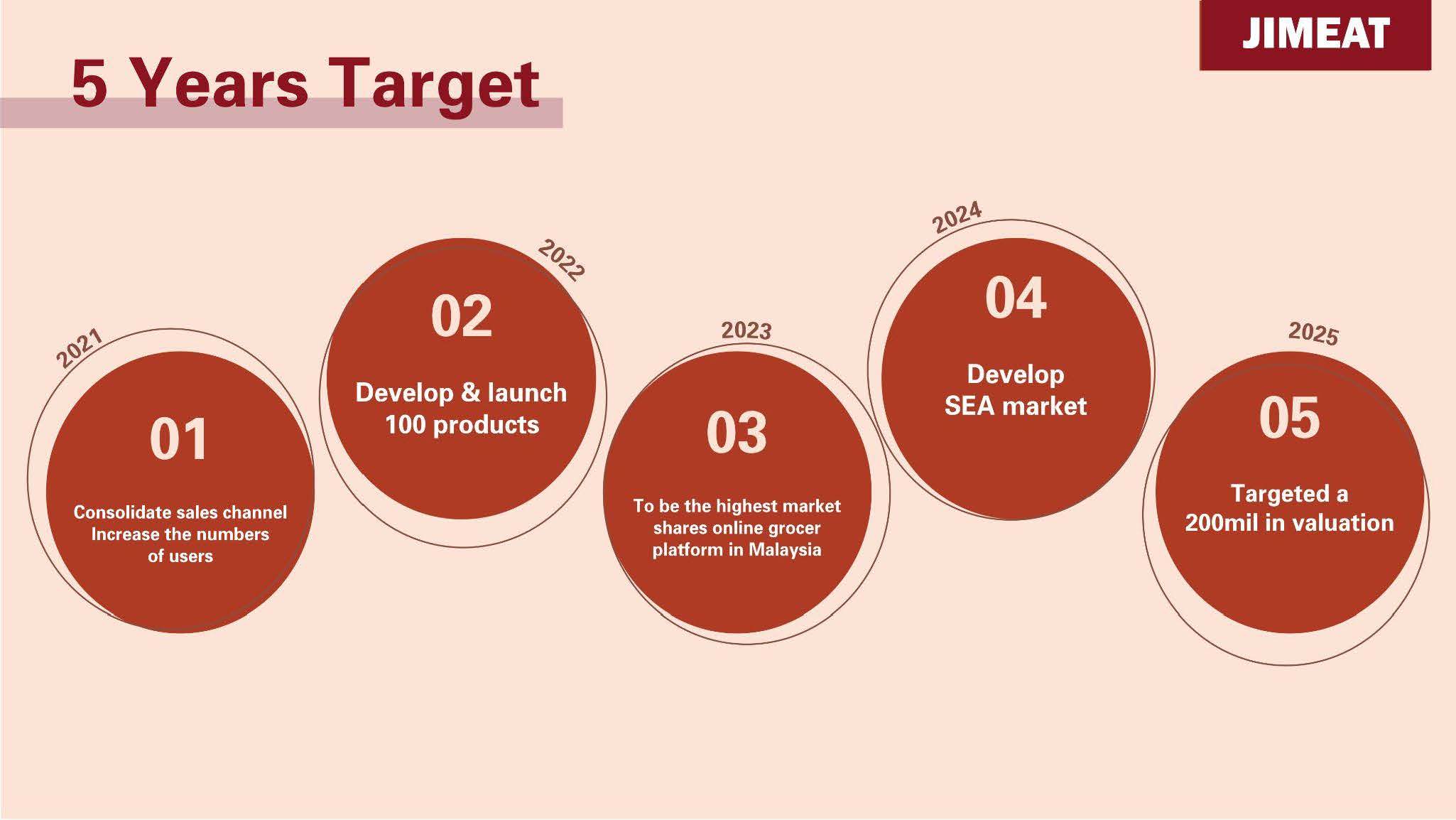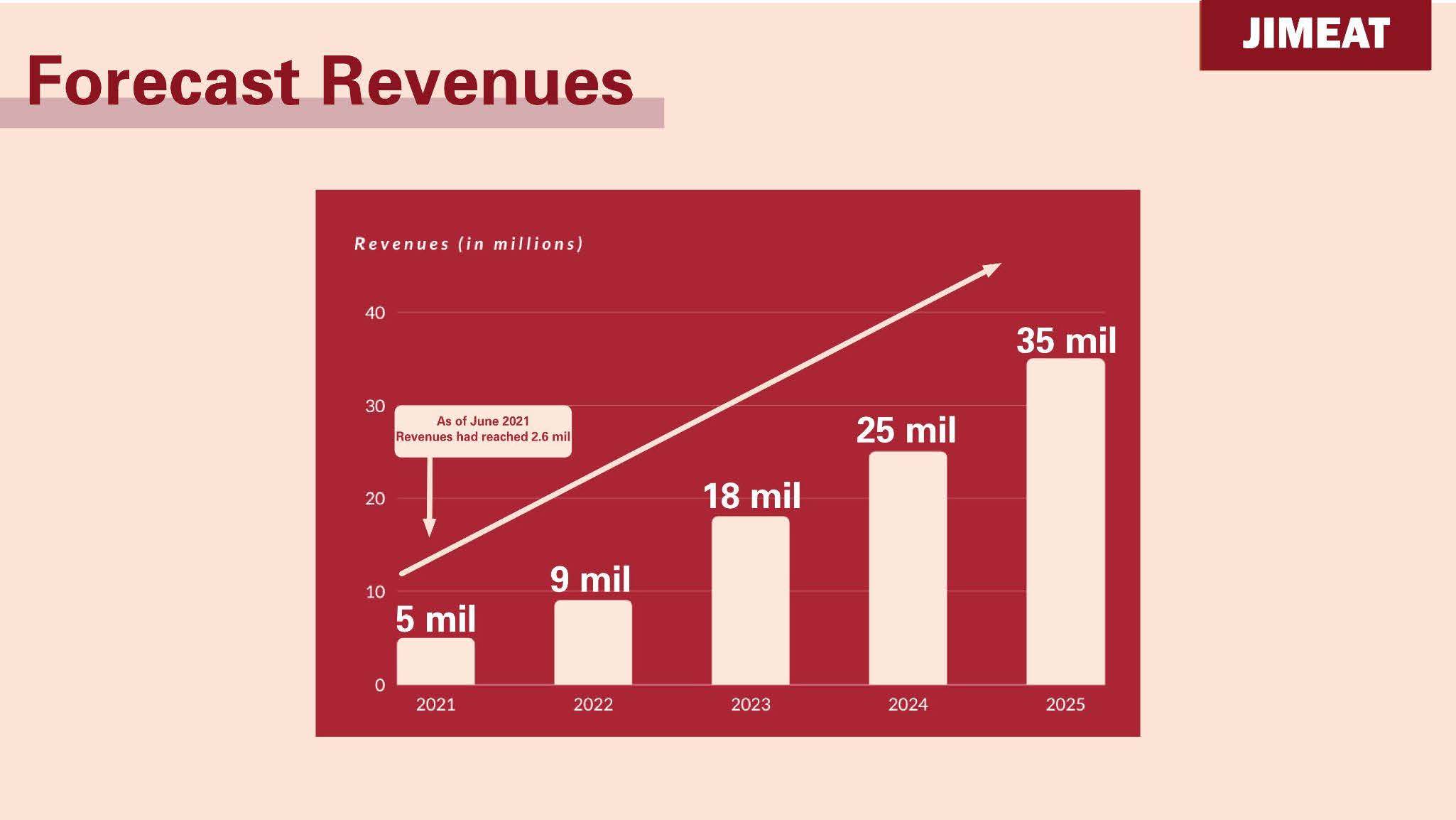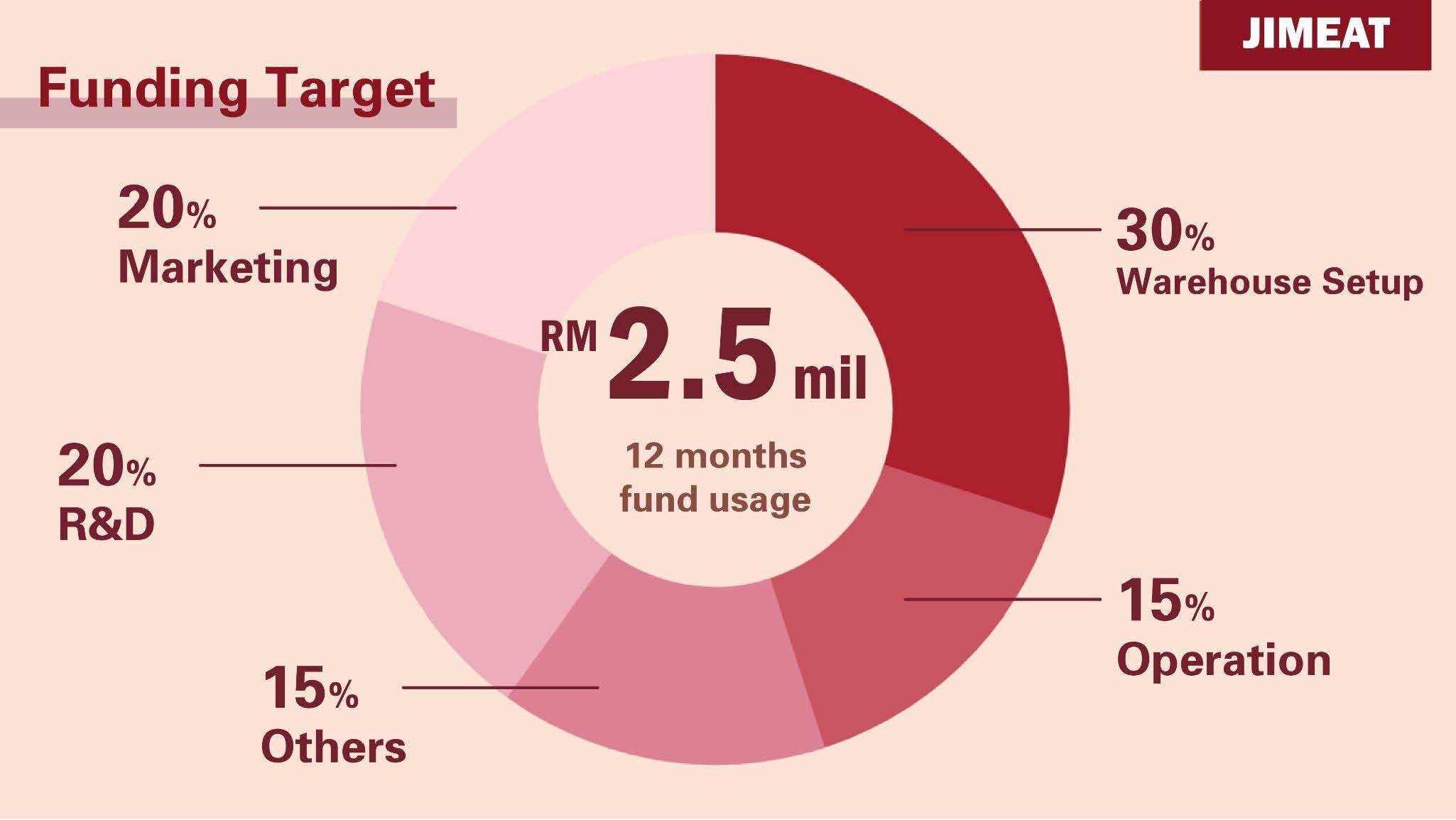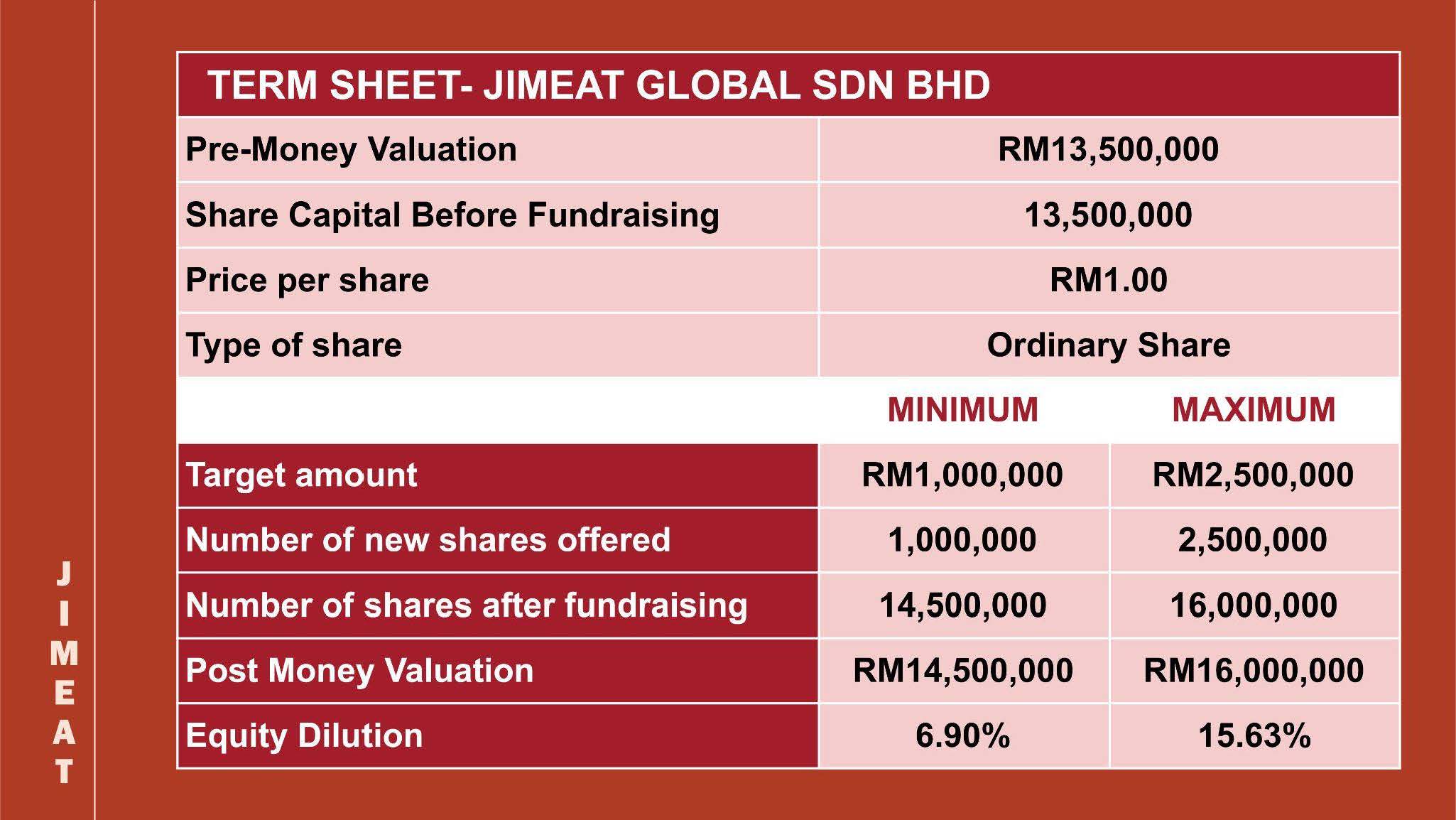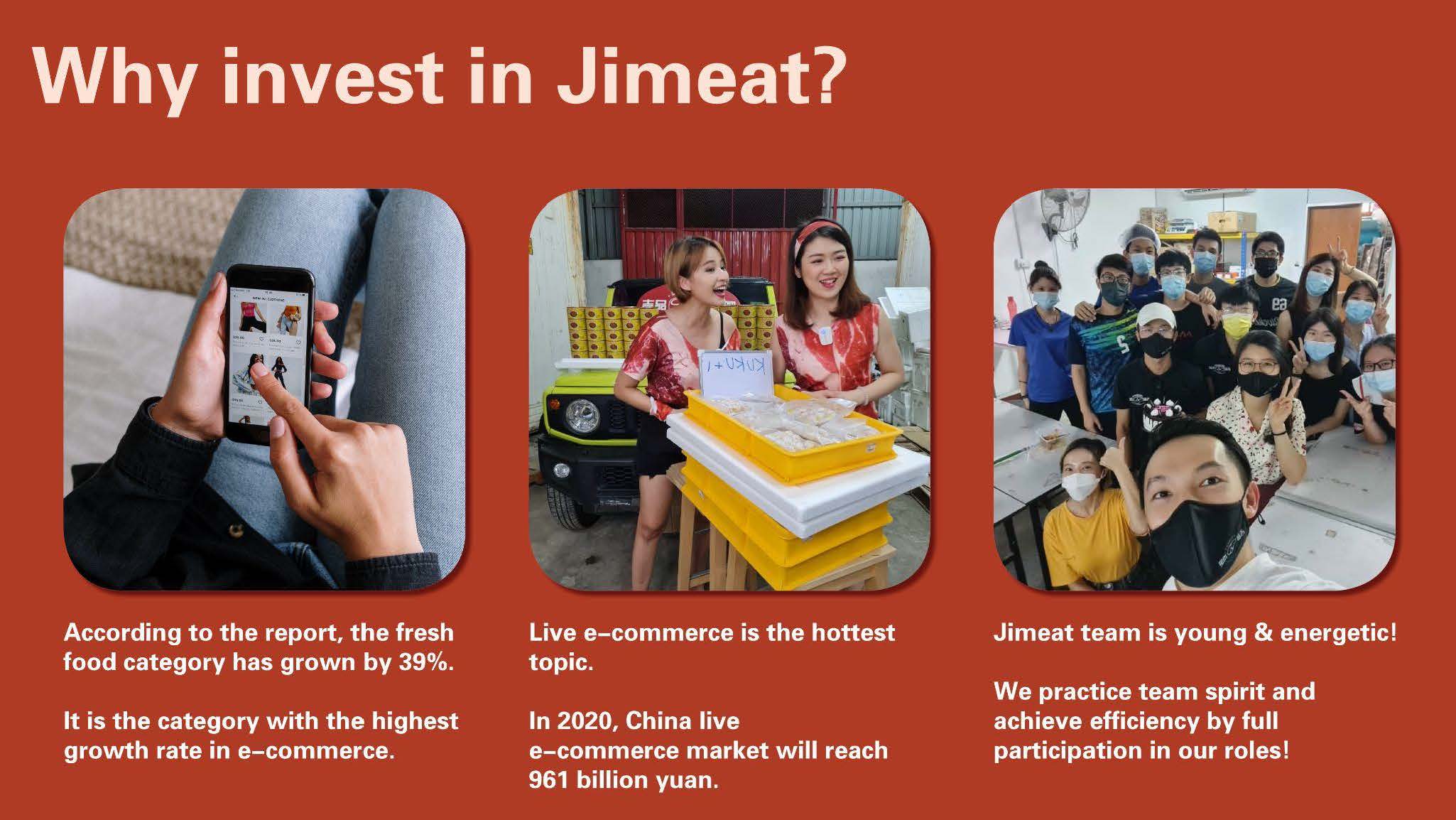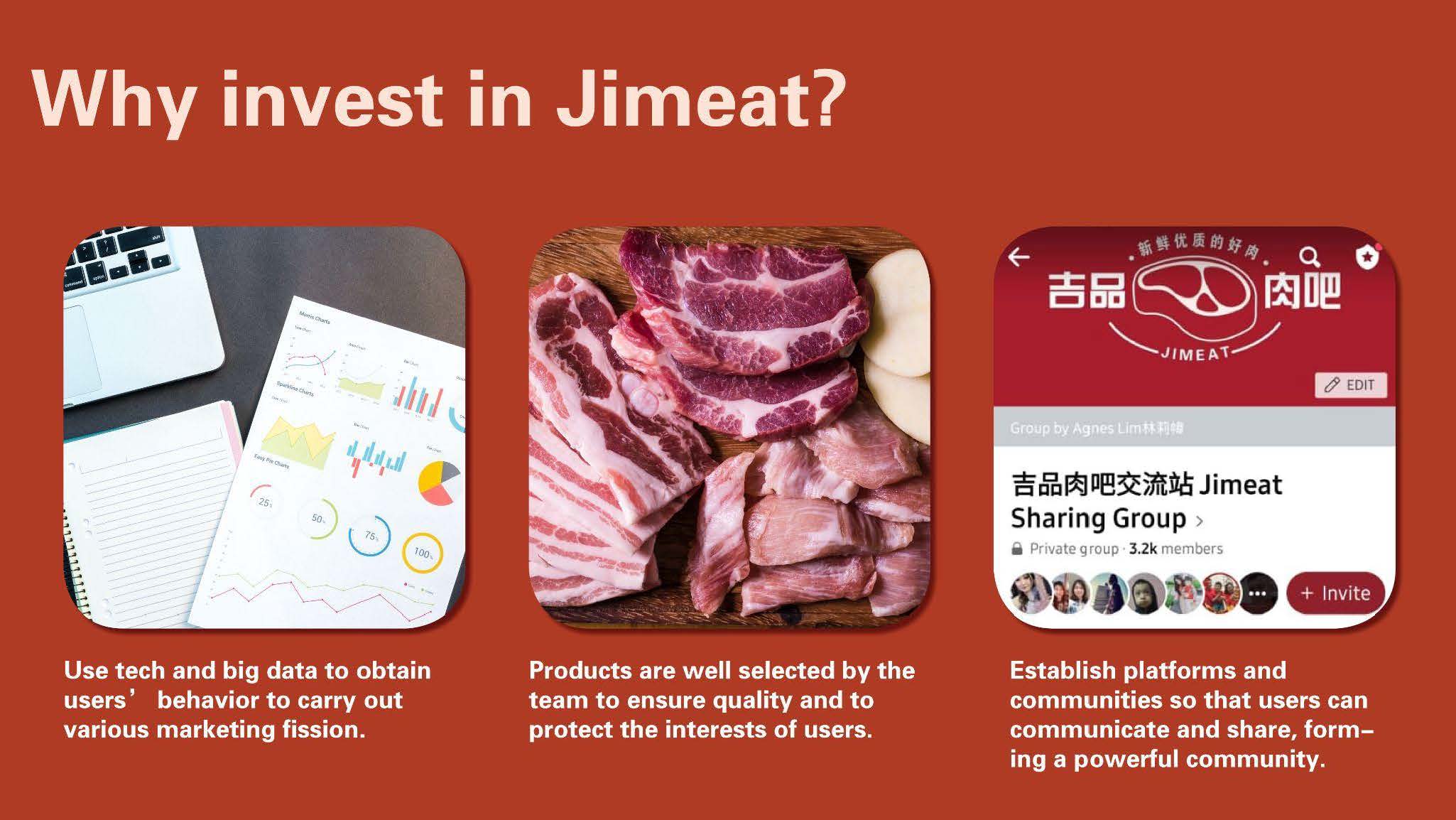 ---
For further enquiry
Please Contact Us
---