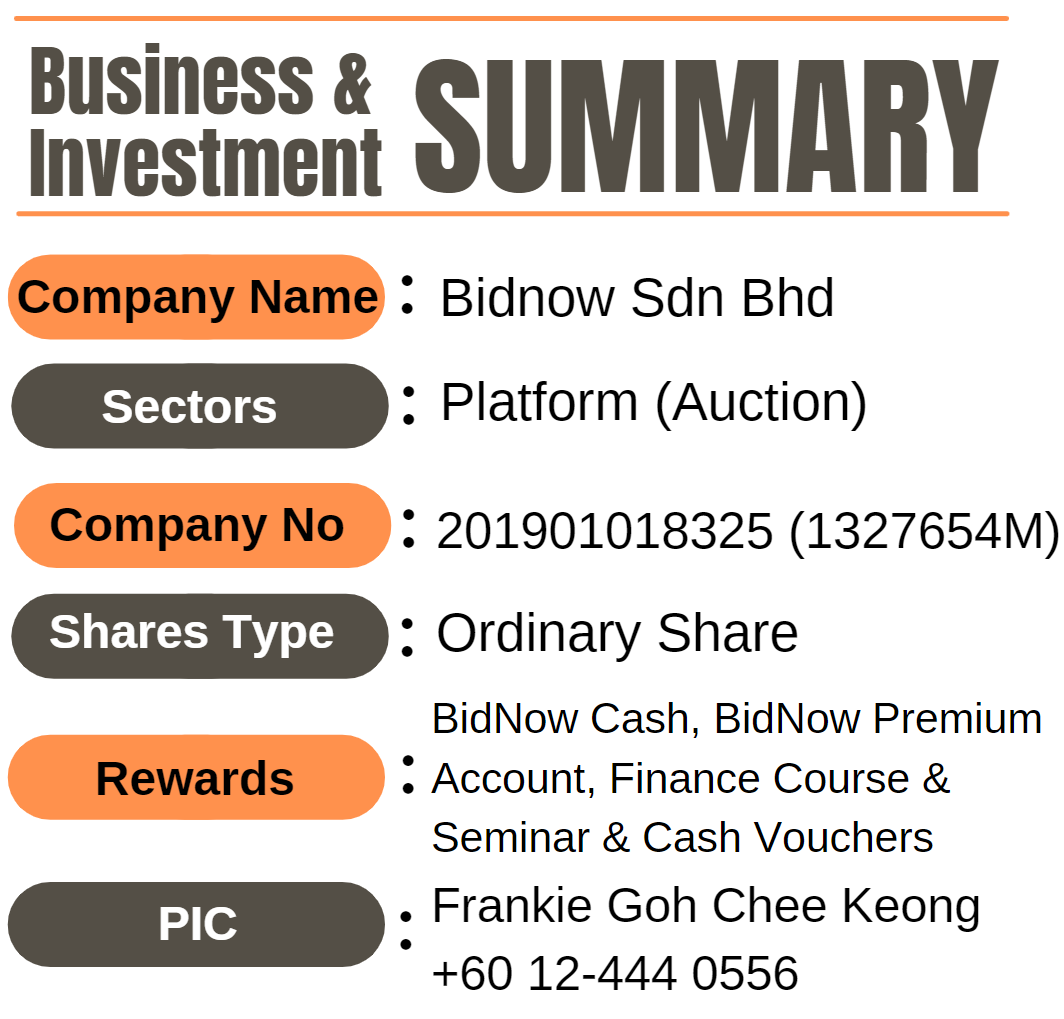 ---
About Us
BidNow, Your One-Stop Auction Platform.
It is widely known that in Malaysia's housing market, apart from buying first-hand or second-hand properties, another excellent option for investors may be the Bank auction properties.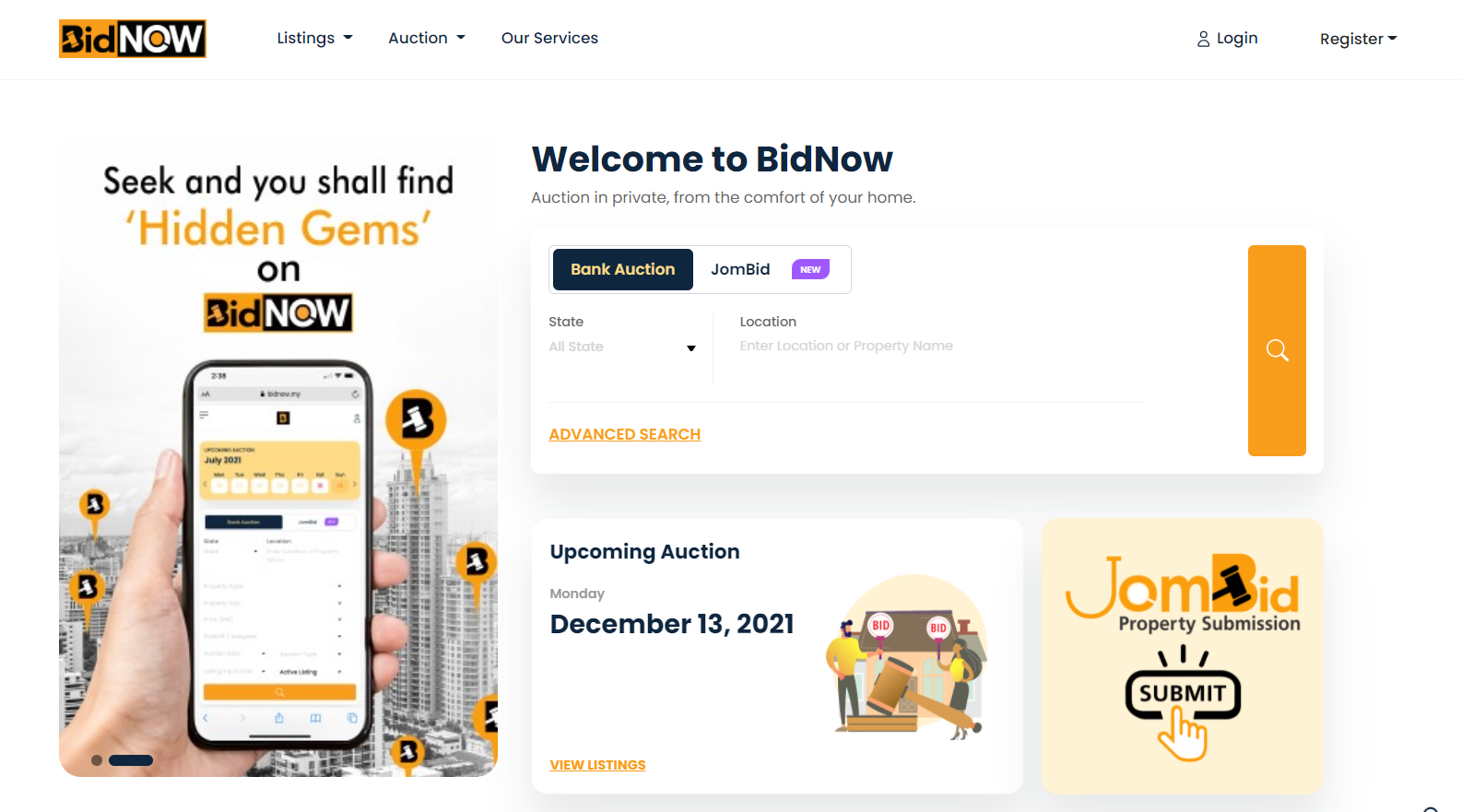 Recognizing the unlimited potential of the housing auction market, BidNow has recently devoted itself to the development of auction property investment projects across the country and has created a new one-stop consulting e-platform (https://www.BidNow.my/).
This platform allows investors, auction property brokers, or those who wish to purchase properties at relatively low prices to quickly access detailed information and professional advice regarding auction properties across Malaysia.
With a simple login to BidNow, this one-stop consulting service with multiple search functions, users from any sector only need to enter a few keywords to find the auction property of their choice. In addition, we provide professional consulting services and legal and accounting-related knowledge to all investors in the auction market.
Other than real estate auctions, users can also bid for home appliances, electrical devices, home furniture, and watches online. All products are brand new, allowing users to purchase the products they want at a substantially lower price.
Market Demand
The untapped potential for below-market auction homes has led many buyers to purchase properties at a higher price. The truth is that in the auction market, many homes are sold for 10% - 27% or more below market value but are often overlooked by buyers.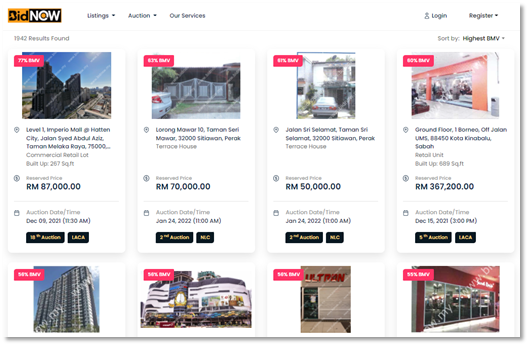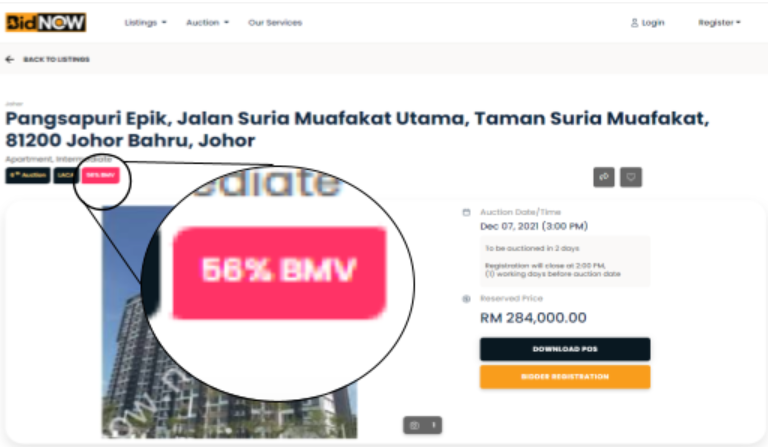 This is due to their misconceptions about auction properties and the lack of transparency in real estate auction procedures. The lack of knowledge of real estate auction procedures also leads buyers to refrain from buying because they are "afraid" of the risk associated with a lower price. Thus, they do not want to buy a property at auction.
Moreover, buyers are often worried about the price of household appliances. For a better living environment to enjoy their homes, buyers are bound to purchase appliances such as televisions, air purifiers, etc. Price point is often one of the most important factors for every buyer to consider. Every buyer wants to buy the appliances they want at a reasonable price. Therefore, they will look for familiar sellers or spend a long-time comparing price to find the appliances that meet their preferences.
The Solution
BidNow offers a comprehensive system that allows buyers to find below-market auction properties throughout Malaysia with greater ease and speed.
Besides offering buyers to search for below market value properties easily, BidNow also provides free inquiries to the users about auction inquiries, property inquiries, Proclamation of Sales, etc.
Once the user knows the details of the auctioned property, BidNow will also have an online/offline one-on-one specialist who can help the buyer check and learn more about the auctioned property and the details to minimize the risk of purchasing one. All our personnel are professionally trained in real estate auctions so that buyers can buy their ideal home with greater peace of mind, security, and purchasing at a reasonable price.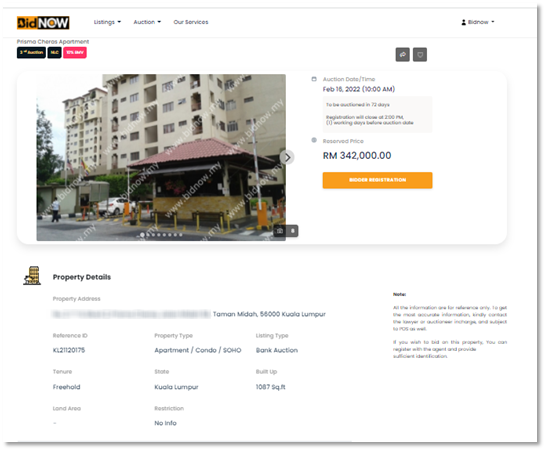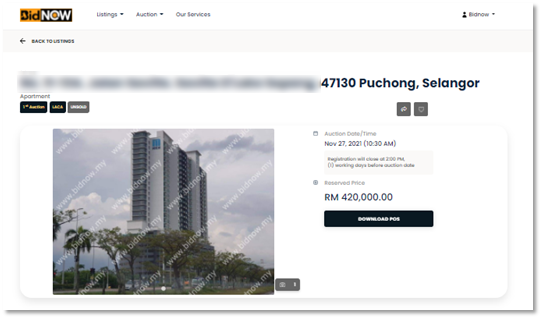 In response to the problem of overpriced appliances, BidNow also offers two new ways for users to buy appliances at a lower market price.
First, buyers can bid for their preferred product at their desired price through online auctions and then pay for it. In the online auction process, buyers control the price rather than the traditional buying and selling model (where the seller determines the price).
Buyers can abandon the bid if the price is too high for them, yet there is no need to feel bad because BidNow has a second model, the group buying model. As the name implies, you can get a high amount of BidNow Cash by putting an order together.
Through BidNow 's platform, buyers can buy the products they want at a lower price and save time and money without comparing prices from one shop to another.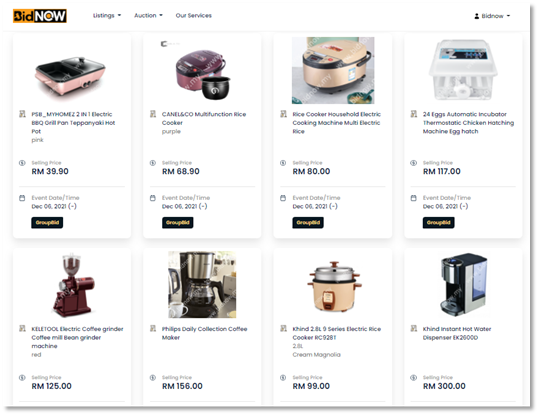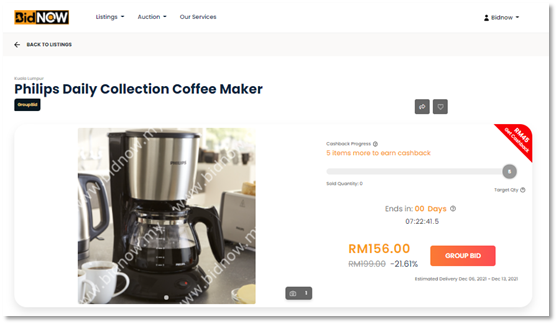 Company's Philosophy
To expand out of Malaysia by opening the Southeast Asian market; to become the strongest auction property database and e-bidding platform, allowing more products to be sold by online auction. Our vision is to provide the most professional and end-to-end support to auction property buyers. We hope that soon, we will become the No.1 Bidding Platform in Southeast Asia.
Business Model
Our current business model is divided into 4 types.
1. Subscription Fee
Users can upgrade to more real estate consulting for a fee.
2. SAAS
The company provides resources and a platform for merchants to sell their products at a revenue stream. BidNow has generated many users' inquiries and registrations to help increase the exposure of the merchants' products. Besides, sellers can choose more than one selling method, such as an online auction or group auction.
3. Professional Training Fees
We hold monthly professional real estate auctioneer training for anyone interested in participating or joining us as an agent or investor.
4. Marketing Fee
Our company will help merchants advertise their products to a larger audience (including auction homes and home appliance retailers). A marketing fee will be charged to the seller after a successful transaction.
Our Success Stories
In 2020, BidNow successfully raised 2.1 million and gained around 384 minority shareholders on its first crowdfunding platform. At the same time, we were also awarded the Malaysia Books of Record "Highest Investment Amount Received for an Equity Crowdfunding Project in a day." This is more than just an award but a public recognition for BidNow.
BidNow's Significance to Society
BidNow wants to alleviate the public's misconceptions and misinformation about auctions and remove the "fear" factor that keeps people from auctions. BidNow aims to help bidders avoid falling into the pitfalls of auctions such as non-transferable houses, liquidation of developers, freezing orders, etc.
As such, we have introduced professional customer service/professional offline one-on-one support so that bidders can fully understand and analyze the issues and risks of the house to avoid any risks.
Other than that, BidNow has also managed to reduce the problems that banks used to encounter before. For example, the bidder had to forfeit 10% of his deposit to the bank if he could not get the money.
This is not just a loss for the bidders but also the banks.
Track Record of Excellence
Since its establishment in June 2019, BidNow's active user base has continued to grow over time.
It has grown from 531 to 20,212 people, an average of over 9,000 people a year. In the coming year, BidNow will also add more products to its range and allow users to go not only B2C but also C2C.
Future Forecast
1. To build the strongest auction platform in Malaysia
2. To provide a platform for buying more products such as home appliances, furniture, and even renovations.
3. Provide a complete e-bidding system for banks, auction houses, and charity organizations.
4. Create a network that allows the public to connect with professional bodies more easily
5. Collaborate with real estate agents in the market to achieve a win-win model
6. Expanding into the Southeast Asian market:
- We have already set up a company and website in Singapore
- We will also set up new companies in Indonesia
Funding Purpose
We will use 20% of the funds raised from the crowdfunding project for operating expenses, another 20% for software upgrades, and 20% for expanding the international market, while the remaining 40% for marketing.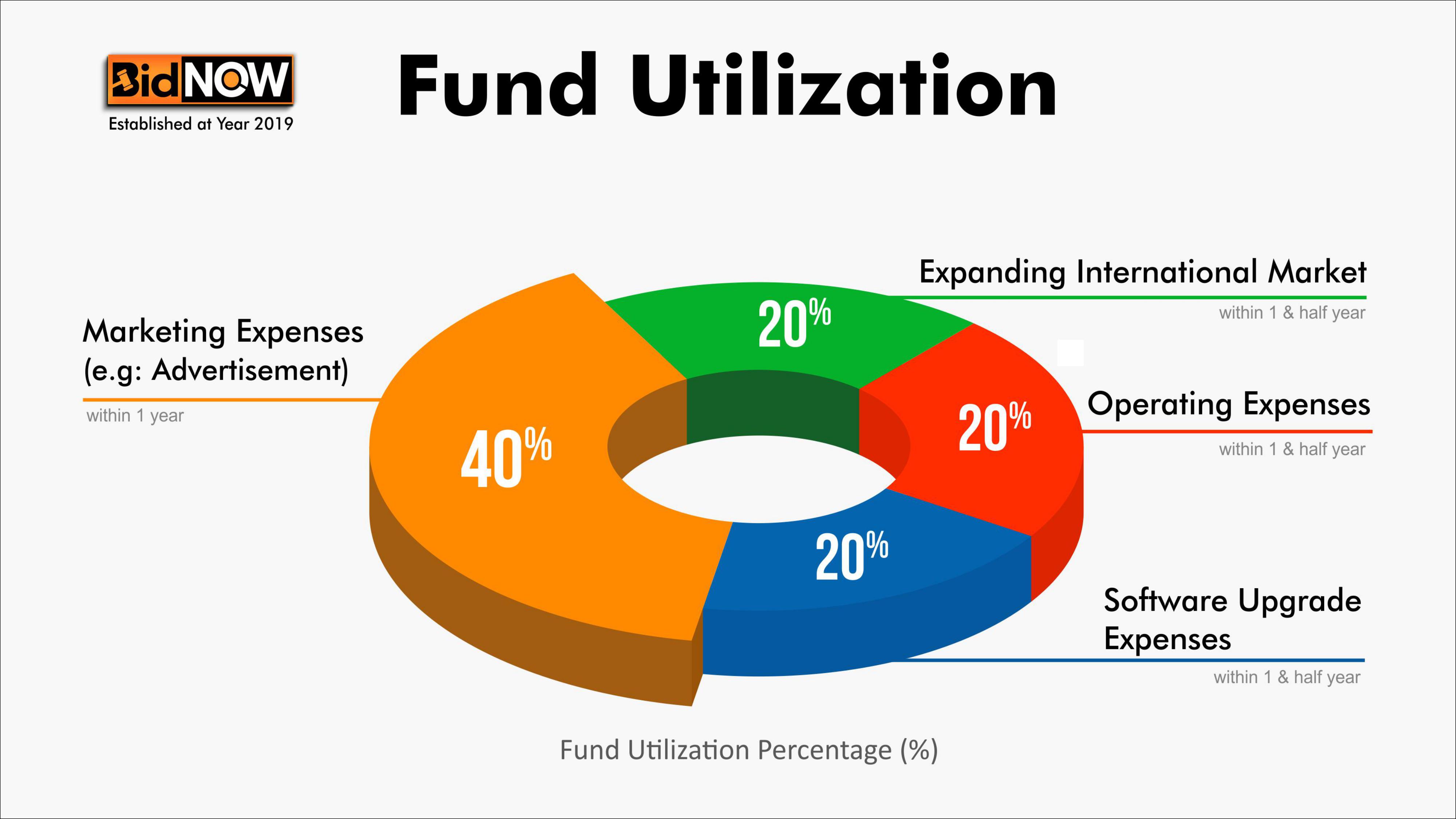 Core Management Team
Mr. Frankie Goh Chee Keong
Founder & Chief Executive Officer
Mr. Chris Yong Kin Siong
Co-Founder & Chief Marketing Officer
Mr. Ivan Goh Chee Hoe
Chief Financial Officer
He has accumulated extensive experience in corporate audit, taxation, and corporate advisory services over the years

Appointed as an Executive Director of a listed company in Malaysia and successfully assisted the company in completing a business acquisition project worth over RM50 million
Mr. Sean Lee Wei Sheng
Chief Technology Officer
He has worked in software development for 9 years in start-ups and the industrial sector, developing and manufacturing various technology products.

Currently pursuing a Master's in Business Management
---
For further enquiry
---
Website : https://www.bidnow.my/
Facebook : https://www.facebook.com/BidNow.my/
Instagram : https://www.instagram.com/bidnow.my/
Whatapps : Contact Us
---
Term Sheet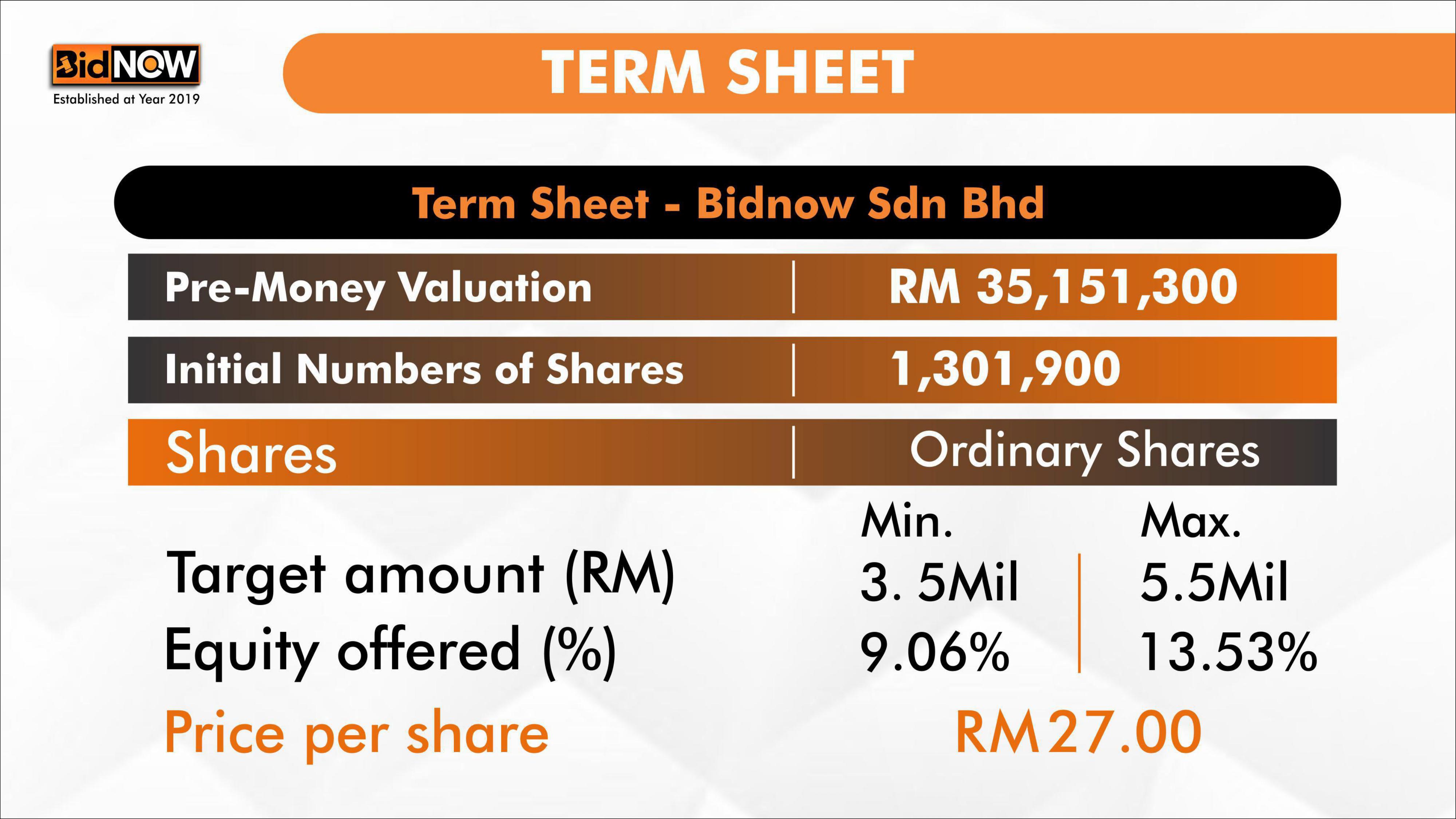 ---
Investment Packages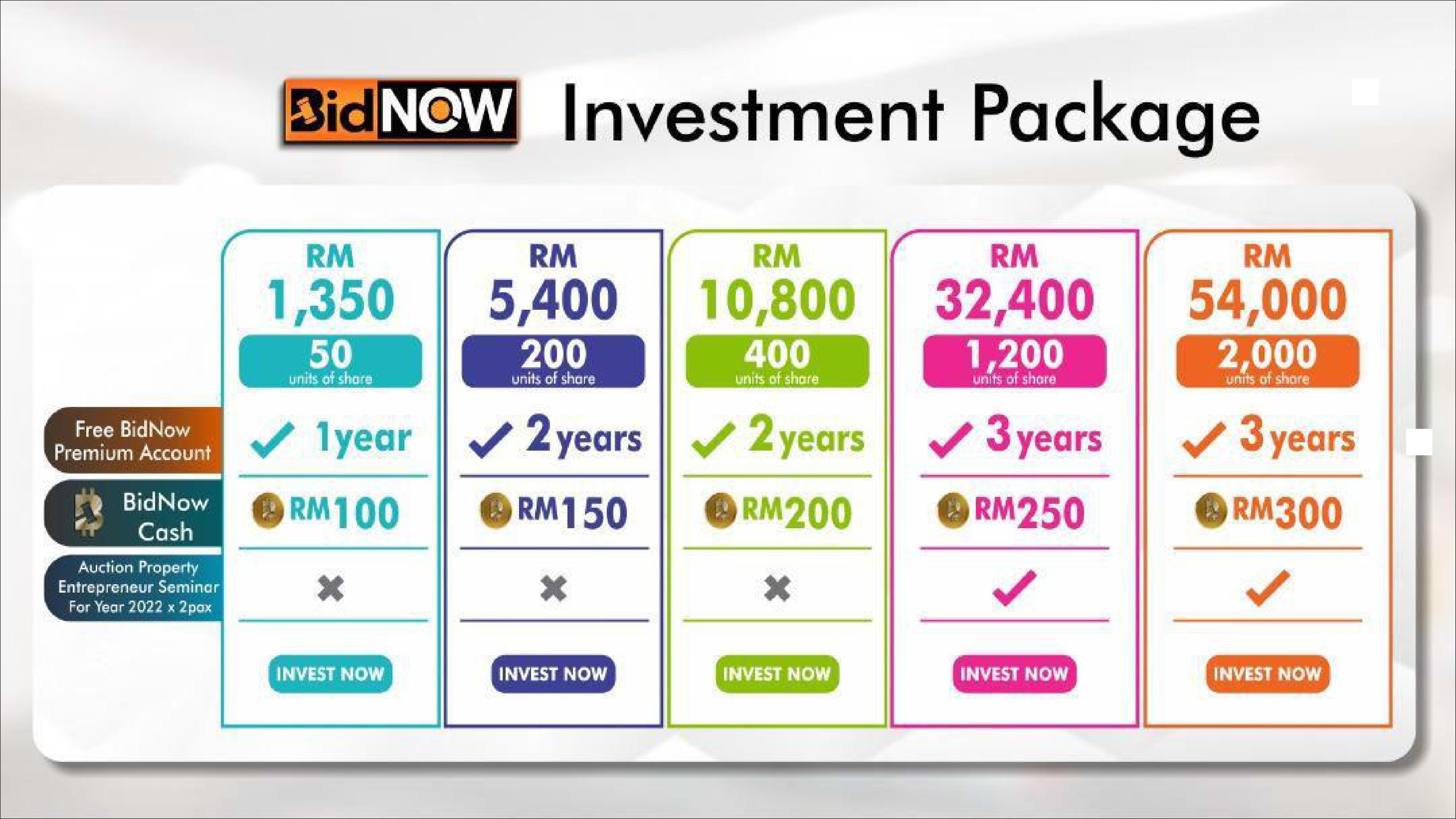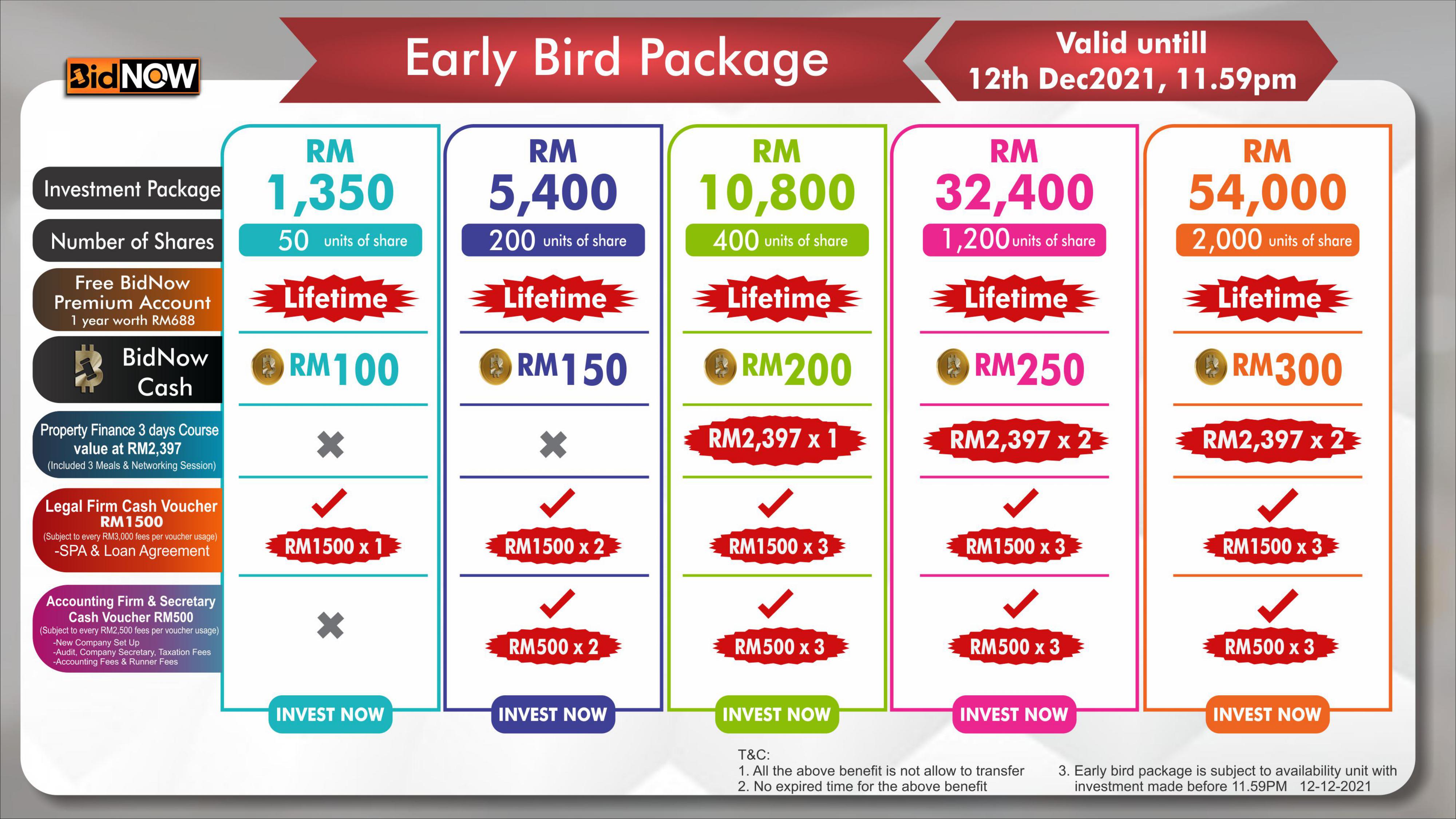 ---
Core Team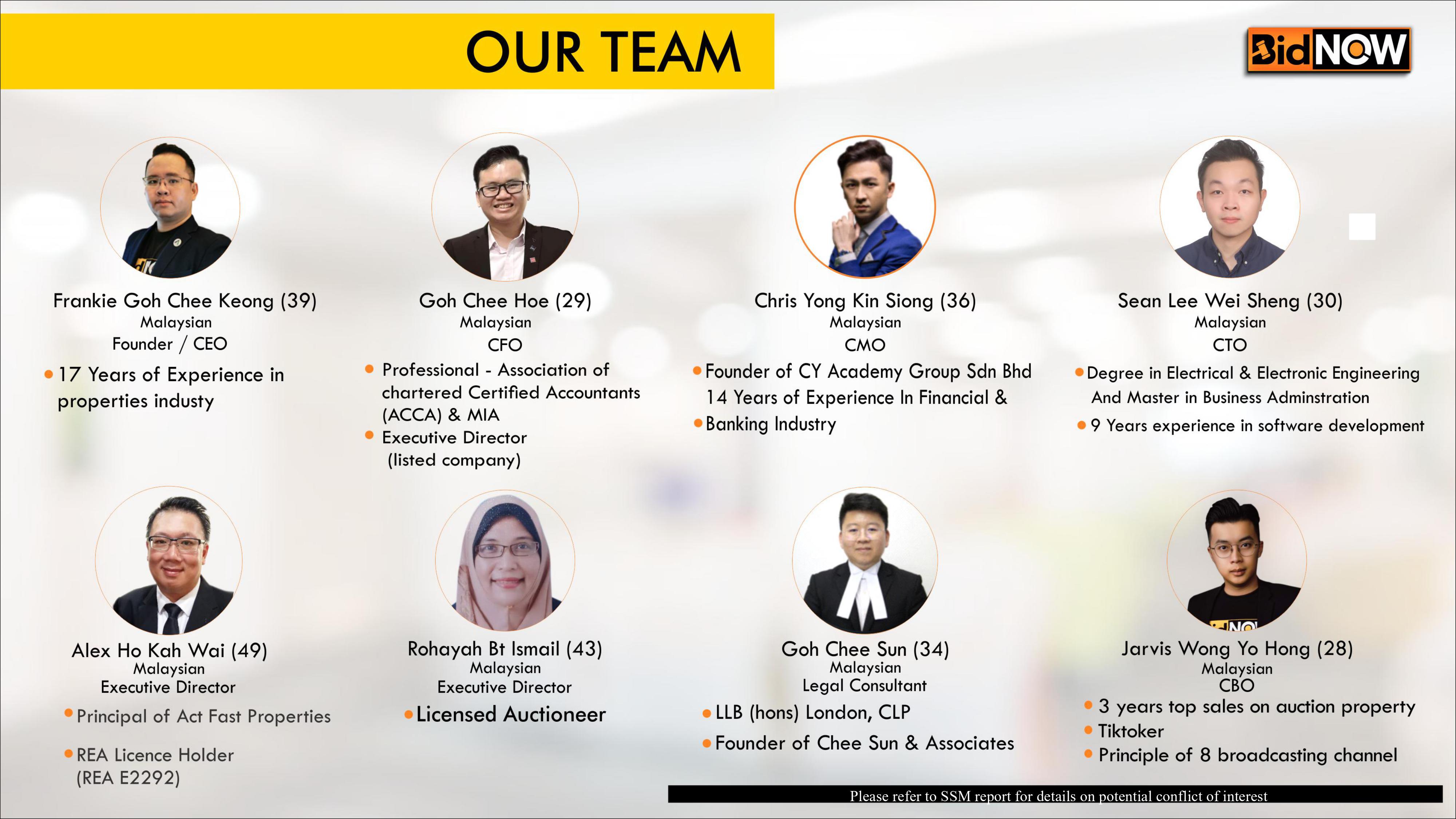 ---
For further enquiry
---
Shareholding Structure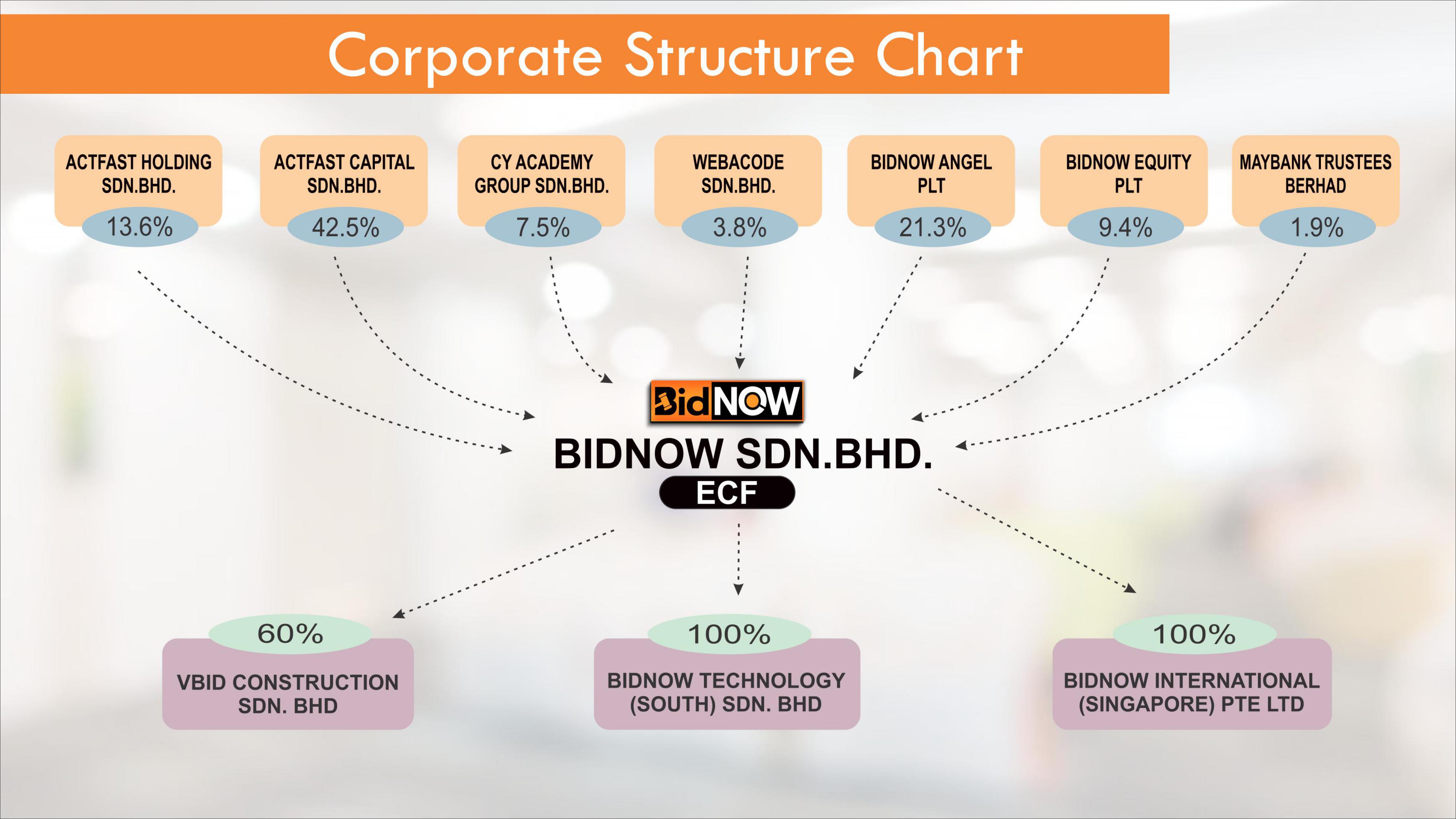 ---
Founder's Pitch Deck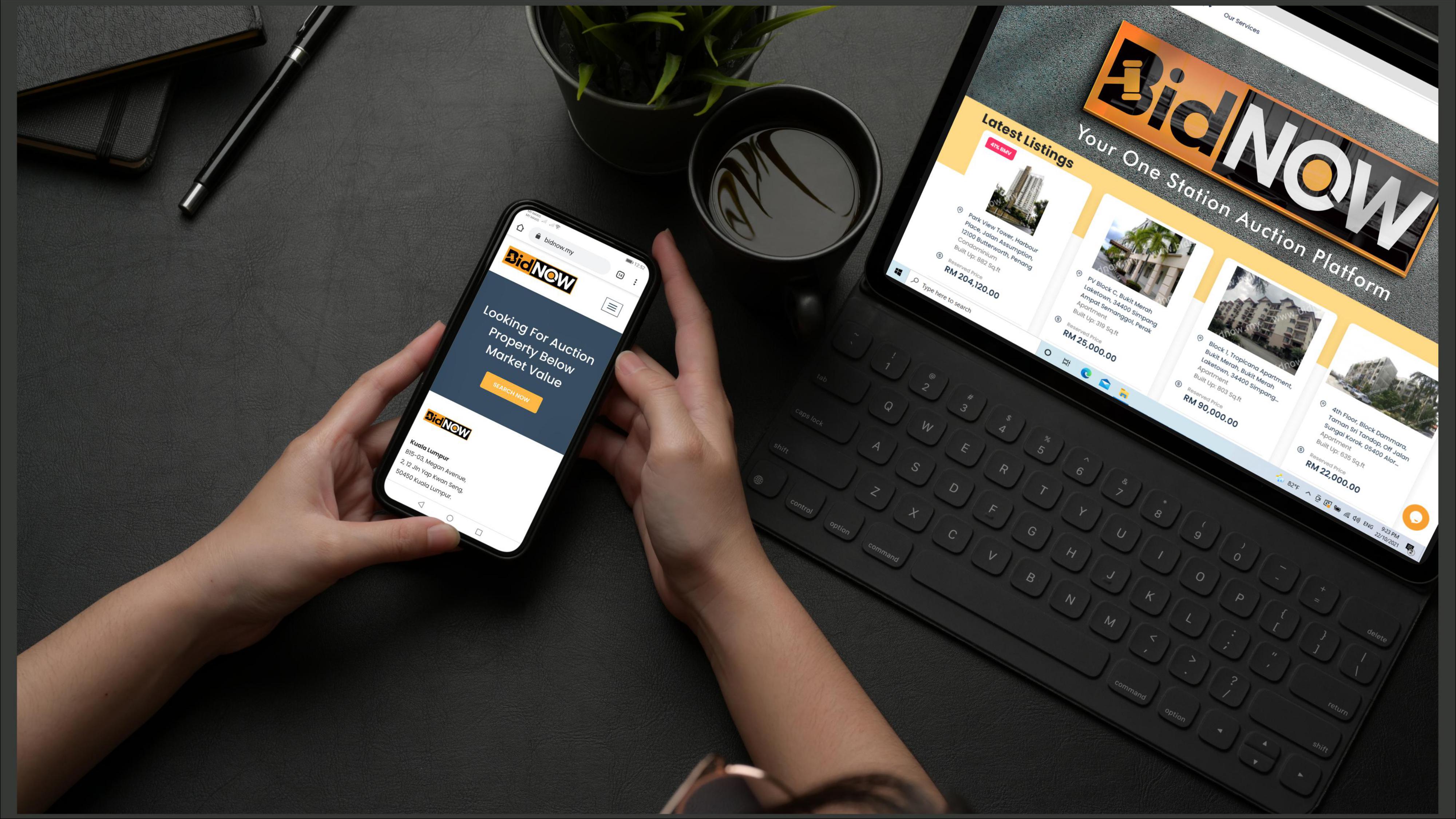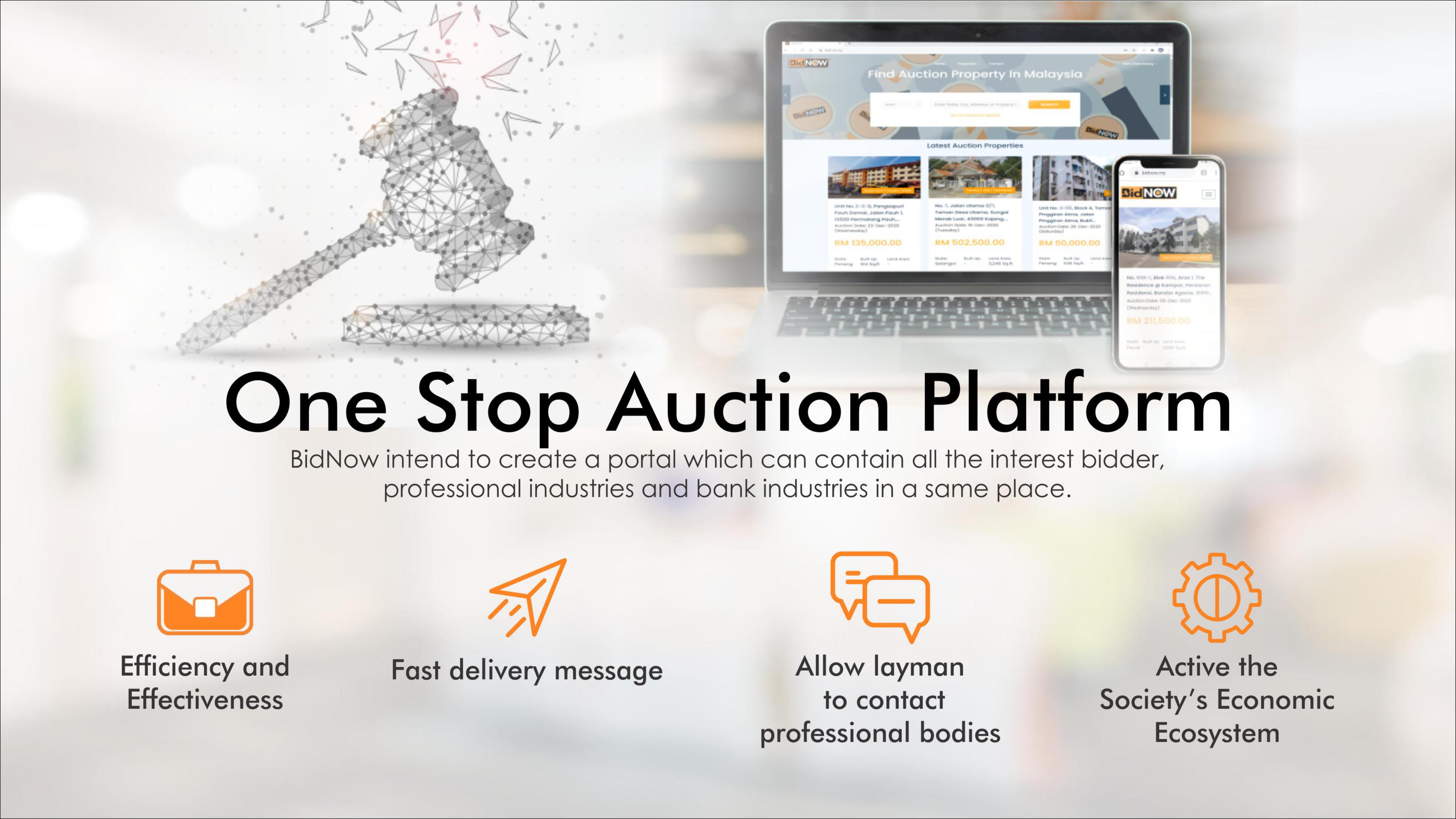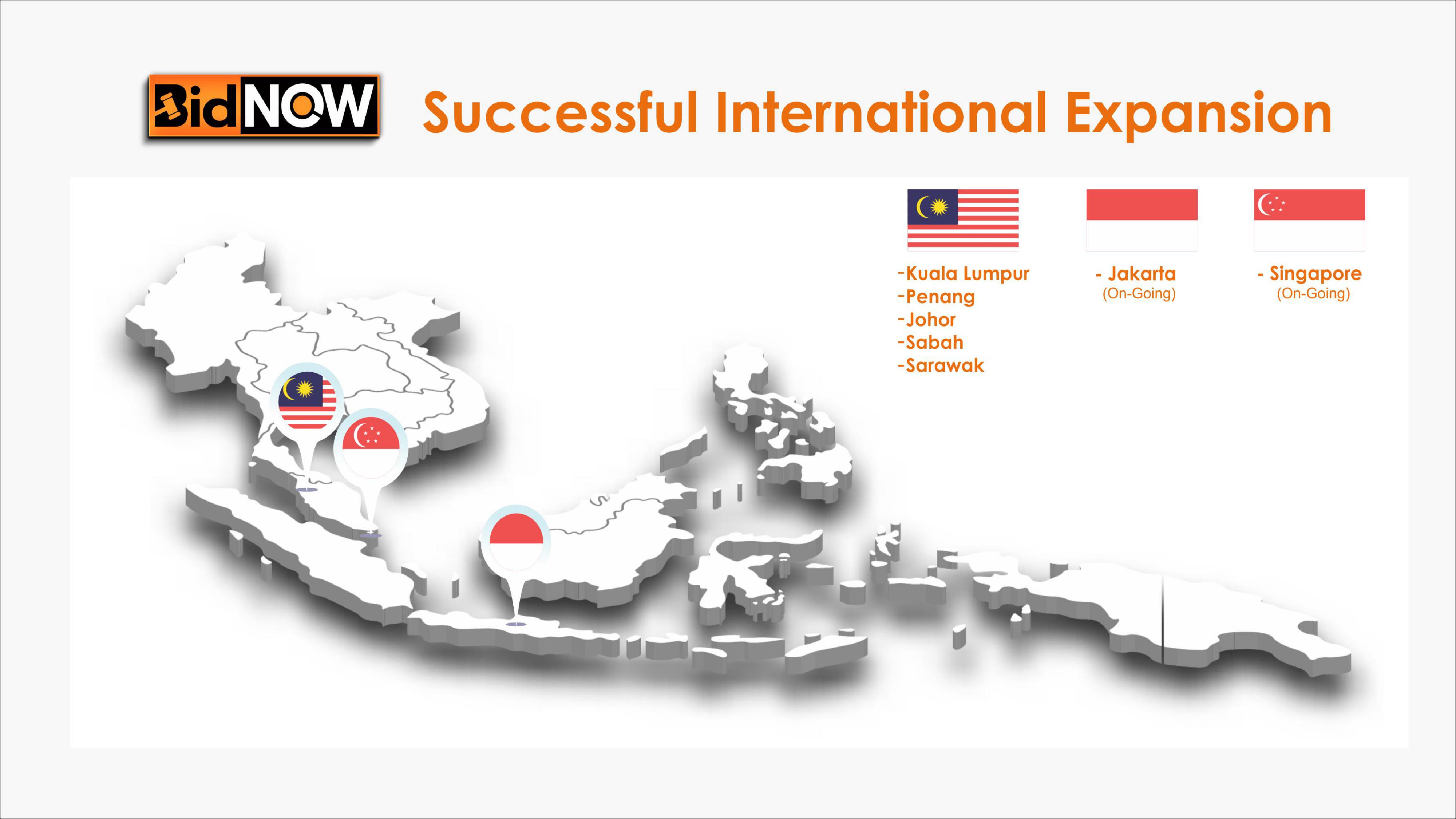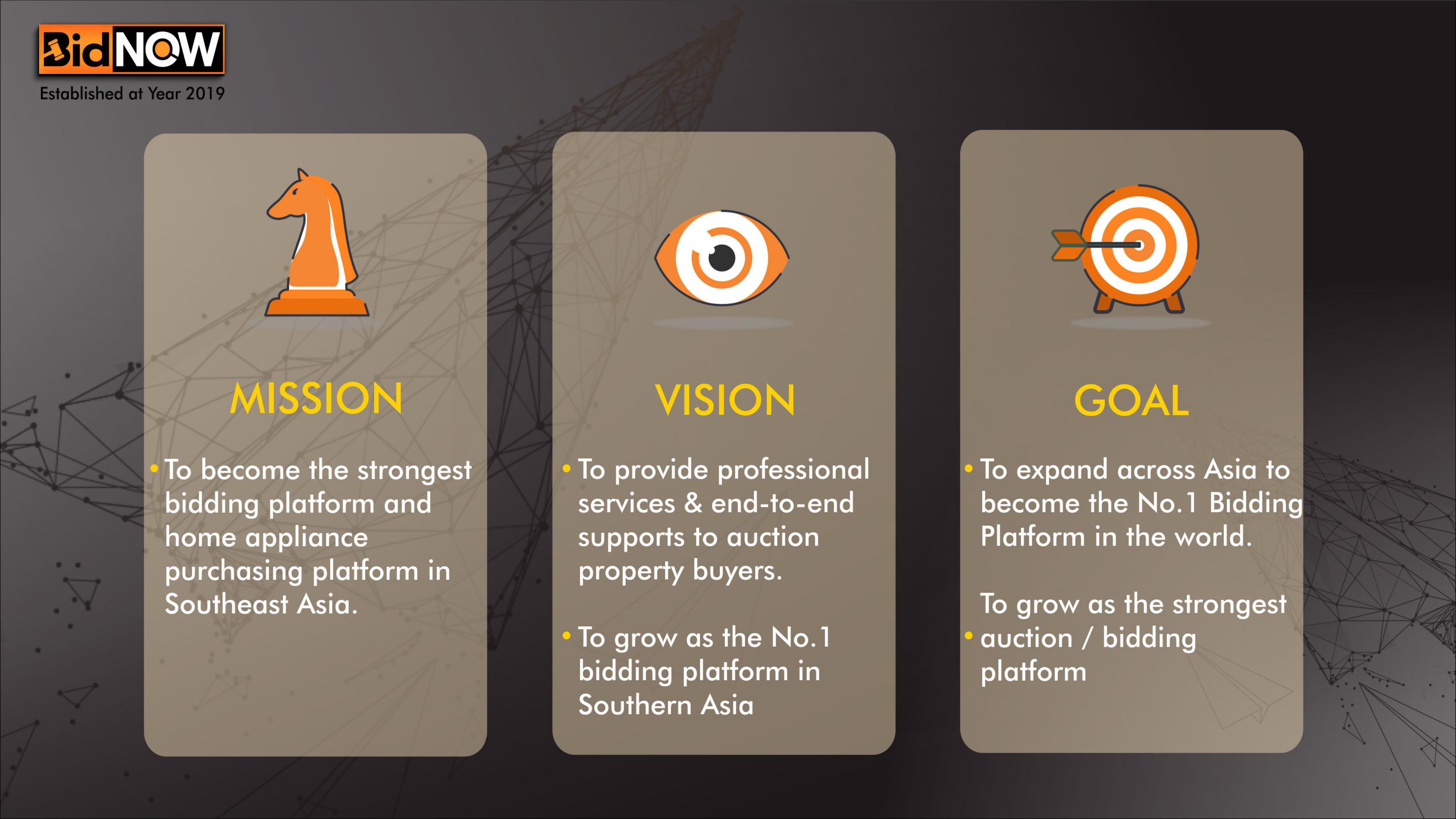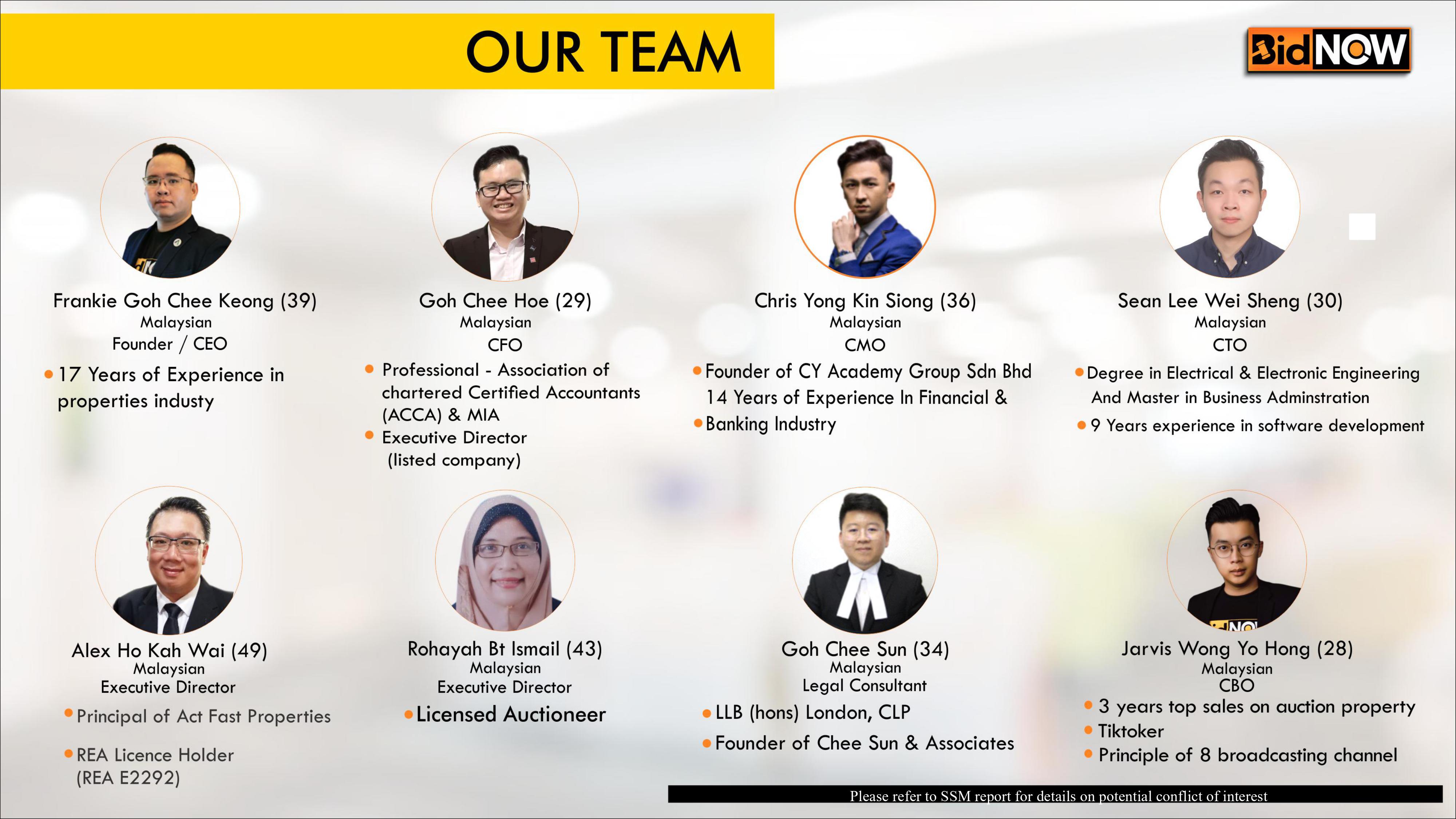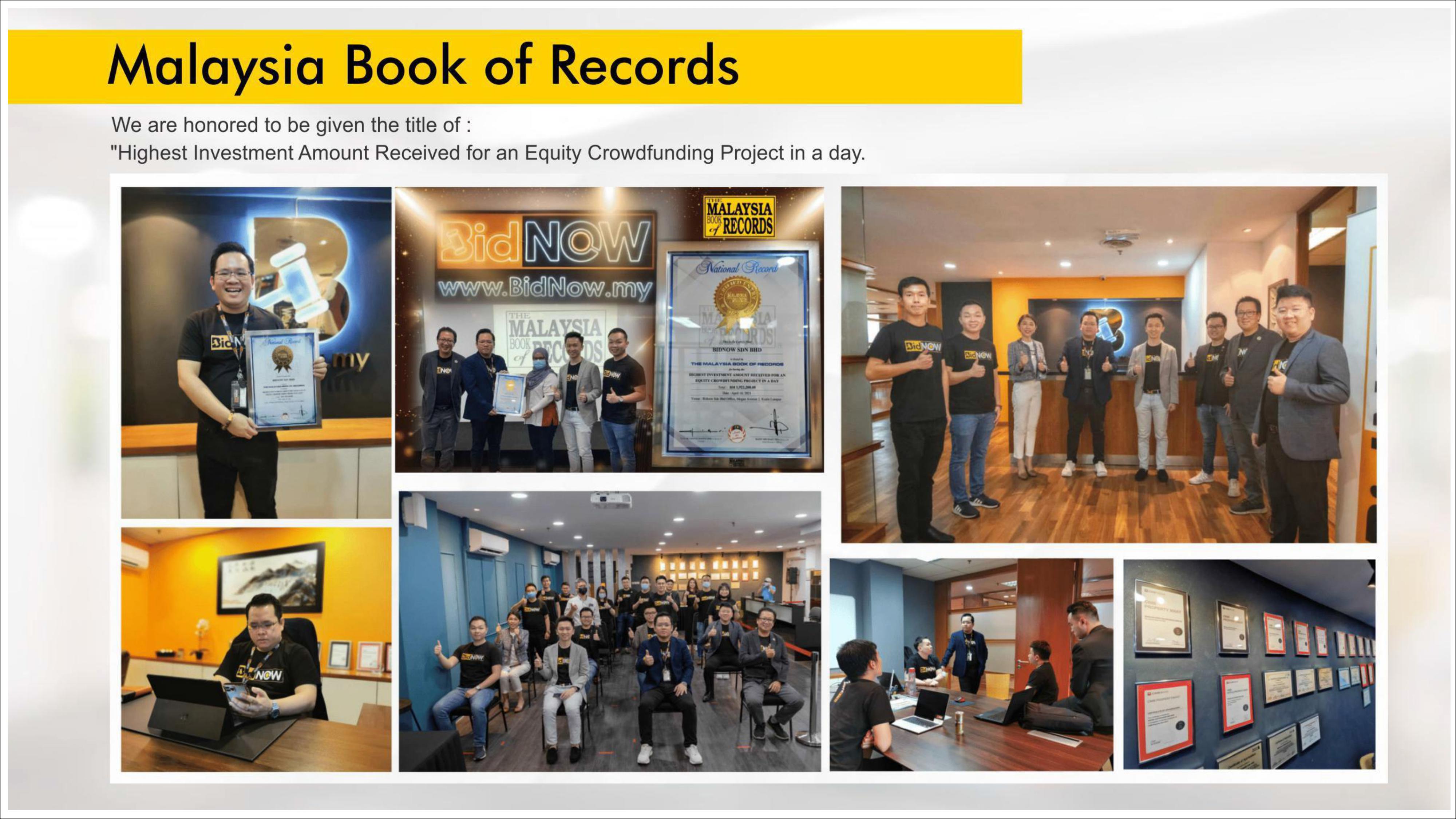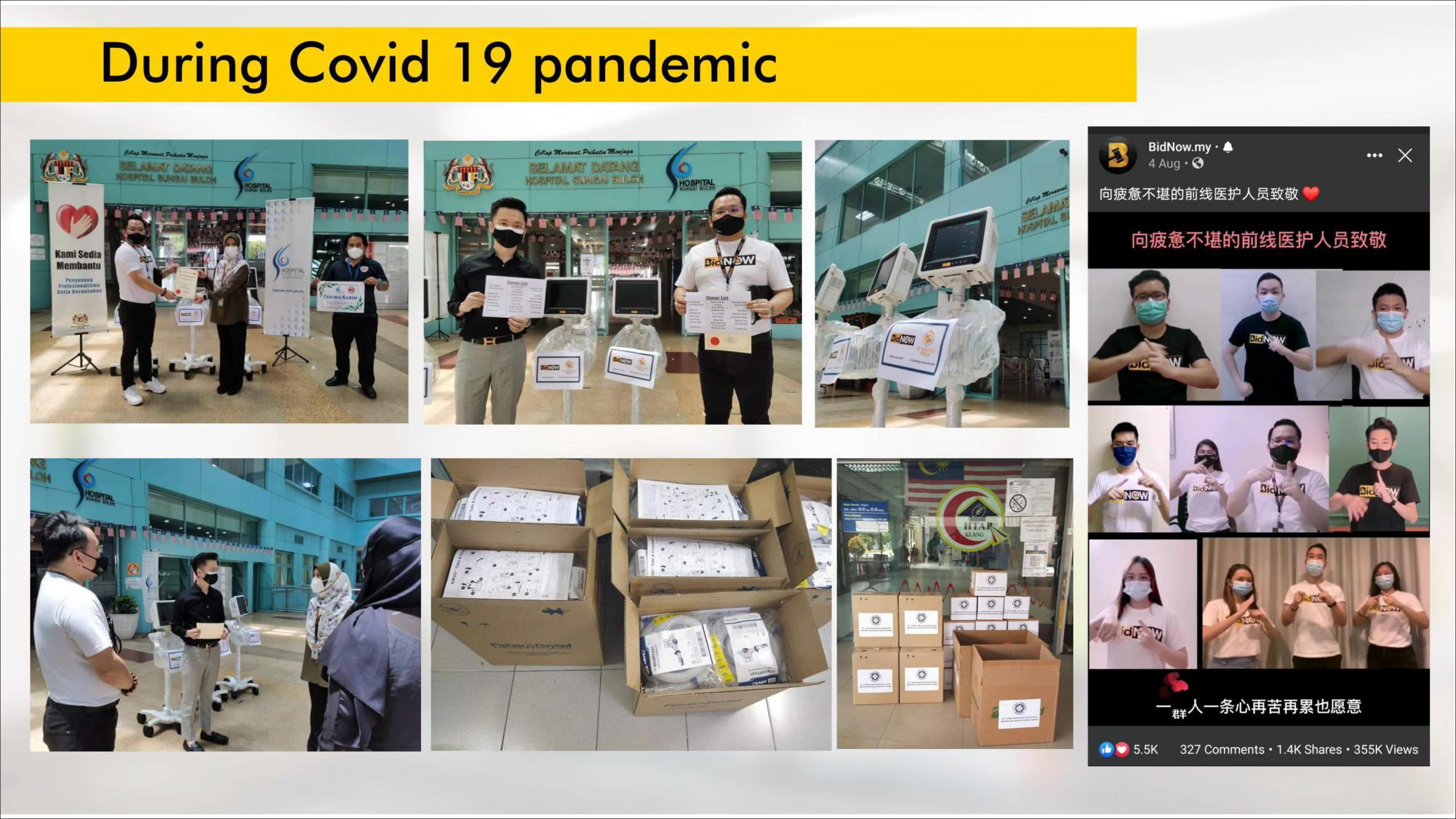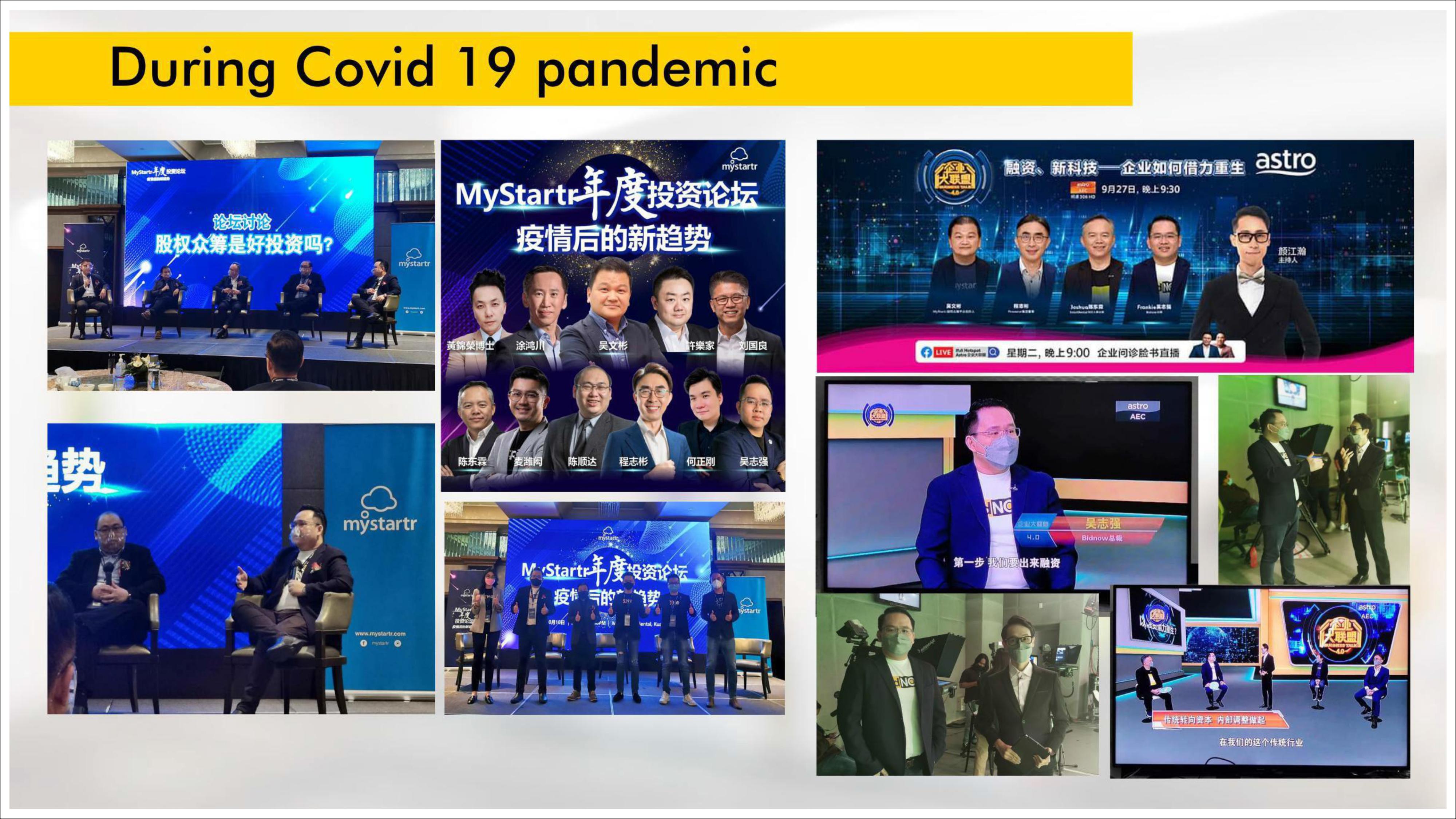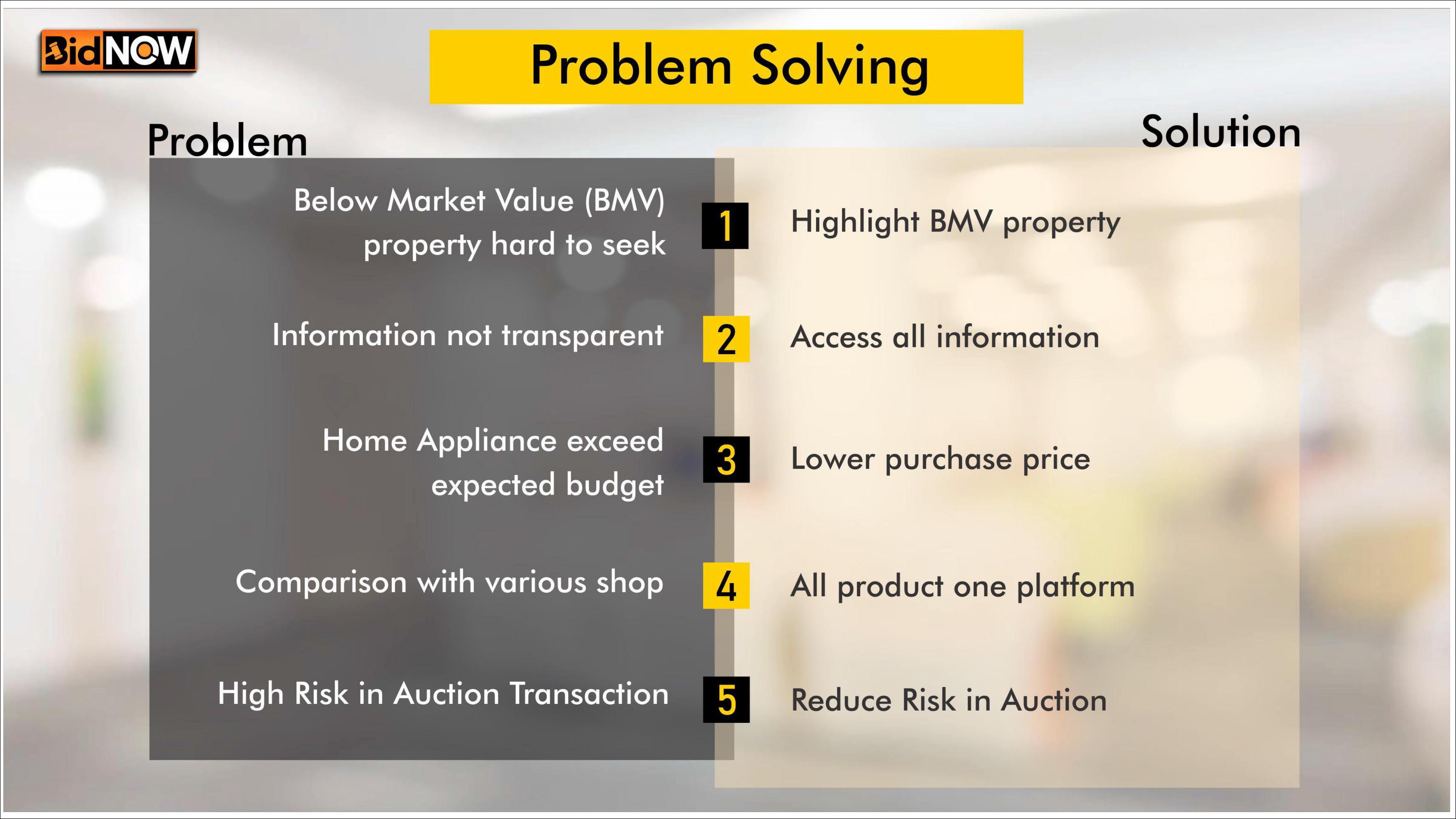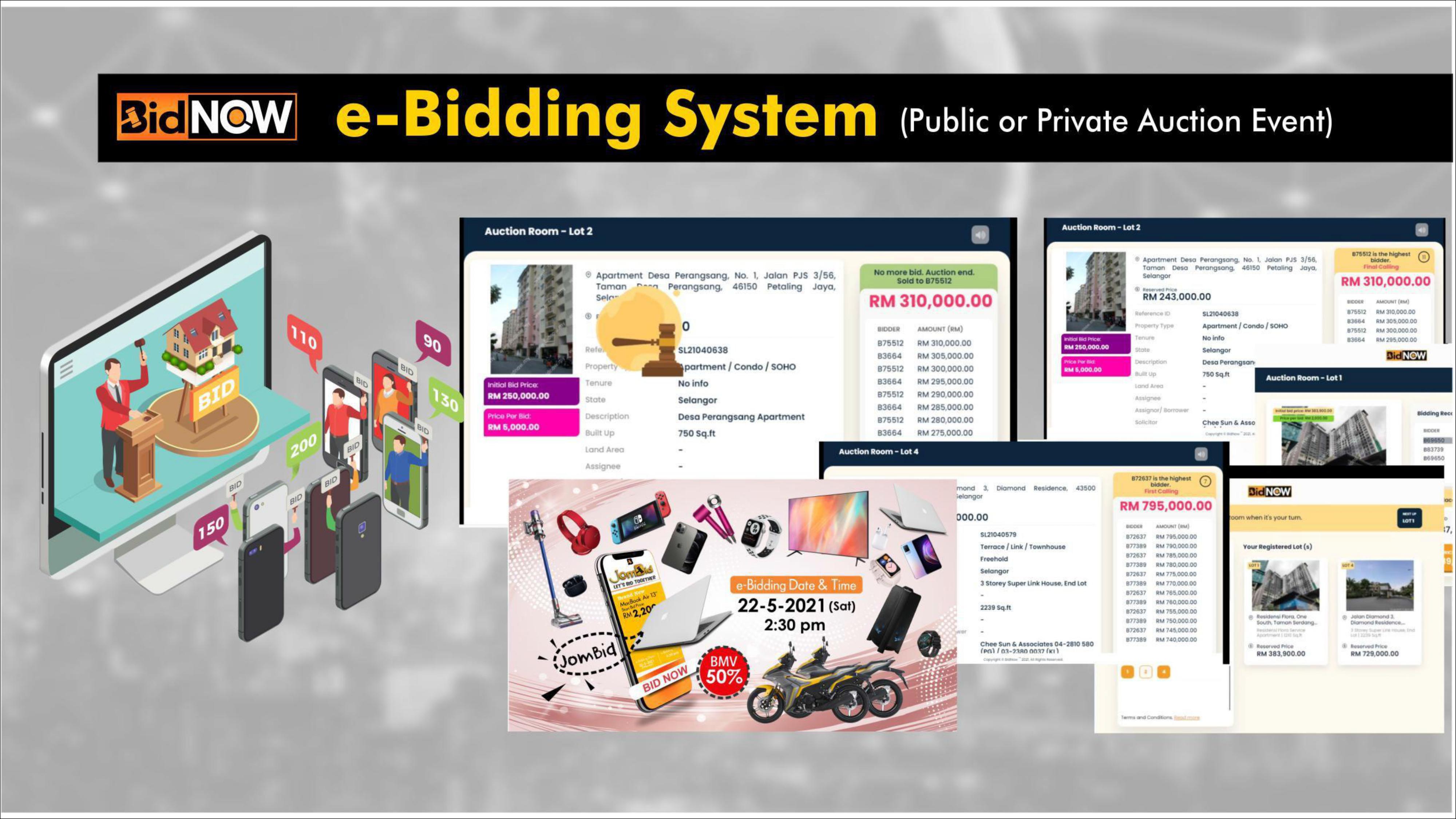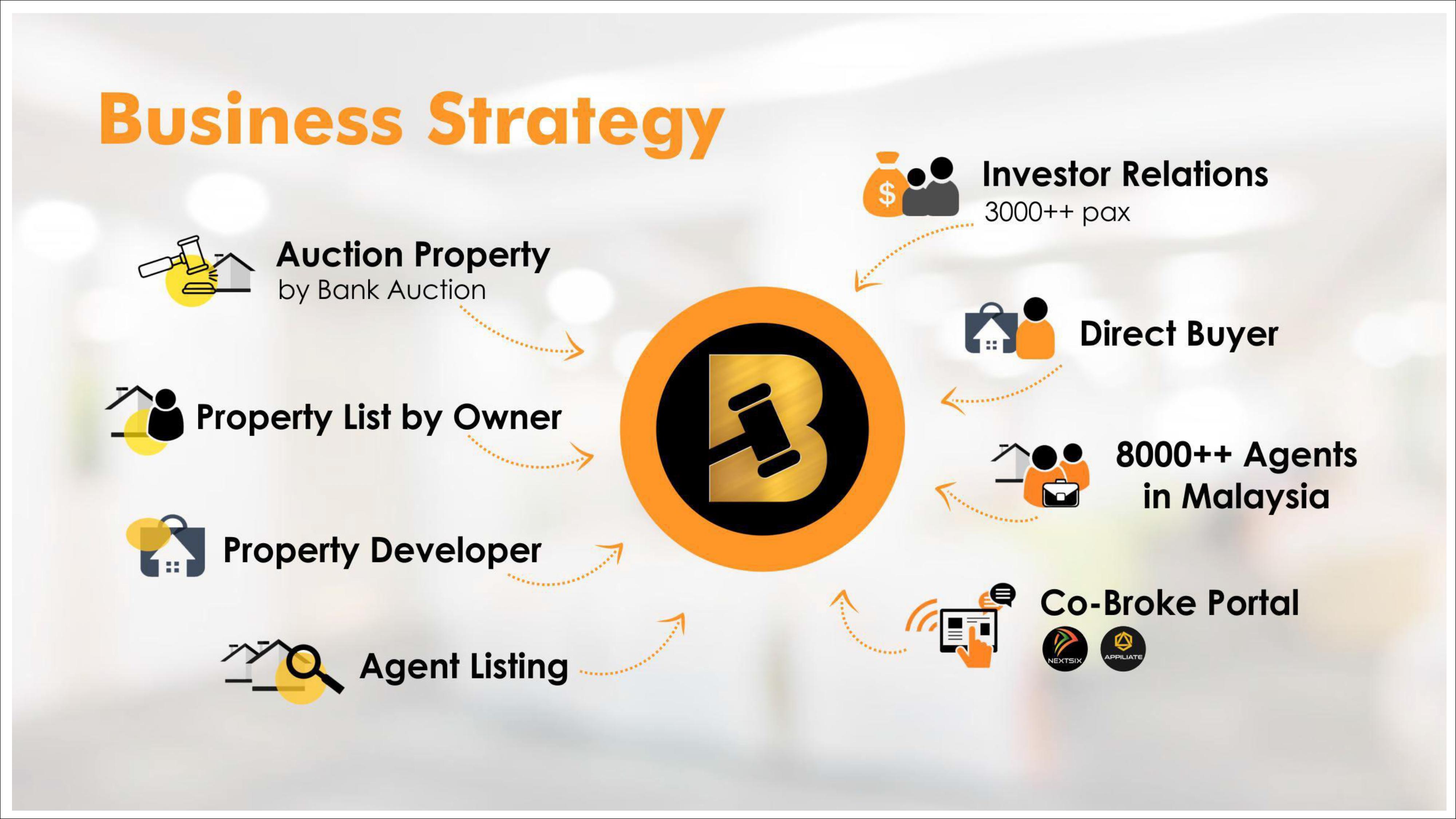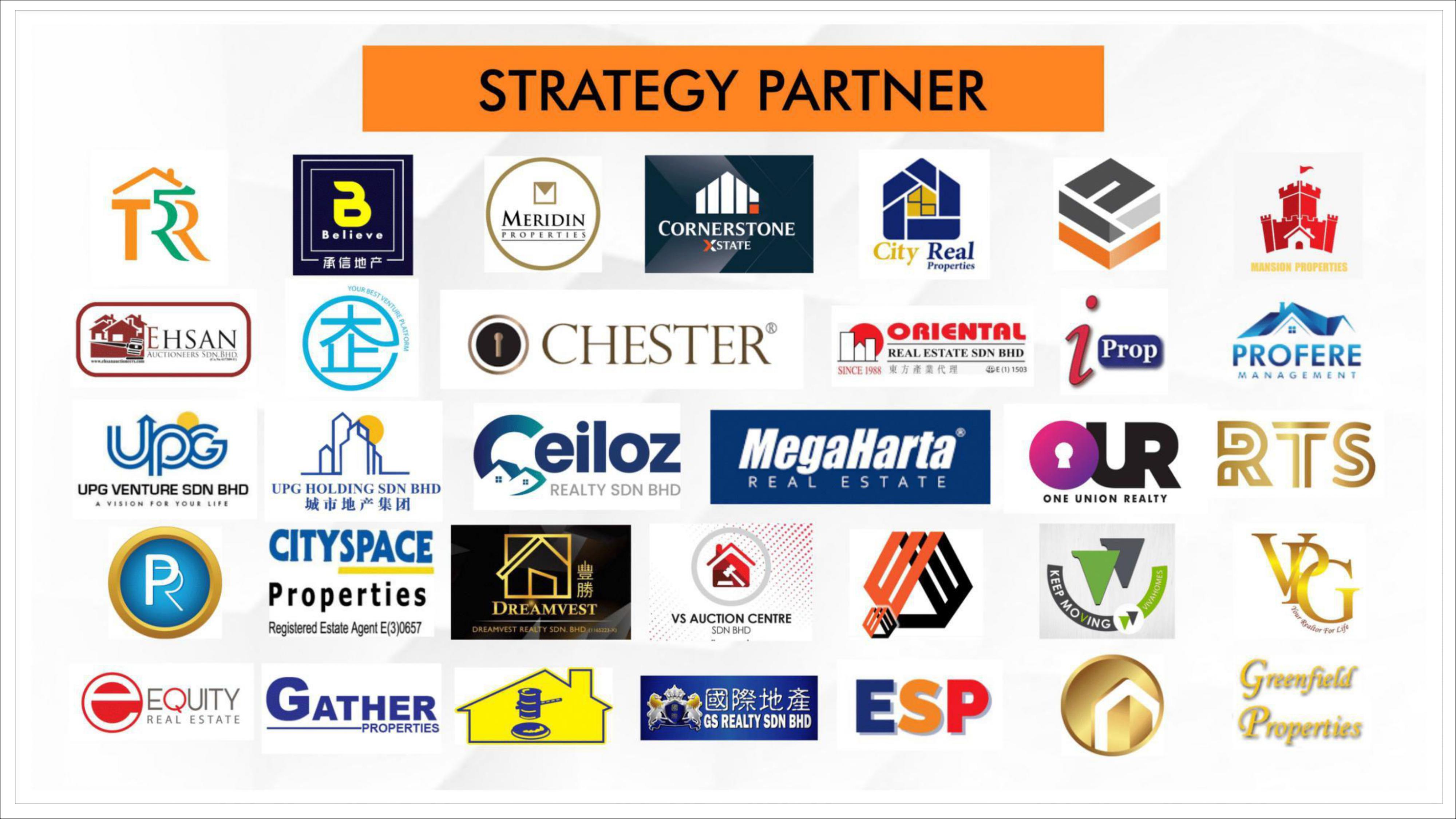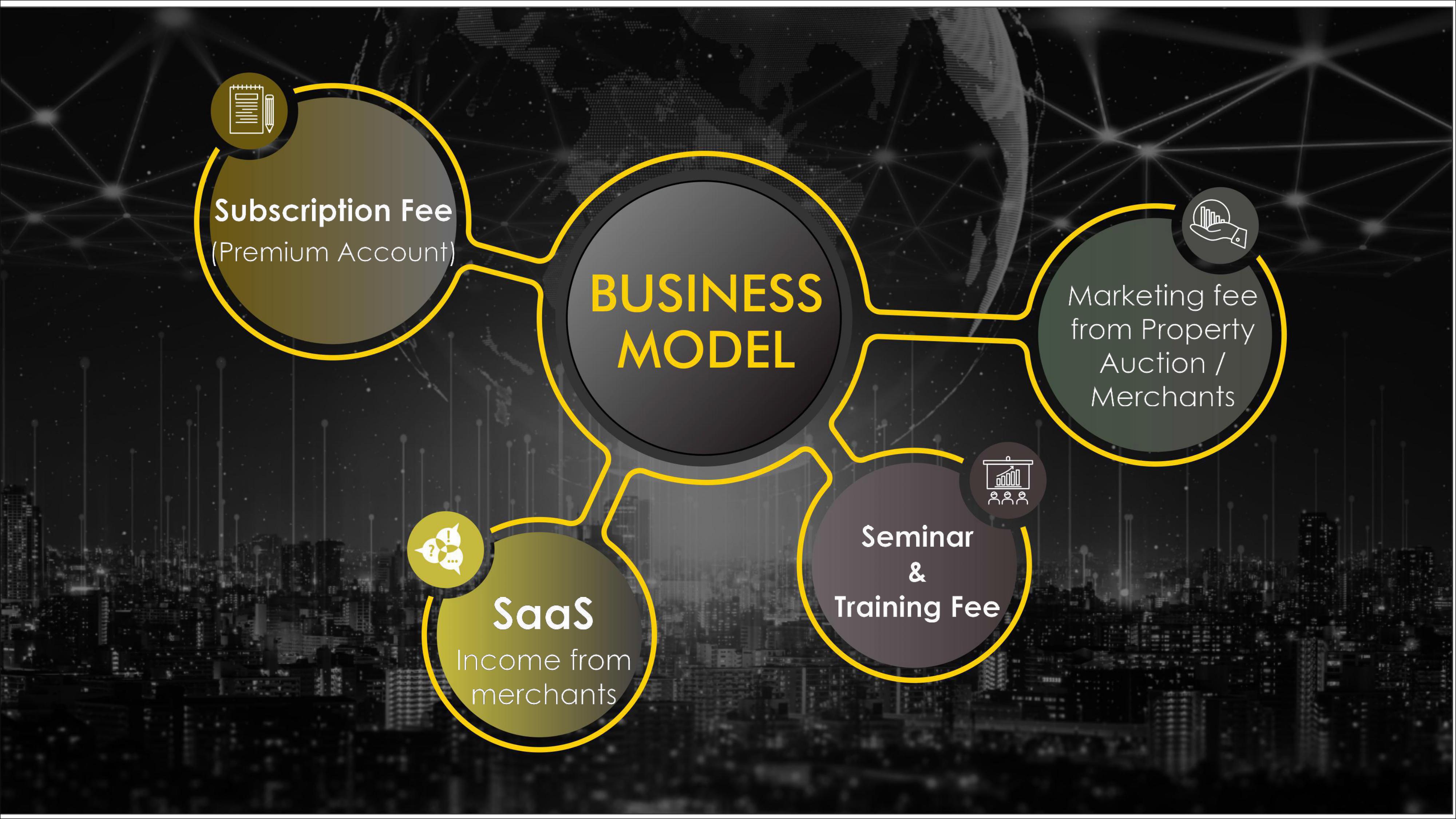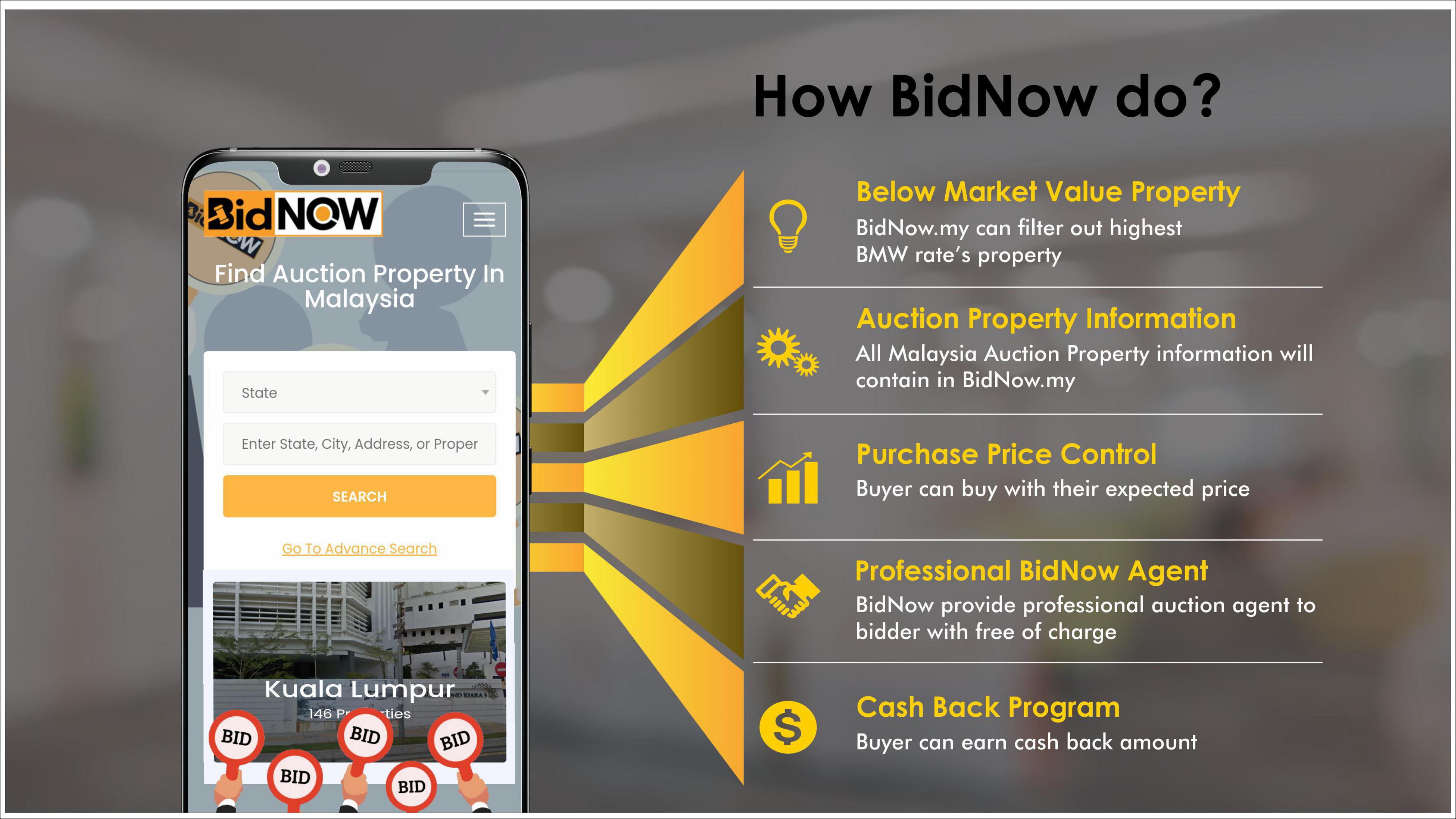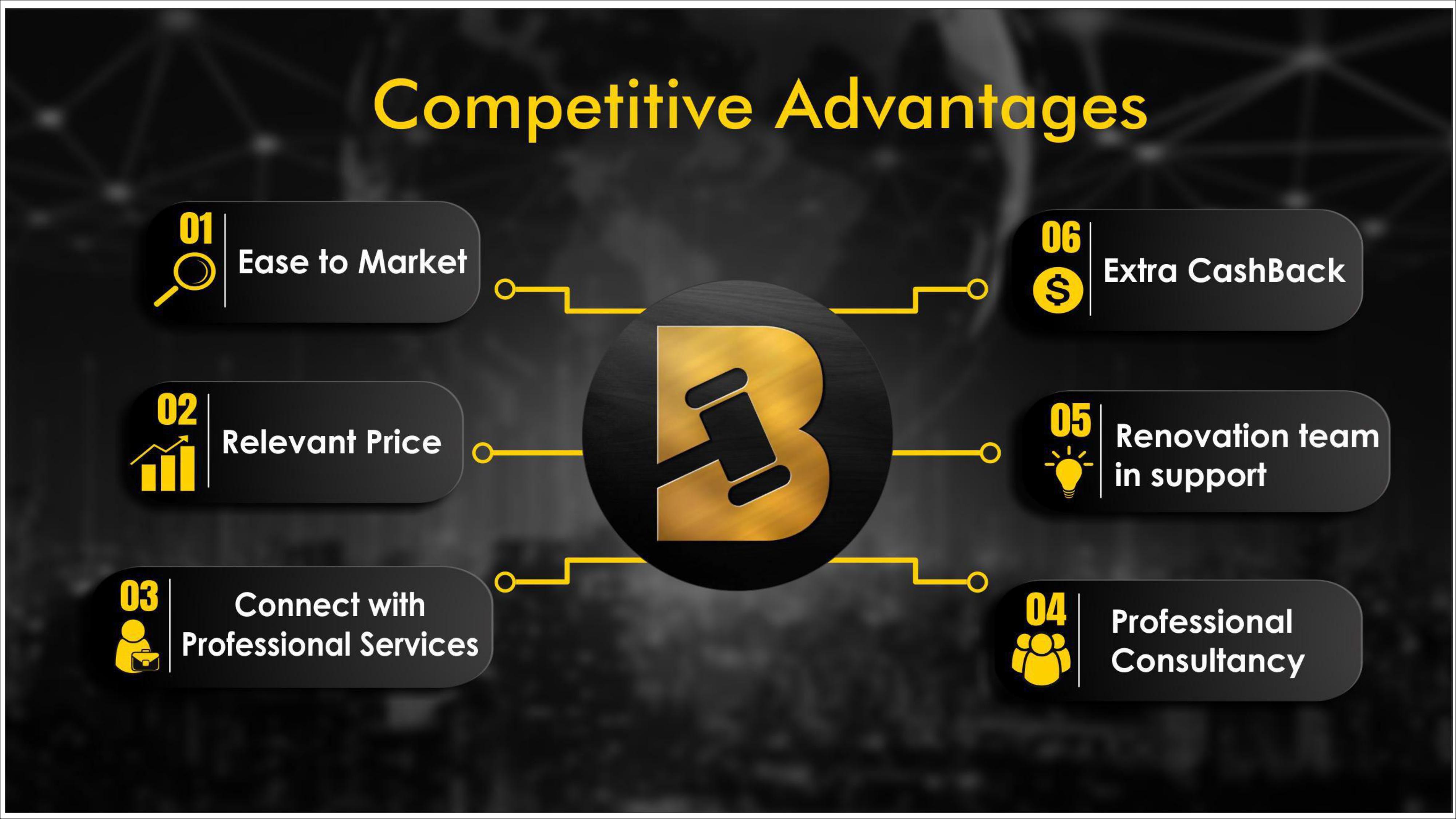 ---
For further enquiry
---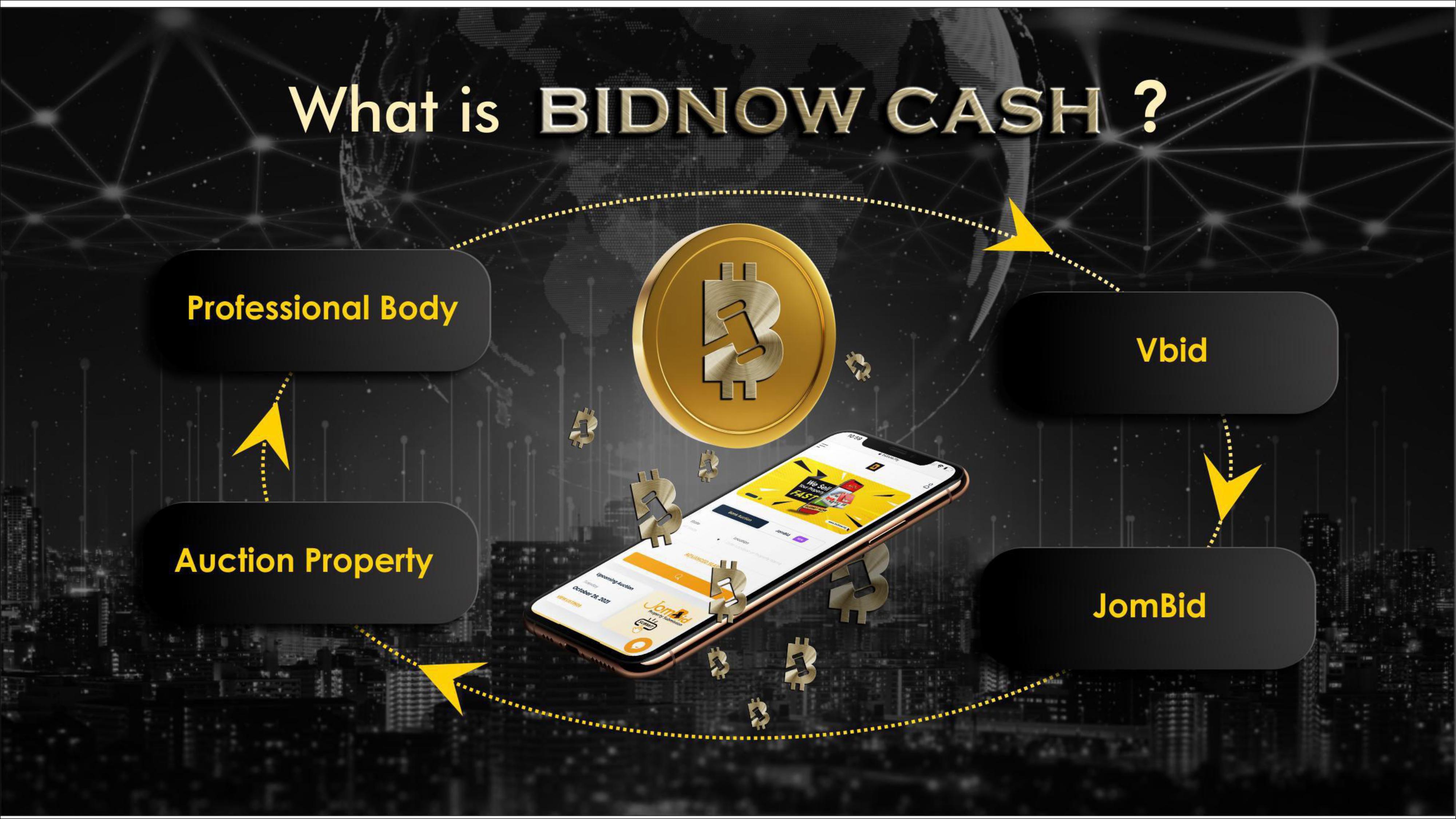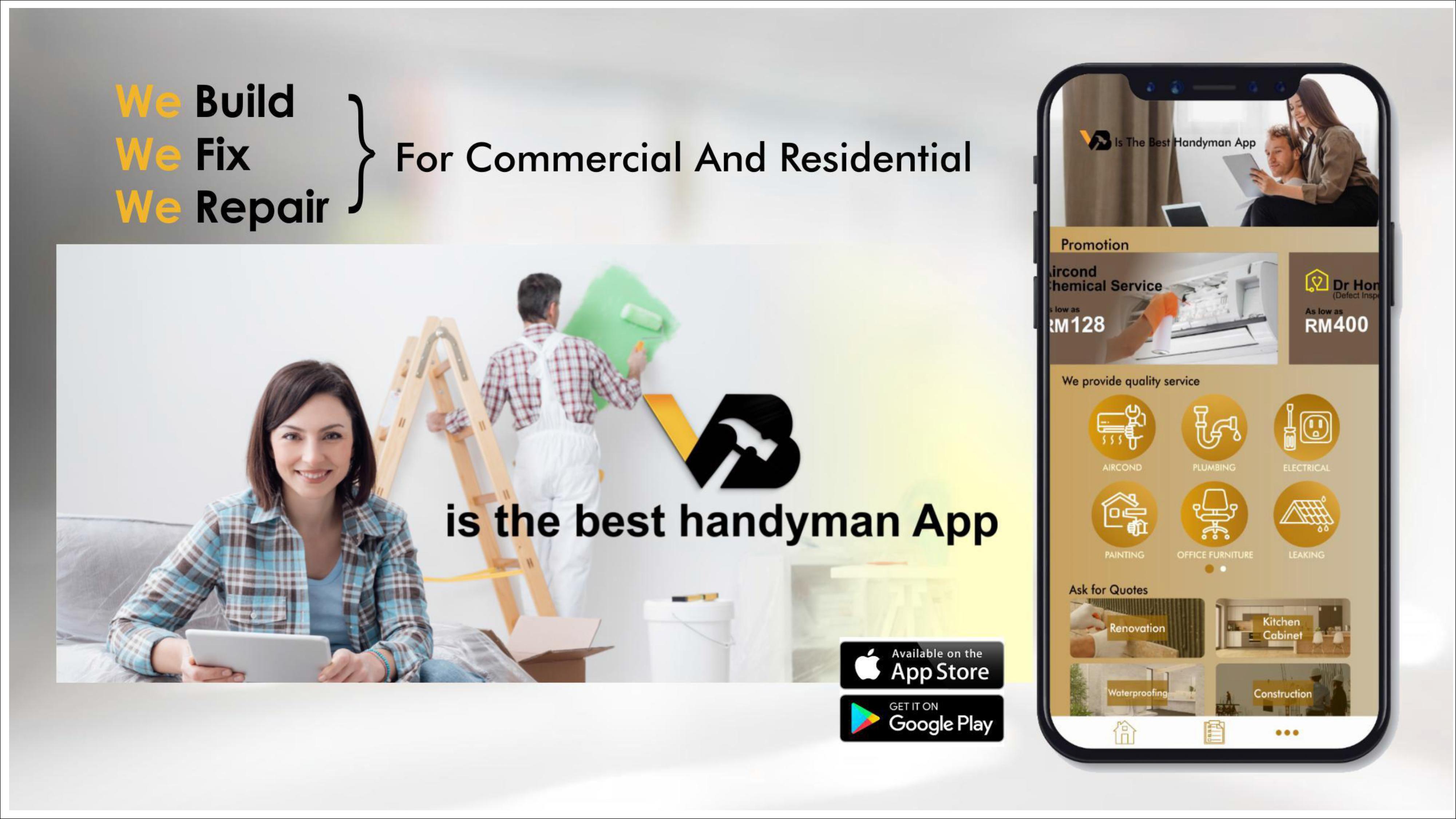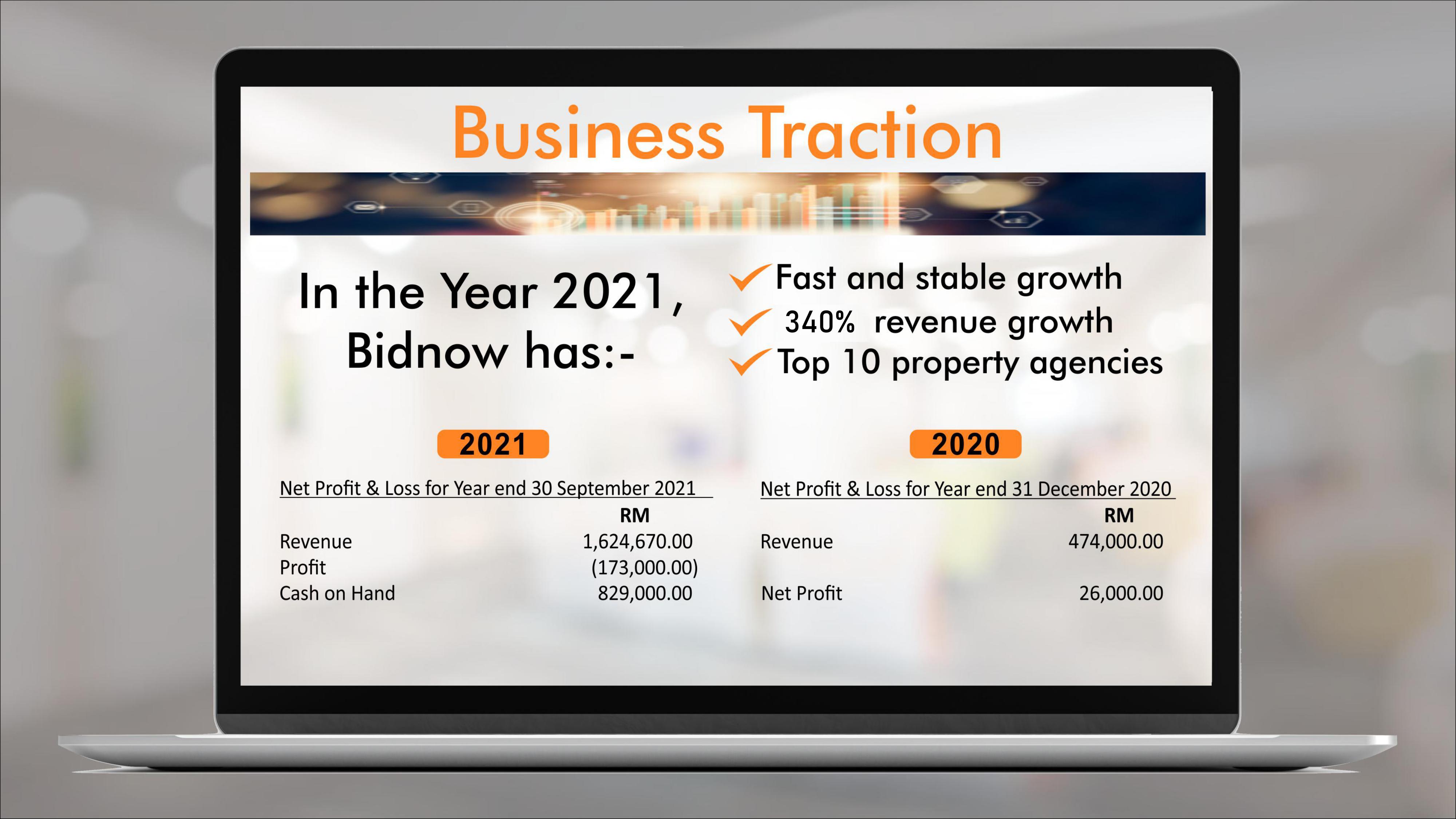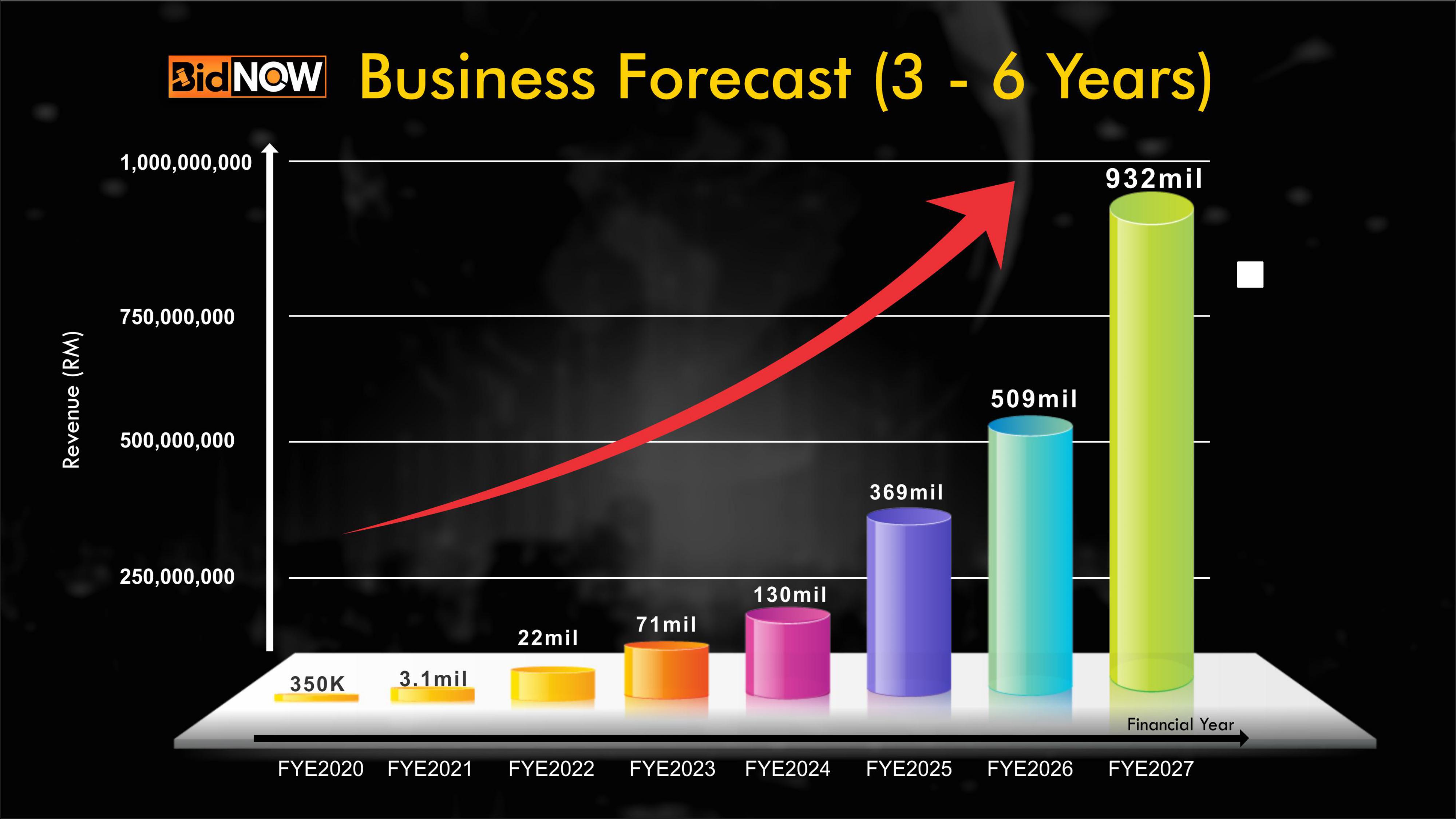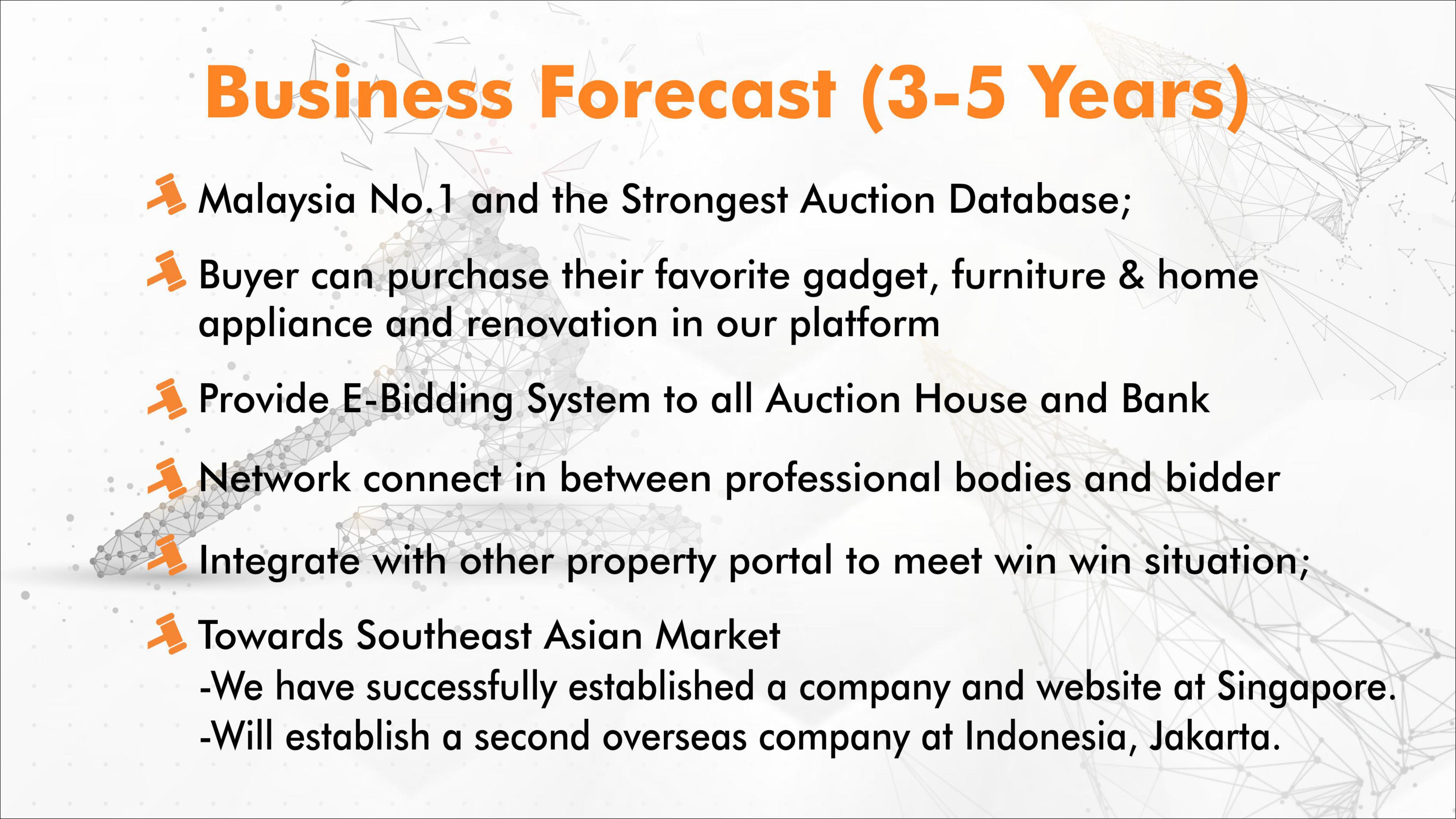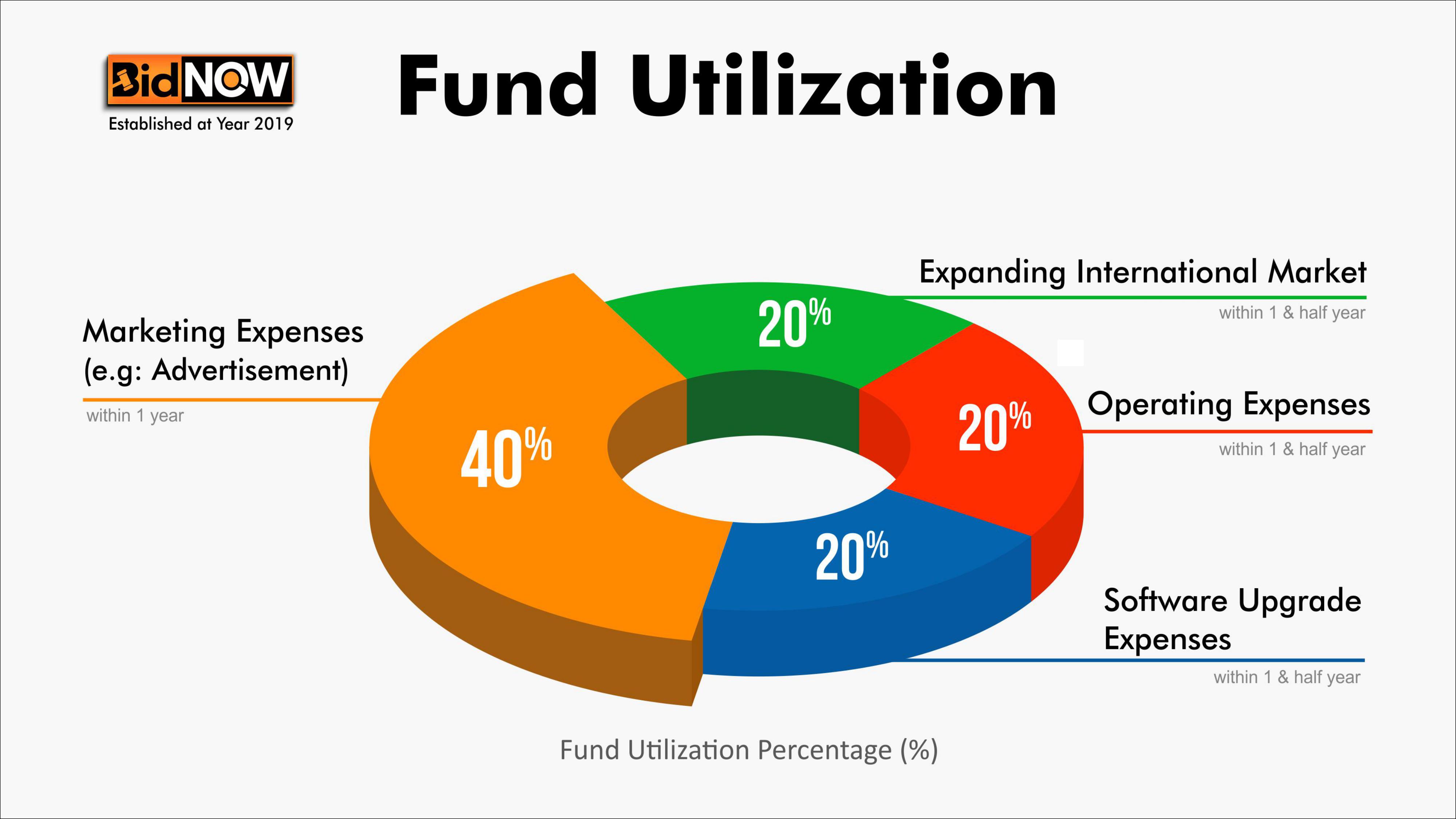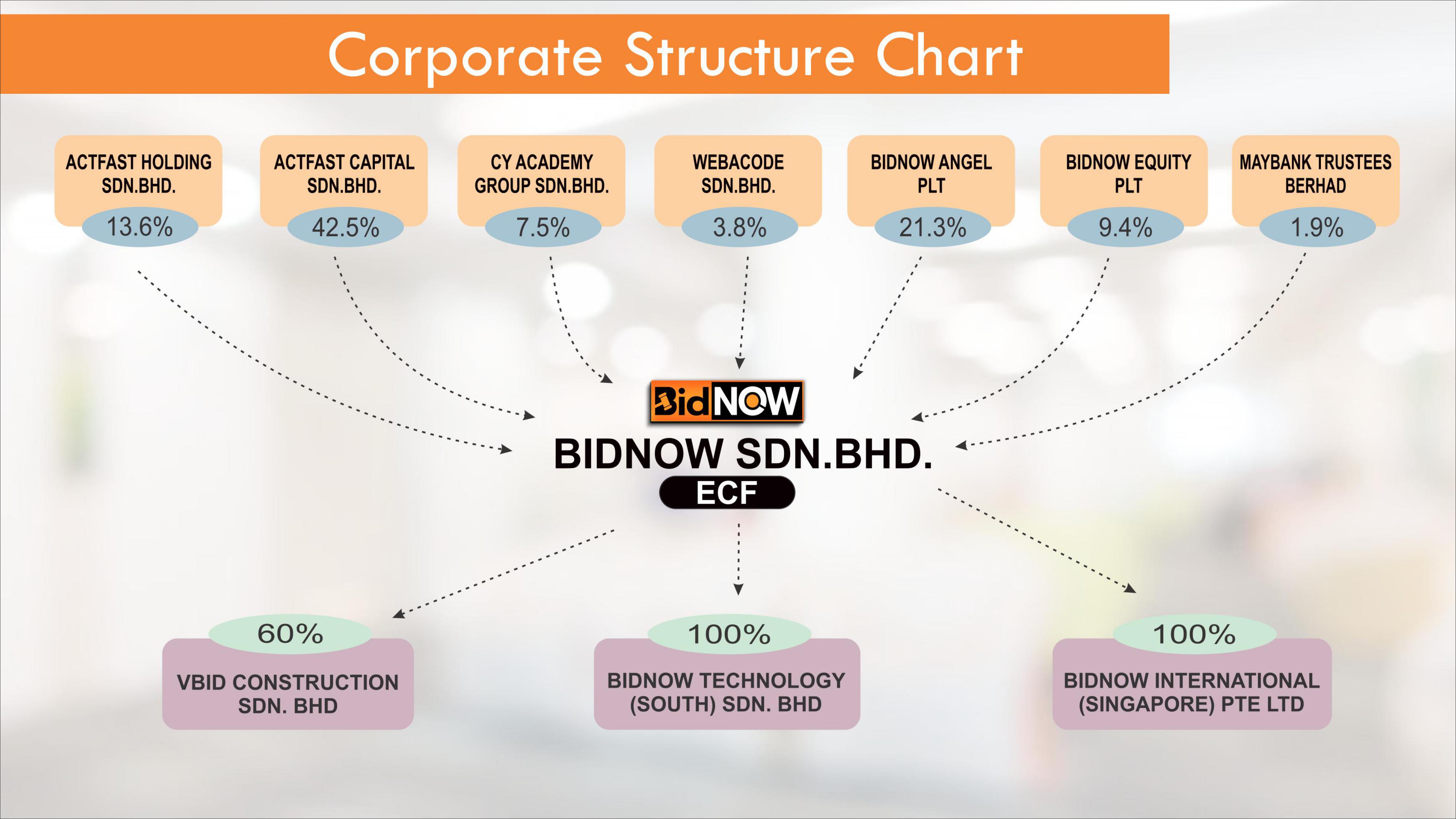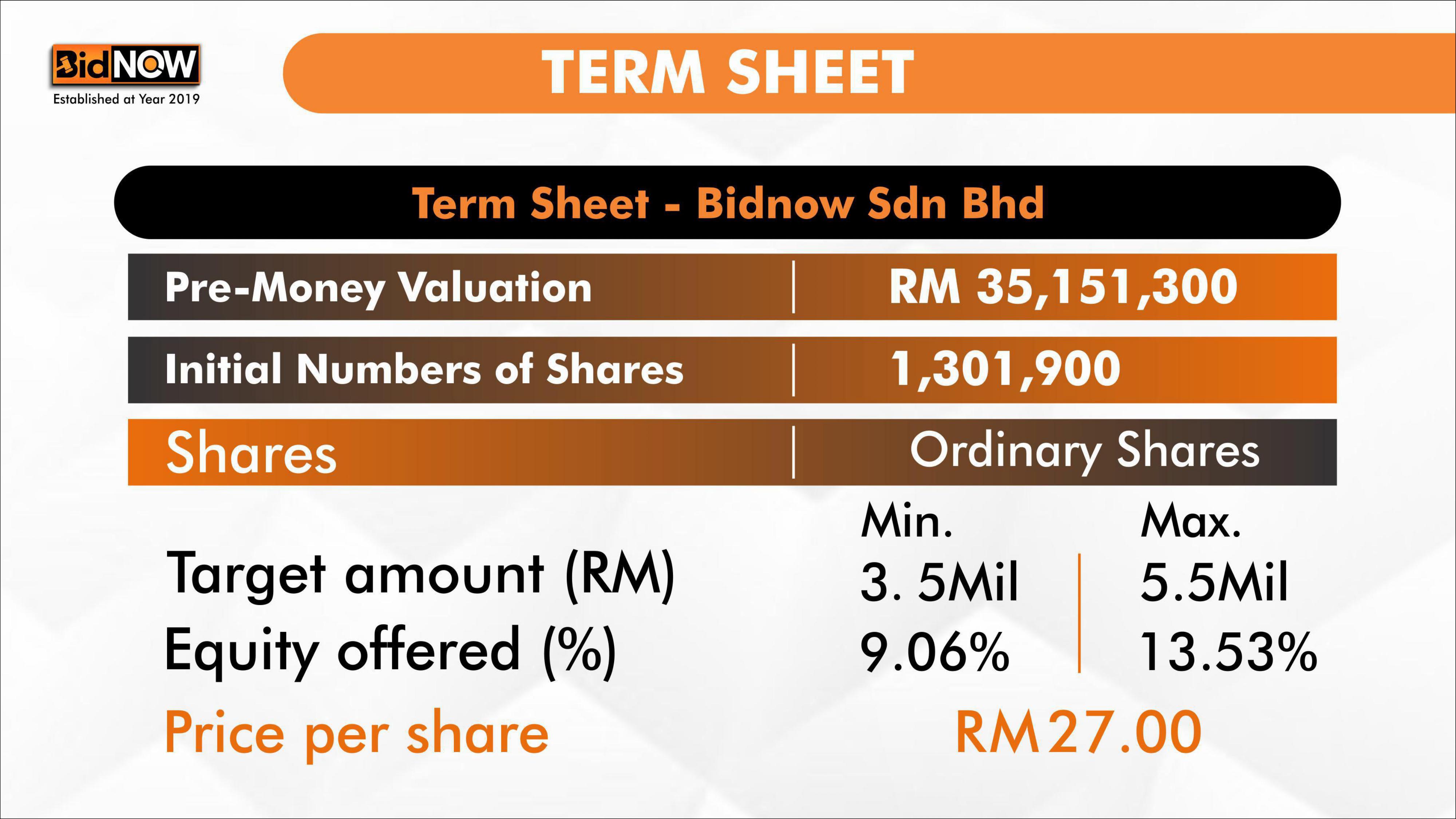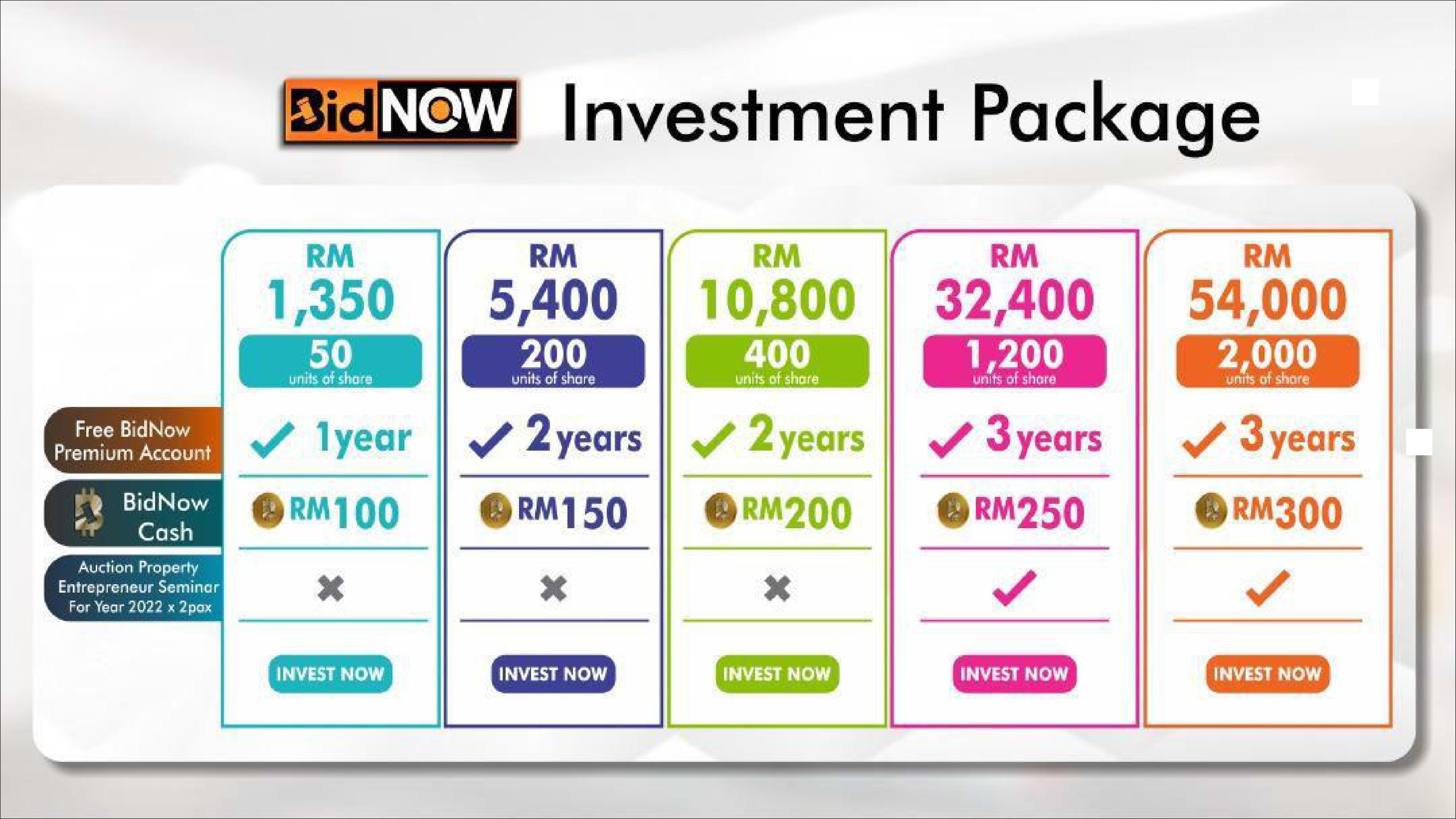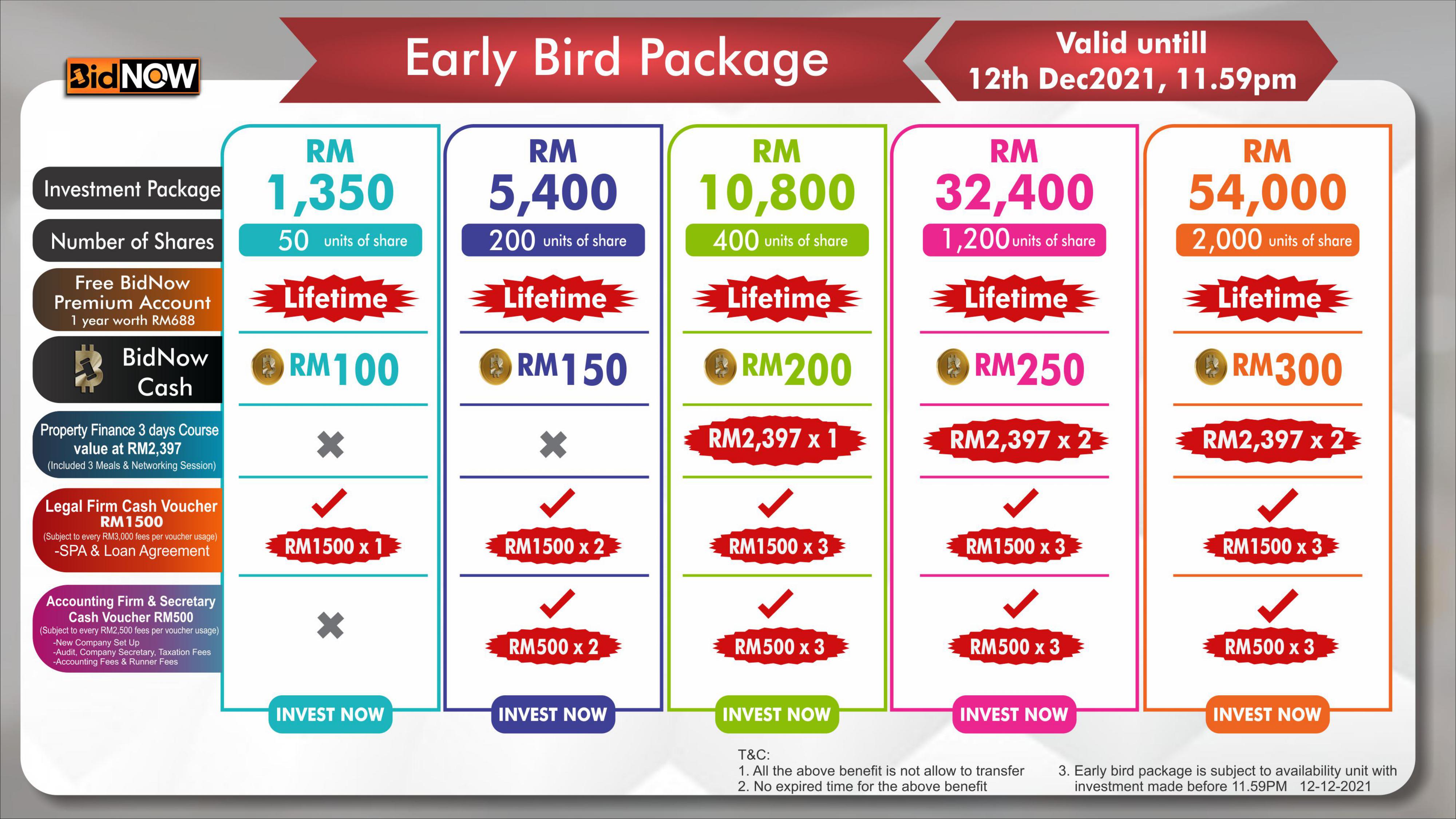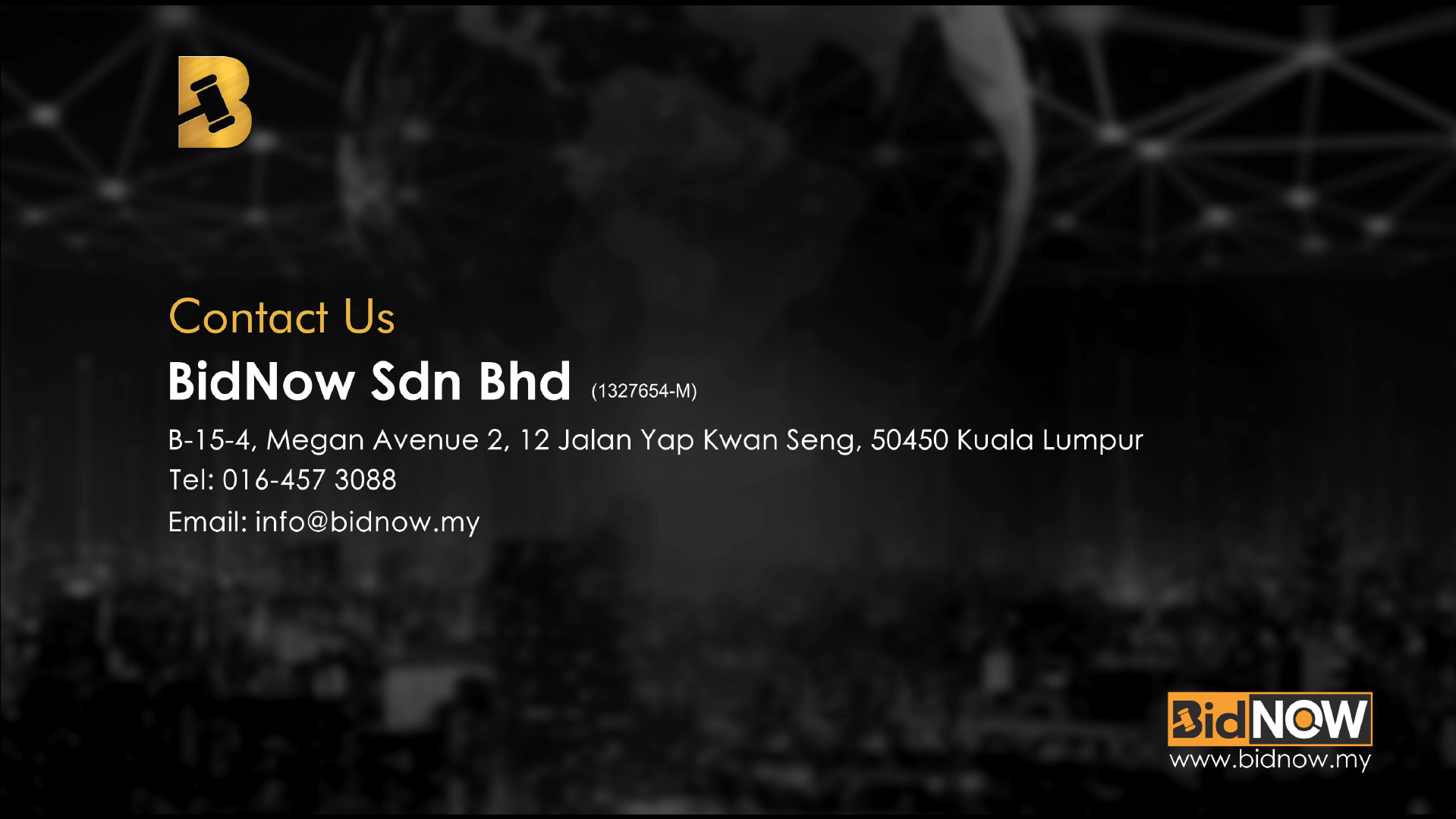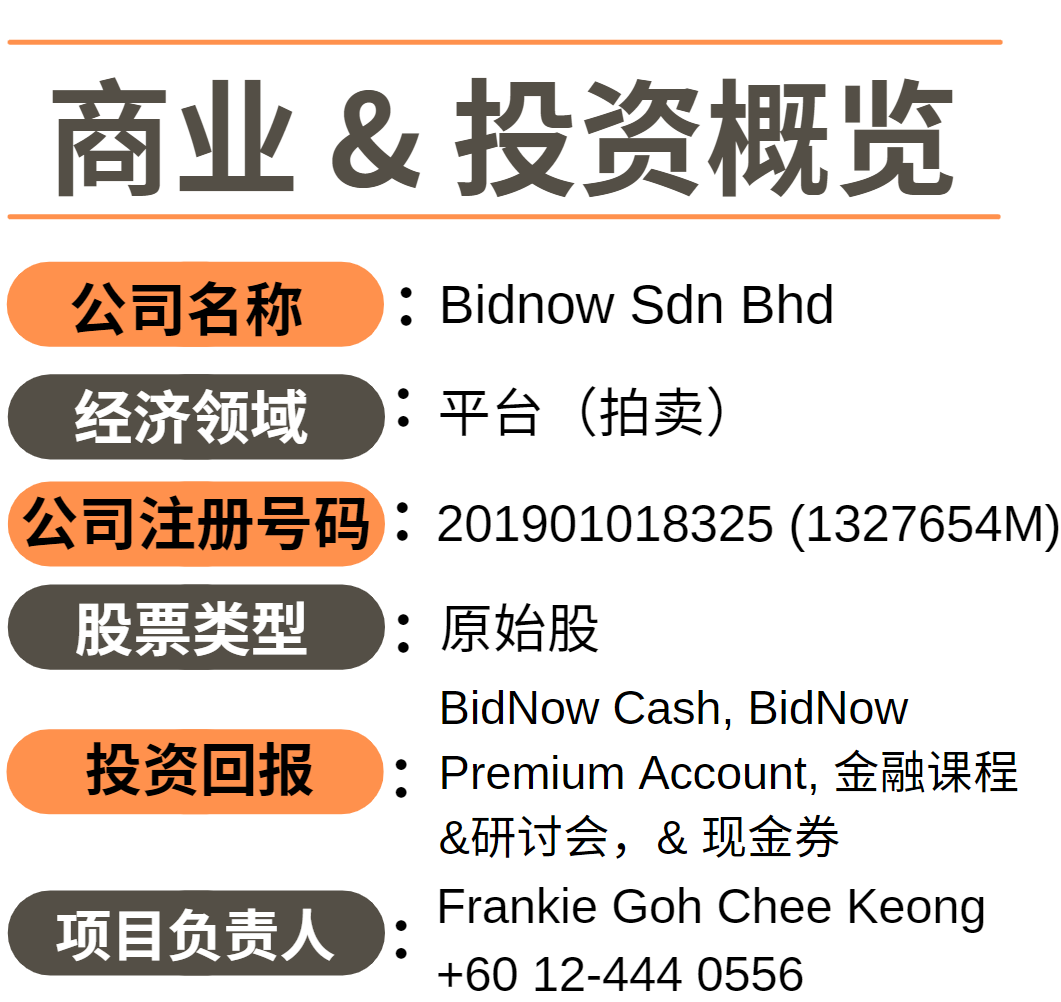 ---
关于我们
BidNow,您的一站式拍卖咨询平台。
众所周知,在国内的房地产买卖交易市场中,投资者除了可以选择购置第一手新建的房产或二手房产外,另一个绝佳的选择或许就是银行拍卖房产。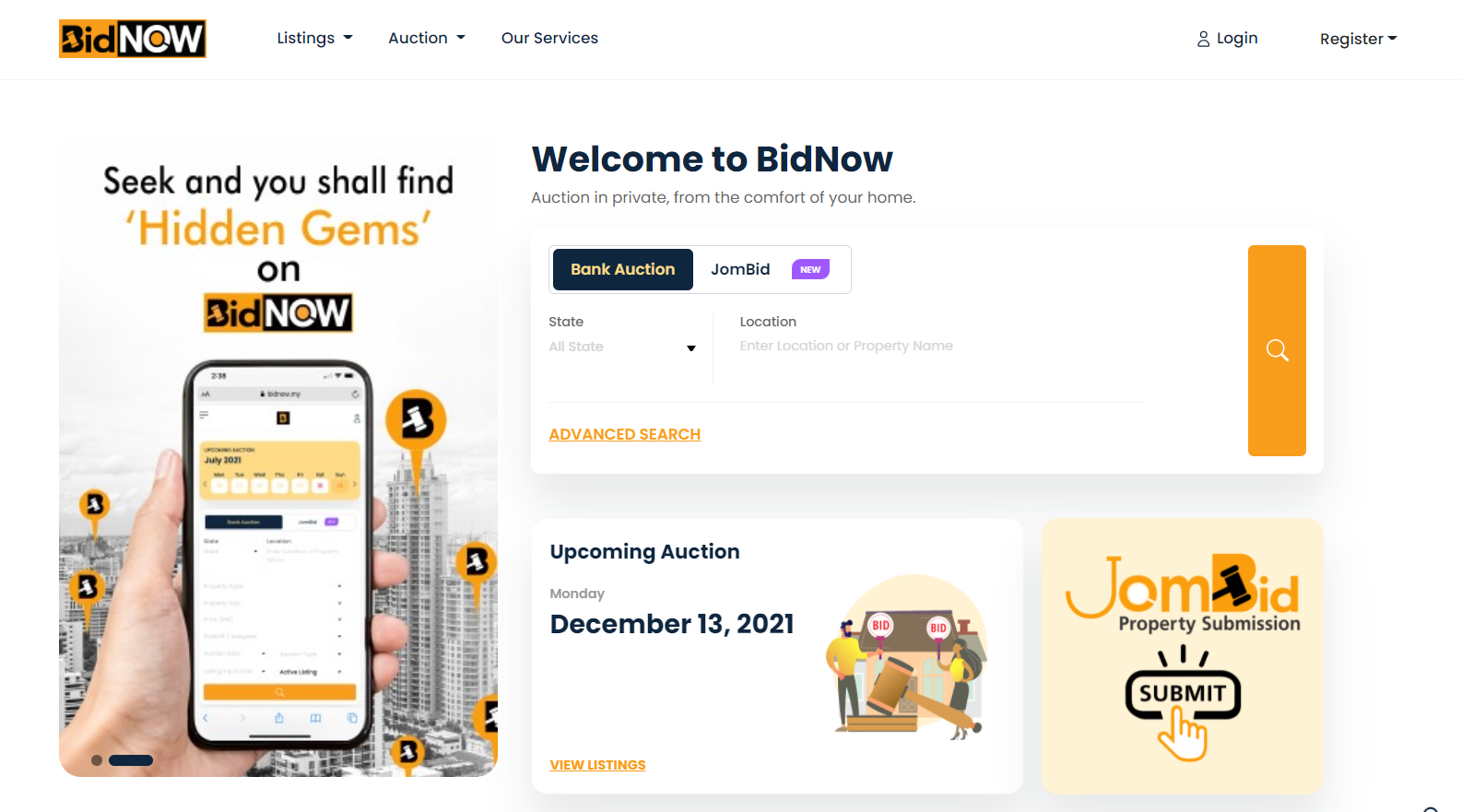 正因为发现拍卖产业销售市场的无限潜力,BidNow 近年开始全心全意地投入开拓国内各地的拍卖地产投资项目,并创建了一个崭新的一站式咨询服务网络平台(https://www.BidNow.my/),以让更多投资者或拍卖地产经纪或想购置价格相对低廉房产的人士,都能轻而易举地通过此平台来查询全马各地拍卖房产的详细资料,并获得相关专业咨询服务。
只要登录 BidNow 这个具备多重搜寻功能的一站式咨询服务网络平台,各界用户仅需输入几个关键词,就能准确、快速地找到他们属意的拍卖产业。与此同时,我们还会为各路拍卖产业的投资者,提供专业的咨询服务以及法律与会计相关的知识。
除了拍卖房地产,用户也可以网拍家电,小型电器,家私和手表。所有的产品都是全新的,让用户可以以更低的价格购买想要的产品。
市场需求
低于市价的拍卖屋子没有被发掘导致许多买家以更贵的价格购买产业。实际上在拍卖市场里,许多拍卖屋子的屋价会低于市场价 10% - 27% 甚至更高但往往都被买家们都忽略了.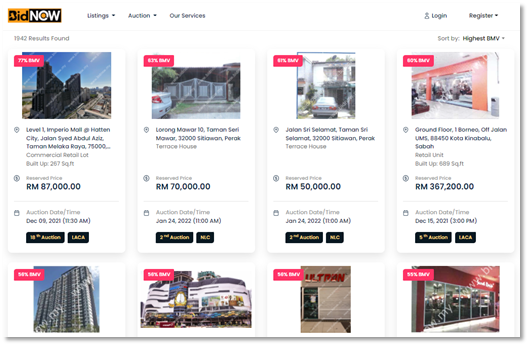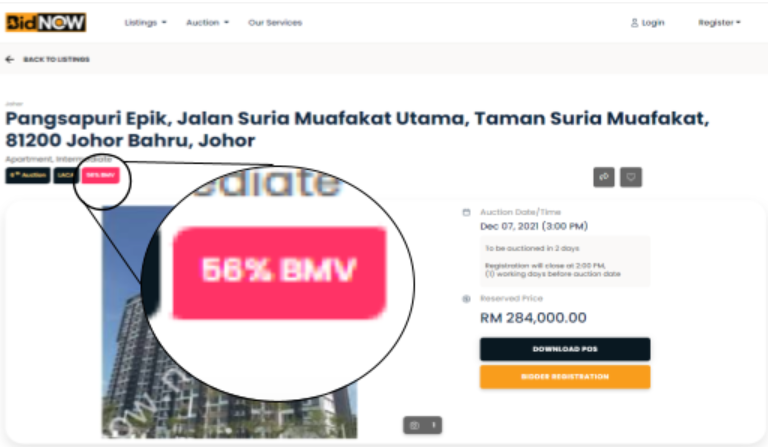 原因是他们对拍卖房地产的误解和拍卖房地产的质询没有被透明化,在缺乏了解拍卖房地产程序的情况下也导致了部分买家虽然懂但因为"怕"而不敢尝试去购买,"怕"便宜相应要承担风险,而止步于拍卖屋。
除此之外,家电的价钱也是买家们往往担心困扰的一个问题。为了让自己的家园可以有更美好的环境,舒适的享受,买家一定会忝购家里需要的电器例如电视机,空气净化器和等等。
价钱往往是每位买家最关注考虑的因数之一,每位买家都希望能以合理的价格购买自己心仪的家电,所以都会找相熟的卖家或者是会花长时间去对比价钱寻找符合自己心仪的家电
解决方案
BidNow 提供了一个完善的系统让买家们可以更方便快速的找到全马低于市价的拍卖屋子。
除了可以让买家方便的查询低于市价的房源,BidNow 也提供免费的质询给广大的用户了解有关拍卖质询,房产质询和拍卖通知书 (Proclamation of Sales)等等, 用户了解了拍卖屋的详情后,BidNow 也会有线上/线下的一对一专人可以帮买家查询和了解有关更多的拍卖质料和该拍卖屋子的详情以减低购买拍卖屋子的风险。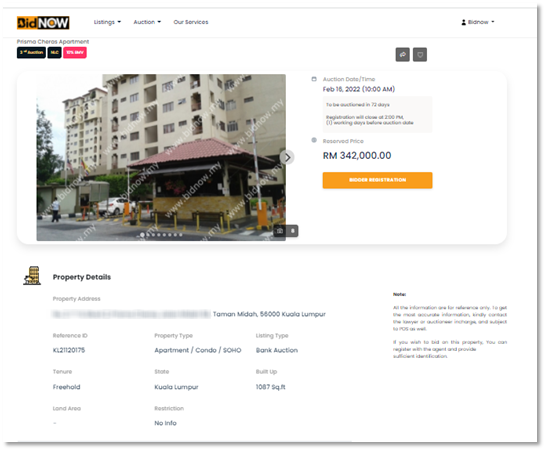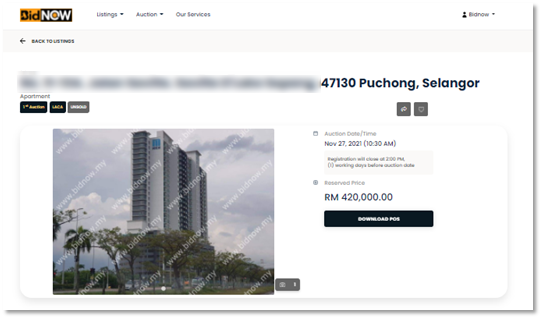 所有的专人都经过专业的拍卖房地产培训,为的就是让买家可以在更安心,安全,价格合理的情况下买下属意自己理想中的屋子 。
针对于家电价格过高的问题,BidNow 也提供两种最新的方式让用户可以买到比市价便宜的家电。第一种,买家可以通过网拍的方式用自己理想的价格标赢他们想要的产品然后再进行付费。
在网拍的过程中,买家可以有价格的控制权而不是像传统的买卖模式(价格由卖家而定)如果价钱对于买者过高便可弃标,但也不必因此感到难过因为 BidNow 还有第二种模式,拼单模式,让买家购买。拼单模式就如名字所说的通过拼单而获得高额的 BidNow Cash 的返现。
通过BidNow 的平台,买家可以买到价格便宜心仪的产品省时又省钱无需一家家的去比较价格。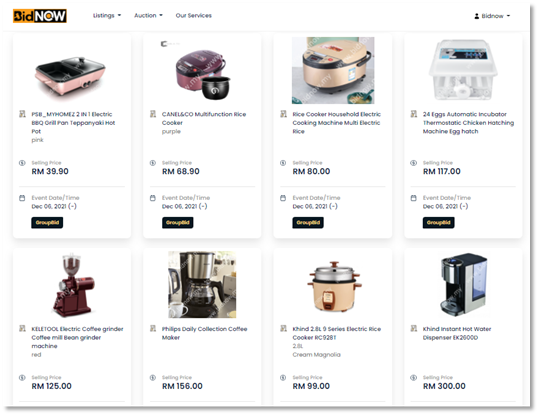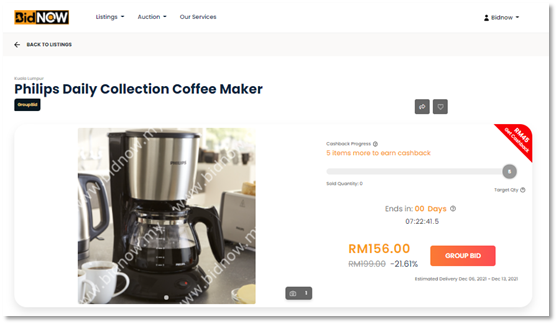 公司的理念
冲出大马,开拓东南亚市场;打造东南亚最强大的拍卖地产数据库并和电子投标系统,让更多的产品可以以网拍的方式出售。
在公司愿景里,可以提供最专业和最完善的服务给所有有兴趣竞标房地产的买家。我们希望在不久的将来,可以打造出全东南亚第一的电子投标系统。
生意模式
我们现在的生意模式有分为 4 种:
1. 订阅收费
用户可以付费升级查询更多而外的房地产质询。
2. SAAS
公司提供资源和平台让卖家可以出售自己的产品而从中抽取收入。BidNow 累计了许多用户的质询和注册人数帮助提高卖家产品的曝光率。
3. 专业培训收费
我们每个月都会开专业拍卖房地产培训班让有兴趣的人可以参于和加入我们成为我们的代理人或投资者。除此之外,卖家可以选择多过一种的出售方式例如网拍或团拍。
4. 营销费
公司会帮助卖家打广告让更多人看到他们产品(包括银行拍卖房地产和家电卖家),成功出售后再和卖家收营销费。
公司成功案例
在 2020 年,BidNow 第一次踏上众筹的平台也成功的筹到了 2.1 million 和增加了接近 384 位的小股东。同一时间,我们也获得了 Malaysia Books of Record " 一天内筹到了最多数额的项目"。
对于 BidNow, 这不仅仅是个奖项也是个大众对 BidNow 的一份认可。
BidNow 对社会的的意义
BidNow 希望减低大众对拍卖的误解和误导,让大众不会再因为 "怕" 而那么的抗拒拍卖。
帮助竞标者不被掉入拍卖陷阱例如无法转名的屋子,开发商倒闭,冻结令等等。因为如此,我们实行了提供专业客服/ 专业线下的一对一对接,让竞标者可以完全的了解和分析屋子的问题和风险以避免可以避免的风险。
除了大众,BidNow 也成功的减低了银行之前经常遇到的问题例如标赢者在无法得到拨款的情况下,而被银行没收了 10% 的定金。这不单单是竞标者的损失然而对银行也是一种损失。
以往卓越的数据
在 2019 年 6 月成立以来,BidNow 的活跃用户数随着时间的走势继续增加。
从 531 个人增长到了 20,212 个人; 平均一年增长了 9 千多人。 未来的一年,BidNow 也会增加更多的产品范围除了可以 B2C 也会让用户可以 C2C。
未来的展望
1. 打造全马最强大的拍卖质询平台
2. 通过我们的平台服务可以买到更多的产品例如家电,家具,家私甚至是装修
3. 提供最完善的电子投标系统给银行,拍卖行和慈善机构
4. 打造生态圈让大众可以更方便的对接跟专业团体
5. 与市场上的房地产中介合作以达到双赢的模式
6. 开拓东南亚市场:
- 我们已经成功成立新加坡的公司和网站
- 我们也会陆续成立新的公司在印度尼西亚
筹款资金
我们将会把众筹项目中获得的资金,其中的 20%充作营运开销,另外 20%用来进行软件升级的工程,另外 20%用来开拓外国市场,其余的 40%则是用在市场行销方面。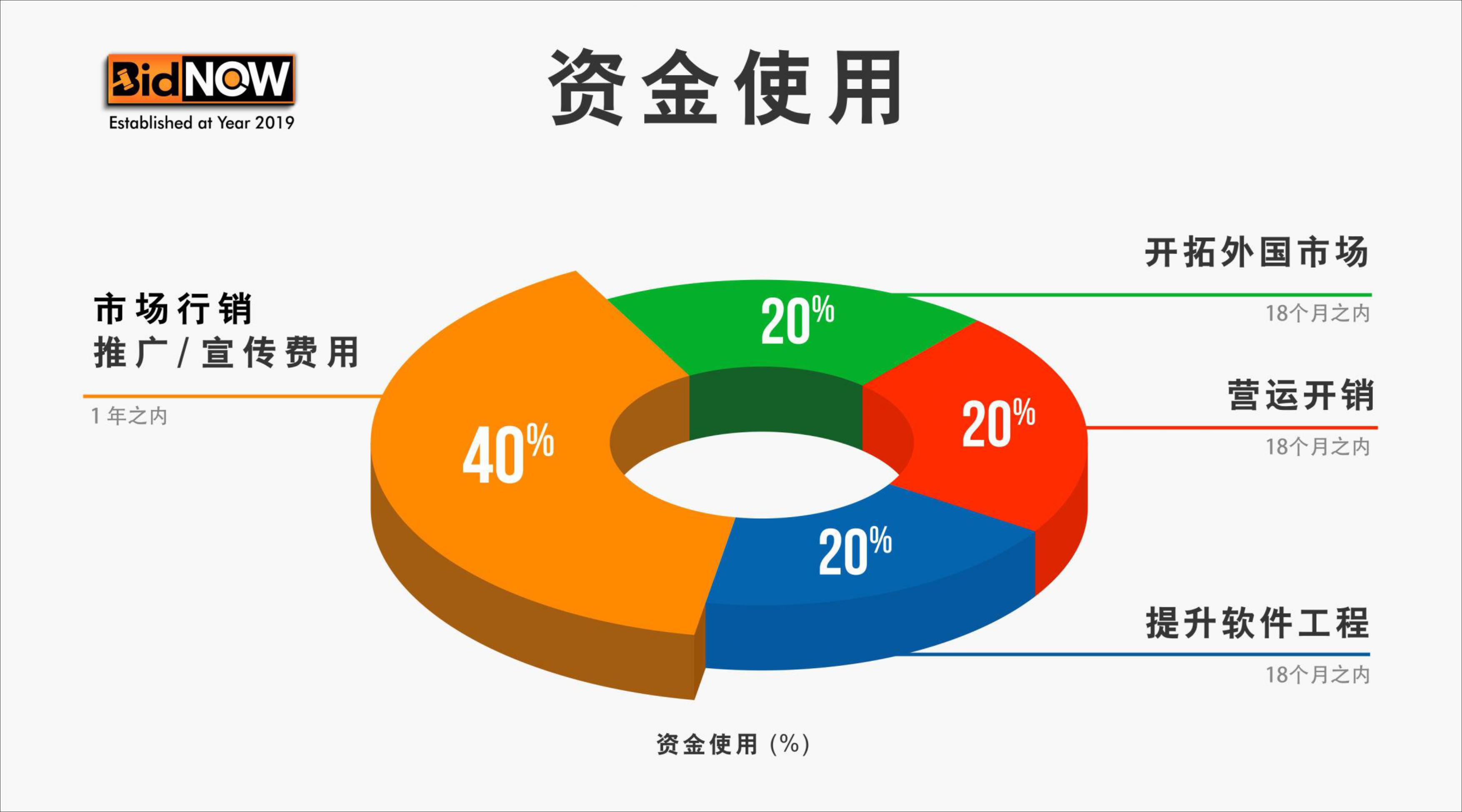 团队介绍
Frankie Goh Chee Keong
创办人兼首席执行员
在房地产销售领域累积了长达 17 年的丰富经验

和曾在国内著名拍卖行出任首席营运官一职。
Chris Yong Kin Siong
联合创办人兼首席营销官
Ivan Goh Chee Hoe
首席财务官
在公司审计、税务和企业咨询服务方面累积了丰富的经验。

曾受委为国内,马来西亚,一家上市公司的执行董事,并成功协助有关公司完成一宗价值超过 5000 万令吉的商业收购项目。
Sean Lee Wei Sheng
首席技术官
---
欲知更多详情
请联系我们
---
Website : https://www.bidnow.my/
Facebook : https://www.facebook.com/BidNow.my/
Instagram : https://www.instagram.com/bidnow.my/
Whatapps : Contact Us
---
投资框架协议(Term Sheet)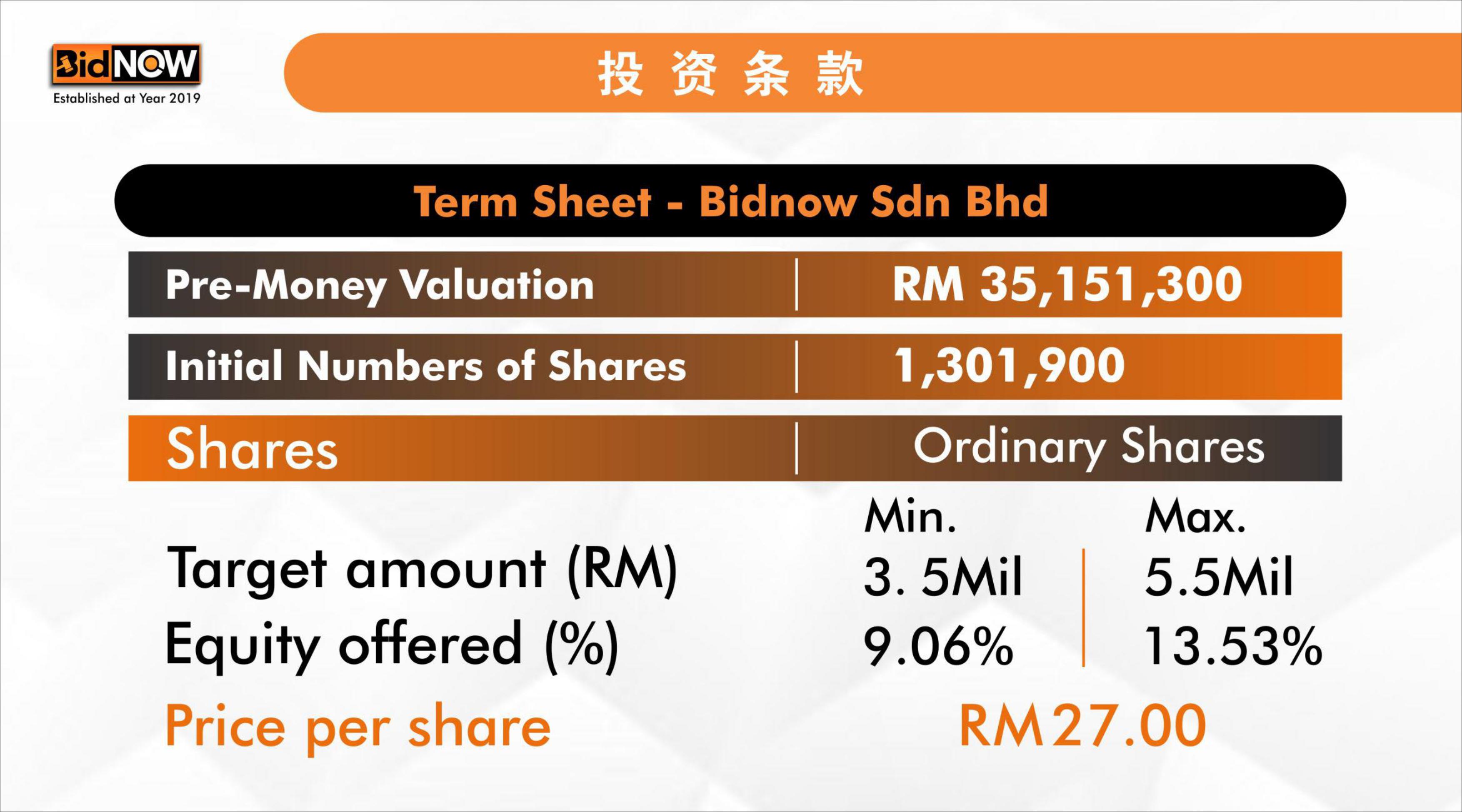 ---
投资配套(Investment Packages)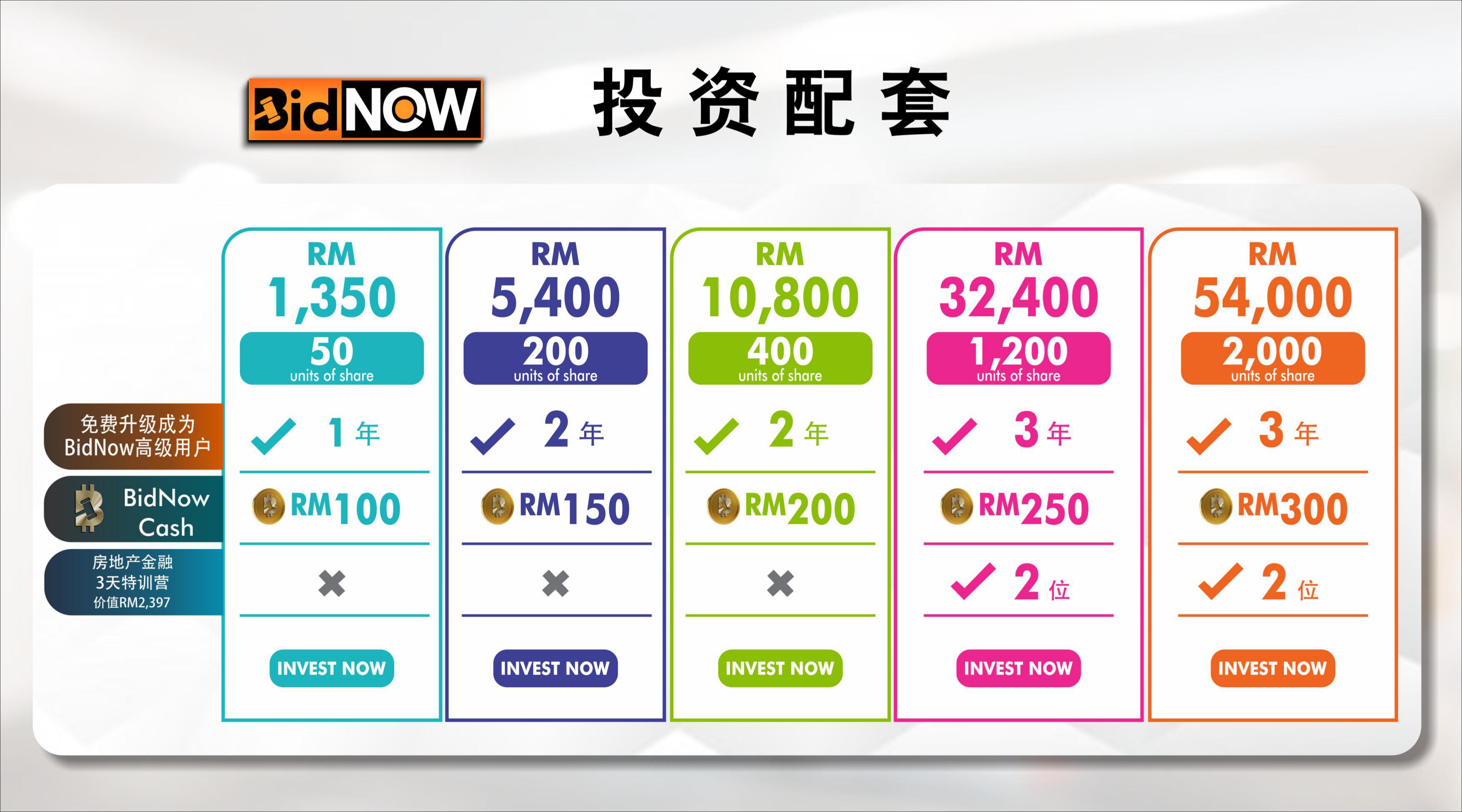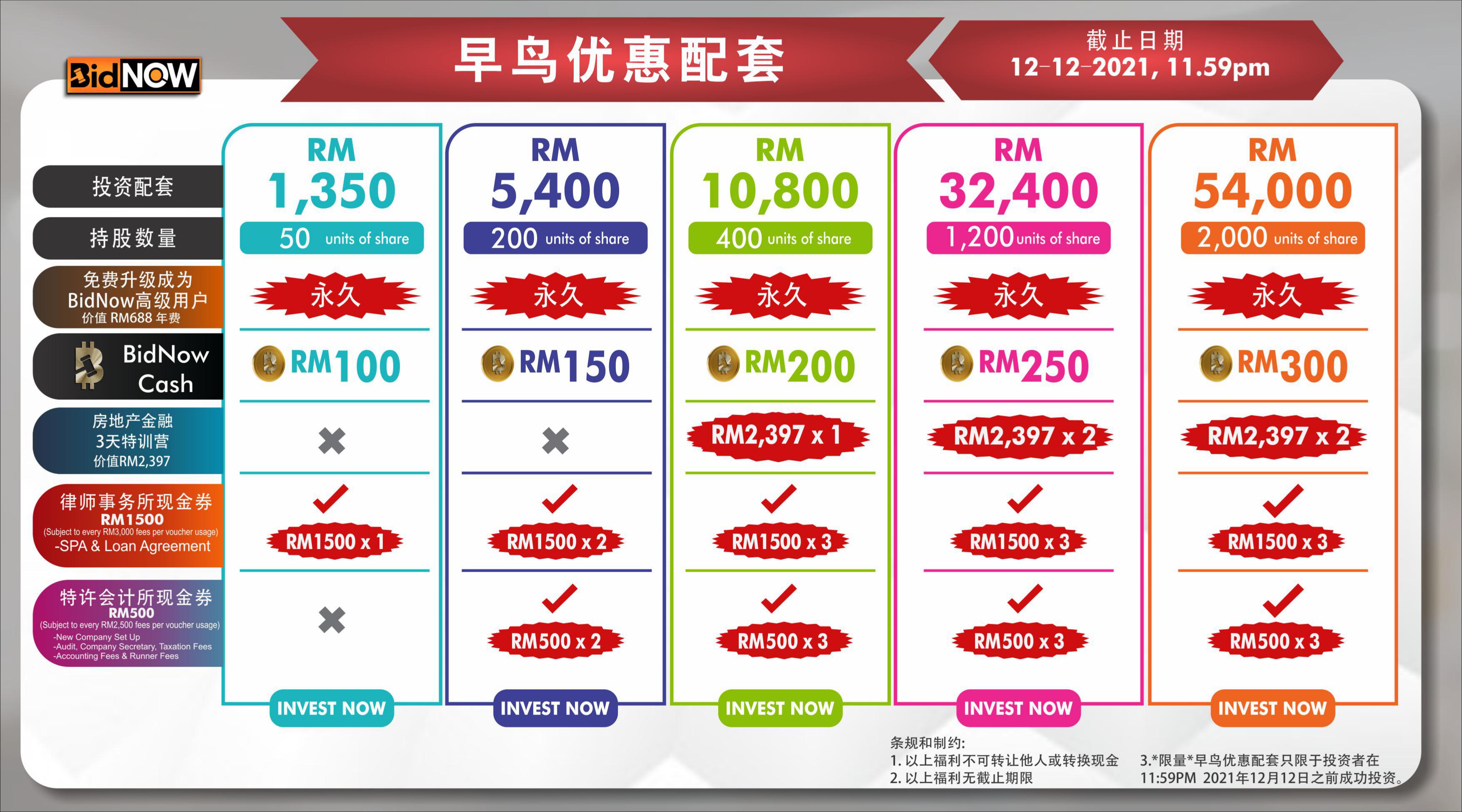 ---
核心团队(Core Team)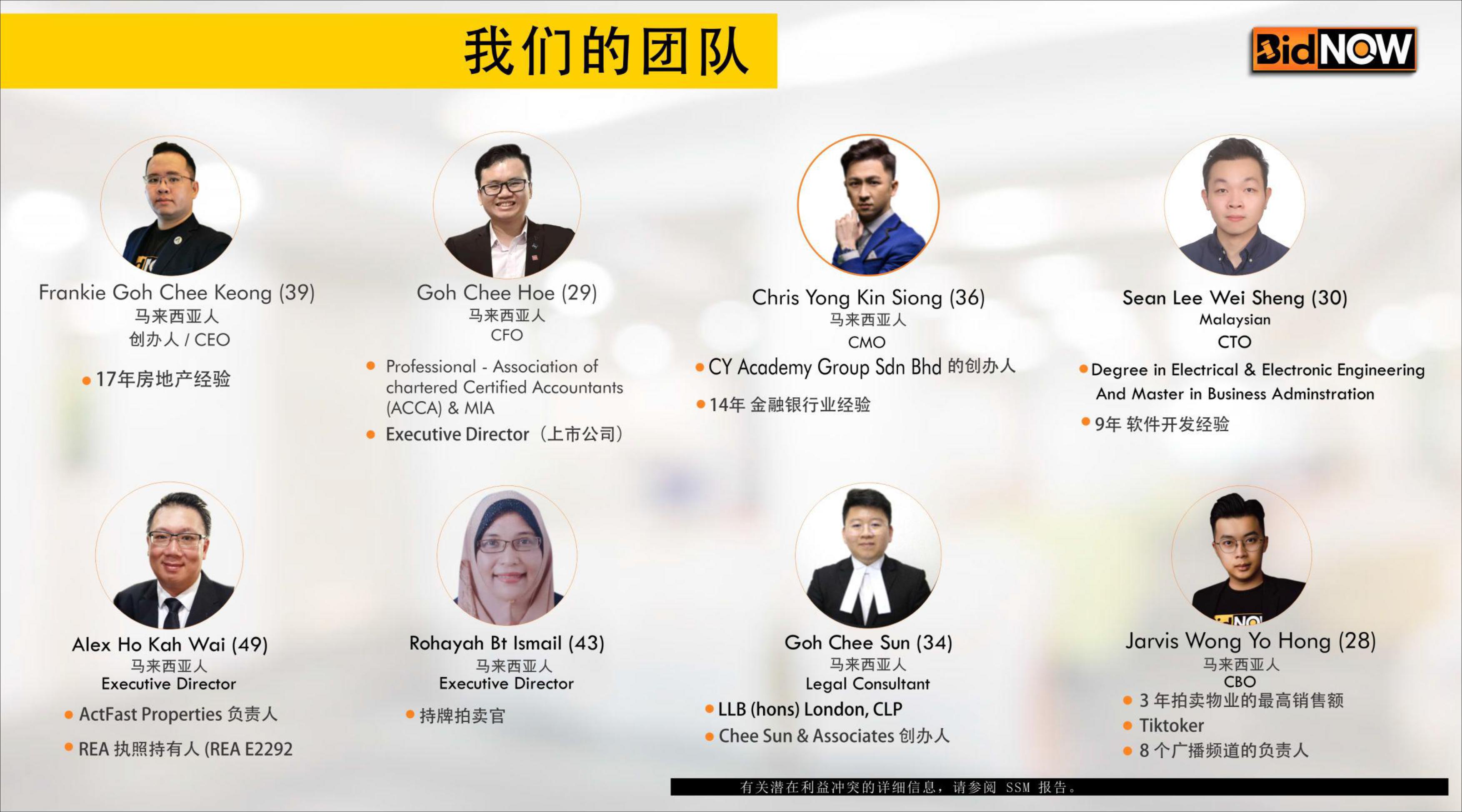 ---
欲知更多详情
---
公司结构(Company Structure)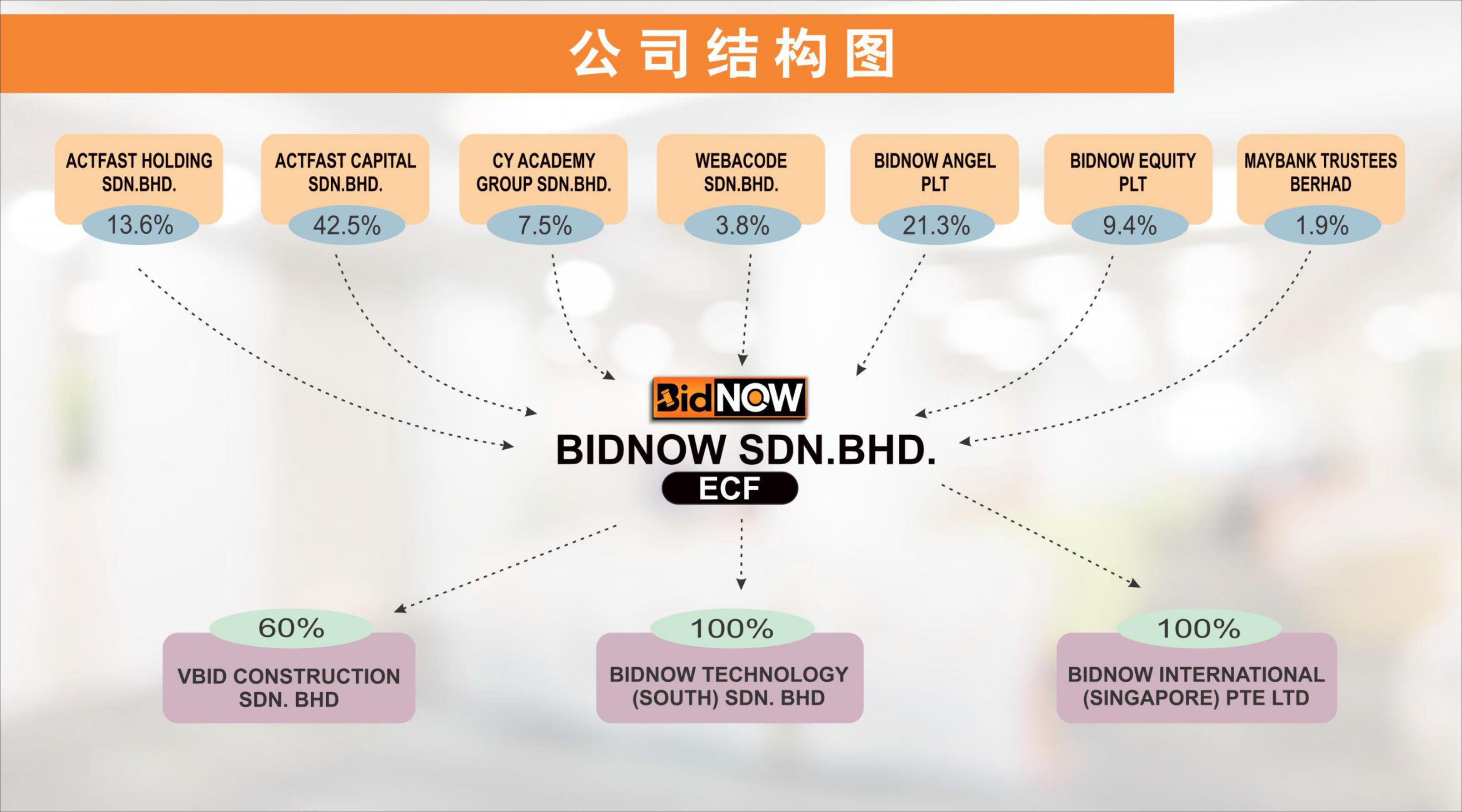 ---
创办人募资简报 (Founder's Pitch Deck)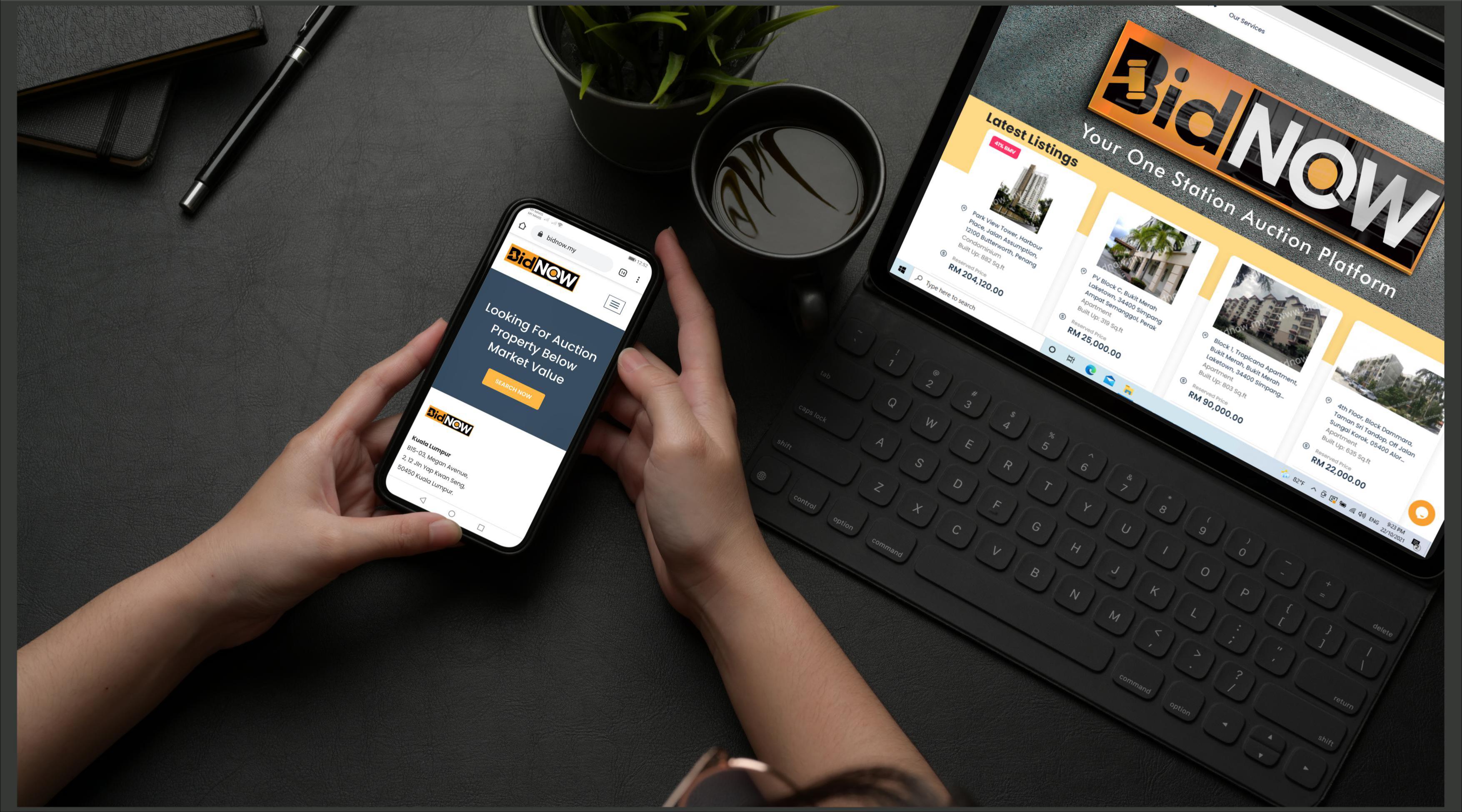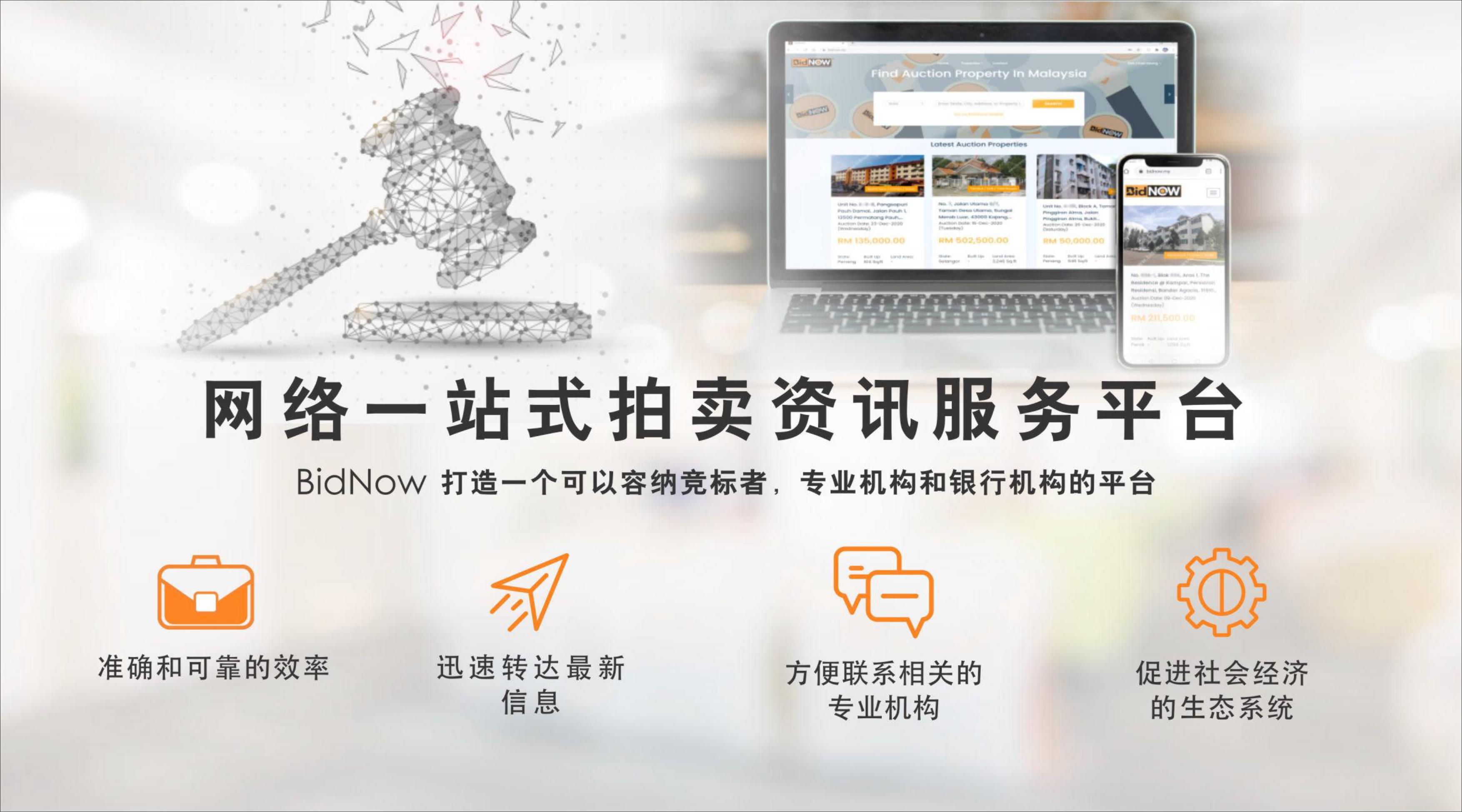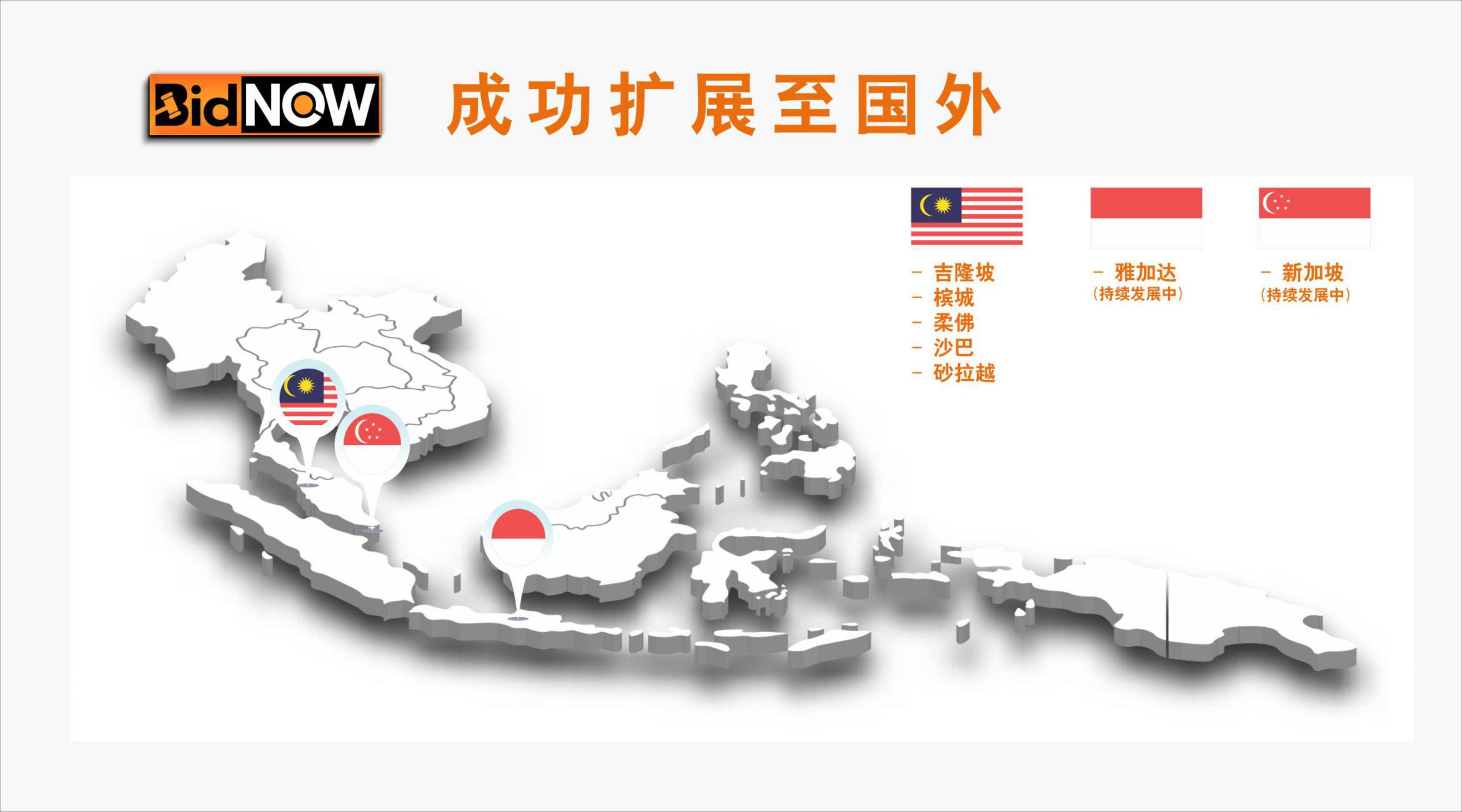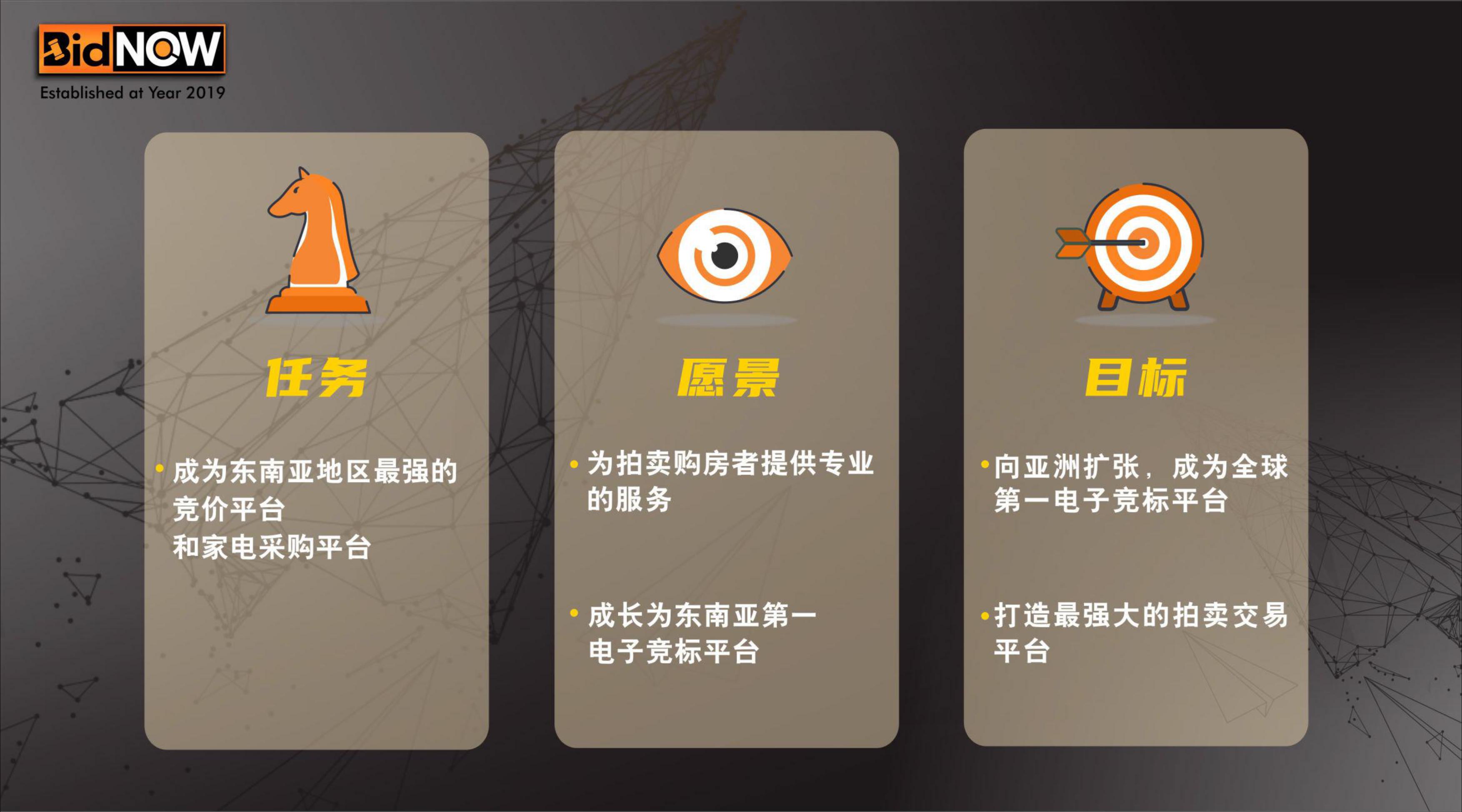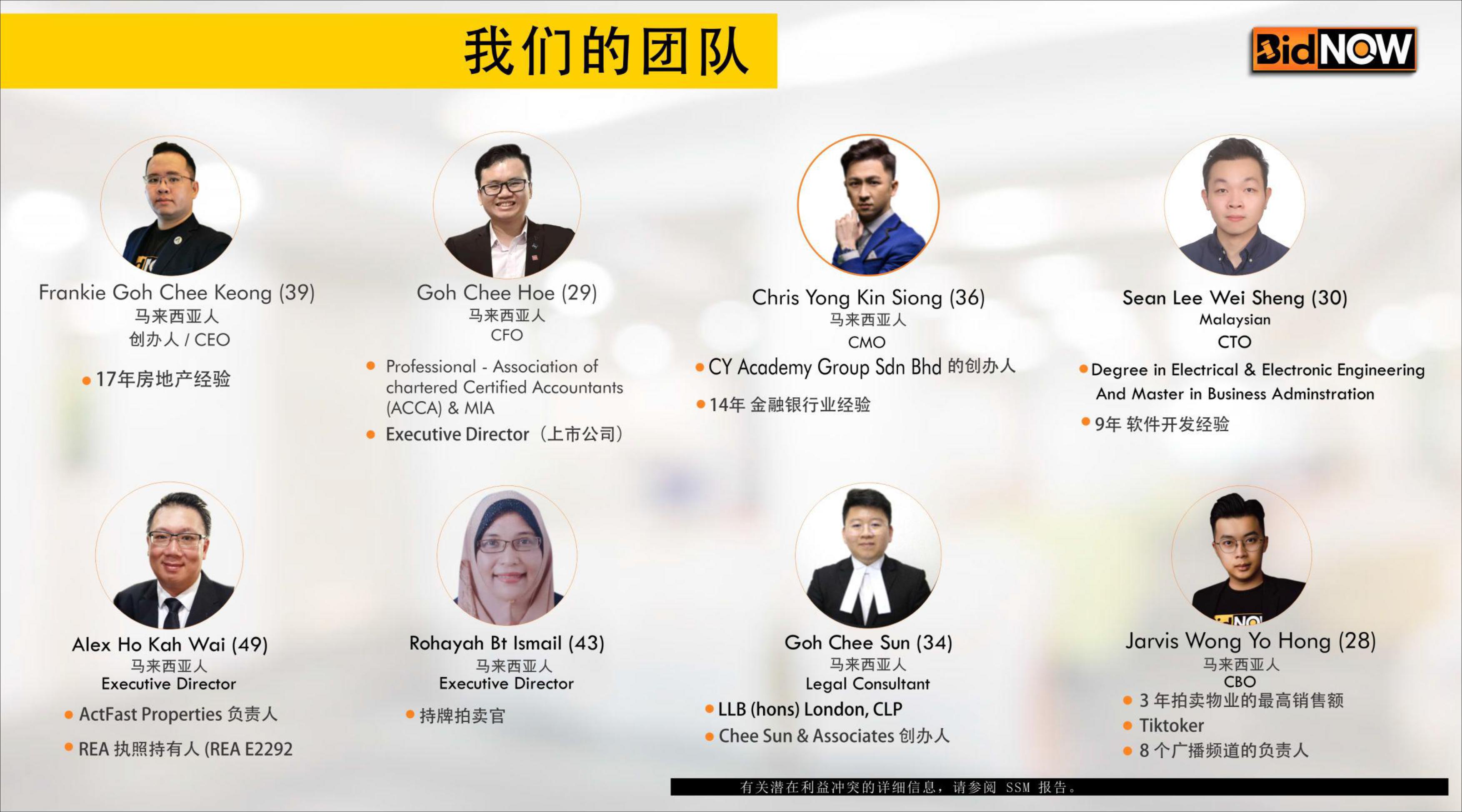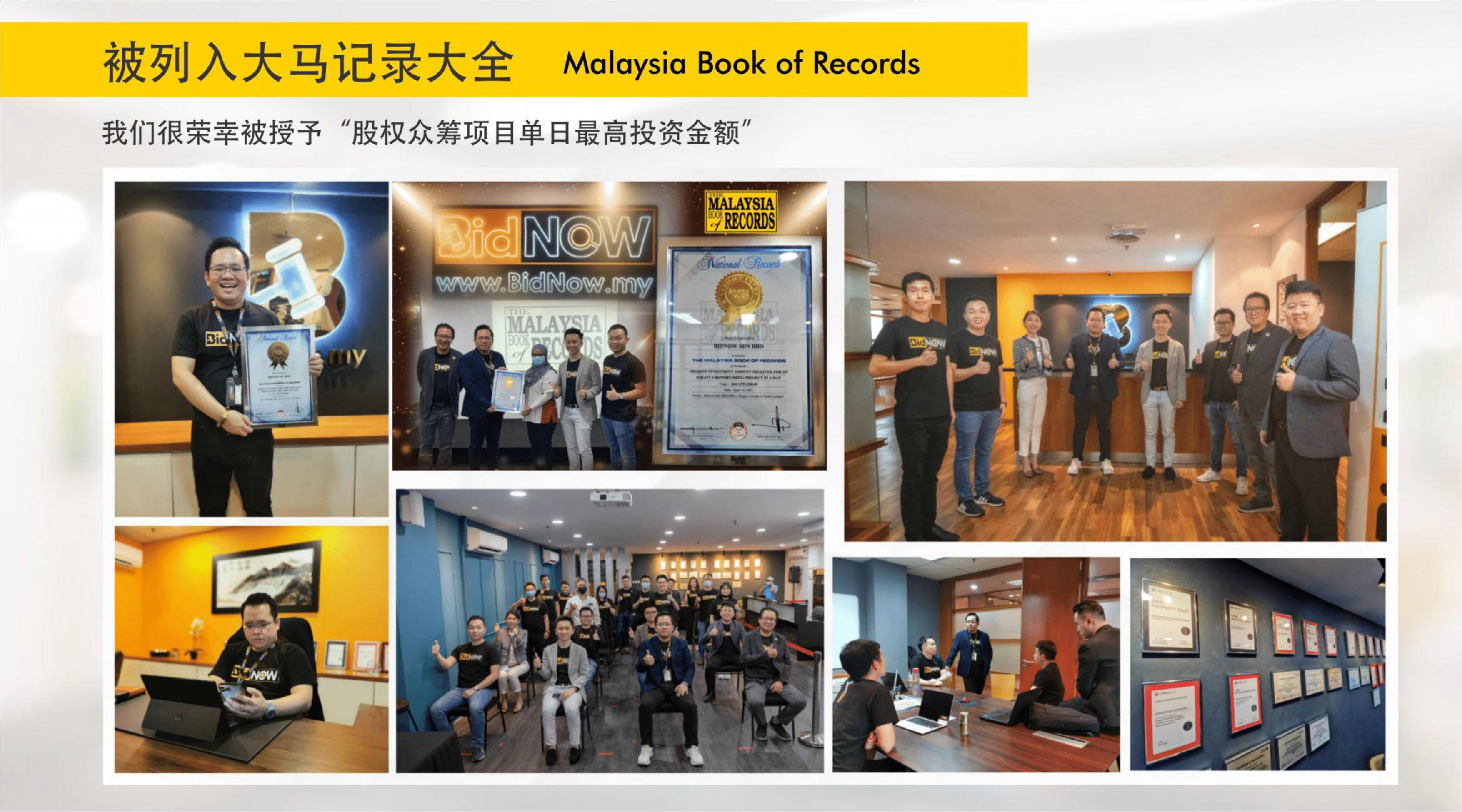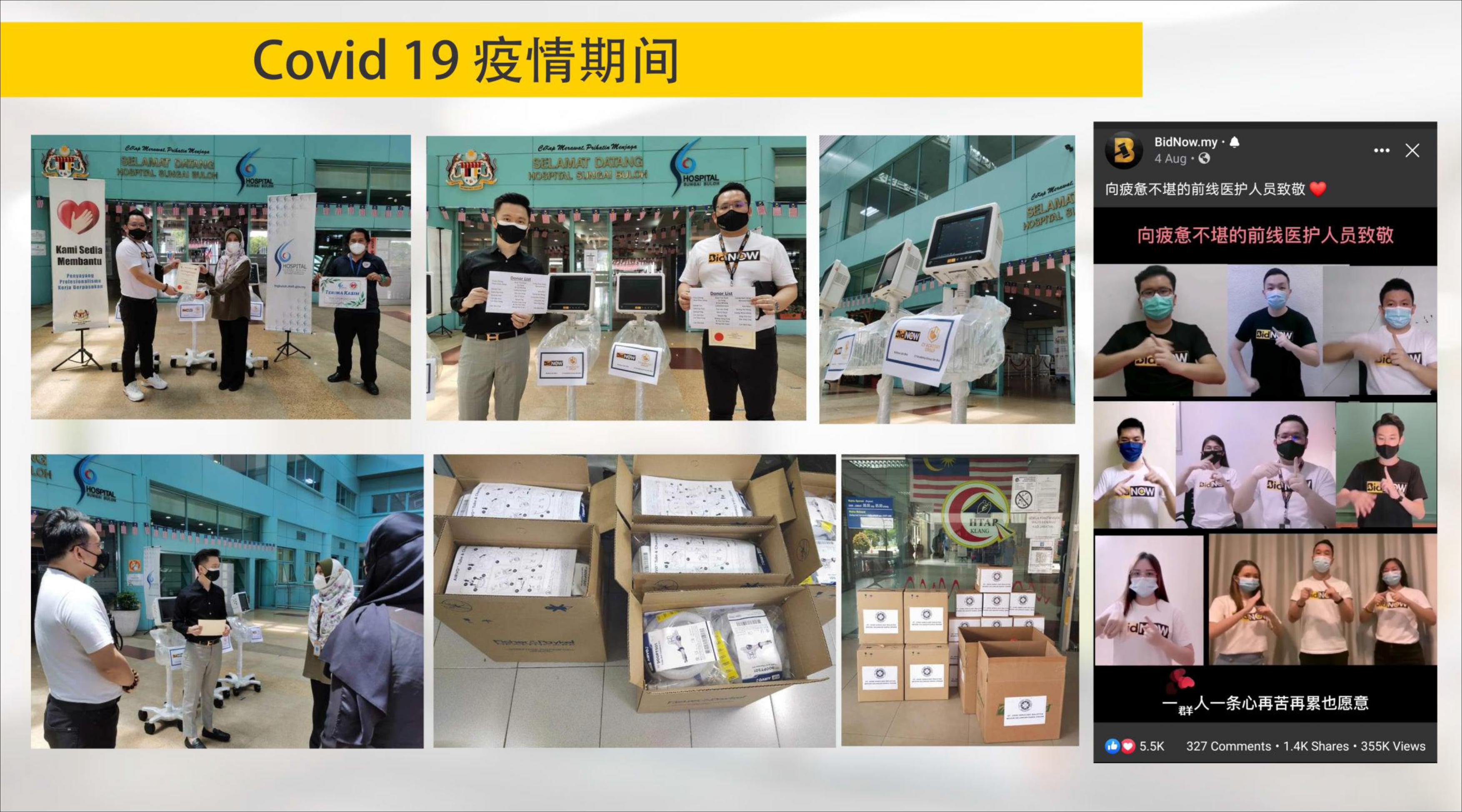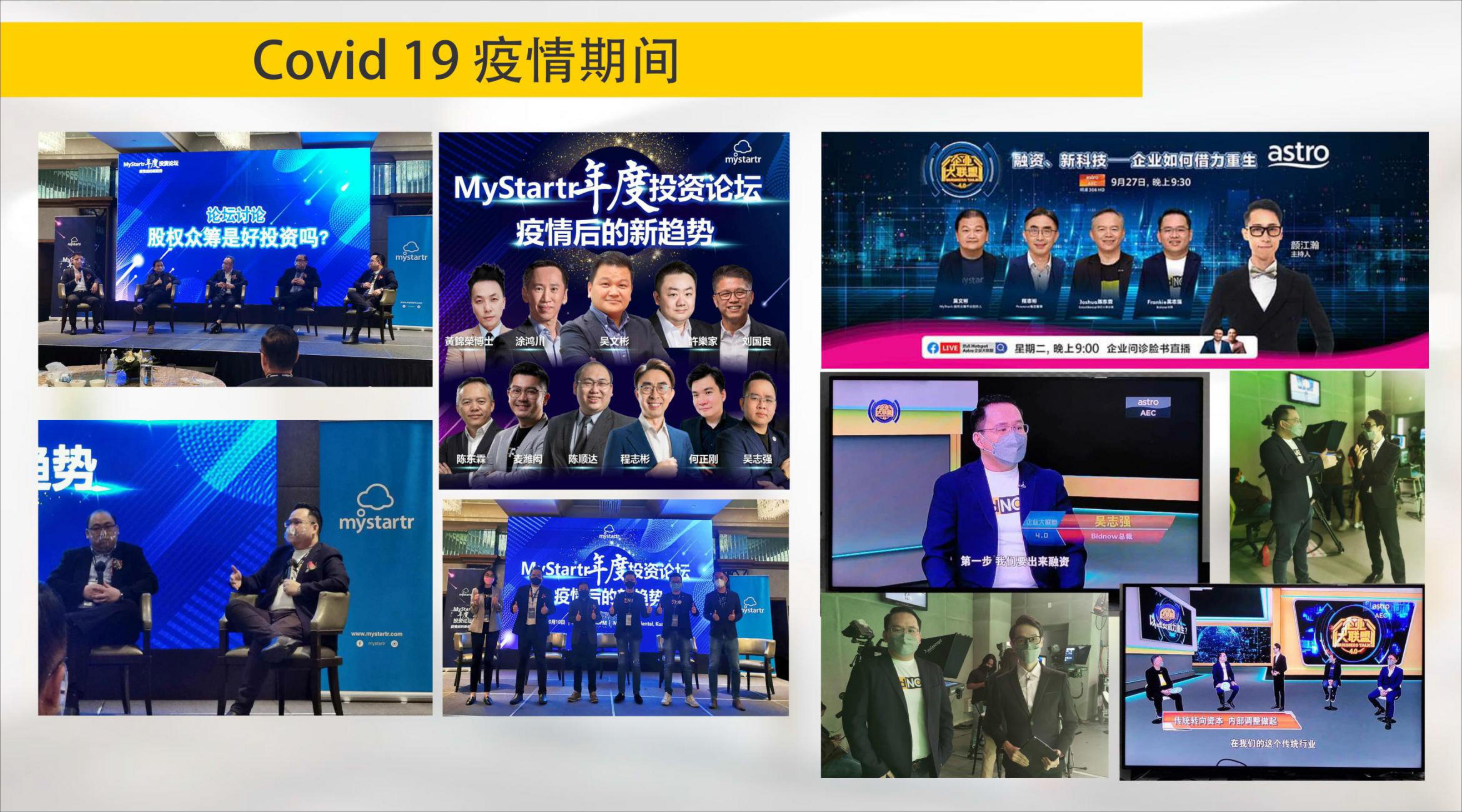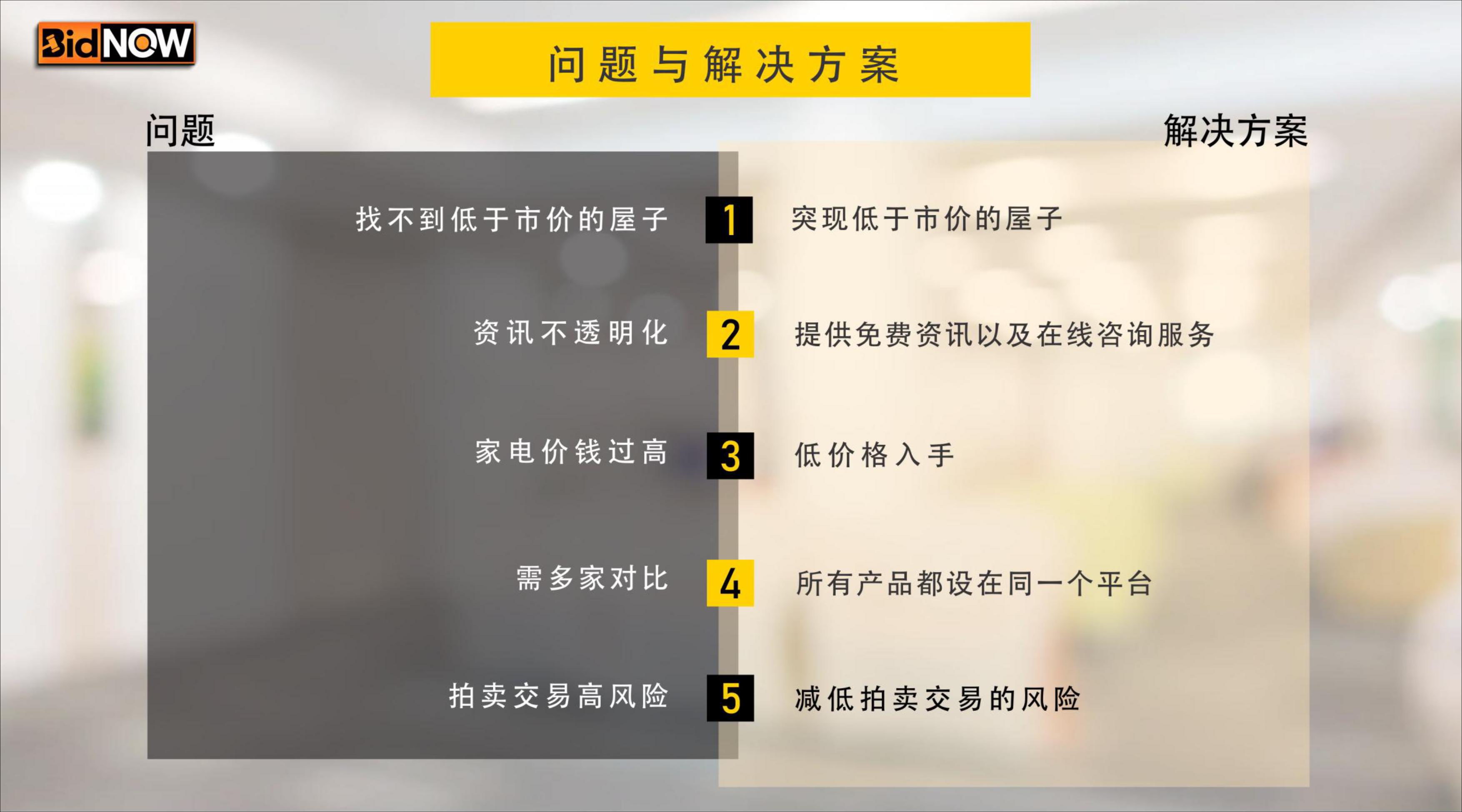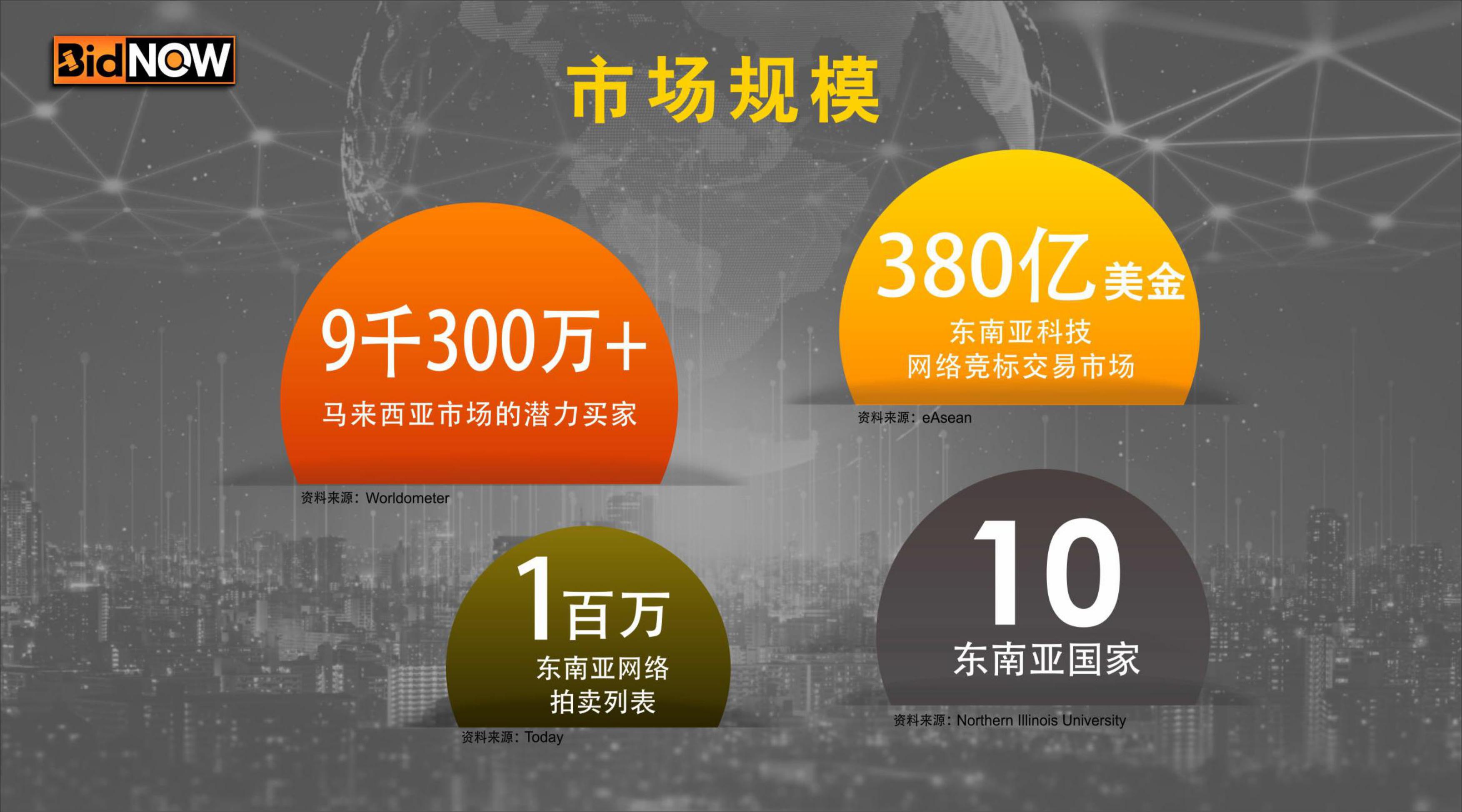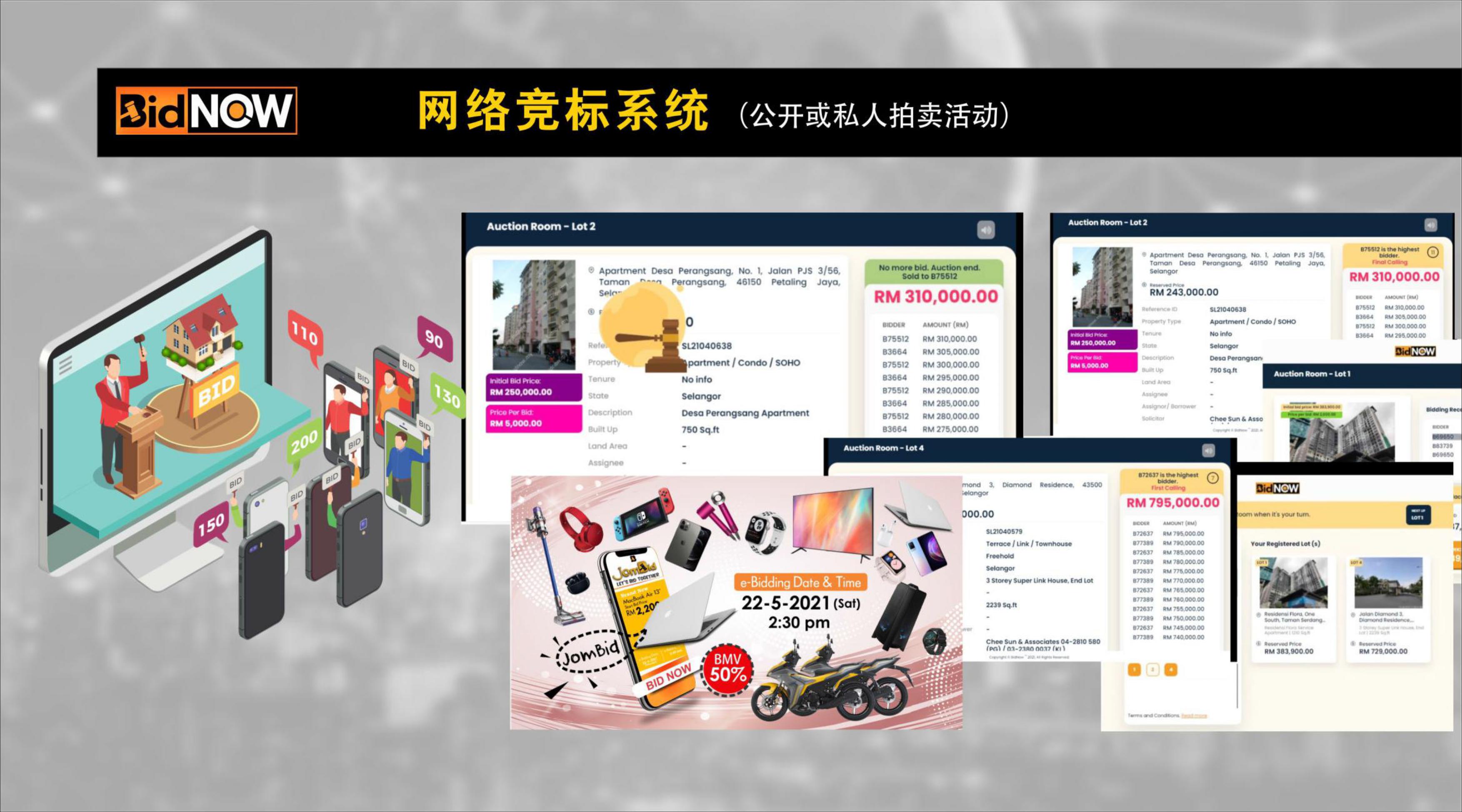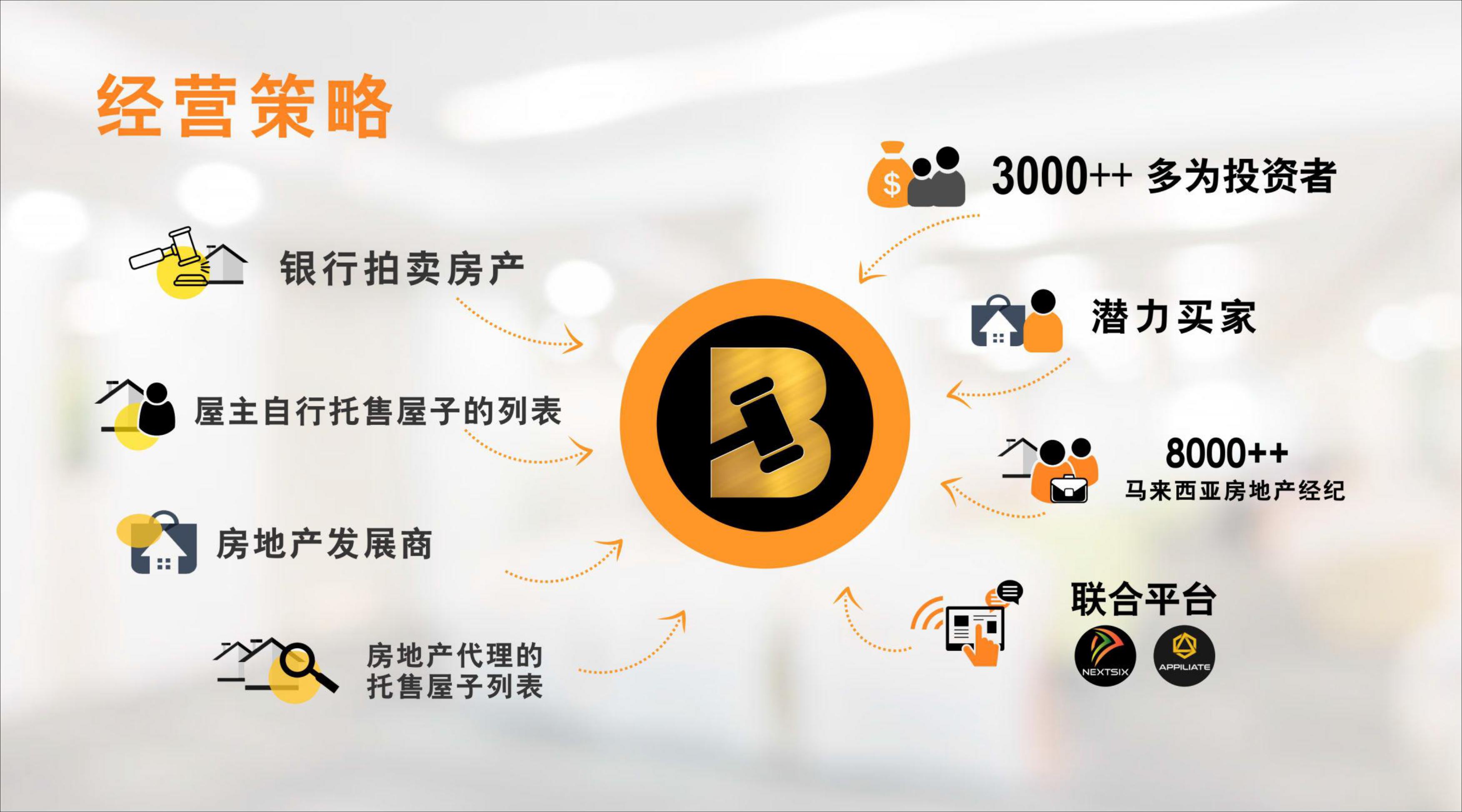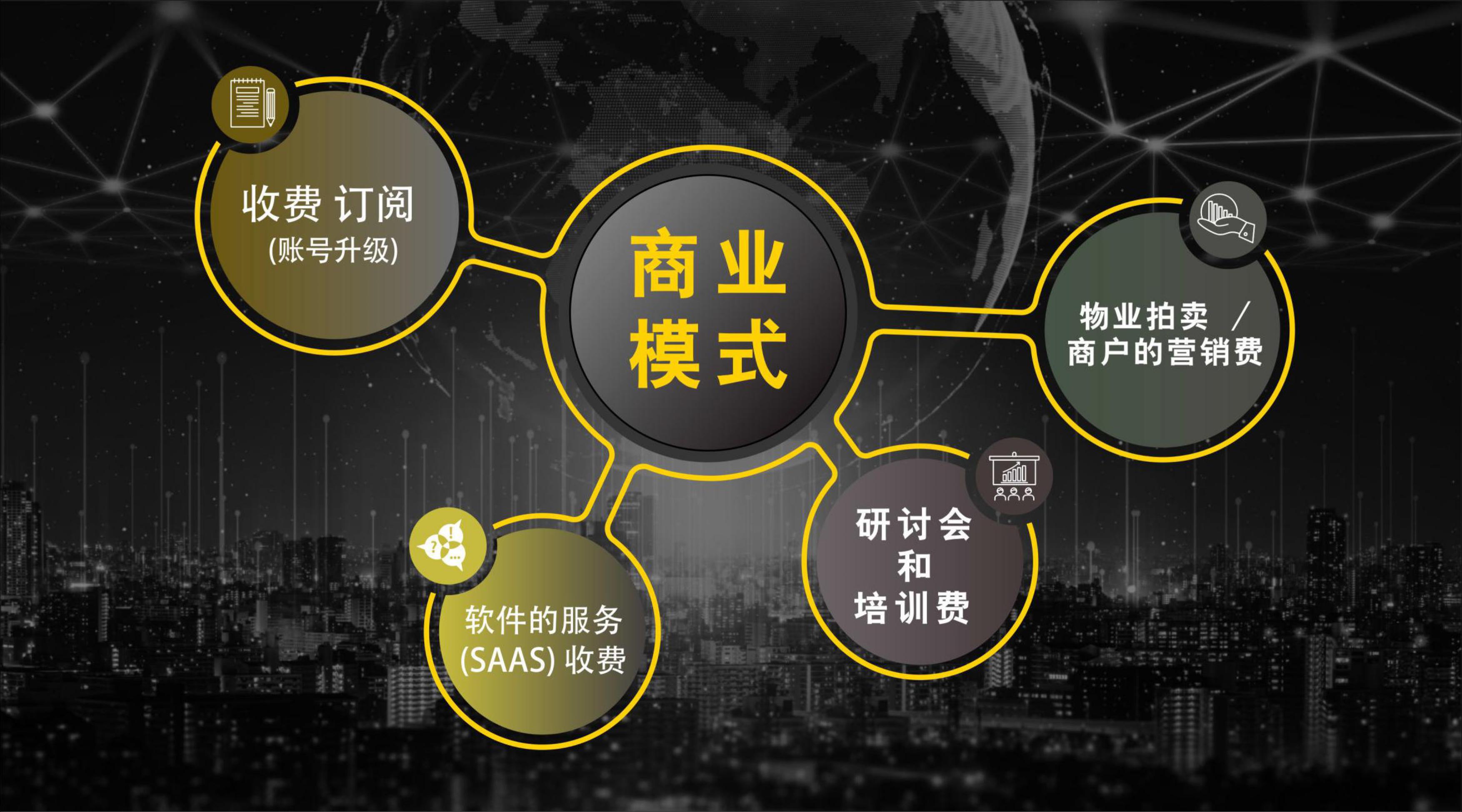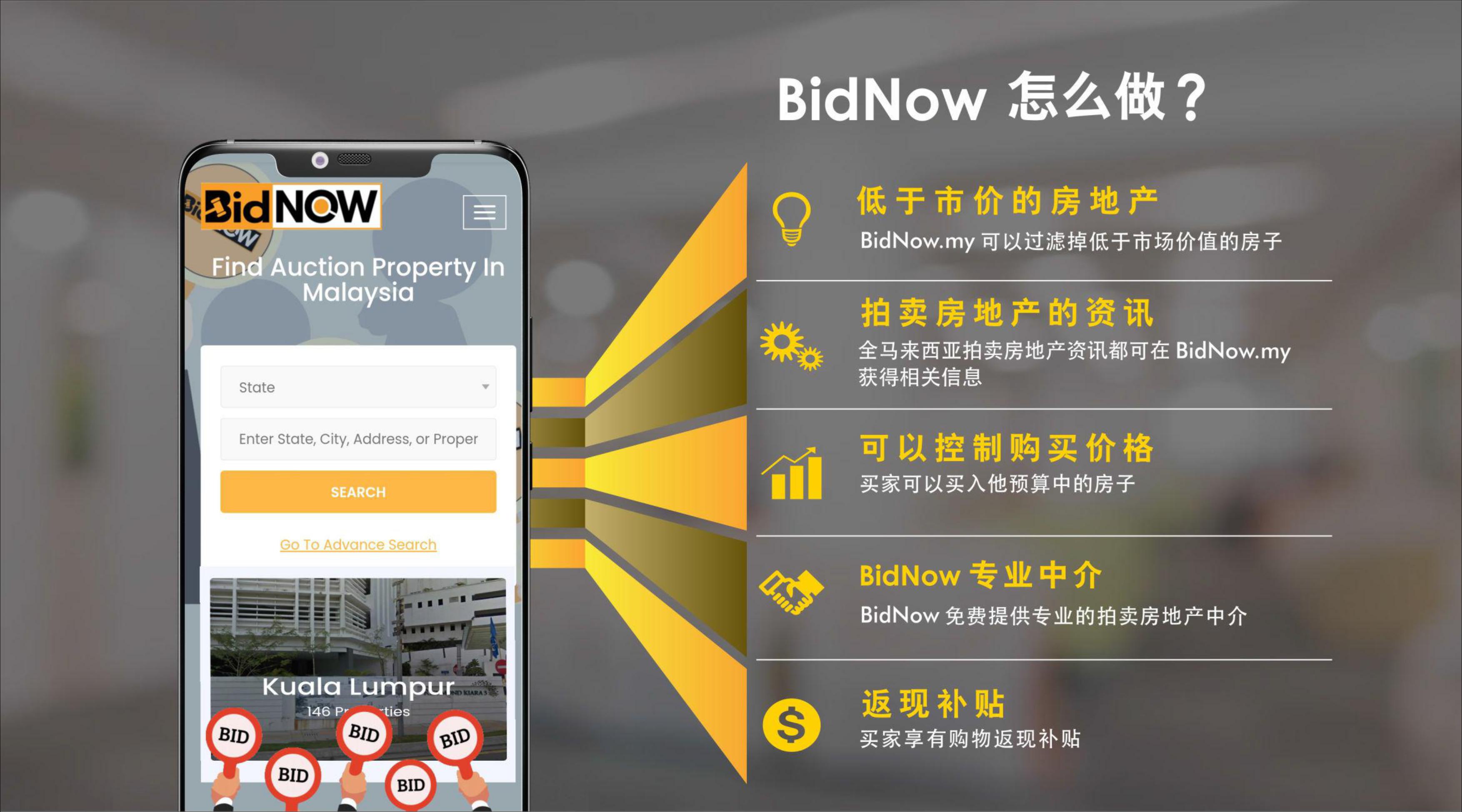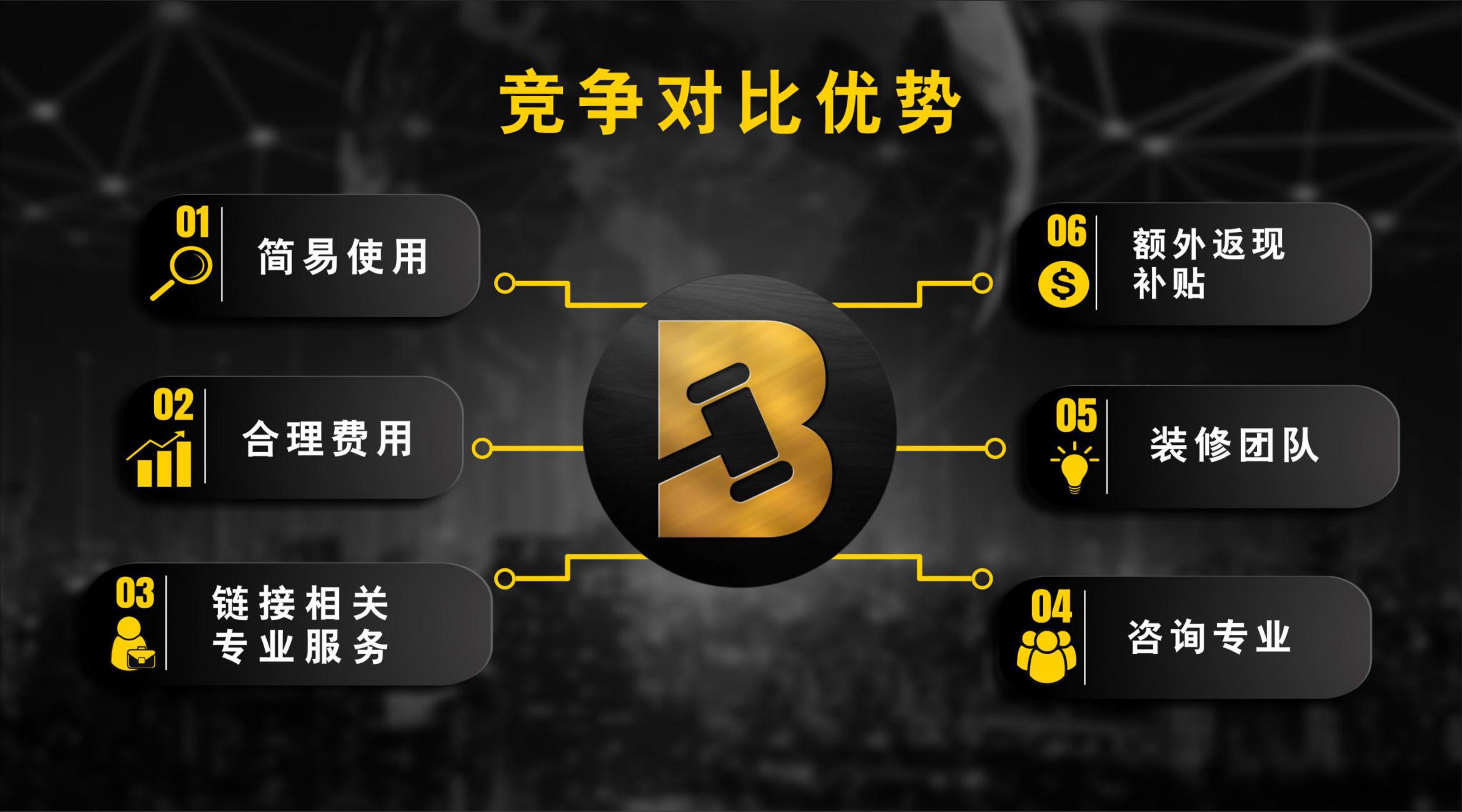 ---
欲知更多详情
---