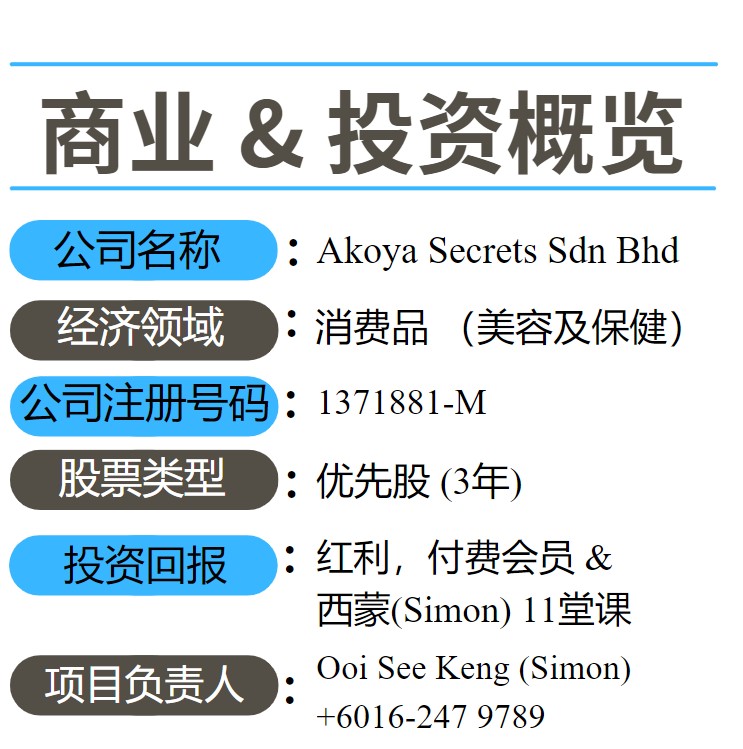 公司理念
Akoya Secrets 是一家一站式的美容,保健,养生教育的网络工厂,结合了教育课程、保健产品和大数据订用模式,让每个人都可以在学习和赚钱的同时保持健康
我们的专业团队在护肤、抗衰老保健、瘦身管理以及干细胞疗法方面拥有超过 20 年的专业经验,以轻资产模式来创造可持续的商业模式,打造大健康生态系统。所以我们要做的是一个一站式的美容,保健,养生教育网络工厂。
愿景:将我们的大健康管理理念传播到世界各地,成为您论原因,找对方法,活出自信人生的大健康顾问。
使命:通过教育及学习,培育能贯彻始终且创造竞争优势的大健康顾问团队。
创办人兼CEO黄斯庆的小故事 ~ Simon 老师
Simon老师从6岁48kg,一直增胖到19岁110kg。胖了13年多,怎么可能在几年内健康的甩掉40公斤,还要维持32年不复胖?一切缘由他学以致用,论原因找方法,创造出Simon老师瘦身之道。19岁时,他在台湾大学学习营养学,促使他减肥过上更健康的生活。运用所学,找出原因找到方法,创造了"西蒙教练瘦身术"。
在他30岁那年,进军美容保养、保健、瘦身领域,至今21年,一步一脚印在行销、领导、教育、培训、复制、系统、营销闯出一片天。成功带领国内3大美容瘦身品牌集团在市场占有一席之地,培训上千位美容师。并且结合他一直以来的学以致用贯彻始终的精神,在近10年,出现在电视、电台、报章、杂志,让所有的媒体競相采访及无私分享他的专业与经验。
保养市场瓶颈及痛点
2020年,全球面临了措手不及的疫情来袭,很多以被动门店传统方式销售的美容瘦身保健行业都面临了瓶颈和极大的挑战,因为不知何时可以重新营业,销售额直线下滑,甚至面临0收入。另一方面,也因疫情关系,人们开始更加注重健康,开始寻求保健产品,然而市场上很多人在销售保健品的时候,缺乏专业健康营养知识,甚至有些产品在无国家认证机构批准就推出市场,因此产品的可信度是有待提高的。
大马过半人口有超重问题
据东方日报2020年6月22日的报导,大马超过一半人口有超重问题。
据2019世界人口综合报导指出,大马是东南亚国家当中,肥胖问题最为严重的国家。
2019年全国健康及病发率调查报告指出,大马几乎1/5人患有糖尿病。
从以上几点来看,肥胖问题绝对是影响你健康的致命伤。所以,瘦身保健是绝对不容忽视。
为何成立Akoya Secrets
我们发现到如果再引用以往的方法去经营是不对的,随着数码化加速的大趋势,我们应该善用大数据,让自己的行业转型,让瘦身保健养生资讯更为普及化,才能真正的造福人群,让人们在大网络时代上得到大健康。
我们的特点
1) 教育培训系统
疫后的Simon老师化身为大健康顾问指导,一心一意的收纳,整理,编制。创出一套无私"1♥ 11西蒙11堂课",秉持论原因,找方法的座右铭,"帮你转,带你变",抢先进入竞争优势的保健领域,成为具备七十二变的大健康顾问团队!
我们因应市场讲求认证的要求,打造首家国际认证瘦身保健技术学院,这不但让我们代理商受惠,也造福其他想在瘦身和保健领域发展的同行们修读提升获取受认证的文凭。
2) 产品规划系统
结合Simon 老师20年在美容、养生、保健行业的产品开发研发经验,坚持以天然成份,营养为主,无刺激物,无添加物,强调适合亚洲热带体质及肤质,并且获取品质认证书,再以教育和效果为导向,让消费者从中受益。
3) 网络行销系统
轻资产的经验模式和可负担的创业门槛,让跟随我们的代理们可以运用我们的网络工厂和大数据营销系统轻松创业累积财富之余,还可以在线学习专业保养与保养知识服务客户,获得健康。
产品系列规划
我们的首推产品
1) 美肌亮肤保养品 ~ ViViwhite美白霜
Akoya身为一站式的美容,保健,养生教育网络工厂,当然也注重如何保持健康美。我们的创办人,Simon老师,从小就发现老祖母及母亲常用珍珠磨成粉来做日常的养肤程序。她们到80岁高龄时皮肤还保持着细白光亮。珍珠粉的天然美白功效就深深的烙印在他心里。
一直到他30岁开始从事美容护肤行业,有机会到日本亲身见识与当地专员技术交流后,发现日本美白护肤科技可谓时世界首屈一指。而且在护肤领域,我们也发现,无论是日、韩、港、中、台、新、马、泰等亚洲国家, 有60%至70%爱美人士都在追求"白为美"及"一白遮三丑"的理念。因此,有些人不惜以化学美白,服用药物,注射针剂等捷径来达成"人工白"的目的。
我们心疼的是,原本蛋壳滑的健康肌肤因此而变成敏感、干涩、泛油。炎红的脆弱肌肤,再经亚洲热情阳光的照射下,色斑、老化等问题也写在脸上。
于是推动了我们研发美肌亮肤保养品,以沿用日本奈米科技结合天然成分Akoya珍珠与白薇草本萃取而成的"护肤品级亮肤霜"。抱着珍珠美白的概念,结合日本科技把ViViwhite亮肤霜带给大家。能在8秒内立即提亮你的暗淡肌肤,呈现出珍珠般的亮白,其12小时高效深层保湿让肌肤形成一层天然细致保护膜,用上它让你更容易上妆且肌肤越来越白皙健康。
我们的ViViwhite亮肤霜推出市场首月,就突破百盒,客户对我们的美白霜赞不绝口。市场的产品和大品牌多数是以欧美人的皮肤来设计产品,而我们是以亚洲人皮肤为基础推出的产品,所以使用起来相当自然又有效,而且深受马来同胞们的喜爱。
Viviwhite 顾客回馈
Viviwhite 顾客推荐视频
更多用户荐证请点击以下链接:https://www.viviwhite.com/pages/testimonial-1-1
2) 抗老逆龄保健品 ~ Peptide 3C Secret皇肽后的秘密
我们的皇肽后的秘密,更是深受中年人士的喜爱,吃了感觉年轻且实在。而且有些退休人士还想成为我们的代理来经营这个生意,在使用之余,还可以赚取额外收入。
Peptide 3C Secret 皇肽后的秘密顾客回馈 1
Peptide 3C Secret 皇肽后的秘密顾客回馈 2
3) 食疗体控营养品
所谓"一白遮三丑,一胖毁所有!",我们有了ViViwhite亮肤霜,解决"一白遮三丑"的问题,当然也要有"卡路里管理"的营养品。我们主张体重不只是减下来的,还可以是"管理"出来的。我们即将推出"卡管代餐",由Simon老师亲自研发,针对营养为主来打造健康的食疗体控营养品。
生意模式
Akoya Secret是以在线订用模式,并提供用户每月产品和教育视频。我们的代理模式可让大众轻松创业,并且运用我们的教育系统,产品系统及营销系统,共享销售额的利润以外,还可自我提升为专业的美容,瘦身保健顾问,我们称之为"小老师"和"店长",以服务客户获得健康。以网络工厂,无需囤货的概念,我们希望通过这个模式让更多消费者受益。加入会员,每月保健,每月付费,每日RM6!
未来企业发展3大核心
Akoya Secrets 企业宣传片
我们的团队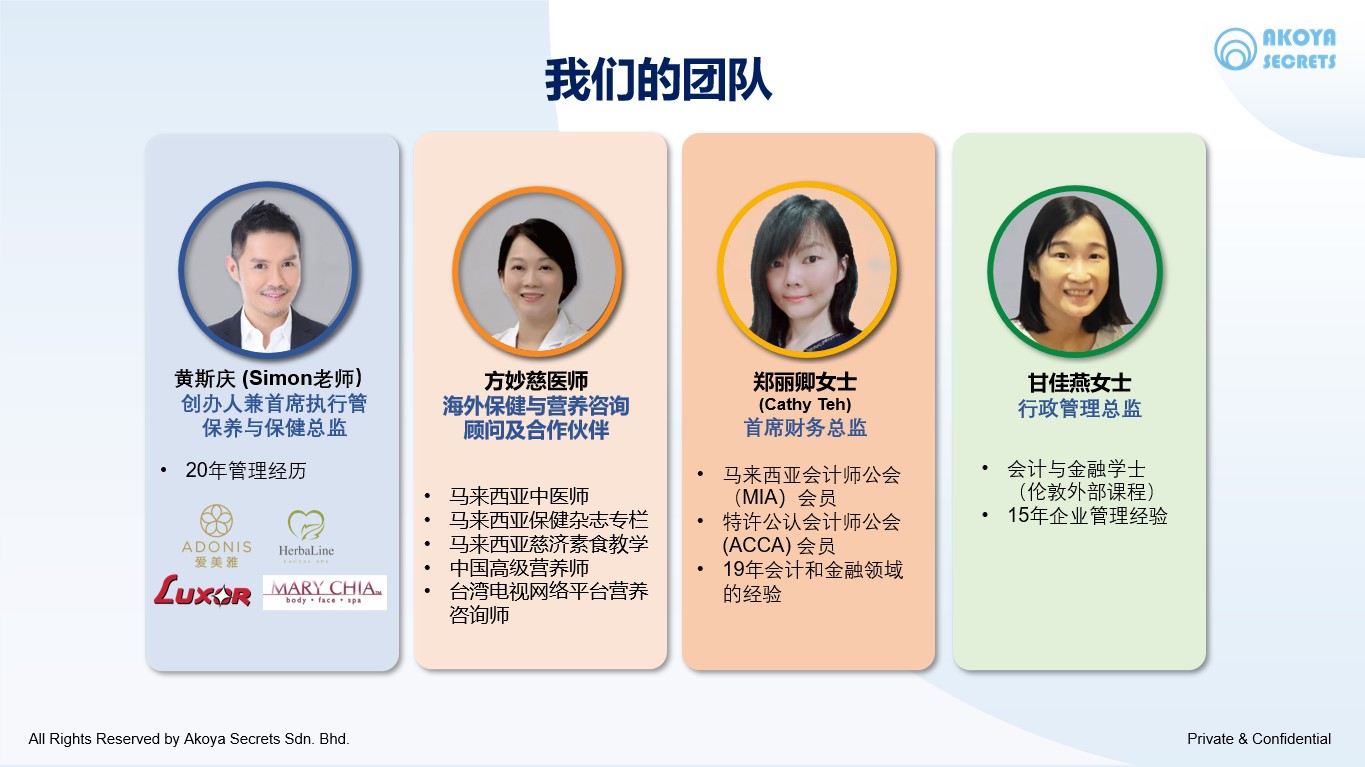 股权众筹目的
我们需要RM2,000,000 资金来实现公司的未来发展蓝图。这分4大阶段:
1 年内设立国际认证瘦身技术学院以在各州设立附属学院,并把业务扩展到全国

每年开发2种食疗体控营养品,2种抗老逆龄保健品,和2种保养品

全面推广 AKOYA Auto Centralization Platform

把产品推广到印尼和文莱的清真市场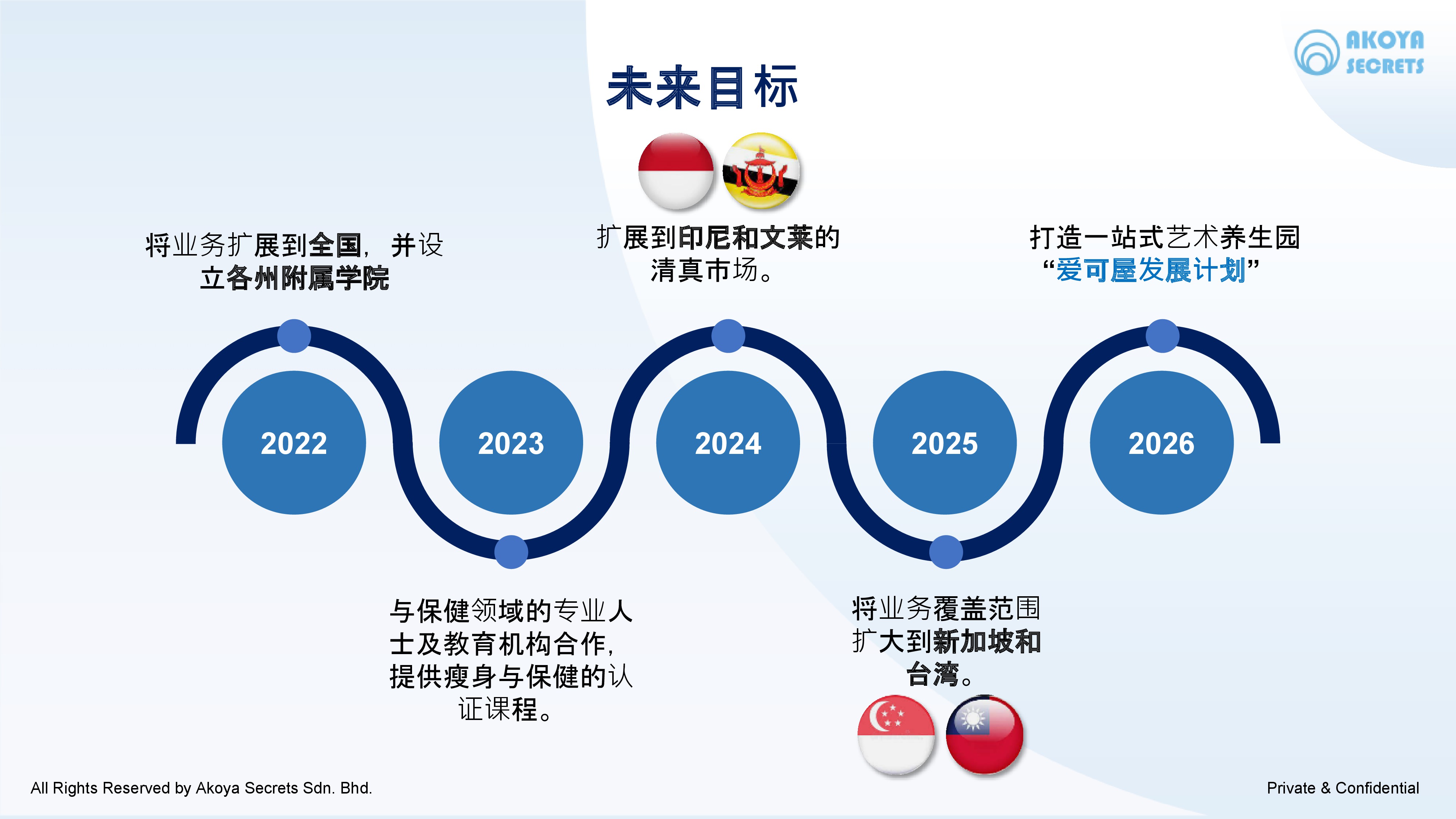 投资条款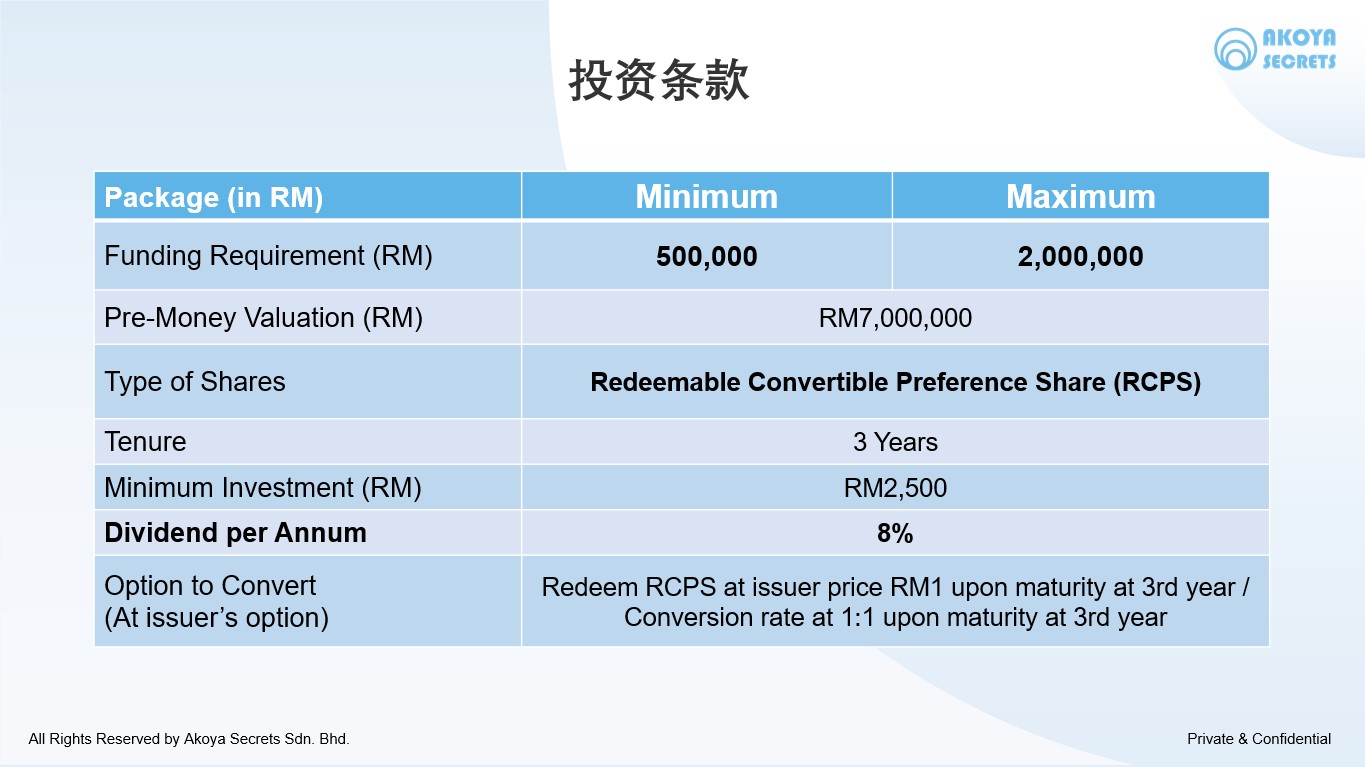 股东投资配套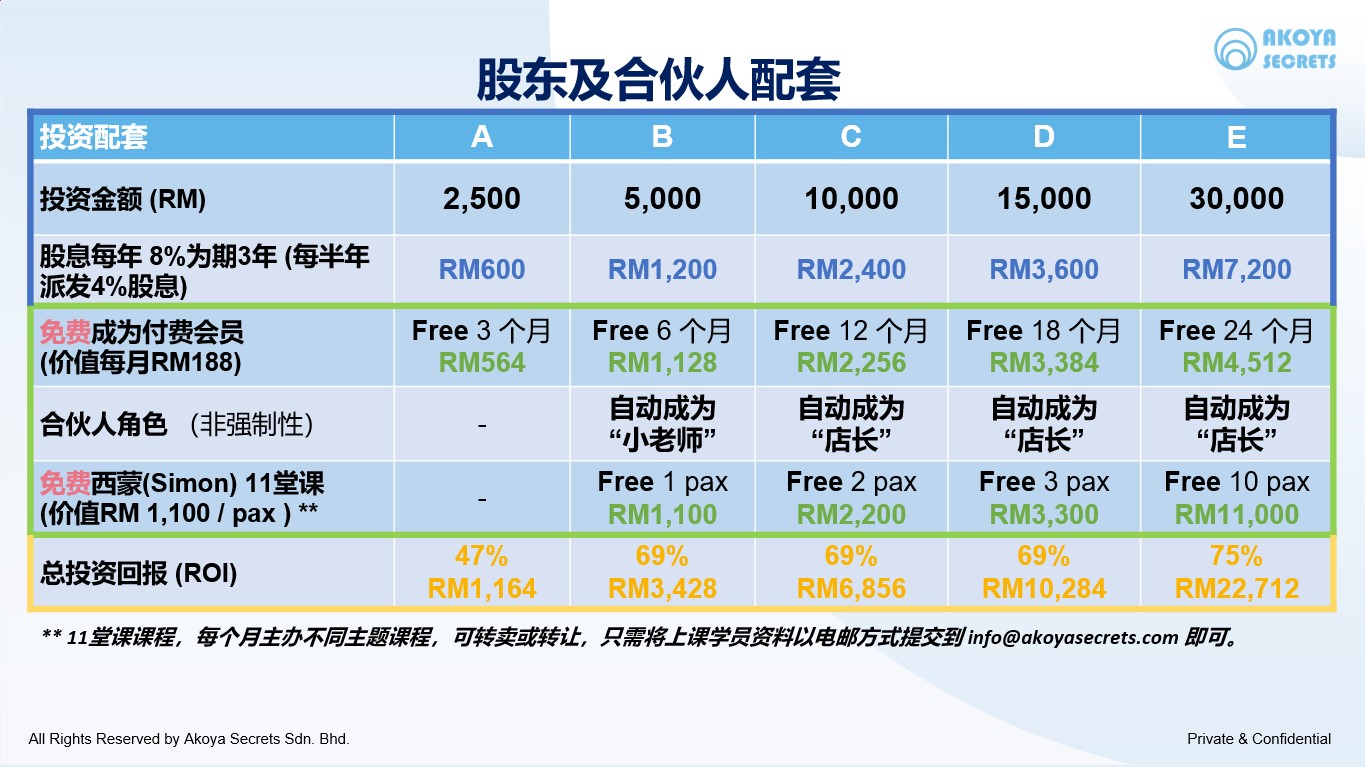 通过这项投资,您将成为 Akoya Secrets 的一份子,并由我们专业和经验丰富的团队替您全面管理和运营。与此同时,您在能够获得被动收入之外,还可以选择加入我们一起有系统的学习保健养生。若您是和我们理念一致的,还可以与我们一起往大健康行业发展及共同耕耘,互惠互利。
健康是人类最大的福气,现在就是投资我们大健康大数据之网络工厂的最好时机!
---
Website: http://www.akoyasecrets.com/
FB: https://www.facebook.com/AkoyaSecrets/
IG: https://www.instagram.com/akoyasecrets/
Whatsapp: Contact Us
---
投资框架协议(Term Sheet)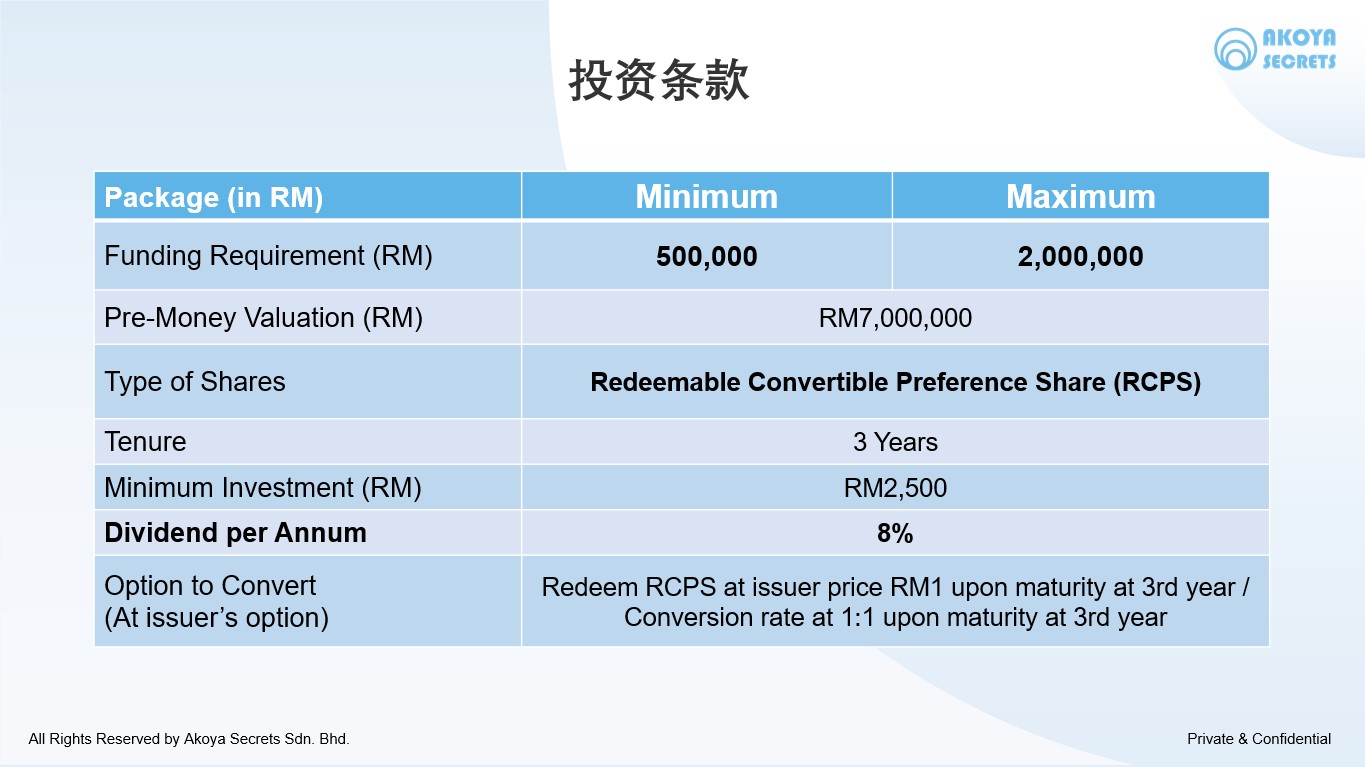 ---
投资配套 (Investment Packages)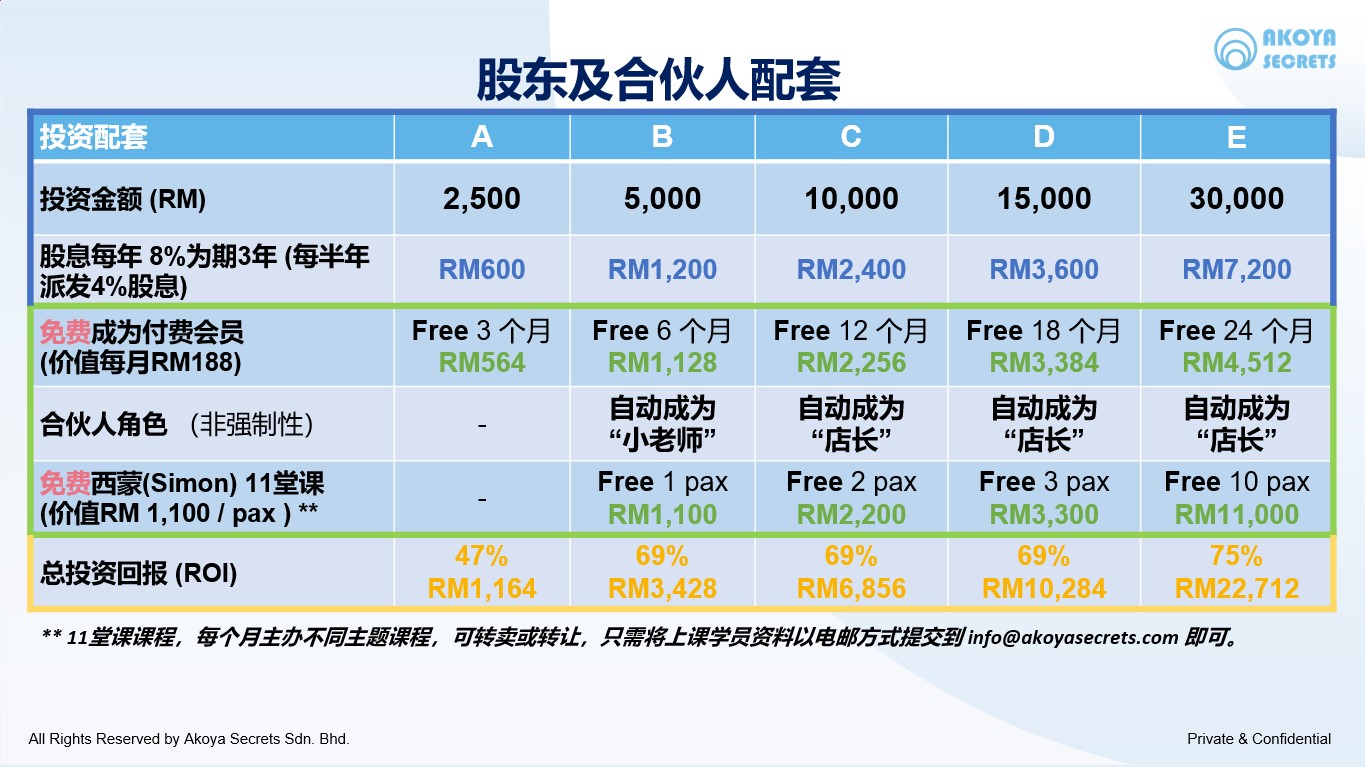 ---
核心团队(Core Team)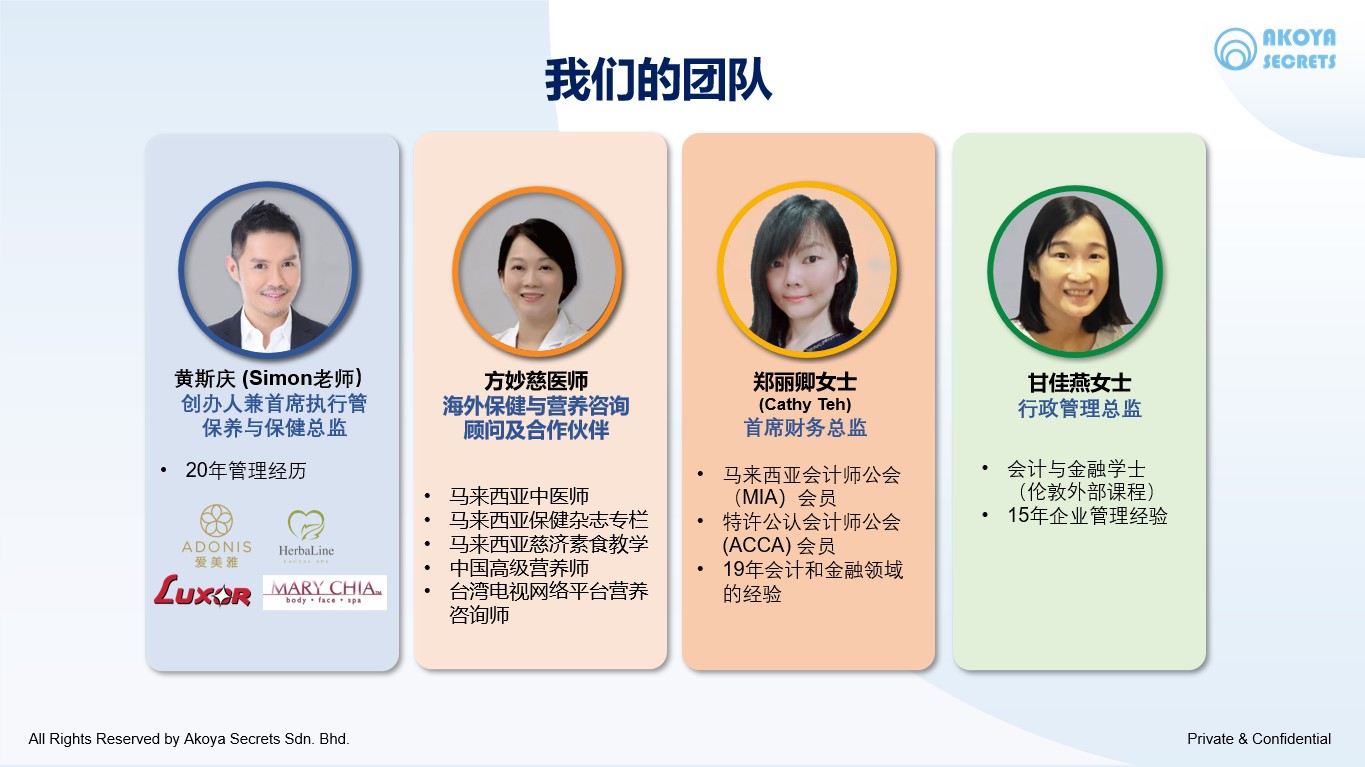 ---
欲知更多详情
请联系我们
---
创办人募资简报(Founder's Pitch Deck)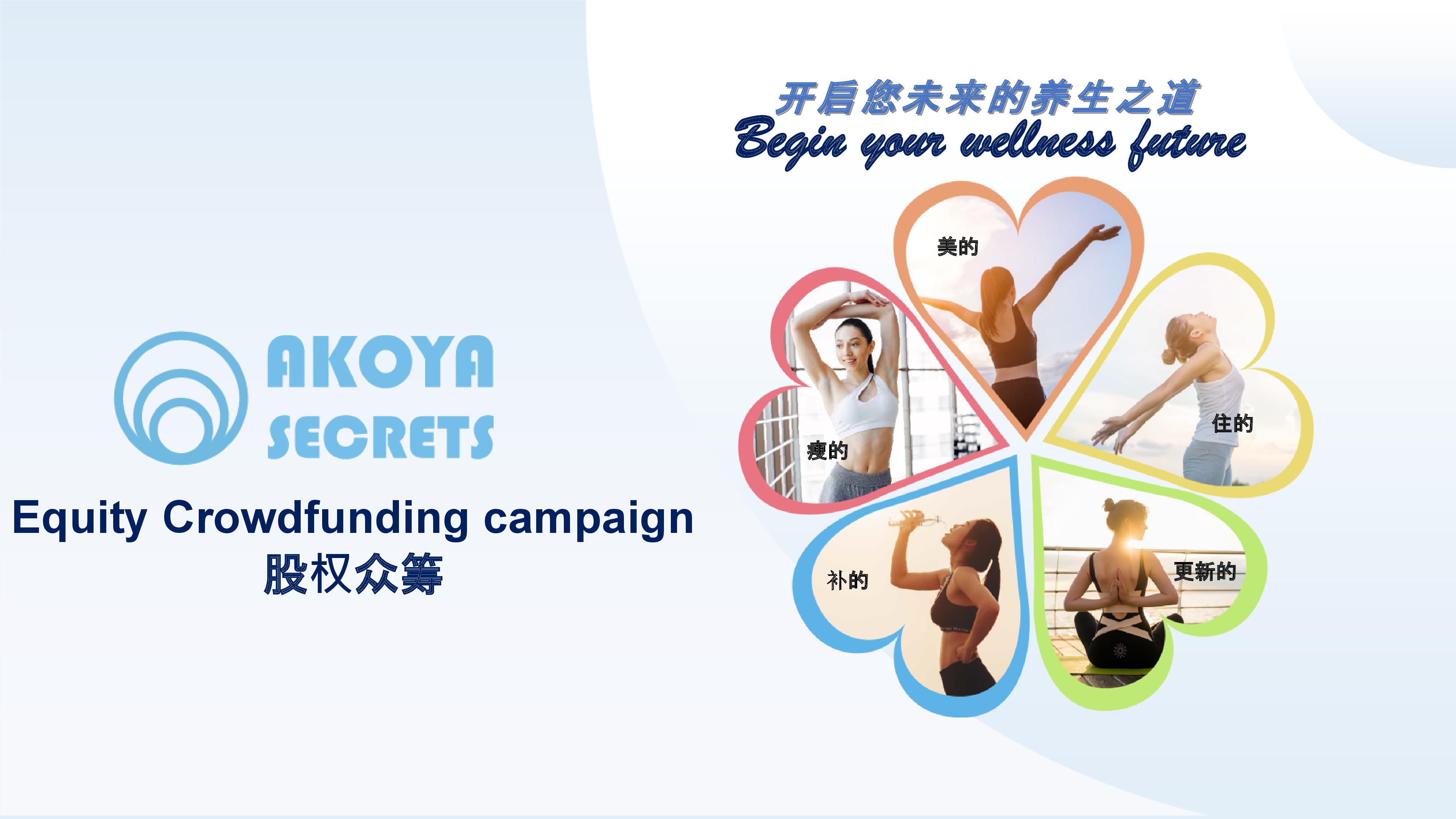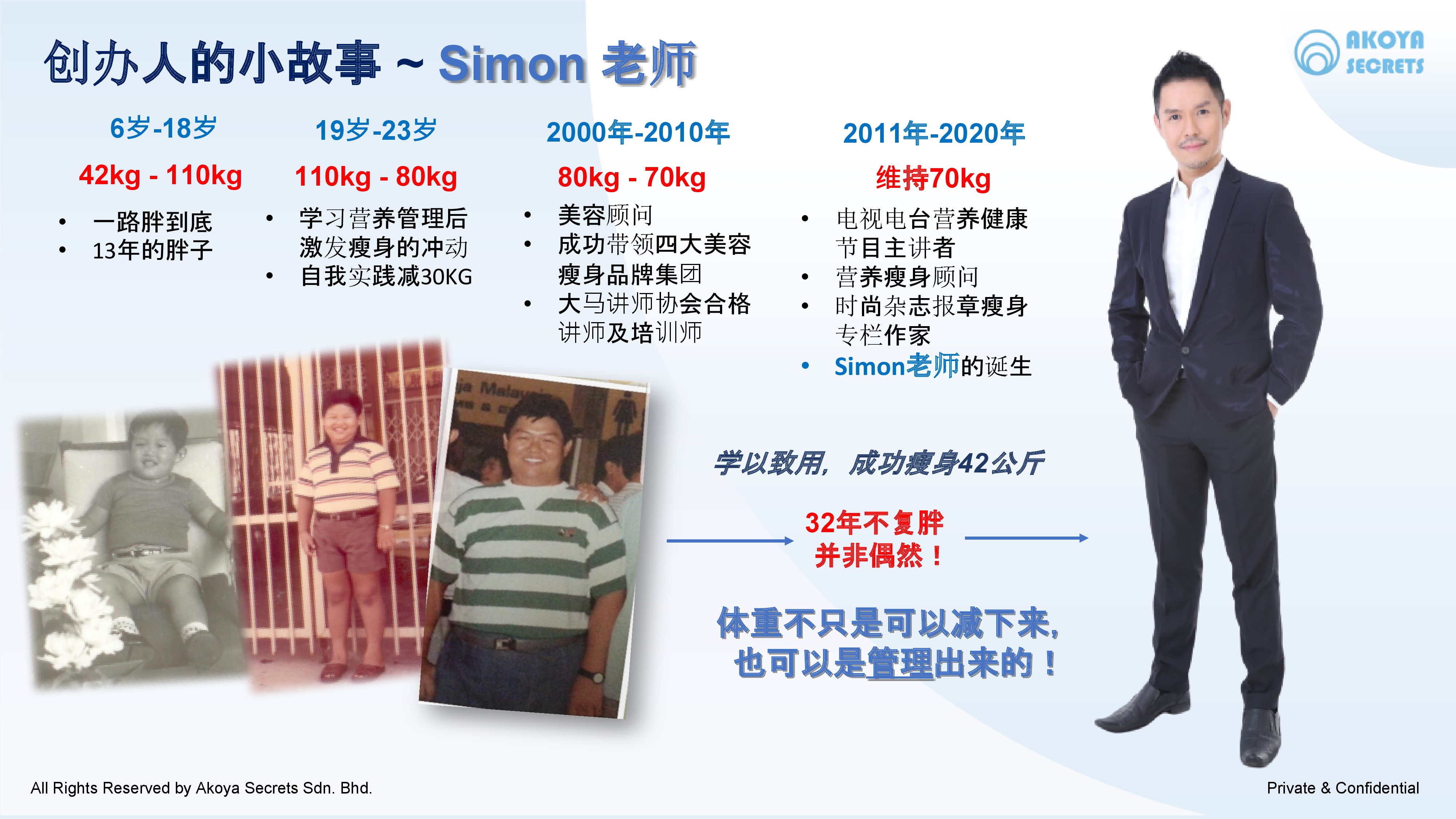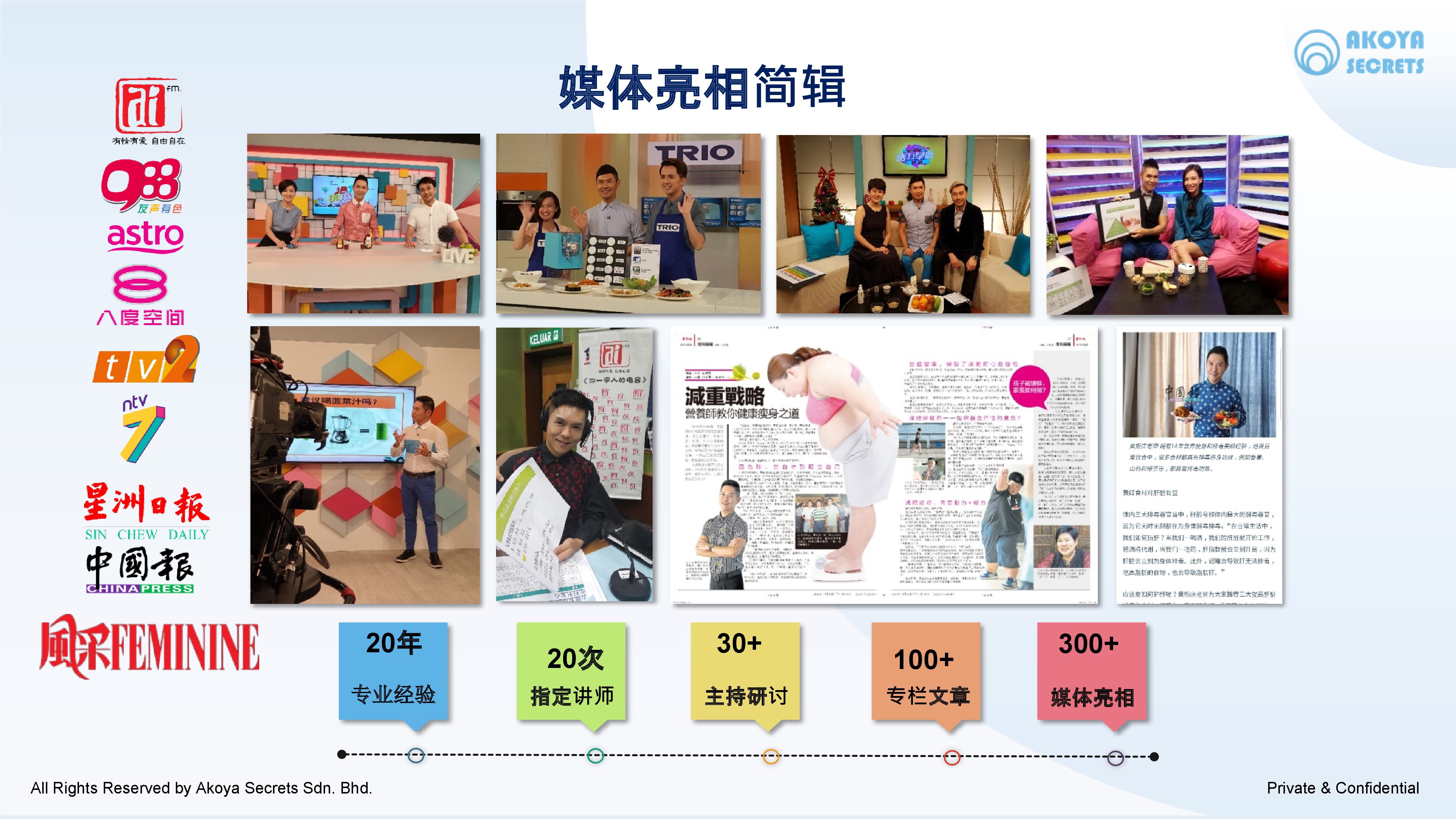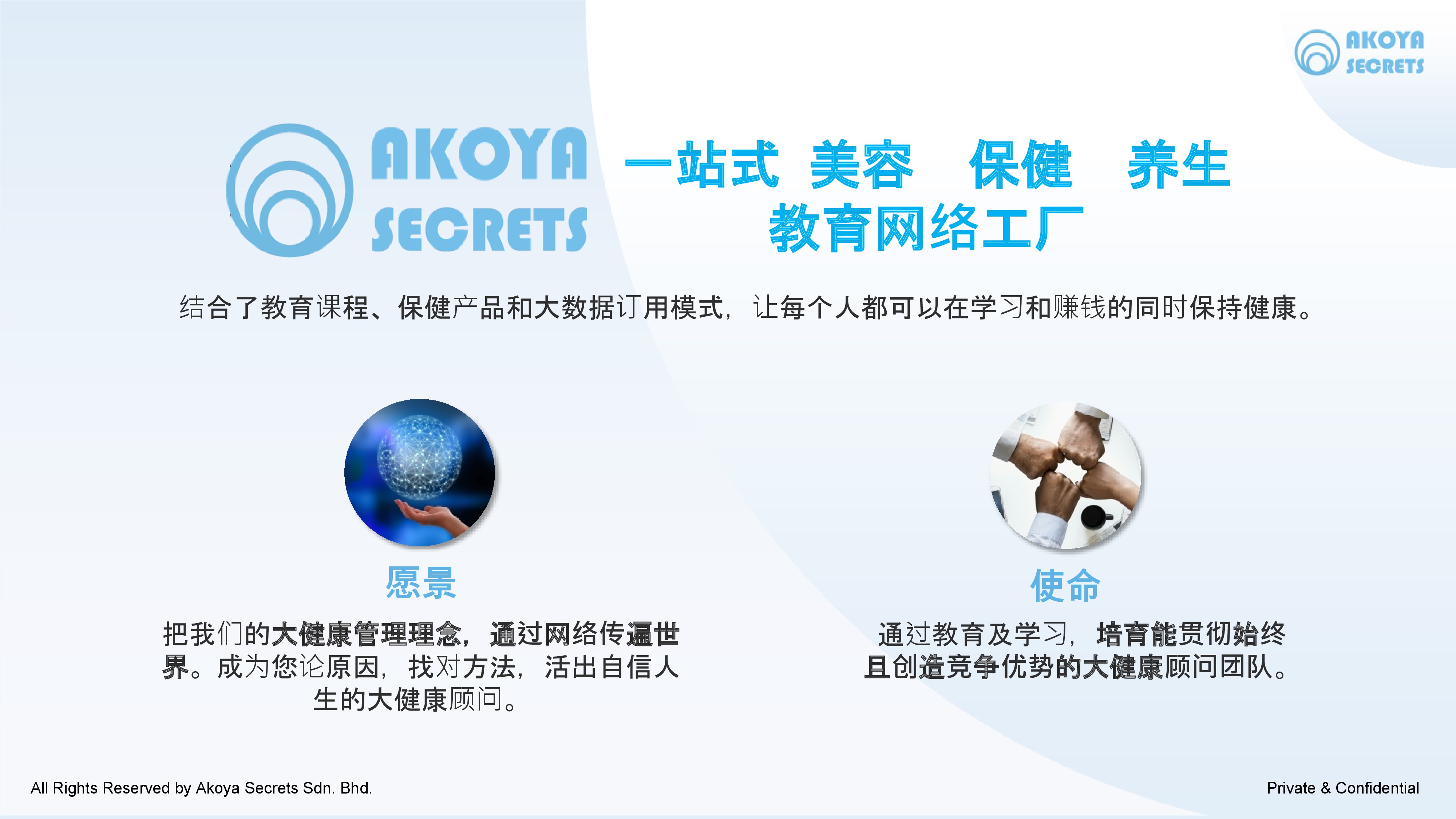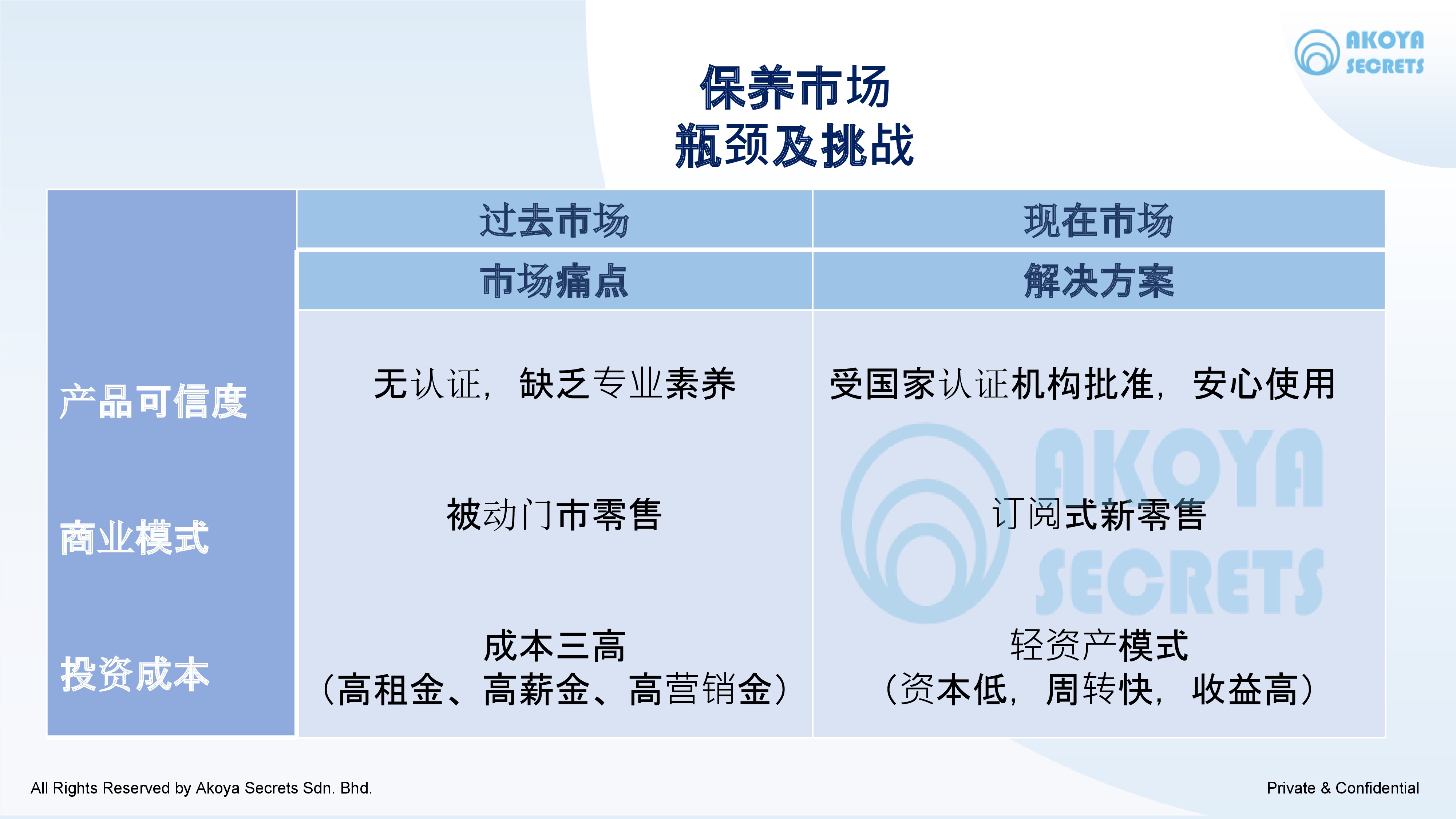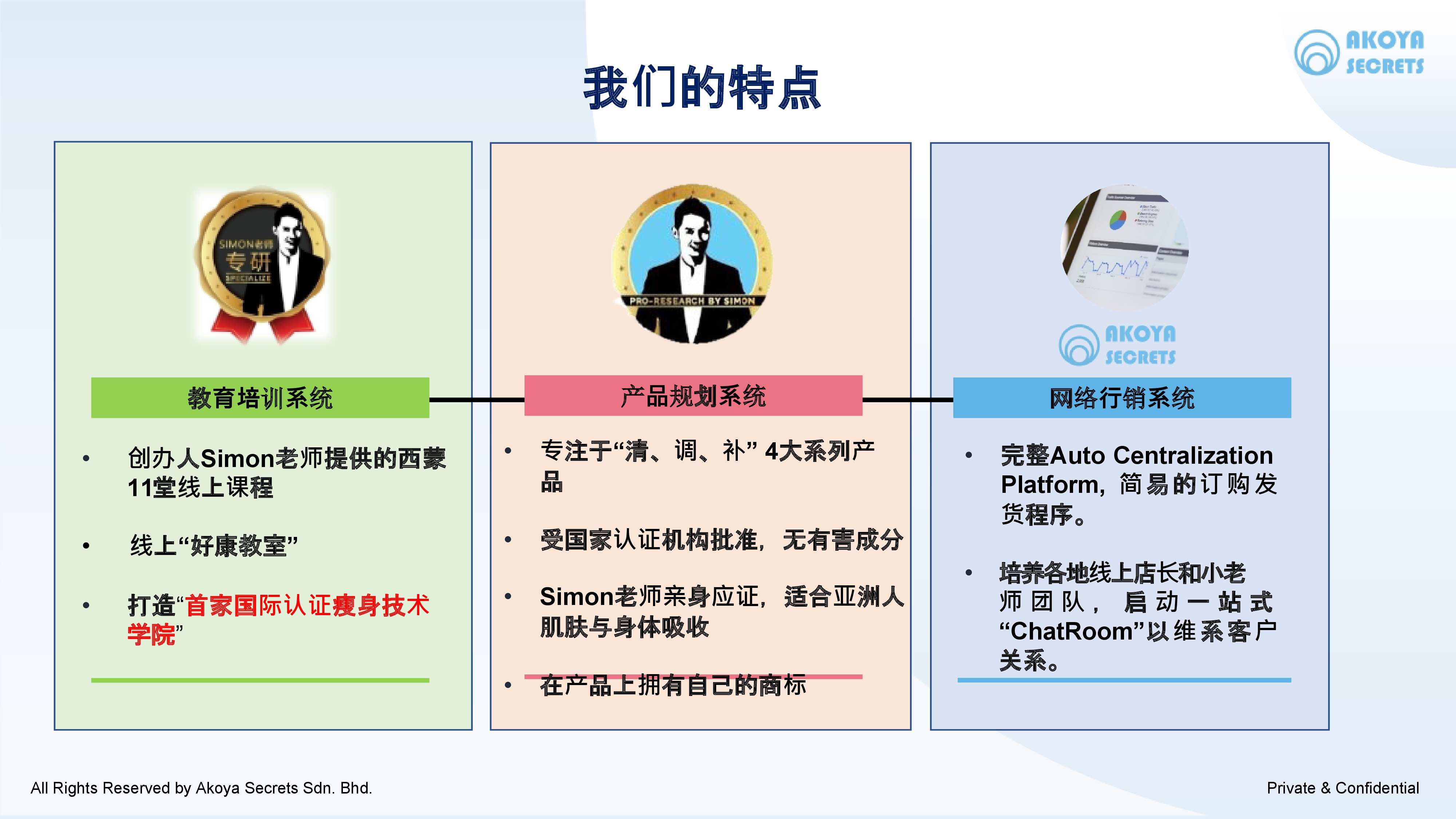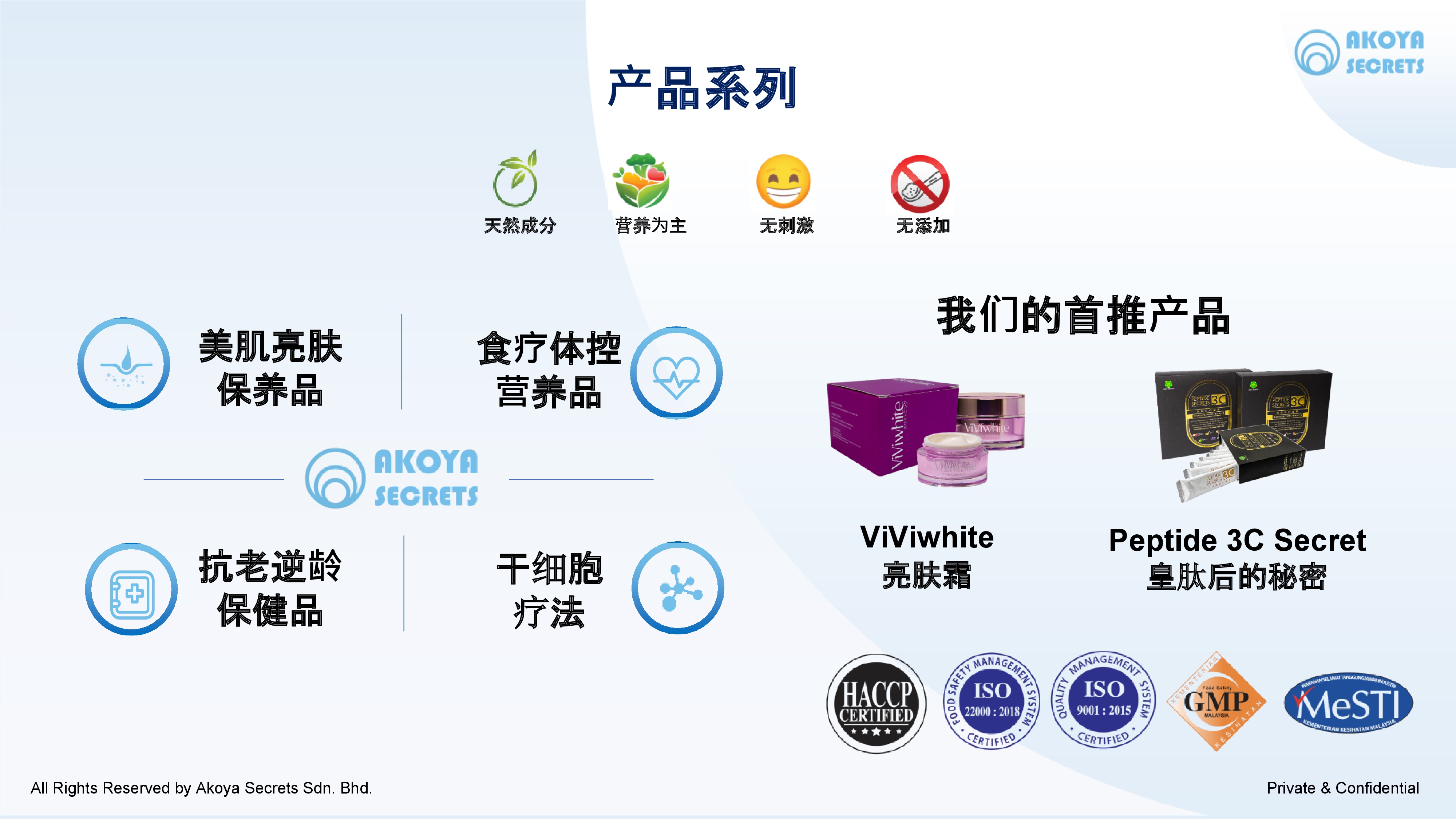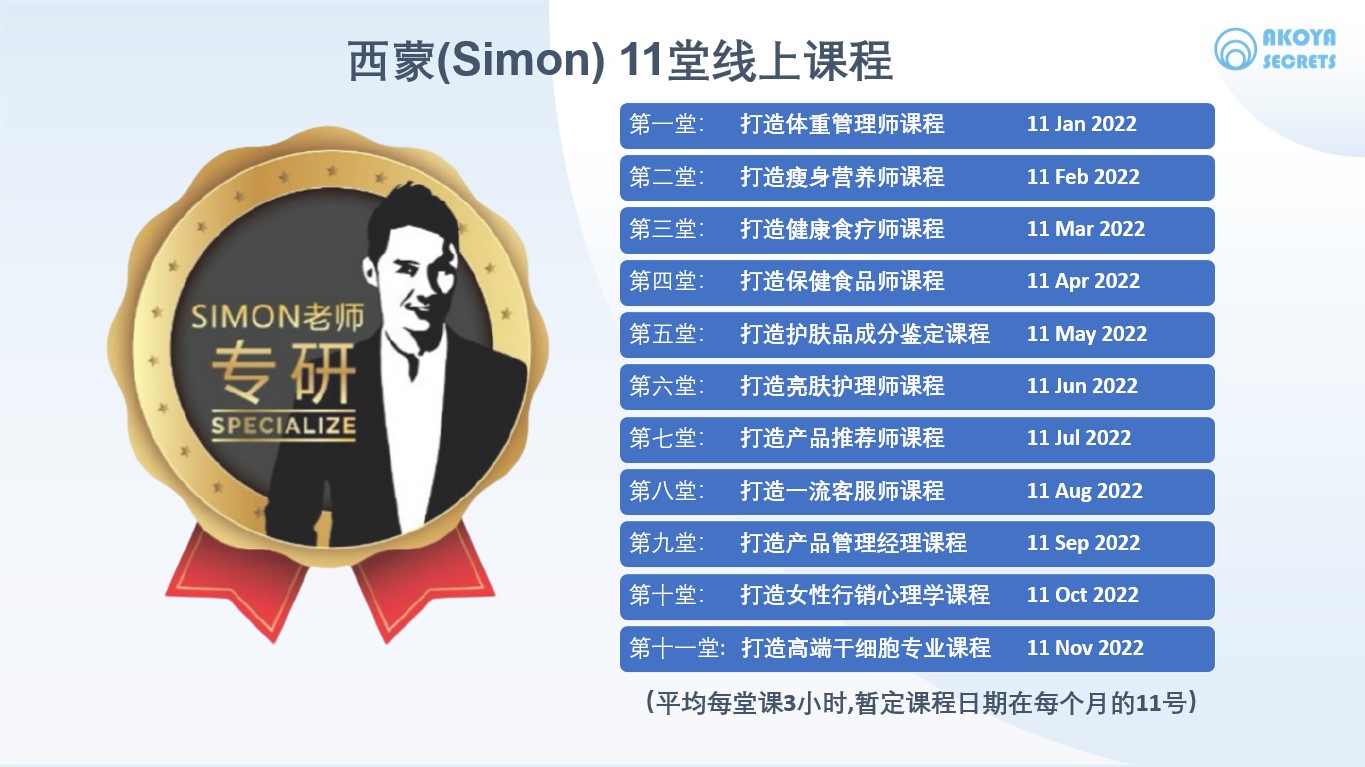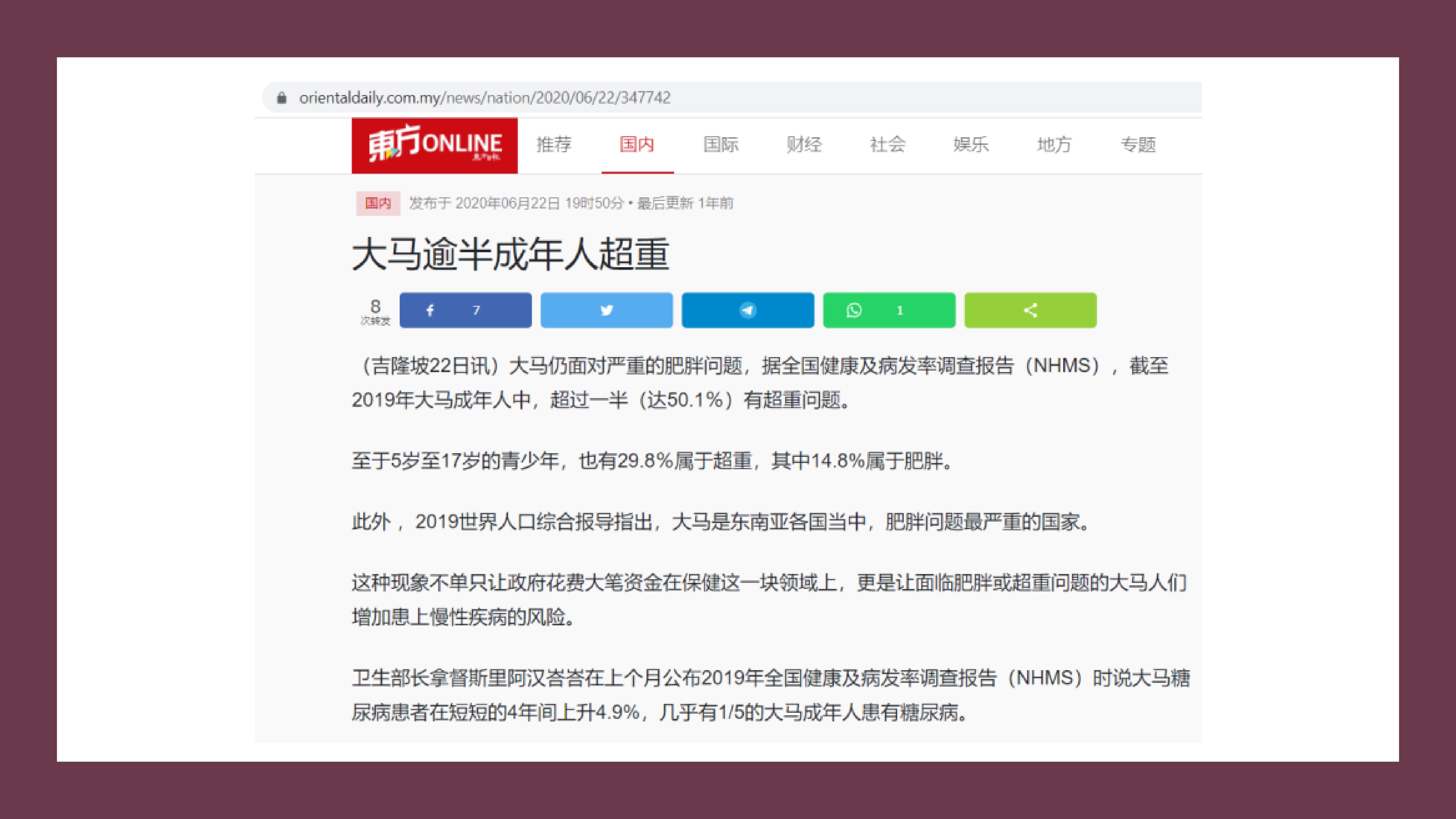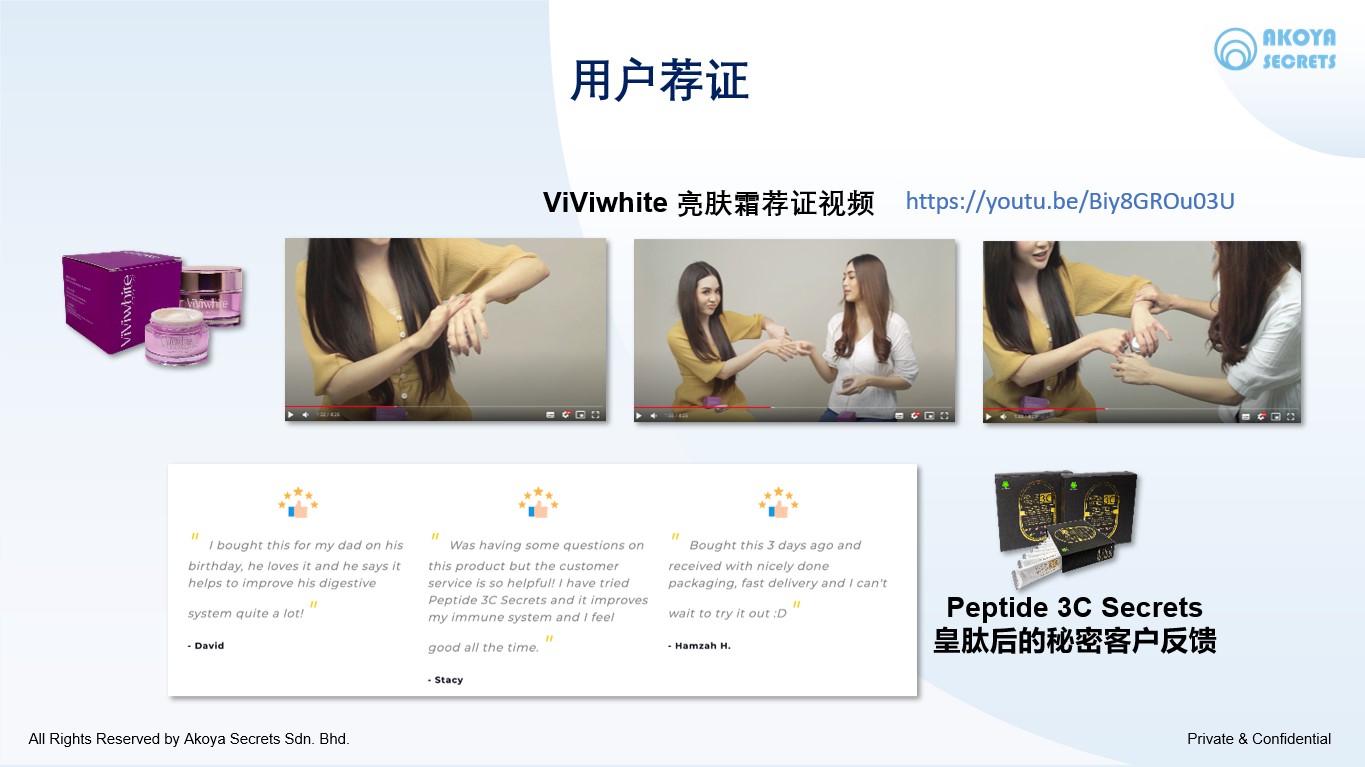 ---
欲知更多详情
请联系我们
---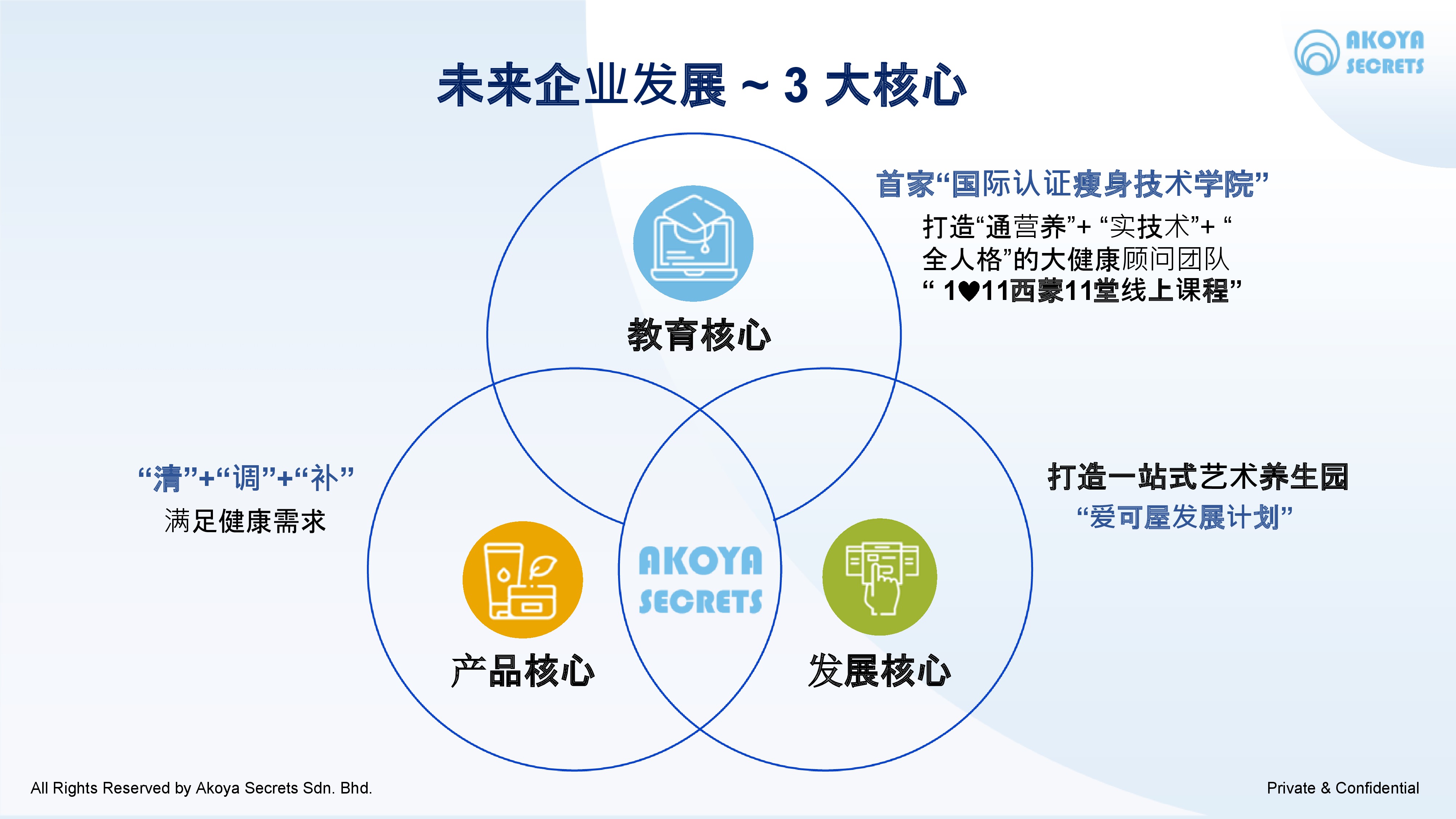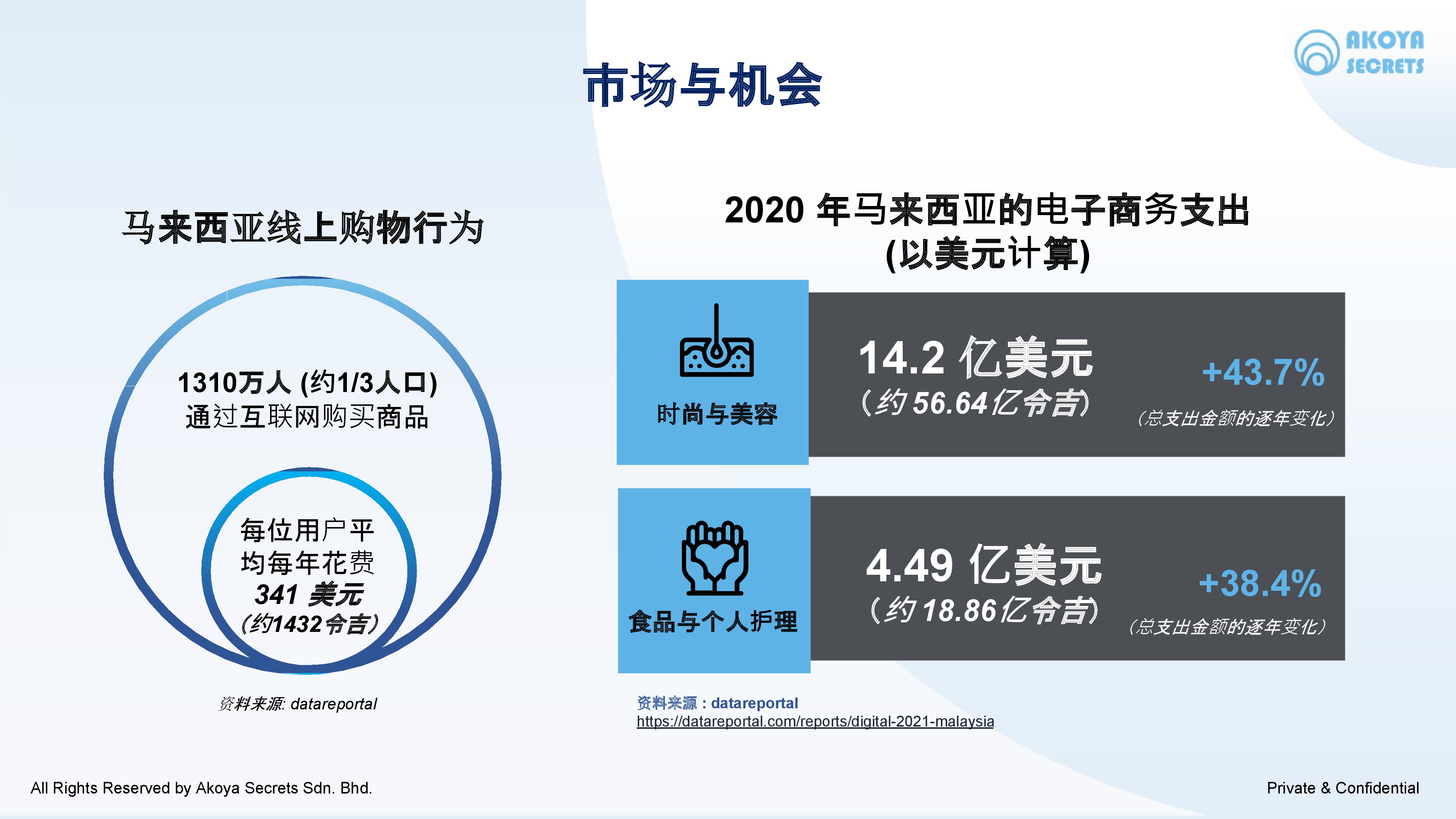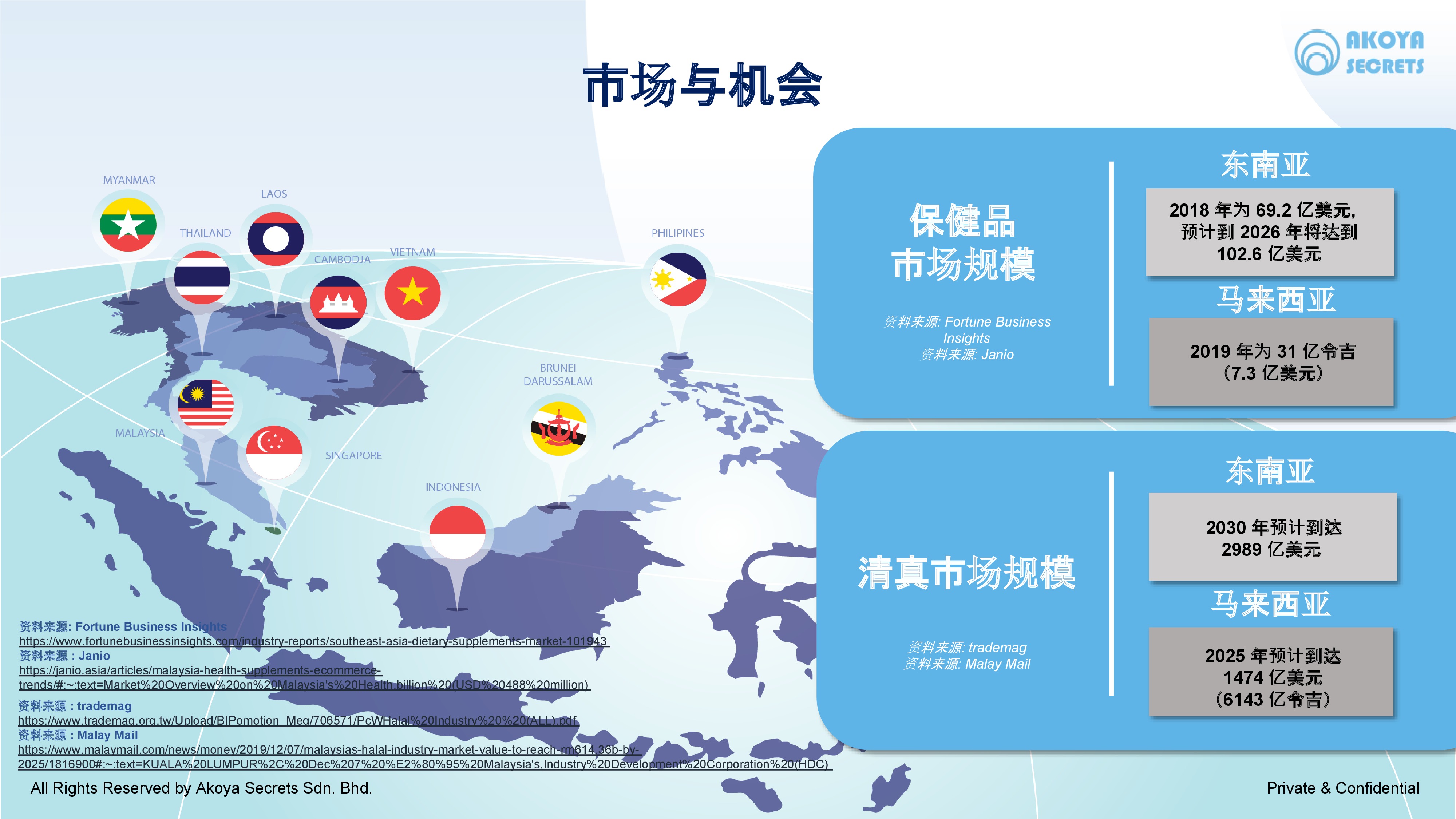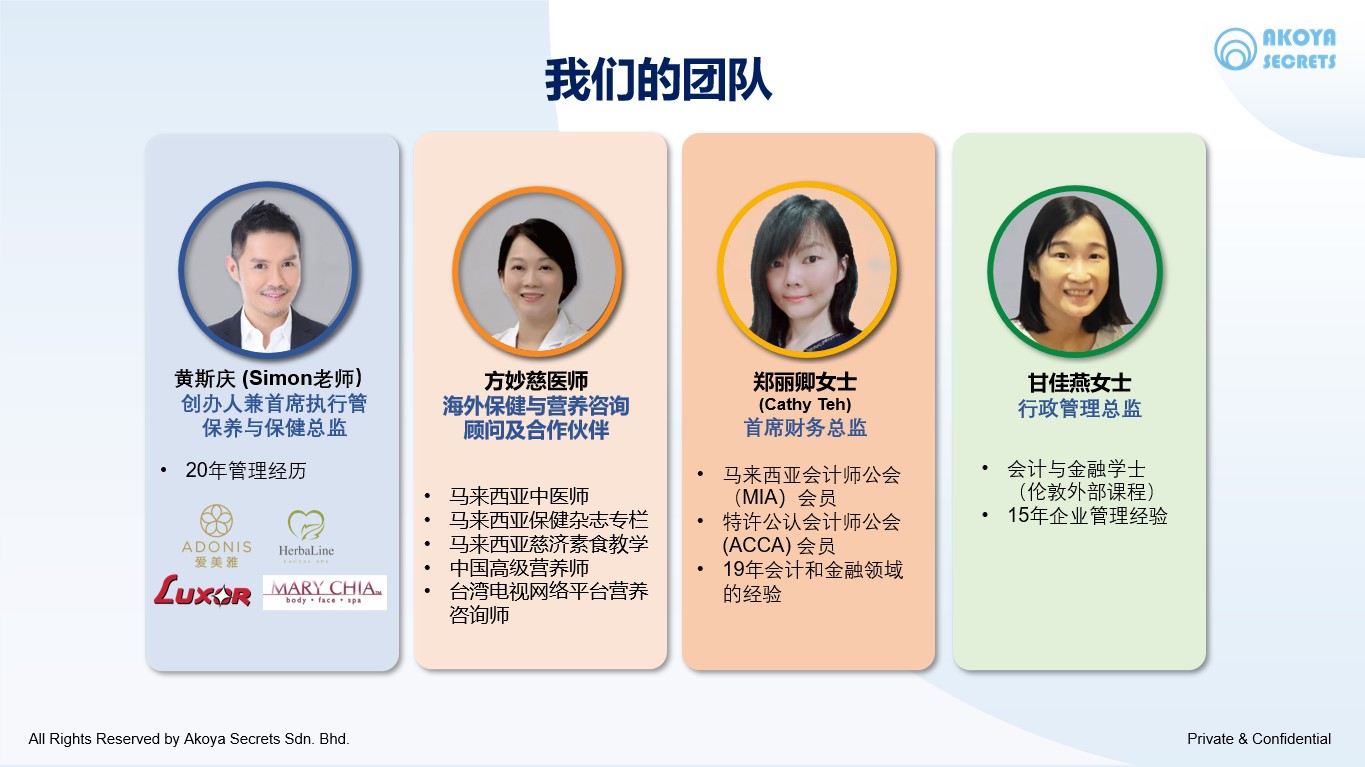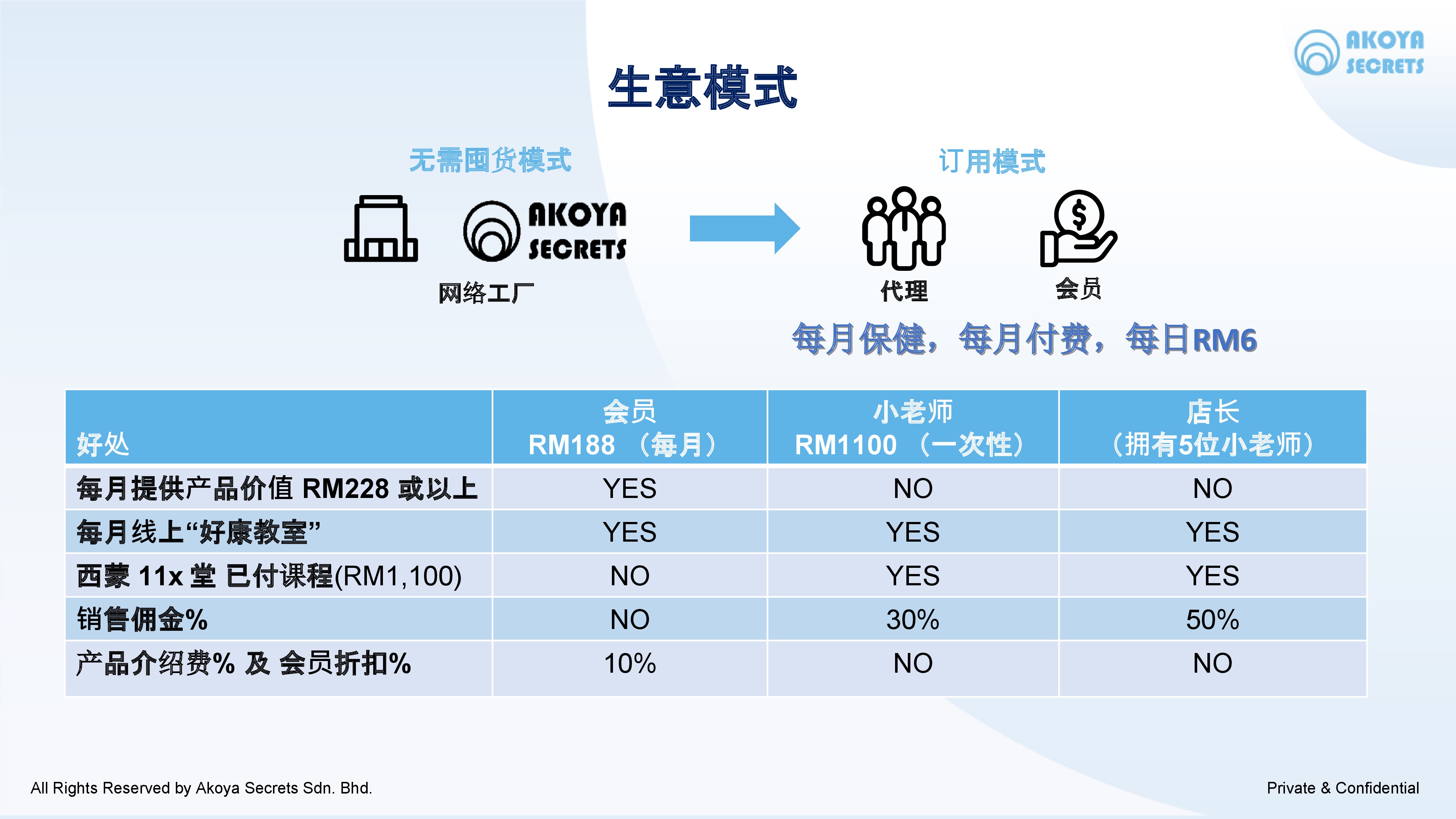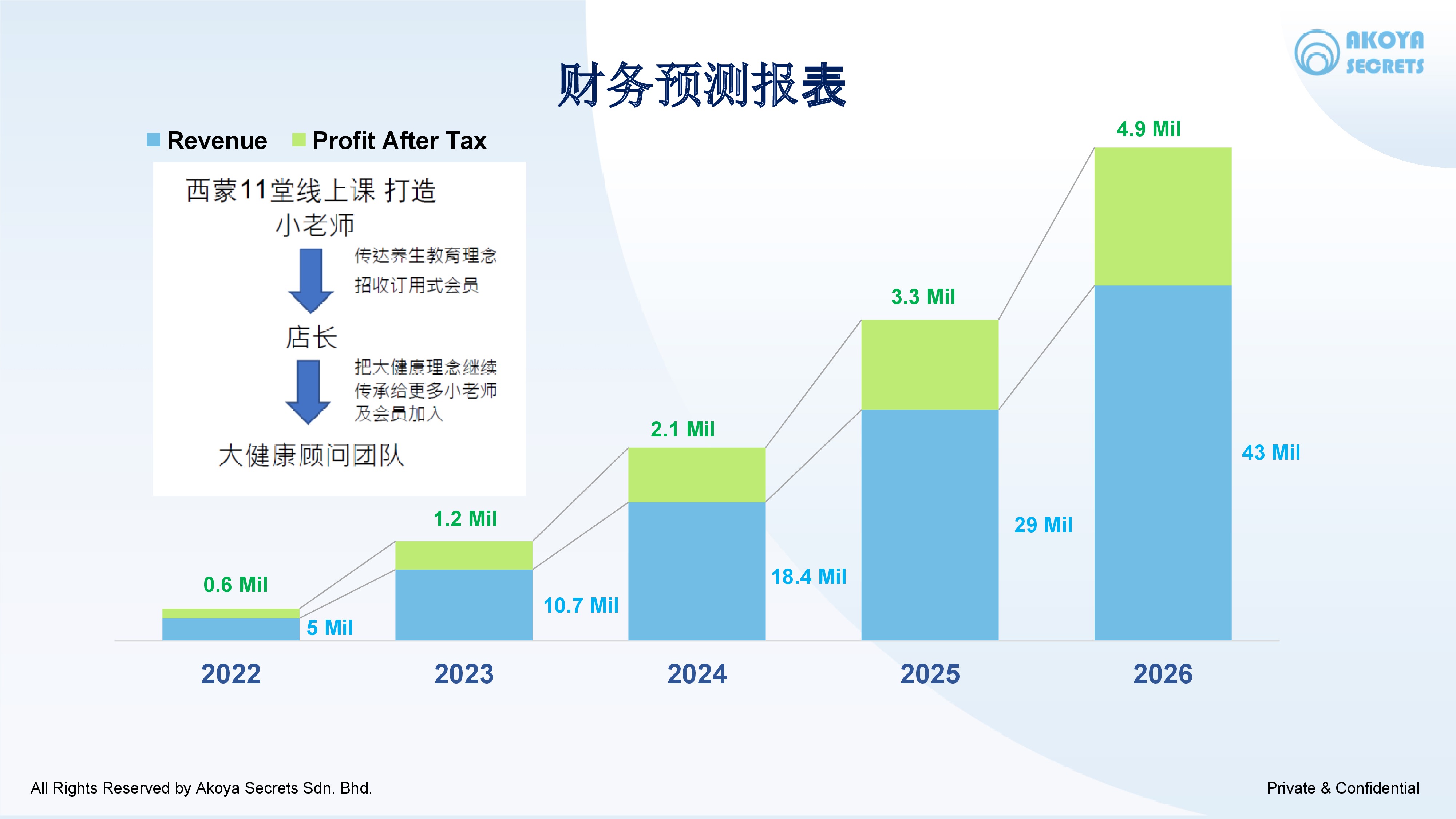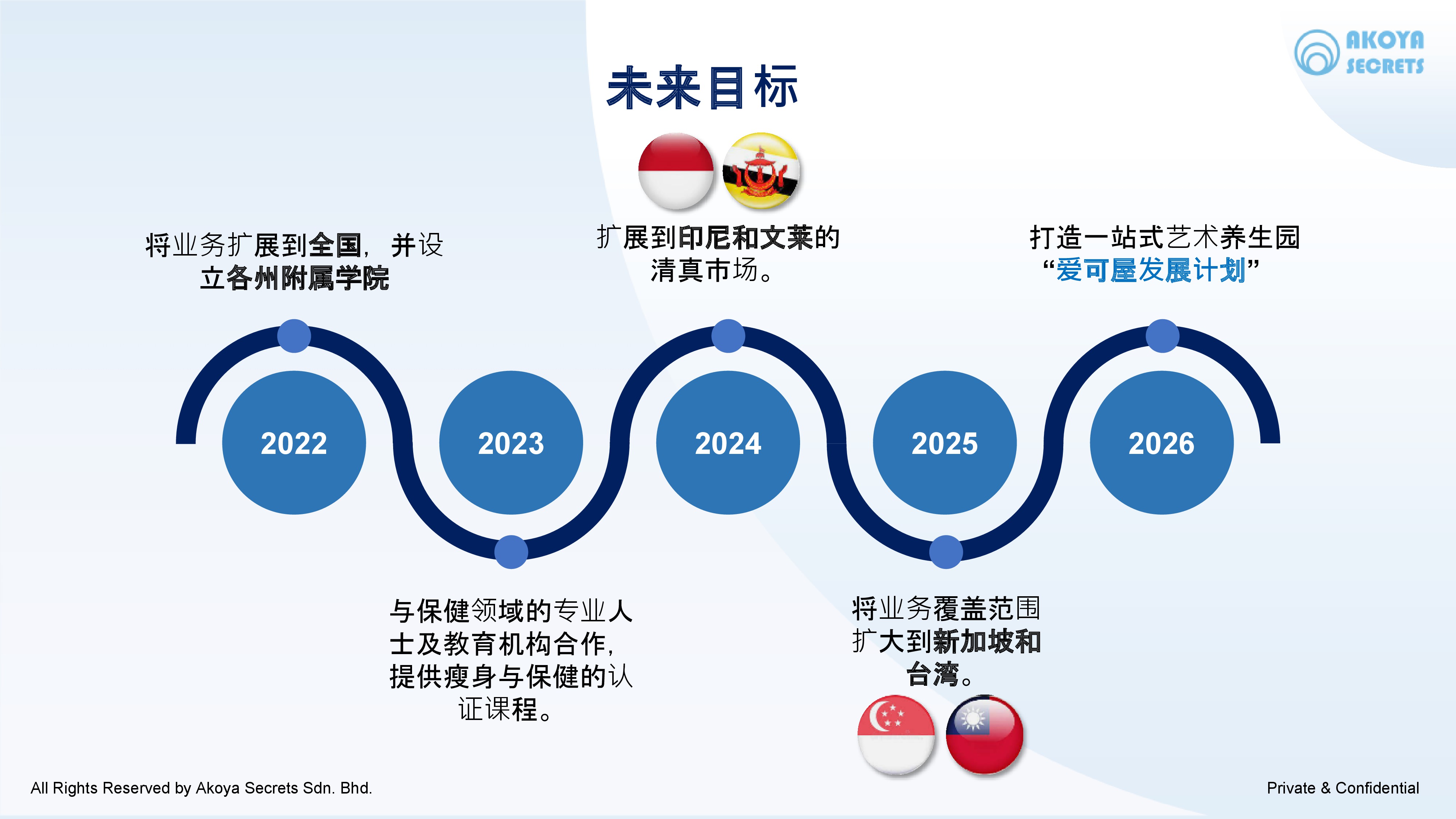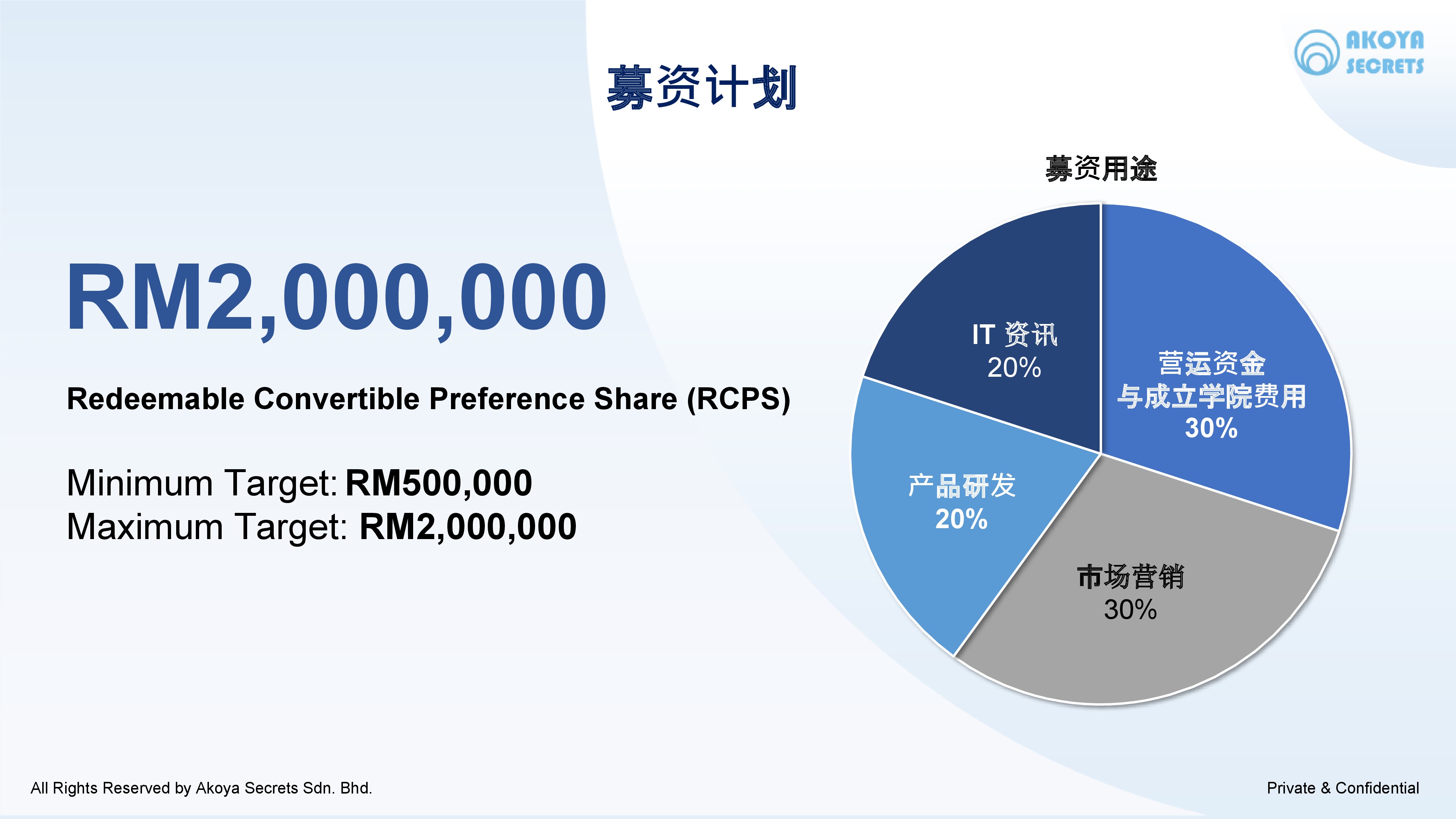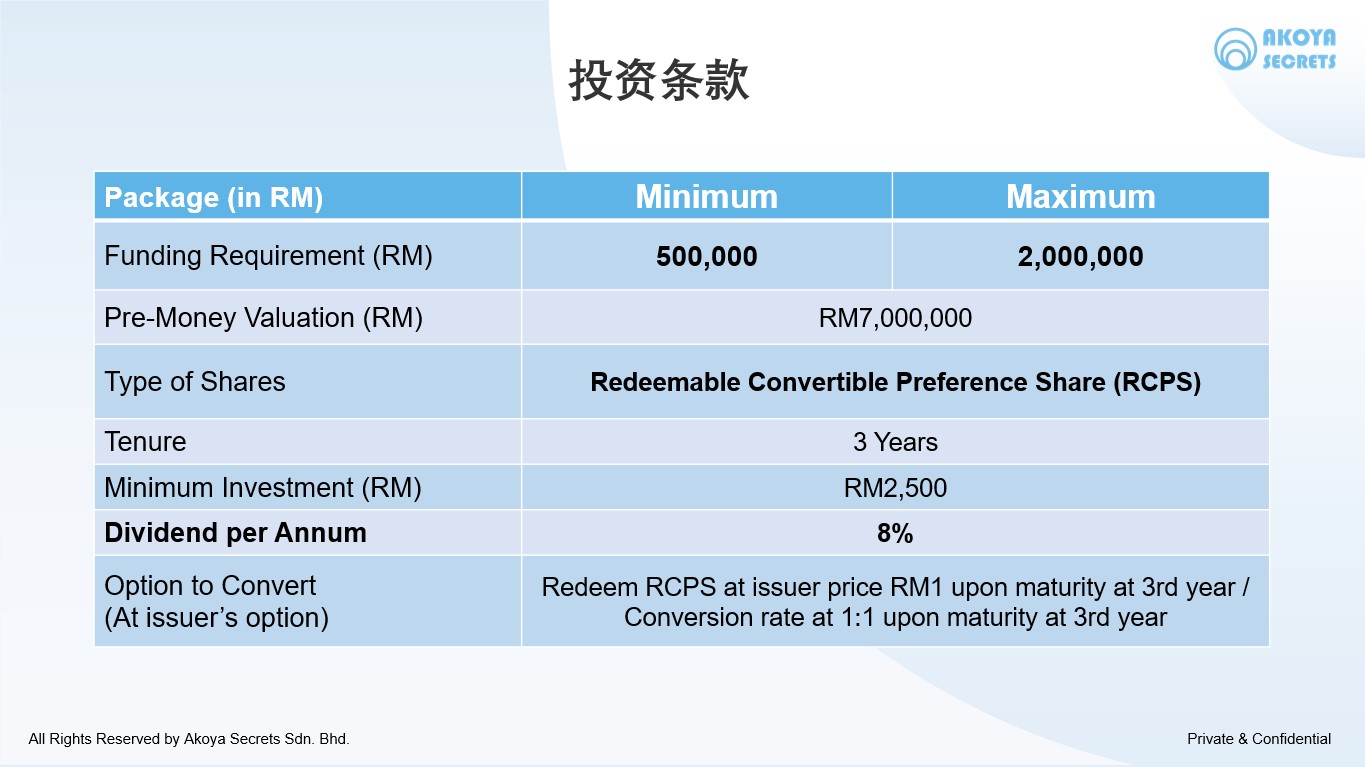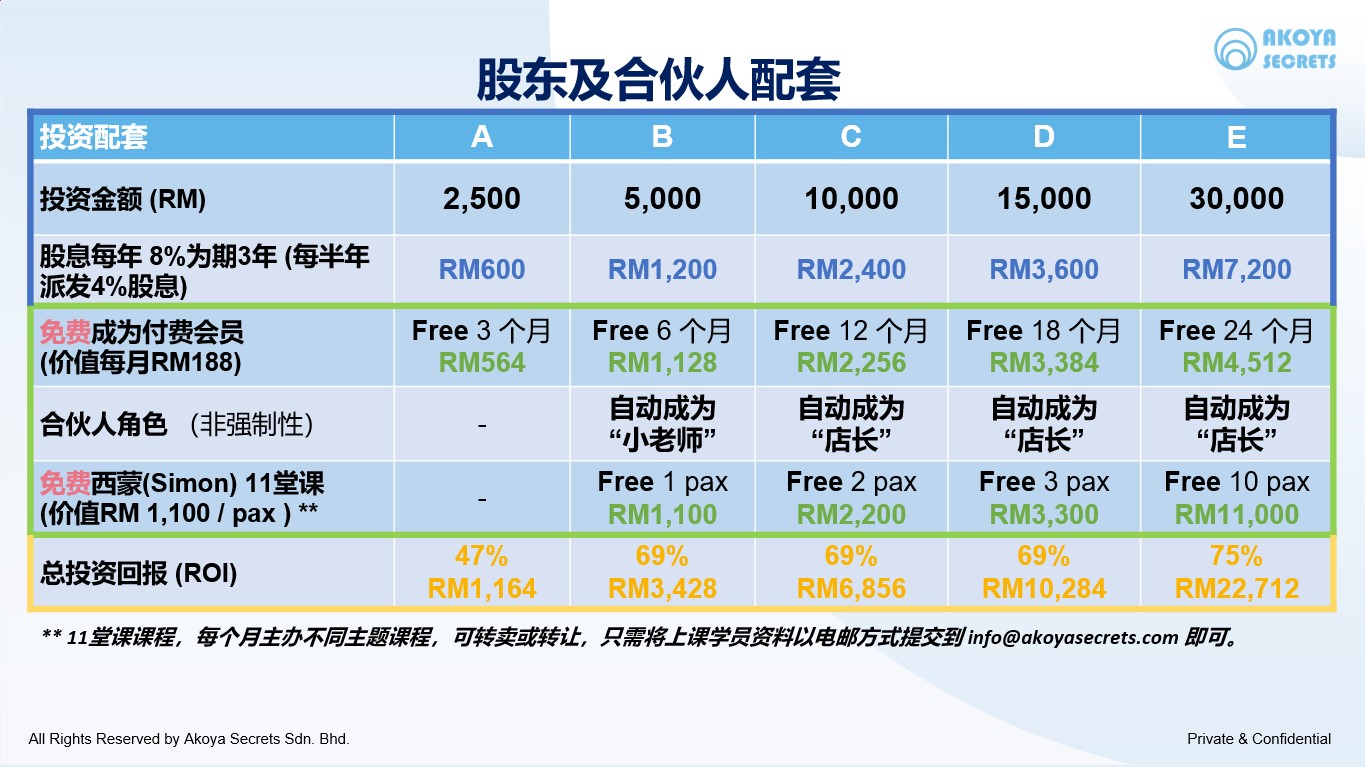 ---
欲知更多详情
请联系我们
---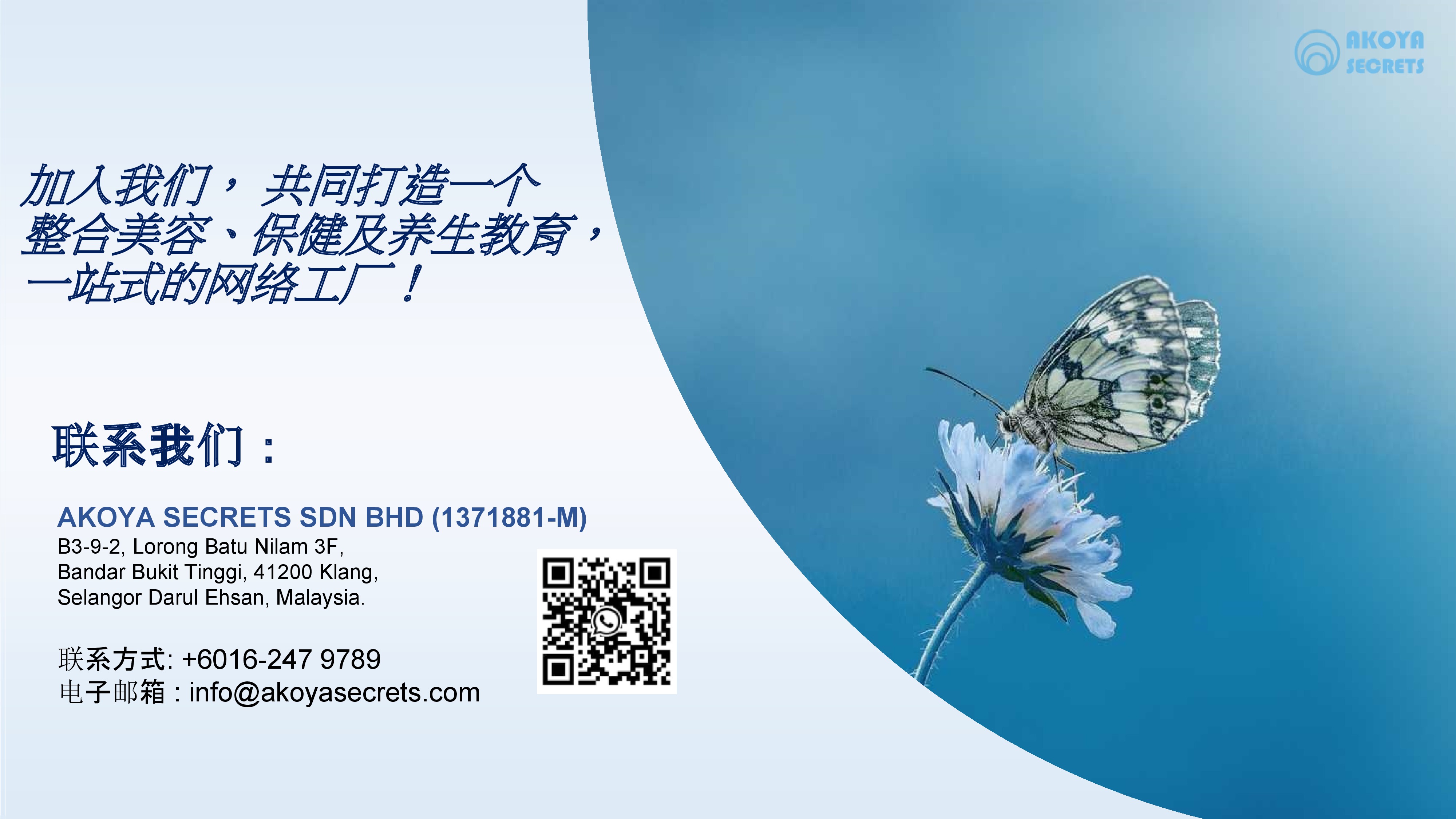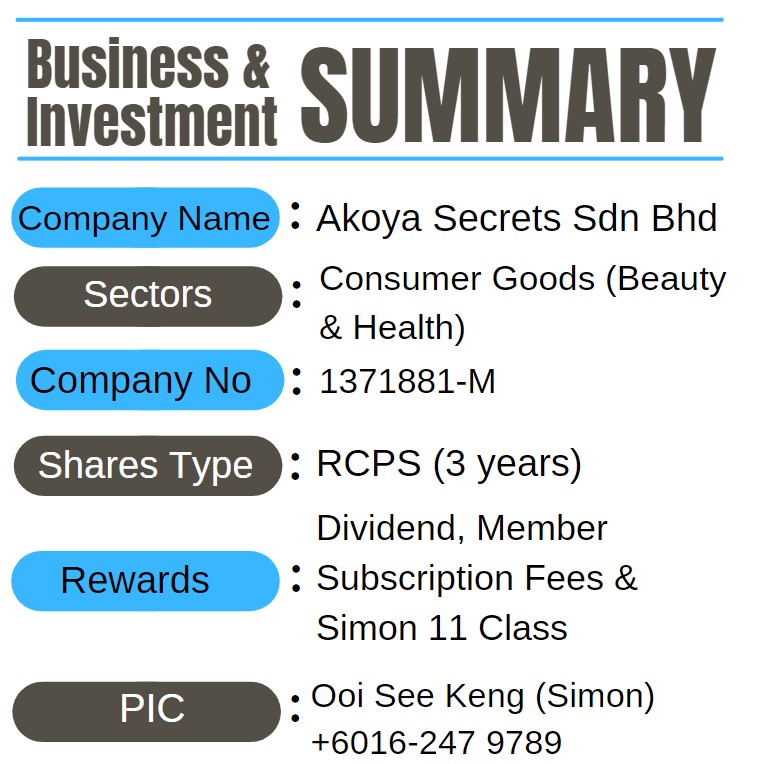 ---
About us
Akoya Secrets is a One-stop Beauty, Health Care, Wellness Education Online Factory that combines the education courses, health care products and online subscription models, so that everyone can stay healthy while learning and making money.
Our professional team has more than 20 years of professional experience in skincare, anti-aging healthcare, slimming, Stem Cell Therapy, and other related fields, by using assets-light business model to create a sustainable business model, with a big health ecosystem. Hence, we are going to build a one-stop online factory for beauty, health care, and wellness education.
Vision: To spread our health management philosophy across the world and become the wellness consultant who is able to identify the reasons, finds the right way, and radiate a confident life.
Mission: To cultivate a gritty team of wellness consultants that is able to create competitive advantages, via our education and learning.
The journey of our founder & CEO, Simon Ooi, ~ Coach Simon
Coach Simon was a fatty boy since he was 6 years old (48kg), and gained weight continuously for 13 years and ended up became a 110kg fat young man when he was 19 years old. You must be curious how could he reduced his weight to 70kg? Even can maintain the weight at 70kg for 32 years? When he was 19 years old, he studied Nutrition at National Taiwan University and trigger him to reduce weight to have a healthier life, by applied what he has learned, identified the reason found the way, and created "Coach Simon Slimming technique".
At his age of 30, he switched his career into beauty line, and further in healthcare as well as slimming fields, for 21 years and now he is still passionate in these fields. He made a great progress by using what he has learned, successfully led 3 major local beauty & slimming centers to gain foothold in the market and trained thousands of beauty consultants and therapists. In the recent decade, his achievements and gritty spirit attracted a lot of interview invitations from the famous medias, he shared his expertise and experience regarding beauty, wellness and slimming selflessly through the television program, radio, newspapers, and magazines.
Beauty & Slimming industries - Market pain points
In year 2020, the world is facing an unprepared covid19 pandemic, which caused a huge impact to the worldwide economic. Further with our government announced of MCO, it caused many beauty & slimming industries that running in the conventional business model with a shop or a store, facing bottlenecks and huge challenges to sustain, because they do not know when they can reopen their shop, sales reduced tremendously, some even having zero sales and chose to shut down their business. Hence, conventional business model is one of the core issues in beauty & slimming industries.
Due to this pandemic, people began to pay more attention to health and began to seek health care products or ways to become healthier. However, there are still many people who selling health care products in the market are lack of professional knowledge in health and nutrition. Some products are even launched in the market without the approval from the relevant local authorities, hence the credibility of the products is the concern that needs to be improved.
Obesity in Malaysia is a ticking time bomb - Highest prevalence among the adults in Southeast Asia
According to the 2019 National Health and Morbidity Survey, 50.1 percent of our adult population were reported to be overweight. It also showing that Malaysia is the country with most serious obesity problem among Southeast Asian countries. Everyone of us knowing that obesity is a risk factor for many types of diseases, and the well-known disease that caused by obesity is type 2 diabetes. Diabetes is a major public health concern in Malaysia.
It is undeniable that obesity is definitely a fatal problem that affects your health. Therefore, we should not ignore about weight-loss with health care.
Why have we established Akoya Secrets?
With the trend of accelerating digitalization era with the accelerating obesity rate in Malaysia, we found that the conventional business model is no longer catching up the market trend. We shall make good use of the big data and transform our beauty, wellness & slimming industries to digitalization, in order to let all the people truly benefited from it and begin their wellness future.
The Unique Selling Preposition of Akoya Secrets
1) Education Training System
After experiencing the pandemic, Coach Simon constantly keep doing self-improvement, evolve to become a big health consultant with current trend, and created 11 series of "Coach Simon's wellness & slimming online training course" to provide to all our dealers, to ensure they obtained wellness & nutrition knowledge.
In response to market trend that aim for course with authority certification, we are in full swing to build up the first certified International Slimming & Fitness Institute, this not only will be benefited for our own dealers, it will also benefited to other people that in our same industries, to enhance their certified image.
2) Products Planning System
Combining Coach Simon's 20 years' experience of product R&D in the beauty, wellness, slimming industries, we are insisting on using natural ingredients, nutrition-based, no irritants, no additives, emphasizing suitable for Asians' body and skin, and obtaining certification from local health authority. In addition, with effect of education and health knowledge as a guide, hence consumers can benefit from it.
3) Online Marketing System
The assets-light business model with the affordable entrepreneurial threshold allows our dealers to use our Auto Centralization System to do marketing and easily starts a business to accumulate wealth as well as maintaining their wellness knowledge to serve their customers to gain a healthy life.
Products series
Our Main products
1. Brightening Skincare ~ ViViwhite
As a one-stop online factory for beauty, health care, and wellness education, Akoya Secrets also pays attention to how to maintain beauty in a healthy way. Our founder, Coach Simon, discovered that his grandmother and his mother always used pearls powder as their daily skincare. When they reached age of 80, their skin still maintains as fair and fine.
Therefore, the natural whitening effect of pearl powder is deeply imprinted in his heart since childhood. And when he started his career in beauty and skin care industry at the age of 30, he had the opportunity to experience and communicate with the beauty professional team in Japan, he discovered that the Japanese whitening skincare technology is the top in the world.
In the field of skin care, we have also found that in Japan, South Korea, Hong Kong, China, Taiwan, Singapore, Malaysia, Thailand and other Asian countries, 60% to 70% of beauty lovers are pursuing "whiteness for beauty".
Therefore, some people even take the risk to use chemical whitening, medication, injections and other shortcuts to achieve the purpose of "artificial whitening". What we are distressed is that originally healthy skin became sensitive, dry oily and fragile.
Hence, we developed brightening skincare product, using Japanese nanotechnology combined with natural ingredients Akoya pearls, and herbal extract, and named it as "ViViwhite". It can instantly brightrn your dull skin within 8 seconds, showing a pearl-like brightening. It can last for 12 hours high-efficiency deep moisturizing that allows the skin to form a natural and delicate protective film. Using it will make it easier for you to apply makeup and your skin will grow brighter and healthier.
Our ViViwhite brightening creams have been sold in more than 100 boxes in the first month when its launched. Users were lavish in praise of our products, because most of the products in the market are designed based on European and American skin, while our products are based on Asian skins, so they are quite natural and effective for Asians to use, and are loved by Malay consumers.
Viviwhie User's Review
Viviwhite Testimonials
For more users' testimonial, please refer to the following link: https://www.viviwhite.com/pages/testimonial-1-1
2) Anti-Aging Health Care ~ Peptide 3C Secret
Our Peptide Secrets 3C is popular for young and middle-aged people. They feel young and healthier after consumed it. And some of our customers who have retired even wish to be our dealers to earn extra income.
Peptide 3C Secret - Customer Review 1
Peptide 3C Secret - Customer Review 2
3) Diet Therapy & Body control
As what we have mentioned earlier, the obesity problem in Malaysia is accelerating, and caused the "3 Highs", High blood pressure, high blood glucose and high cholesterol. Therefore, Diet for body control is very important nowadays. We are in the progress of coming out a new product of "Calorie Management" meal replacement, formulated by Coach Simon himself, to create a healthy diet and body control based on the nutrition needed.
Business Model
Akoya Secrets is using an online subscription model to provide users with monthly products and educational online courses. Our dealers model allows the public to easily start a business, besides earning the sales commission, they are also able to improve themselves to become professional beauty, slimming & wellness consultants, serving customers to gain a healthy life. With the concept of a online factory, no worries to stock up the products to sell. We hope that through this model, more dealers and consumers will benefit it. Become a member with only RM6 per day to stay healthy.
3 Core areas of future corporate development
Akoya Secrets Corporate video
Our Team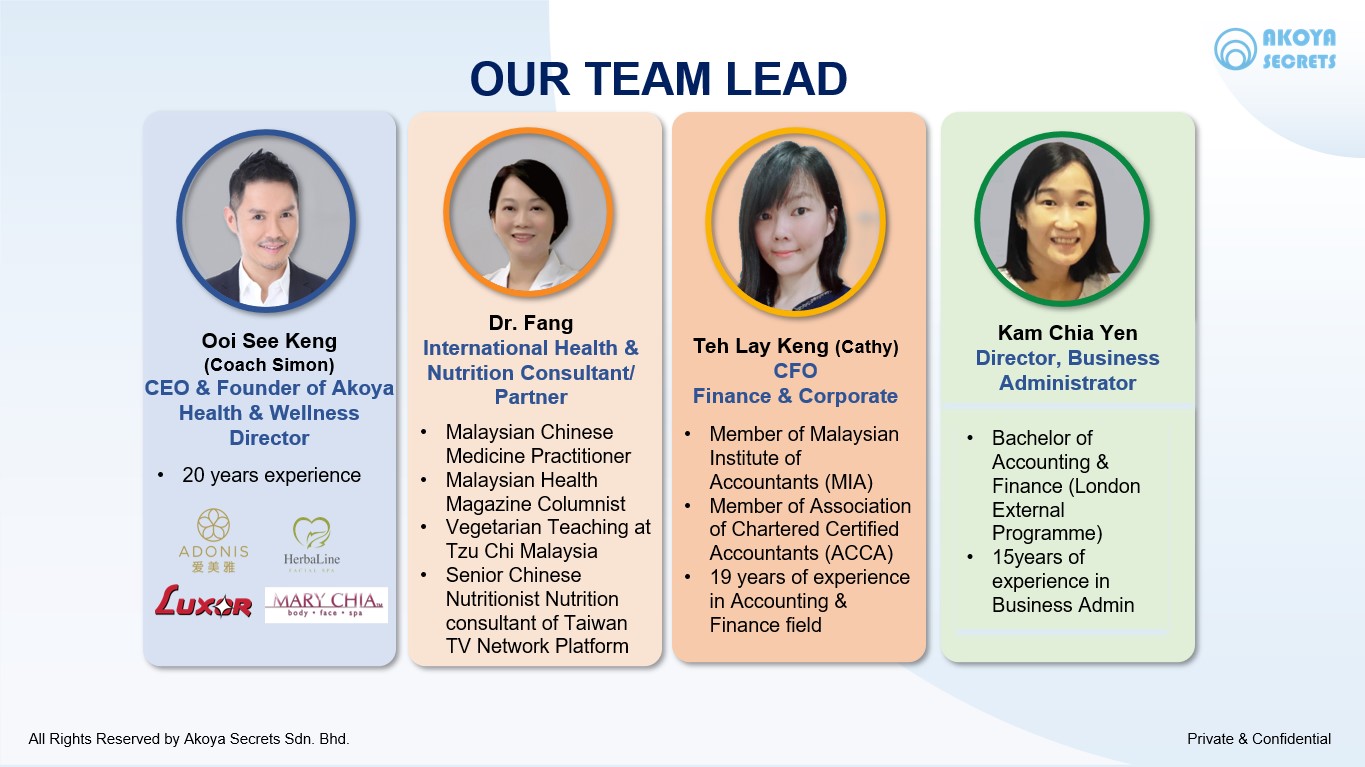 Purpose of Equity Crowd Funding
The purpose of this RM2,000,000 crowdfunding is to realize the company's future development blueprint. This is divided into 4 main stages:
Establish a Certified International Slimming Institute within 1 year to set up institute branches in each state and expand the business to the whole country

Develop 2 types of diet and body control products, 2 types of anti-aging health products, and 2 types of skin care products every year

Fully develop and promote AKOYA Auto Centralization Platform

Expand products to the halal markets in Indonesia and Brunei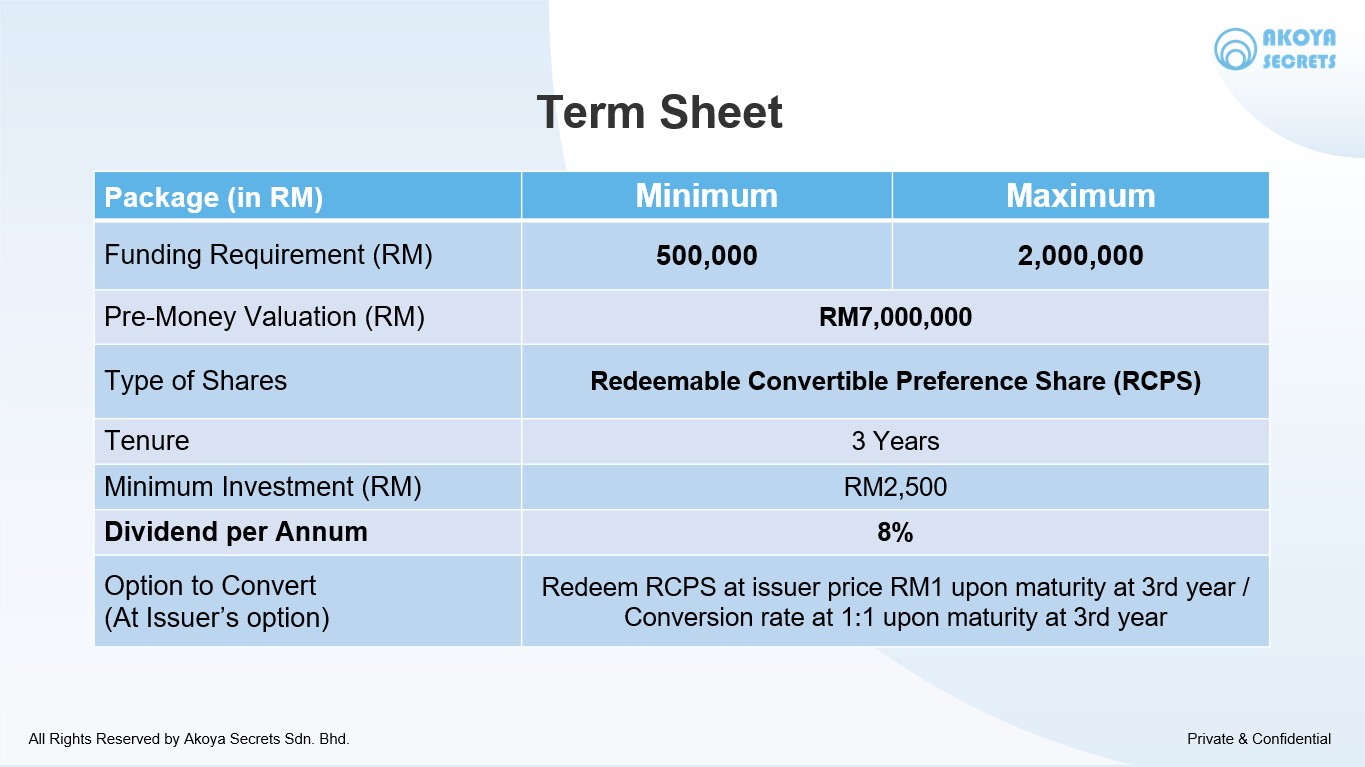 Investment package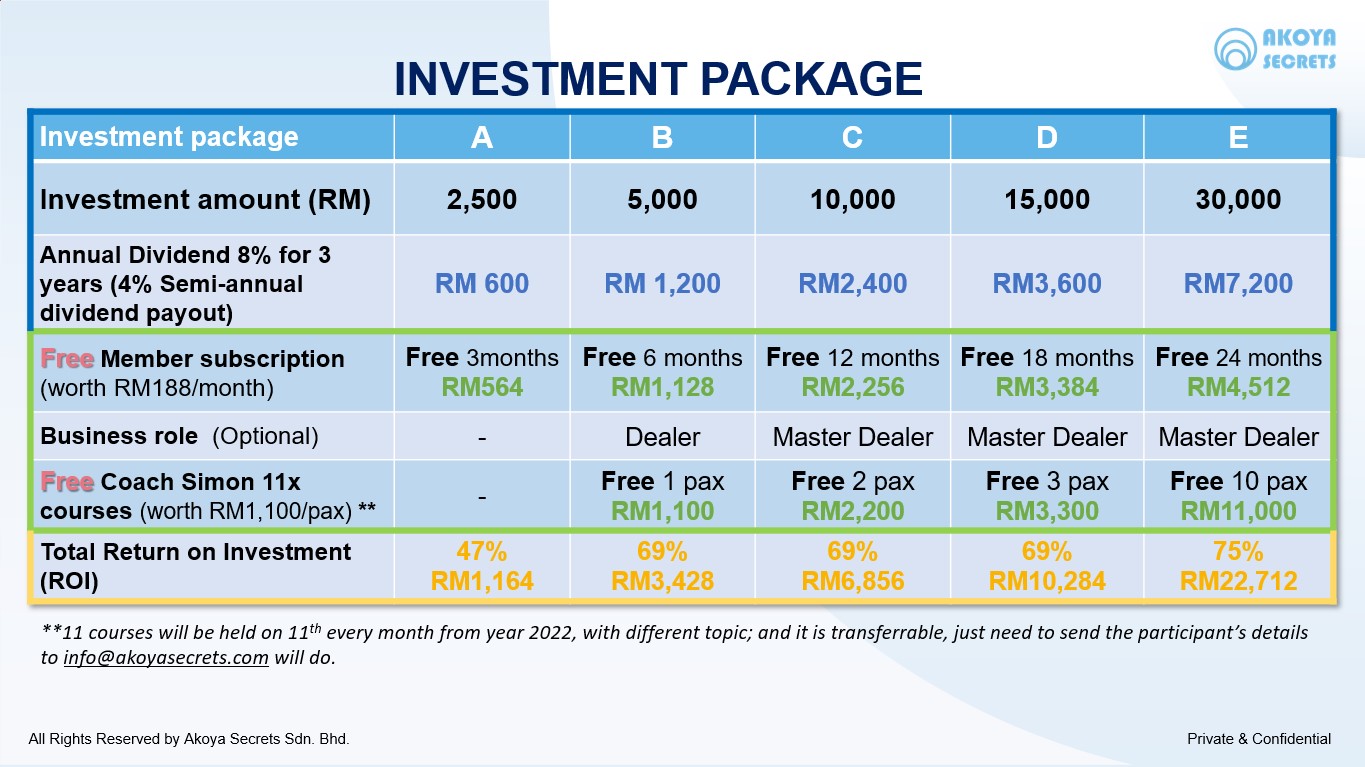 Through this investment, besides of getting passive income and be part of our member, you can also choose to join us as Dealer / Master dealer, to gain further knowledge on wellness and slimming in a systematic way, in order to develop a new business, and work together in the big health industry with us and having mutual benefit.
A good health is the greatest blessing. Now is the best time to invest in our virtual wellness network factory. Join us to begin your wellness future with us!
---
Website: http://www.akoyasecrets.com/
FB: https://www.facebook.com/AkoyaSecrets/
IG: https://www.instagram.com/akoyasecrets/
Whatsapp: Contact Us
---
Term Sheet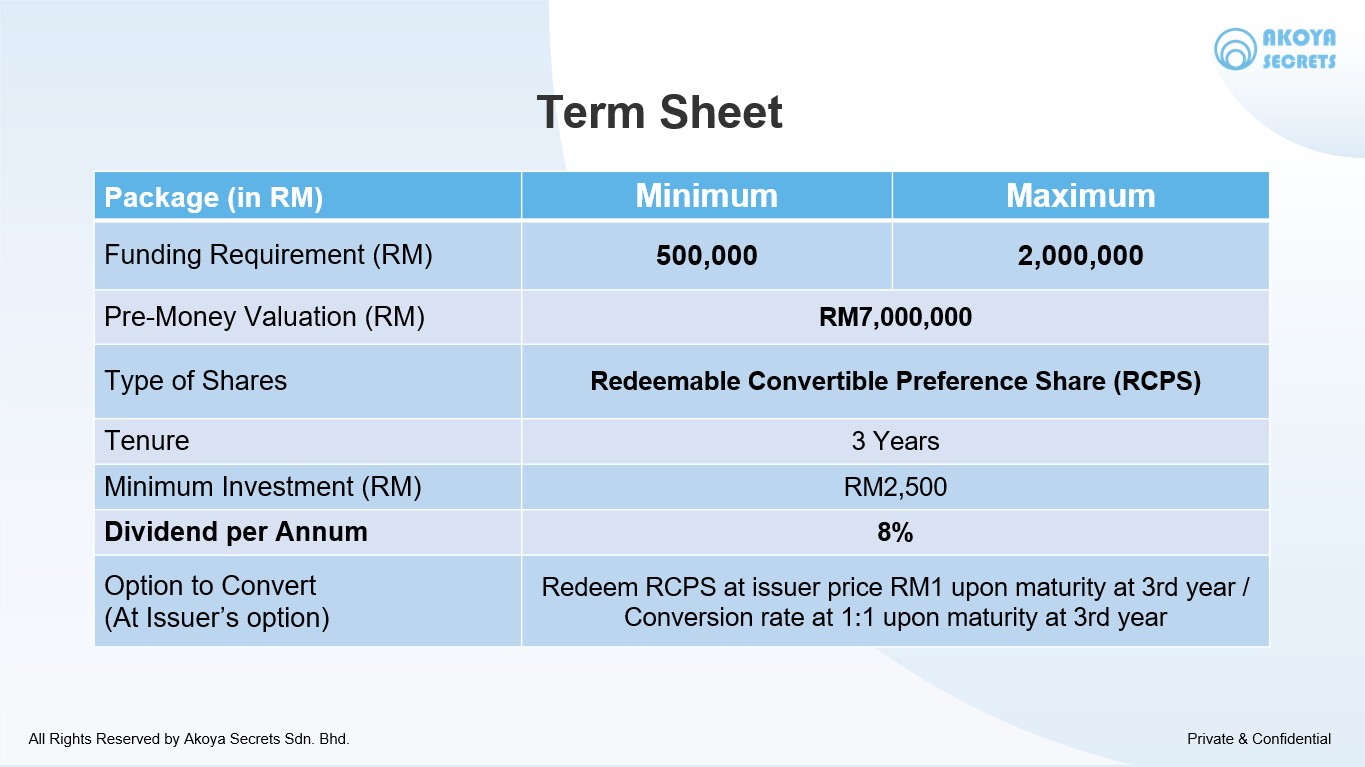 ---
Investment Package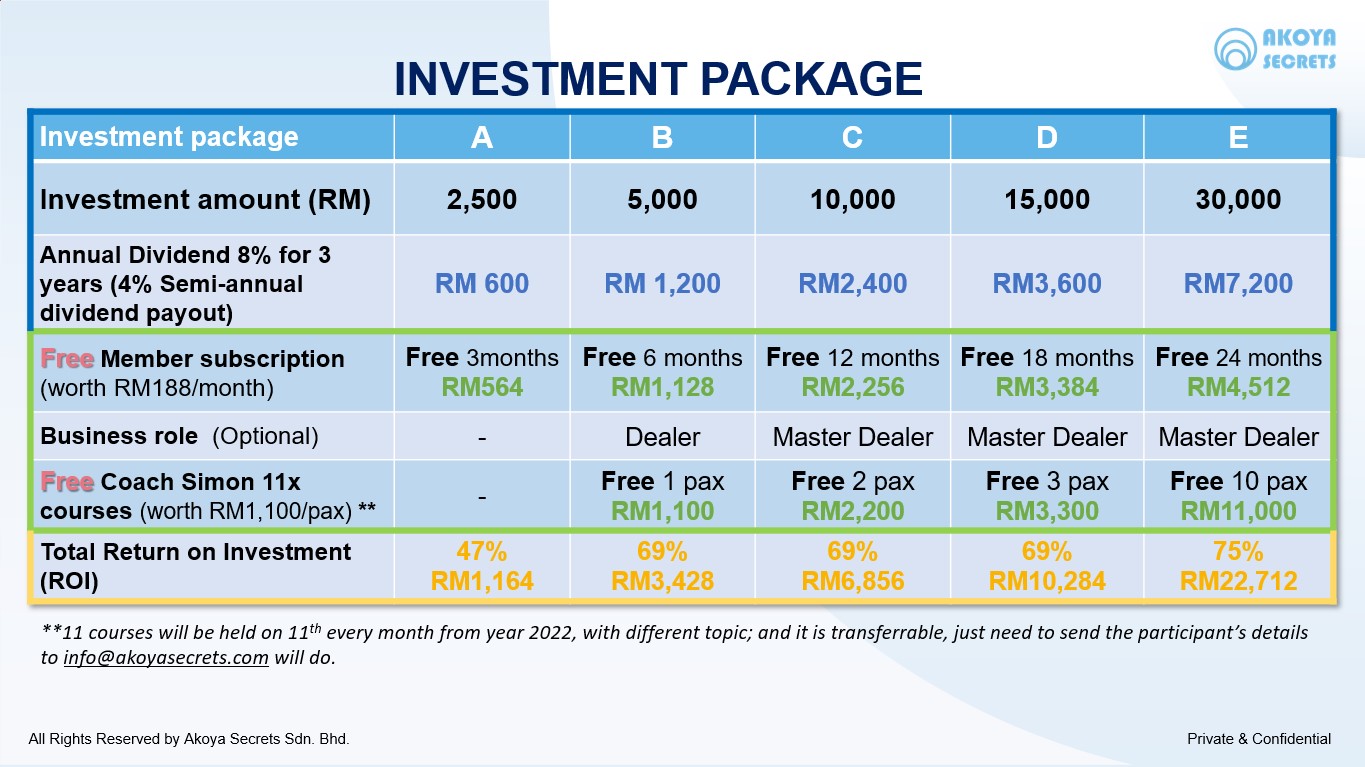 ---
Core Team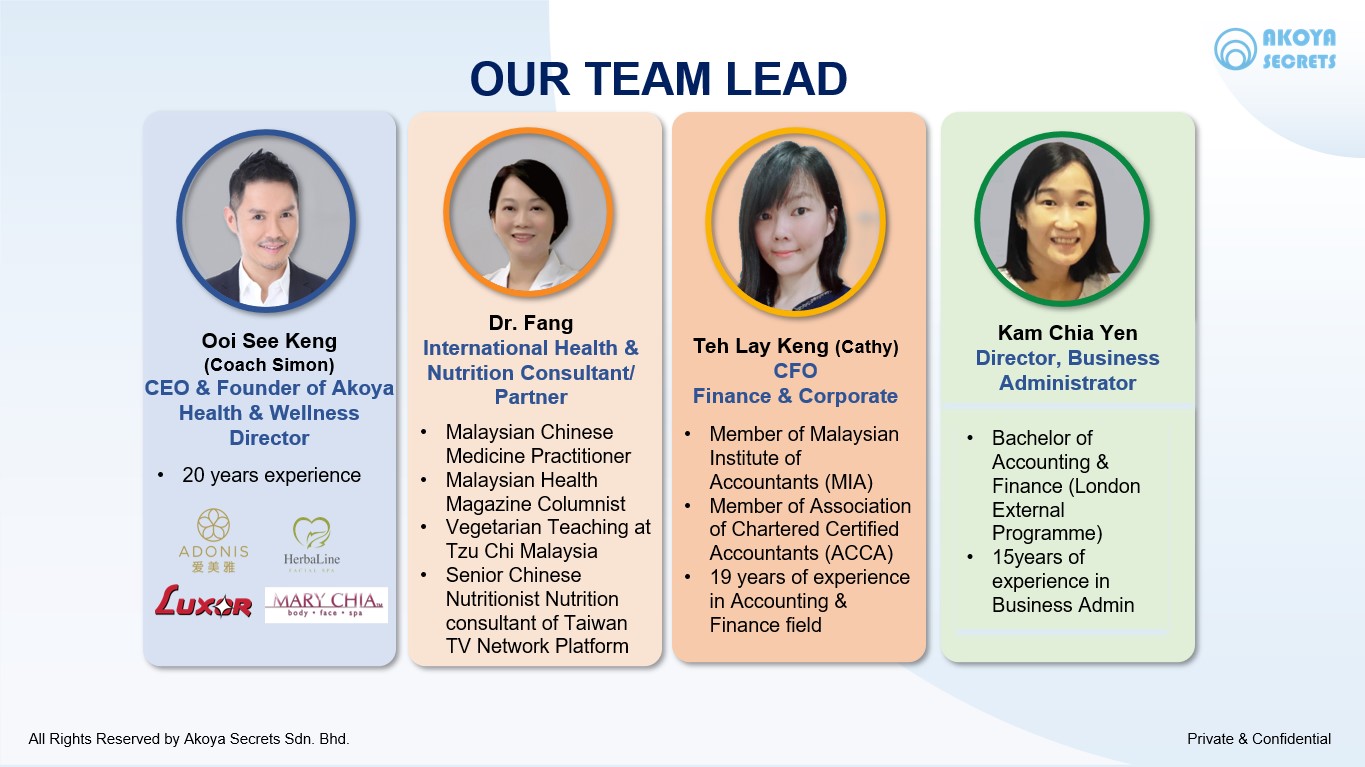 ---
For further enquiry
Please Contact Us
---
Founder's Pitch Deck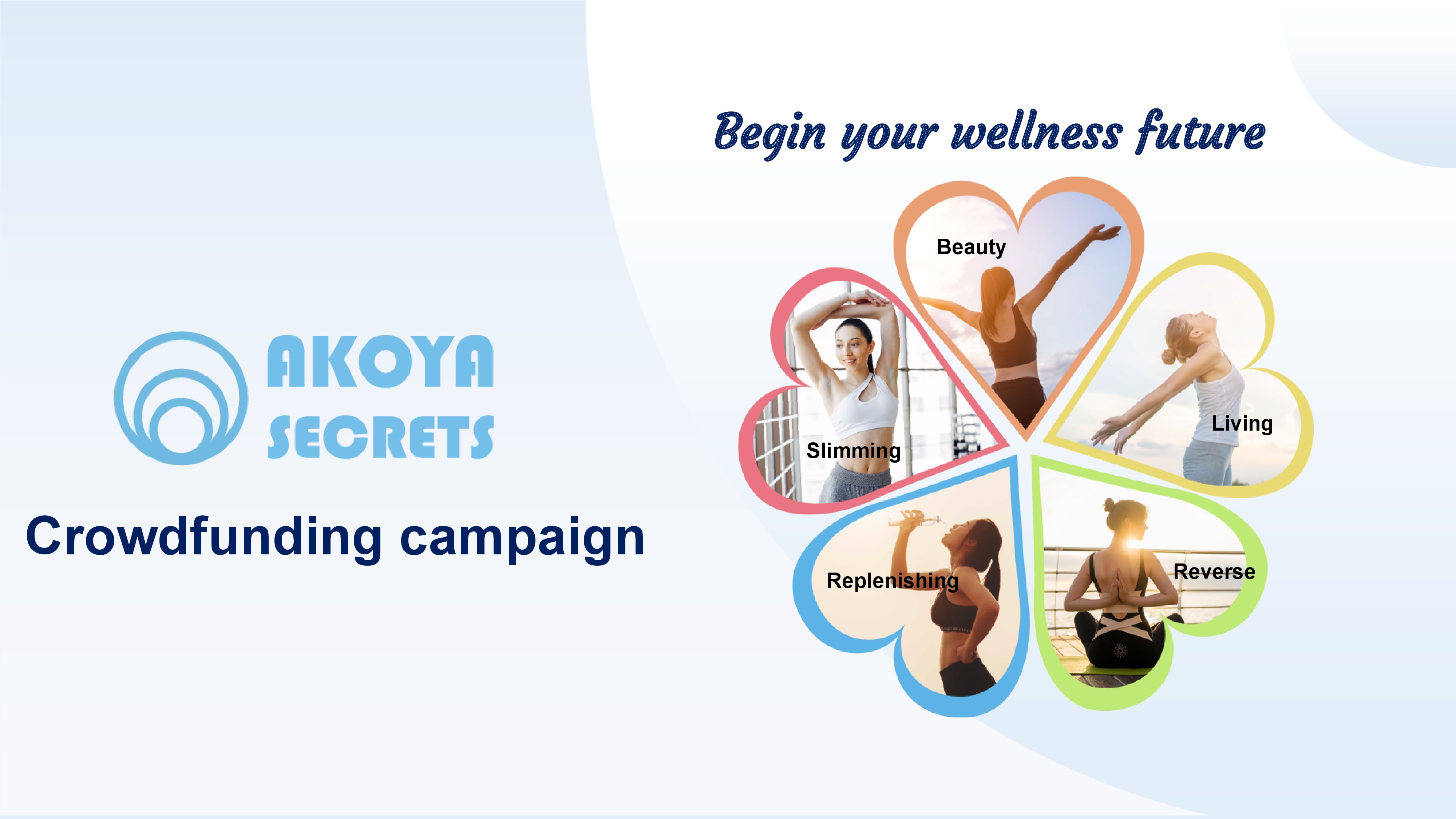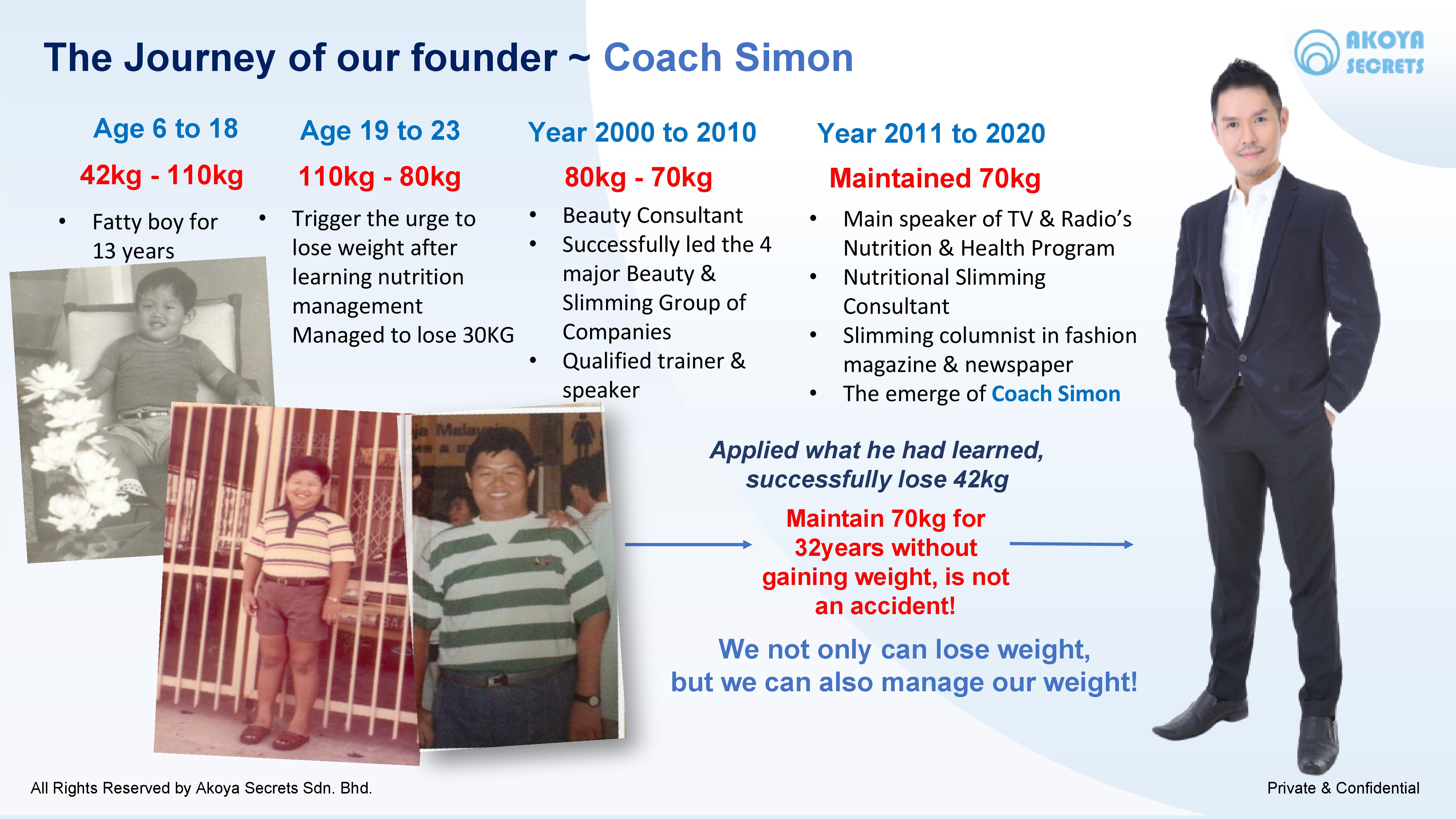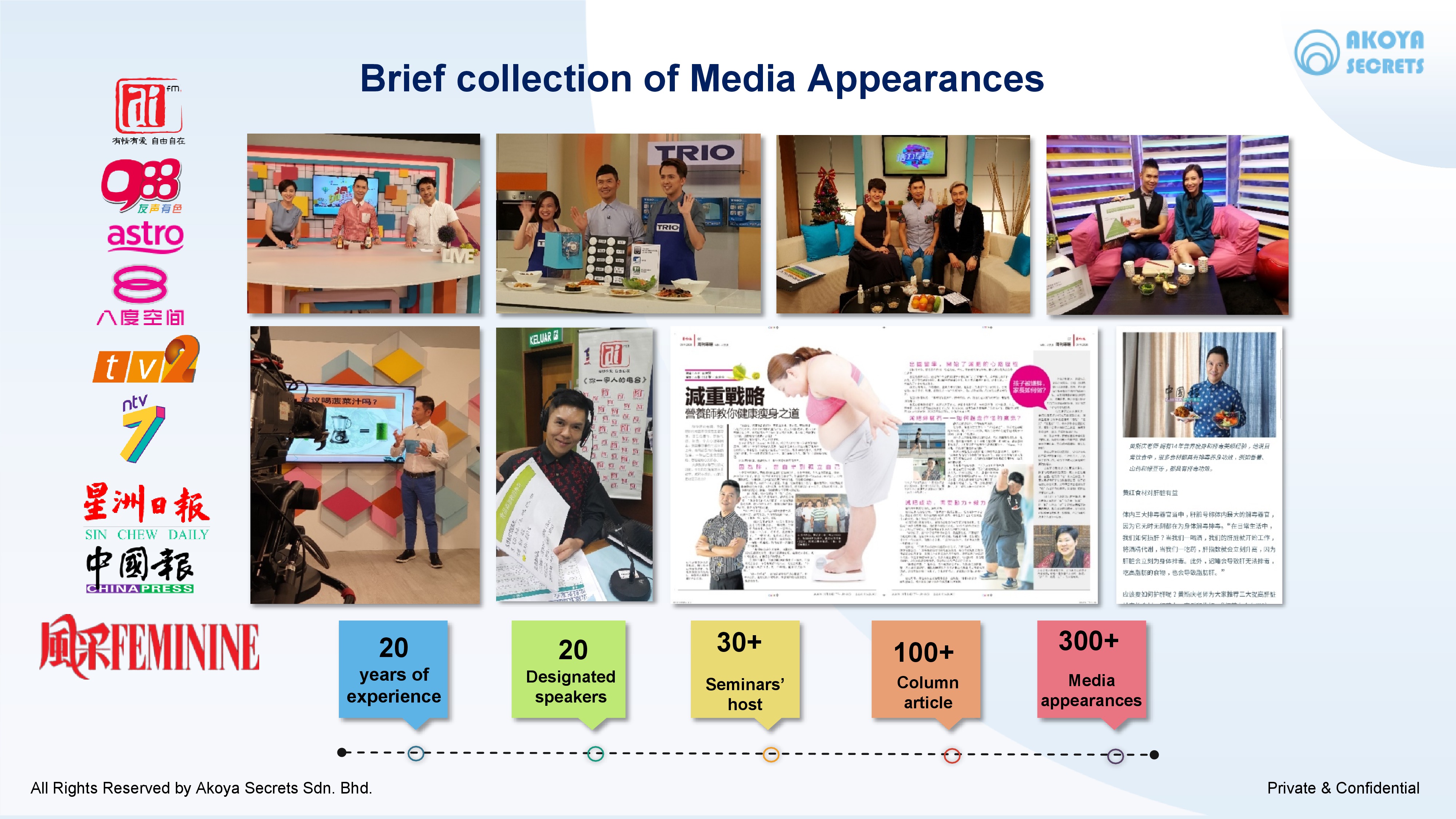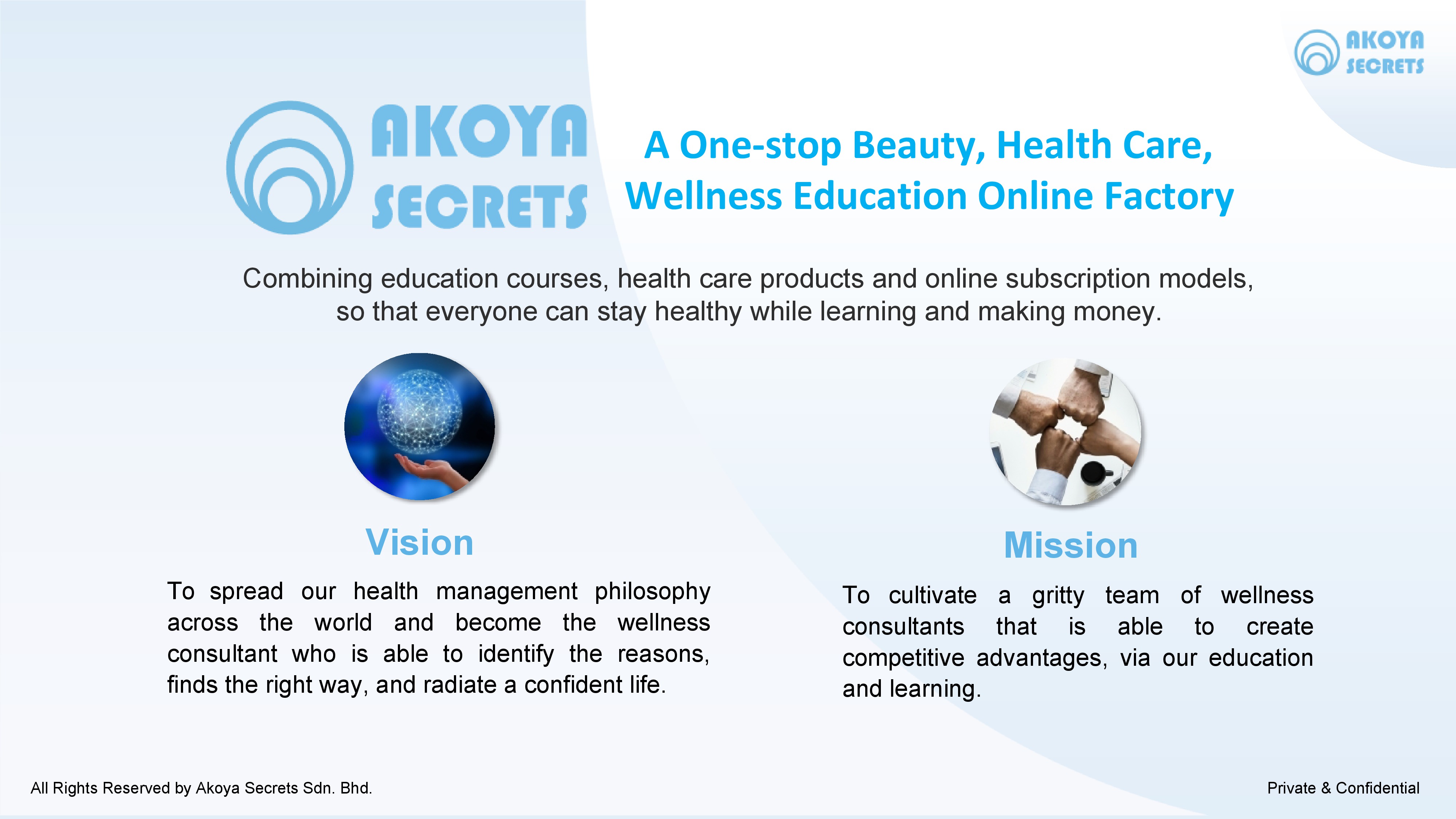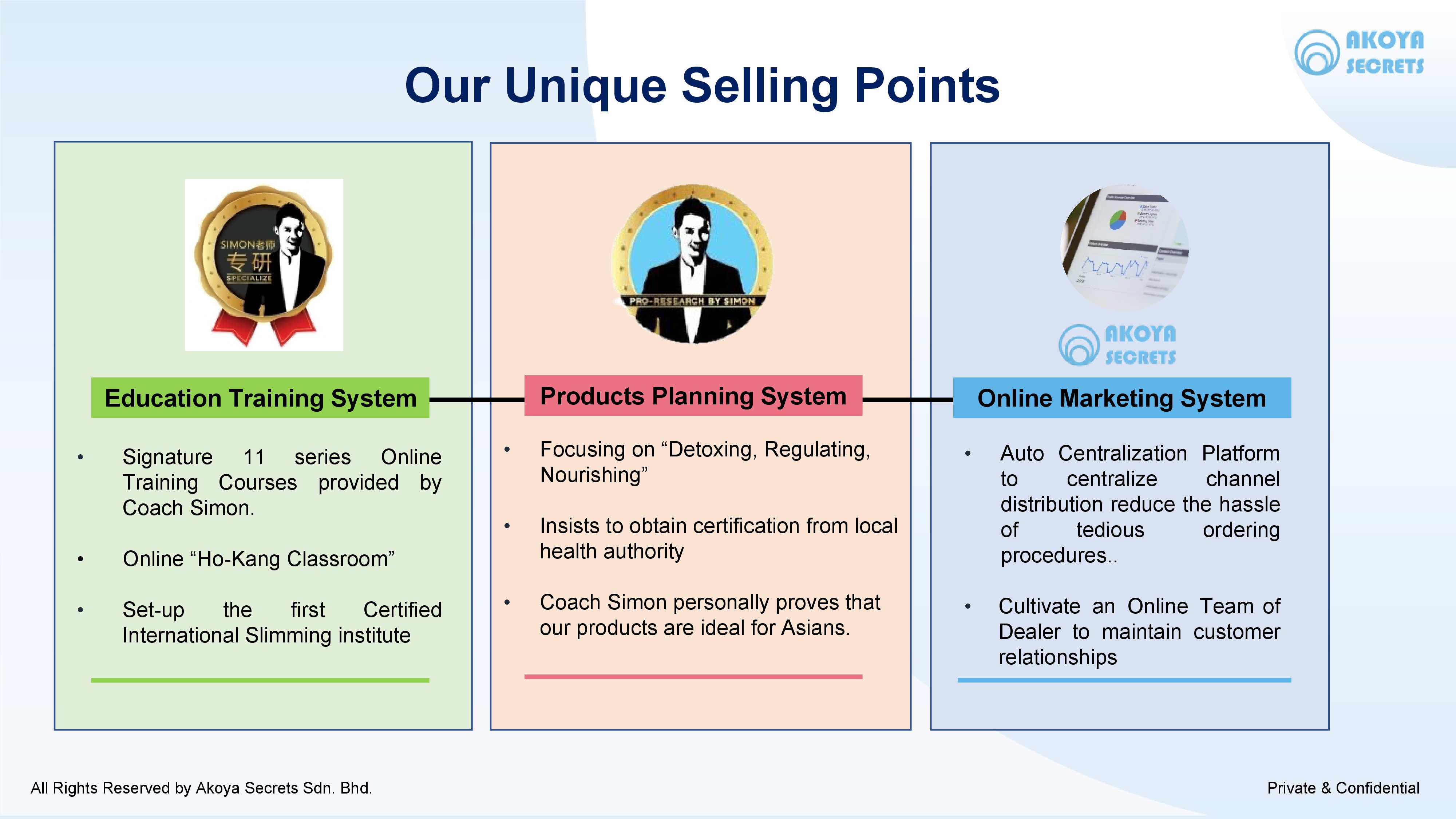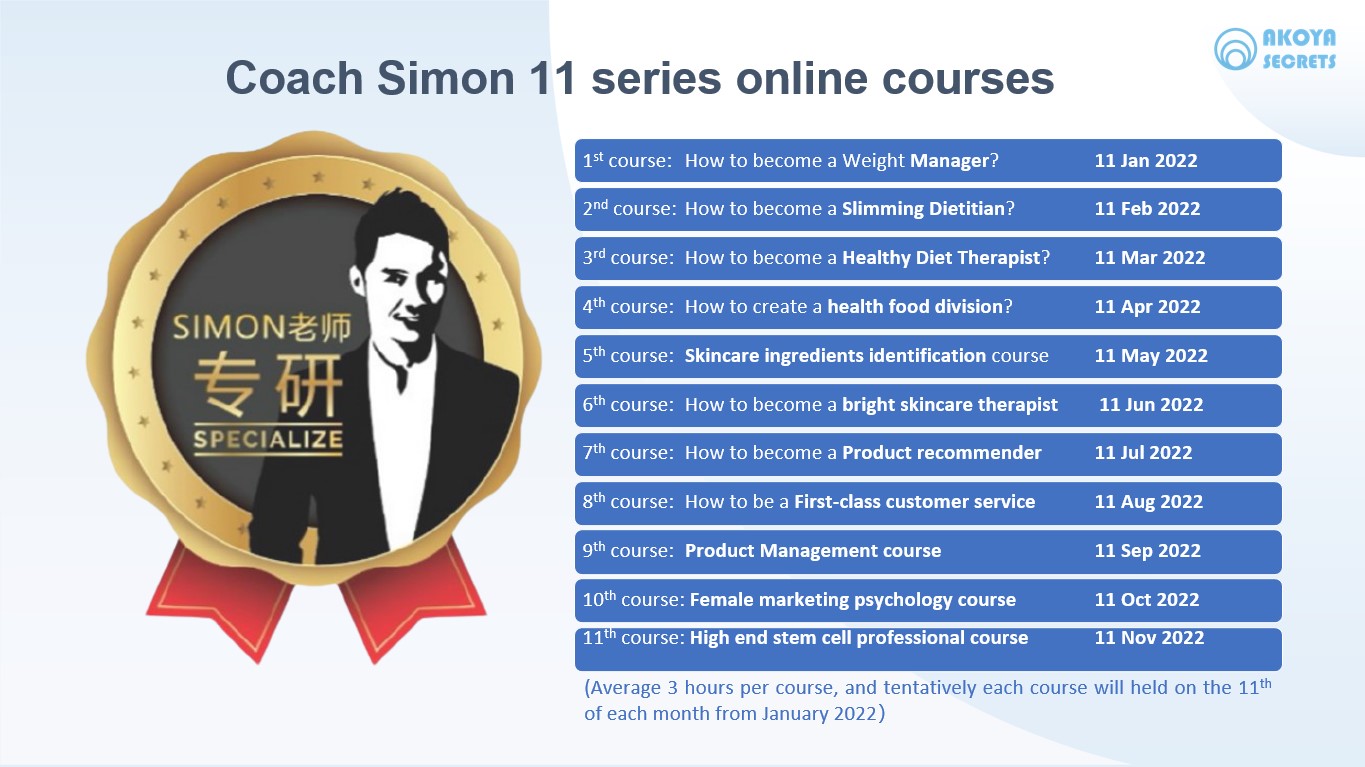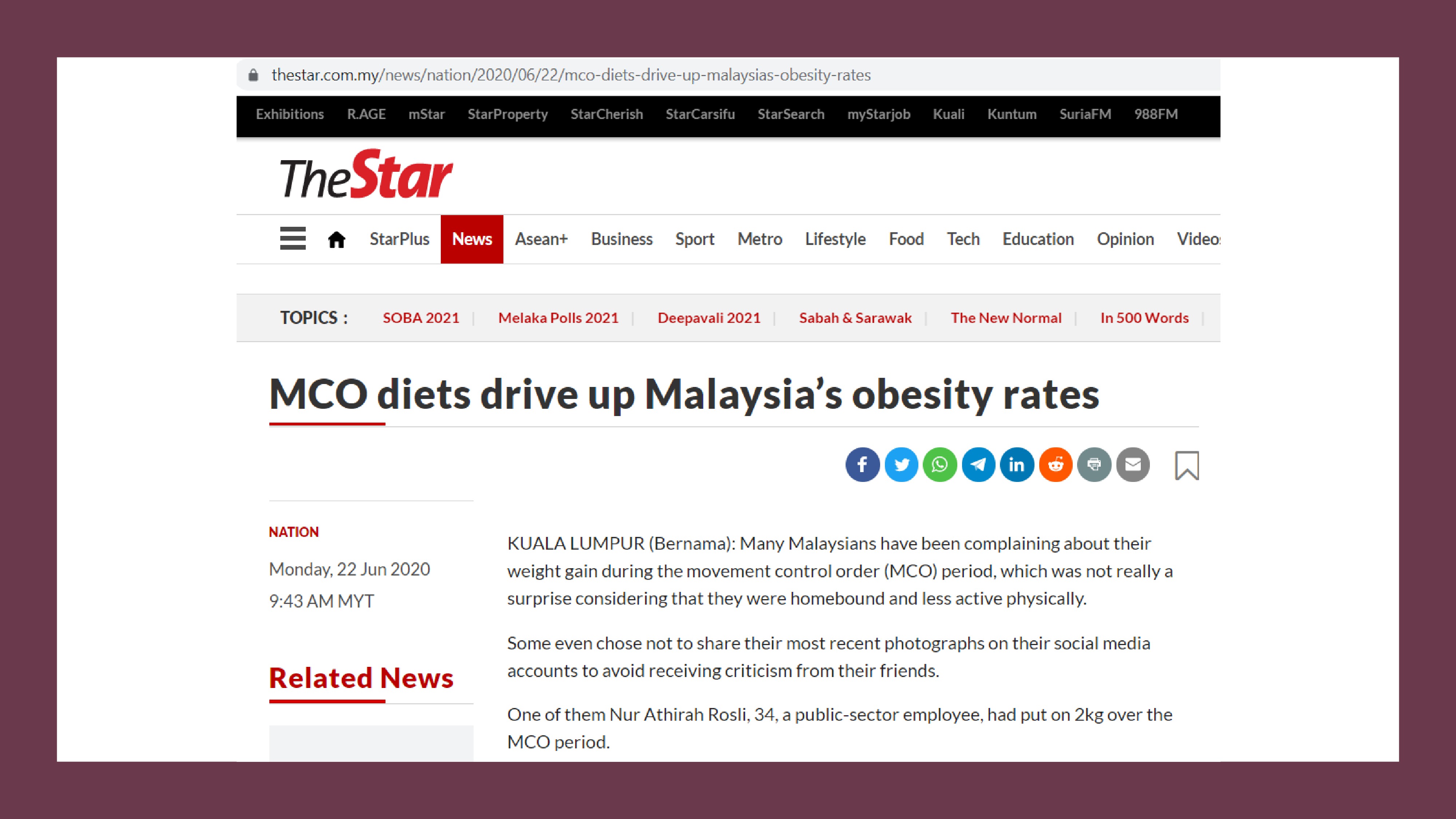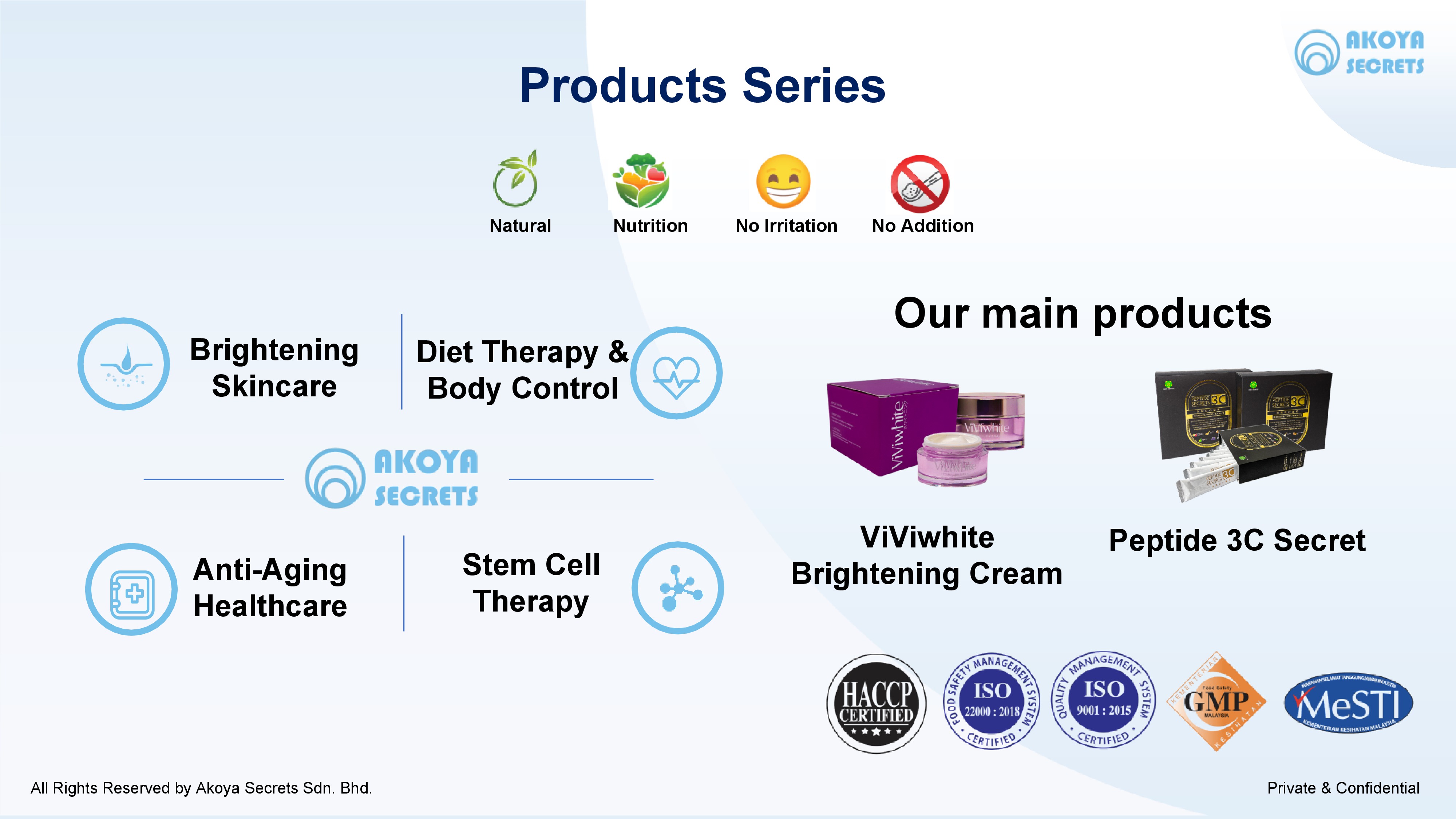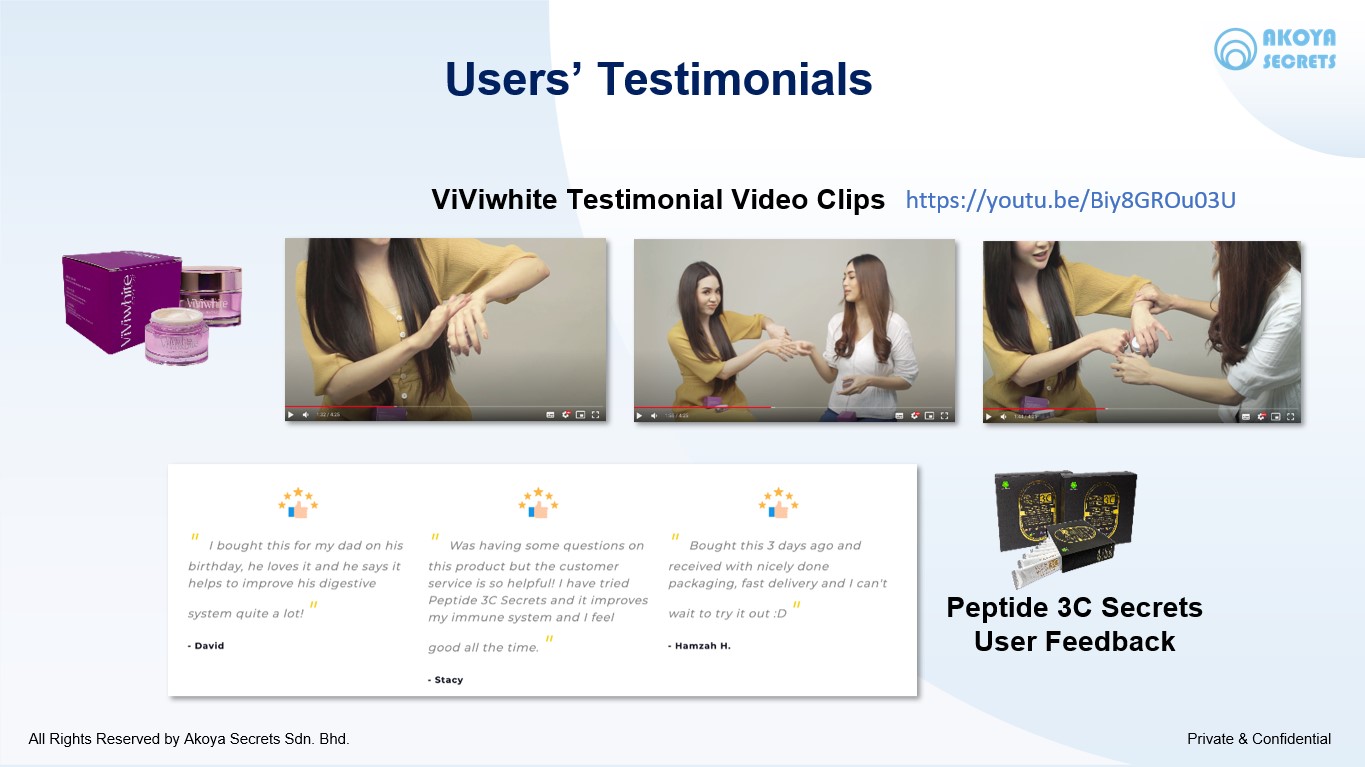 ---
For further enquiry
Please Contact Us
---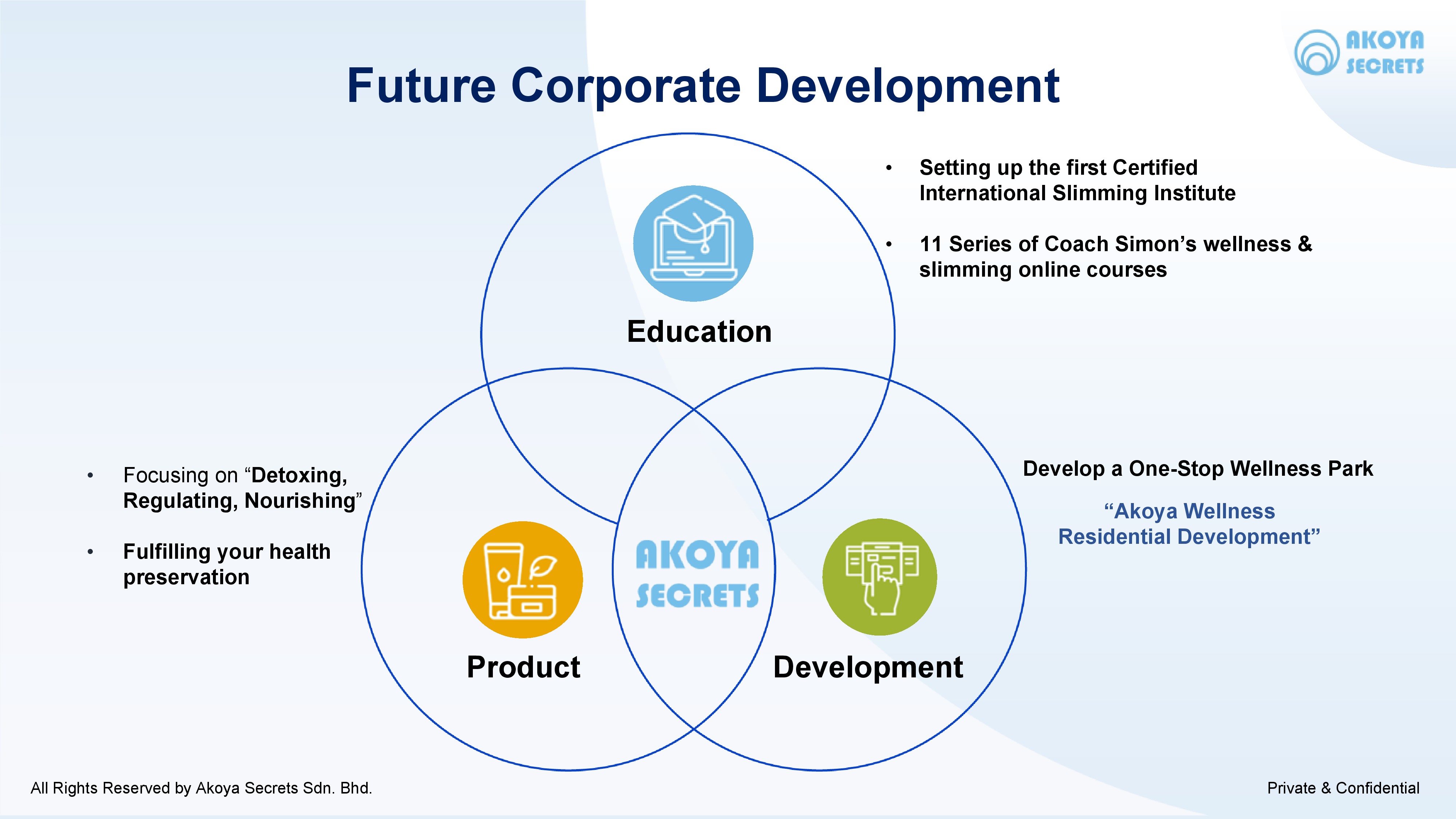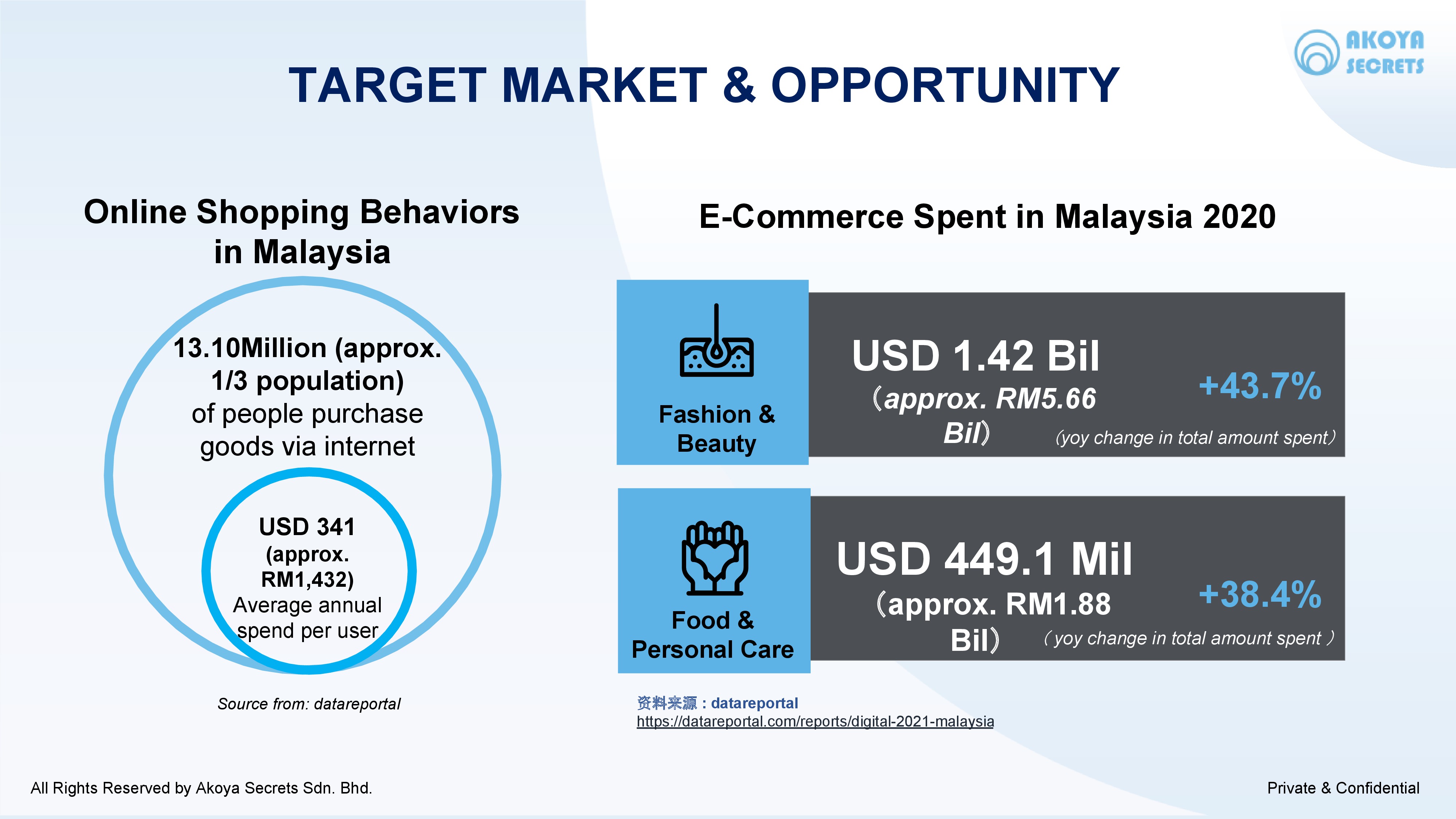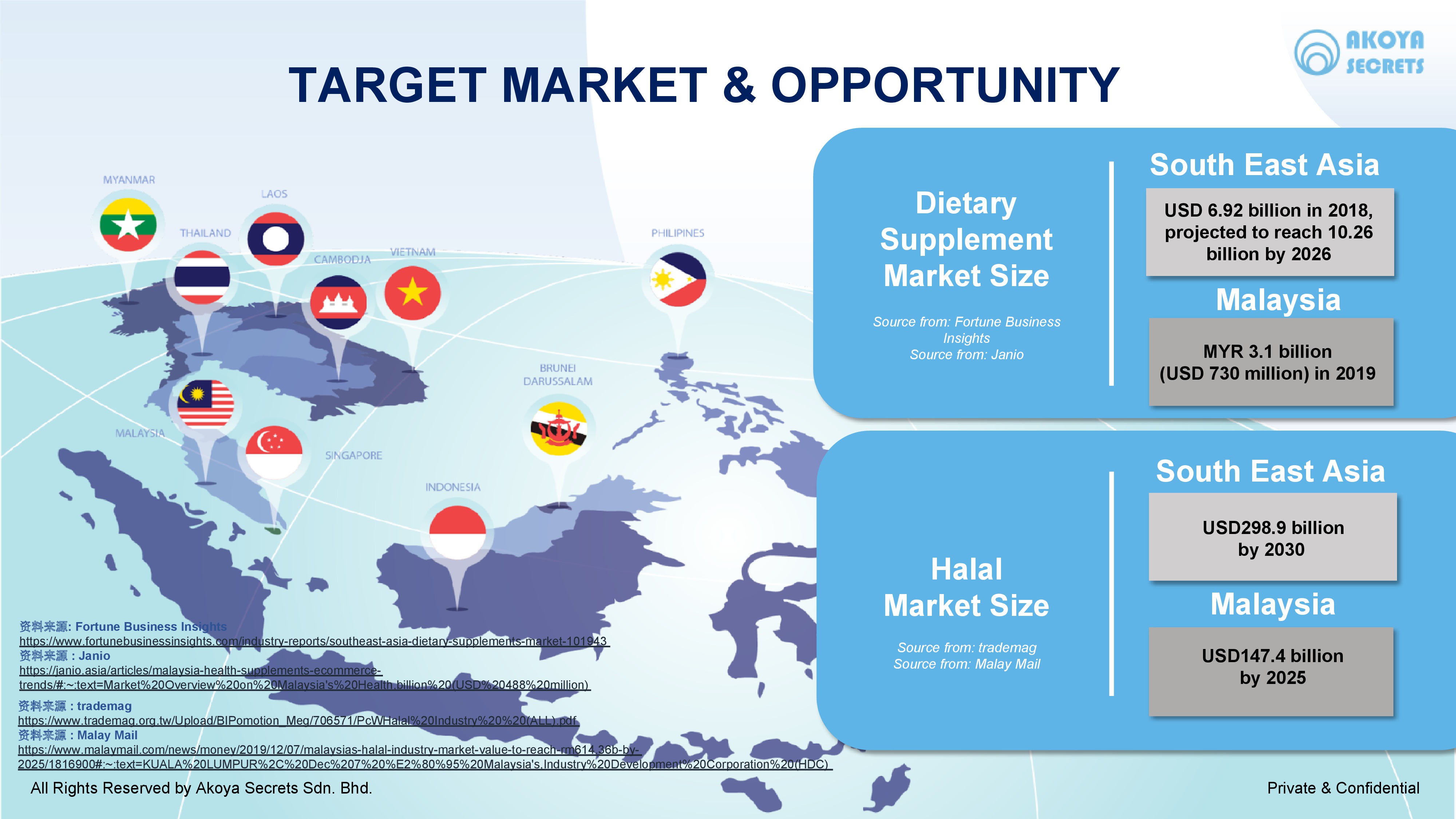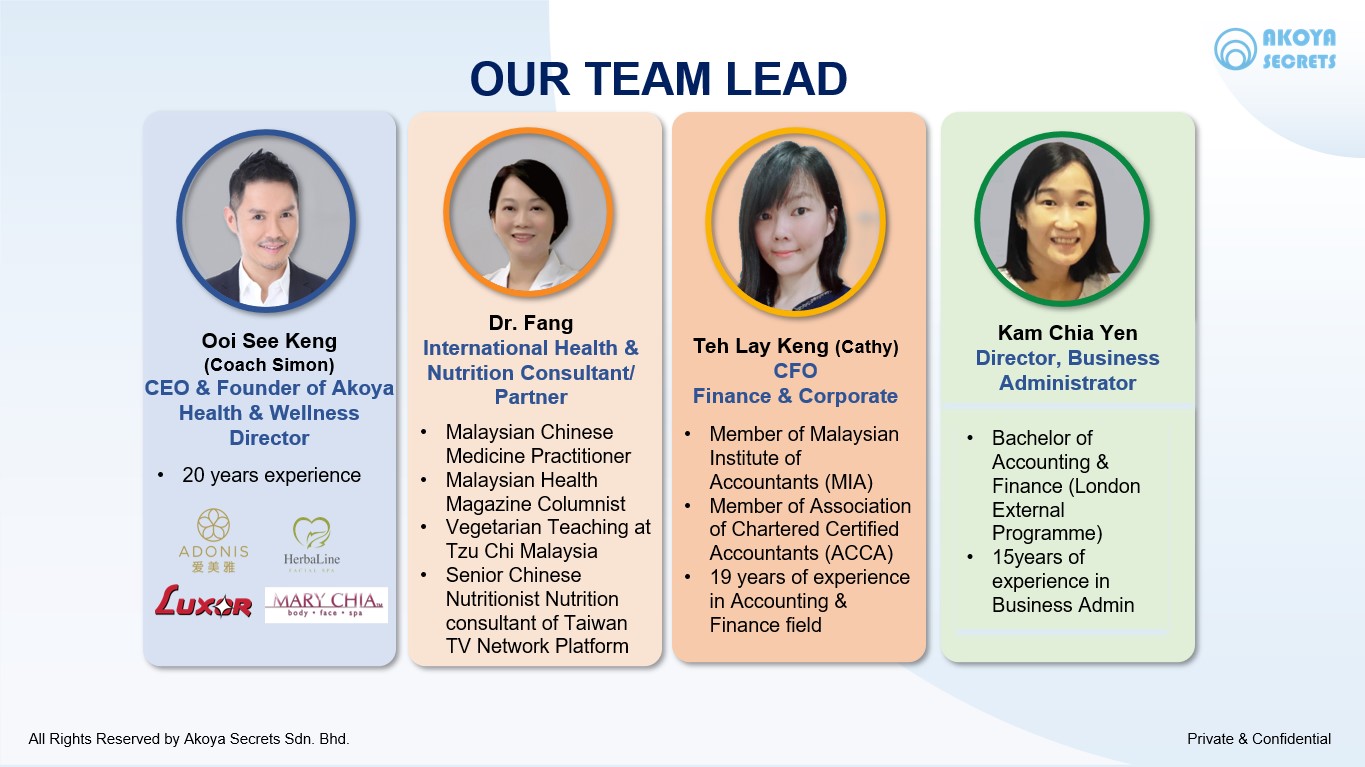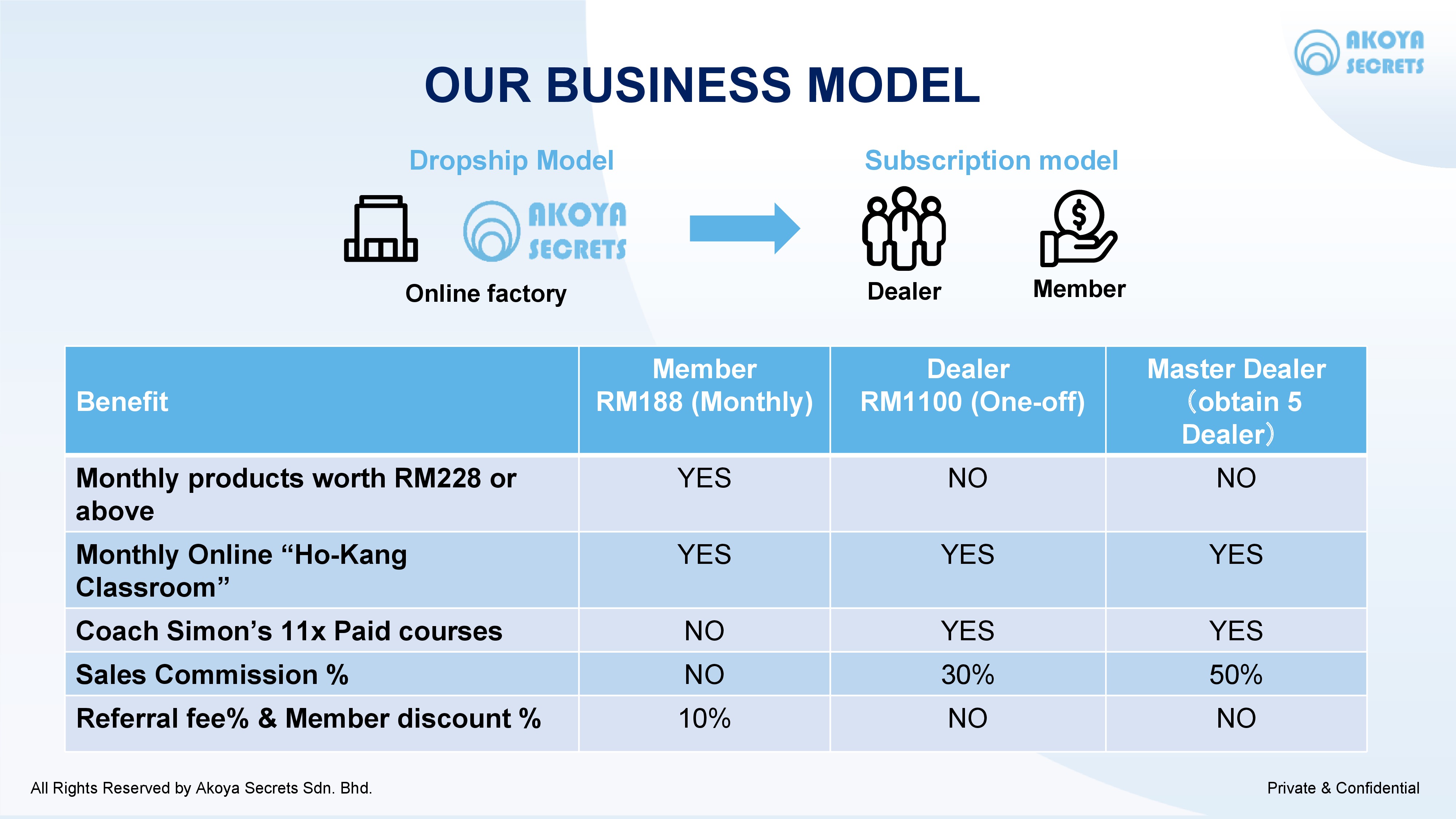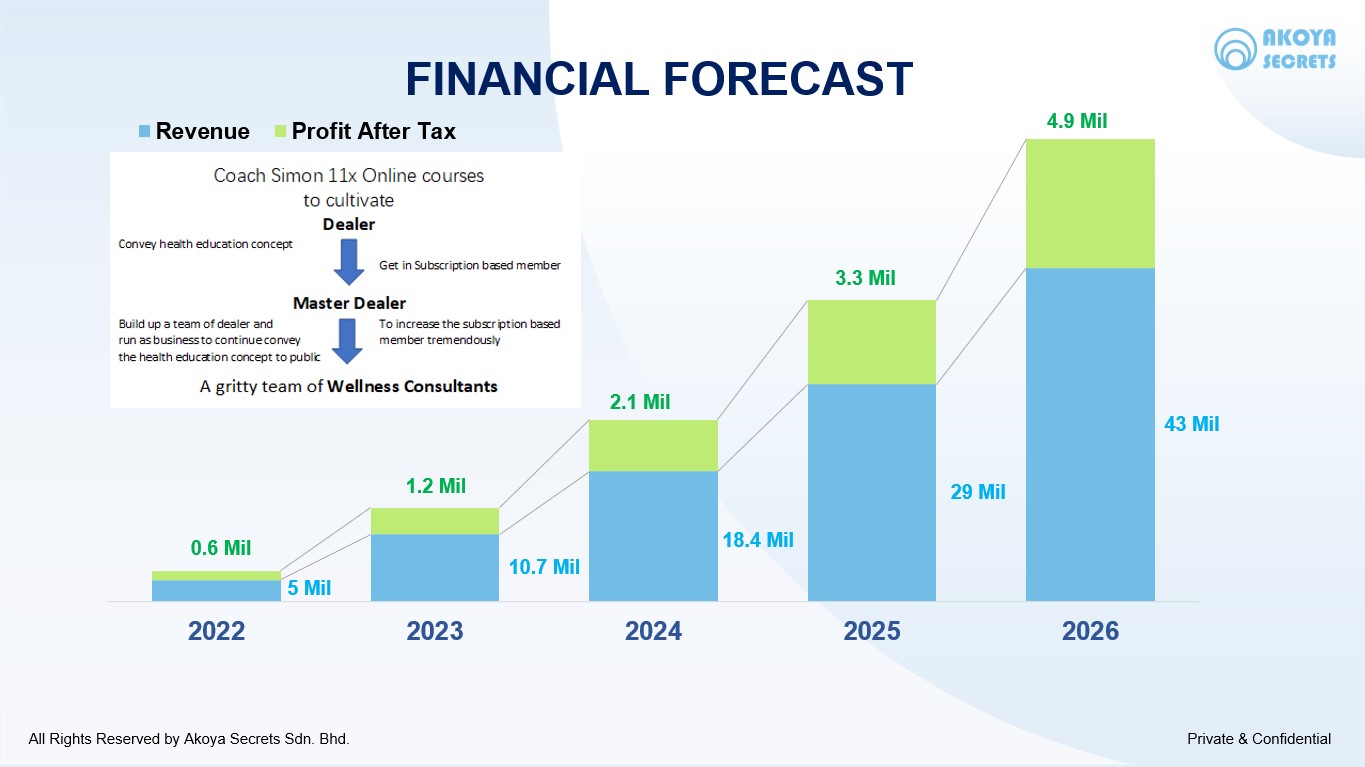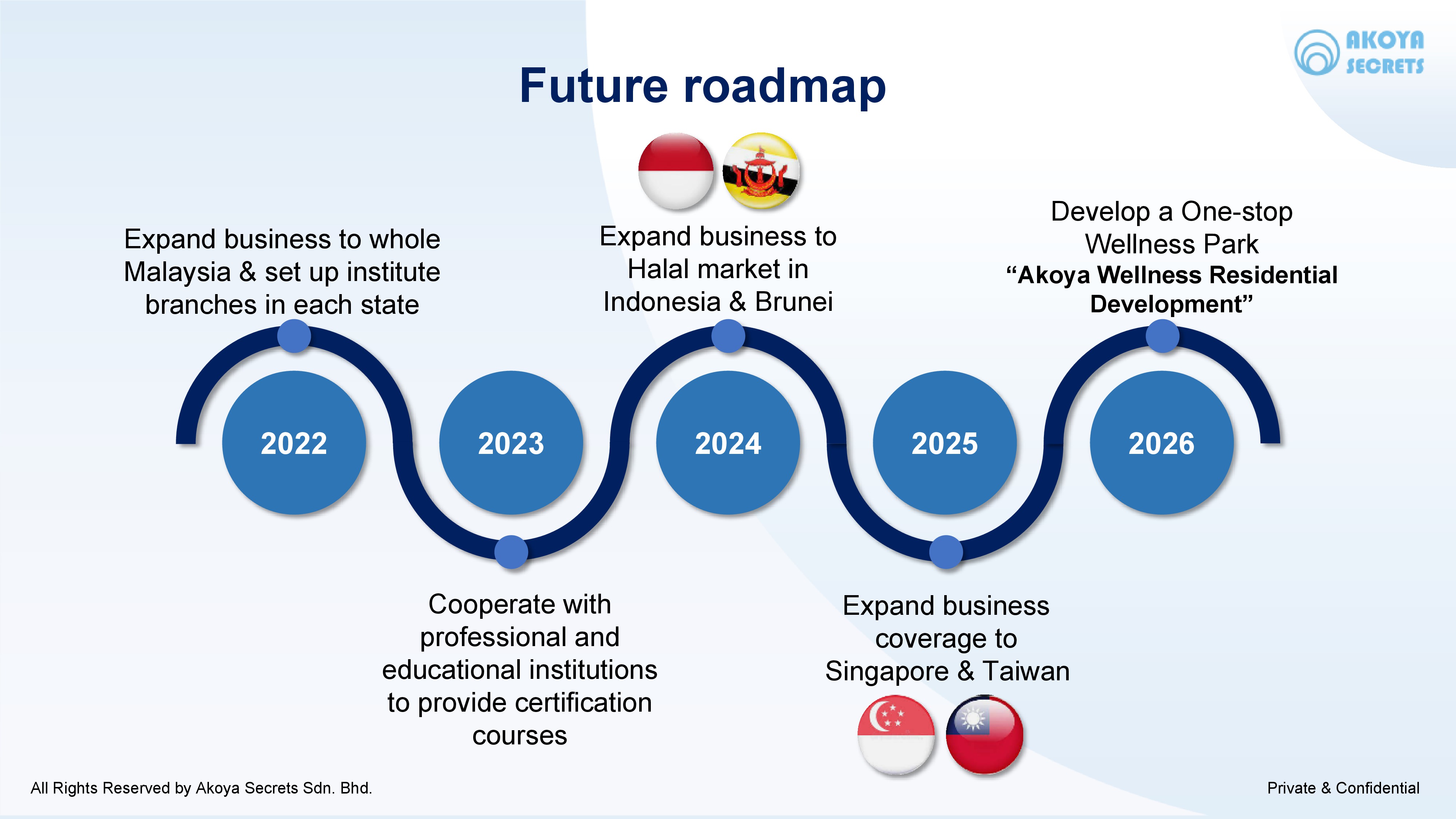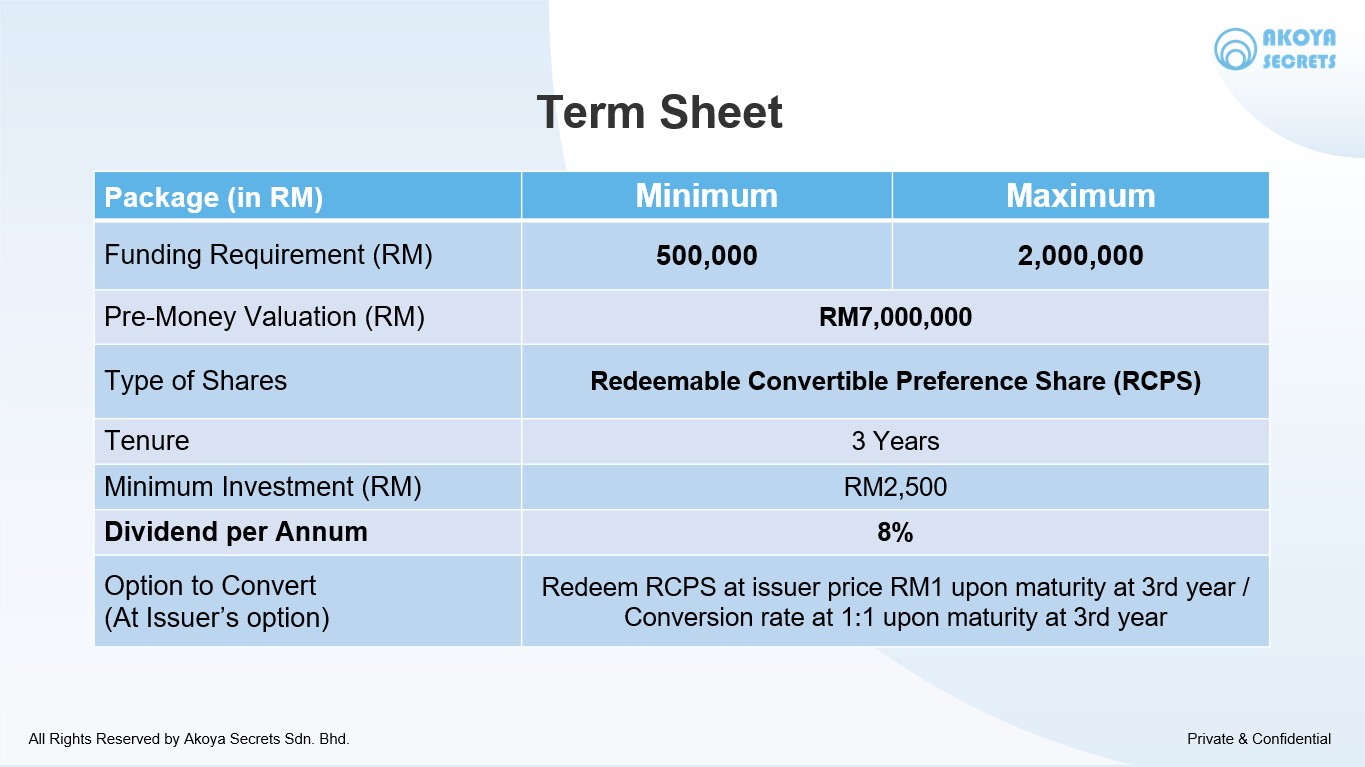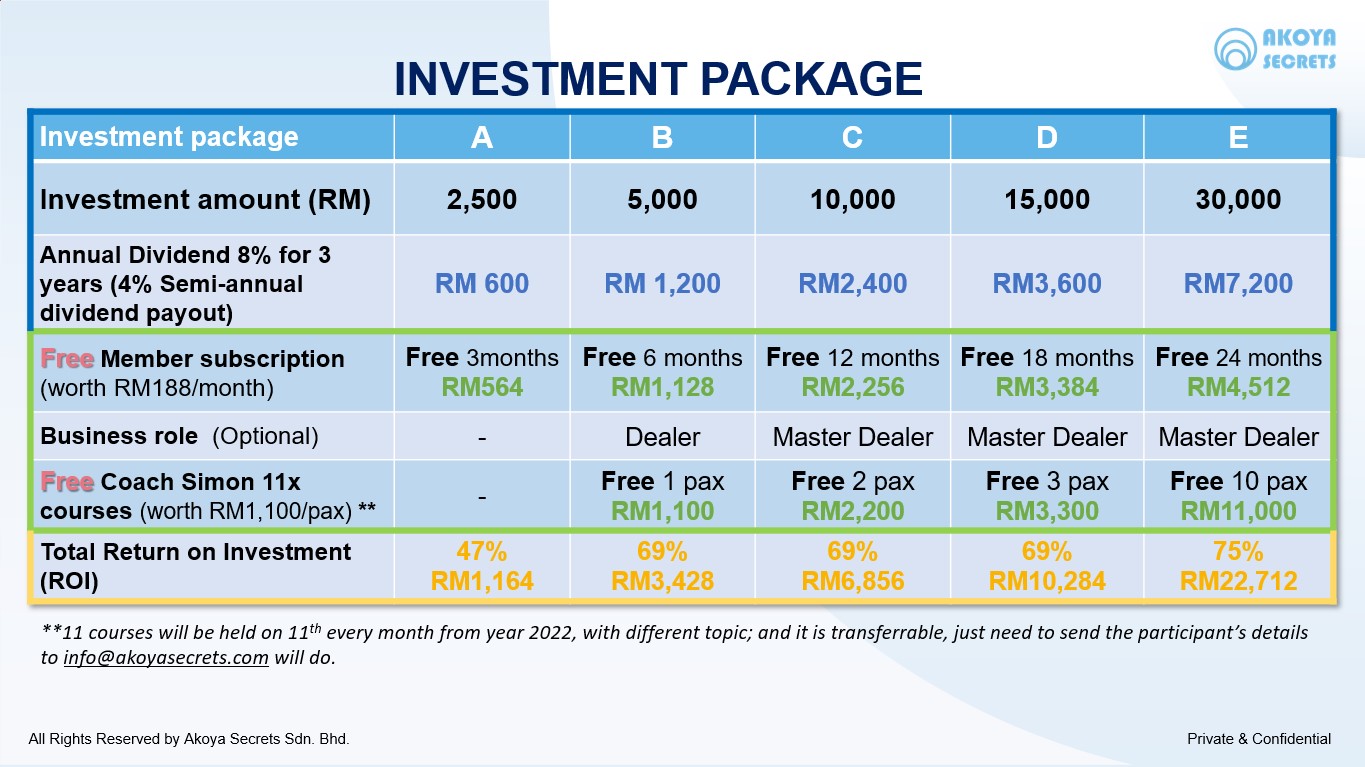 ---
For further enquiry
Please Contact Us
---