---
"ZUCCA is an e-commerce business focused on modest fashion that adopts a Real-Time Fashion model."
---
Background
We notice international clothing brands like as H&M, ZARA and UNIQLO products are NOT focused on the modest fashion market.
According to Euromonitor, Malaysia's apparel and footwear retail 2021 market share will exceed RM20 billion and estimate women's modest fashion will take about RM8 billion market share.
The market is big enough, but why international brand doesn't focus? One of the reasons is because they are facing a Supply-Chain issue.
Traditional clothing retailers are mainly operated under SPA (Specialty Store Retailer of Private Label Apparel) models. The SPA model was defined by clothing retail giant GAP in 1986. It allows the brands/ company to control the entire business process — from planning and design to material procurement and sales. Well-known clothing brands like UNIQLO, H&M, and ZARA achieved big success with SPA models.
However, SPA also has its limitations. First of all, traditional retailers produce what they think the consumer wants and the designer will predict what to sell in the future. If the forecast is accurate, the company will make profit; however, it will bring losses to the company if the prediction is wrong.
In order to prevent losses caused by prediction errors, apparel retailers generally need higher profits margin to counterbalance their future sales losses. In addition, traditional retailers generally reduce costs through mass production. Therefore, due to cost advantage and profitability considerations, most of the big brands decide to ignore the modest fashion market in Malaysia. It also causes User Pain Points in the modest fashion market.
Customers
ZUCCA main users are Muslim females and working ladies. We notice our users have a strong demand for stylish clothing. According to the statistics of JPM (Jabatan Perangkaan Malaysia), our target users in 2015 are about 4 million and this number has grown to 5.3 million in 2020.
How does ZUCCA solve the problem?
Zucca is an e-commerce business adopting Real-Time Fashion model that cuts the time from design to peoduction from design to production from 120 days to 7 days and builds Consumer to Manufacturer (C2M) business model.
Different from traditional retailers, we will collect data and analyze the spending patterns from our users first. Then pass this data to our panel manufacturers by launching countless MVPs (Minimum Viable Products) to the market at low cost.
Our users will give us direct feedback with their buying behaviour. At the same time, we will analyse collected data again and redesign or optimise our products for a better fit to market demand.
This process caused a large number of false perceptions to be filtered out in rapid iterations. By doing this, our inventory can be controlled at a very low level. On the other hand, our products can also be sold relatively cheap by reducing inventory risk.
If you ask what is the biggest difference between ZUCCA and traditional clothing retailers I would say that traditional clothing retailers focus on information, while ZUCCA focuses on data.
Our Products
Our products are modest fashion apparel at an affordable price. We tend to launch new products every week. At the same time, some of our products have sold more than 1,000 pcs and even some designs sell more than 10,000 pcs.
Who are we?
After Erica and I closed down our last brick-and-mortar in 2018, we started an apparel ecommerce business with our savings of RM20,000.00. Before engaging in offline retailing, both of us have a finance and accounting background.
We are serial entrepreneurs. Both of us were in charge of design, product development and sales when we were running offline retail. We used to manage 13 outlets across West Malaysia during the peak. However, our venture did not make it in the end.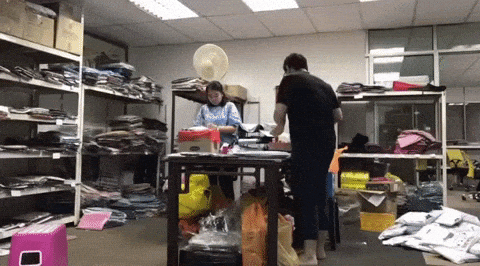 We are also involved in footwear trading while operating ZUCCA physical stores. We supply products to some of the well-known Malaysia brands such as BATA and Primavera. Meanwhile we also custom-made shoes for ASTRO TV programmes and gain a lot of product development knowledge from the experiences.
Our Team
Besides Erica and I, another 3 members in our team are Sally, Janah and Amira.
Sally has more than 10 years experience in clothing workshops. Currently responsible for product development and warehousing. With Sally's experiences, we can be more efficient in product development. Janah has 8 years of retailing experience and is currently responsible for customer relation and fulfilment. Amira joined us last year, currently involved in customer relations and operation.
Our team is small, but the complementarity is high. This is also why both of us are involved in several positions at the same time.
ZUCCA is an energetic and fast-growing company. Our revenue growth is 430% from RM770k (2019) to RM4 Million (2020). Meanwhile we also achieved RM125k daily sales on 12.12.2020.
User Feedback
At ZUCCA, we define our customer as a User. Beside solving customer needs, we tend to improve the users' experiences by delivering more value to our users.
Currently our Shopee store has generated 200,000+ reviews with an average score of 4.9 (out of 5). Last year we sold more than 300,000 pcs of clothes and 30% were contributed by our existing users. Our users also tend to feature our products in their social media platform.
The scale and purpose of crowdfunding
In order to meet the market 's ever-growing demand, we decided to integrate our supply-chain by raising RM2 million through equity crowdfunding. Funds will mainly allocate in these 3 points:
Including strengthen our product development (60%)

Upgrade fulfilment centre (20%)

Recruit talent (20%)
Why invest in ZUCCA?
With the painful experiences in brick-and-mortar, we totally understand the pain point and problems traditional clothing retailers face. It also ignited our determination to integrate clothing supply-chains. This viable business model has been verified with 2 years of continuous attempts.
We will bring in Venture Capital or Private Equity in the next 2 years and plan to IPO in 2026. Meanwhile, we project 1.5 times growth in the coming 5 years. And promise to bring you 10 times the expected return of investment (ROI) in the next 5 years.
If you are ready to experience rapid growth in the future, I sincerely invite you to ride out the storm, braving the wind and waves with us!
---
For Further Enquiry
Please Contact Us
---
Website: https://zucca.com.my/
Facebook: https://www.facebook.com/zucca.butik
Instagram: zucca.butik
Shopee: https://shopee.com.my/zucca.butik
---
Term Sheet
---
Investment Packages
---
Core Team
---
For Further Enquiry
Please Contact Us
---
Founder's Pitch Deck
---
For Further Enquiry
Please Contact Us
---
---
"ZUCCA 是一家采用 "Real-Time Fashion" 模式的穆斯林服饰电商"
---
项目背景
我们发现国际服饰品牌(ZARA,H&M和UNIQLO)在马来西亚主要市场都是非穆斯林市场。
根据EUROMONITOR统计,马来西亚服饰和鞋子零售份额在2021年达到大约200亿令吉的规模。单单穆斯林女性的服饰市场就占据了大概80亿令吉的份额。
其实那么大块的市场,每个大品牌都看得到,可是为什么它们不做呢?主要原因是他们都面对着供应链问题。
传统服饰零售主要以SPA(Specialty Store Retailer of Private Label Apparel)模式来经营。SPA模式是由美国服装巨头GAP公司在1986年公司年度报告中,定义为公司的新业务体制而提出的,是一种从商品策划、制造到零售都整合起来的垂直整合型销售形式。从上世纪90年代开始,实力强大的SPA企业入继登场,好像ZARA、H&M和UNIQLO等,这也让SPA成为服装领域最强的商业模式。

可是随着数据化时代的到来,SPA也开始面对瓶颈。首先, 国际品牌都有一个庞大的设计团队,而设计师的都在预测未来什么产品好卖。如果预测准确,那么公司就会赚到钱;可是,如果预测错呢?就会为公司带来亏损。为了防止预测错误所带来的亏损,服饰零售商普遍需要更高的利润来抵消他们的未来做促销的损失。另外传统制造商普遍是通过大批量制造来压低成本。客户如果有需求要工厂加工,传统生产线通常都有一定的标准,比如,必须达到多少量,才能抵消工厂的生产成本。
国际品牌为了掌握成本优势和生产线的考量,而选择忽略马来西亚穆斯林服饰这块市场。这也导致马来西亚穆斯林服饰供应链分散和用户痛点多的问题。
覆盖人群与用户
ZUCCA的覆盖人群与用户主要是穆斯林女性和小资。我们发现本地年轻穆斯林女性的服饰需求明显,现阶段市场上的品牌满足不了用户需求。根据JPM(Jabatan Perangkaan Malaysia)的统计,2015年我们的目标用户大概在4百万左右,而2020年这个数字增长到 5百30万。
商业模式与解决方案
ZUCCA 是一家采用 "Real-Time Fashion" 模式的服饰电商。我们用软性供应链的方式,把设计到生产的周期从 120天缩短至7天。同时我们排除了中间商,和建立起C2M模式 (Consumer to Manufacturer) 。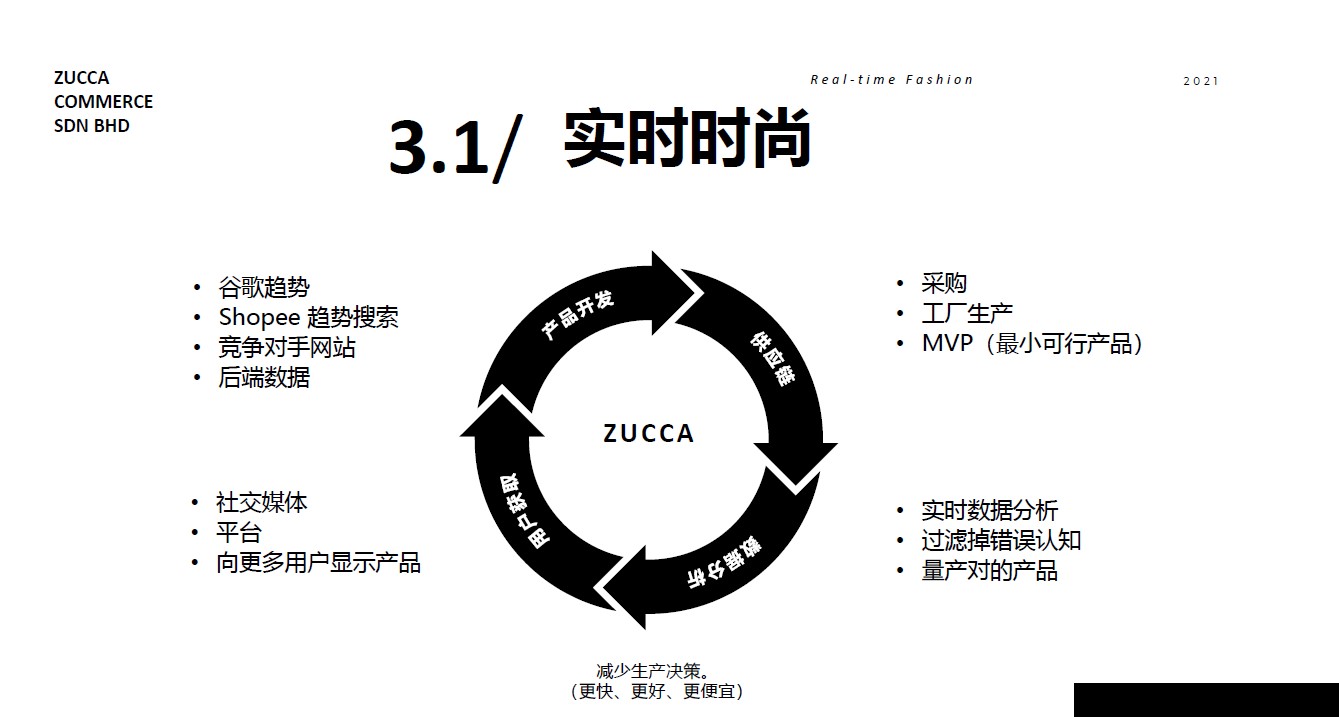 与传统服饰零售的方式不同,ZUCCA会先跟踪互联网上面大大小小的DATA,通过量化数据分析来了解流行趋势。然后进行快速设计和小量生产。我们的方式是不断的推出无数的MVP (Minimum Viable Product),用很小的量和很低的成本推向市场去跟用户对话。
而用户会用他们的购买行为直接给我们反馈。我们再运用搜集到的数据来调整我们的产品。其中包括不好的产品就要清货,好的就追加补单。然后通过加大市场营销将产品变成爆款。最后再利用得到的数据重新设计和优化产品,来达到一个闭环的效果。
这个过程我们让大量的错误认知,在快速迭代当中被淘汰掉。 这个模式也让我们的库存大大的减少。在减少库存风险的背景下,我们的产品也可以卖的相对便宜。
如果问ZUCCA和传统服饰零售的最大分别在那里,我会说传统服饰零售注重的是信息,而ZUCCA 注重的是数据。
我们的产品
我们的产品是穆斯林服饰,都是大众可以负担的价格。虽然我们每个星期都有新产品上架,可是有一些产品已经卖超过一千件,甚至有些款已经卖超过一万件。
我们是谁?
我和Erica在2018年关掉了最后一间实体店后,我们用了2万令吉转型做了服饰电商。在从事鞋子零售和贸易之前,我们两个都有会计与金融领域的经验。
我们是连续创业者,在经营ZUCCA实体店时,我们两个负责从设计,开发到市场销售都一手包办。在最好的时后我们在西马同时经营着13间实体零售店。可是很遗憾的,我们的项目最终以失败告终。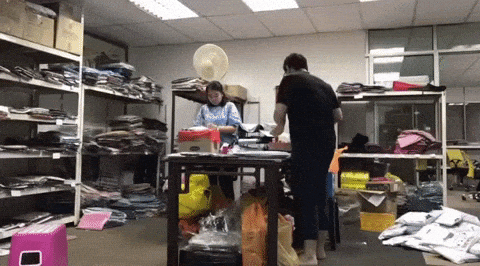 在经营实体店时,我们同时也在做鞋类贸易。同时也为马来西亚著名的品牌好像 BATA 和 PRIMAVERA 开发与设计鞋子。另外也帮ASTRO新闻报报看的主播设计鞋子。也因为以上的经验,我们在产品开发上有更深厚的理解。
我们的团队
我们的团队除了我和Erica,另外3位伙伴是Sally,Janah 和 Amira。
Sally有超过10年以上的服饰车间的工作经验,现在她主要负责产品开发和货舱管理。因为Sally的经验,我们可以在产品开发上面更有效率。Janah有8年的零售经验,现在负责客户和物流管理。Amira 是在去年才加入我们,现在负责客户和运营管理。她曾经从事晚装与婚纱租聘业务一段时间。
我们团队不大。可是互补性很高。这也是为什么我们现阶段每个人都同时兼顾几个职位。
ZUCCA同时也是一间快速成长的企业和团队。营业额在2020年增长了430%,从2019年的70万令吉营业额成长到2020年的4百万令吉营业额。同时也在双12当天突破12.5万的单天销售额。
用户的反馈
在ZUCCA,我们称我们的客户为用户。因为ZUCCA除了提供性价比高的产品,我们同时也在提供价值给我们的用户。现阶段我们的Shopee网点已经累计了20万+的评价,而平均得到4.9分(满分5分)。
2020年我们卖了30万件衣服,每个月的营业额有30%都是由现有的用户贡献。我们的用户在使用我们的产品后也会在社交媒体平台上和朋友分享。
融资与资金用途
为了满足市场不断增长的需求,我们决定增强我们的供应链。资金将用在以下3点:
60%用于提升产品开发能力

20%用于升级物流中心;

20%用于加强核心团队。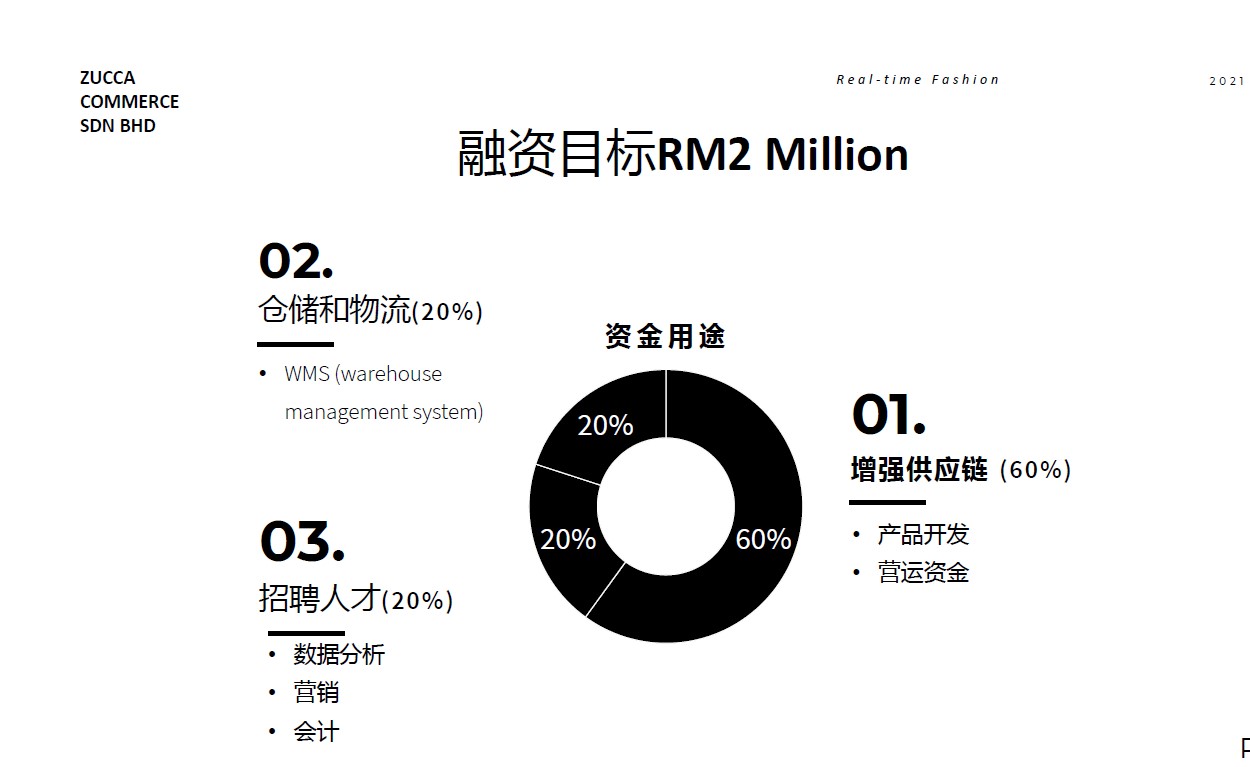 为什么投资ZUCCA?
经历过实体零售惨痛的经验后,我们深刻了解传统服饰行业所面对的问题与痛点。也燃起我们从新整合服饰产业链的决心。经过两年不断的尝试,我们也验证了这是个可行的商业模式。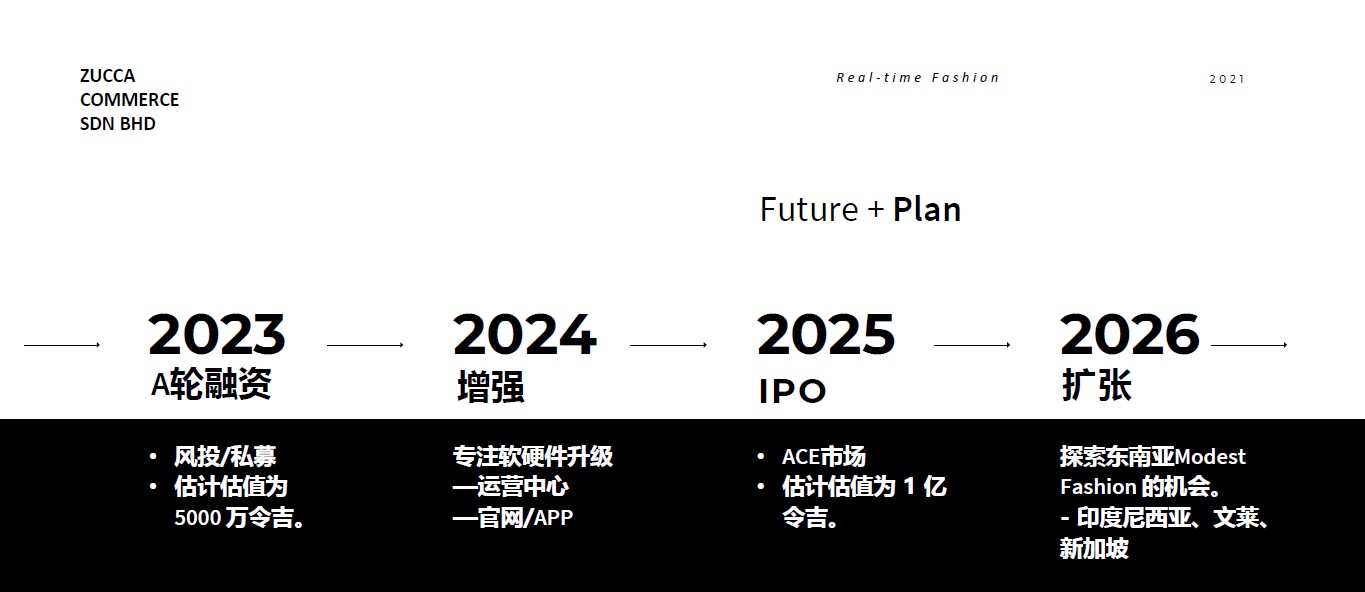 我们计划在未来引进风险投资或私募基金来作为合作伙伴,也计划在2026年IPO。我们估计未来5年内,每年达到1.5倍的增长,也承诺在未来5年给你带来预计10倍的投资回酬。
如果你也想在这个不停快速迭代的时代体验快速成长,我诚心邀请你加入我们,一起乘风破浪!

---
欲知更多详情
请联系我们
---
Website: https://zucca.com.my/
Facebook: https://www.facebook.com/zucca.butik
Instagram: zucca.butik
Shopee: https://shopee.com.my/zucca.butik
---
投资框架协议(Term Sheet)
---
投资配套(Investment Packages)
---
团队(Core Team)
---
欲知更多详情
请联系我们
---
创办人募资简报(Founder's Pitch Deck)
---
欲知更多详情
请联系我们
---