Start a Conversation
Hi! Click one of our member below to chat OR leave message on WhatsApp ;)
We will be attending your request the soonest.
Yummi Hero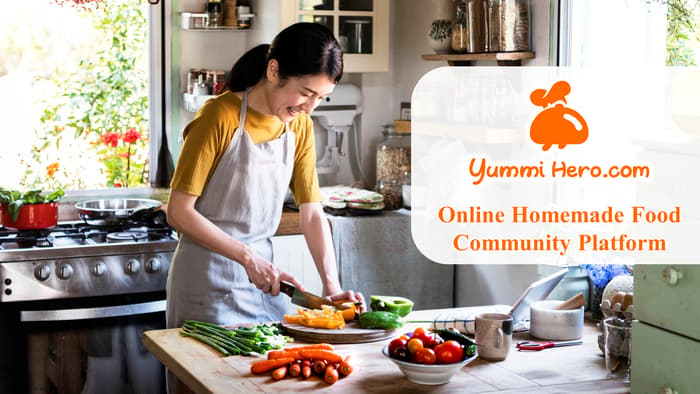 Minimum Target Amount
RM

300,000
Maximum Target Amount
RM

800,000
Funding Period
11/11/2020 - 18/11/2020
Funded Successfully
Yummi Hero
When it comes to online shopping, you will think of Taobao, Shopee, Lazada, and some convenient web pages and mobile apps that just popped up in your mind naturally.
What will you think of when it comes to online food shopping? That would be food delivery apps that have a lot of delicious food like Grab Food, Foodpanda, Hungry and etc. The convenience of online shopping has greatly improved, anything you want can be delivered to the home with just one click.
Then, when we are talking about buying "Homemade Food" online, what are the websites/app will you associate it with?
Gather all kinds of delicious homemade food online
His parents are businessmen who started from scratch and they were busy working from dawn to dusk. The young boy witnessed all the hard work and busyness of his parents. If his mother had time to cook a meal for his family, it was the most luxurious and the greatest happiness for him at that time. The meaning of homemade food to him is very different. It is not that "Ah it's the same dull and boring dish", but "Finally can feel the joy and happiness which homemade food brings, which can taste the food that mum cooked every time. Therefore, for those who know how to cook and have the culinary skill, he often admires them from the bottom of his heart. As he does not know how to cook, so for those home cooks who can easily pull off an amazing feast, he thinks that they deserve to be called the "Hero" – the biggest reputation.
In 2015, I had a whim. Since I like homemade food so much, why not gather all these home chefs together. I have been working hard in business for many years and I can't cook, but I definitely can chip in some ideas. Hence, for the past five years, I have provided help voluntarily, organized activities, recruited many culinary masters and our group has reached more than 100,000 members. I assisted and served more than a thousand people in the kitchen, witnessing their difficulties, and seeing the shadow of my mother from them. The ultimate goal is to work with the team to bring out the delicious homemade food, hard work, and effort of these people so that more people can see. One day, the delicious food in the city of Kuching can be shared with Singapore, China, and even places that are further away via the Yummi Hero platform, making our food networking unlimited.

Over the past five years, Facebook group members have grown steadily. Many people will sell homemade delicacies, pastries, biscuits, mooncakes, and glutinous rice dumplings on the platform and launch different gourmet desserts in line with festivals. During this process, Mr. Fong Pin Hoong does not charge any money and even conducts activities at his expense in hope that this group can go smoothly and let more people see it.
Resigned to work on the platform
While managing the platform-related matters, he also continued to carry out market-related work during this period. He worked as a radio marketing assistant manager and managed online food logistics arrangements etc. Until November last year, he has confirmed to quit his job and decided to work on this platform and to set up a start-up company.
There are four people on the team at the moment. The days of voluntary work in the past made him quite aware of the problems faced by the sellers. Some of the issues experienced by the sellers include difficulty collecting payments, hard to find customers and it is also very troublesome and time-consuming to respond to each of the PM sent by customers. Yummi Hero is a platform that is similar to Shopee and Lazada's operating mode. You can directly browse all the options while on the webpage. For example, Mr. Fong has recently grouped all the home chefs who are selling moon cakes on the platform. You only need to click on it and you can find all types of mooncakes of different flavors at once. Moreover, you don't have to leave your message one by one to enquire about the price and purchase method. Just place the order and make the payment online and wait for the food to be delivered to your doorstep.
It is free for sellers to set up a store on this platform. They will have their online food store and shop link. Any technical problems will be dealt with by a technician. The merchant can send his shop link to anyone. Customers just need to choose the product that they want and they can place an order right away. The only difference is that Yummi Hero is a "Pre-order" booking system. Any process such as listing the food products to the food store is all free and a 15% system maintenance fee will only be charged for a successful transaction.
Sellers from all walks of life
A platform that seems to be easy to operate will also encounter some problems, such as the disappearance of the merchant after the customer makes a payment, but Mr. Fong said that there is no need to worry. The platform protects the rights and interests of customers, so it will 100% full refund. Not only the disappeared merchants, but small businesses may also face some risks like customers who did not show up for the order. For example, not receiving a deposit after booking, a customer who did not show up at the agreed time. The cost of the cake maybe hundreds of ringgits and a little bit of profit. If receive a single order like that, it is equivalent to doing nothing or even worst is that the seller must wait for the customer who is running late for one hour at the meet-up point.
According to the sellers that Mr. Fong knows about, there are different people from all walks of life operating small online food stores on the platform, not only housewives, some are just graduated from college and even dentists, pharmacists, and fashion designers, who like cooking. The ingredients used are carefully selected by the home chefs because of their interests in cooking or baking. But they are frustrated by all kinds of customers who did not show up for order, for example, ordered in the morning and canceled the order at night, etc.
"We hope to find more talented, dedicated, and enthusiastic home chefs, let them concentrate on cooking and we will take care of the rest."
Looking for the second round of funding
We are currently looking for investor financing, searching for people who believe in this concept and prospects and like-minded people to invest, together to build a homemade food platform without borders. Compared to relying on family funding, he admits that it is really hard to bear everything on his own, especially searching for funding and to look for someone to help you, but it is a learning process, technology, and food, as long as you find the right formula, you can accelerate quickly. For example, "Grab" has been exploring its business model for the first two years, but after finding the right way to start, the turnover began to rise steadily. For him, high-tech must be prepared to face the unprofitable early start-ups. At this stage, it cannot be said that there is no income, but it has not yet reached the level of net profit. The current 15% rate is unable to cover even the cost. I have already had a round of investors, and now I hope to find strategic investors in the second round, such as those who have experience in business, contacts, or have relevant experience to learn from.
Increase the market size
When Taobao started in 2003, an Hangzhou seller could never imagine that his products could be sold to a city in Kuching, which is far away from home after more than 10 years. This is his goal, to bring Sarawak's homemade food out to Kuala Lumpur and even Southeast Asia. For him, his platform is more like Airbnb and you can experience the different tastes of homecooked food.
This seems to contain tens of thousands of technical considerations. Firstly, just simply imagine the food freshness, logistics of homemade food from one end of the world to be delivered to the other end of the world. Mr. Fong admits that this is the difference in starting up. Working part-time can also make money. Why do we need to do "Startup"? This is because our existence is to solve problems." Similarly, if you look at Alibaba's growth process, the previous years have been relatively slow, but it has reached a certain point when the logistics started to improve, their combined performance in three years was equal to their seven-year performance, which was twice as much. So what we are doing today is not looking at today's results, and solving the problems now is not just about solving it today only. He believes that food delivery will improve in the next three to five years. It was impossible to imagine before. It may take three to four months to buy something from China, but those unimaginable issues have now been solved and we cannot wait until then to start. We need to start now. Just like Taobao, because it has become an example for online stores, logistics has since changed accordingly. Therefore, when the Startup itself is solving the social problems, it will produce a different ecosystem, that is, a series of peripheral products that depend on this ecosystem to grow. For example, Grab Food has created different new business opportunities based on this "Grab" Startup and thus has changed the ecosystem.
Therefore, what he is doing now is to solve and change. Selling food on Facebook is not a new thing, but until today, there are still some problems such as the inconvenience of transportation, the endless PM, and the long process for the confirmation of payment. So, what Mr. Fong has to do is to increase the market of these sellers and enhance their reputation. Hence, there is no need for endless trivial replies and communication. For example, my mother will deliberately go home and take the product to the customer when she received a call from a customer, even though she was already on the way to take me shopping at that time. Then the customer will still ask "Can you deduct the price?". One has to deal with these trivial matters and unlike the convenience of a platform where you can contact the customer service for any inquiries or issues. It is a different lifestyle. Just like the difference between setting up a stall in a night market and a shopping mall, the customer base is also different and so does the price and quality.
A few days ago, "Yummi Hero" was shortlisted in the SITEC Selangor Accelerator Programme 2020 organized by SITEC-Selangor Information Technology and E-Commerce Council, becoming the top 28 in the country and the only platform from East Malaysia.
What does shortlisted represent? It means that you can get a 10-week course provided by the organizer and an Amazon online consumption valued at 5,000 US dollars. Finally, the top 5 will be determined based on the report submitted after class. As the only finalist from East Malaysia, Mr. Fong was supposed to fly to West Malaysia to attend the program. However, due to the Covid-19 pandemic, he was able to complete the course with other finalists online. The one-on-one experience sharing of lecturers from different professions is his biggest source of gain.
Full of Plans and Clear Goals
Currently, there are more than 300 active home chefs on the platform and we have new applicants every day. Next, he will carefully select and find the "Representative" on the platform. There are also campaigns to assist sellers, set up the app, and a list of plans which are waiting in line to be executed. The second round of financing is also being carried out to expand the team. At present, we need talented persons from marketing and operation to join us.
For him, the meaning and value of this career is self-cultivation. "Solving a problem is an external thing. In many cases, he is his own worst enemy and he needs to constantly break through himself." For example, pitching on stage in English has always been his weakness, but he still needs to overcome it. As for how to overcome it, it is a kind of growth.
Until today, Mr. Fong said that he is still at the starting stage and there is no moment of satisfaction. There are setbacks at every moment but he is also grateful to have come this far because he will see his shortcomings while he learns and grows and this makes him want to do more and go further. The sense of accomplishment, ability to find solutions for the problems, and making changes is the reason why he chose to start a business. "There are indeed some technical problems to be solved but someone will need to solve them. Hence we have to ensure the platform is running smoothly first and then only we will see the performance burst and growth after the issues have been solved." The goal is simple and clear-cut, it is to become the leading brand of Homemade. Just like when people think of online shopping, they will think of Taobao, Shopee & Lazada. He hopes that people will think of "Yummi Hero" when they think of homemade food in the future.
---
Management Team
Fong Pin Hoong
Founder / CEO
Lo Wei Chin
Co-Founder / CTO
---
Term Sheet
---
Pitch Deck
提到网购,你会想到淘宝、Shopee、Lazada,一连串方便人们的网页、手机程序非常自然从脑海蹦出。
提到网购美食,你会想到什么?那该是网罗许多美食的快递APP如Grab Food、Food Panda、Hungry等等,线上购物的便利性日趋完善,动动手指任何想要物品都能送抵府上。
那么,提到网购家庭美食"Homemade Food",你会联想到什么版面/APP ?
上线集合各家美食
父母属于白手起家商人,日日摸黑上岗忙至夜幕低垂,幼小男孩目睹父母所有艰辛忙碌,母亲若有空能给家人煮上一顿饭,那对他而言就是当时最奢侈也是最大的幸福。家庭美食对他的意义格外不同,并不是后来回味时 "啊又是这道菜的平淡无趣",而是 "终于可以感受到家的美味",能品尝到妈妈烹煮的食物,每一回都能感受到快乐和幸福。所以,对于懂得烹调、有厨艺之人,他往往打心里佩服,加上自己不谙厨艺,对于那些面不改色轻轻松松完成一大桌菜色的一家之煮,也更愿意奉上英雄这个最大誉称。
2015年,突发奇想,既然自己那么喜欢家庭美食,何不集合所有这些一家之煮,自己在商业这块打拼多年,食物他煮不了,但是提供一些点子还是可以的。五年来义务性免费帮忙,做活动、网罗许多厨艺好手、群组也来到了十多万会员。在里头协助服务超过家厨千人,一点一滴瞧见了大家的难处,从他们身上看见母亲的影子。最终目标是希望能和团队一起携手,把这些人的美食、辛劳和付出都带出去,让更多的人看见,有朝一日,在古晋这个城市的美味可以借由Yummi Hero这个平台发扬至新加坡、中国甚至更远的地方,让地域美食互联网再无限制。
五年来 Facebook 群组一步步慢慢壮大,许多人都会在里头售卖自制美食,糕点、饼干、月饼、粽子,符合节庆推出美食甜点,这过程,房柄宏皆不收分毫,甚至还自费进行活动,只希望这个群组可以走得顺利,让更多人看见。
辞工做平台
一方面经营平台相关事宜,这期间他陆续都在进行与市场相关的的工作,电台市场助理经理、线上食品的物流安排等,直到去年11月,他决定了,要好好放手一搏,便把工作辞了,决意做好这一个平台,做一个新创公司(startup)。
目前团队有四人,过去义务性帮忙的日子,让他相当了解卖家所面对的问题。卖家的问题是收款、顾客难找,生活本就紧凑一个个PM等回复很麻烦。Yummi Hero这个美食平台类似于shopee、lazada操作模式,进入网页你可以直接浏览所有选项,就比如房柄宏前些时日才把平台上所有销售月饼的卖家归类在一块,你只需要点击进去,就能一次集齐所有口味的中秋月饼,也不必一个个点击留言询问价钱和购买方式,下单付款等候美食上门即可。
卖家在这个平台开店是免费的,他们就会拥有属于自己的网店以及单独链接,里头任何技术问题,由技术人员搞定,商家可以把这个个人链接发给任何人,顾客点击浏览商品想要购买就可以马上下单,唯一不同的是,Yummi Hero属于"Pre-order"预订形式。商品照片上架等任何过程皆是免费,只有在成交过后征收15%费用。
卖家遍及各行各业
看起来方便作业的平台,其实也会遇到一些问题,就比如客户付款后商家消失了,但是房柄宏表示不必担心,平台保障消费者权益,所以肯定百分百退款。不仅仅是消失的商家,小生意还可能面对的风险,包括爽单消失的顾客,比如预订后没有先收订金,时间到完成后顾客却不见人影,蛋糕可能本钱上百块,赚一点点中一单就够力,等同白做,或是迟到整整一个小时等客户拿货等各种各样问题。
根据房柄宏了解的卖家,平台里头经营小网店的人各种各样,不仅仅是家庭主妇、有些大学刚毕业、甚至还有牙医、化学师、服装设计师,本着喜欢烹饪的心进来而已,因为兴趣所以用的材料精挑细选,但就是被各种爽单的顾客搞得心灰意冷,比如早上订了晚上跟你取消等。
"我们希望能挖掘更多有天分、用心、有热忱的厨师,让他们专心去煮就好,其他由我们负责做好"。
寻找第二轮融资
目前正在寻找融资,寻找相信这个概念和前景、志趣相投的人投资,一块打造这个属于大马人的美食无国度平台。比起靠家里的资助,他承认独力承担一切确实辛苦,尤其是找钱找人帮你,但都是一个学习过程,科技加食物,只要找到那个对的方程式,是可以很快速跃升的。就比如"Grab",最开始前两年也一直在探索模式,但是后来找对方式下手,营业额就开始节节上升。对他来说,高科技就要做好准备,面对前期创业的不赚钱。现阶段不能说没有收入,只是还没有达到净利的水平。目前的15%抽成连成本都无法负荷,先前已经找了一轮投资者,目前第二轮希望可以找到策略性的投资者,比如自己有经验生意、人脉或是有相关经验可以借鉴的。
要把市场做大
2003年淘宝上岗时,一个杭州卖家肯定怎么样也无法想像,在十几年后他的商品可以远远销售到古晋这个角落。这就是他的终极目标,把砂拉越家庭美食带出去吉隆坡甚至东南亚,对他来说,其实自己的平台更像是Airbnb的方向,可以体验到不同滋味的住家美食。
这其中彷佛包含了千万种技术考量,先简单想像一个住家美食从世界这一端送至世界那一端,新鲜度、物流给力度等等,房柄宏坦言,这就是做startup的不同,"打工也可以赚钱,为什么要去做"Startup",因为我们的存在就是要解决问题",同样的,如果你有去看阿里巴巴的成长进程的话,前面几年比较缓慢,但是到了某一个点,就是物流开始改善的时候,他们三年加起来的业绩等于七年的业绩,增加两倍之多。所以今天做的事不是看今天的结果,现在解决问题也不是解决今天而已。他相信,食物运送在未来三到五年会改善,以前不可能想像,从中国买东西,可能需要三四个月,但是那些不能想像的问题现在已经解决了,但是我们不能等到那时候才开始,我们现在就要开始。就像淘宝,因为他成为网络商店标榜之后,物流才随着改变,所以,Startup本身在解决社会问题的时候,会产生不同的生态圈,即依附这个生态圈而成长的一系列周边产品。比如Grab Food,是依附着这个 "Grab" Startup改变生态圈之后而产生不同新的商业机会。
所以,他现在在做的就是解决和改变。脸书上售卖食物不是新鲜事,但是时至今天,该有的问题依然存在,运送的不便、回不完的PM以及一来一往的款项确认等等,所以,房柄宏要做的就是做大这些卖家的市场,做大他们的名声,不必再一对一进行没完没了的琐碎回复、沟通。就比如自己的母亲,带孩子逛街时接到客户电话,可以因为那一通电话特意转回头拿商品给客户,然后客户还有一句"可以扣吗?所以一个人处理这些繁琐小事,就没有平台的方便,有问题找投诉中心反馈帮忙解决。就是不同的生活方式,就像你在夜市和商场摆摊的差别,客户群也不一样,价钱、品质都不一样。
早前"Yummi Hero"入围了由SITEC - Selangor Information Technology and E-Commerce Council 所举办的SITEC雪兰莪加速支援计划比赛,成为全国28强,东马唯一入围的平台。
入围代表什么呢?代表你可以获得主办方提供的10个星期课程以及价值5千块美金的亚马逊网络消费额,最后再根据课后的报告提呈判定最后五强。作为东马唯一一位入围者,原先必须飞往西马上课的创办人房柄宏,后来因为疫情关系,他得以在线上与其他入围者一起完成课程。不同专业讲师的一对一经验分享,是他最大收获来源。
计划满满 目标明确
目前平台共有300个以上活跃厨师卖家,每天都有人申请,接下来他会好好筛选,把平台上的招牌找出来。还有进行帮助卖家活动、成立APP等陆续排队要进行的计划。也在进行第二轮融资扩充团队,目前需要懂营销市场的人才以及营运人员加入。
对他来说,这份事业的意义和价值,其实是一份自我修行,"解决问题都是外在的东西,很多时候自己是自己最大的敌人,需要一直去突破自己," 就比如用英文上台路演,一直是他的弱项,但还是需要克服也做到了。至于怎么样去克服,那都是一种成长。
走到今天,房柄宏表示还是处于起步的阶段,笑说没有一刻是满意的,每时每刻都有挫折,但也感恩走到今天,因为每一天在学习成长就会看到自己的不足,想做更多走更远。选择创业,还是其中的成就感和意义,有办法解决事情做出一些改变。"的确是有一些技术问题待解决,但总会有人去解决,但我们要先把这个平台做好,解决后就会看到业绩爆发和成长。"目标简单粗暴,成为Homemade的领导品牌,就像提到网购想到淘宝、Shopee、Lazada,他希望人们日后想到住家美食,就能想到"Yummi Hero"这个品牌。
---
团队
房柄宏
创办人 / 首席执行官
罗伟政
联合创始人 / 首席技术官
---
Term Sheet
---
Pitch Deck
Updates on the project will be shared here.
Packages
Thank you for investing in us! You will also receive this share:

Type of share: Ordinary
Number of Share: 1,439
Price per share: RM17.37

1,439 x RM17.37 = RM24,995.43
Thank you for investing in us! You will also receive this share:
Type of share: Ordinary
Number of Share: 2,878
Price per share: RM17.37

2,878 x RM17.37 = RM49,990.86
Thank you for investing in us! You will also receive this share:

Type of share: Ordinary
Number of Share: 5,756
Price per share: RM17.37

5,756 x RM17.37 = RM99,981.72
Thank you for investing in us! You will also receive this share:

Type of share: Ordinary
Number of Share: 11,512
Price per share: RM17.37

11,512 x RM17.37 = RM199,963.44
Thank you for investing in us! You will also receive this share:

Type of share: Ordinary
Number of Share: 460
Price per share: RM17.37

460 x RM17.37 = RM7,990.20
Thank you for investing in us! You will also receive this share:

Type of share: Ordinary
Number of Share: 14,600
Price per share: RM17.37

14,600 x RM17.37 = RM235,602
Disclaimer by Securities Commission
No shares will be allotted or issued based on this document after six months from the closing of the offer period.
This issue, offer or invitation for the offering is a proposal not requiring authorisation of the Securities Commission under section 212(8) of the CMSA 2007.
This document has not been reviewed by the Securities Commission Malaysia. The Securities Commission does not recommend nor assumes responsibility for any information including any statement, opinion or report disclosed in relation to this fund raising exercise and makes no representation as to its accuracy or completeness. The Securities Commission expressly disclaims any liability whatsoever for any loss howsoever arising from or in reliance upon the whole or any part of the information disclosed.