---
LA'DERM 创办人
我是Sharon Ng, 伍雪娥。
毕业于北海钟灵中学。中学毕业后,在1997年,成立了美容批发公司,代理法国护肤品牌,批发给各大美容院。于2002 年,引进了法国美容产品的技术,从代理品牌到自创品牌,创立 LA'DERM 护肤品牌。希望马来西亚的护肤品牌可以冲出国际,成为马来西亚护肤品牌的骄傲。
自创LA'DERM品牌的初心。在接触多种产品后发现马来西亚缺乏适合本地和亚洲人士使用的护肤产品,考虑到欧洲人与本地和亚洲人因气候、饮食习惯以及文化的不同,造成皮肤的肤质也会有所不同,保养的方法自然也会有所差异。
为了更深入了解亚洲人的肌肤, 我们的皮肤专家团队与专业美容师在过去这些年精益求精的研发产品。
LA'DERM 的美容团队必须是专业的美容师,才能以专业的护肤知识解决客户面对肌肤上的问题。
打造属于亚洲人的护肤产品
LA'DERM 全民护肤品牌为你提供天然植物配方的保养护肤专家。
特别研发针对亚洲人皮肤的原料参与制造,,让消费者可以轻轻松松拥有价格合理但品质卓越保证的护肤保养品。
我们事业的热忱是要帮助亚洲人可以拥有最合适的护肤产品。公司秉持"以天然成分,打动肌肤",为亚洲人设计精简护肤方案。
品牌核心价值
我们奉行客户至上, 一切以客户为中心,恪守天然美本质,以天然、有效、安全、先进的技术,为爱美丽者提供 高水准全方位的专业护肤美容产品与服务。
承诺宣言
客户至上,质量为本

客户使用后最满意的效果,是我们最大的喜悦
产品品质
我们征选顶级原料,精选国际化妆品原料供应巨头,确保原料来源安全可靠,筛选通过标准认证且拥有多项专利技术的优质生产商合作。原料来自台湾,日本,法国,意大利,韩国和中国等地方,与众多世界一线护肤品品牌源出一厂,产品质量高效稳定,紧跟世界护肤品最新潮流。
LA'DERM 每一款产品都含有维他命C可以保持皮肤的色泽。LA'DERM适合各个年龄阶层和男女使用,Sharon和孩子、员工、代理,包括他们身边的人都在使用LA'DERM护肤产品,孩子们从青春期开始使用抗痘的产品。自用的产品必定是安全可靠的。
从2002年创立至今研发了完整的护肤系列产品,包括保湿补水、暗疮祛痘、敏感修复、美白淡斑和逆龄抗皱。
完善的护肤系列,解决皮肤的问题;让敏感肌肤、暗疮、色斑远离您。
目前公司在全国已有200 间销售点和500多位代理商。其中12家是品牌专属旗舰加盟店。在疫情期间,美容团队无法开业业绩深受影响时,我们提供了网络销售平台,帮助代理销售产品,及发货给终端顾客。并将新增的顾客流量分配给代理。
我们鼓励美容团队以直播营销方式或短视频推广产品,除了指导他们学习直播,更以实际方式赞助他们直播赠品。设计团队也帮助设计形象和面子书专页。
在2008年,设立了美容工厂。主要经营原装进口的化妆品原料半成品。原料产品来自台湾,日本,法国,意大利,韩国等地方,与众多世界一线护肤品品牌源出一厂,产品质量高效稳定,紧跟世界护肤品最新潮流。我们为各大美容品牌公司提供专业的化妆品 OEM/ODM 服务,也为各类型连锁美容院提供少量加盟批发。此外,我们还配有专业设计人员为客户提供品牌设计,内外包装设计,宣传品设计等专业服务。再加上专业细致的产品培训和教育服务。
2017 年成立善美大众公司。愿景是统一美丽王国生态链企业,帮助女性产业链强大起来;公司使命是以高效安全位理念,满足人们对美的需求和解决方案。企业目标是要让善美打造成为马来西亚的 L'Oréal。
---
欲知更多详情
---
我的故事
小时候来自贫穷的家庭。父母亲的教育是无论我们多么一无所有,做人不可以埋没善良,要做个充满善良和大爱的孩子。在善的教育中长大,相信人间有大爱,世上有真情。
2012-2016是人生沉淀期,一年有每两个月修短期出家5-14天,开始人生精进持修。2015 年一月,痛失至爱父亲。
善美成立在父亲离世后的第三年,名字源自于对父亲的孝心,父亲希望我成为善良和有爱的孩子,最重要要远离发脾气。而我相信善美- 善良的美丽是永恒不朽的。
我是一名超级马拉松爱好者。完成过无数次的42公里,50公里,70公里和100公里。最佳纪录用 20个小时完成 100公里超级马拉松。想借助超级马拉松的力量培训自己坚持不懈的精神。而成立善美登月计划,是启动企业的超级马拉松。
我的座右铭: 善良, 坚持, 忠诚
一个人若想要成功,首先要先拥有善良忠诚的品格,在创业的路上自强奋斗,确立好目标方向,并坚持不懈地朝着目标前进。
个人愿景: 做最正确的自己,善良、勇敢、真诚,大爱和包容。用毕生智慧,影响他人。
---
LA'DERM 以稻盛哲学来经营企业
稻盛和夫:只有把员工的幸福放在第一位,大家团结一心,经营者与员工的心灵产生共鸣,企业才能走出困境,才能获得健康发展。
公司企业目标
追求员工及其家庭的幸福。
成为员工幸福指数最高的企业。并为员工实现梦想,创造价值!
员工把自己托付给了公司,所以公司的首要目的就是要保障员工及其家庭的幸福。
我守护好员工,员工坚守好自己职责,我们熬过经过了各式各样的考验和漫长的疫情,我们依然并肩前行,历经磨炼,我们越发强大。
我們能提供的服務
打造专业美容团队 – 文凭
设备供应

商务咨询

营销资源

培训教育

产品服务

品牌设计

APP 提供

POS system
成立20年,已成功帮助全马超过 200 家专业美容师提供优质护肤产品和美容院专业护理配套产品。
企业荣耀
多年来曾经获荣耀无数。我们的脚步不会因此而停止不前, 我们会用心经营, 迎接未来更多的挑战, 帮助更多人实现梦想。这也只不过是我们的起跑点。
---
欲知更多详情
---
传统美业的痛点
市场上 85% 的美业专门店都属于独立的从业者,大半的经费都投入在皮肤护理和皮肤管理里,然而却忽略了管理以及营销。独立美业同时也缺乏资金,技术,专业认证和市面上高端的皮肤管理设备等资源,而只能着手于传统模式来经营, 以致面临各式的经营难题。
医美行业加入皮肤管理,各式小样品牌也加入成为专业美容师/护理师。专业的标签让独立美业处于劣势
缺乏专业护理和保养的知识,如何选择专业美容师/护理师,而让消费者的选择仅限于大型美业
大型美业在网络的活跃是消费者有了美肤新技能及先进仪器的概念,从而让独立美业无法与现代消费者达到共鸣
当经营者面临人力及资金问题同时在同行竞争压力之下,让想要踏步前进的独立的美业从无着手
美业市场的消费者痛点分析
美业市场的消费者解决方案
我们如何帮助传统美业
LA'DERM 结合了数码与传统的方法,让美业可以在网络上吸引到来自全马各地的消费者,通过网络去购买产品,以及在让客户在网络选择合适的美容院做服务。
致力把 LA'DERM 打造成东南亚数码与传统美容院的整合联盟。
LADERM 专业旗舰店
目前,Laderm 可以为顾客提供了近完美护肤系列:
完美护理疗程
基础护理疗程

美白淡斑疗程

深层保湿补水疗程

修复抗敏疗程

逆龄祛皱疗程
现在是一个数码与传统美容院的完美结合体的时代。
LA'DERM推出线上线下整合的美容APP 来全面提升旗舰店和客户的体验,让传统美业门店实践实体店+ 模式,让高业绩成为常态。
这也包括了, 从宣传到引流 一直到销售渠道,这是从B2B到B2C,完美的结合在一起的商业模式
LA'DERM 将通过整合线上线下电子商务达到快速成长。
LA'DERM APP会有一套忠实客户回馈机制,佣金模式、推广系统,自动Follow Up流程让客户会对LADERM品牌及服务产生黏性,从而达到重复消费。
同时也加入了一套推广与转介绍的模式。当然,还有数据追踪功能 这些都是为了提高成交率而研发出来。
LA'DERM 的运营模式
采用轻资产运营模式,透过整合美容供应链的知识,科技与技术的资源,成立美容联盟,实行统一品牌管理,并以会员制模式引流消费者。
200家的合作伙伴, 来自全马各地的专才, 集中在 LA'DERM
无数个夜晚的付出,为了就是一份使命感,打造出全民护肤品牌,专业研发合适亚洲人皮肤的产品。
我们的标杆
【Aster Spring & Sulwhasoo】
我们追求的终极目标是成为大马版的Aster Spring和韩国的 Sulwhasoo 为美容师建立一个完善的美容科技生态系统,成为一家上市公司,达到与这两家企业相同或更高的估值,并且把生意扩展到东南亚各地。
---
欲知更多详情
---
为什么要股权众筹?
LA'DERM 之所以选择走向股权众筹平台而不是选择风投(VC),私募(private Investor)是因为我们想开放给更多的民众也可以投资门槛更高的美容行业。
我们既然是以共享经济概念那就要让越多的人可以参与就越有价值。让美容项目可以普及化。
护肤品自古就是女人们必不可少的东西,把护肤品称为女性的另一层皮肤并不为过。由于女性爱美的天性,越来越多的人发现护肤品市场这一块天大的商机,市场上的不同种类琳琅满目的护肤品数不胜数,但是女人们最推崇的还是含天然的抗氧化成份的护肤品。
资金用途
我们需要RM2,000,000 资金来实现公司的未来发展蓝图。这分为5大阶段:
1年内打造50家旗舰店. 我们简称 Premium Outlet. 目标是在5年内在全马各地.擴展到300家.
为了进展顺利并且达标,第一年的50家旗舰店将会从我们原本的200多家的合作客户严格挑,再从普通美容院升级到LA'DERM 旗舰店,目前已经拥有 12 家旗舰店。

全面推广 LA'DERM APP

开发美肤食品/抗衰老系列

与医美合作
为什么要投资 LA'DERM
我们在这个领域有24年,我们知道美容师,患者和供应链的痛点。所以我们有能力解决他们的痛点而且把它们全部连在一起而达到互惠互利。
通过这个模式让整个行业提升和增质。预估5年之内,LA'DERM 投资回酬率估计可翻10倍,希望和大家共享这一个蛋糕,把市场做大!
我们的优势
24年扎实的基础,完善的经营团队。加上高利润的美业市场。加上:
我们十分有信心完成目标!
我们相信LA'DERM在未来,绝对有条件成为所有马来西亚人民的骄傲。
---
核心团队
Ng Soot Goh (Sharon)
创办人
拥有 24 年美容领域的经验
创立 23 年美妆护肤品工厂
100km 马拉松参赛者 - 不懈的精神
Tiew Siau Yee
联合创办人
韩国 Seokyeong 大学美容专业
Hebe International 董事会成员
精于投资于美容行业以及餐饮和娱乐行业
Koay Chon Eng (Dixon)
营销主任
15年销售与营销经验
负责监督公司从马来西亚到东南亚的所有业务
管理业务战略的经验
Tan Ru Chun (Vicky)
运营总监
专业美容护理师
拥有超过 10 年的销售和营销经验
Lim Yee How
品牌总监
5 年设计和市场经验
Lim Hui Xing (Shamine)
数字营销主任
法律学士 (LLB University of Liverpool)
拥有撰拟 Information Memorandum 的经验
Lim Suan Tin (Jane)
财务主任
Chartered Accountant (M)
Public Practice Chartered Accountant (M)
Master of Business Administration (University Utara Malaysia, Kedah)
Bachelor of Accounting (University Science Malaysia, Penang)
---
欲知更多详情
---
Website: https://www.laderm.net/
Facebook: https://www.facebook.com/ladermmalaysia/
Whatsapp: Contact Us
---
投资框架协议(Term Sheet)
---
投资配套 (Investment Packages)
---
欲知更多详情
---
公司结构(Company Structure)
---
股东结构 (Shareholder Structure)
---
创办人募资简报(Founder's Pitch Deck)
---
欲知更多详情
---
---
欲知更多详情
---
---
欲知更多详情
---
---
Founder of LA'DERM
I'm Sharon Ng.
I graduated from Chung Ling Secondary School in Butterworth, Penang. After graduating from high school, I set up a beauty wholesale company in 1997, representing French skincare brands and wholesaling to major beauty salons. In 2002, I had the opportunity to utilise the technology of French beauty products and created a skincare brand LA'DERM, from selling agents to finally having a brand of my own.
We hope that the Malaysian skincare brand can break out internationally and become the pride of the Malaysian skincare brand.
The initial heart of creating LA'DERM
After years of experience through encountering a variety of products, I realized that Malaysia lacked skin care products that are suitable for both local and Asian skin, considering the differences in climate, food habits and culture between Europeans and local and Asian people, resulting in different skin texture and naturally different methods of care.
In order to have a better analysis in the Asian skin, our team of skin experts and professional aestheticians have been developing products over the years.
LA'DERM's beauty team must be professional aestheticians in order to solve the skin problems that are faced by our clients with professional skin care knowledge.
Create skin care that belong to Asians
LA'DERM is a skincare brand that provides you with natural botanical formulations.
With the R&D of ingredients specially developed for Asian skin, LA'DERM makes it easy for consumers to have skin care products that are affordable but of excellent quality that are suitable to their skin. Most importantly, that LA'DERM products are able to solve both minor and major skin problems.
Our business passion is to help Asian people to have the best skin care products. Our company's mission is to "impress the skin with natural ingredients" and to design top quality skincare solutions for Asians.
Brand Core Value: Customer first
All customer-oriented, adhere to the essence of natural beauty, effective, safe, advanced technology, to provide beauty lovers with a high level of all-round professional skin care and beauty products and services.
Our Commitment
Customer First, Prioritise Quality

Customer's most satisfactory results is our greatest credential.
Quality of Beauty Products
We select top quality raw materials from International Cosmetic raw material supply giants to ensure safe and reliable raw material sources. In addition to that, we select quality manufacturers who have passed the standard certification and with patented technologies to cooperate.
Our ingredients are mainly from Taiwan, Japan, France, Italy, Korea and China, and are sourced from the SAME factory as many of the world's top skincare brands, making the quality of our products highly efficient and stable. Keeping us on track with the latest trends in skincare products around the world.
LA'DERM products all contain Vitamin C to maintain healthy and glowy skin tone. LA'DERM is suitable for all ages, men and women. Sharon and her children, employees, agents, including those close friends choose LA'DERM skin care products. Her children who have severe acne prone skin started using anti-acne products since puberty, until today skin has been greatly improved with less acne. Products for personal use by founder and her friends and family are sure to be safe and absolutely reliable.
Since its establishment in 2002, we have developed a complete range of skincare products, including moisturizing and hydrating, acne relief, sensitive and repairing, whitening and dark spot treatment and lastly anti-aging and anti-wrinkle.
A complete skincare series to solve skin problems; keep sensitive skin, acne and pigmentation away from you.
Currently, the company has 200 beauty outlets that sell LA'DERM and more than 500 agents nationwide. Among the above, 12 are exclusive flagship franchises of the brand.
When the beauty team was unable to operate during the epidemic, we provided an online sales platform to help agents sell products and ship them to end customers. We also distributed the new customer traffic to the agents.
We encouraged the beauty team to promote products through online such as live marketing, not only instructing them on live streaming, but also sponsoring them with live streaming giveaways. The design team plays a big role in designing the image and posters for Facebook page.
In 2008, Sharon established OEM Cosmetics factory. We mainly deal with original imported cosmetic raw materials semi-finished products. The raw material come from Taiwan, Japan, France, Italy, Korea and etc, which are sourced from the SAME/ originate factory as many of the world's top skincare brand, the product quality is efficient and stable, following the latest trend of skincare products in the world.
We provide professional cosmetic OEM/ODM services for major beauty brand companies, and also provide a small amount of franchise wholesale for all beauty chains. In addition, we are equipped with professional designers to provide our customers with professional services such as brand design, internal and external packaging design, and promotional products design. As well as providing professional and detailed product training and education services.
2017 the establishment of BONBEAU Berhad. The vision is to unify the beauty kingdom ecosystem companies and help to make the women's industry chain even stronger; the company's mission is to meet people's needs and solutions for beauty with an efficient and safe concept. The corporate goal is to elevate BONBEAU the L'Oréal of Malaysia.
---
For Further Enquiry
Please Contact Us
---
My Story
Sharon came from an ordinary and below average family. Our parents taught us that no matter when and where even when we have nothing, we should not bury our kindness and be a person full of kindness and great love. Growing up with that education from my parents, I believe that there is great and true love in the world.
2012-2016 is the settling period when I focus on taking care of my life, every 2 months in a year where I will leave home to practice advance Buddhism, taking control of my life and improve thereon.
In January 2015, a painful loss of the my beloved father.
BONBEAU was established in the third year after my father passed away.
The name "BONBEAU" came from my love to father. My father wanted me to be a kind and loving child, and most importantly, to practice how to control my temper. And I believe BONBEAU - the beauty of kindness is eternal and last forever.
I am an ultra-marathoner enthusiast. Have completed numerous marathon - 42km, 50km, 70km and 100km. The best record is completing a 100km ultramarathon in 20 hours. I wish to use the power of ultra-marathon to train my perseverance.
The establishment of the BONBEAU to proceed with Moonshot planning, is to start a corporate ultramarathon.
My Life Motto: Kindness, Perseverance, Loyalty
If a person wants to succeed, he or she must first have a kind and loyal character, strive for self-improvement on the road of entrepreneurship, establish a good goal and direction, and persistently move towards the goal.
Personal Vision: To be the best version of myself, kind, brave, sincere, loving and great endurance. Use lifelong wisdom to influence others.
---
LA'DERM runs a business based on the philosophy of Inamori
Kazuo Inamori: Only when the happiness of employees is the first priority, everyone is united, and when the hearts of the leader and employees resonate, allows company get out of struggles and steadily achieve healthy development.
Our corporate goal
To pursue the happiness of our employees and their families.
To be the company with the highest employee happiness index. And to fulfill the dreams and create value for our employees!
Employees entrust themselves to the company, so the primary purpose of the company is to protect the happiness of employees and their families.
I guard and care for the employees well, the employees stick to their duties and responsibilities, we survive through all kinds of obstacles and pandemic. We are still moving forward side by side, through the storms, we have become stronger.
What we can offer
Build a professional beauty team - Certification

Equipment Supply

Business Consulting

Marketing Resources

Training and Education

Product Service

Branding Design

APP

POS system
Established 20 years ago, we have successfully helped over 200 professional beauticians throughout Malaysia to provide them quality skin care products and professional care products packages.
Our Pride
Over the years have won several prestigious awards for its innovations and enterprising spirit. Nevertheless, we are definitely not resting on our laurels.
We will work with all hearted to meet future challenges and assist more people in realizing their dreams. We are just getting started.
---
For Further Enquiry
Please Contact Us
---
Challenges of traditional beauty industry
85% of the beauty flagship stores in the market are independent practitioners, and most of the funds are invested in skin care and skin management, but management and marketing are often neglected.
The independent beauty industry also lacks resources such as capital, technology, professional certification and high-end skin management equipment in the market, and can only operate in the traditional way, thus facing various business operational problems.
The medical aesthetic/beauty industry proceed the method of skin management, and various brands have joined in as professional aestheticians/beauticians. The professional label puts the independent beauty industry at a disadvantage
Lack of information transparency
Lack of knowledge for professional care and maintenance, as well as in terms of choosing a professional aestheticians/beauticians, while leaving consumers' choices limited to only choose top and reputable conglomerates.
Reputable beauty conglomerates are highly active on the Internet the reason being that consumers have updated their concept of new skills and advanced equipments for beauty, thus making the independent beauty industry less likely to meet the needs of modern consumers
Lack of management cability
When management face problems of manpower and financial while under the pressure of peer competition, the independent beauty industry that wants to step forward hardly figure out the way to breakthrough.
The Major Problems of Beauty Industry
Solutions
How we help the traditional beauty industry?
LA'DERM combines digital and traditional methods to allow the beauty industry to attract consumers from all over Malaysia on the Internet, to purchase products digitally, and allow customers to choose the right beauty salon for their services digitally.
We strive to make LA'DERM an integrated alliance of digital and traditional beauty salons in Southeast Asia
LA'DERM Premium Flagship
At the present, LA'DERM offers customers a near-perfect skincare range of:
Moisturizing and Hydrating

Acne Treament

Sensitive and Repairing

Whitening and Dark Spots Solution

Anti-aging and Anti-wrinkle
Golden Skin Management
Basic Treatment

Whitening & Spot Treatment

Deep Hydrating Treatment

Sensitive and Repairing Treatment

Anti-aging Treatment
Now is the era for perfect combination of digital and traditional beauty salons.
LA'DERM launches an online and offline integrated beauty app to fully enhance the flagship store and customer experience, allowing traditional beauty stores to practice the brick-and-mortar (Physical Store) + Digital Model, to make high performance the norm.
This includes: from publicity to lead generation all the way to sales channels and from B2B to B2C, a perfectly integrated business model.
LA'DERM will achieve rapid growth through the integration of online and offline e-commerce.
LA'DERM APP will consist of loyal customer feedback mechanism, commission model, promotion system, automatic Follow Up process which makes LA'DERM reliable and building great trust with the consumers, thus achieving regular consumption.
A promotion and referral models are also incorporated.
And finally, there are data tracking feature, all these are developed to increase the closing rate.
LA'DERM's Operation Model
By integrating the knowledge, technology, and techniques of the beauty supply chain, we set up a beauty joint venture, to unify brand management, and implementing a membership model to attract consumers.
200 Loyal Partners, Specialists from Nationwide, Fully focus in LA'DERM
Countless nights of dedication and effort, for greater sense mission to create a national skincare brand, specializing in the development of products suitable for Asian skin.
Our Benchmark
【Aster Spring & Sulwhasoo】
Our ultimate goal is to become the Malaysian version of Aster Spring and the Sulwhasoo to build a well-established beauty technology ecosystem for beauticians and aestheticians. To become a public listed company, reach the same or higher valuation as these two companies, and expand our business across Southeast Asia.
---
For Further Enquiry
Please Contact Us
---
Why Equity Crowdfunding?
LA'DERM chose to go for an equity crowdfunding platform instead of a Venture Capital (VC) or private equity (private investor) because we wish to open up to wider range of people where they can invest in beauty industry which with a higher threshold.
Since we are using the concept of sharing economy, the more people can participate, the more valuable it will be. Allowing Beauty Projects to be universal and popularised.
The perfectly right industry
Skin care products are essential for women since ancient times. It is not an exaggeration to call skin care products as the another layer of women's skin.
Due to the nature of women's love for beauty, more and more people discover the skincare market a great business opportunity. The market is full of different kinds of skincare products, but the skincare products natural antioxidant ingredients are the most respected.
Utilization of Funds
We are seeking to raise RM2,000,000 in funding to fulfill the company's blueprint for future growth. This is divided into 5 major phases:
Expand 50 LA'DERM flagship stores in 1 year. Which is refer to as Premium Flagship. The goal is to expand to 300 stores throughout Malaysia (Nationwide) within 5 years.

In order to progress smoothly and meet our target, the 50 flagship stores in the first year will be prioritizing our original 200+ partners, and then upgraded from ordinary salons to LA'DERM flagship stores, which at present there are 12 flagship stores.

To promote LA'DERM APP

Develop beauty supplement/anti-aging series

Cooperate with medical aesthetics
Why invest in LA'DERM
We've been in this industry for 24 years, we know the challenges of beauticians and aestheticians, as well as the challenges for consumers and supply chain. So we have the ability to solve their problems and connect them all together to achieve mutual benefit. Through this model, the whole industry can be improved and enhanced. Within 5 years, LA'DERM's return on investment is estimated to be 10 times higher, and we hope to share this cake with you and expand the market!
Our advantages
24 years of solid foundation and superb management team coupled with high-margin beauty market.
As well as:
New Pathway

New Marketing Model

New Product Development
We are assured to accomplish the goal!
We believe that LA'DERM has what it takes to be the pride of all Malaysians in the future.
---
Core Team
Ng Soot Goh (Sharon)
Founder
24 years of experience in the beauty field
Established 23 years beauty and cosmetics factory
100km marathon participant - relentless spirit
Tiew Siau Yee
Co-Founder
Major in Beauty Arts - Seokyeong University, Korea
Member of the Board of Directors of Hebe International
Experience in investing in the beauty industry as well as the restaurant and entertainment industry
Koay Chon Eng (Dixon)
Head of Marketing
15 years of sales and marketing experience
Responsible for overseeing all operations of the company from Malaysia to Southeast Asia
Experience in managing business strategies
Tan Ru Chun (Vicky)
Head of Operation
Professional Beauty Therapist
Over 10 years of experience in sales and marketing
Lim Yee How
Brand Director
5 years of experience in design and marketing
Lim Hui Xing (Shamine)
Head of Digital Marketing Strategy
Bachelor of Laws (LLB University of Liverpool)
Experience in drafting Information Memorandum
Lim Suan Tin (Jane)
Head of Finance
Chartered Accountant (M)
Public Practice Chartered Accountant (M)
Master of Business Administration (University Utara Malaysia, Kedah)
Bachelor of Accounting (University Science Malaysia, Penang)
---
For Further Enquiry
Please Contact Us
---
Website: https://www.laderm.net/
Facebook: https://www.facebook.com/ladermmalaysia/
Whatsapp: Contact Us
---
Term Sheet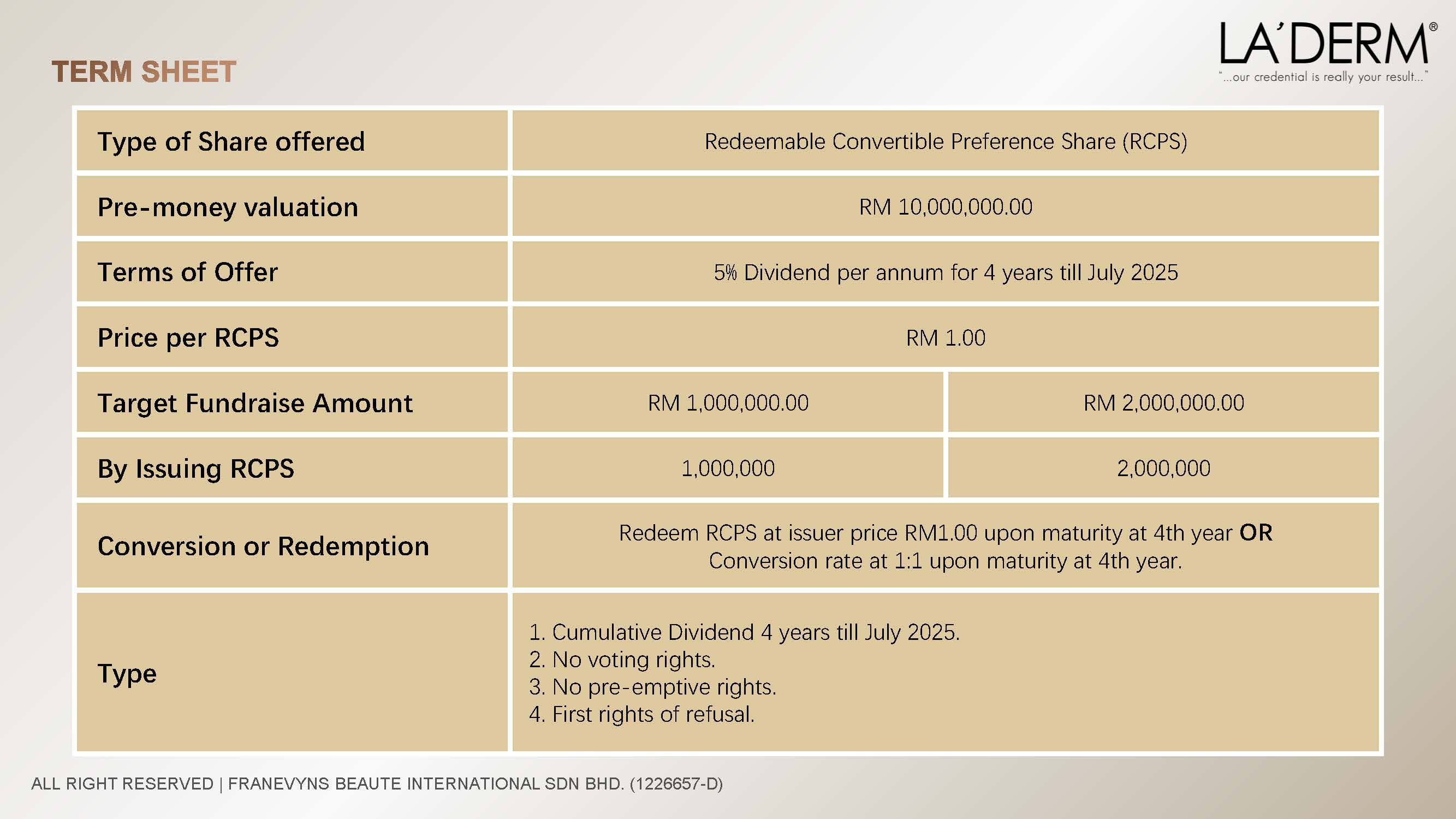 ---
Investment Packages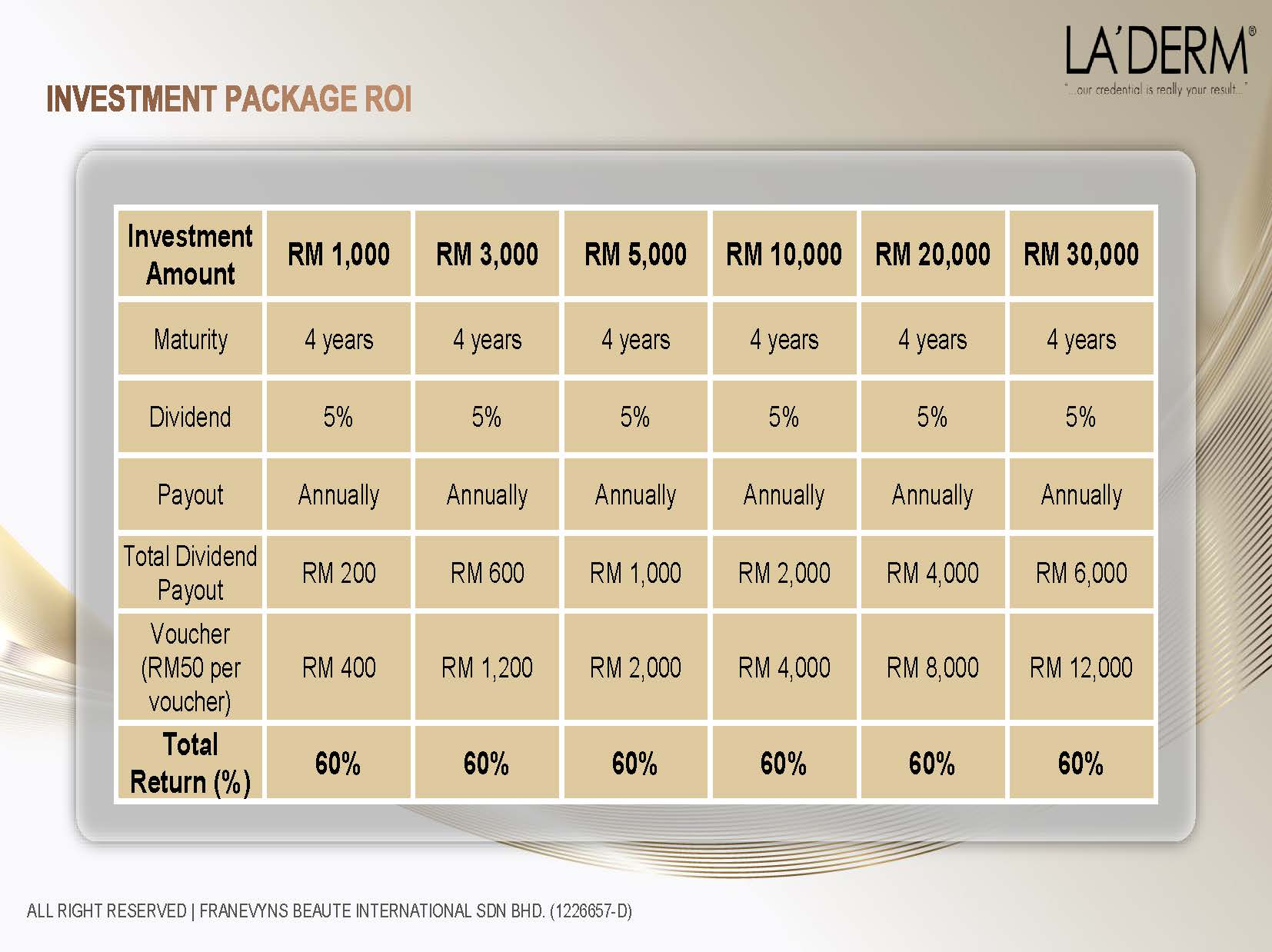 ---
For Further Enquiry
Please Contact Us
---
Company Structure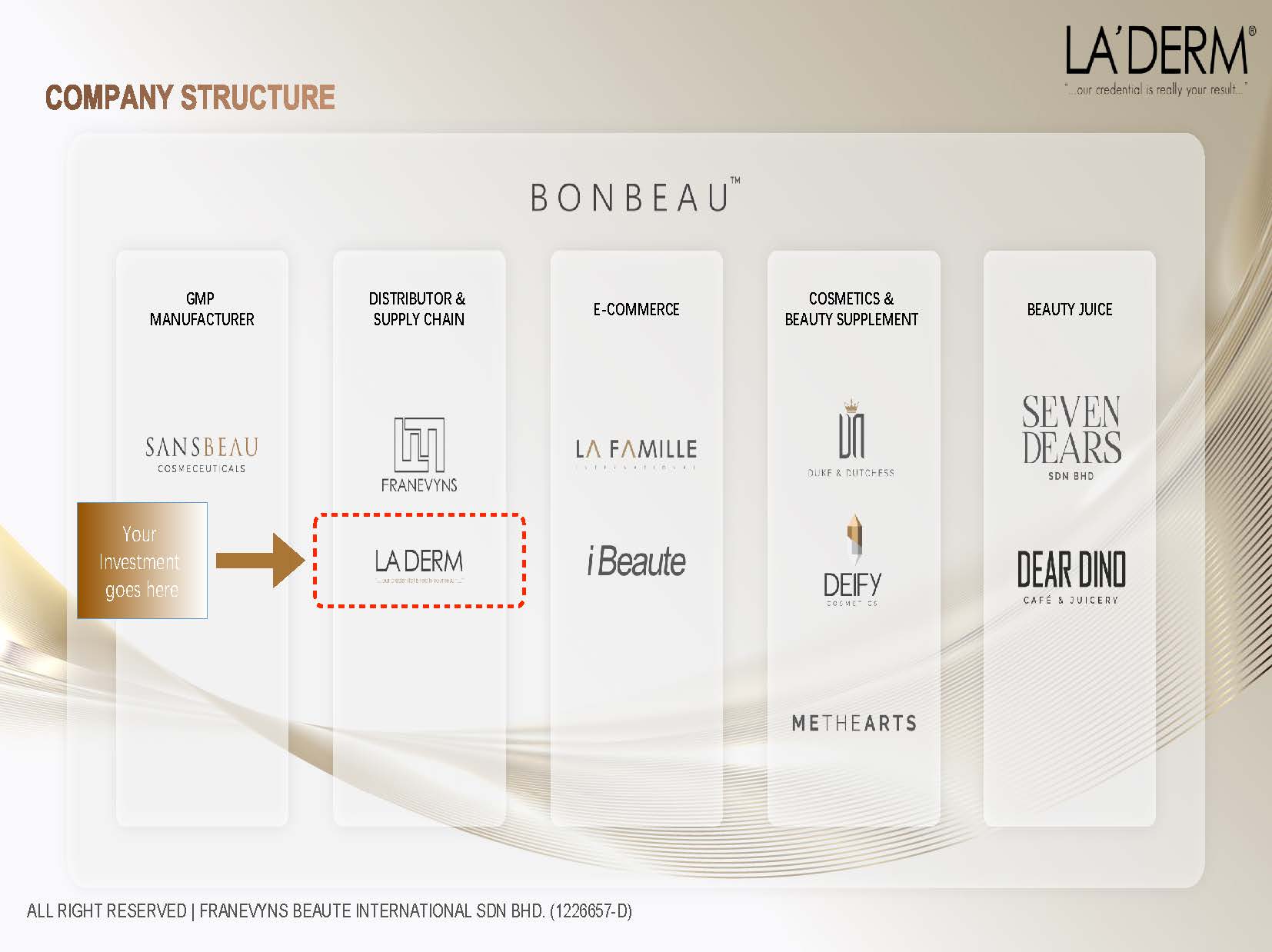 ---
Shareholder Structure
---
Founder's Pitch Deck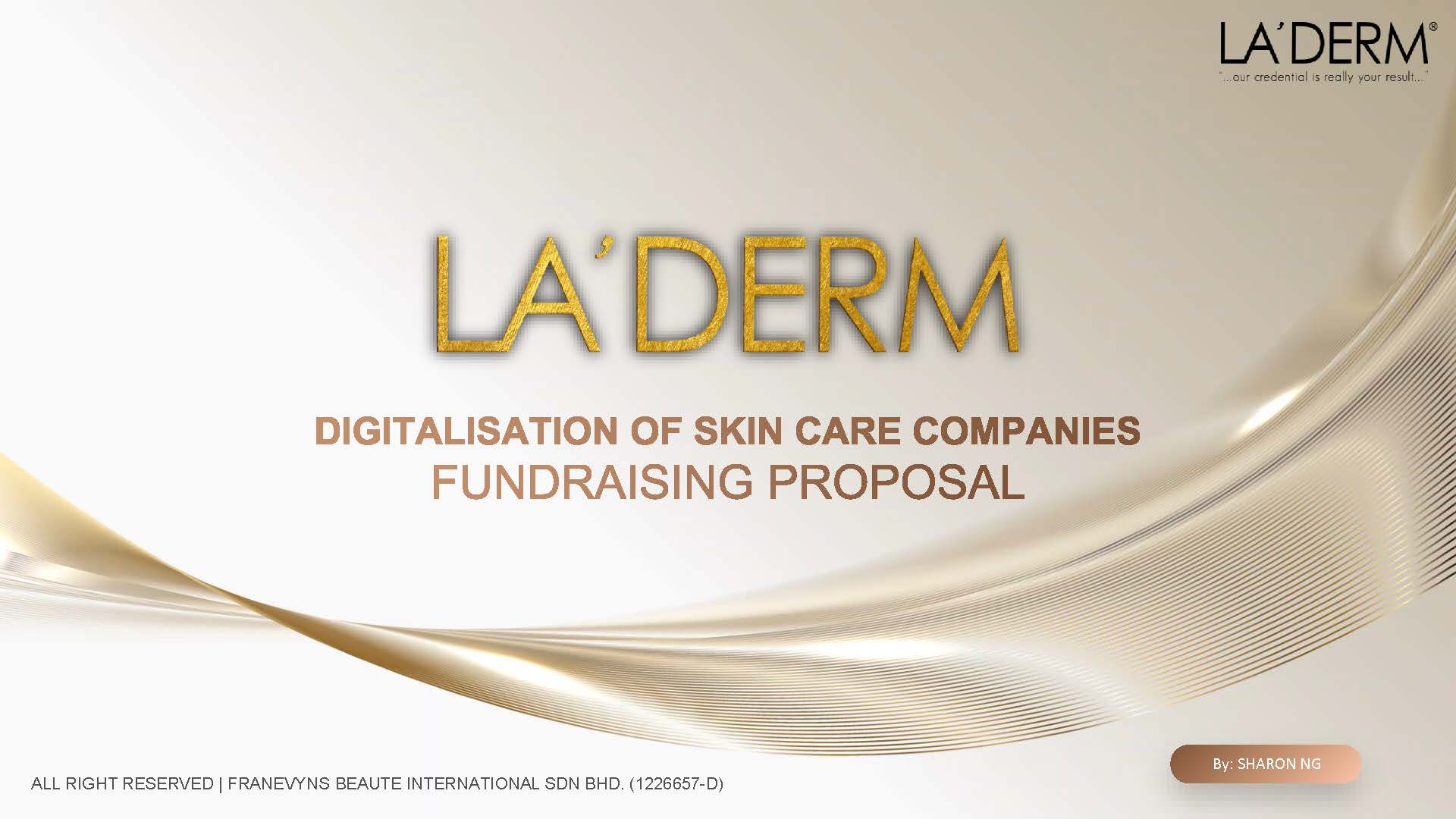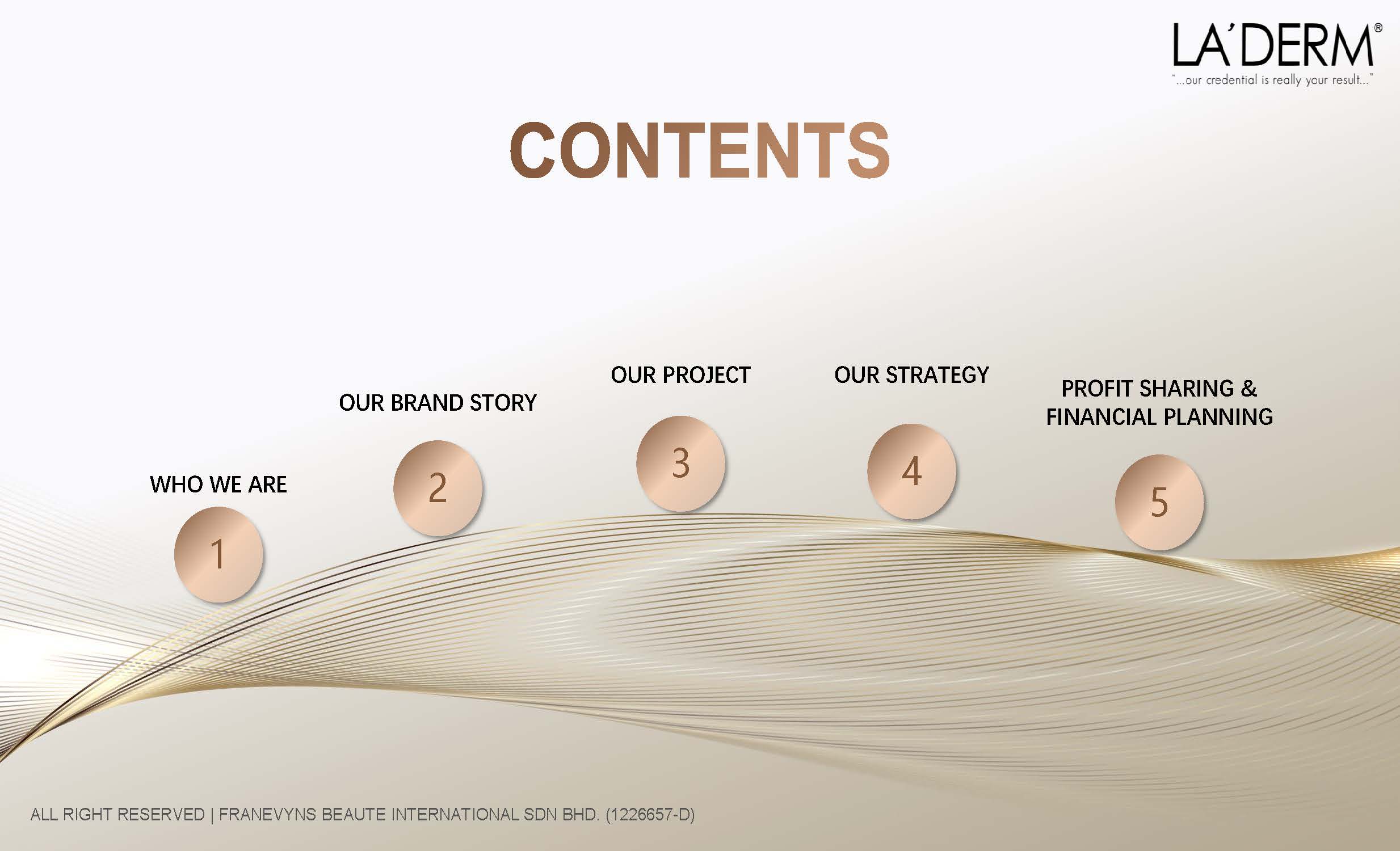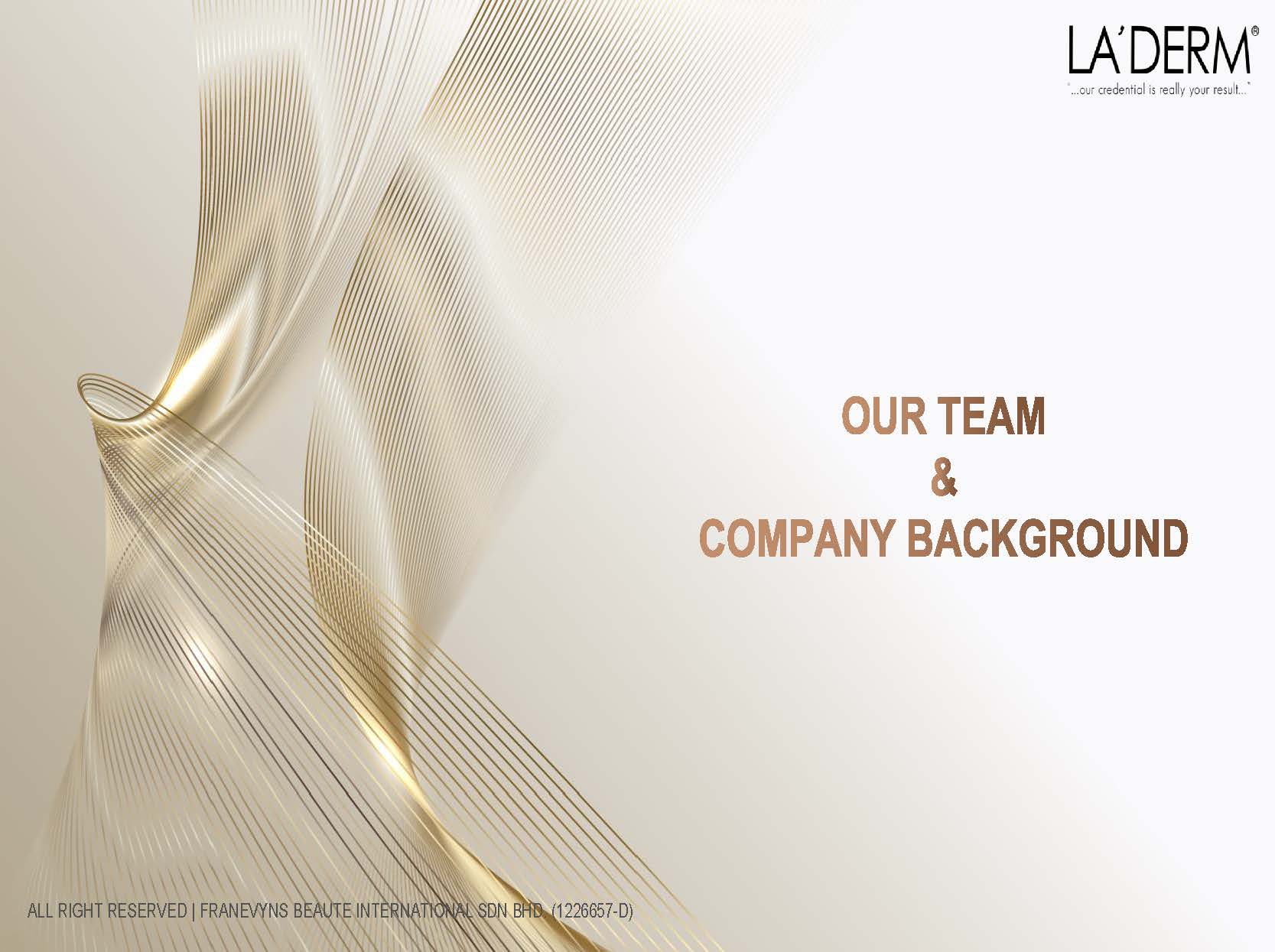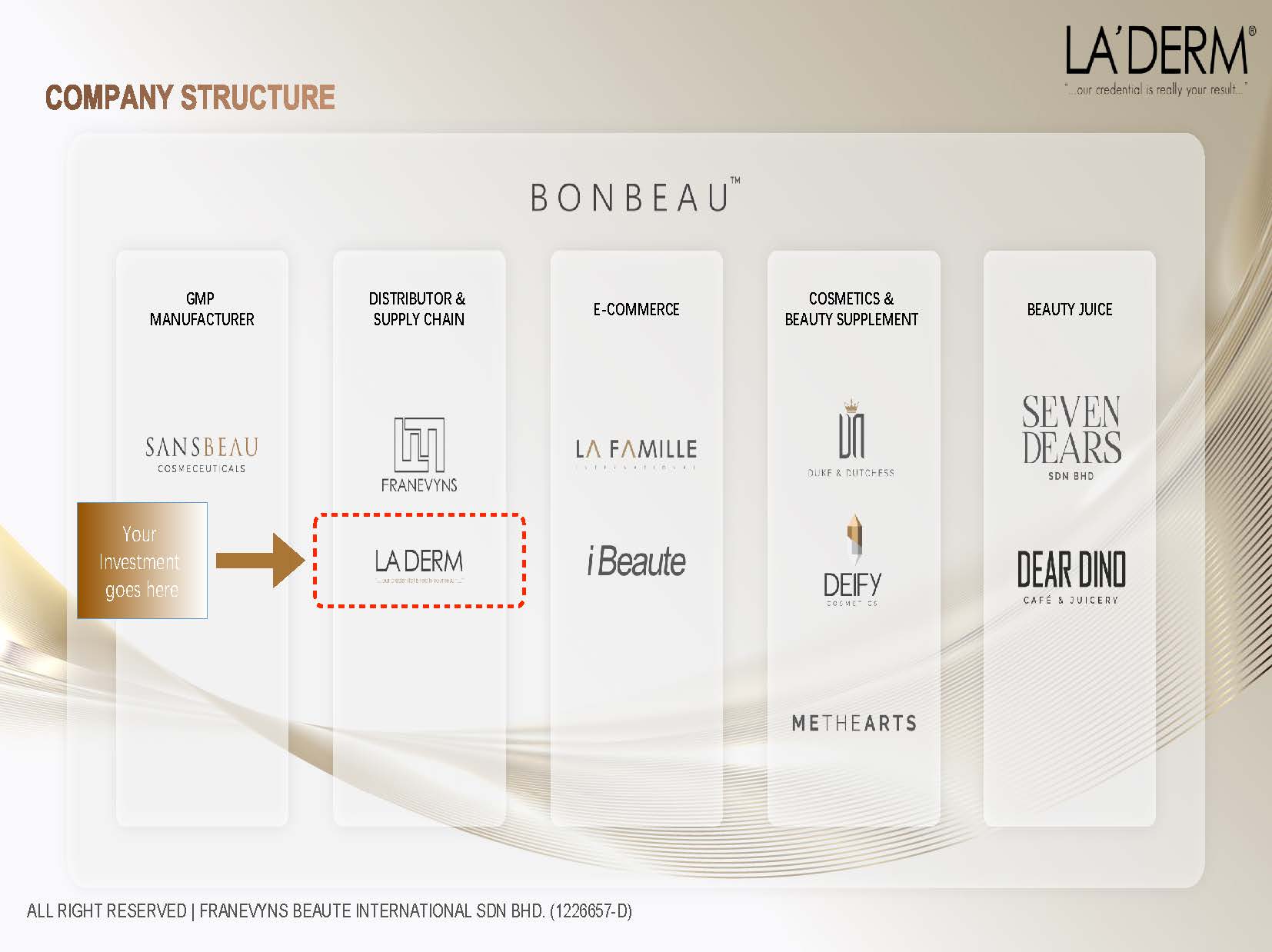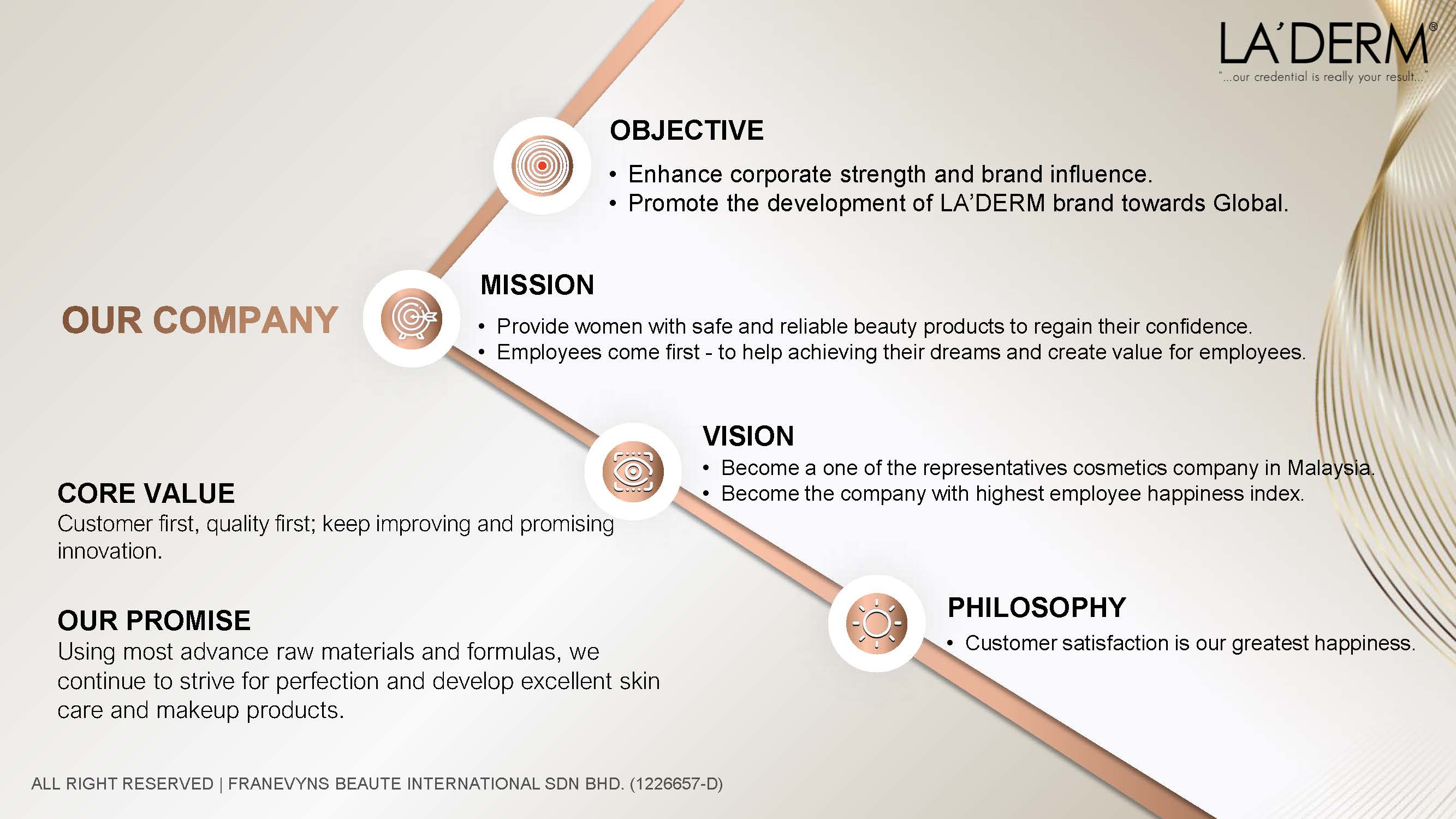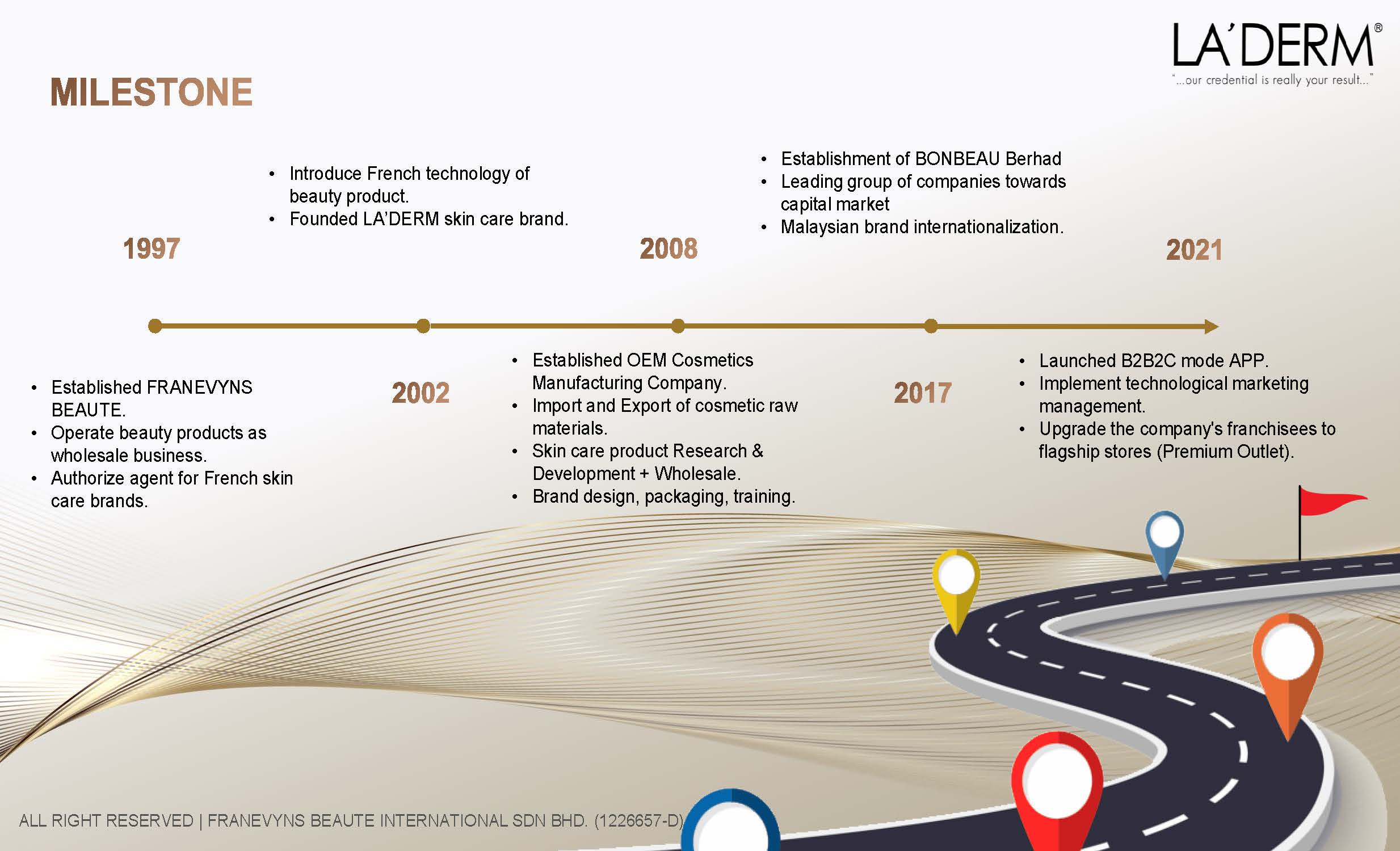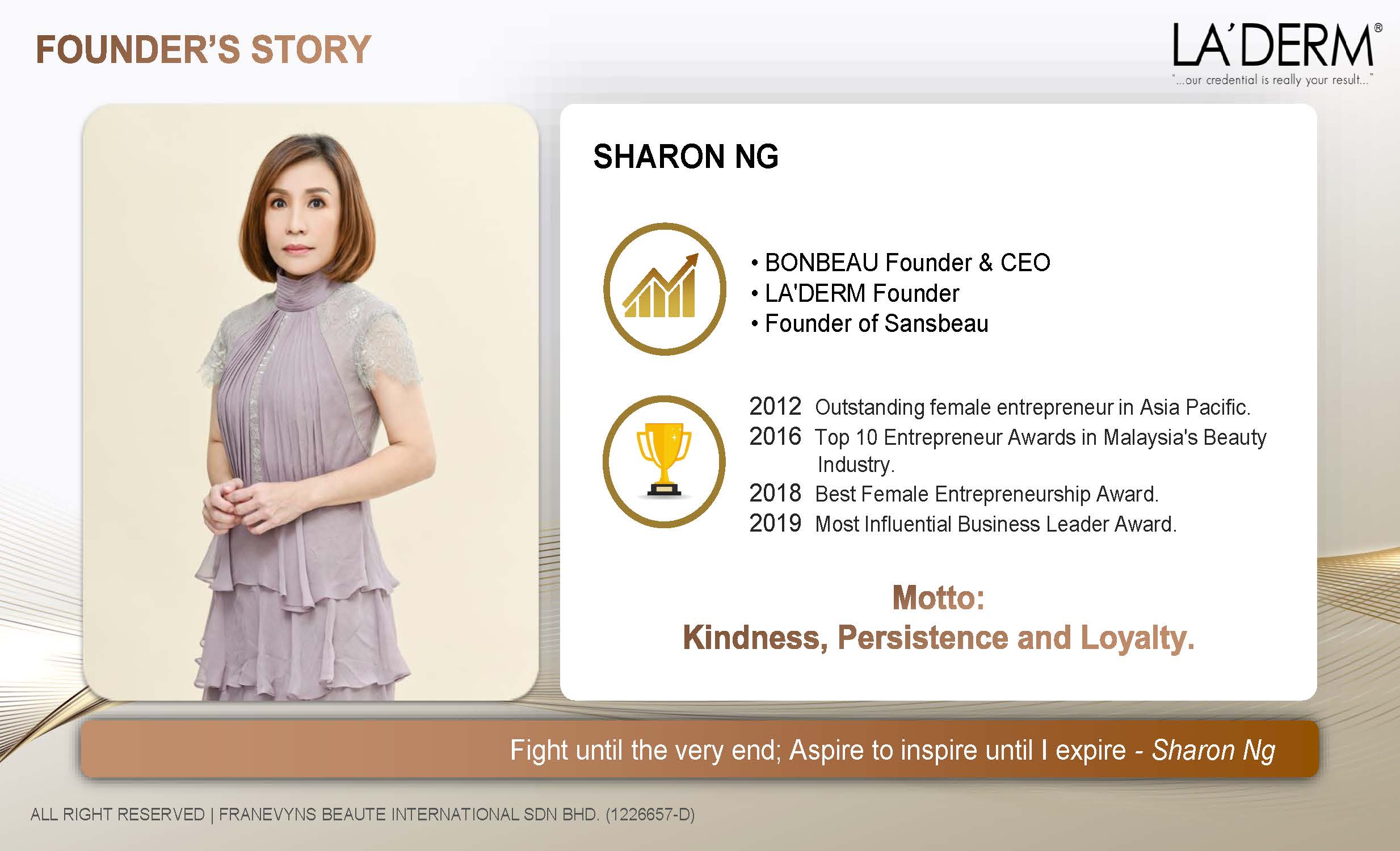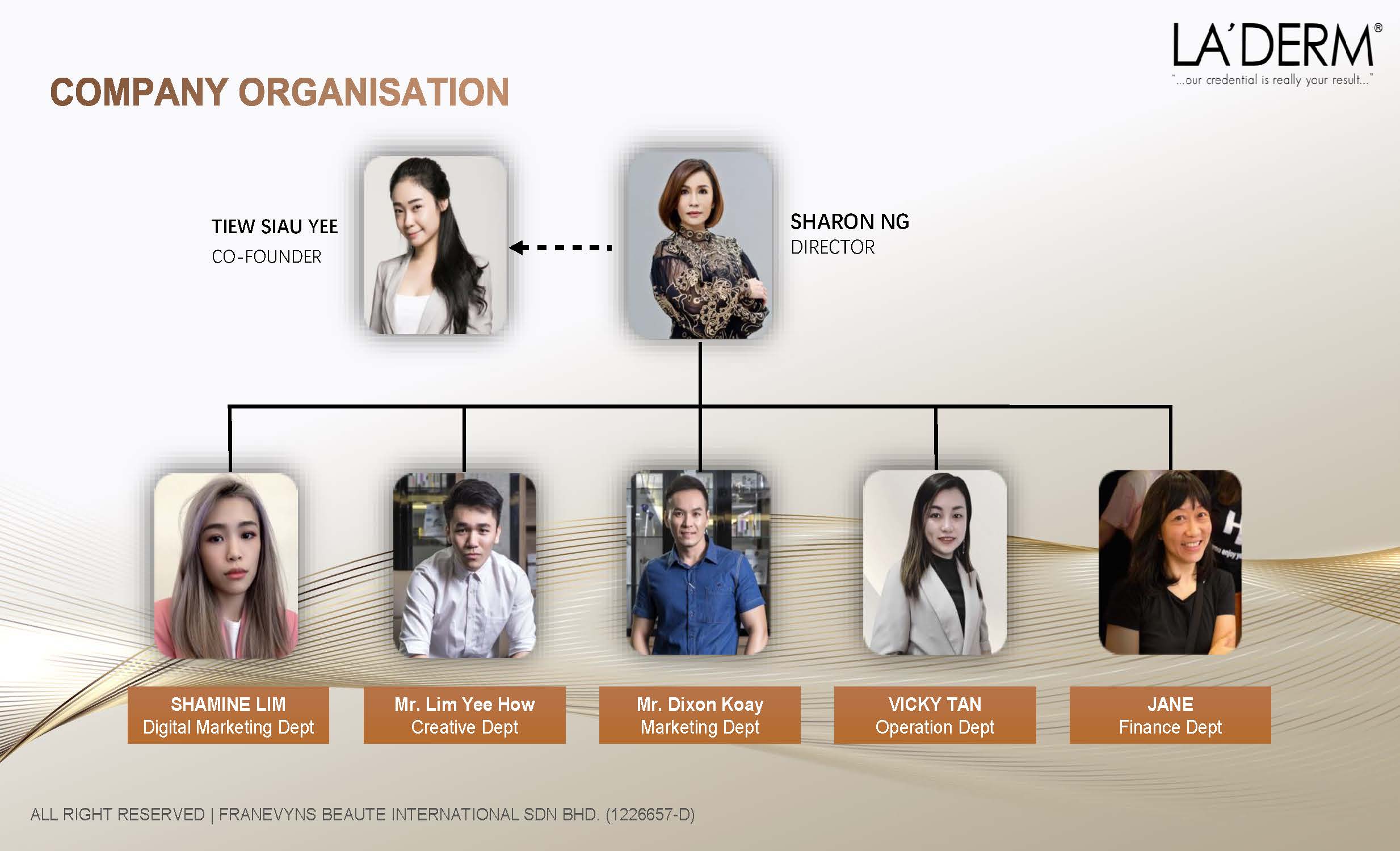 ---
For Further Enquiry
Please Contact Us
---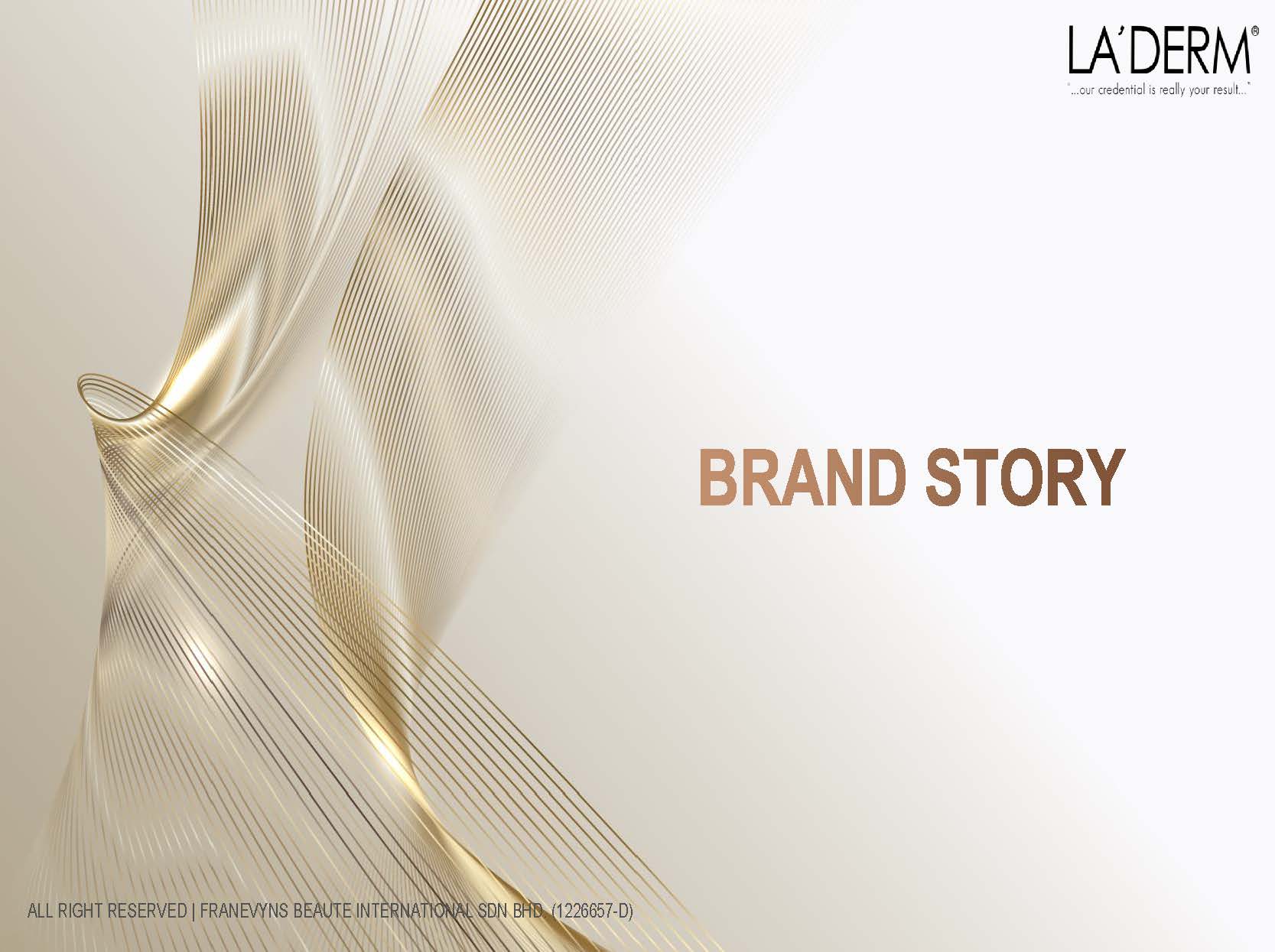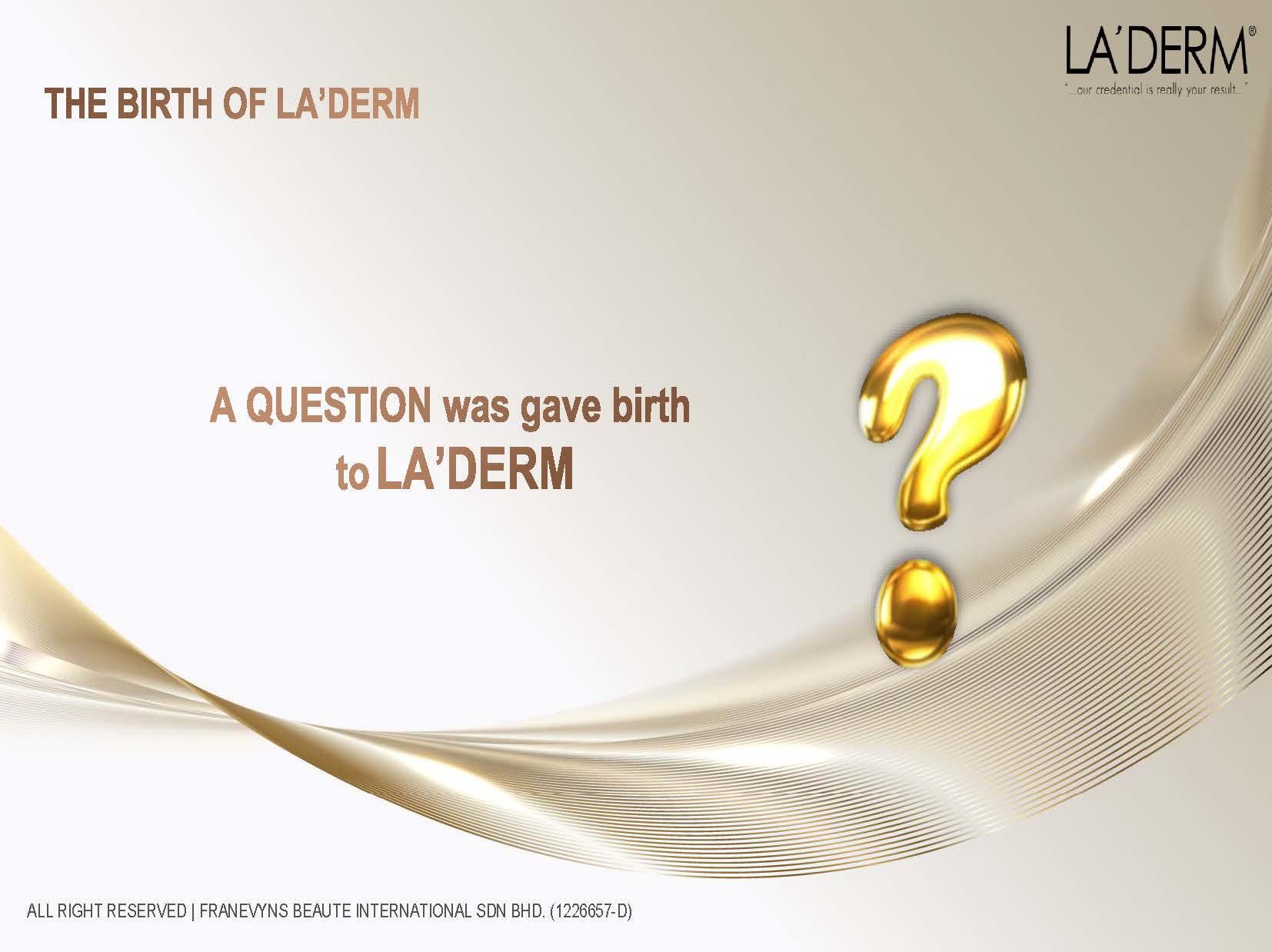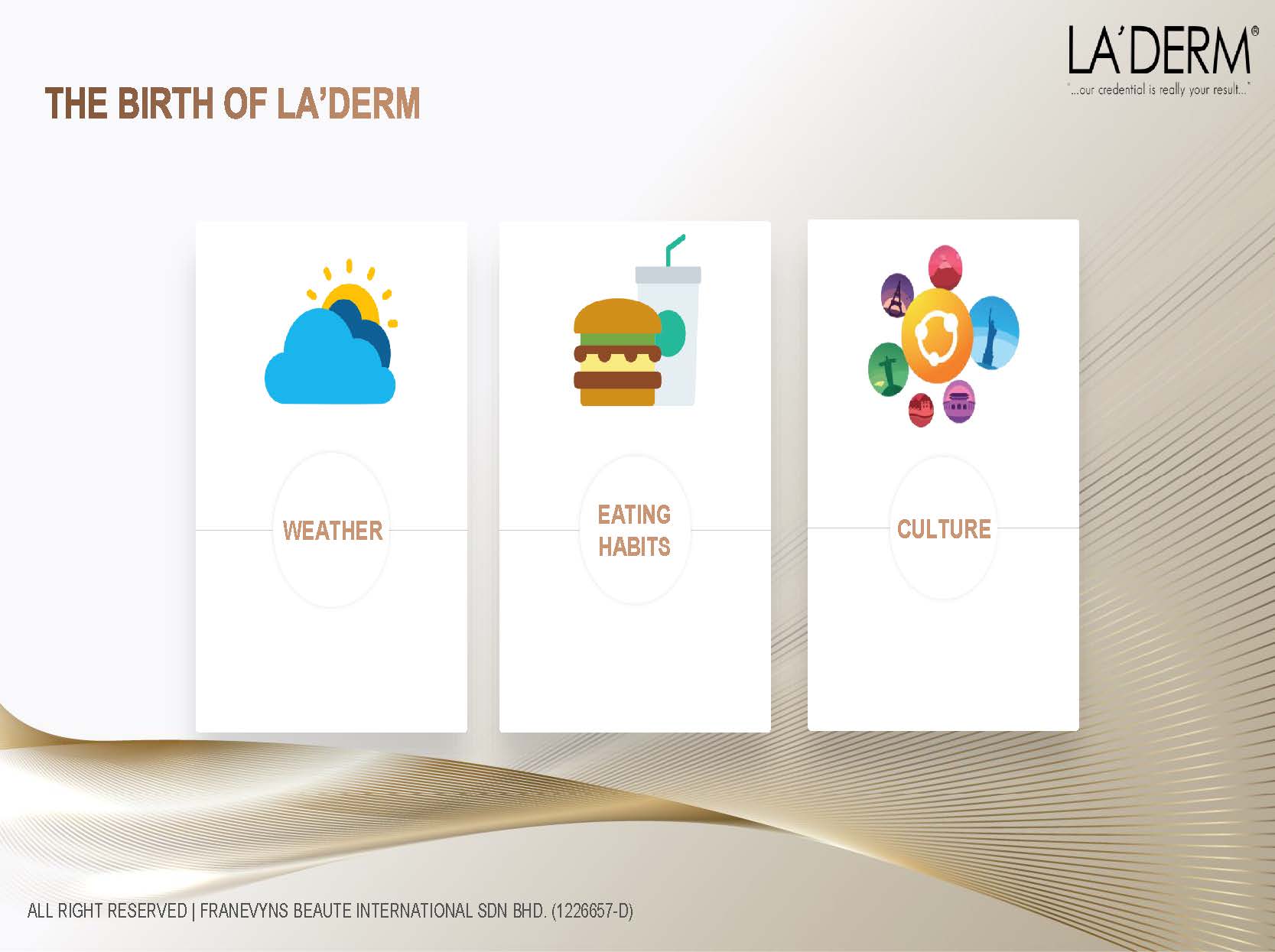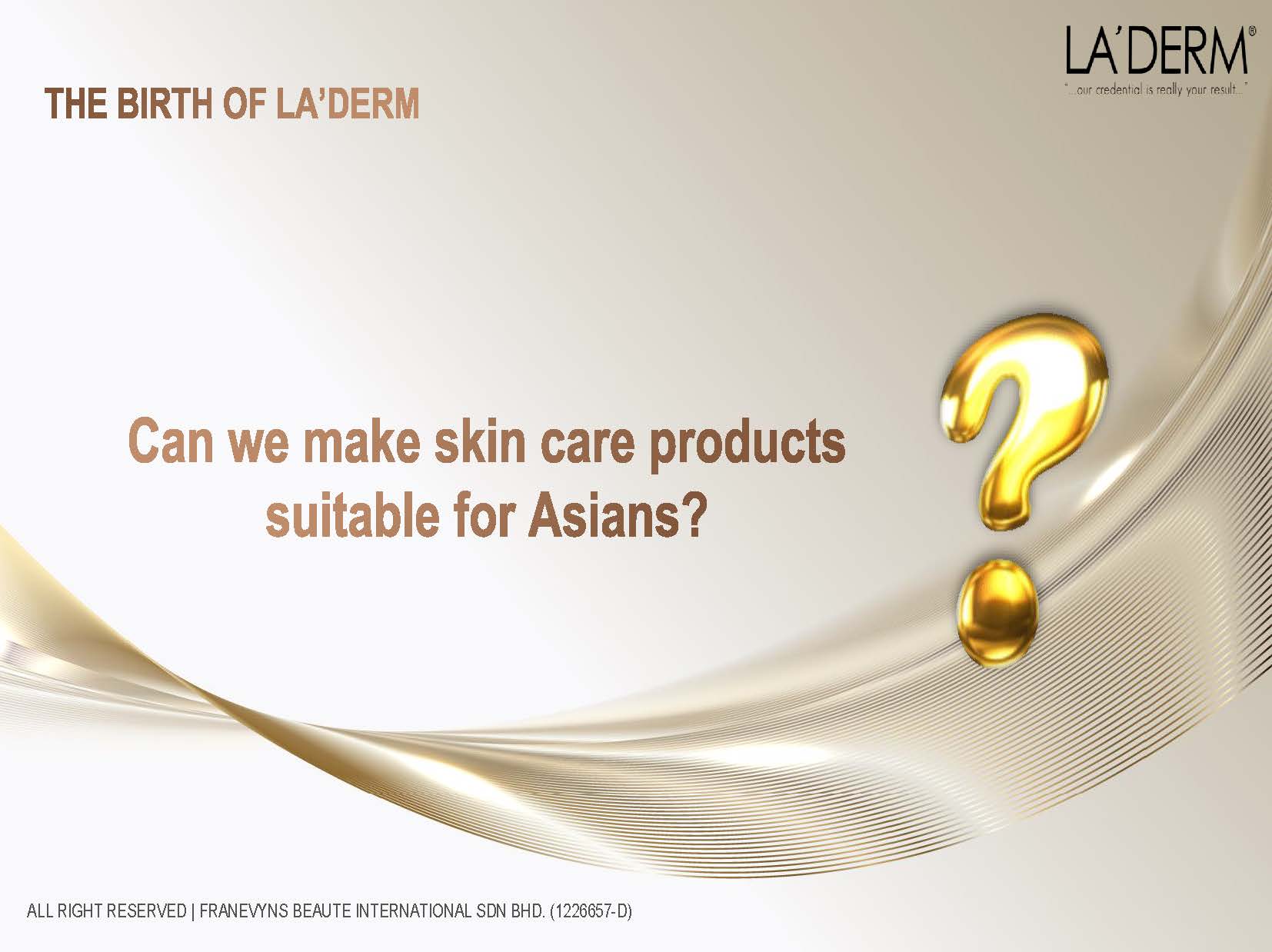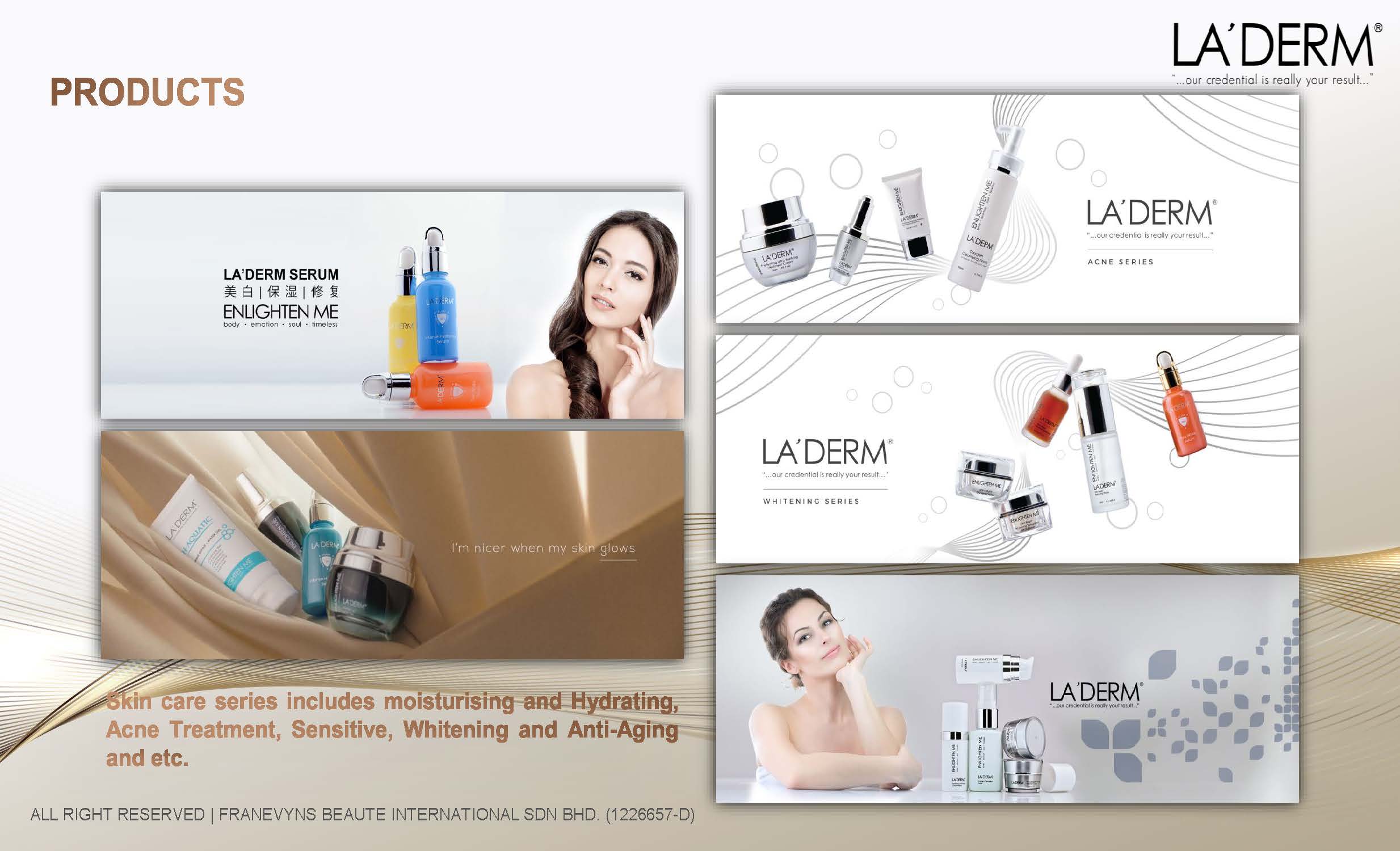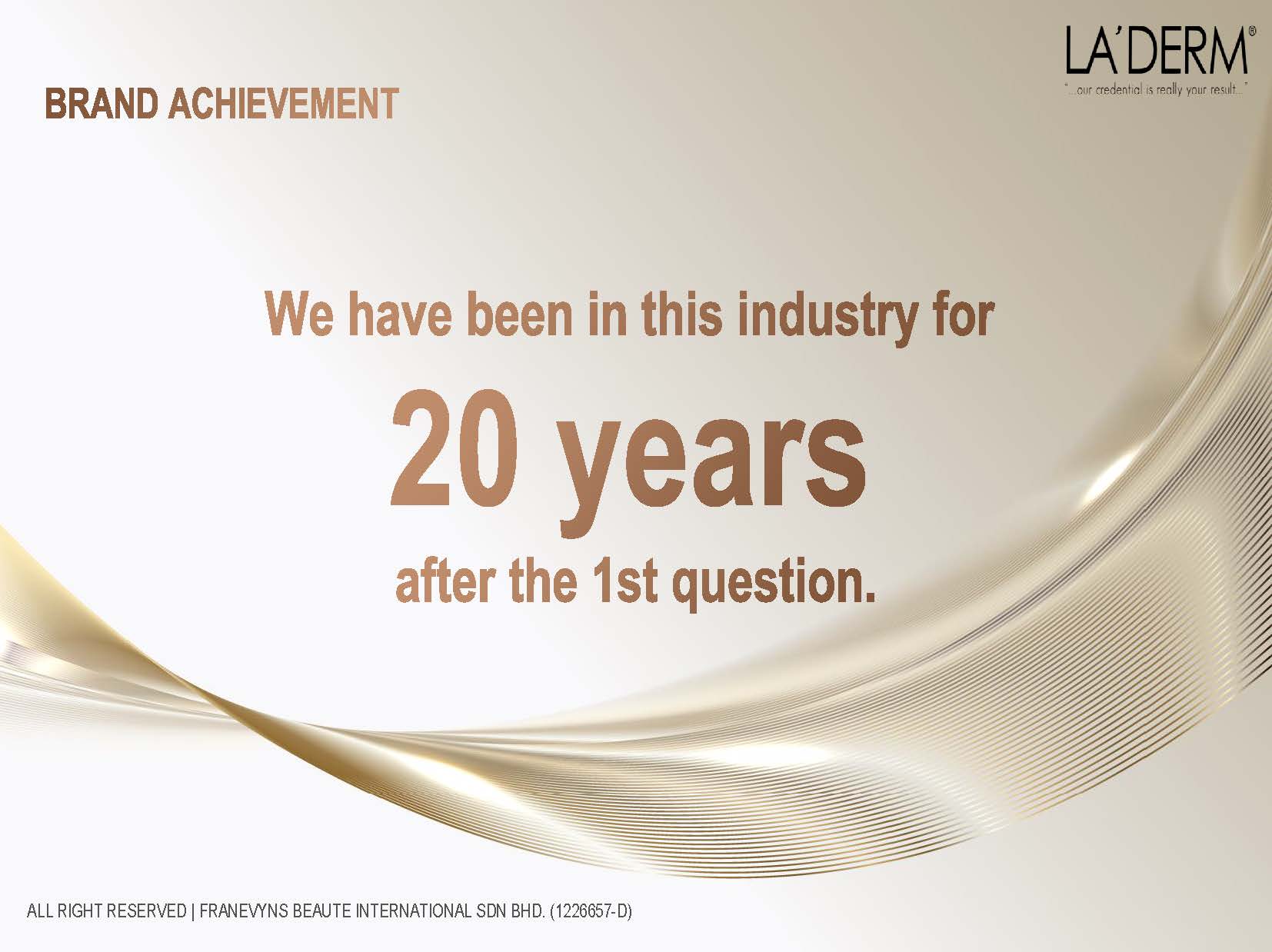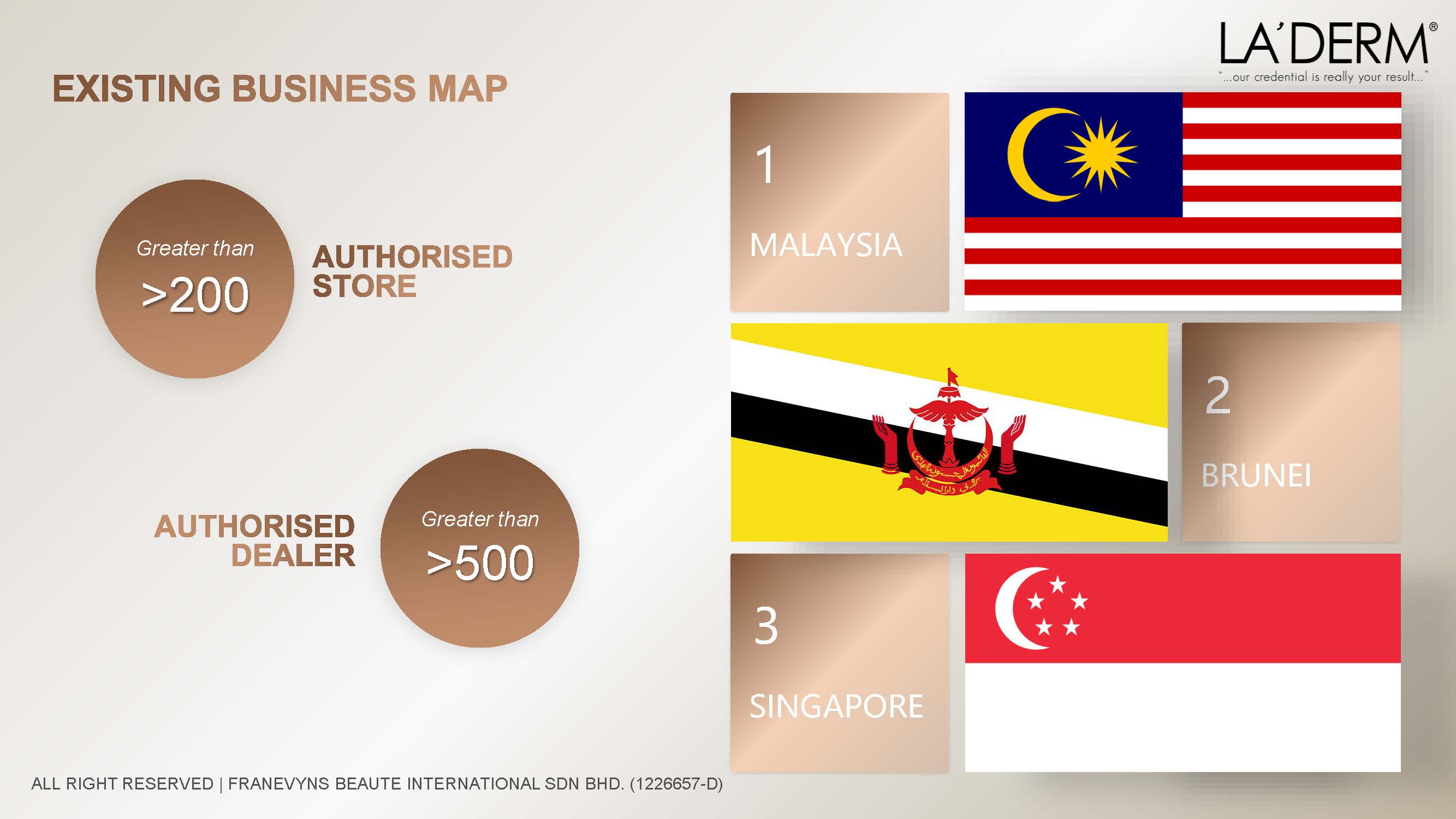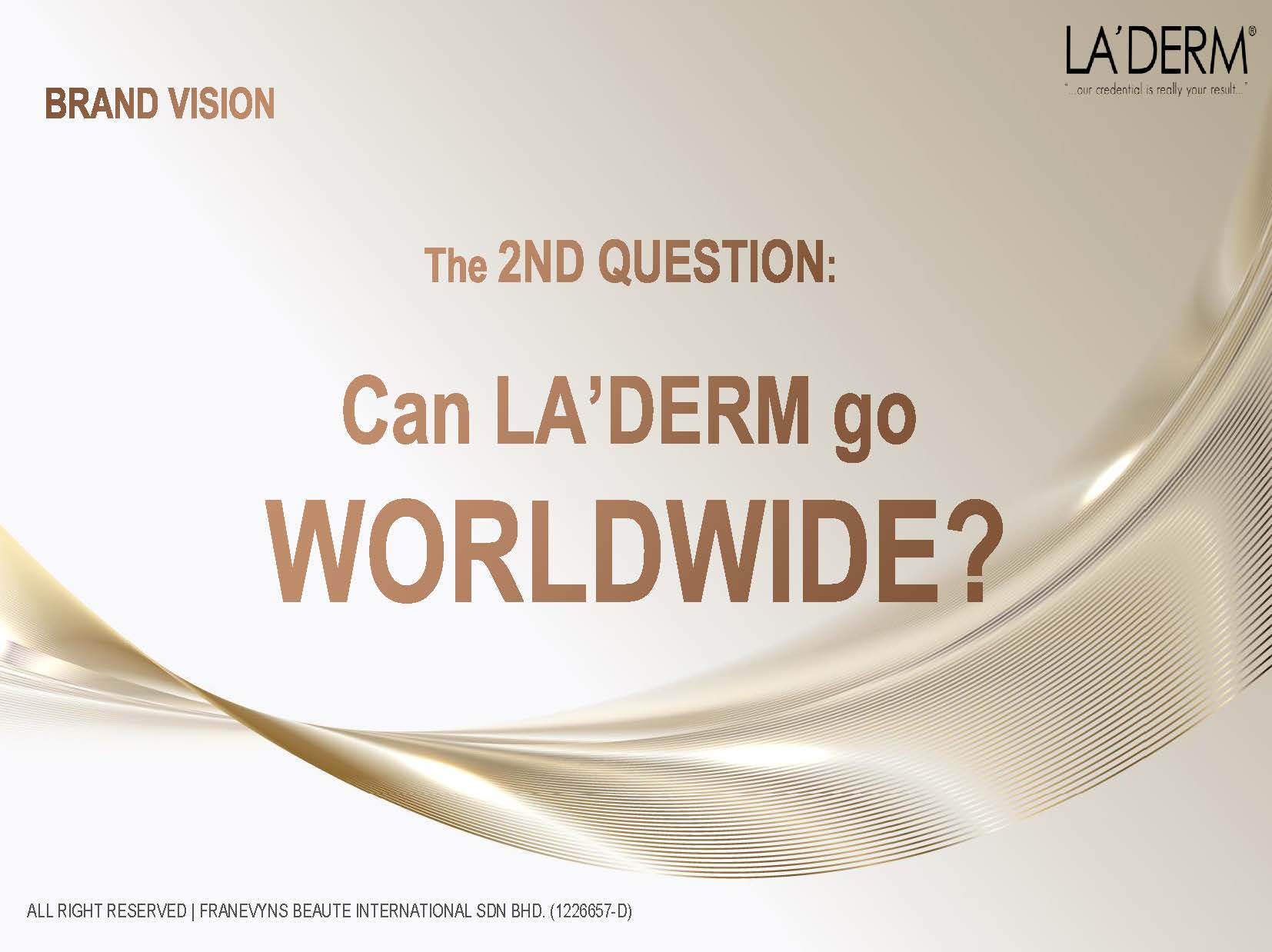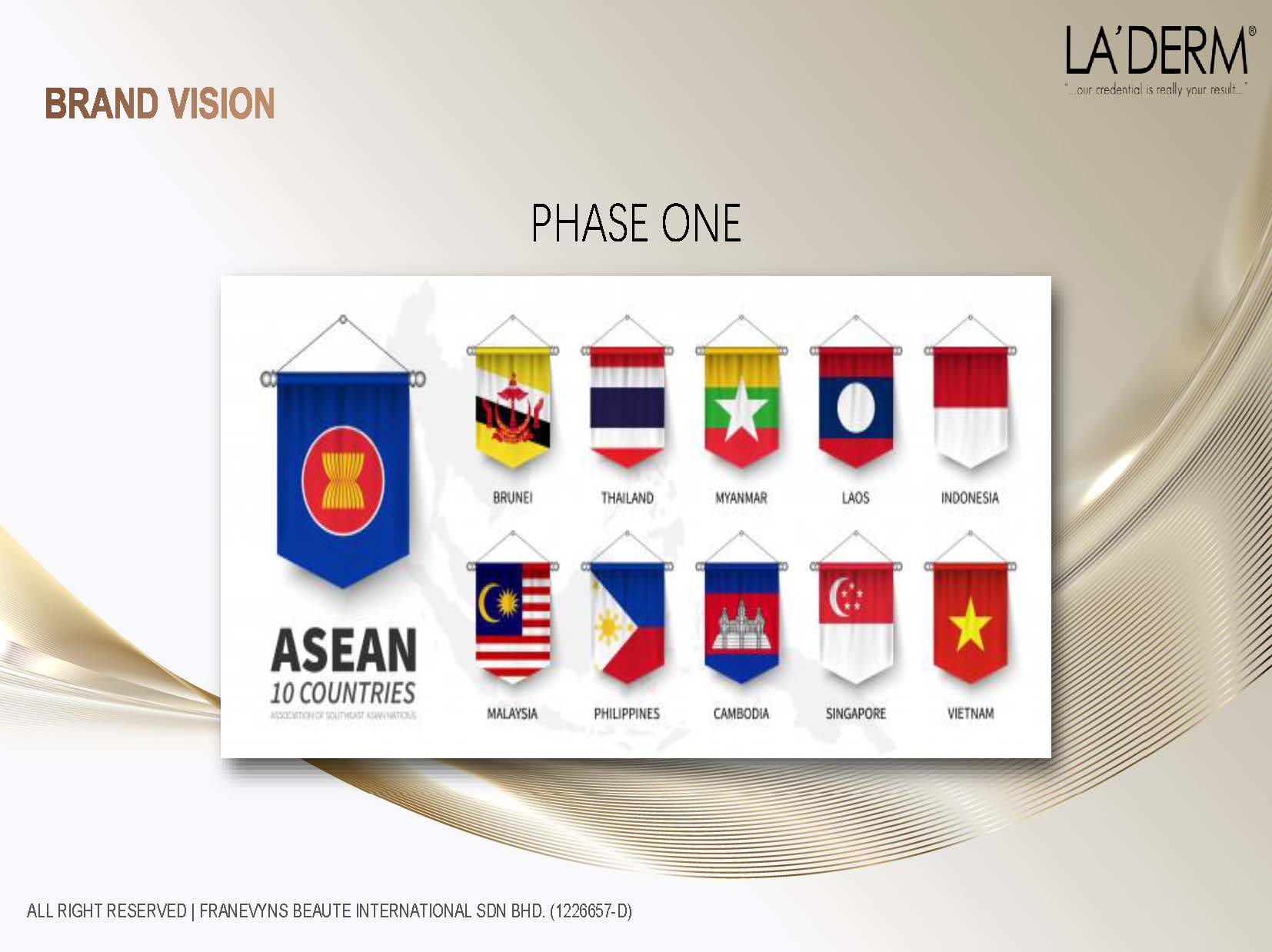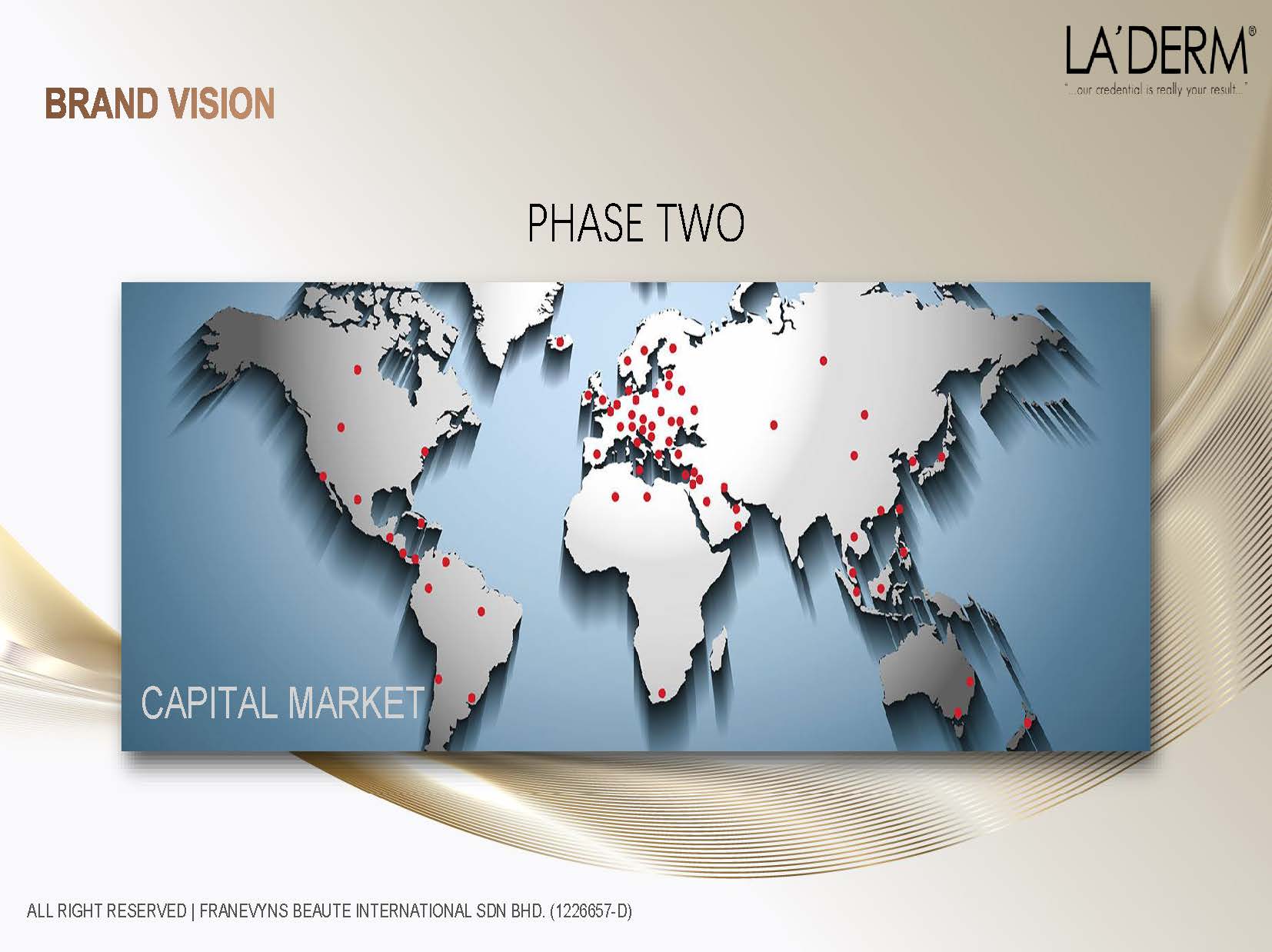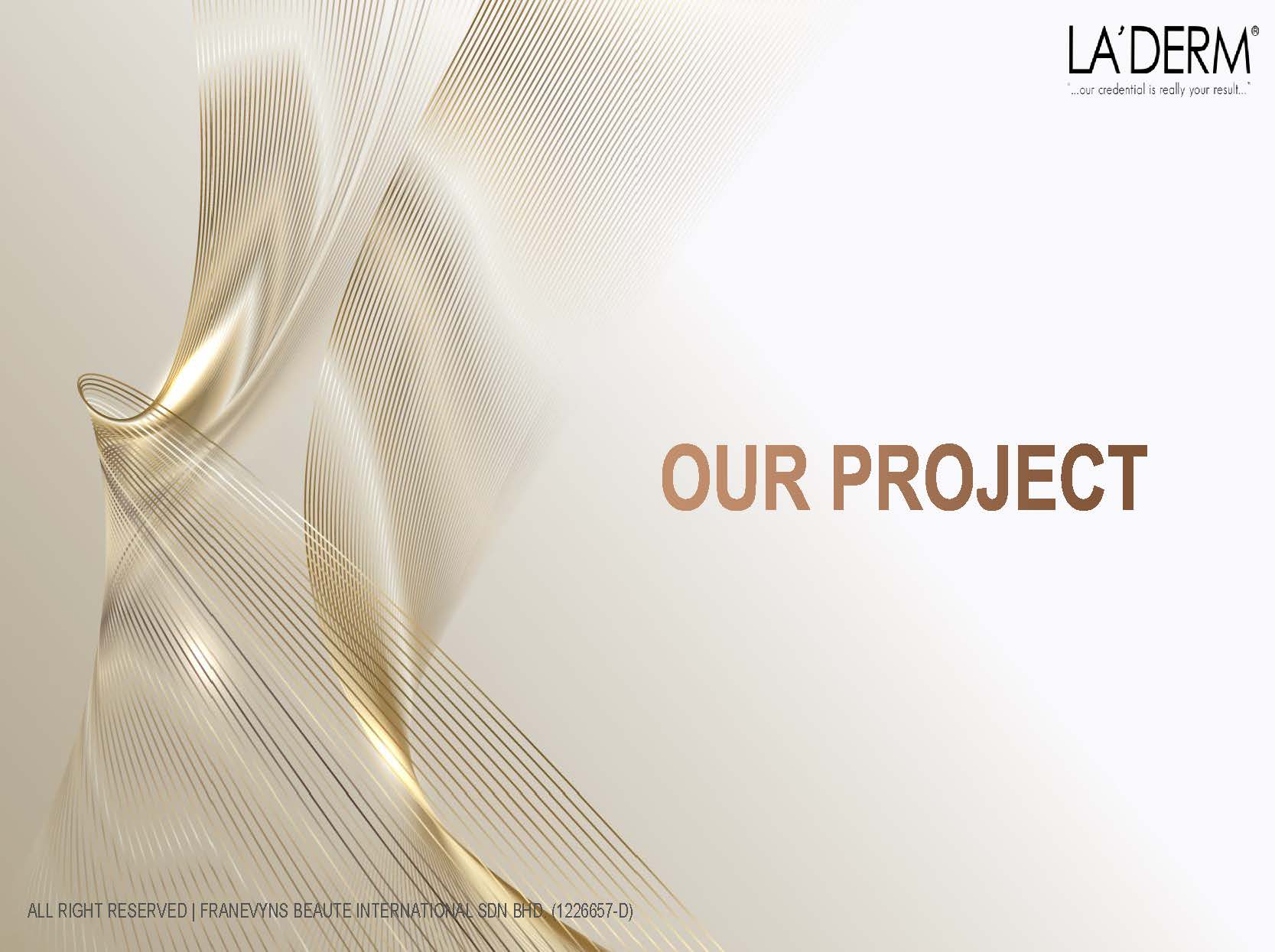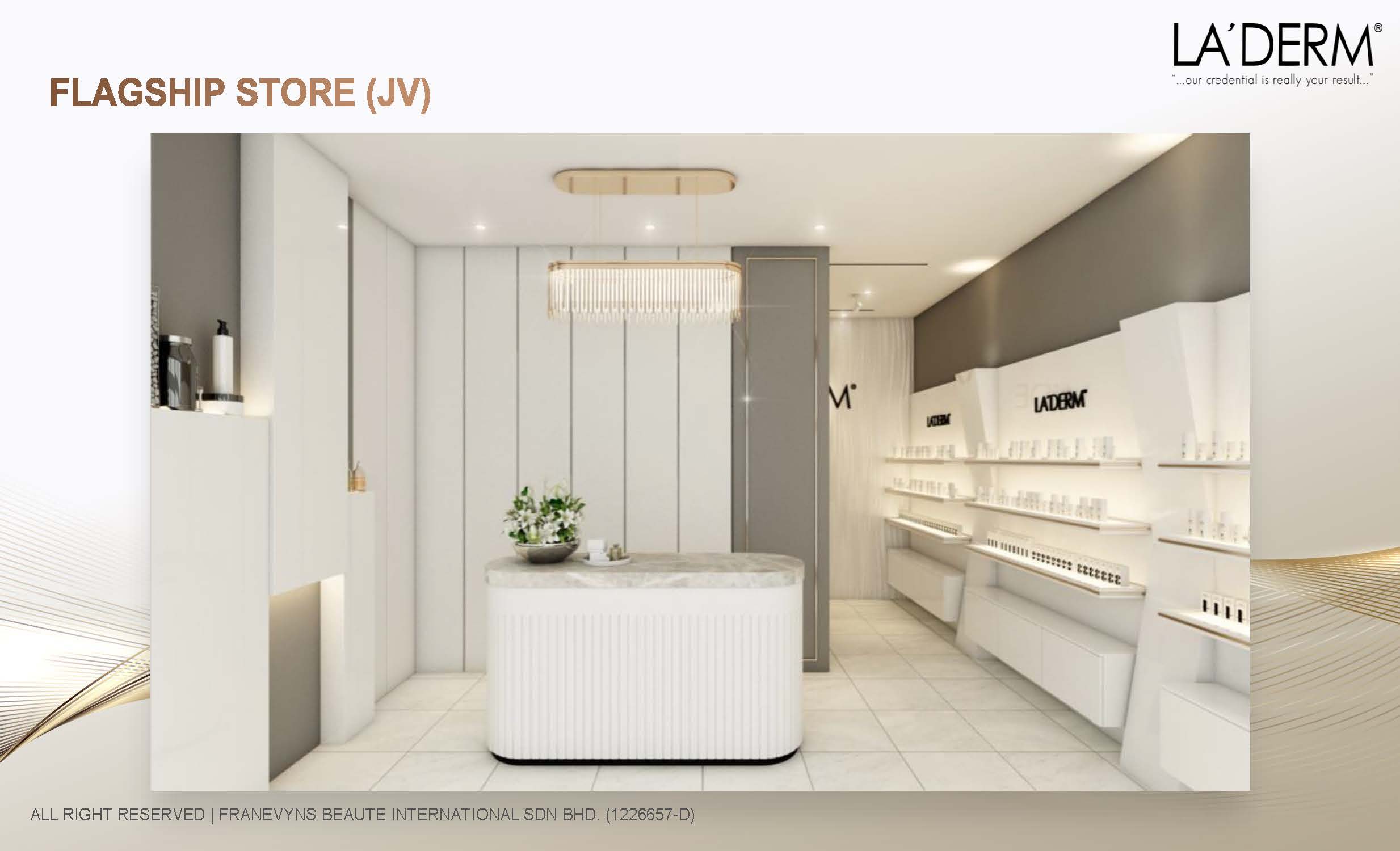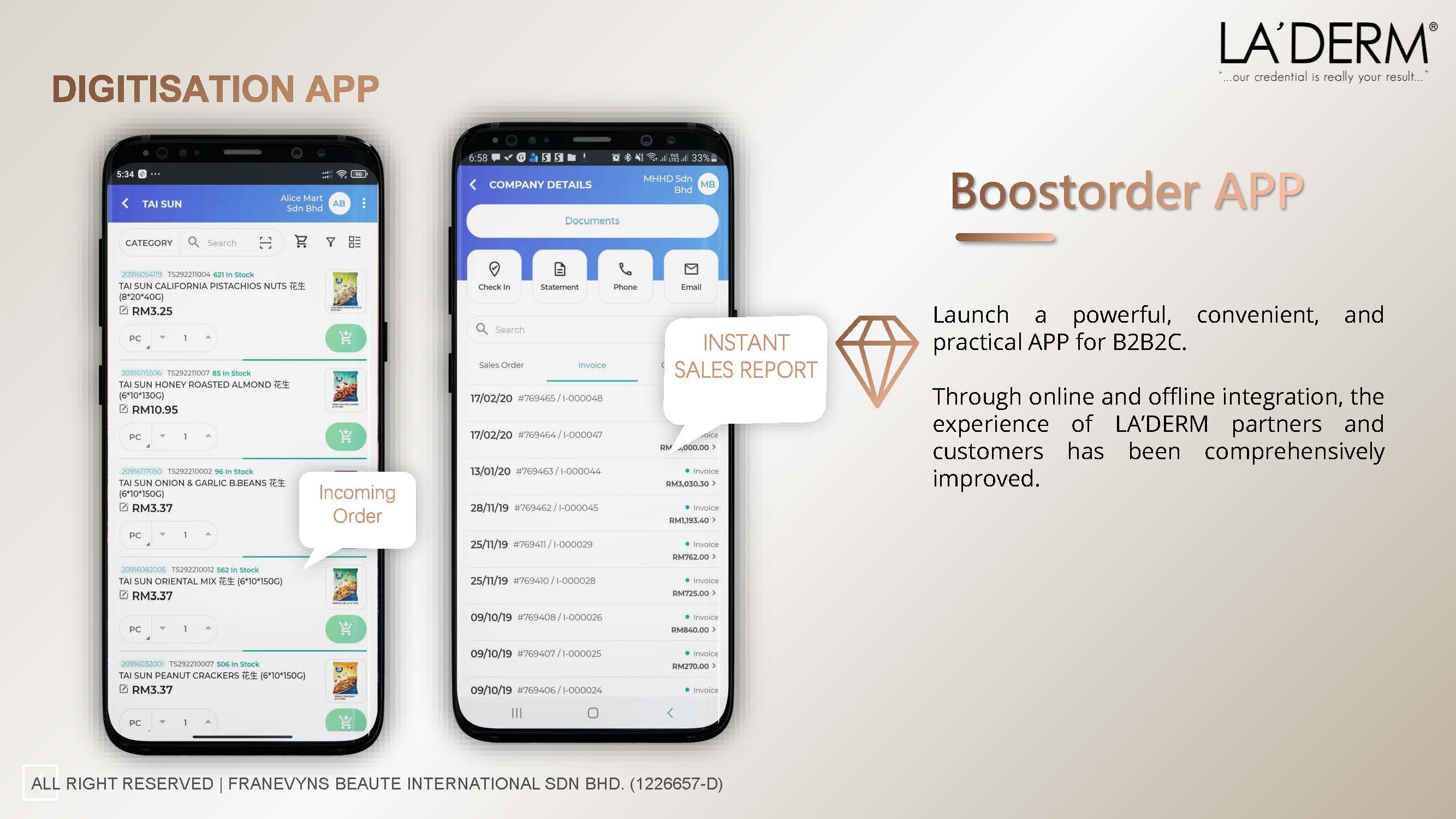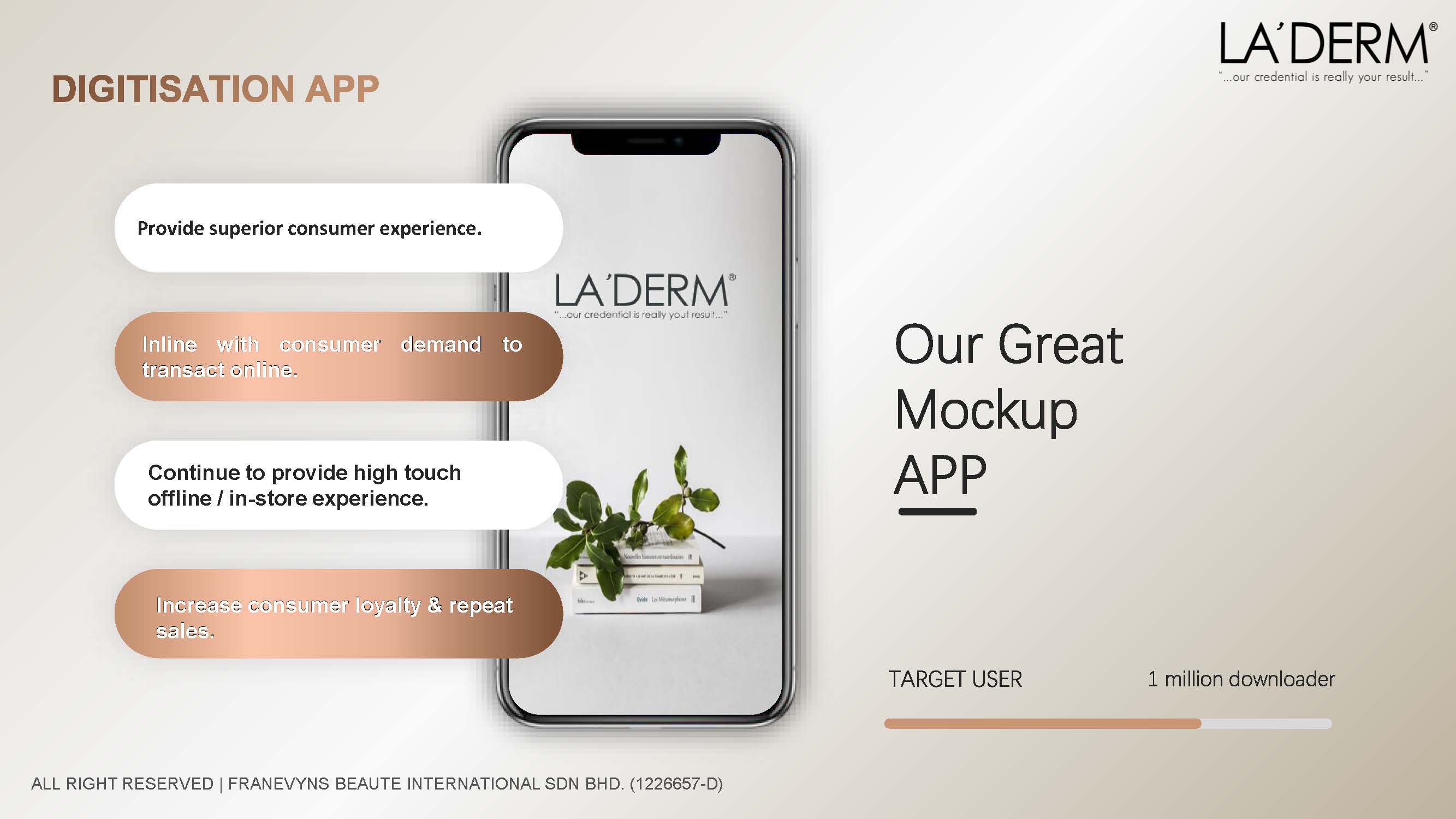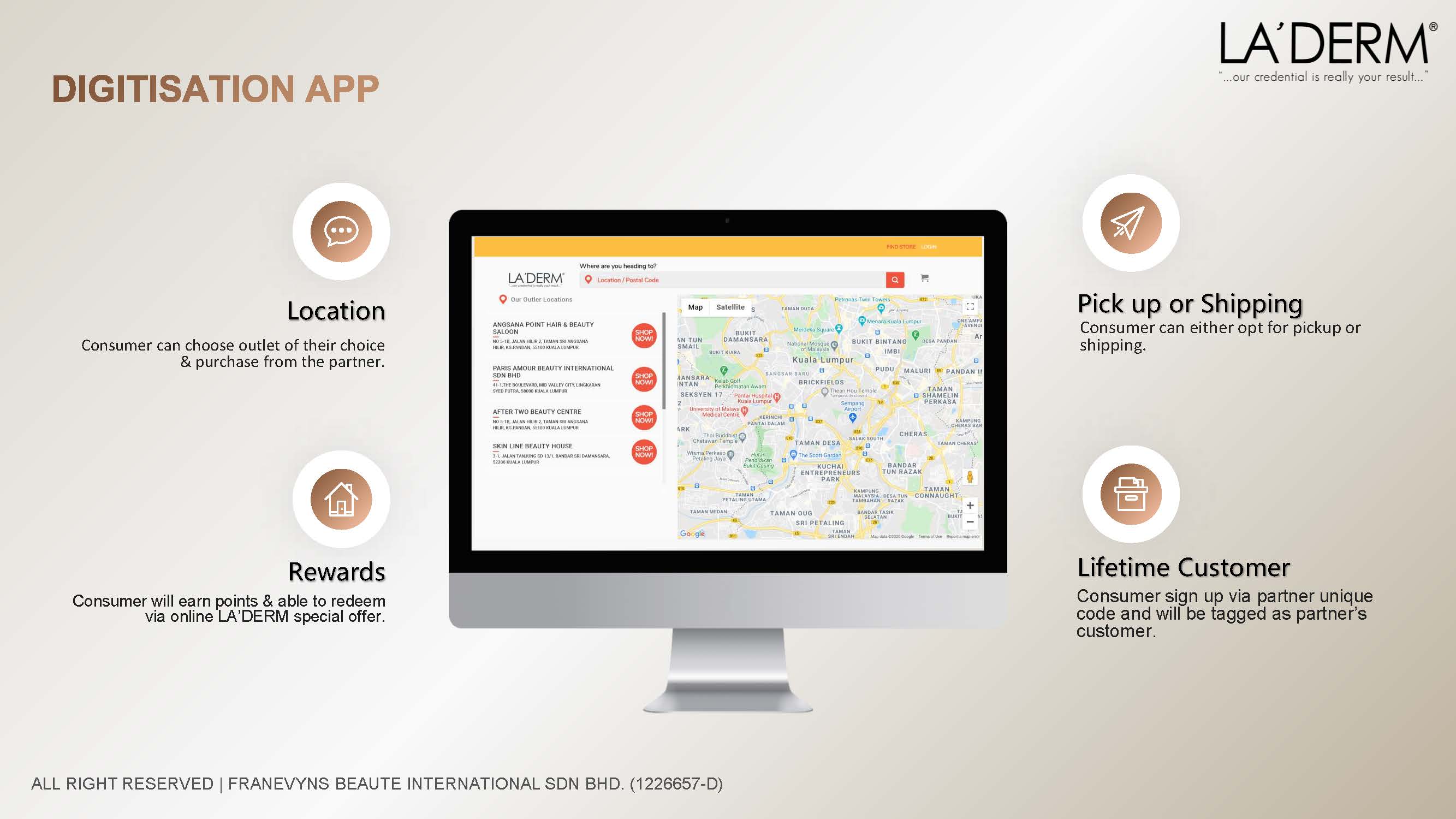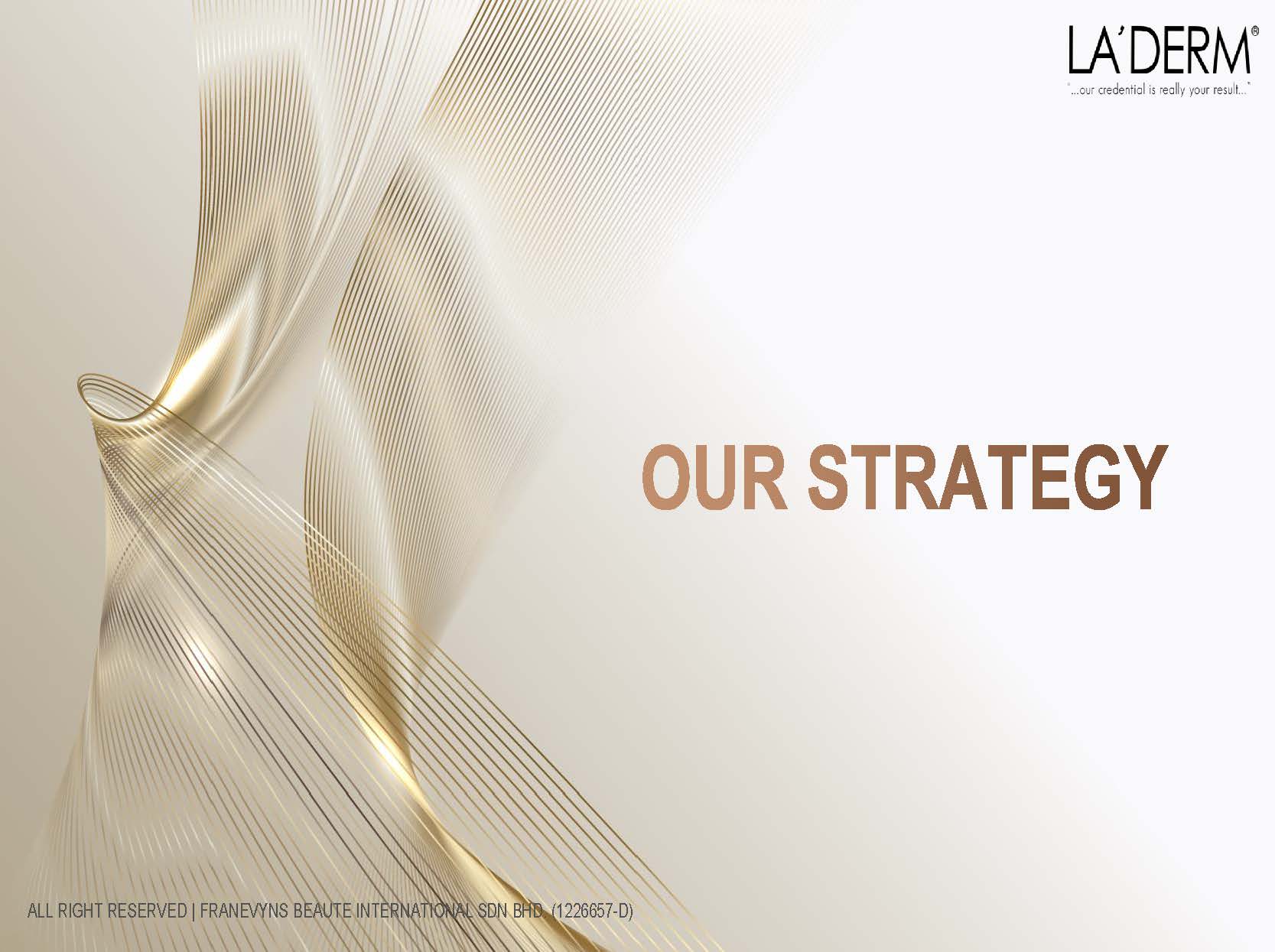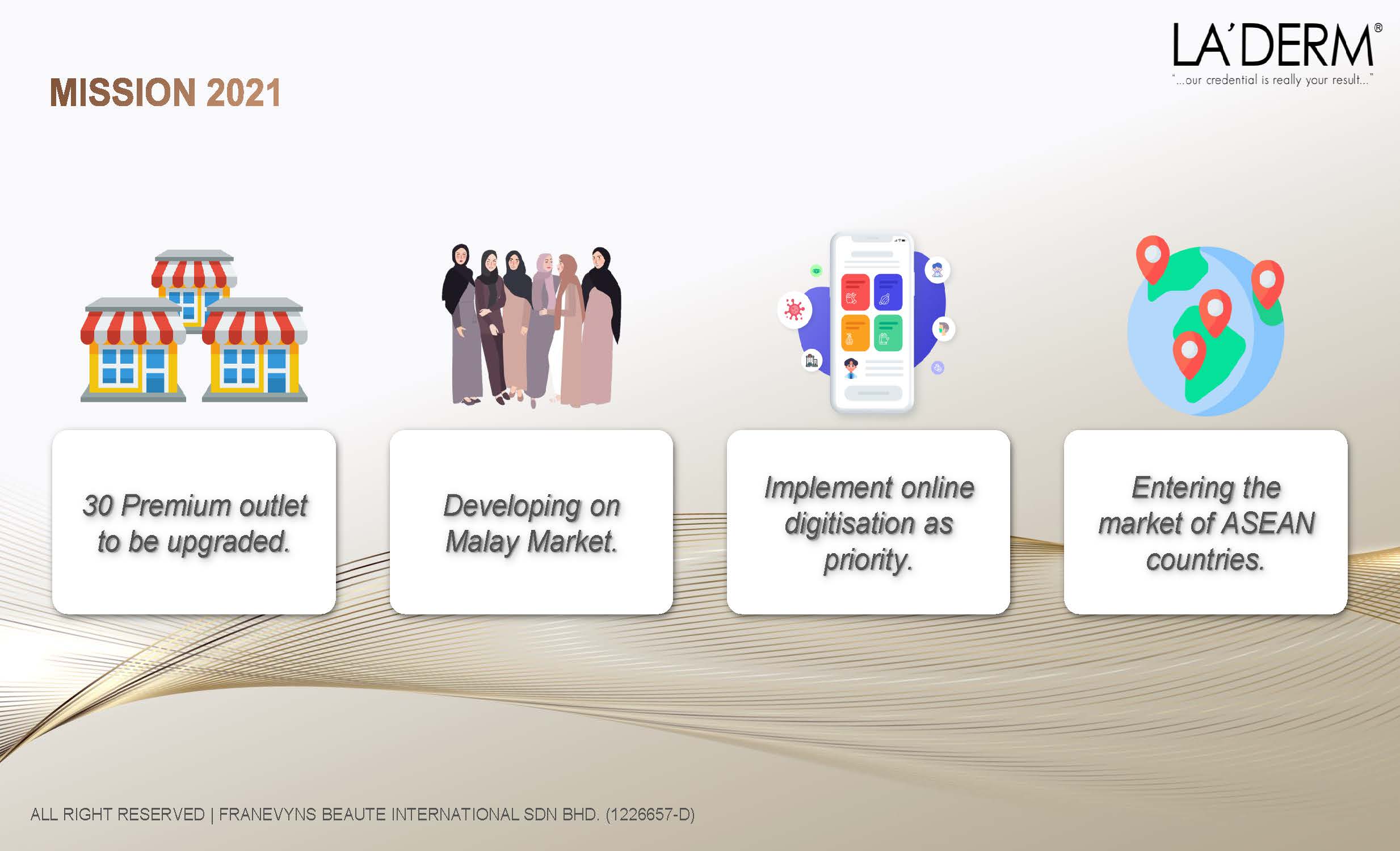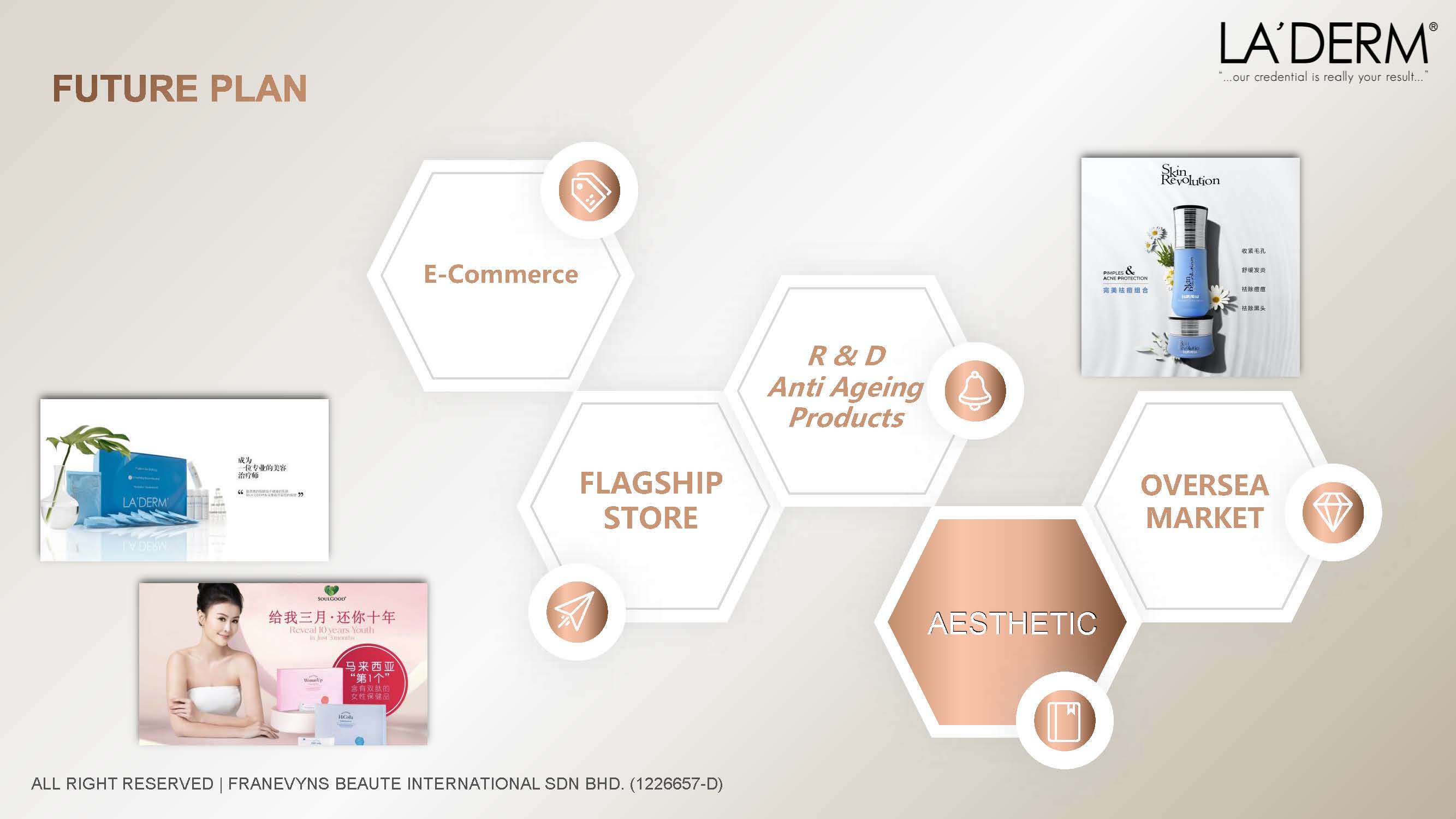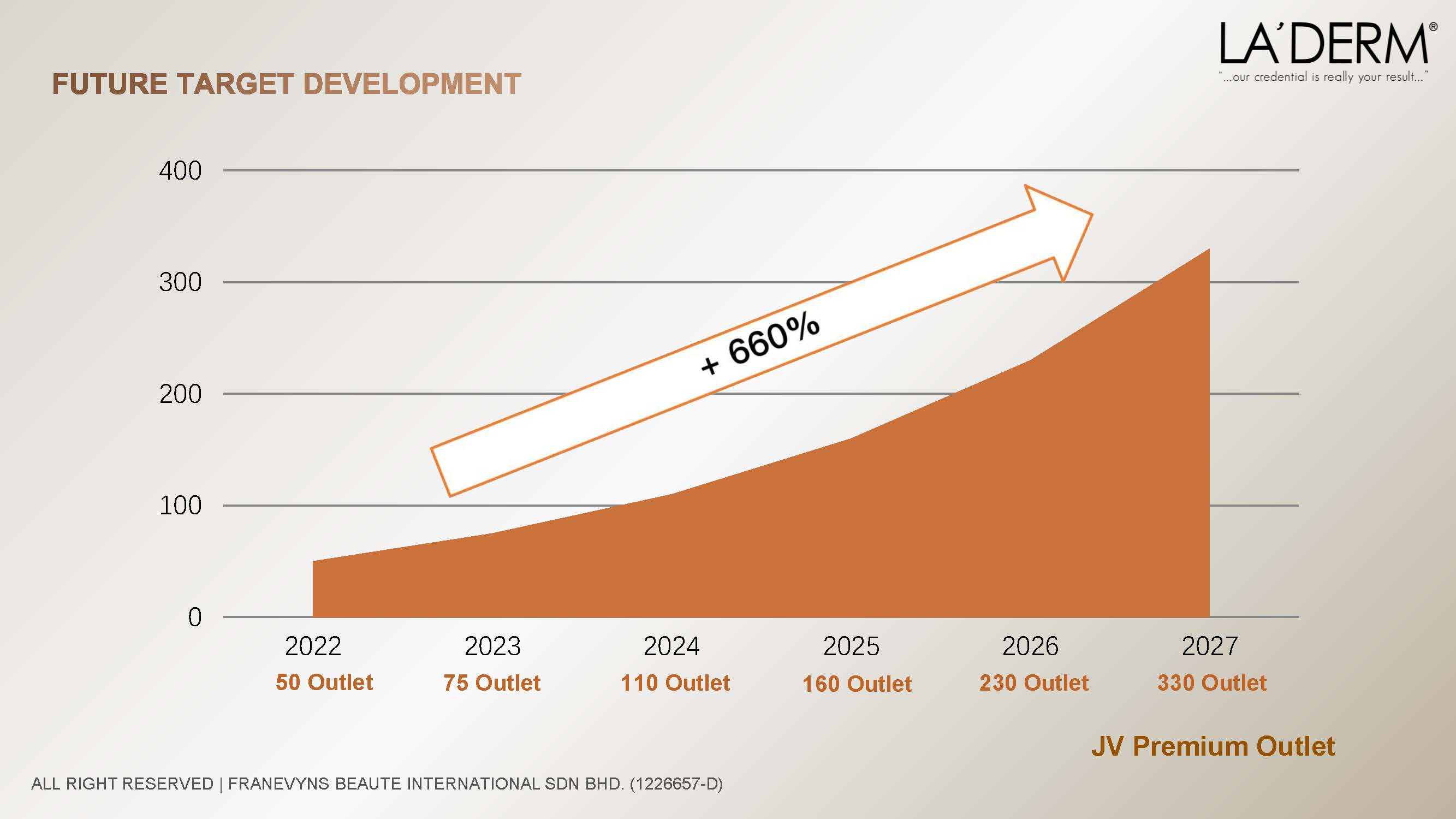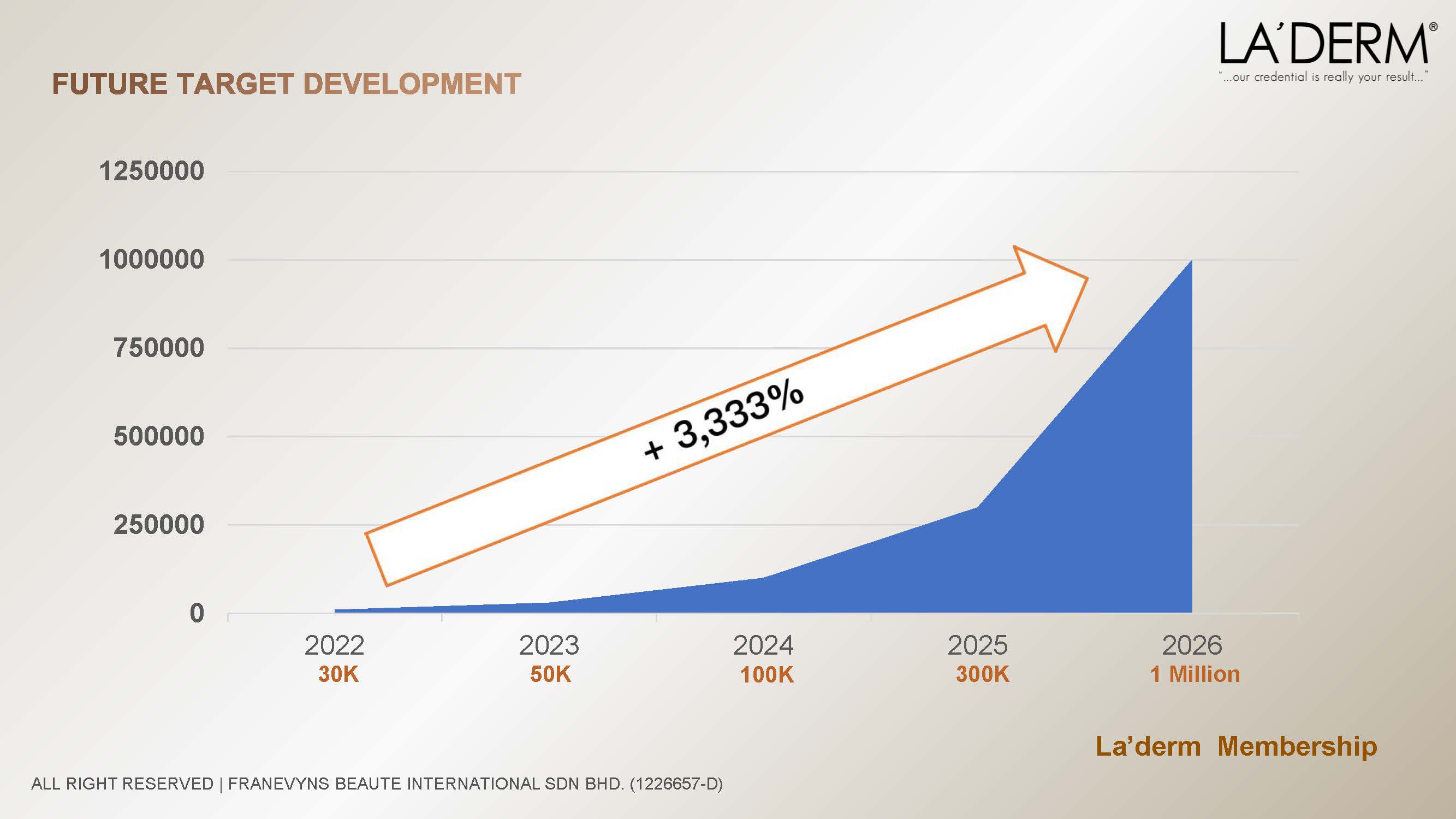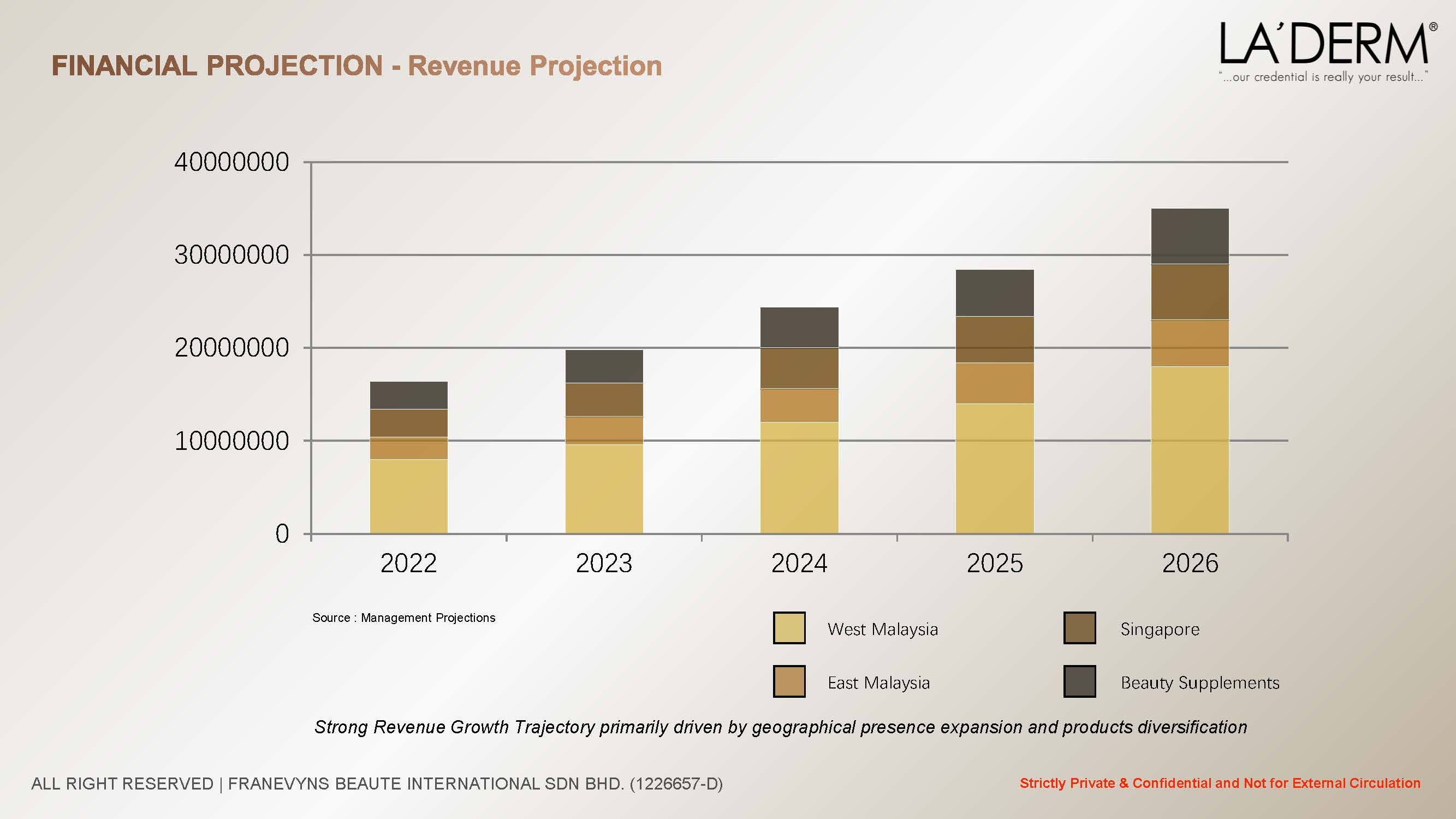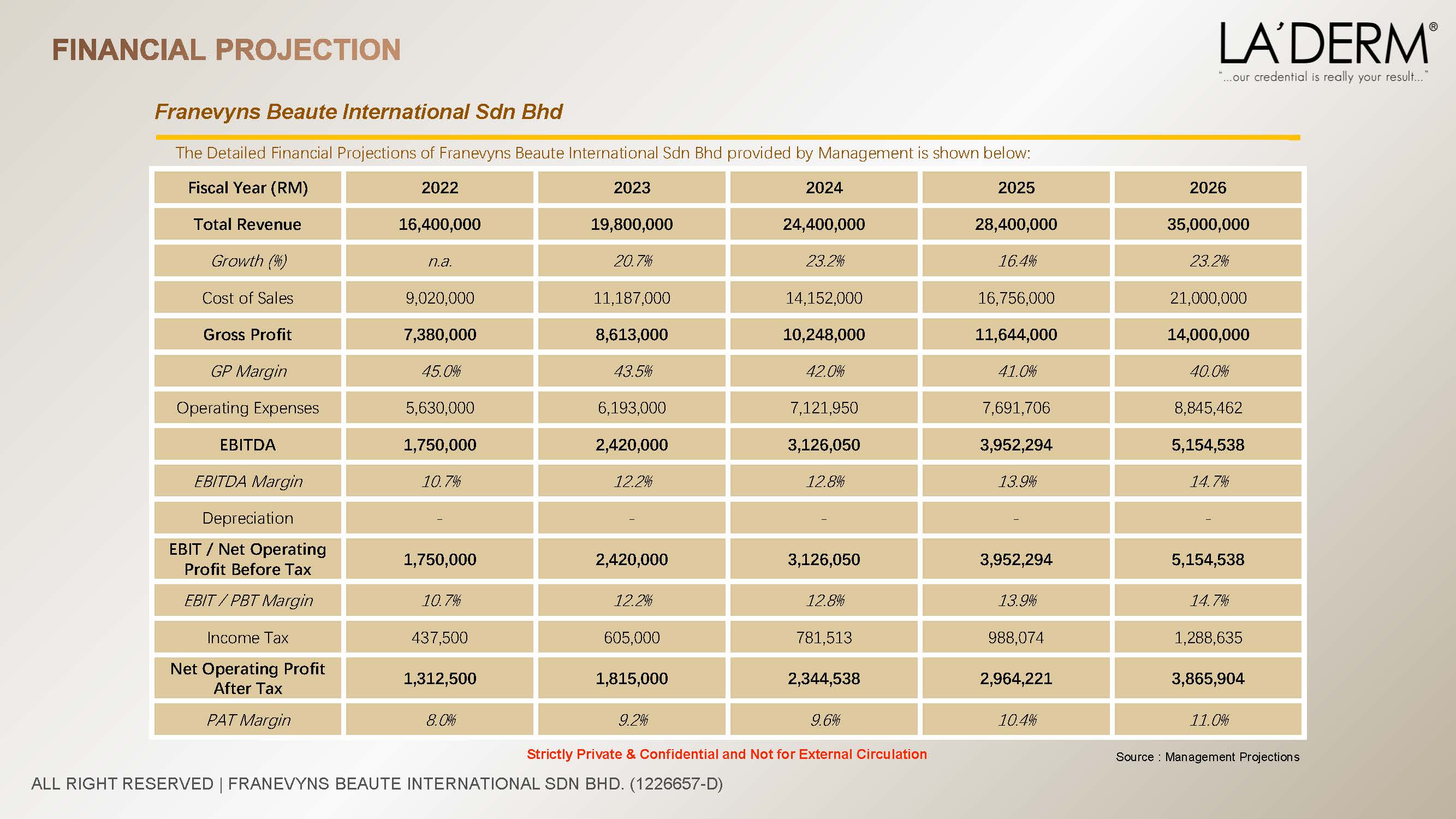 ---
For Further Enquiry
Please Contact Us
---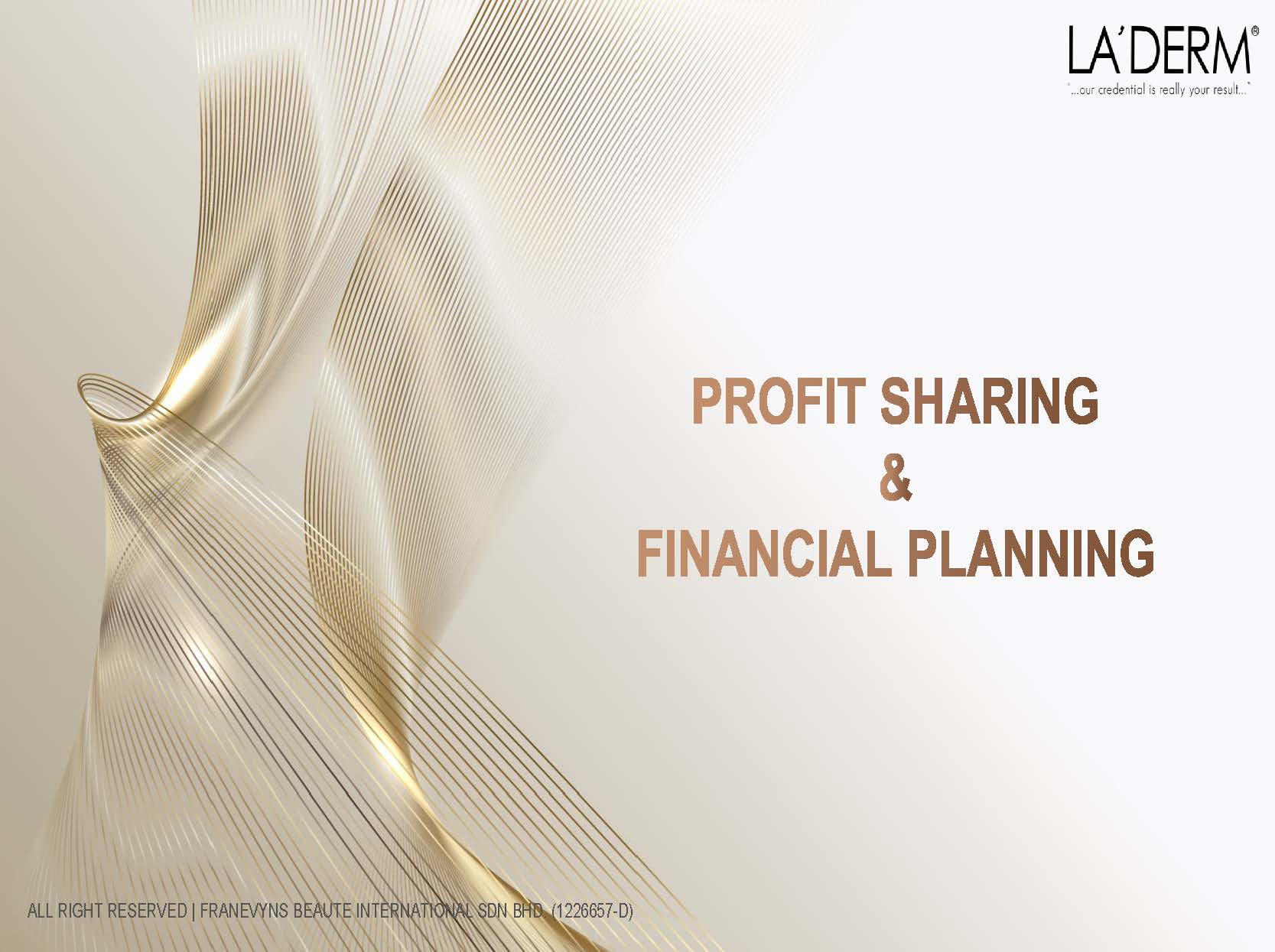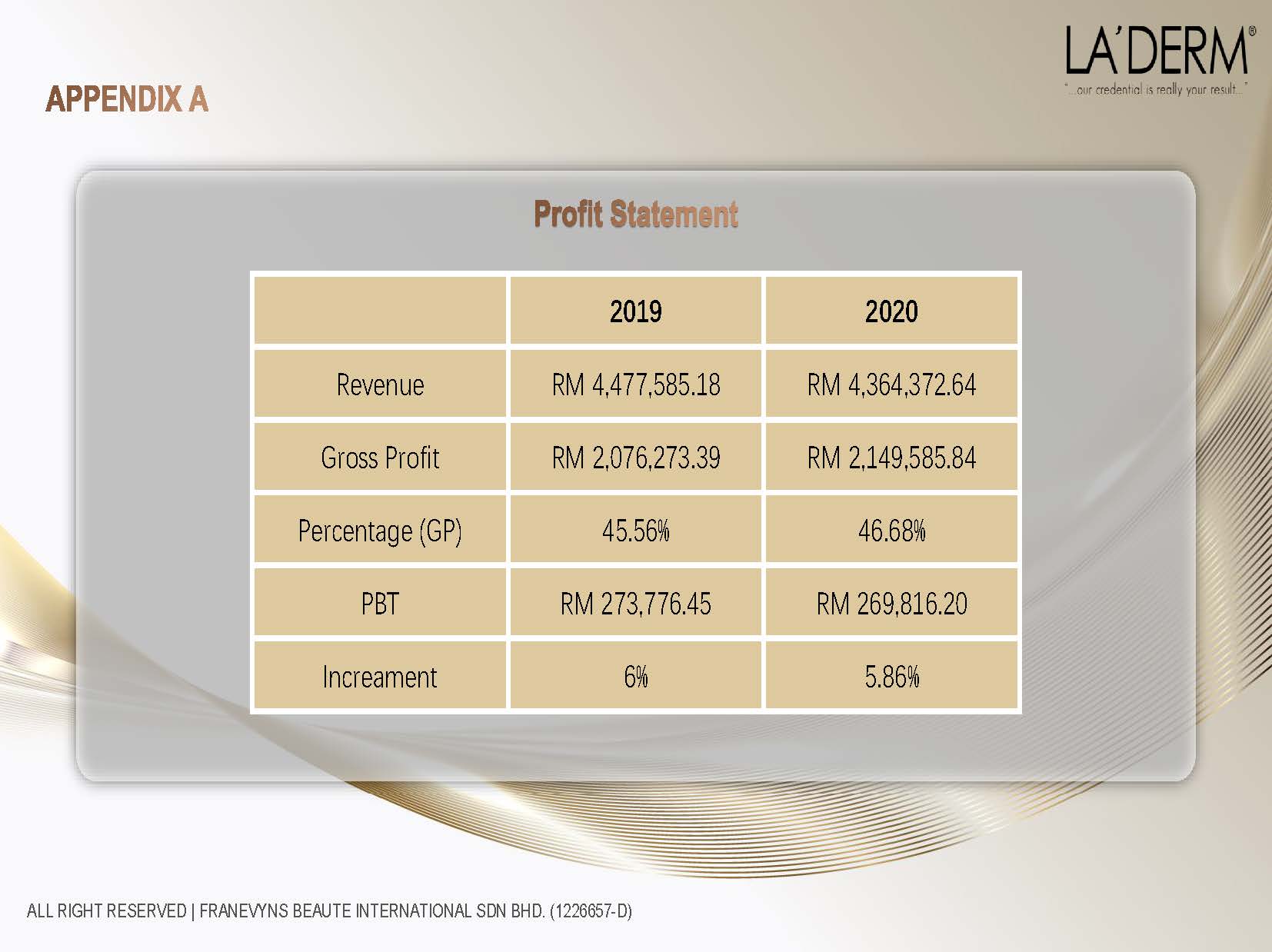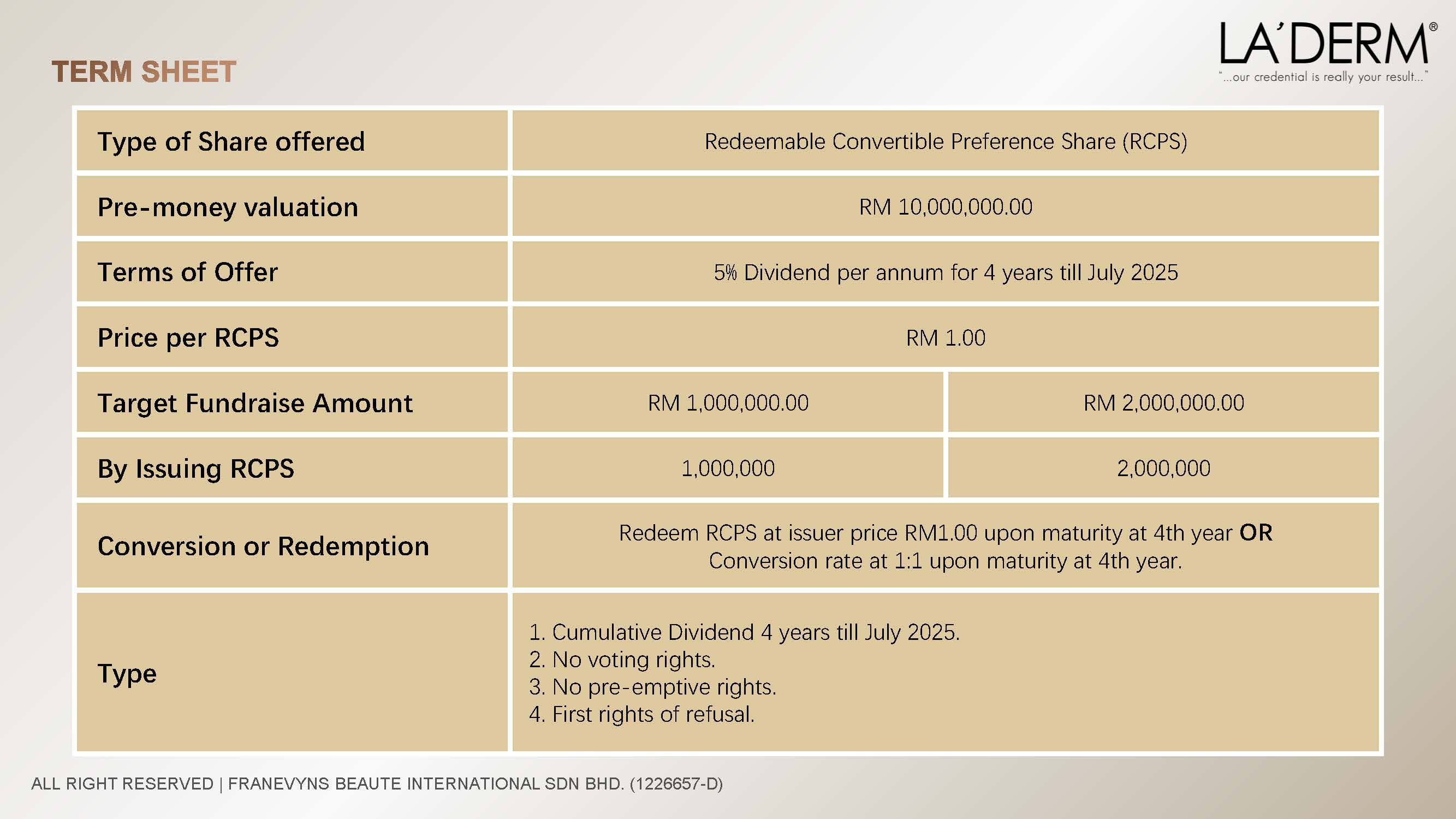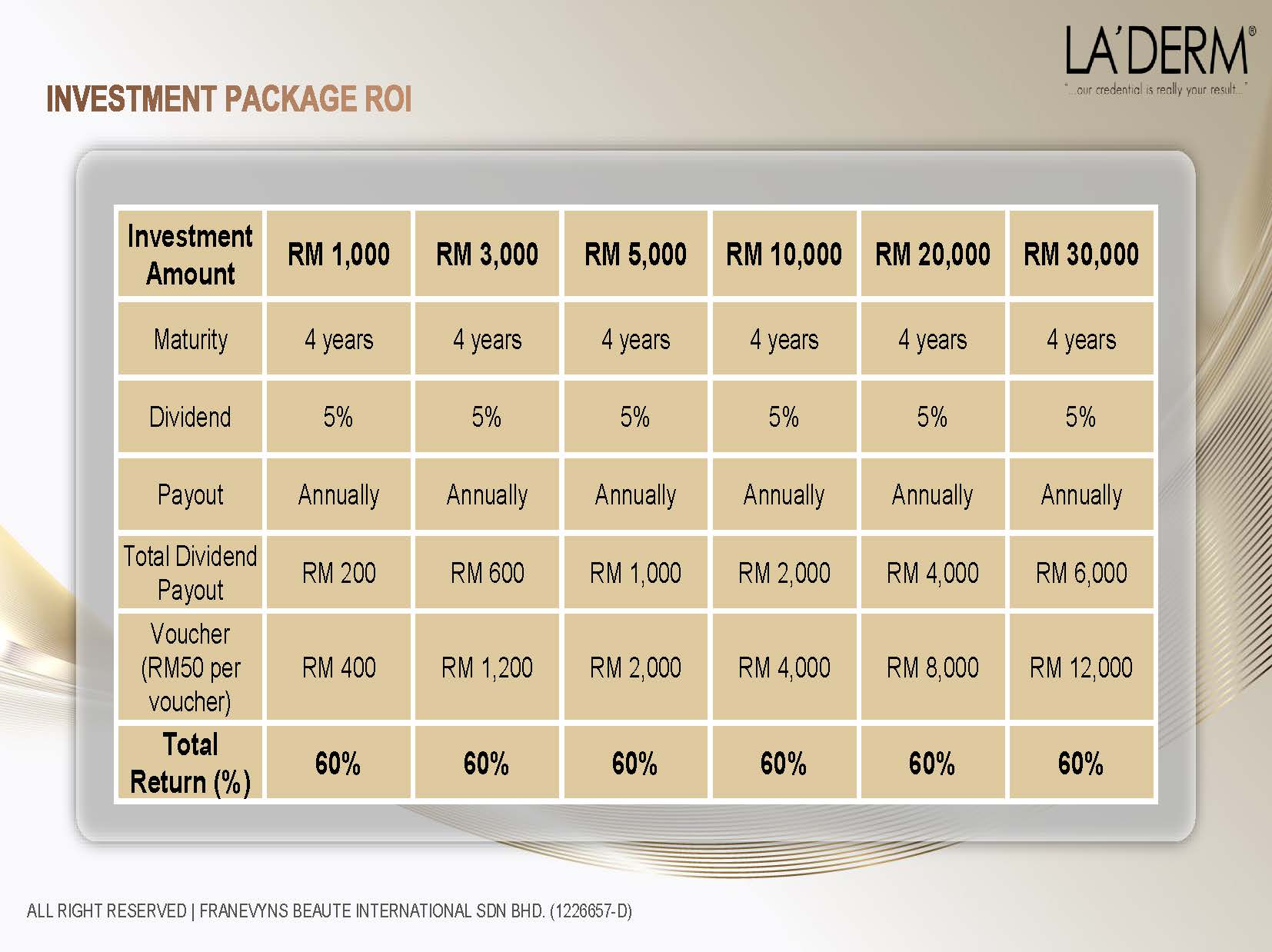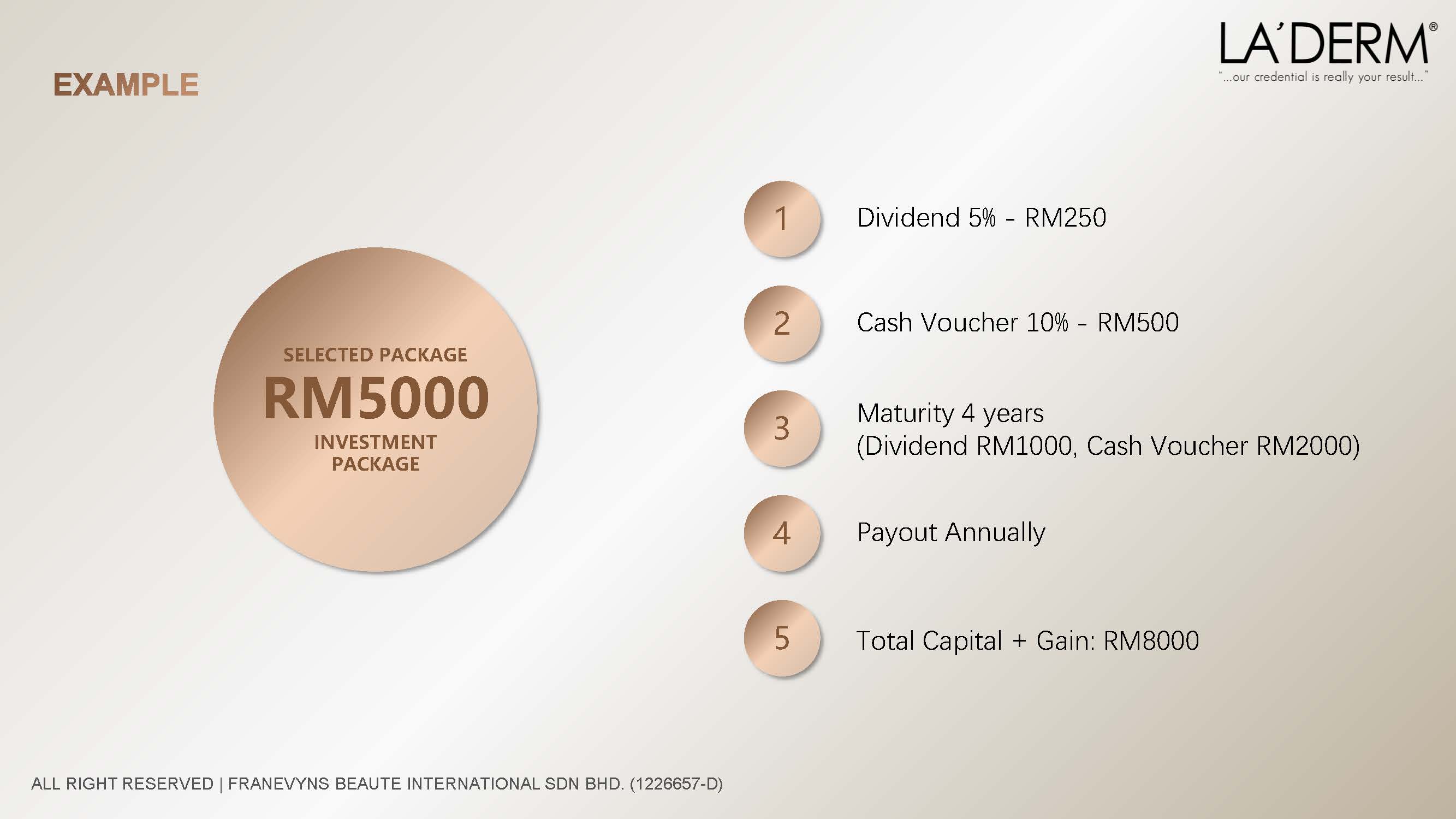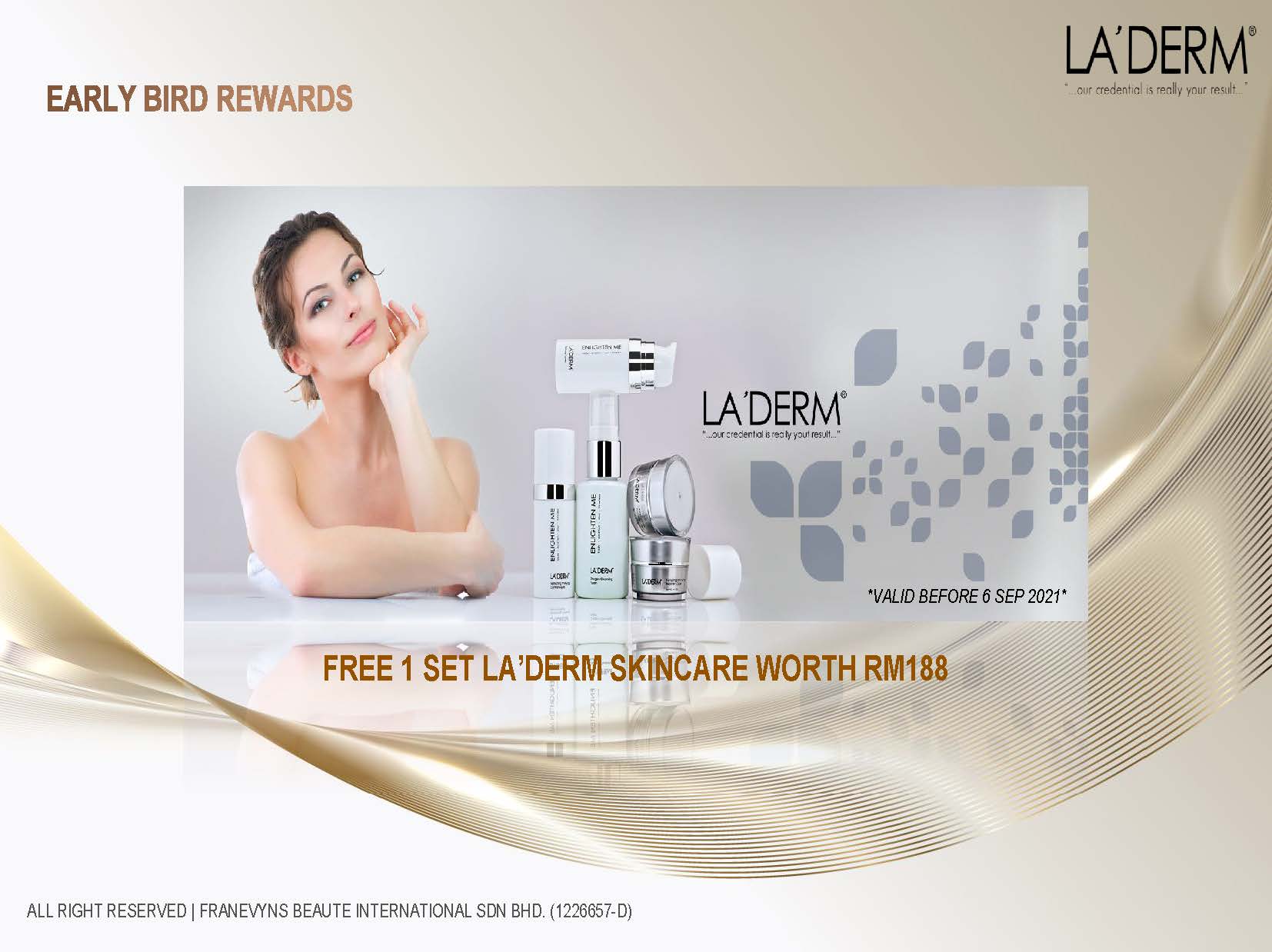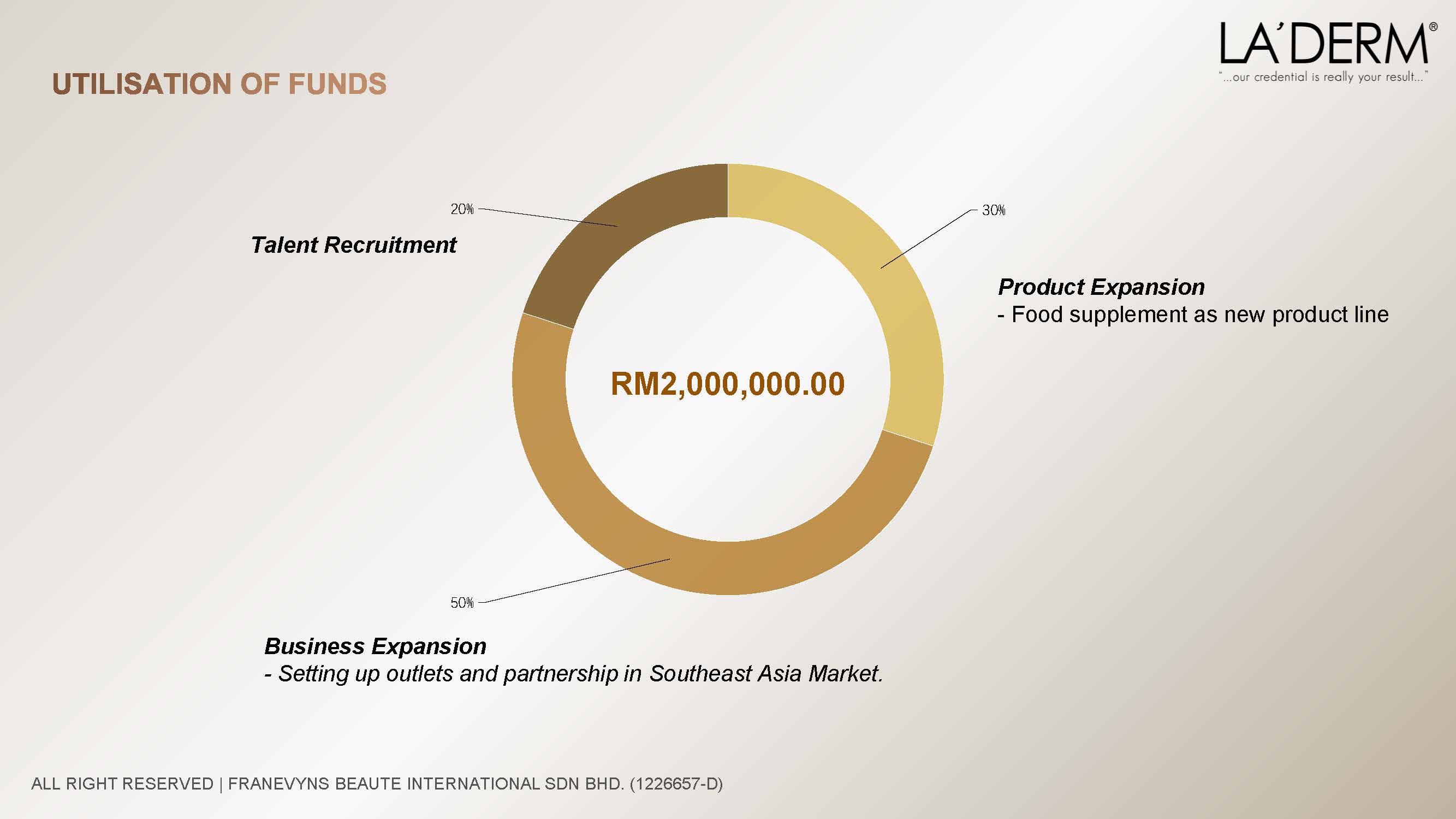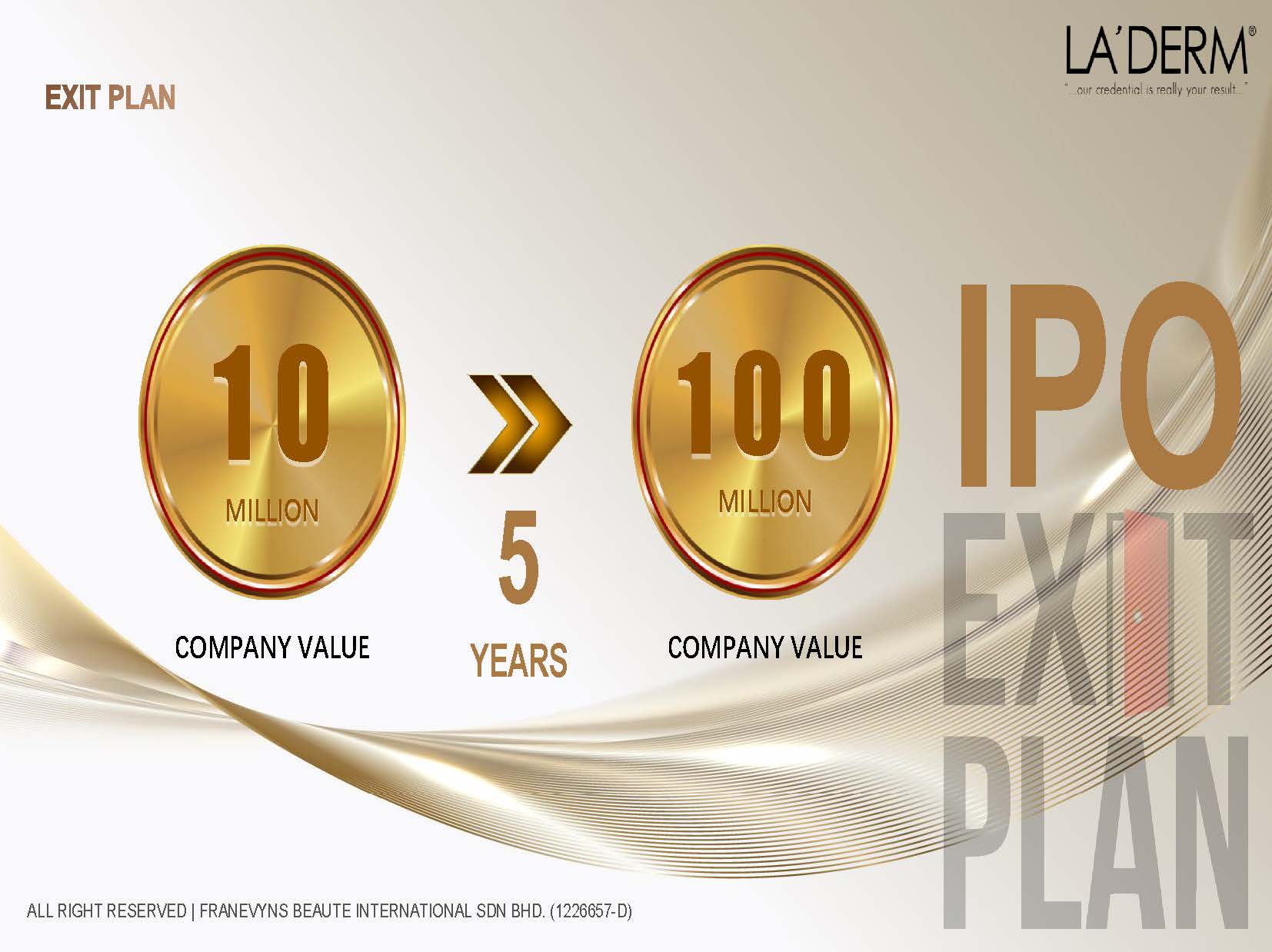 ---
For Further Enquiry
Please Contact Us
---